Plan your next season of sewing with
Design Your Wardrobe
In this hands-on course, you'll get videos, a workbook, creative exercises, and access to a private community to help you create a personalized queue of sewing projects.
Join Seamwork Now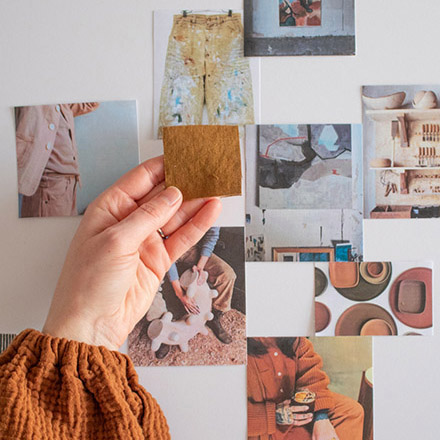 What is Design Your Wardrobe?
Design Your Wardrobe will help you get unstuck and back on the path of making clothes that fit who you are.
With videos, a workbook, creative exercises, a planner, and a private community to support you, you'll create your own personalized queue of projects for the next 3–6 months.
You sew because you want to express yourself —
— With all the unique quirks, preferences, and qualities that make you who you are.
But too often, we sewists get tripped up. Maybe you get pulled into the latest trends, or you keep accumulating fabric, or you just keep making things that you'll never wear.
That means you end up spending way too much time and money while not expressing who you really are. Your wardrobe feels fractured. There's a disconnect between your personal style and the things you're making, and you're not quite sure how to bridge it.
We've all been there. And we have just the thing to help.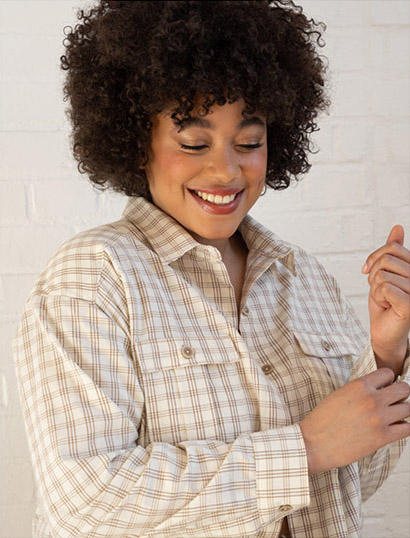 By the end of this program, you'll be able to:
Create a moodboard, so you can visualize exactly what you're going for.
Build a palette, so you have the exact fabrics and colors that work together.
Define the looks you want to create, so you're not just sewing one-off projects.
Build a personal queue of sewing projects, so you have an idea of what you want to make in the next season.
Creative Lessons
In each module, you'll focus on a different part of the design process, from setting goals to planning your final sewing queue. You'll watch videos that demystify what it means to think like a designer.
Fun Worksheets & Activities
In each lesson, you'll do a quick activity. These exercises will help you explore your style, play with inspiration and fabric, and organize your ideas so you can prioritize your sewing.
Community Support
The Seamwork Community is a place to connect, ask questions, share your ideas, and cheer each other on. Chat with other sewists in a positive, supportive space, and get inspired by the wardrobe goals of creative makers like you.
Workbook
Along with video lessons, you'll receive a downloadable workbook of the lessons, walking you through the entire process. Re-read the lessons whenever you like, and use it to follow along during the live program.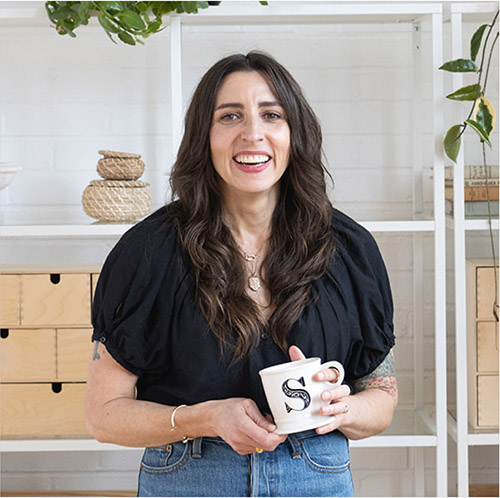 Sarai
Sarai is the founder of Seamwork and creator of Design Your Wardrobe. She loves digging into the "why" behind sewing. She's been creating wardrobe-planning workshops like Design Your Wardrobe since 2014, and has had the opportunity to learn from thousands of participating sewists like you.
What Participants are Saying
Over 7,000 sewists have gone through the Design Your Wardrobe program. Here's what they have to say.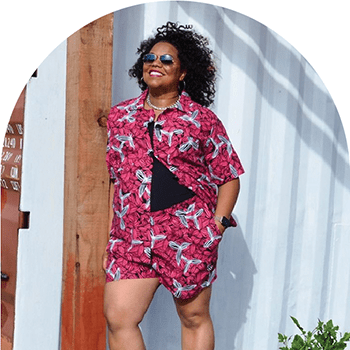 I was drawn to the Design Your Wardrobe course because I wanted to be strategic about my making. I developed project plans based on garments I needed, and this process has given me a tool for assessing future pattern excitement.
---
Tiffany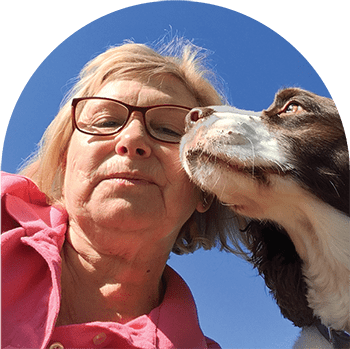 II have never been so organized, and excited to start sewing a capsule wardrobe. It is wonderful to have all the classes and resources to help with my sewing at my fingertips. Keep up the great work!
---
Sara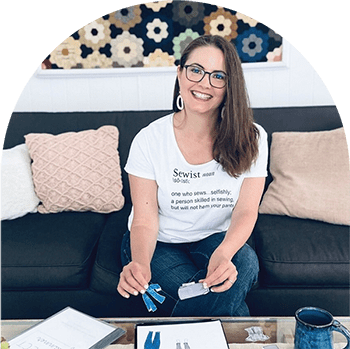 I love Design Your Wardrobe! It's such a fun and useful process every time. And it works! Nearly all of my most loved and worn me-mades are the result of Design Your Wardrobe plans that I've made over the years.
---
Erica
Founder of MyBodyModel
Ready to get Started? Here's How.
Option One
Join our next wardrobe-building party.
The next season of Design Your Wardrobe begins on February 5, 2024.
In this session, we all take the course together, so you'll be able to participate in fun discusions in the Community and attend live virtual events.
Option Two
Take the self-guided course right now.
If you're waiting for the next session to start, you can sign up for the self-guided course. You'll still get the same course but you can work at your own pase.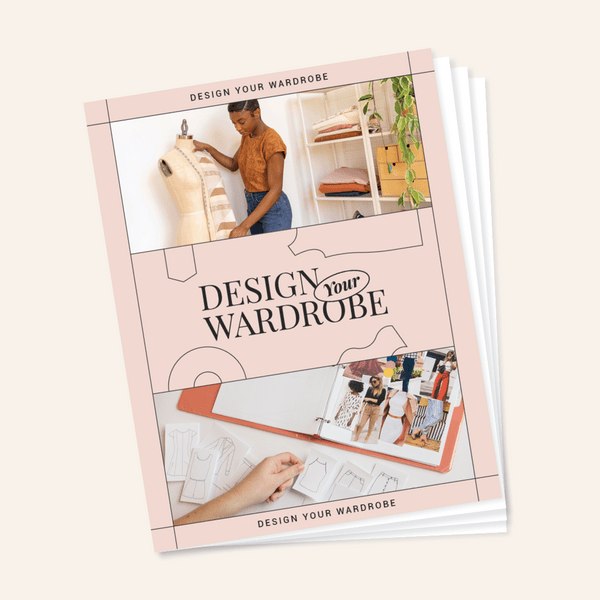 Design Your Wardrobe Workbook
This book walks you through the entire course. It includes all the reading and homework to design your own collection. This course is written so you can take it whenever you'd like, or you can participate in one of our wardrobe parties.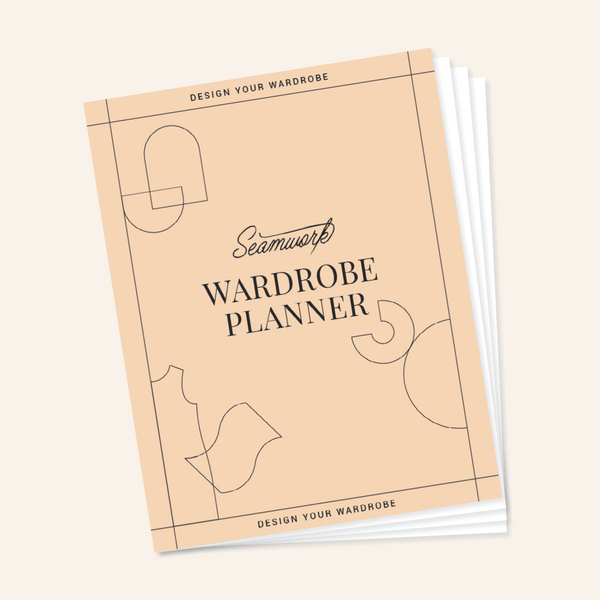 Wardrobe Planner
Use this sewing planner to plan your next projects. You can use it along with the Design Your Wardrobe program or on its own.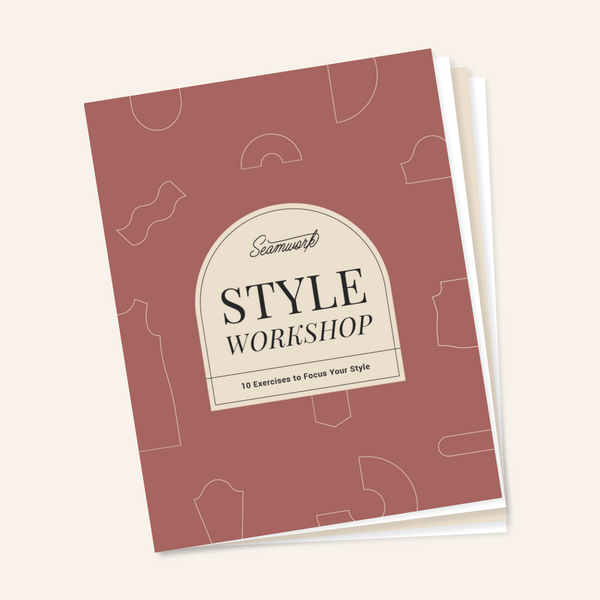 Style Workshop
The Style Workshop walks you through 10 exercises to help define your style. You can take this workshop on its own or it can help you get ideas flowing for the Design Your Wardrobe class.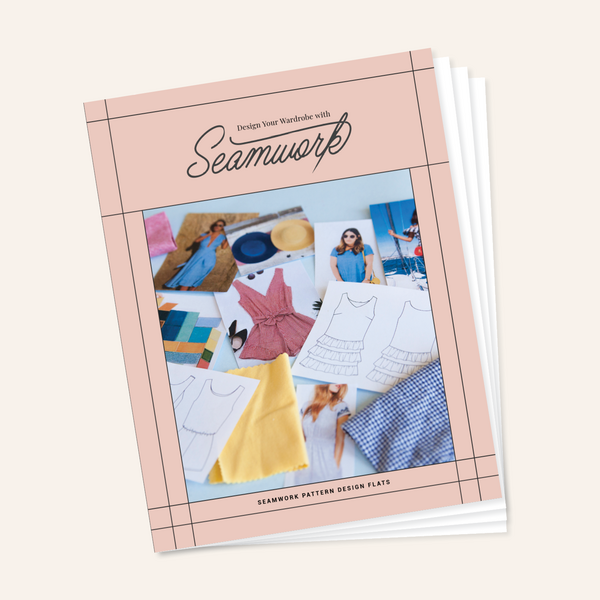 Seamwork Design Flats
This PDF contains flats for all Seamwork pattern designs. Use these flats to plan looks for Design Your Wardrobe or to sketch ideas for your next sewing project.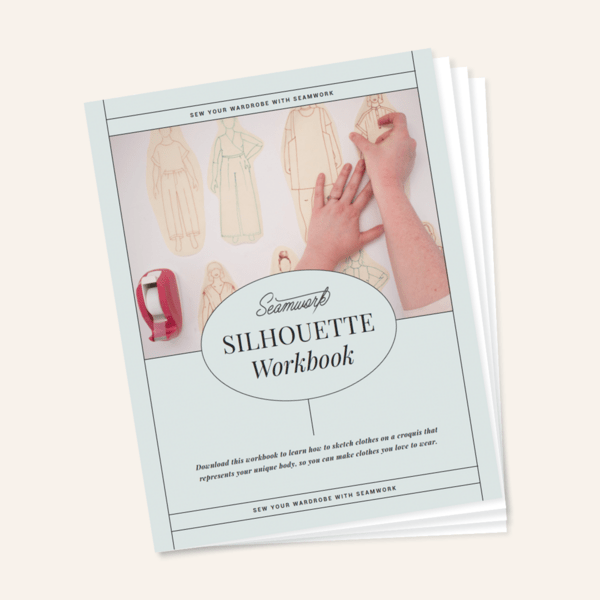 Silhouette Worksheet
Use this workbook to sketch different silhouettes on your body to discover what shapes you like to wear the most.
Join the next round of Design Your Wardrobe
You'll get:
Daily video lessons to walk you through the entire program
Fun worksheets and activities each weekday
Access to our private community — go through the program with an entire community!
Workbook with each lesson to review any time
Bonus
Design flats to help you easily sketch new looks
Bonus
Collection planner for building out your sewing queue
Bonus
Style Workshop to help you pinpoint your personal style
Bonus
Silhouette Worksheet to help you discover the shapes YOU like best
The next live session begins on
February 5, 2024.
Take the self-guided course any time when you join Seamwork.