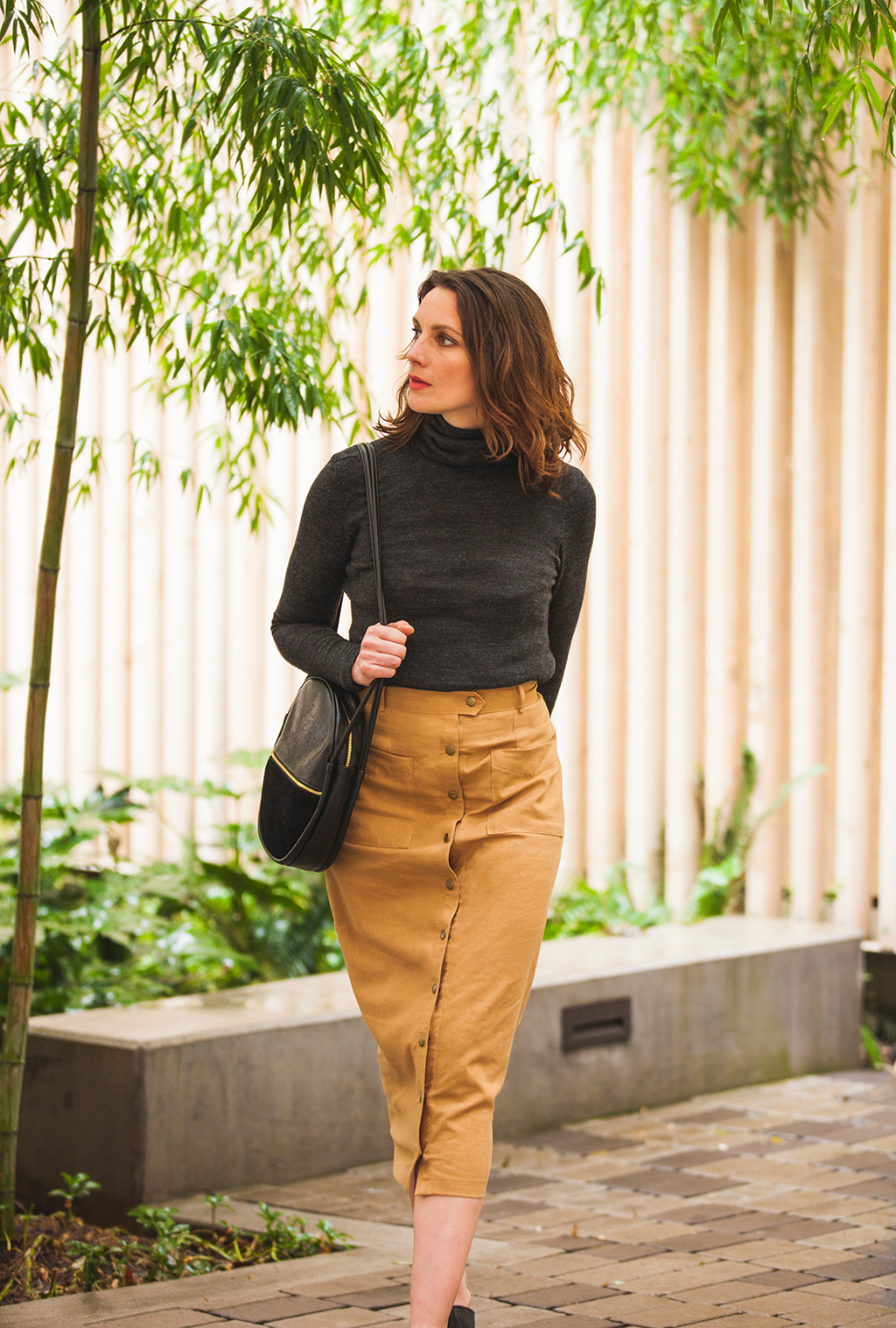 I've spent a significant portion of my life in thrift stores. Ever since I first began buying my own clothes, I've shopped secondhand. At 12 years old, it was out of economic necessity and the convenience of having a Goodwill across the street from my home. But over the years, I fell in love with the process of thrifting. Like sewing, it's a creative approach to creating a wardrobe, requiring knowledge, thoughtfulness, ingenuity, and a little luck.
It also means constantly sifting through the past to find what fits you today. Just recently, I was visiting a neighborhood thrift store on my lunch break and came across a pair of lovely taupe-colored heels in soft leather with dramatic nickel hardware. I could see that these shoes had been quite expensive when they were new. In fact, they were similar to a pair I'd owned and loved eight or ten years prior, until they'd completely fallen apart.
I tried them on. They fit; in fact, they were downright comfortable. I looked down at my feet and could almost see those shoes I'd had and loved in the past. But I hesitated. I just couldn't see myself wearing this particular style any more, no matter how much I'd loved them back then.
You've probably had moments like this too, whether in a thrift store, a favorite boutique, a big box store, or maybe even a fabric store. You see something that strikes you one moment. In the next moment, you realize that it's something you would have loved two, five, maybe even ten years ago, but it's not something that rings true to you today.
I'd changed, and for a moment I found myself struggling with that. How could I have loved something so much, and now be indifferent? How much more will I change? Will I abandon the things I love now just as easily?
Gaining Focus
In the past few years, I've spent a great deal of effort on zeroing in on my personal style and focusing my wardrobe around what truly felt like me. Like many sewists, I believe that clothes can have intense personal significance, and that creating my own wardrobe can be creative and gratifying. And if I'm going to spend so much time physically creating my own clothing, it only makes sense to spend time thinking about what I make and why. Designing a wardrobe is both practical and creative.
All of this has been valuable, and has given me a lot of insight into how I conceive of myself and the person I want to be. It's helped me connect my wardrobe to what I value, and to both sew and dress with a lot more intention.
But on a practical level, things keep changing. I get older each day; my life changes; even the weather changes. I'm exposed to trends, some of which I certainly ignore, while others resonate with me. I see other sewists' projects and get new ideas, or fall in love with a fabric unexpectedly. At times, it felt like all that thinking and planning and wardrobe designing was constantly being undone and reworked.
What I needed was not a plan exactly, but a process. It should be ongoing, a way to help me prioritize and make sense of all the choices in front of me. It should help me make decisions and choose the right shapes and fabrics, while helping me be true to who I am and the life I live.
And finally, it should be simple. My dream was to slowly build a wardrobe that felt like me. What I needed was a clear path, built on solid principles.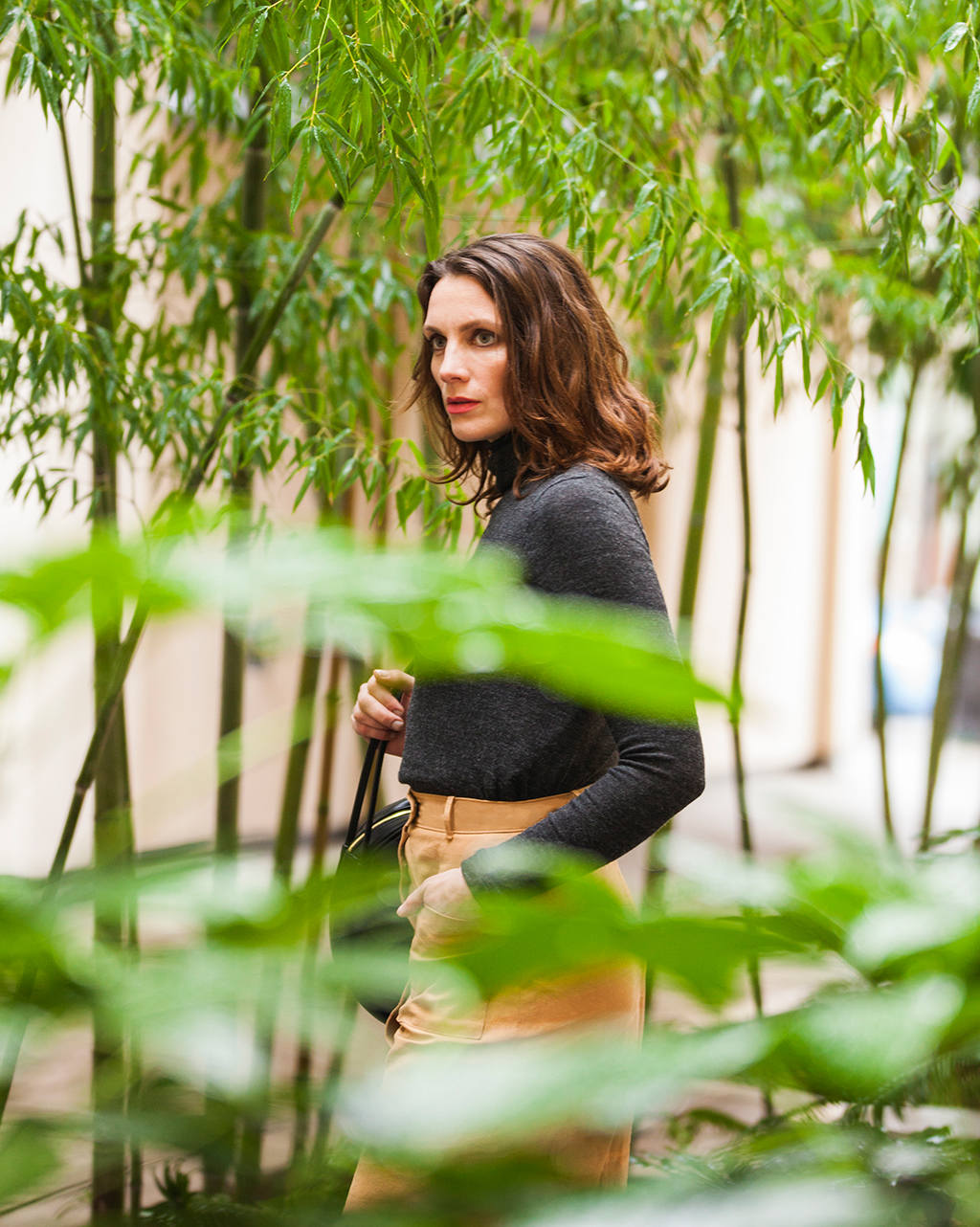 Creating a Path
After thinking through all that had worked for me and all that hadn't, I found that the main concepts of evolving a personally meaningful wardrobe boiled down to these five things:
Define your style (and redefine it). Thinking about who you are and the story you are creating with your wardrobe is the heart of this process. At the same time, allow yourself to evolve by adding to and revisiting your style.

Create a few signatures. Just as a character in a book is often defined by a few telling traits, a style can often be conveyed with a few consistent elements. Choosing those elements helps you tell your story.

Create a design cycle. Because things change and you are always evolving, set up some concrete periods of time to plan and design for the coming months.

Find your own criteria. To prioritize your wardrobe projects, develop a short list of criteria that will help you decide what you want to own and make.

Make a short queue and a long queue. You may have big dreams for a complete handmade wardrobe, but you need room to change your mind and accept new inspiration. By keeping a couple of separate project queues, you can organize and prioritize for the short and long term.
You are evolving every day. Your story changes as you do. With a few simple tools in your back pocket, you can develop a handmade wardrobe that continues to inspire you and reflect who you are, even as you go through changes large and small.
Over the next several issues of Seamwork, we'll be visiting each of these five principles and exploring some ideas and practices that might help you to create your very own perfectly tailored wardrobe. Next month, we'll start with defining your own style with words and images.
In the meantime, we'd love to hear from you! What are the things you struggle with the most in designing and sewing your own wardrobe? Is it an ever-growing fabric stash? A lack of versatile basics you enjoy sewing? Or do you get distracted from projects you might actually wear the most in favor of the new and shiny?
Use the hashtag #seamworkwardrobe and share your thoughts with us on social media. We'd love to hear your stories, and share them on our Instagram page @seamworkmag this month.