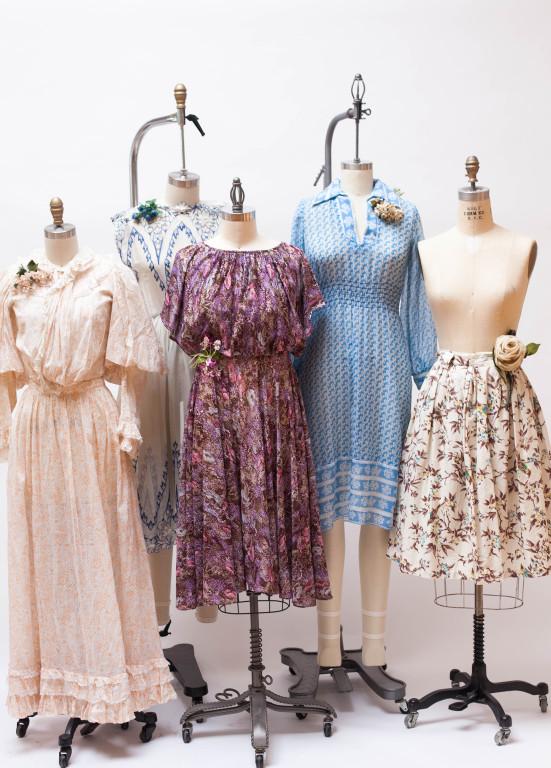 Almost synonymous with spring, flowers have long represented renewal, beauty, and the feminine side of nature. The association between floral motifs and natural femininity can be traced through the last one-hundred years of fashion. As attitudes toward women and their place in the world have changed, so has the role of feminine symbols such as flowers in clothing.
People have adorned themselves with flowers for millennia, with embroidered, embossed, and beaded details, as well as real blooms, printed on fabrics, and patterns woven into textiles. Just as in generations past, when temperatures begin to rise and the first new buds push through the earth, women have reached into their closets for their floral frocks as a tangible way to participate in the renewal of the season.
Flowers speak their own language. Traditionally, flowers have been sent as symbols: the red rose conveys love; the white tulip expresses forgiveness; and the daisy represents innocence. Though some of these symbolic meanings have been lost, there's no doubt that flowers are still able to tell a visual story, and that story changes with the times. As women's roles have developed and the moods and values of society have shifted, we see feminine florals morph in fashion.
Today, we'll tour the last hundred years of fashion and see how florals have been adapted, decade-by-decade.
The Teens: From Home to Fashion
Let's travel back one-hundred years to a small American town in 1915. A new shipment of yard goods would arrive at a local store. Among more sober solids would be lovely cottons and chintzes sprinkled with small floral prints. Women gathered to look and touch, and perhaps, to treat themselves with a length or two to sew into a housedress, apron, or nightdress.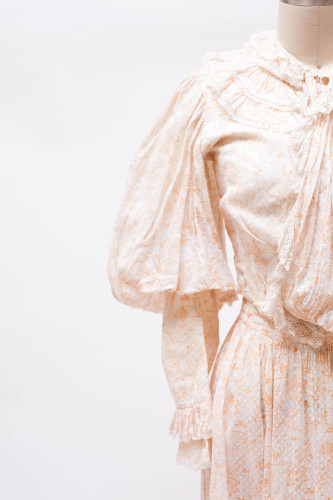 Small floral patterns in subdued prints
were used more and more in clothing
during this era. Dress courtesy of
Xtabay Vintage.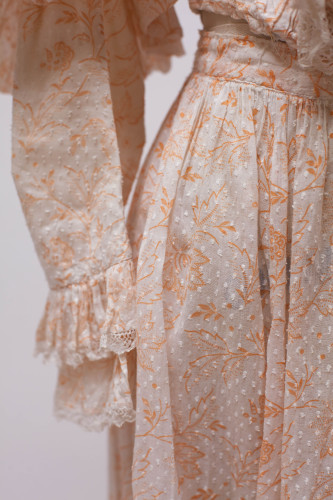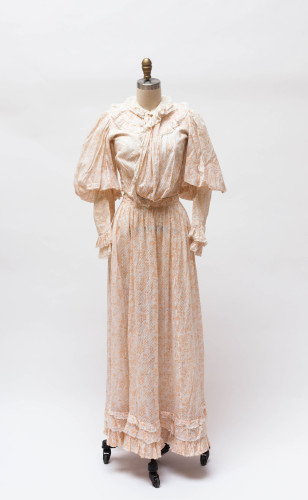 These pretty prints were associated with the hearth and the intimacy of family. Florals for the home were considered traditional, so they were a natural fit for housedresses. Though used sparingly in daywear, the femininity of florals seemed suited for a world that was considered the woman's domain.
Women's fashion at this time was undergoing a radical change. Gone were the restrictive corsets and bustles of the last century, even for the most formal of occasions. During the day, fashionable women wore long, narrow skirts with coordinating tunic-like tops or lacy blouses. Sensible solids in navy, green, grey, and brown were popular, and all-over florals were rare. When florals did appear outside the home, they were subdued and neat.
Floral silks did appear as panels in skirts or as linings, flirtatiously peeking out from a jacket or coat. For the well-to-do woman, evening wear was custom-made and intricately detailed. Flowers appeared in hand beading and embroidery, adding luxury to the new, simpler dress designs. As the century progressed, this trend toward less restrictive clothing would continue, and the use of floral fabrics in clothing would expand along with it.
The Twenties: Stylized and Modern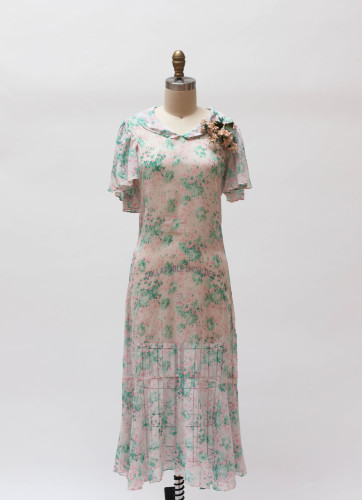 Floral fabrics became more popular for daywear
in the 1920s and 1930s.
Let's move forward ten years. By 1925, the Great War had drawn to a close. Women became more active either by necessity or choice, and fashions allowed more freedom of movement. Hems rose and a boyish, square silhouette came to the forefront. Women were now more likely to work outside the home, particularly before marriage, and were creating a market for clothing that could move from one setting to another. New inventions included the first introduction of synthetic fabrics, marketed as "art silks," and embroidery machines, which allowed for patterns to be sewn quickly with less expense. Floral patterns gained popularity in both of these media.
The Art Deco movement, with its clean, geometric lines appeared in both art and architecture, and its style strongly influenced floral designs. Large blooms with simple style lines and oriental influences became the rage. Flapper girls wore sleeveless shift dresses with dropped waists and raised hems. In Paris, Chanel was designing knitwear for active girls, and Vionnet created dresses with "seam designs," in which visible seams were cut in shapes like stars, and of course, flowers. American women who could not afford clothes from overseas were quick to create or purchase domestic copies of these innovative designs.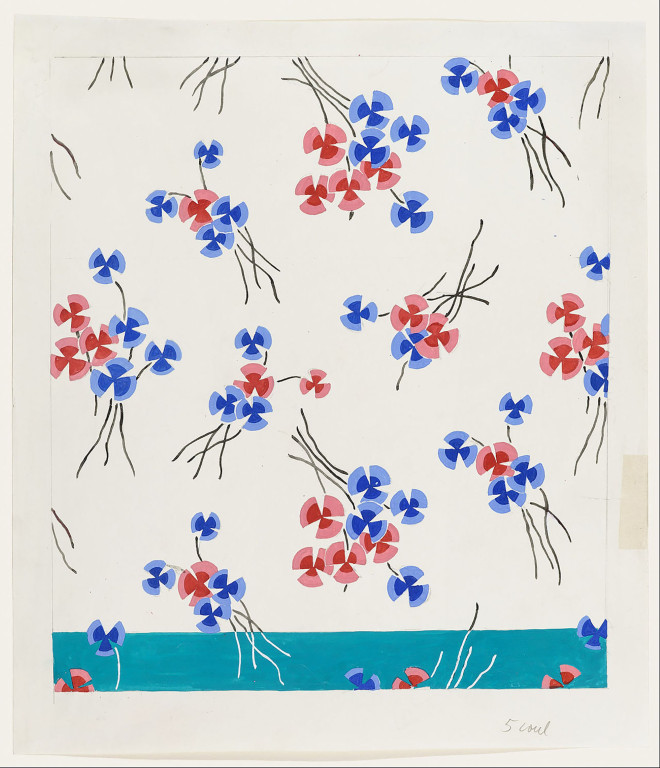 Florals of this era were often bold and highly stylized. Image via
Wikimedia Commons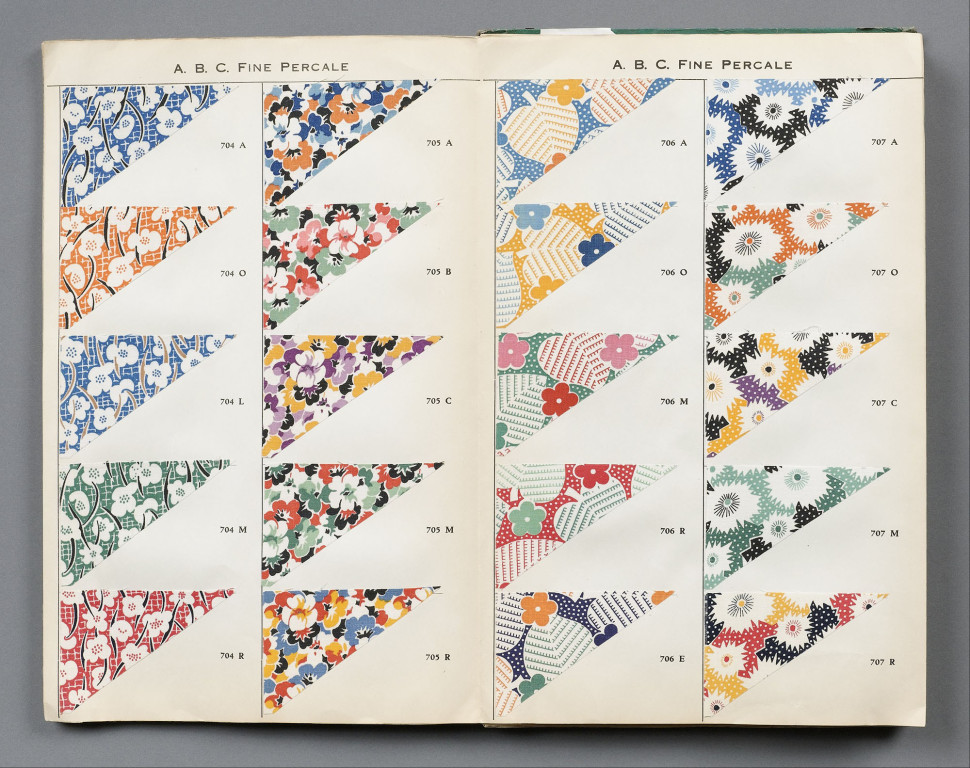 Salesman's sample book from 1929. Image via
Wikimedia Commons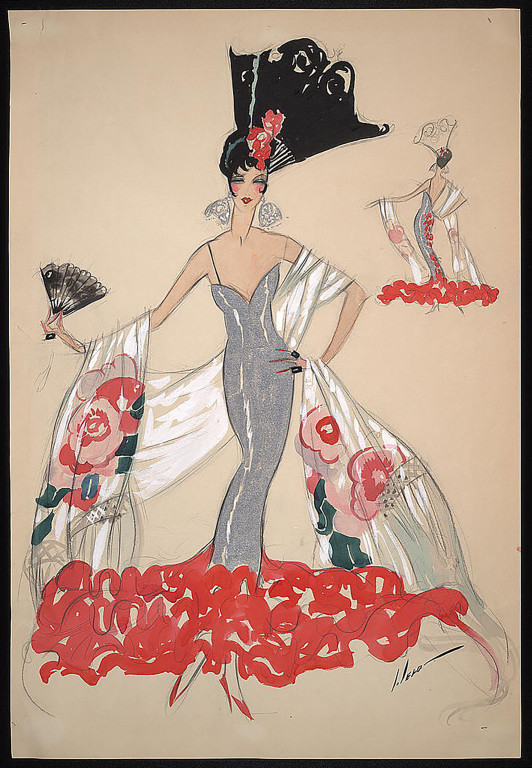 A large scale and bold lines gave florals an exotic glamour in the 1920s.
Image via
Wikimedia Commons
Flowered fabric felt young and free. The modern woman wore floral silk beach pajamas to frolic in the surf and a lovely floral kimono to relax at home. For a night of dancing in a jazz club, she wore sequins, beads, appliqué, and flocking, often arranged as roses, lotuses, or lilies. Picture a dimly lit nightclub, tables gathered around a dance floor, and a jazz pianist thumping out a popular tune as a trumpet player provides harmony. Couples dance energetically, and women's dresses swing around their bodies freely, sparkling in the light. In this context, a short dress with floral details felt fanciful, unconventional, and adventurous.
The Thirties: Thrift and Glamour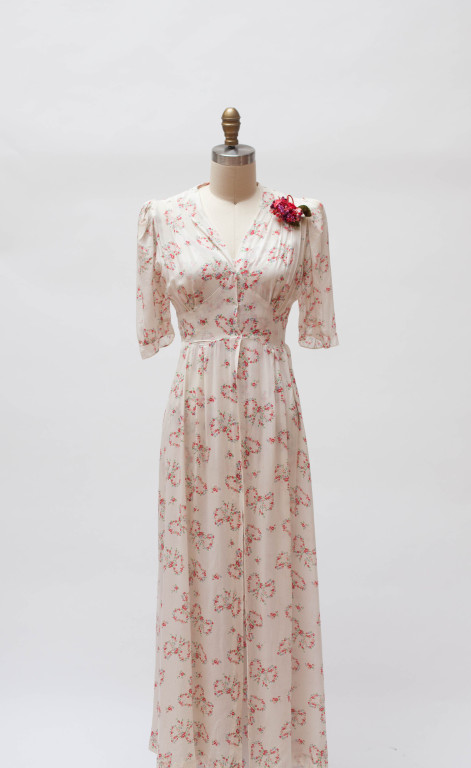 This glamourous rayon dressing gown demonstrates the influence of Hollywood in the 1930s.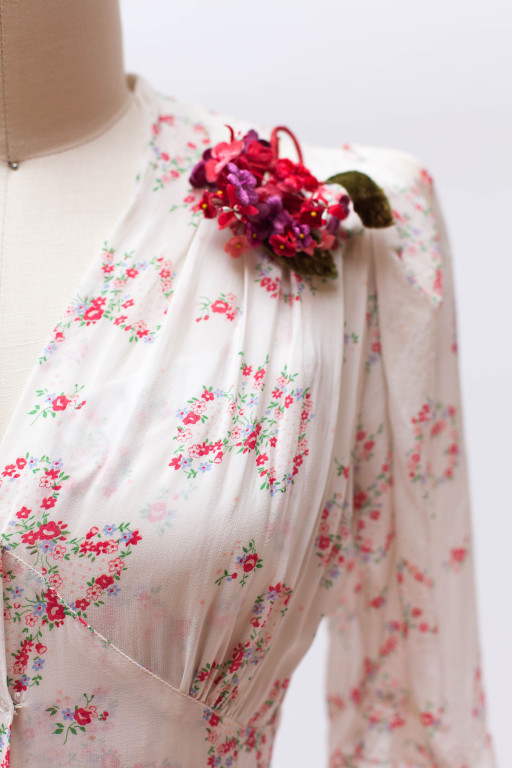 This dainty, feminine print contrasts with many of the bolder patterns of the previous decade.
By 1935, the floral dress had become mainstream. French couturiers such as Paquin showed spring dresses fashioned from silk and covered in delicately drawn flowers. The urban shopper could peruse ready-made clothing for the whole family in the newly conceived "department" store. Many, however, did not have the resources to afford new clothes, as the United States (US) was in the midst of the Great Depression.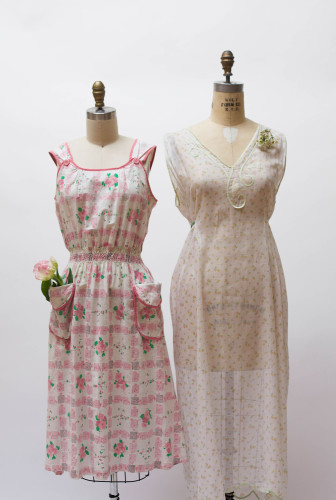 Women began to make
dresses from feedsack
cloth, leading manufacturers to introduce
more vivid and cheerful prints.
Dresses courtesy of
Wanderlust Vintage
.
Home economics had become a serious field of academic study, and education in home sewing had become widely available. Since money was scarce during the 1930s, women across the country put those skills to work, making new clothes from old clothes or feedsacks, or giving old clothes new life by adding collars and cuffs, and borders and bows of coordinating fabrics. Hollywood actresses became the new fashion icons. Women styled themselves after movie stars using patterns from the Hollywood Patterns catalogue and Vogue Pattern Book.
All-over floral textiles were favorites, featuring poppies, daisies, and tulips in large bunches scattered over a solid ground. In the evening, dresses were sculpted to the figure, wrapped and draped in classical lines, bias cut and backless—the stuff of escape and fantasy. For the average woman in the thirties, a new spring dress of flowery fabric would have been a small luxury, a sign of hope that life would continue in the face of hardship, and a new friend who would make its appearance every spring for years to come.
The Forties: The War Years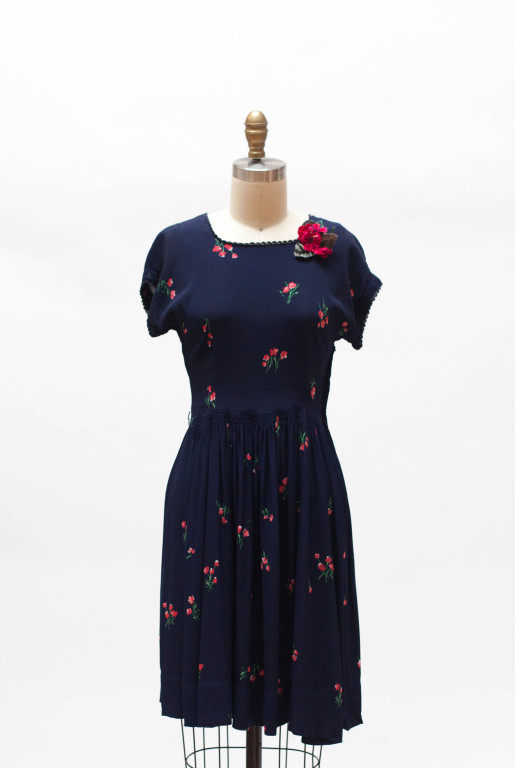 Like red lipstick and shoulder pads, florals could portray a type of bold
and assertive femininity.
As the spring of 1945 arrived, World War II was coming to an end. Under Regulation L-85, US fabric was rationed, and women's clothing styles had become more utilitarian. Military uniforms influenced styles. Dresses had wider, padded shoulders, and shorter hems for freedom of movement. The straight silhouette had been replaced by the inverted triangle as the ideal feminine, and indeed masculine, shape.
Hollywood continued to influence what women wore, particularly since French couture houses were producing garments under Nazi occupation. Women cut out pictures from movie magazines and pasted them in their copybooks as they dreamed of the dresses they would wear for soldiers coming home. New fabrics such as rayon were widely available, although cotton, linen, and wool were still the most popular with home sewists.
Inventive Americans, in addition to making do and mending like their British cousins, worked around the rations system by creating clothing out of fabrics classified for purposes other than garment sewing, such as terrycloth, canvas, and textiles intended for curtains and upholstery. Goods such as flour, sugar, and livestock feed were packaged in cotton sacks, which could then be used to sew garments. As in the previous decade, women searched the shelves for sacks in the same fabric in order to piece together garments requiring more material, and floral patterns disappeared off the shelves quickly.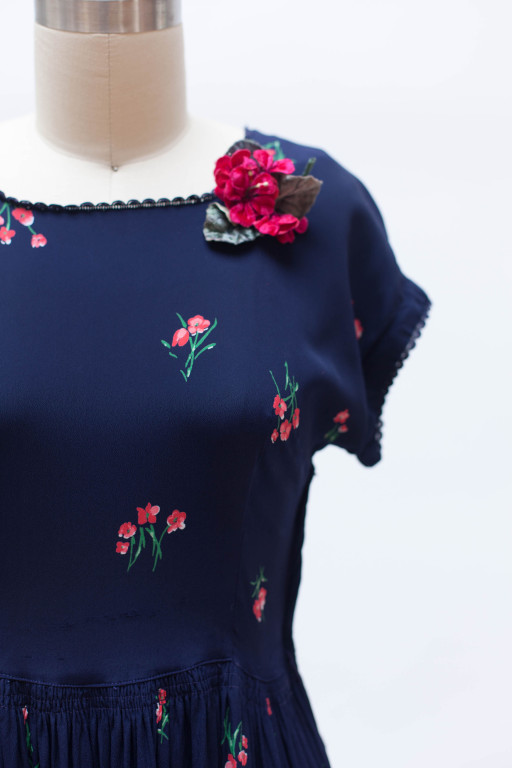 Florals were worn on textiles as well as accessories.
The peasant style came into vogue, and women sewed patchwork skirts from their bits and pieces. In fact, flowers were in their heyday. Not only had floral textiles reached their all-time height in popularity, women also wore flowers on their hats and as brooches.
In 1942, Claire McCardell designed her famous Popover dress, a chic housedress made from linen, which came with its own attached oven mitt. She sold thousands at the low price of $6.95. Soon simple wraparound dresses, often called apron dresses, found their way into most middle class American women's wardrobes, and floral cottons were often the fabric of choice for this new classic. These dresses were considered attractive and practical, and could be purchased ready-made or home sewn from a relatively small amount of fabric. Another version of the housedress, often made from floral cotton, had a zipper running up the front.
American women appreciated not only housedresses, but also other styles of sportswear, a term that originated in the twenties, and was used to describe clothing that was neither formal nor informal, but uniquely suited to the active, daily lifestyle of the modern woman. Many of these women were, as during the previous world war, working outside the home to fill the jobs vacated by those fighting overseas. It was during this era when pants became common street wear, including the coveralls made popular by women working in factories and on farms. To reassert her femininity, a woman could pair pants with a floral blouse or headscarf.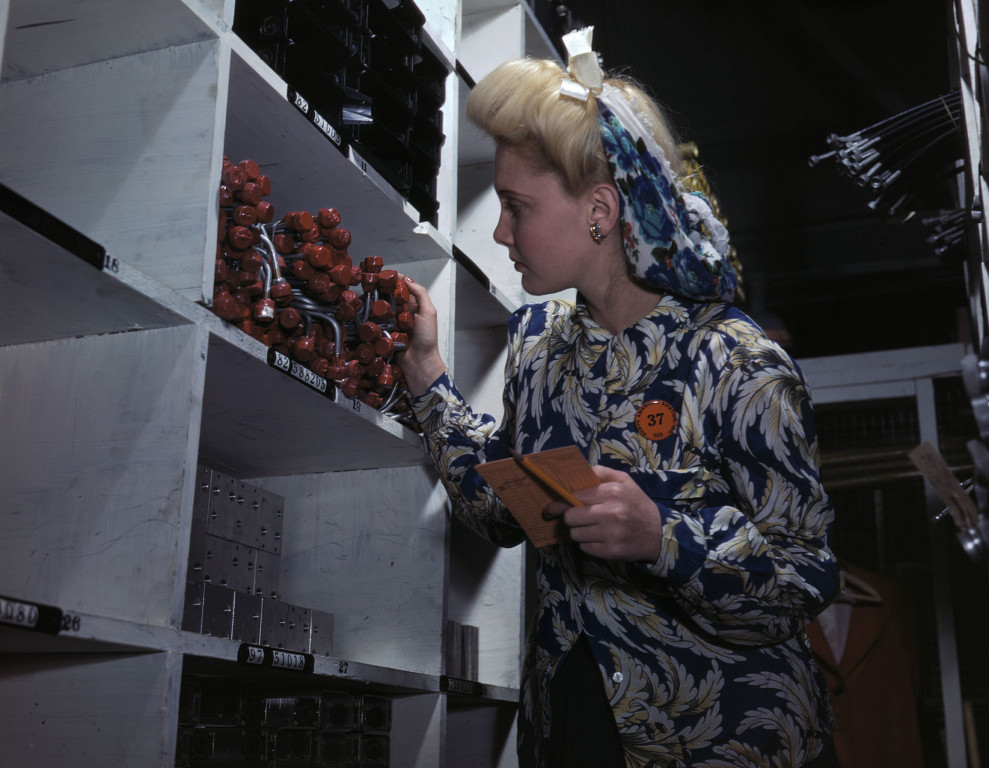 This worker at North American Aviation wears a typical 1940s floral print to work.
Floral patterns appeared in a variety of colorways and designs, although the small blossoms scattered across a solid ground is considered the epitome of the forties floral. The floral frock worn at teatime was popular in Great Britain, and in the US, floaty, floral dresses of lightweight cotton voile, silk, or rayon, were dubbed afternoon dresses. To soldiers returning from the horrors of war, women in florals represented purity, freshness, and the essence of what they had been fighting to protect.
The Fifties: A "New Look"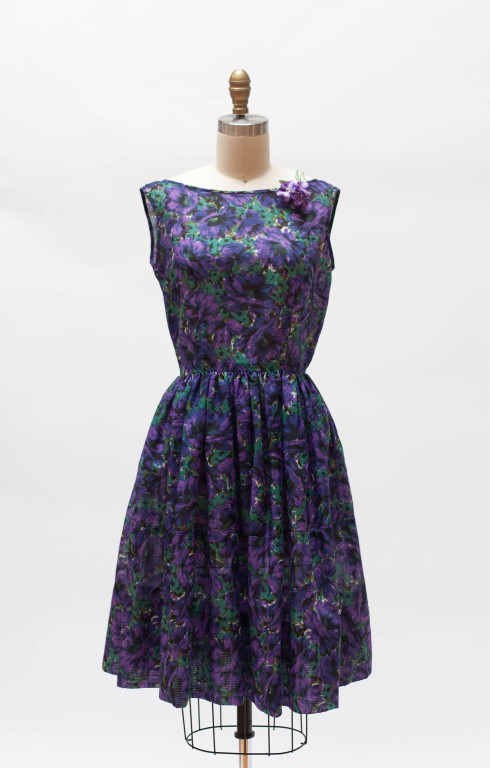 The nipped waist and full skirt of the 1950s was modeled
after a flower.
Fast forward to 1955. American women's fashion has undergone another radical change. The "New Look," first introduced by Dior in the late forties, had now hit the mainstream. Women now reverted to supportive and even restrictive undergarments in order to attain the new hourglass silhouette, featuring an extravagant and romantic use of fabrics, rounded shoulders, and either perfectly straight or exuberantly gathered skirts, as well as hems reaching down to mid-calf. When Dior first introduced his new look, rather than using floral fabrics, he envisioned the woman herself to be the flower with a stem-like waist from which a full skirt blossomed. He named his line Corolle, which translates to corolla, or budding flower.
Soon, however, his full skirts were appearing in all fabrics, colors, and patterns, as other designers adapted his ideas, creating the infamous circle skirt, a garment that has become well-known for its representation of the decade. Full and straight skirts were fashioned from floral cottons, linens, wools, and silks, and solids were decorated with flower-shaped appliqués and embroidery. Tulip-shaped pockets were a whimsical choice to add to a spring skirt or apron.
Dior was not alone in forecasting the new silhouette. Hollywood designer Edith Head was responsible for dressing actors in the new, ultra feminine styles for cinematic productions. Additionally, Head designed what is arguably the most memorable wardrobe of the decade for a female lead: Grace Kelly's clothing in Hitchcock's Rear Window, released in 1954. Kelly's character wore two dresses with floral elements in the movie. First, Kelly wore the stunning monochromatic gown with a black v-neck bodice atop a white, tulle-covered skirt, whose floral elements were appliquéd—vertical, black, floral tendrils reaching down from the waist. The second was a sleeveless, fit-and-flare dress whose fabric featured large-scale bouquets of gold roses spread across a white ground. The black-and-white dress was largely copied, and is still reproduced by sewists today. The second dress is representative of a popular floral of the era, the oversized "cabbage" rose, which adorned dresses in shades of blue, red, pink, or yellow.
Grace Kelly's iconic floral gown.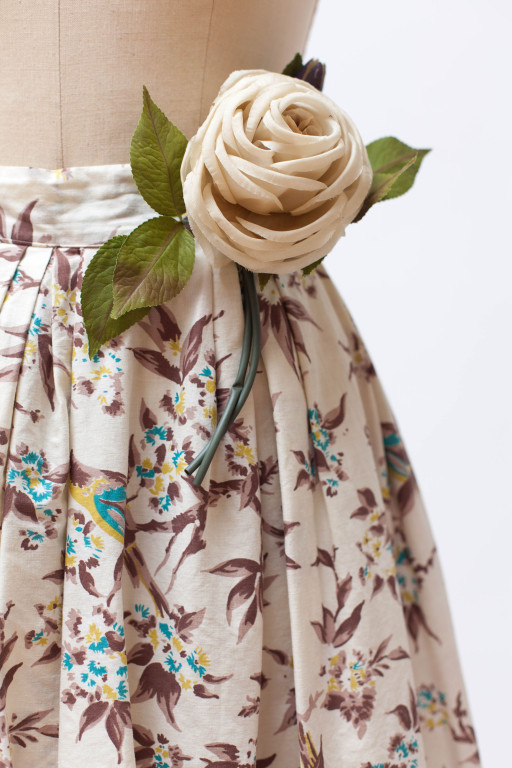 Extreme femininity reigned in this era, from the shapes of clothes themselves to the lush, floral textiles used to create them.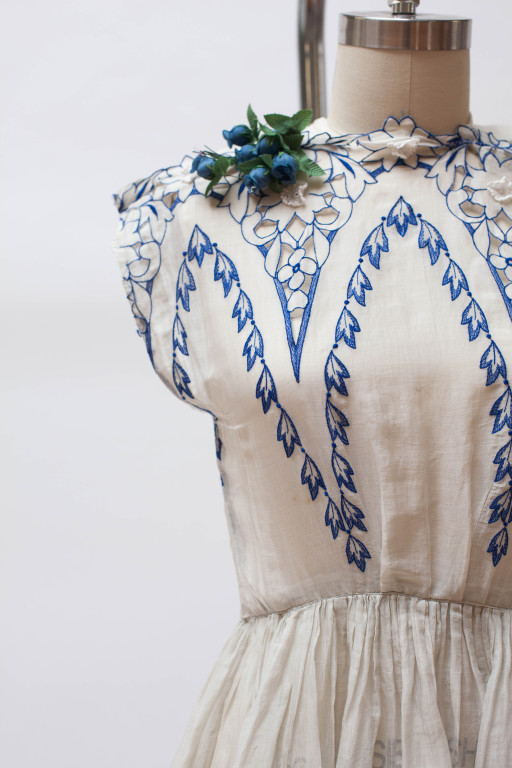 Florals were also incorporated into lace and cutwork patterns, as seen on this organdy dress from the 1950s.
The economic boom of this period meant the average woman owned more clothes and specifically more light-colored clothing, as most homes now had a washing machine, making caring for clothes easier. Most homes had a sewing machine as well, continuing home sewing's popularity, and fabric stores offered a wide variety of textiles, notions, and patterns. Florals continued to be a very popular choice for the classic shirtdress, separates, and sundresses, which were often paired with boleros. Western wear incorporated floral fabric and embroidery on shirts for both men and women.
Although youth culture and casual fashion were on the rise, most women still dressed up in public, wearing dresses or skirts accessorized with gloves and hats. With the war shortages over, a dress made of yards of fabric with a large, modern floral print, perhaps splashed across a clean, white background, felt traditionally feminine yet cutting edge at the same time. Women indulged in layers of petticoats and beautiful shoes, and in fact, floral shoes to match the floral pattern in an outfit were a trend. Women could feel like "bombshells" in their extravagant florals.
The Sixties: Flower Power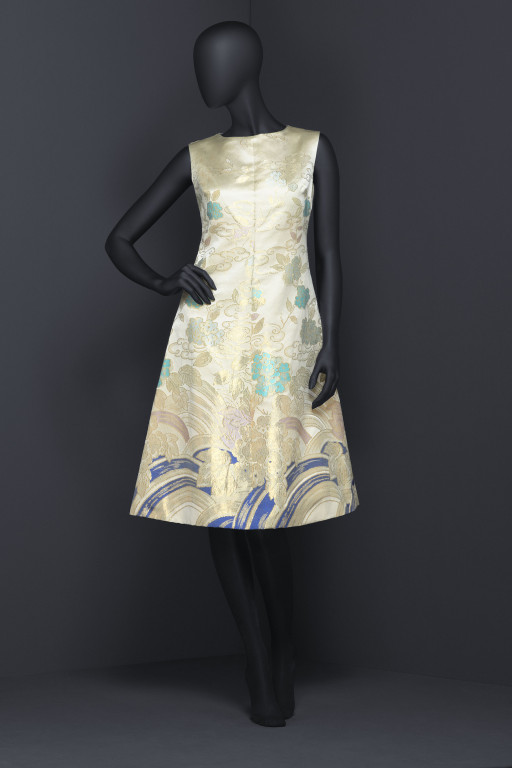 As in the 1920s, florals took on a new, stylized look influenced
by Asian art and textiles.
By the mid-1960s, the mod generation hit the scene, and the term "flower power" represented the social mores of the burgeoning youth culture. Hems rose to mini and then dropped to maxi. Simple shift dresses and "baby doll" dresses represented the sexual revolution and a contradictory mixture of childlike innocence and sexual maturity. Vogue featured waif-like models wearing floral dresses with matching floral headscarves tied under the chin. These dresses had a loose, rectangular shape, and romantic details like gathered, slightly puffed sleeves, which extended to the elbow then flared out in a "pancake" shape.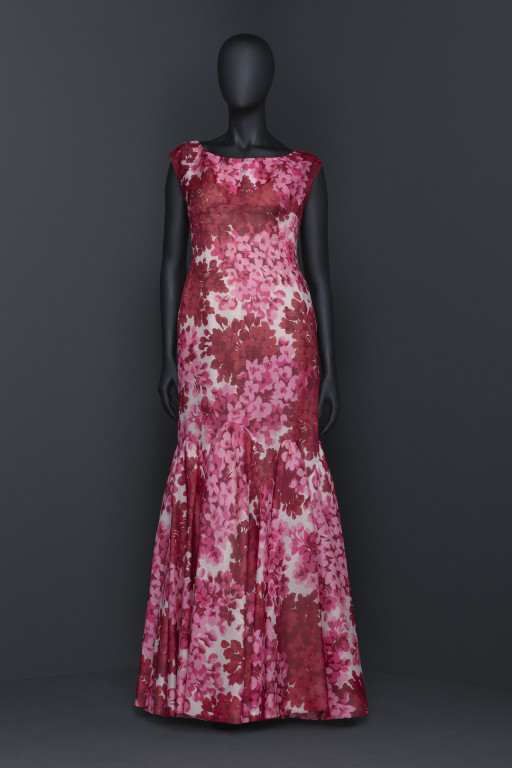 Florals could sometimes take on a psychedelic edge with large prints and extremely bright colors.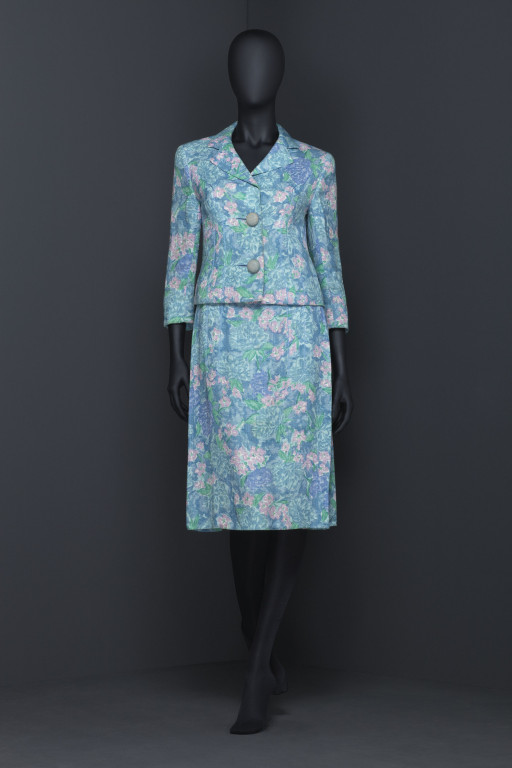 Youthful colors and patterns even influenced the most conservative styles.
Less restrictive, straight-lined shift dresses were in most women's wardrobes. New knit fabrics like polyester were now widely available at local department stores and in fabric shops. The emphasis for many was to break tradition, and psychedelic floral designs and colors replaced more ordered geometric designs as the decade progressed. The bohemian, hippie aesthetic had spread from the West Coast and worked its way into mainstream design. Although the average woman may not have sported a floral micro-minidress, it had become quite common to see women wearing polyester pantsuits with floral blouses or long, floral maxi dresses as more formal attire.
Large-scale florals were popular, as were ditsy floral prints. Floral trim, featuring roses or daisies, added a touch of spring to solid-colored dresses. Mixing and matching patterns and colors was trendy, flying in the face of the traditional emphasis on coordination. The country was in the midst of social and political conflict, and the clothes a woman wore could represent her sociopolitical inclinations. Wearing a more conservative floral felt old-fashioned and ladylike, whereas a modern floral felt free, sexy, and unconventional.
The Seventies: A New Femininity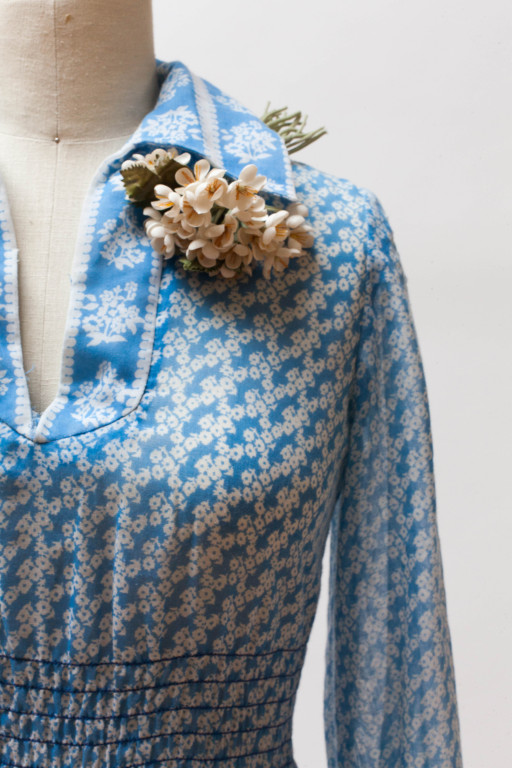 Exoticism was a popular theme in the 1970s, as seen on this dress,
which may have been influenced by an Indian kurta.
1975 was marked by the rise of feminism and a new definition of femininity. Easy-care fabrics and polyester blends encouraged experimentation with bolder floral design motifs. An increasing awareness of ecology and affinity for global cultures resulted in designs with exotic florals and reappropriation of designs from India, China, and Japan.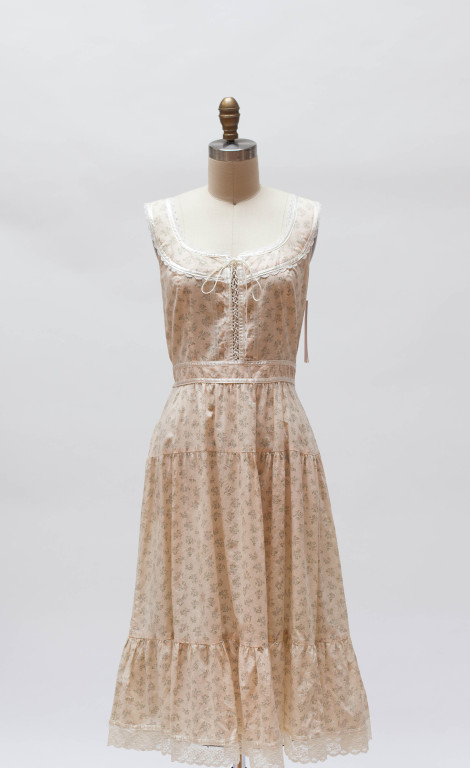 The prairie look recalled the calicos of the early 20th century.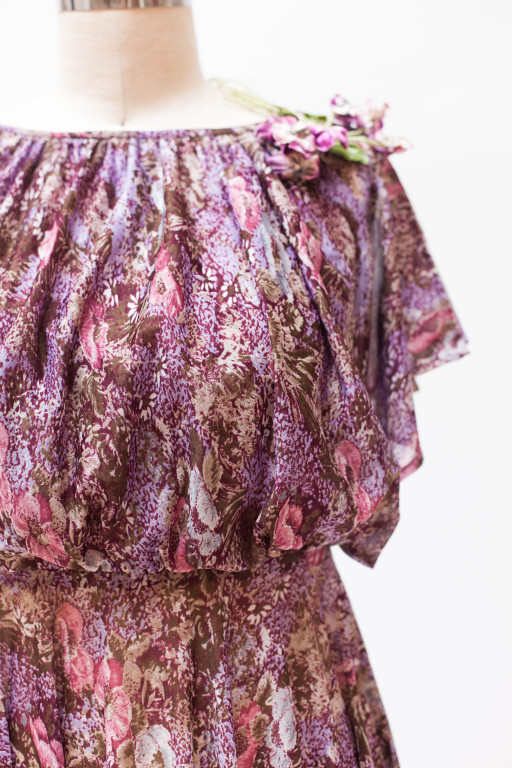 1970s florals were often loose and organic, printed in natural and earthy colorways.
Dress courtesy of
Xtabay Vintage
.
Conversely, the "prairie look" was developed by designers like Laura Ashley and Ralph Lauren, in which longer hem lengths were paired with simple style lines accented by feminine details such as puffed sleeves, ruffles, and tie sashes. This soft look harkened back to pioneer days, and delicately flowered calicos in soft colors were once again a favorite choice. It was also in this time period that Liberty of London, known for quality fabrics, particularly florals, celebrated their centennial anniversary. Liberty released a special line of Tana Lawn, cotton prized by sewists, in their famous, soft palette.
The Eighties: Bold and Eclectic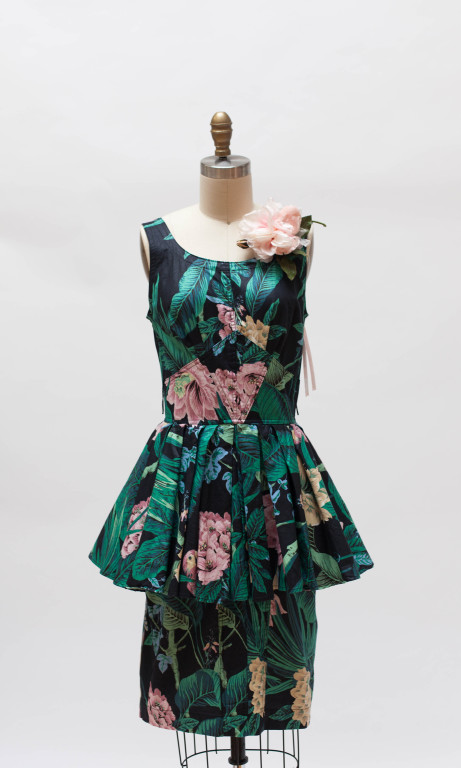 This 1980s peplum dress mimics the 194os style.
Dress courtesy of
Xtabay Vintage
.
The 1980s marked the beginning of postmodernism, and by 1985 the fashion world was filled with preppies, yuppies, and punks. During this decade, an eclectic and personal approach to fashion was valued, and a fusion of elements from high and low culture appeared on the runways and in women's closets. The "new romantics" embraced flowing floral dresses and wore them with hard-edged accessories like Doc Marten shoes and boots.
Career women adopted the motto "dress for success" and donned power suits and dresses with exaggerated shoulders and slim waists reminiscent of the 1940s, but with above-the-knee hemlines. Designer Emanuel Ungaro released a white woman's career suit covered in a pattern of pink rosebuds. Women reinvented the concept of what was considered masculine and feminine in dress, effortlessly combining the two.
The 1980s also marked the rise of brand names in the marketplace, with a decrease in home sewing and fewer fabric retail stores opening as women generally had less time to sew and more disposable income. During this decade, the American music video was born, and pop stars became fashion inspiration for the youth market. Florals were incorporated by music idols such as Madonna into stage costumes as floral lace in bustiers and tutus, and in bright, powerful, abstract forms.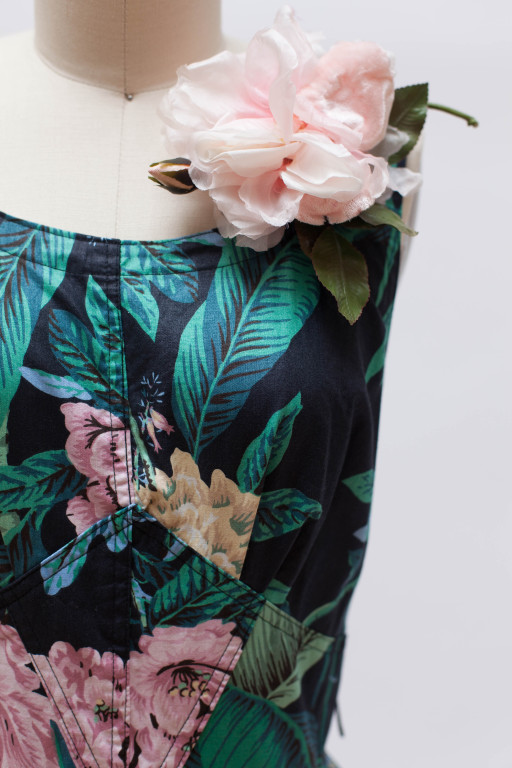 Bright florals remained popular through the late 1980s and beyond.
Palm Beach, Florida designer Lillie Rubin had been using bright florals in her line of mostly summer garments for decades, ever since her designs gained nationwide popularity when then First Lady Jackie Kennedy was photographed in one of Rubin's designs for LIFE magazine. In the eighties, Rubin's palette of vivid pinks, greens, oranges, yellows, and blues, in cheerful, often flowery, patterns gained new momentum as they trended among young preppies who gravitated toward the upper-class-at-play image they projected. A woman could choose a floral that made her feel unique, while at the same time stylish.
Modern Florals
By 1995, another burst in textile-related technology allowed professional fashion designers to create their own floral fabrics. Heat transfer printing provided a new way for creating prints, as designs could be created and stored on a computer and later printed onto textiles to meet demand. Laser cutting and layering allowed floral lace to be created from a variety of fabrics, including leather and vinyl. The 90s also marked a rise in architectural fashion and the new Minimalism, led by Japanese designers, including Issey Miyake. Floral dresses felt renewed and refreshing.
Now in 2015, we have entered the age of personal technology and fashion. Home sewing is experiencing a glorious rebirth, as sewists find one another through blogging and can design and sell their own floral fabrics online. Each of us now has even more power to craft our individual identities through the clothing we make and wear. Will you zip up a 40s style blouse or a 50s sundress from one of the historical reproduction cottons available? Will you choose a bold 60s print for a shift dress? Incorporate a floral lace overlay? Or perhaps you will create your own floral fabric or draft your own pattern to bring the vibrant essence of flowers into your spring in a new, original way.
Join the Conversation
Sign in or become a Seamwork member to comment on this article.