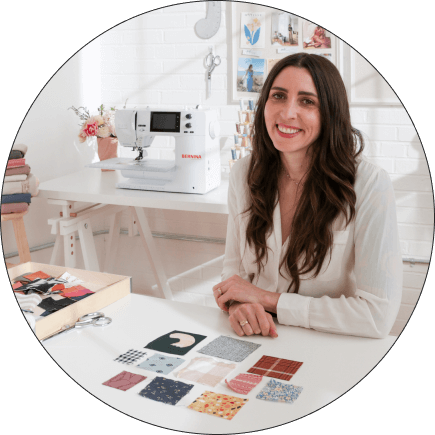 Your Free 5-Minute Creativity Booster
The newsletter from Sarai that's designed to level up your sewing — delivered Mondays and Wednesdays.
Hi, I'm Sarai!
I'm the founder of Seamwork. For more than ten years, I've brought creative inspiration, tips, and tools to the over 200,000 readers of Snippets. My goal is to jumpstart your creativity every single week. Sign up and get the best sewing newsletter out there delivered for free.
Don't miss the next Snippet!
Sign up for free.
Would you like to join us?
If you're interested in becoming a part of the Seamwork community, we'd love to have you along. We'll help guide your sewing adventure with patterns, learning, and our amazing community.
The Seamwork Library of 200+ wardrobe-building patterns

Value: $3,200

Grow your skills with monthly sew-along classes

Value: $1,176

Get support from the Seamwork team

Value: Priceless!

Celebrate your wins when you set sewing goals

Value: Priceless!

Visualize more creative possibilities with real member projects

Value: Priceless!

62+ pattern bonus variations - only available to members

Value: $496

Design Your Wardrobe 3-week program

Value: $299

Discounts at your favorite indie fabric shops

Value: $10–$200

Define Your Style worksheets – make clothes that are more you

Value: $19
Total value of everything included
$5,200+
This is the total estimated value of every item included in your membership. And that value increases every month as we add new patterns and classes!
Unlimited
$7.50
/month
Billed annually at $180
Billed annually at $90
Enjoy a 15 day free trial. Get a free pattern and access to the rest of the Seamwork benefits. Cancel any time, and we'll email you to let you know before your trial ends and your Unlimited membership begins.
Start Free Trial
Start your 15 day free trial today and lock in this discounted price for as long as you're a member.
Monthly
$16
/month
Billed monthly
Choose 2 patterns each month.
Try Seamwork Today