If you were asked to imagine a fashion designer in full creative mode, you might well picture a woman clad in all black, furiously sketching away in a notebook. But fashion sketching isn't only for the Donna Karans of the world—not only is it fun to be as a "designer for one," but it can also help elevate your sewing to a new level. There are now lots of fashion sketchbooks available, and today I'm going to take you through how you can use them in your home sewing, and what to look for when deciding which one to choose.
What Are Fashion Sketchbooks?
What Is A Croquis?
The word croquis literally translates to "sketch." However, in the fashion world a croquis is a body template from which you sketch.
Theoretically, a fashion sketchbook could be any pad of paper or book where you draw ideas for garments! However, the key to most specially-designed sketchbooks is that they contain croquis.
If you've ever tried to free-hand draw a person, you'll know how hard it is to get the proportions right; the idea of a fashion sketchbook is that it gives you a shape first, onto which you can draw your garments. To avoid a confusing image, most fashion sketchbooks (though not all) print the croquis in a light color, or use faint dots—you can read more about the approaches of different sketchbooks below. Once you draw on top of the croquis, you'll have a proportionally correct garment and the croquis will fade into the background, leaving a professional-looking image.
One of the biggest advantages of fashion sketchbooks is that you really don't need to be good at drawing! Just use the croquis as an outline and mark on your seamlines and details, and you'll end up with a great representation of your design.
Ways to Use Fashion Sketchbooks
There are many ways to use these books, but here are a few of the most common:
Capturing Inspiration and Planning Outfits
Do you ever see someone wearing an amazing outfit on the street, think "oh, I must copy that!" and then promptly forget?
Yes, me too.
That's one reason it's great to have a small fashion sketchbook in your purse at all times, because you never know when inspiration may strike. Whether it's the stylish woman on the metro or a garment in the window of a fancy store, it's good to capture ideas as soon as you have them. With fashion sketchbooks you can focus on drawing a single piece of clothing, or you can try to capture an idea for a full outfit or styling.
Buying fabric also often sparks lots of garment ideas: sketching quickly allows you to capture them so that when you retrieve something from the depths of your stash, you remember your original intention.
Finally, if your mind is overflowing with planned projects, it can be hard to remember them all or decide what to do next. Sketching out those ideas can help you queue up your projects and make a plan.
Designing & Planning Garments
Planning new sewing projects is one of the most helpful ways to use a fashion sketchbook. For sewists who are drafting from scratch, they can be invaluable—you can use the croquis to test out thoughts on seamlines, hemlines, necklines, or any other aspect of a garment.
But even if you don't draft from scratch, there's still lots of details that could benefit from a specific plan. These are the types of questions that sketching can answer. Are you going to make alterations to the pattern? What would it look like with different sleeve lengths? How are you going to use your fabric or print placement? Do the proportions work for you or are you going to try to change them?
Sometimes it's only when you draw something out that you even realize you want to make changes! Given how much time, effort, and money sewing can cost, it's a really good idea to think through your plans first, and decide whether you need to make alterations before you cut into your precious fabric.
As a Diary
As a sewist, it is rare to nail a project the first time. Often after completing a garment, you may find that next time around you would make a few changes. If you are like me and have the memory of a goldfish, then capturing what changes you made to a sewing pattern, or would like to make in the future, is invaluable.
Annotate your sketches with what alterations you made to the flat pattern (did you change seam allowances? Cut your fabric single layer to make it work?), what changes you made while sewing (did you alter the order of assembly? End up nipping in the waist more?), and any other notes for making it again in the future, such as the fabric requirements or special techniques you needed to use.
Once you've worn your garment a few times, it's also worth thinking about if you've realized there are additional changes you need to make in the future—capture it in your sketchbook and you're much more likely to remember. I often find that I don't realize which alterations I need until my garment has been through the wash a few times and worn in different environments. By keeping a diary of your sewing, your sketchbook can become a living record, helping you perfect your tried-and-true patterns, and allowing you to avoid repeating the same mistakes.
Fashion Illustration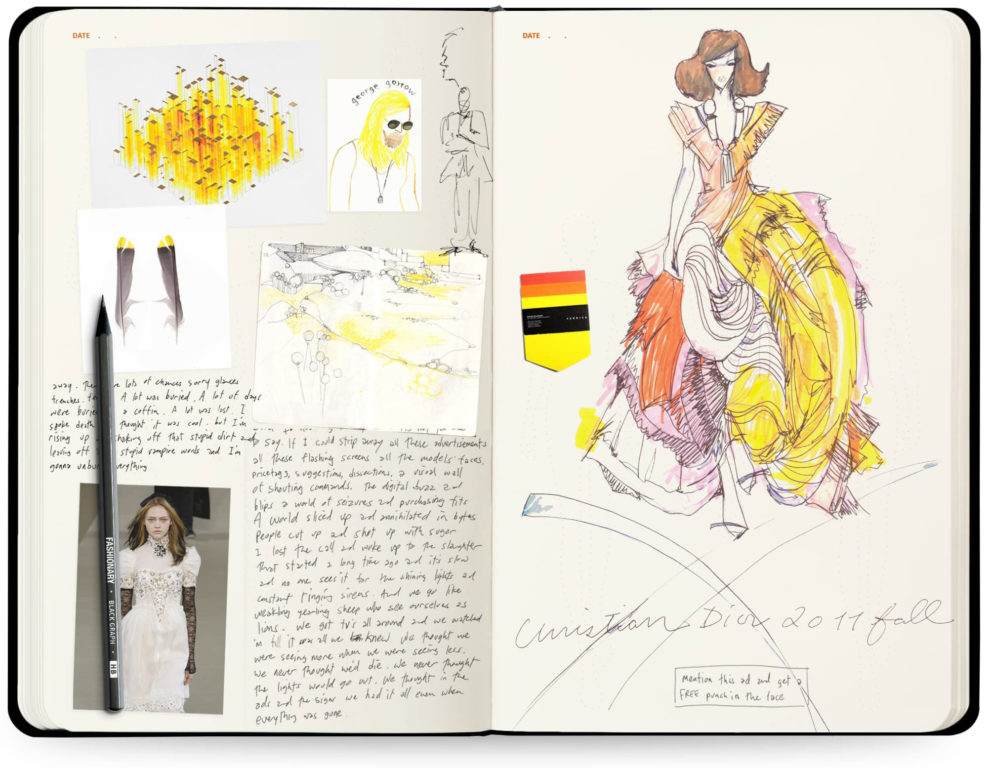 Pages in a sketchbook can look like multimedia pieces of art.
Finally, if you're a fashion maven, you might simply enjoy the art of illustrating! Many fashion designers create sketches that are miniature works of art, and if you're artistically inclined you may enjoy using the croquis to make beautiful pieces of art. A quick Google search will show you thousands of inspirational drawings done by designers.
What to Look For in Your Fashion Sketchbook
There is a range of different types of fashion sketchbooks, so it's important to understand which ones will suit your needs and what you'll ultimately use the most.
Croquis Body Shape
Originally, fashion sketchbooks were exclusively used by fashion designers, which means that many of them have a very "high-fashion" model-type body shape, and in some cases, have a stylized body that is more alien than human!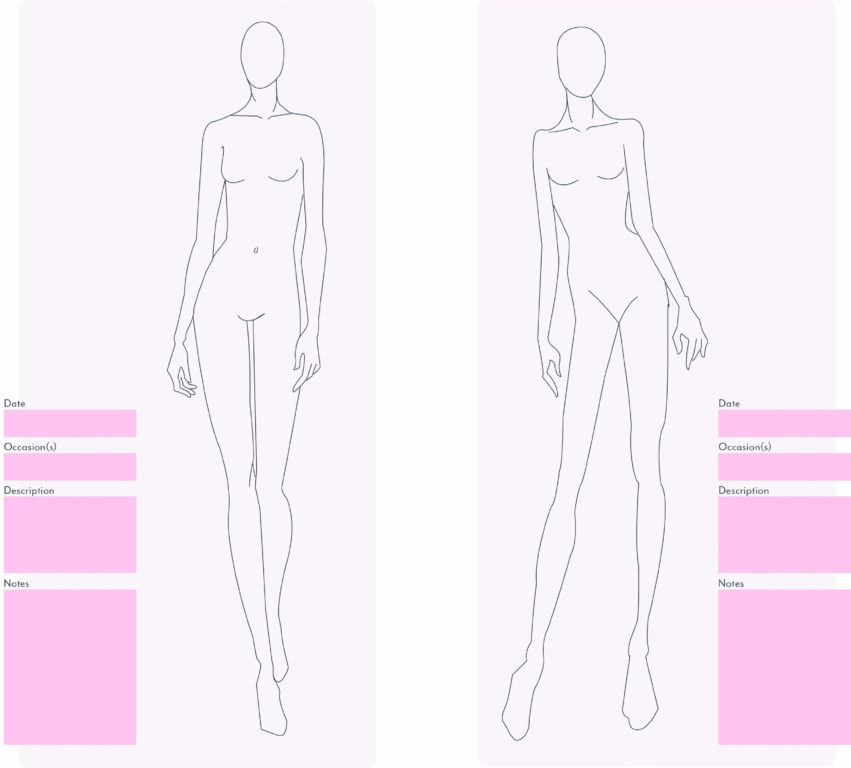 Traditional croquis have elongated bodies.
They're based on a body type that is nine heads tall—the average person is more like seven heads tall—this explains the often odd proportions seen in most fashion illustrations. If you're interested in fashion illustration or are model-shaped yourself, these figure outlines may work well for you. You can find these types of croquis in the Fashionary line of sketchbooks, the Fashion Sketchpad, or the Essentials Fashion Sketchbook.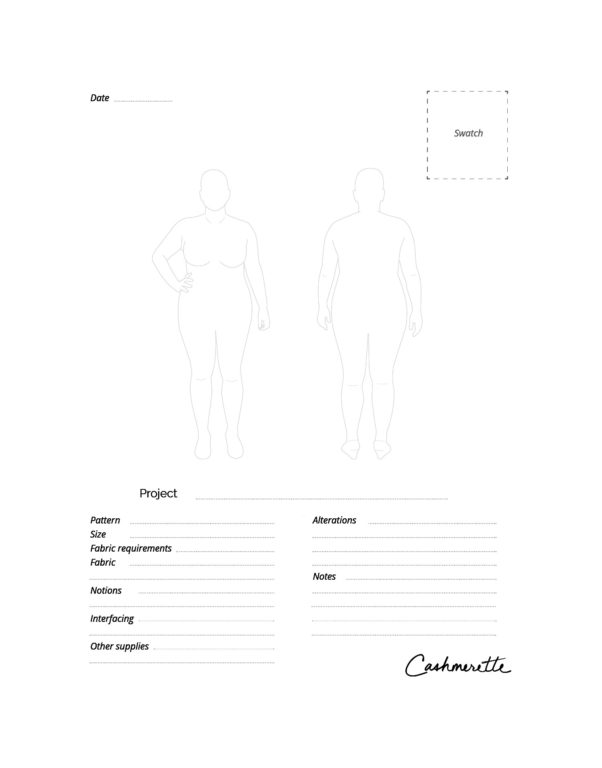 If, however, you'd rather draw on top of a croquis that resembles a non-model human, there are other options available. These include the Cashmerette Curvy Sketchbooks, which features croquis of a size 14 (US, size 18 UK) woman, Gertie's New Fashion Sketchbook, and the 110 Creations sketchbook, which have slim but average sized croquis.
Croquis Style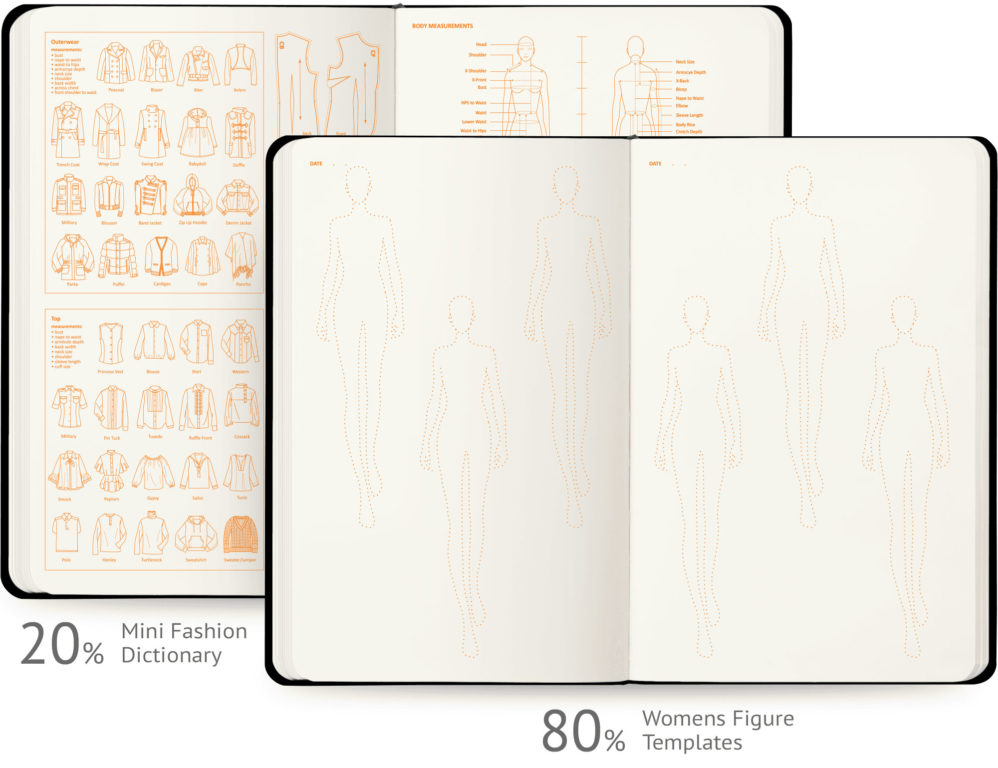 Many croquis are outlined in subtle dots so as not to distract from your design.
Most croquis are designed to fade into the background, so bear in mind that you'll often have to use them in good light, and some may be hard to use for people with poor eyesight (in which case you might want to consider the 110 Creations sketchbook, which features a more prominent croquis).
The two most common approaches are either for the croquis to be printed in a faint gray (like in the Cashmerette Curvy Sketchbooks and Fashion Sketchpad) or for the croquis to be a series of dots that connect to form a figure (like in the Fashionary series).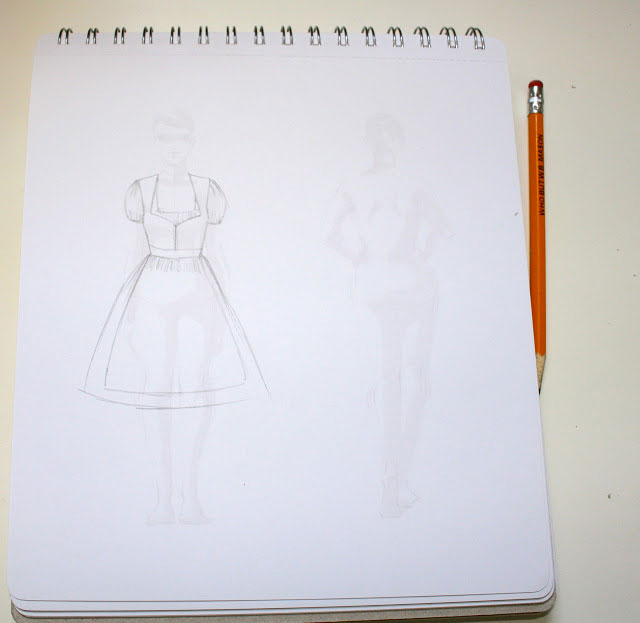 Gertie's New Fashion Sketchbook has a new type of croquis that has
a shaded outline, so that you can draw in the body shape that
you want to use.
A dedicated space for making notes.
There is variation between books in the pose of the croquis. Many of the books designed for fashion illustrations have posed or moving croquis—Fashionary's croquis feature a walking figure, and in the Fashion Sketchpad they are striking a model pose. The Cashmerette sketchbook has croquis seen straight-on from the front and back, which makes it easier to capture details for sewing, and Gertie's New Fashion Sketchbook has front and three-quarter view.
Notes, Sketches, and Records
Sketchbooks aimed at sewists often have space on each croquis page to make notes for planning or recording purposes; the Cashmerette sketchbooks and the 110 Creations sketchbooks have space for notes on fabric, sizing, alterations, etc., as well as tables to capture body measurements and stash information.
Additional Design & Sewing Information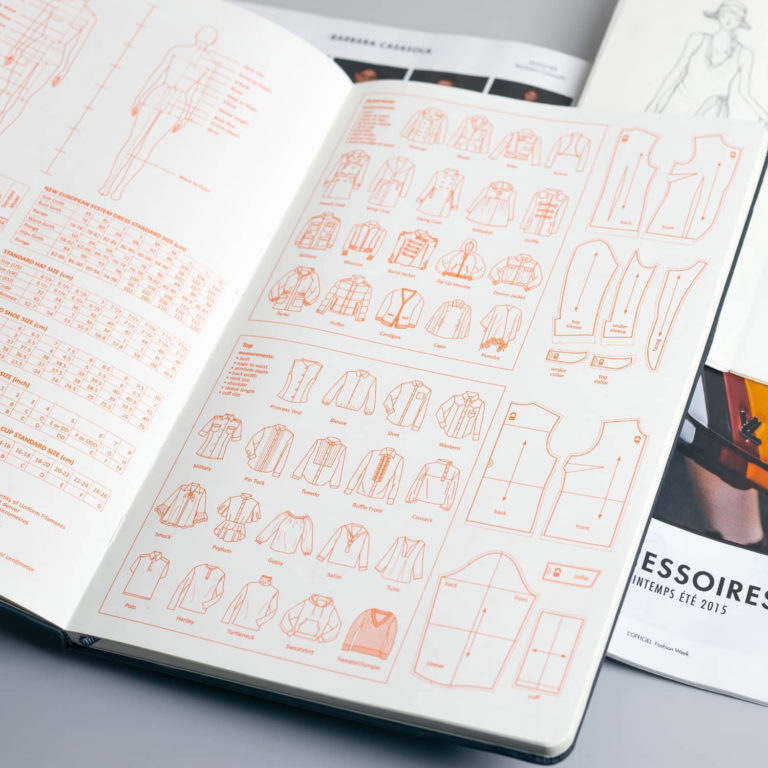 Some fashion sketchbooks come with handy additional information.
There is a range of additional information in many of the sketchbooks, from Fashionary's dictionary of styles and fabric care labels, to a guide to historic clothing styles in Gertie's, and a resource list for curvy sewing in the Cashmerette sketchbook.
Whichever fashion sketchbook you choose, it has the potential to up the creativity of your sewing and help you improve your technique over time, so whether you're an avid artist or a hesitant drawer, give it a go!
Join the Conversation
Sign in or become a Seamwork member to comment on this article.