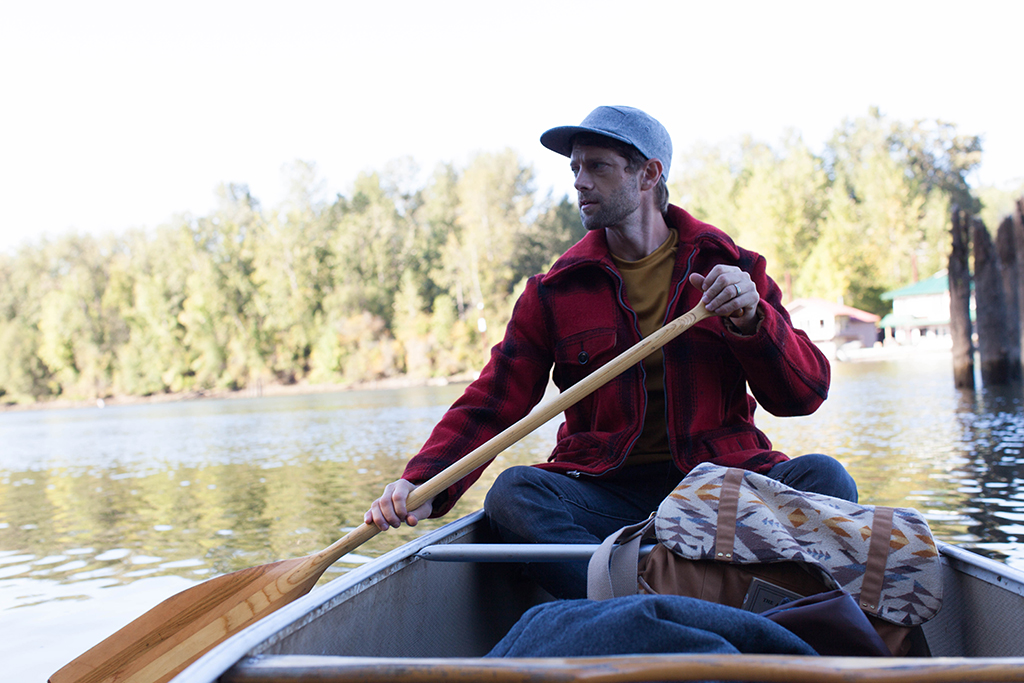 Menswear styles evolve slowly, and this classic wool hunting jacket from the 1960s exemplifies that fact. This style of jacket dates back to the nineteenth century, when it was made in water resistant material and was frequently worn by English aristocrats while hunting small game.
Today, the classic hunting jacket is still being produced in a nearly identical style to this version. Its mix of heavy wool fabric, copious pockets, and features designed to keep the cold out make this an extremely practical outdoor style. Weighing in at over four pounds, this garment is guaranteed to keep the wearer warm.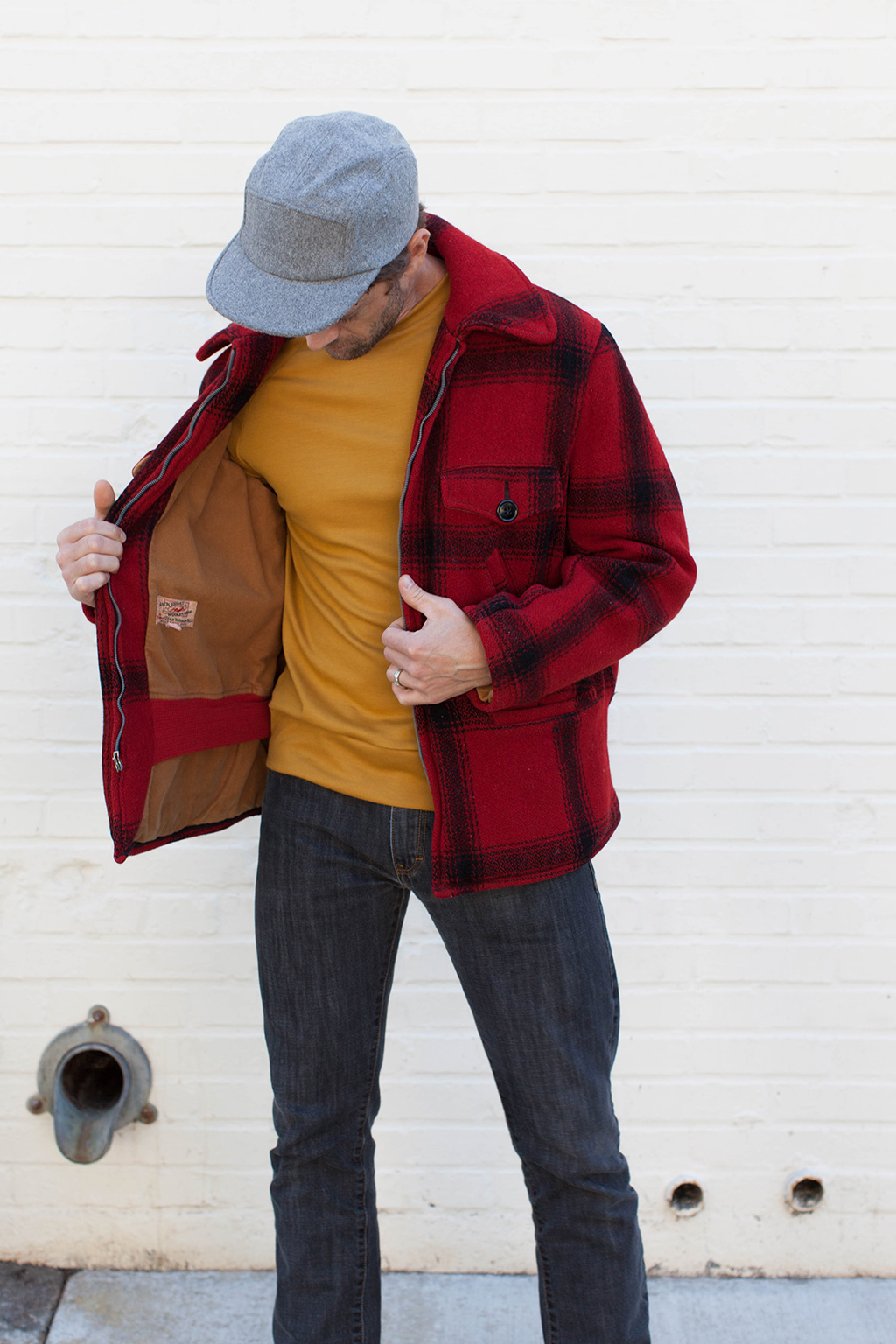 The outer shell is made from a tightly woven, heavyweight wool coating. The tight weave keeps out cold and wind, even without an interlining. The jacket lining is made of a comfortable flannel.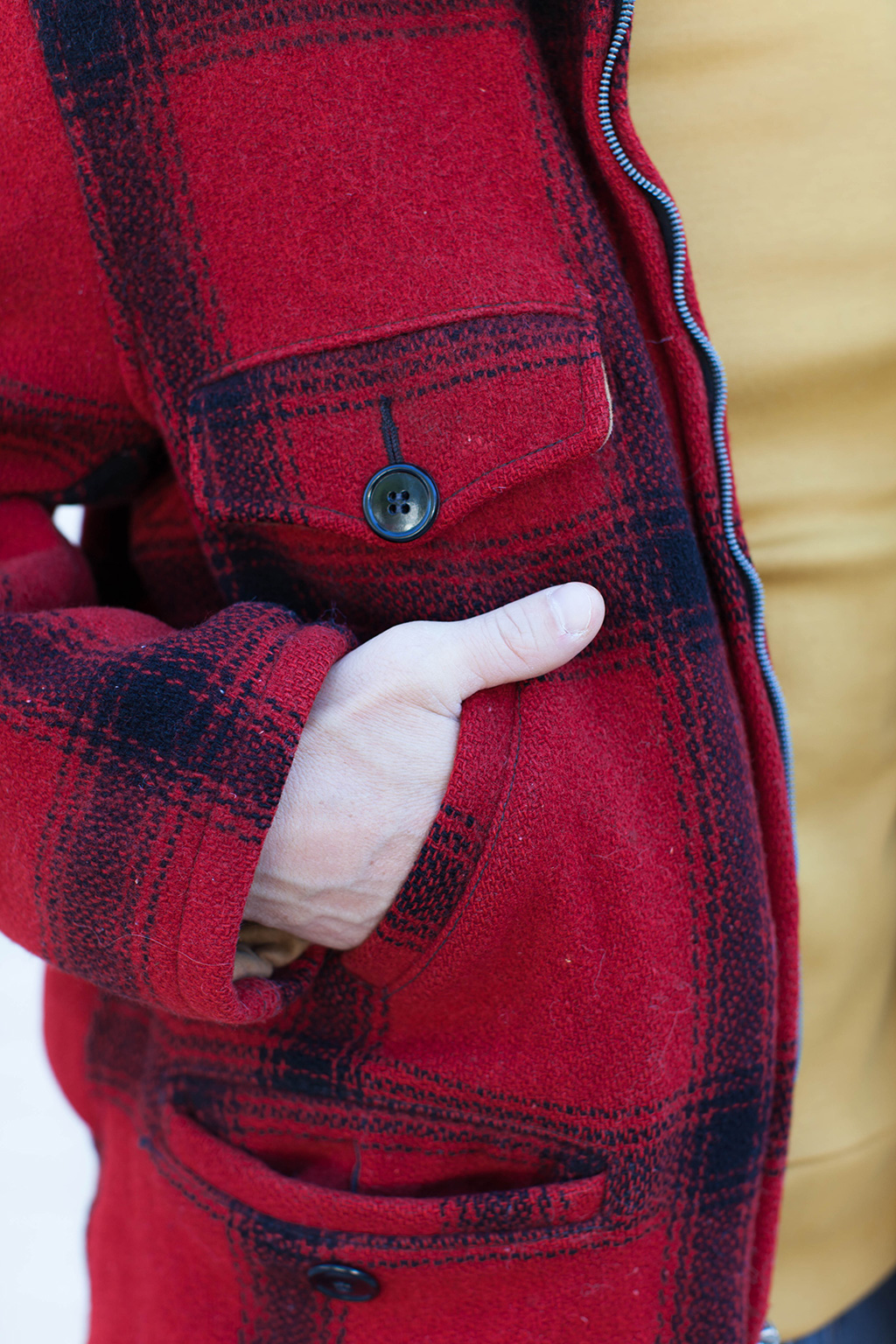 The hunting jacket features numerous front pockets, including a hidden interior patch pocket and five welt pockets. The chest pocket and lower pockets include large flaps, while slanted welt pockets are meant to keep hands warm.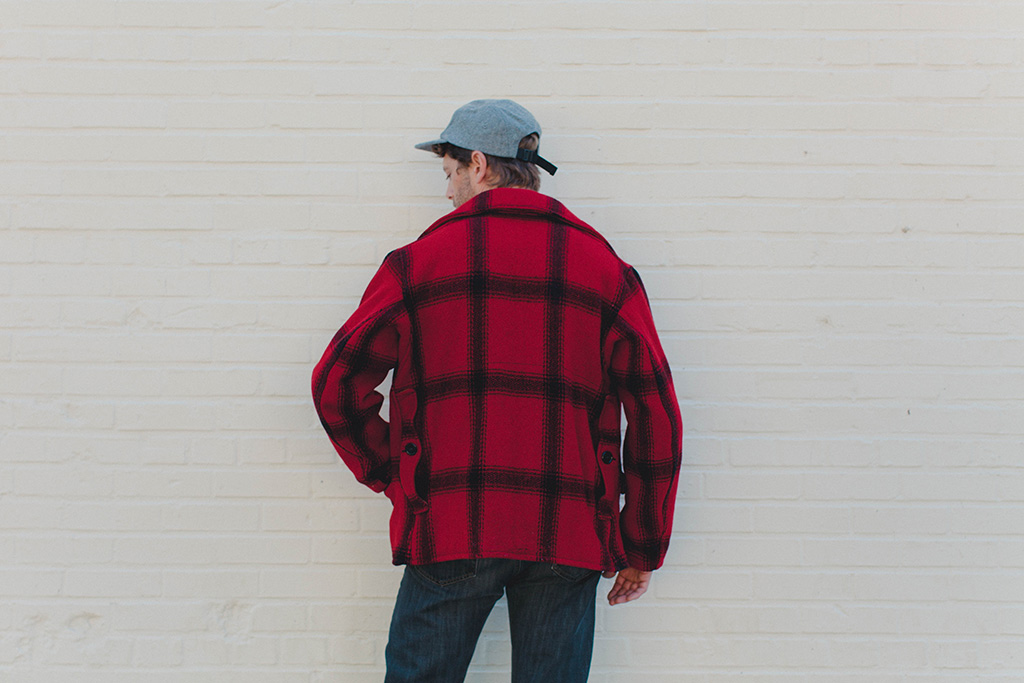 A large single pocket with wide button flaps extends along the back of the jacket. This feature, known as a stowage pocket, was intended for holding small game on a hunting trip.
The two-piece sleeve is designed to be roomy and allow plenty of movement. The underarm forms a diamond shape rather than a curve and is dropped to give even more room.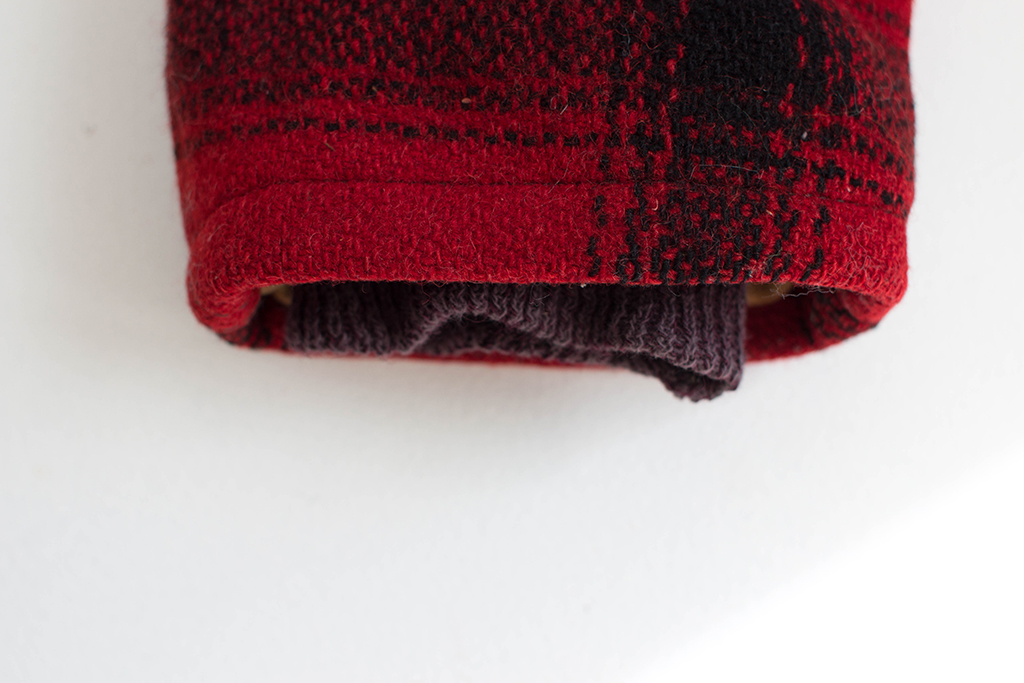 Inside the sleeve is a storm cuff made of knit ribbing. This cuff-within-cuff design keeps moisture and wind from penetrating at the jacket's openings.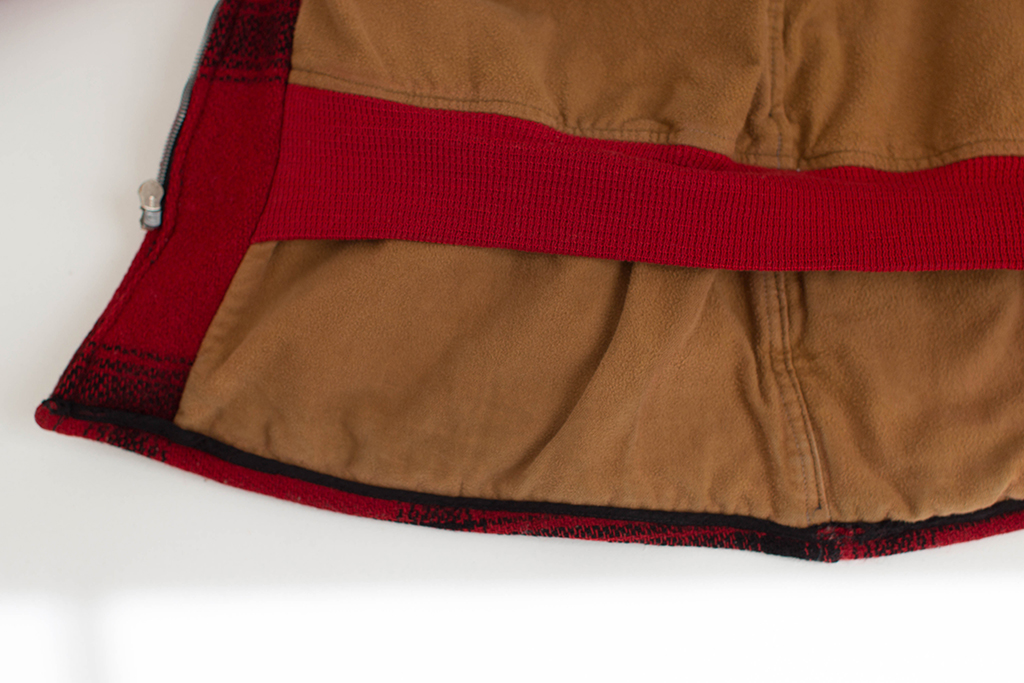 Another band of ribbing circles the waist inside the jacket. Again, this ribbing is designed to keep the jacket close to the body, so the wearer stays as warm as possible. Interestingly, the ribbing at the cuffs looks completely different from the ribbing at the waist. The waist ribbing is knit at a finer gauge and in a color that matches the jacket. Perhaps the factory chose a less expensive ribbing for the cuffs, since it is less visible.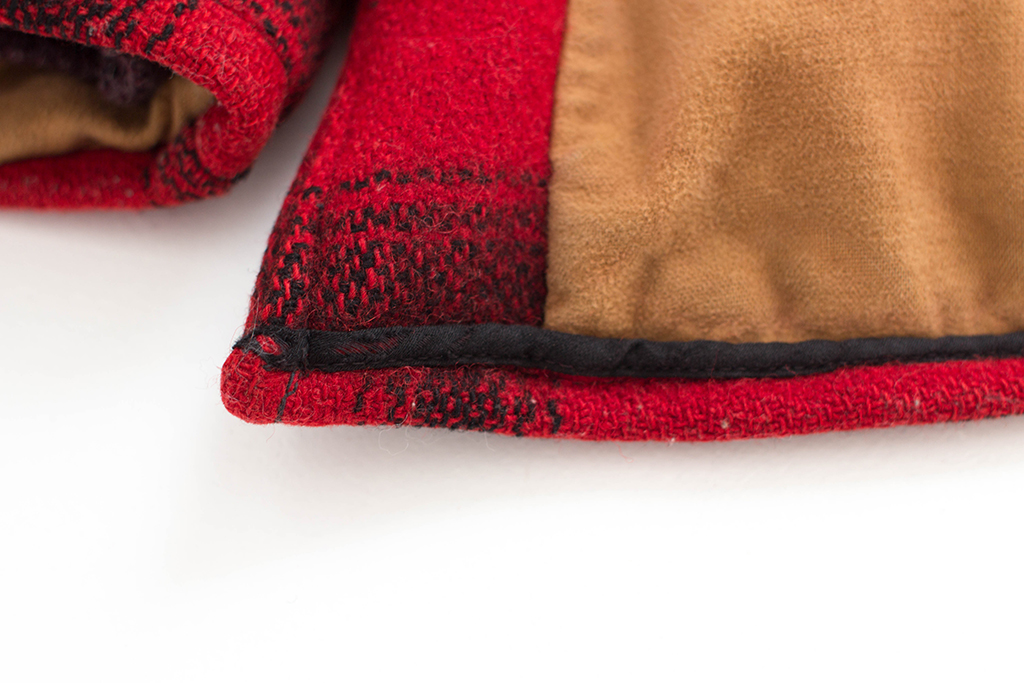 A narrow hem is bound with black bias tape. The thin bias binding is less bulky than a simple turned hem would be in this thick fabric.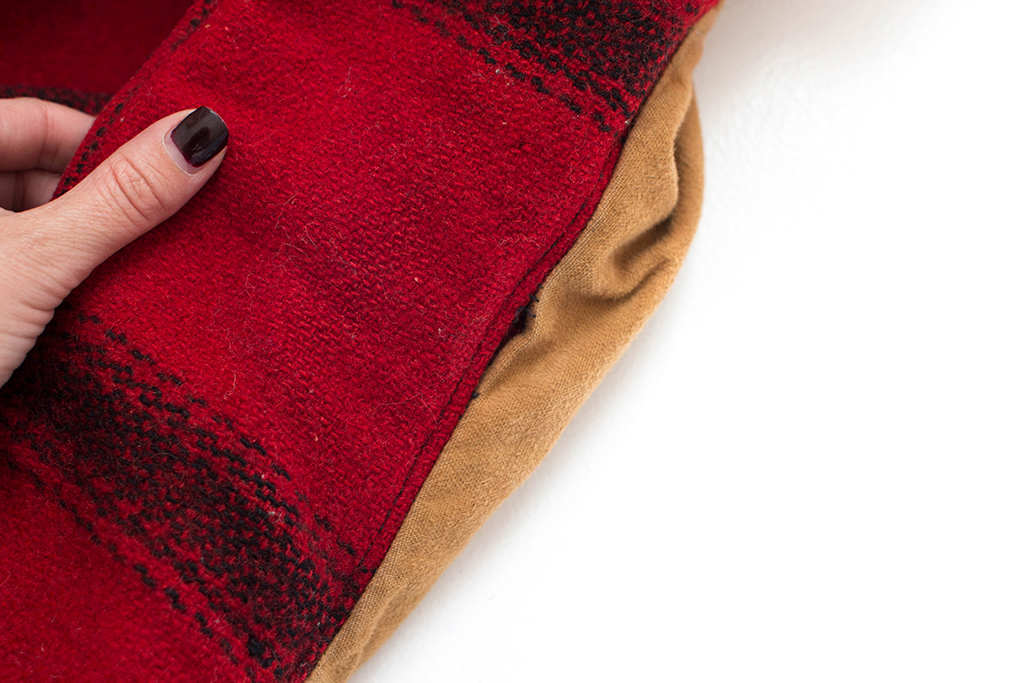 The jacket is sewn in a heavy cotton thread throughout, using a long stitch length. The thick thread provides enough durability to match the weight and heft of the fabric.