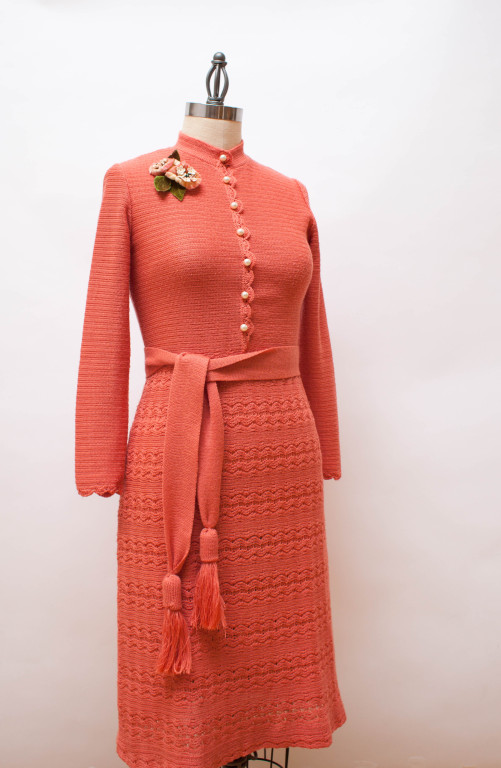 At first glance, you might believe this dress to be hand crocheted. Produced by the Caledonia Knitwear company, a New Jersey based clothing label, the show stopping dress certainly has the lacy look of crochet. The horizontal rows of the fabric and the open scallop pattern of the skirt all suggest crochet, a method of knitwear that is almost always done by hand.
In fact, this dress is cut and sewn from knit fabric, much like your favorite modern jersey dress might be. Yes, the fabric happens to be a particularly interesting form of knit material, but it's essentially created in the same way you'd sew any knit dress, with a few extra special details. Let's take a closer look.




You may notice that the fabric of this dress doesn't look like the typical knit you find on a sweater. That's because the knit fabric was cut crosswise. Notice that the wales of the knit go side to side rather than up and down. Not only does this give the dress an unusual look, it makes the fabric more vertically stable. This is important because the dress is heavy and might otherwise stretch and sag.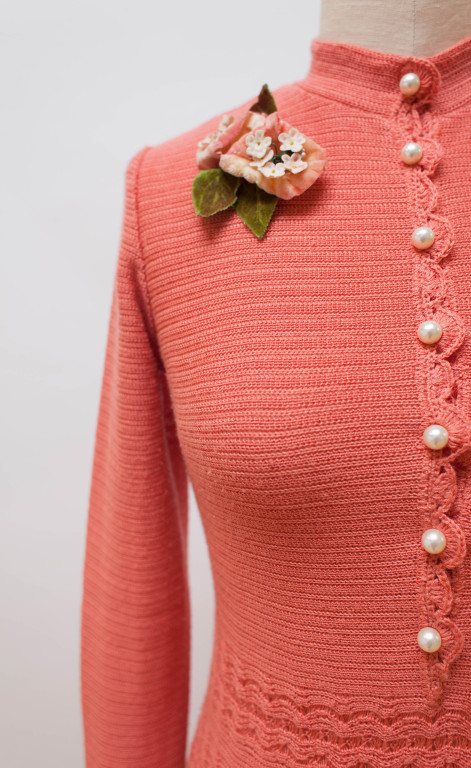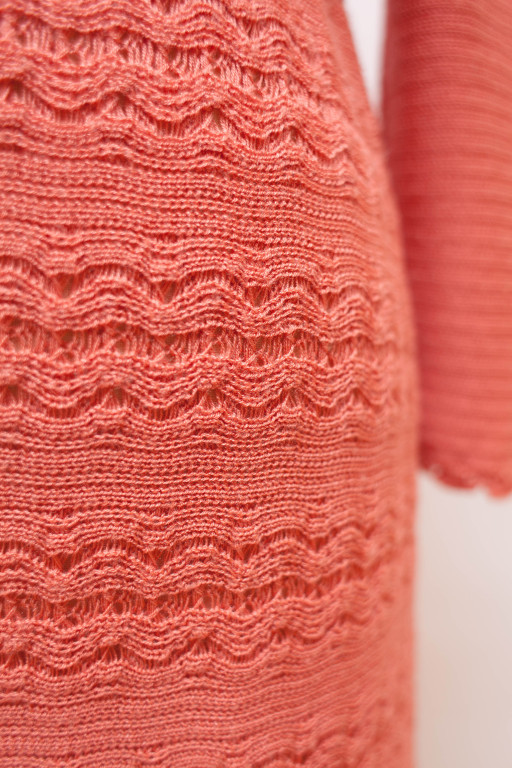 The skirt has lacy scallops knit into the fabric. The fabric for this dress was created on a knitting machine, and the open portions seem to use a combination of cables and dropped stitches to create the effect.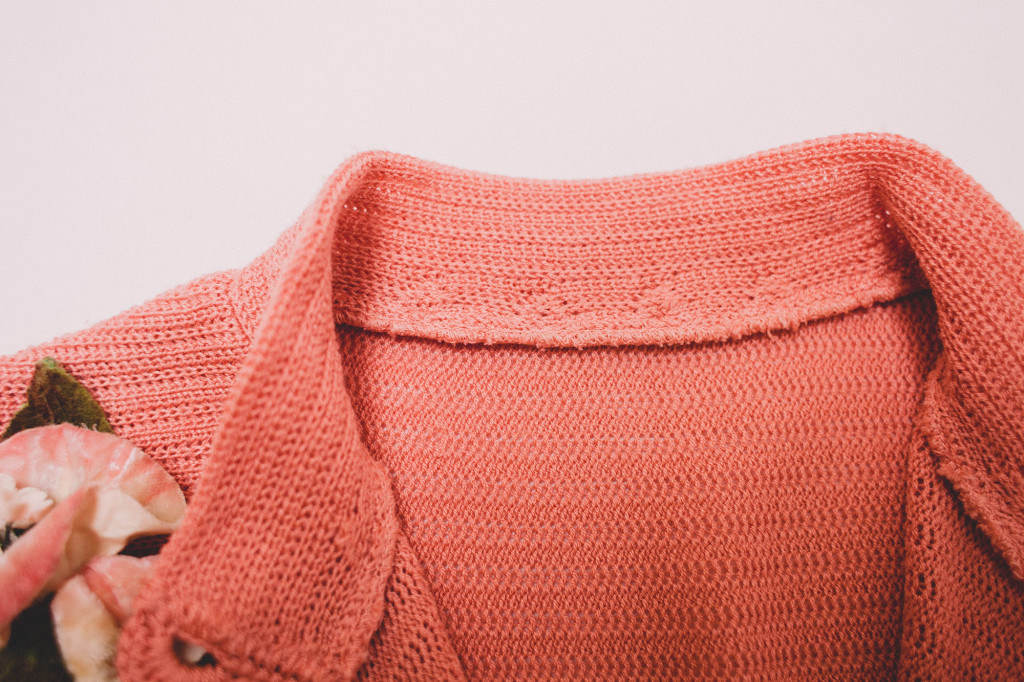 The dress is sewn and finished with an overlock, just like knit dresses you might make yourself if you're lucky enough to have a serger.




The self-tie belt is finished at the ends with a large tassel made from the same yarn used to create the dress fabric. You can see that these 2-ply strands are quite fine. The fabric itself is knitted with two strands together to create a slightly thicker fabric. The belt fabric wraps around the tassel and is tucked inside to hide a raw edge.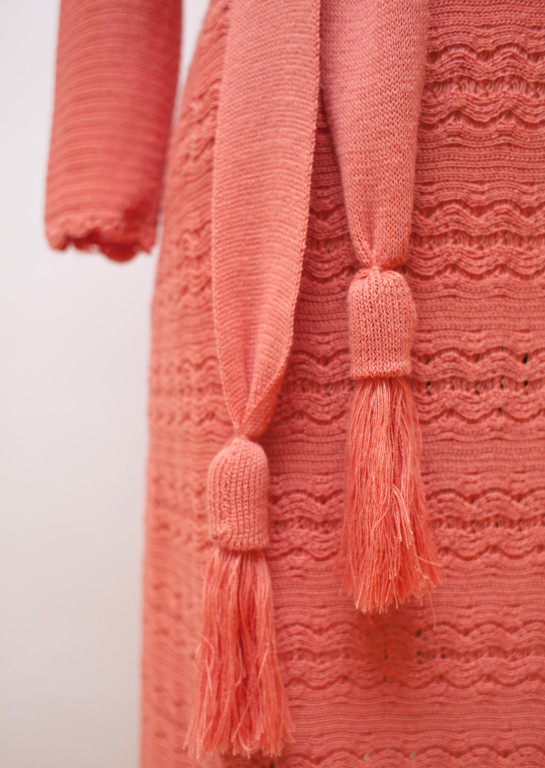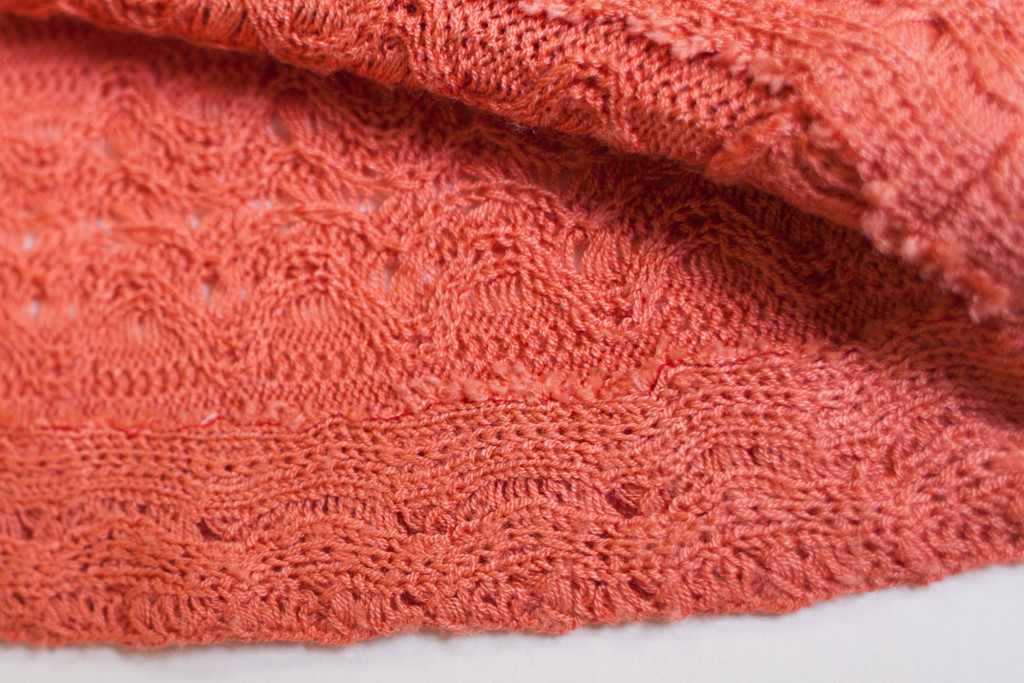 Red stitches are visible on the inside of the hem. These straight stitches are there to prevent the raw edge from fraying. The hem is actually sewn in place with pink thread to match the fabric, so it's invisible from the outside. Perhaps red thread was used on the raw edge to make trimming easier.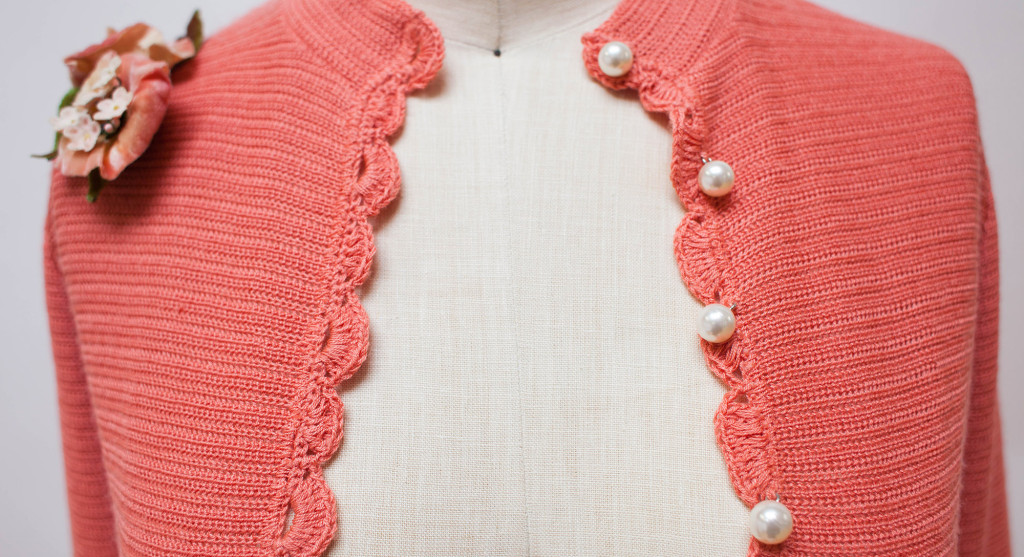 The scalloped edgings that form the button plackets are crocheted by hand. This crochet was done with 3 strands of the yarn held together, to create an even heavier stitch. These crochet edges finish and stabilize the edges, but they also make for highly decorative closures combined with large pearl buttons.