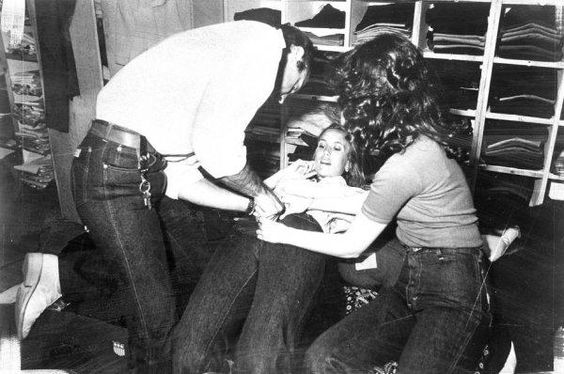 Trying on jeans in New York's French Jeans store.
September 22, 1975, page 65, New York Magazine: All Things Tight and Beautiful. "The only way you can zip up this fall's chic super tight French jeans, according to Jerry Hart, one of the partners in the new French Jeans Store, is lying down. So the shop will provide a denim covered mattress on a bed-sized red car frame with a mirror on the ceiling…"
What would Levi Strauss, the originator of America's favorite jean, Levi's 501, have thought walking into the decadent French Jeans Store? Would he have even recognized the pants—which he had practically invented almost a century earlier—that lined the walls?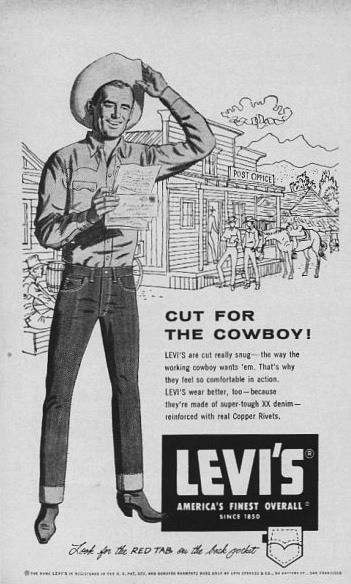 Early advertisement for Levi's Jeans.
The jeans that Strauss had made popular weren't designed for style; they were made for durability. The strength of the denim and his signature rivets were for working people: lumberjacks, cowboys, and farmers. However, as jeans were adopted into mainstream casual wear, they came to signify an "otherness" in the wearer, a disregard for the business suits and girdles of the establishment, perhaps a longing for the uncivilized frontier of the cowboy.
Along with the anti-establishment nature of denim ran an undercurrent of sex. In early movies, handsome denim-wearing cowboys would always get the girl. When The Wild One and Rebel Without A Cause were released in the 1950s, the sexy sneers of Marlon Brando and James Dean caused panic in parents and teachers. Denim was targeted as a symbol—and cause—of teenage rebellion. A decade later, as the sexual revolution began in earnest, the hippie counterculture adopted jeans as their uniform of choice.
It wasn't until the 1970s that fashion designers embraced denim, plastering their names on pockets and tapping into that sexual undercurrent with provocative advertising. Three designers in particular—Elio Fiorucci, Gloria Vanderbilt, and Calvin Klein—were the nucleus of the designer denim movement. The success of their labels kicked off a frenzy for designer-labeled jeans, turning what was once a utility garment into a high-status symbol.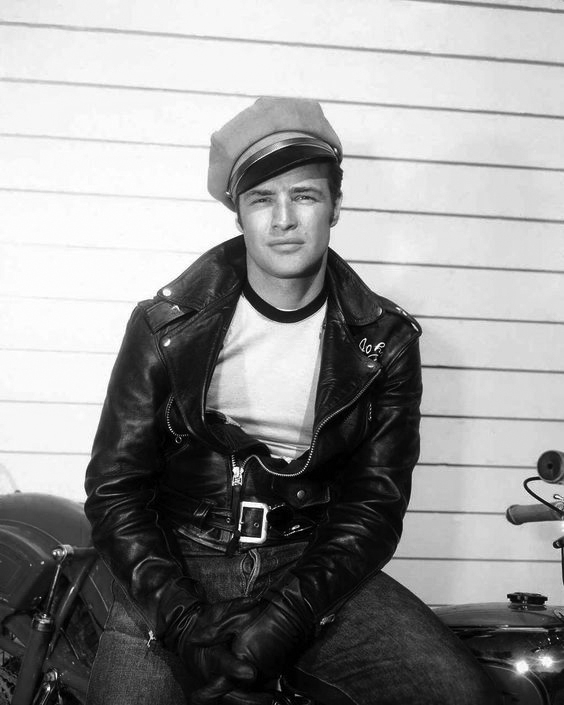 Marlon Brando wearing jeans and a leather jacket in The Wild One.
Elio Fiorucci
Dressing for the Dance Floor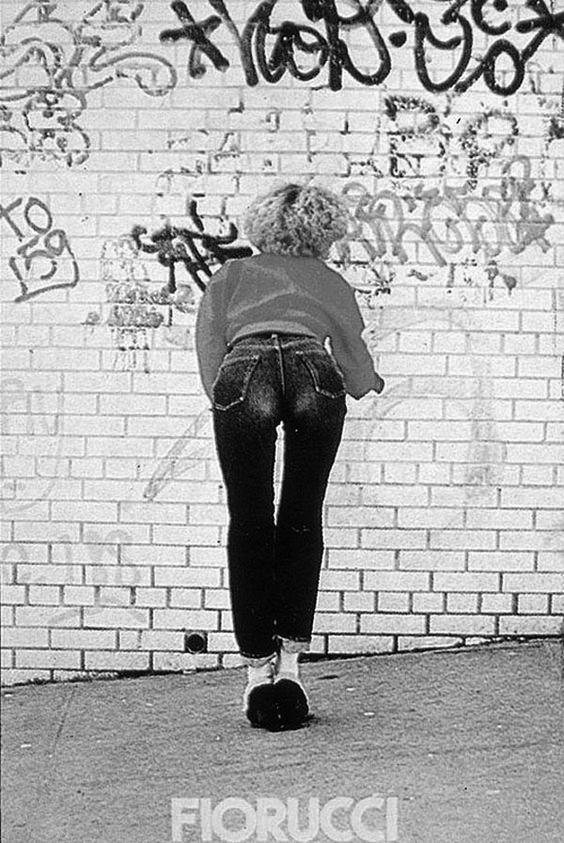 Fiorucci jeans advertisement.
Ostensibly, the designer jean phenomenon can find its roots in the pop-art sensibility of Italian designer Elio Fiorucci, who opened his eponymous store in New York in 1976. The Fiorucci store was a hotbed for New York's most outré artists and celebrities, who flocked to the store for the music, the atmosphere and, especially, Fiorucci's Safety Jeans.
Fiorucci modeled his denim line after the European cuts that he saw while traveling through France. "One day I was driving in my car with my wife in Ibiza, and between the scattered cottages we saw some beautiful topless girls wearing their jeans diving into the water—their jeans completely stuck to them, resulting in such beautiful legs and bums," Elio Fiorucci said in a 2015 interview for i-D Magazine. "They were not just women, but indigo blue statues. It became one of my obsessions: this idea that women should not wear jeans made for men, but should have their own."
Stylistically, the Safety Jeans had many of the same components of the classic five-pocket Levi's jeans. They even featured a leather waistband label illustrated with cowboys, a clear homage to the original Levi's look. However, Fiorucci jeans had an entirely different fit. They were high-rise and hugged the curves of women's hips. The tight fit of the jeans may have been impossible to wear if it weren't for the addition of Lycra to the denim, a recent improvement in denim manufacturing.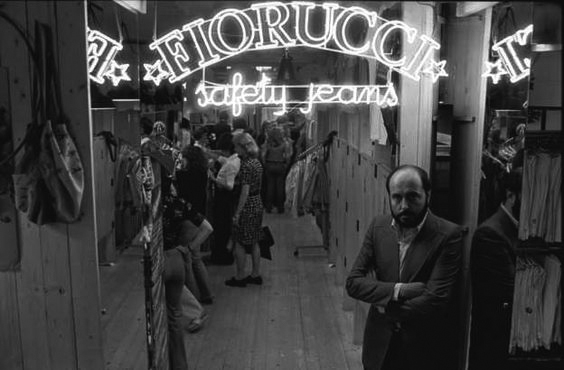 Elio Fiorucci posing in his Milan store.
Fiorucci became synonymous with the celebrity culture of New York, which inevitably converged, night after night at Studio 54. During the day, those same celebrities, along with those that wished to imitate them, would collect at the Fiorucci store. As disco fashion, including the ultra-snug Safety Jeans, took hold in New York, other designers sought to bring the European-inspired, decadent designs to mainstream America.
Gloria Vanderbilt
Jeans With The Hug That's Not Too Snug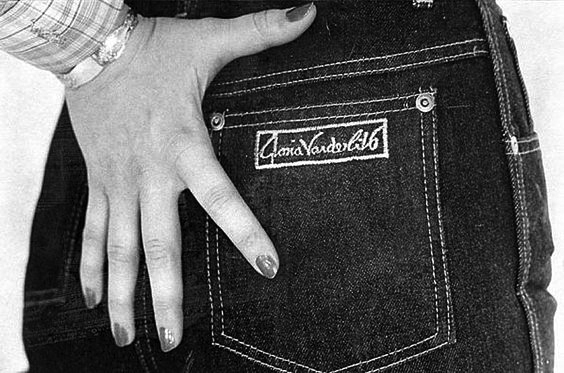 A classic pocket-shot advertisement promoting Gloria Vanderbilt jeans.
In the male-dominated fashion world, Gloria Vanderbilt was one of the few female designers to build a mainstream designer denim brand. Vanderbilt had long been involved with the fashion industry, originally as a model before beginning a career designing home décor and women's accessories.
In the mid-1970s, she turned her eye on designing a jean for women with the "perfect fit" and embarked on a marketing campaign that capitalized on her celebrity. Vanderbilt herself was featured in many of the advertisements, which inextricably linked the glamor of being a "Vanderbilt" to her jeans.
"The jeans were a success seemingly overnight," Vanderbilt recalled in her book The Rainbow Comes and Goes. "Young and old were wearing them everywhere, which surprised everyone, me included. I'd be walking down the street, and women would stop to talk to me about the difference the jeans made in their fashion life. I liked the feeling that I had interpreted a classic item of clothing in a way that gave women a positive boost, making her stand tall and be happy about the way she looked, as good fashion always does."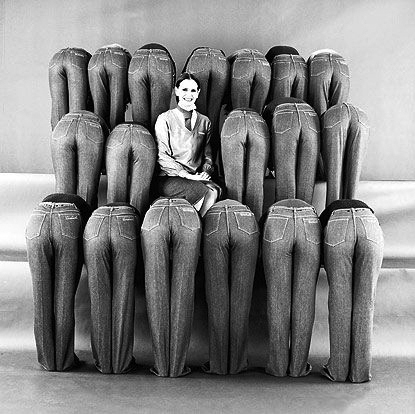 Gloria Vanderbilt poses with a bevy of
models donning her denim.
Though the price tag of designer jeans was double that of classic brands like Lee or Levi's, the public bought into the world of designer denim. By the end of the decade, Gloria Vanderbilt had sold millions of pairs of jeans and become the first Vanderbilt since the 1800s to make their fortune. Vanderbilt's jeans were so omnipresent that Gilda Radner poked fun at her on Saturday Night Live, deadpanning that Vanderbilt "had taken her good family name and put it on the asses of America."
Enter Calvin Klein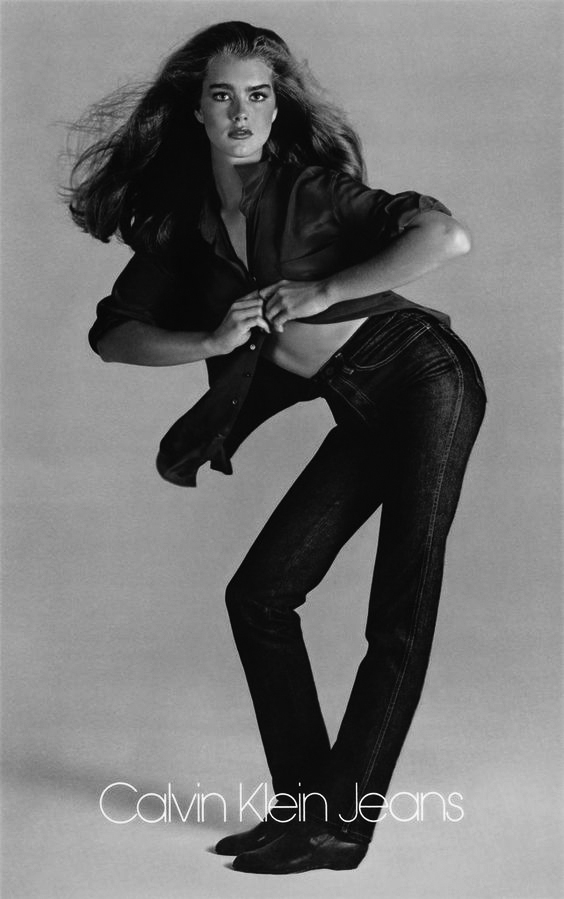 Brooke Shields for Calvin Klein Jeans.
"Designer jeans are a relatively new phenomenon; people who ordinarily wouldn't have worn the Western jeans thought it was okay to wear them if they had a designer name on them, as opposed to Levi's, Lee or Wrangler—the traditional jeans manufacturers," Calvin Klein told Playboy in 1984. "My name is on the outside of the jeans and on the inside of almost everything else I make. It represents security, a certain sense of taste and experience."
By the time Klein sat down for his Playboy interview, he had become king of designer denim, selling half a billion dollars worth of jeans a year in the United States alone. His rise to the top wasn't exactly meteoric. He had been working in the fashion industry for almost two decades. Klein began his career as a coat designer, honing his skills working for outerwear manufacturers before he and his longtime friend Barry Schwartz started his eponymous clothing line in 1967, with a collection consisting of only three dresses and six coats.
Today, Klein is known almost as well for his sexually provocative advertising as for his fashion line, an association that began with a series of ads for Calvin Klein jeans that starred a young Brooke Shields. Imagine turning on your TV in 1980 and catching the following: A scene opens on a simple brown leather boot framed with a denim cuff. The camera slowly pans up and out revealing Shields in all her 15-year-old glory, spread-eagled in a pair of jeans so tight that you'd have thought they were painted on. Glancing up she asks the audience, "You want to know what's between me and my Calvins? Nothing."
Of the eight commercials that Shields filmed, this is the one that catapulted the company into controversy. The insinuation that Shields wasn't wearing underwear purportedly shocked middle America. However, they must not have been too shocked as sales of "Calvin's" skyrocketed. Today this ad is synonymous with designer denim and has become an iconic fashion moment. In response to the initial controversy, Klein said, "Jeans are sex...the tighter they are, the better they sell."
From Skinny to Bootcut – And Everything In Between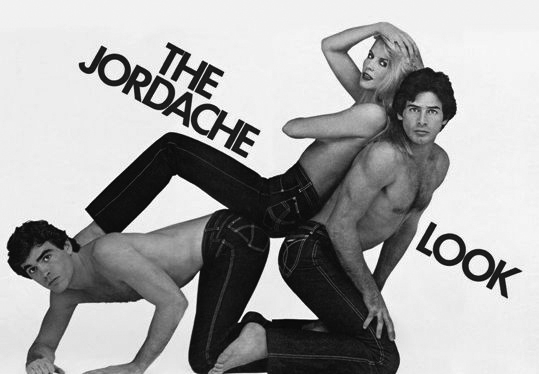 An early ad for Jordache Jeans.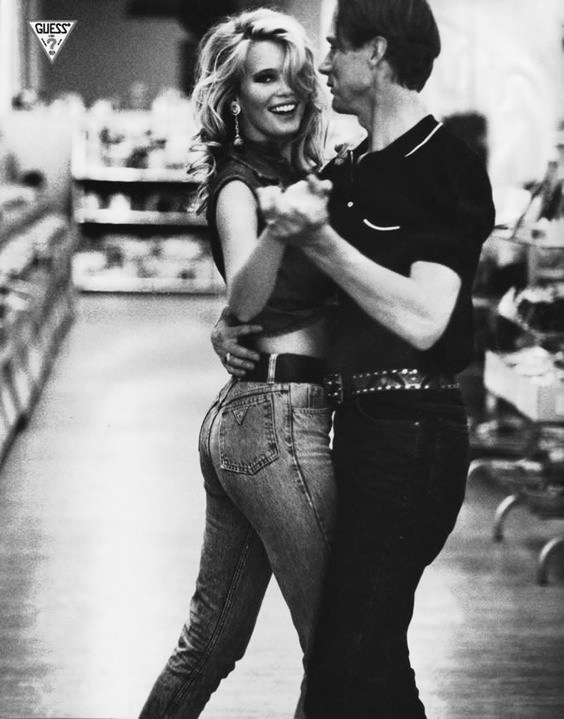 A classic 1980s Guess ad featuring Claudia Schiffer.
The 1980s and '90s were the golden eras of designer denim. Manufacturing technology flourished, and an abundance of denim cuts and colors flooded the marketplace from brands like Jordache, Guess, and Gap. As the popularity of wearing jeans skyrocketed, a cultural shift occurred: Gone were the days that jeans were a symbol of rebellion, of otherness—of being (in spirit anyway) a cowboy pioneer, motorcycle renegade or sexually liberated hippie. Suddenly, denim became the way to fit in. The designer name on your pocket was not just a label for the jeans, but also for yourself.
Today it seems like most of the world has adopted jeans as their uniform, causing the marketplace to explode with a seemingly endless list of denim brands, both mainstream and boutique, all catering to a particular look and fit. The plethora of choices is so vast that anyone, with the right amount of patience and money, can find their perfect combination of cut and color. Those not willing to navigate the rabbit hole of niche denim can always fall back to a classic, be it Calvin Klein or Levi's.
Could Levi Strauss have foreseen the popularity, evolution, and sexualization of what was originally intended to be a cowboy's pant? Maybe he did know, even back then, that his design was destined to become a classic—that over 100 years later, his name would be worn on waistbands around the world, the pioneer in a long line of designer label denim.
Join the Conversation
Sign in or become a Seamwork member to comment on this article.