"Just imagine, dressing the two handsomest men in the world, and then getting this. I simply couldn't be more happy, more grateful, thank you all so much." Costume designer Edith Head's acceptance speech for her 8th Academy Award was short and to the point. The stars of The Sting, for which she won the Oscar, were indeed two of the handsomest men in the world—Robert Redford and Paul Newman. But they were just the most recent notches in a-five-decade-long career that encompassed costuming some of Hollywood's royalty, including Cary Grant, Marlene Dietrich, Gloria Swanson and Loretta Young.
Any classic movie aficionado is—if even unknowingly—very familiar with Edith's work. She designed costumes for over 1,000 movies, creating clothing that ranged from spectacular to unmemorable (the unmemorable being the more challenging). Edith did it all—from sequined, mink-lined gowns for Ginger Rogers to simple gray suits for Kim Novak.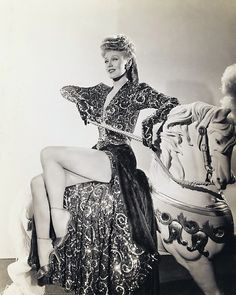 Ginger Rogers wearing the
famous mink and sequin dress
in
Lady in the Dark
(1944), one
of the most expensive costumes
ever made.
Edith's career was not without drama, gossip, and a hint of back-stabbing. She did work in Hollywood, after all. There were rumors that she participated in a coup to get the head costume designer job at Paramount, and throughout her career many claimed that she took credit (and accepted awards) for other people's work. And of course, she famously lied to get her job in the first place. Whatever the case, by the time she died in 1981 she was a Hollywood icon—a throwback to the golden age of movie making, who spent her life teaching both movie stars and the public how to dress for success.

"Just imagine, dressing the two handsomest men in the world, and then getting this. I simply couldn't be more happy, more grateful, thank you all so much."

Early Career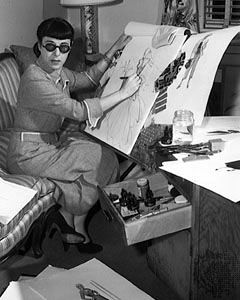 Edith never dreamed of being a costume designer. In fact, it was only because of the need to fill her summer vacation from her teaching job that she applied for a sketch artist position at Paramount Studios in 1924. When Edith was granted the interview, she immediately started collecting sketches for her portfolio. Being—at best—an amateur illustrator herself, she assembled her portfolio by borrowing pieces of art from her friends at the Chouinard Art School, where she had been taking evening classes. She chose the best of the best landscapes, watercolors, and sketches. Howard Greer, the head costume designer at Paramount, was so overwhelmed with her talent that he hired her on the spot and asked she report to the studio the next day to sketch evening gowns and riding costumes. As it became painfully clear that she couldn't draw, she confessed to her portfolio fraud and assumed she would be dismissed. However, Greer found her tenaciousness amusing and kept her on.
As summer ended, Edith decided to retire from teaching to stay at Paramount, where she worked closely with Greer and his assistant Travis Banton. For three years she honed her costume skills as a junior designer, designing for bit players, extras and even animals (it turns out elephants are very temperamental actors with a tendency to remove their costumes with their trunks). During this time she focused on learning how to sketch, studying both Greer and Banton's illustration styles, until she developed to the point where she could draw their sketches for them. When Greer left Paramount in 1927, Banton was promoted to head designer, and Edith was given more responsibility, acting as head designer for "B" movies.

"The Designer wages a losing war. To win, you'd have to be a combination of psychiatrist, artist, fashion designer, dressmaker, pincushion, historian, nursemaid and purchasing agent."

- Edith Head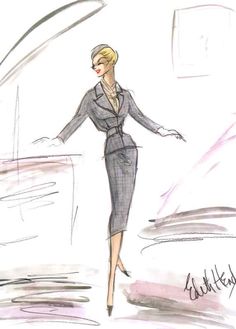 Sketches for Kim Novak in Vertigo.
The Dress Doctor
In the mid 1950s, during early design discussions with Kim Novak, the star of Alfred Hitchcock's movie Vertigo, Novak announced that she would wear any color, except gray. Hitchcock, a director famous for his attention to detail, insisted that his main character wear a gray suit. Prior to her next meeting with Novak, Edith pulled the most beautiful gray suiting fabric swatches she could find and then let Novak make the final choice. Far from being upset, Novak was delighted to get to have input into designing the costumes. Edith was well known for her ability to act as a mediator between the artistic visions of the director and actors, as well as the budgetary visions of the producers.
Actors, and more specifically, actresses, are famously—one might say stereotypically—known to be difficult to work with. Edith's education during her early years at Paramount wasn't all illustrating and sewing. She also had her own on-the-job lessons in psychology and diplomacy. As Edith said "You can lead a horse to water and you can even make it drink, but you can't make actresses wear what they don't want to wear."
Edith considered herself a style doctor, and the actors she worked with, her patients. She learned to be a successful doctor by listening to those patients. She would discover their likes and dislikes for colors, cuts, and styles, as well as their vision for the character. By tailoring her designs to their preferences, she knew she had a better chance to win their approval.

I mapped out my strategy like a general. Nothing was accidental…I worked out my clinical approach. Doctor and patient both read the script. The story is your Bible; first and above all, what kind of character are we dressing?
- Edith Head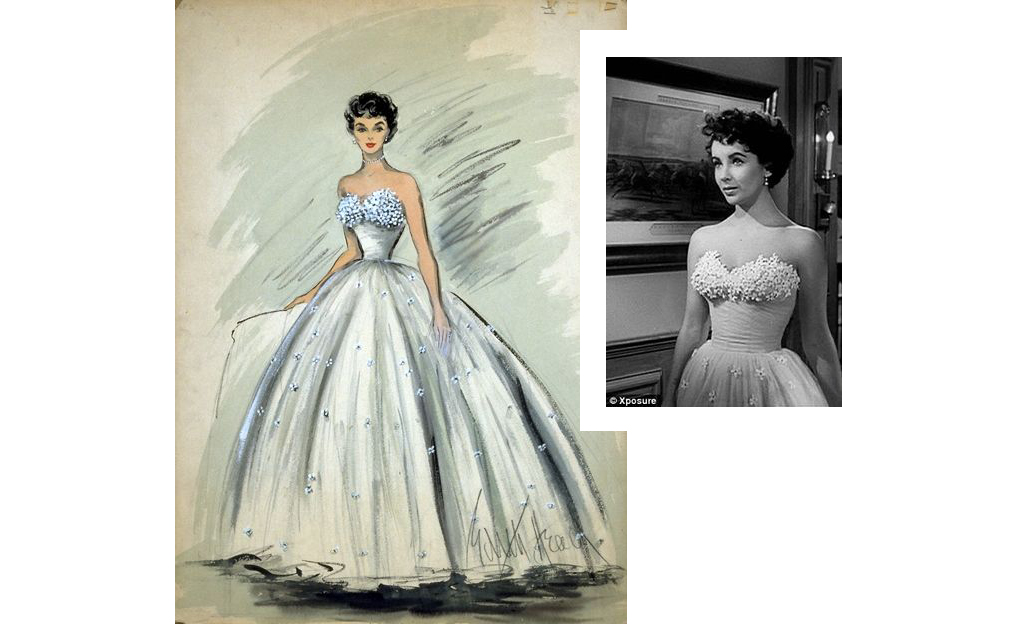 Elizabeth Taylor's white violet dress in
A Place In The Sun
Edith always stressed that she was a costume designer, not a fashion designer. A costumer is designing in order to tell the story of the specific character, as opposed to designing garments for the public. In a 1978 interview Edith explained the scope of her work, saying "I can do tacky clothes, dowdy clothes, sexy clothes, horrible clothes...Costume design is to tell a story—it has nothing to do with fashion at all, unless it is a fashion picture."
Of course there has always been crossover between movies and fashion. The tulle formal dress that Edith designed for Elizabeth Taylor's character in A Place In The Sun, was an immediate sensation. In just a few weeks teenagers across the country were wearing replica white tulle gowns dotted with white velvet violets.
Becoming an Icon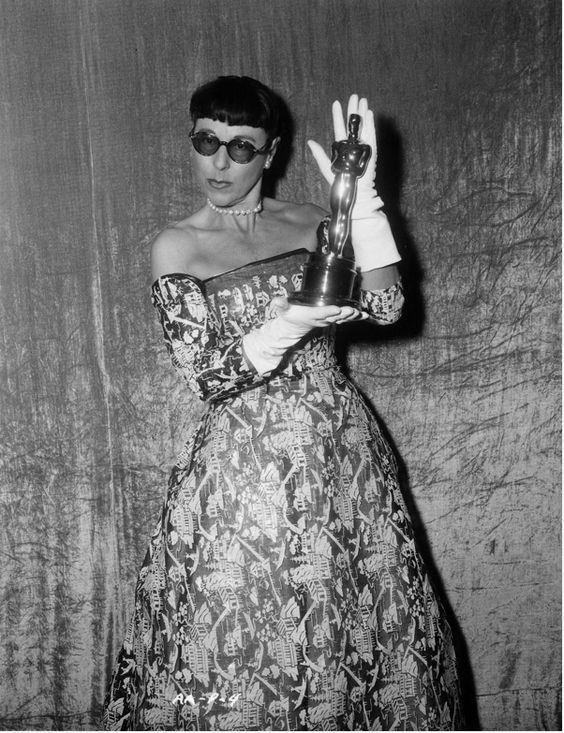 Edith Head holding her Academy Award.
When Travis Banton left Paramount in 1938, Edith finally had the chance to step in as head designer. For many years Banton's work had suffered from his struggles with alcoholism. As he started dropping out of the studio, Edith begun taking on more of his responsibility. After he resigned from Paramount, rumors abounded that Edith had conspired to get him fired. A crop of Banton's favorite actors refused to work with her, insisting on bringing in designers from other studios. Claudette Colbert in particular hated working with someone she considered an "art student" and made Edith's life miserable while working on the film Zaza. When Banton took a job with 20th Century Fox, Edith was so concerned that he keep his job she drove him to work every morning. Whether that was from friendly loyalty or guilt, we will never know.
Edith re-designed herself for the part of head costume designer, adopting an unobtrusive uniform in neutral colors. This was part of an effort to blend into the background during fittings, "[W]hen I'm beside a star at a fitting, and she looks into the mirror, I don't want to be competing in any way." Edith's signature look also included her schoolmarm hairstyle—short, blunt bangs styled with a chignon—as well as her dark, round glasses. The glasses were functional, not only in that they helped her eyesight, but also because the dark glass helped to distort fabric colors so she could see how they would look in black and white. Later, when color movies became popular, she wore lighter glasses, but they were always tinted.
In 1949 the Academy Awards gave out their first award for Best Costume Design. Though nominated for the color category—there were separate nominations for color and black-and-white movies—Edith did not win. However, her 1950 win for The Heiress, starring Grace Kelly, began a four-year winning streak, and she would be nominated every year for the next 17 years.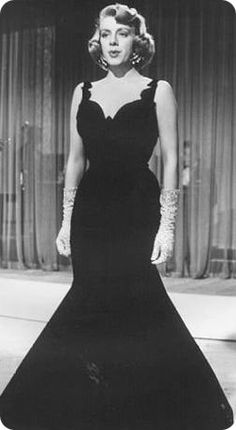 Rosemary Clooney in

White Christmas
.
Unlike her predecessors who sketched all their designs themselves, Edith would make a small drawing, a croquis, which she would hand off to her assistants, who would then fully illustrate the design. Because of her dependence on assistants for sketches, as Edith's success started to accumulate, complaints swirled about her taking more credit than was due, although she herself had illustrated sketches for Banton and Greer.
Want to see Edith's work in action?
Here are my favorite movies featuring Edith Head's designs:



White Christmas: Look for Rosemary Clooney's stunning black velvet dress.



Butch Cassidy and the Sundance Kid: Paul Newman and Robert Redford in period cowboy-wear. Need I say more?



Houseboat: How do you turn Sophia Loren into a believable nanny?



All About Eve: An Oscar-winning classing featuring Bette Davis in her prime.



A Place in the Sun: Elizabeth Taylor's evening gown launched a thousand romantic prom nights.



The Major and the Minor: Ginger Rogers' uses her costume to transform herself into a schoolgirl—hijinks ensue.



Sunset Boulevard: Head turns Gloria Swanson into a horrifying has-been actress, basing her designs from some of Swanson's actual costumes she wore in her heyday of the 1920s.
In 1955, a fashion classic was released. Sabrina, starring Audrey Hepburn, was the story of a chauffeur's daughter turned fashionista and love interest, after time spent in Paris. The gorgeous "after" costumes of Sabrina cemented Audrey Hepburn's icon status, and delivered Edith her sixth Oscar. However, this win gave fodder to her detractors. At the behest of Hepburn, the designer Hubert de Givenchy had, in fact, designed Sabrina's "after" wardrobe. He sent his sketches to Edith, who had them made in the studio at Paramount. Later, Edith would admit to Givenchy designing one of Sabrina's evening gowns, but firmly stated that the other costumes were her designs.
"Fashion is a language; some know it, some learn it, some never will—like an instinct."
- Edith Head
As Edith's success grew, so did her personal celebrity. It started in 1945 with an invitation from Art Linkletter's radio show to appear as a guest style expert. Edith's segment was the original "What Not To Wear", advising audience members on their style. Edith's genuine interest in helping women dress and feel better about themselves made her a fan favorite. And listeners loved her witty advice. Her most famous quote was, "Your dresses should be tight enough to show you are a woman, and loose enough to show you're a lady." In 1952, Linkletter's show moved to television and Edith, with her unique style, became one of the most recognizable faces in Hollywood.
Edith didn't stop at TV, she often traveled the country emceeing live fashion shows of her costume designs. She also wrote advice columns for women's magazines and even developed a sewing pattern line. In 1959 she wrote her autobiography The Dress Doctor, documenting her time in Hollywood. Her 1967 follow up, How to Dress for Success, educated readers with unique "Edith-ism's" such as, "Building a proper wardrobe is like building a home. Indeed, you should think of it like a home, because it is something you are going to live in. It must be comfortable and suit all your needs." The book, which extolls advice on "How to Build a Successful Wardrobe" and "How to Succeed in Looking Younger" is still in print today.
"You can have anything you want in life if you dress for it."
- Edith Head
Edith was a firm believer in the transformative power of clothing. After years of seeing actors use clothing to get into character, she felt that the same power could be used for everyday people as a tool to reach their goals. She found great joy in helping people look and feel their best, whether in a feature film or at the grocery store.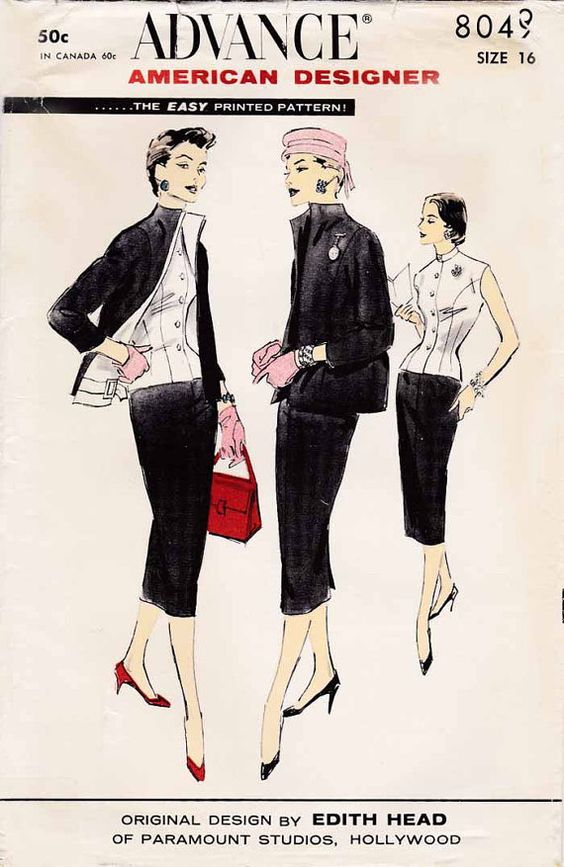 Advance sewing pattern designed by Edith Head.
Edith's Legacy
Edith leaving her handprints at Grauman's Chinese Theatre.
From the time she joined Paramount studios in 1924, Edith worked in Hollywood until her death in 1981. In fact, the last movie that she designed, Dead Men Don't Wear Plaid, wasn't released until 1982, and was dedicated to her memory. In total she had been nominated for 35 Oscars—and won eight, leaving a legacy that can be seen through the lens of Hollywood's golden age.
Edith lives on today not only in her movies, which can still be seen regularly on TV, but also as her own celebrity. She had the high honor of getting her own Google Doodle on what would have been her 116th birthday. A whole new generation was introduced to her through the Pixar movie The Incredibles, where the character Edna Mode, the superhero's costume designer, was based on Edith.
Though she never wanted to design fashion, it is hard not to see Edith's influence in the gowns shown at contemporary couture shows, as well as the resurgence in dressing in vintage styles. Whenever a designer sends a collection down the runway saying they were inspired by Grace Kelly or the Hitchcock blondes, they should be saying they were inspired by Edith Head, the woman who created these iconic looks. To Catch a Thief, Funny Face, The Birds—all fashion classics designed by the first woman head costume designer in Hollywood. If you've never had the pleasure of watching classic fashion movies, don't waste another minute. Add some Edith Head-designed movies to your Netflix queue and let the style inspiration begin.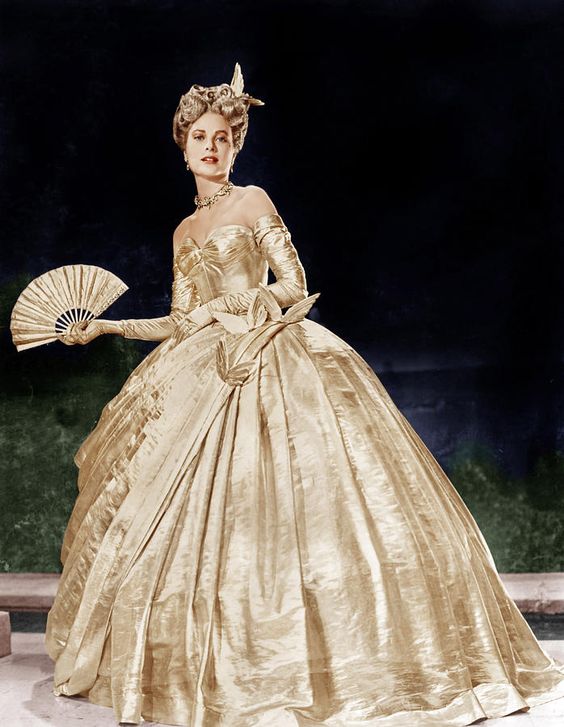 Grace Kelly in her masquerade costume for To Catch A Thief.
Join the Conversation
Sign in or become a Seamwork member to comment on this article.