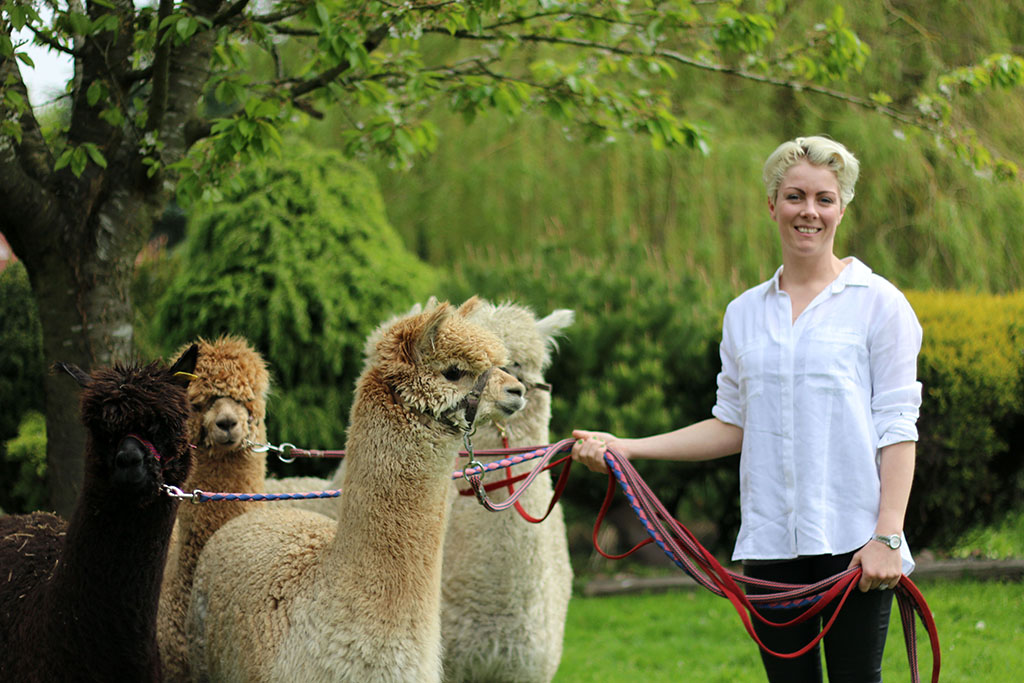 Meet Kerry, the creative mastermind behind TOFT, a luxury knitting company based in the UK.
TOFT luxury British knitting company was founded in 2006 as a response to a problem. After completing a degree in English literature, Kerry Lord, founder and creative director of TOFT, returned home to the family's alpaca stud farm and was tasked by her parents with finding a buyer for the fleeces of their herd of (at that time) 100 alpaca.
The alpaca stud farm began as a hobby. Family lore says that it was Kerry who persuaded her parents to purchase four alpaca in 1997, one for each of their four children, and each in a different color: brown, black, white, and fawn. At that time, alpaca farming in the United Kingdom (UK) was in its infancy with fewer than 500 alpaca in the country, but a trip to Australia (where there was a more substantial industry) convinced the family of the potential of alpaca farming as a business. The family stud farm now includes 250 pedigree alpaca, and there are around 50,000 alpaca in the UK as a whole.
Tasked with finding a buyer for the herd's fleece, Kerry soon discovered a problem plaguing many farmers: buyers weren't willing to pay for quality, and there wasn't a market for alpaca fleece. This led Kerry, who hadn't previously been interested in fiber crafts or production, to question whether there would be a buyer for yarn if the family processed the fleece themselves. Kerry immersed herself in learning about the journey from alpaca fleece, to yarn, through to a knitted garment. TOFT was launched, selling knitted garments and hats, made with yarn from the family alpaca and knitted by twenty hand knitters. Since then, Kerry has been leading TOFT with her uncanny ability to overcome problems with creative solutions.
Sourcing Issues
TOFT yarns are produced wholly in the UK. TOFT's own alpaca are sheered onsite, once a year, with Kerry personally grading each and every fleece to ensure it meets the company's exacting standards. The alpaca fleeces travel south to be processed into yarn at the Natural Fibre Company mill in Cornwall, whereas the wool travels north to a Yorkshire mini-mill, where the wool is processed. It takes three months from the alpaca being sheered until the yarn arrives back at the farm ready to be stocked in the shop.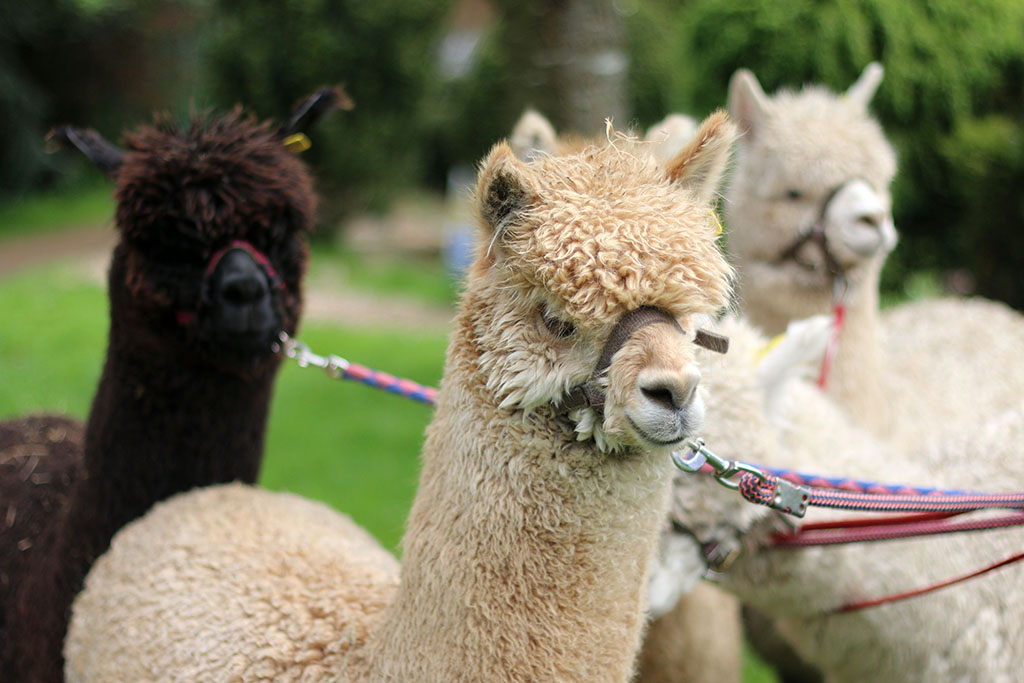 TOFT alpacas are sheared once a year. Their fleece is then processed into luxury yarn.
Early on, Kerry identified that TOFT's own herd would not produce enough fleece to sustain a successful yarn business and began purchasing fleeces from other British alpaca farmers. As TOFT grew, they soon found that there wasn't enough high-quality alpaca fleece in the UK to sustain the business and began also purchasing yarn from British sheep. Alpaca are sheered once a year and TOFT's supply of alpaca yarn sells out before the next year's batch arrives in the shop.
Although TOFT has been committed to creating 100% British-made yarns since their foundation, Kerry is very aware that the UK industry is fragile. The local mill TOFT previously used to process their alpaca fleece recently closed down, and it would only take the closure of a small number of mills to make it very difficult for TOFT to produce entirely in Britain. Kerry is committed to producing in Britain and supporting local mills, so long as it is feasible, but her greater concern is producing products that are ecologically and ethically sound. TOFT stocks a small range of imported alpaca fur products from Peru and has taken great care to ensure that these are sourced from fair trade importers, from independent (often family) businesses or small co-operatives, and made from the pelts of animals which have died from natural causes.
TOFT is also committed to quality. Alpaca typically live between fifteen and twenty years, but TOFT only process fleeces for yarn until the animals are six years old. They also only process the fleece from a saddle-shaped area on the alpaca's back. The high-quality fleece from each alpaca produces approximately ten balls of yarn per year, so roughly one jumper. The fleece from older animals and other parts of the alpaca's body isn't wasted; although the quality is too low for TOFT yarns, this fleece is sold to a duvet manufacturer. Rigorous quality control of the fleece is essential in ensuring that the mills will produce a high-quality yarn. A single handful of poor-quality fleece can distribute throughout and affect a whole batch of yarn. TOFT learned this lesson early on; to this day they still tie labels on all their skeins using a batch of alpaca yarn that didn't meet their quality standard—they refer to this as pure alpaca string.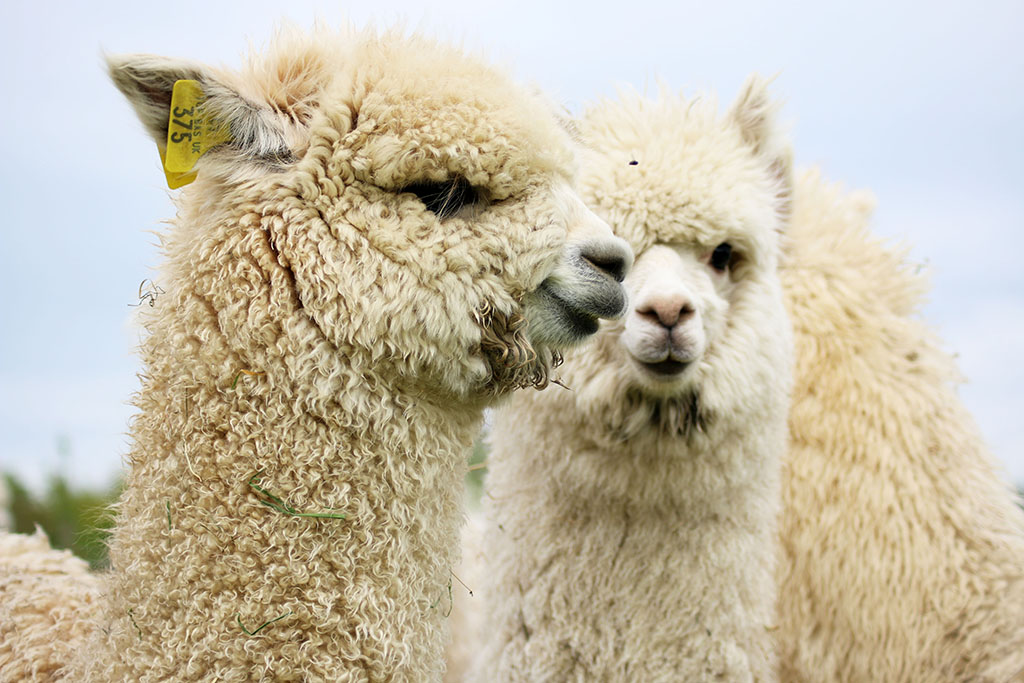 Huacaya alpaca are characterized by their crimped and fluffy fleece.
TOFT's herd includes breeds of alpaca. The more common Huacaya breed is more popular with visitors to the farm as they have a dense crimped fleece, which results in them looking "fluffier." The fleece of the rare Suri breed grows longer and silkier, giving it a "wet" appearance. These qualities carry through into the finished yarns.
Alpaca originate from the Altiplano in west central South America and are believed to be a domesticated form of the wild vicuna, bred between 6,000 and 7,000 years ago as a fleece-producing animal. During the Inca Empire, Inca nobility exclusively wore garments woven from alpaca and vicuna fiber. Alpaca fiber was introduced to the UK around 1836, becoming fashionable during Queen Victoria's reign. It was sufficiently highly prized to be bequeathed in wills.
Alpaca fleece is a dry fiber with minimum lanolin content, which means it does not need to be scoured prior to spinning. The fiber is also composed of less microscopic scales than wool, resulting in a softer feel. Alongside 250 alpaca, the TOFT herd also includes one llama, also a member of the camelid family and closely related to alpaca. The llama was added to the herd to demonstrate the difference between alpaca and llama to visitors who insisted on referring to the alpaca herd as llamas.
The Patterns
It was the craft revival that led to the first major transformation of the TOFT business. With growing interest in fiber crafts and locally produced yarn, Kerry identified an opportunity to begin selling TOFT yarn and knitting and crochet patterns, alongside knitted garments. Although Kerry is TOFT's lead pattern designer, TOFT also works with both well-known designers and design students. Recently TOFT has provided year-long internships for students from three local universities, who are given the opportunity to be involved in all areas of the business, including designing patterns for the label.
TOFT began as an online business, meeting customers in person at a range of knitting and craft shows around the country. As an online business, Kerry made the decision that all patterns would be available in digital format only. Initially, customers and some staff members questioned this decision, but Kerry stuck to her guns and finds that now, thanks in part to the growth of Ravelry and digital patterns, customers no longer expect a hard-copy pattern, or complain about not receiving one.
While TOFT previously made eighty percent of sales during the winter months, this changing business model means that the company is now a year-round business. Another key component of TOFT's year-round sales is the success of the Edward's Menagerie toy animal crochet patterns. Named after Kerry's son, because she learned to crochet and designed the first toys while pregnant, the patterns for a wide range of crocheted animals have been hugely successful. They are TOFT's most popular patterns, and the only patterns printed in book format. The popularity of the patterns can be partly attributed to the fact that they are non-seasonal, suitable for beginners, and use a small amount of yarn — making them practical and affordable.
Cafe and Studio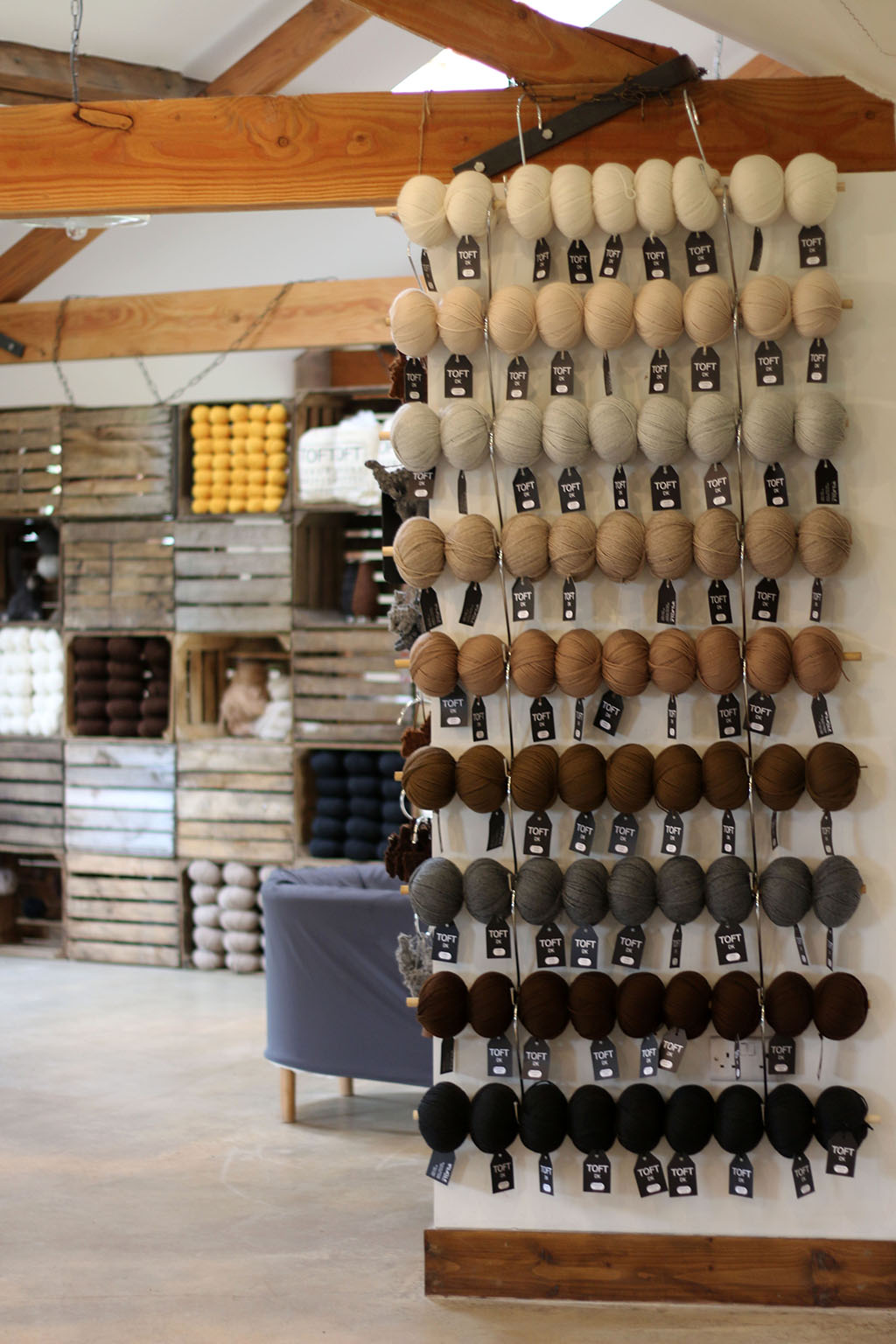 TOFT specializes in beginner level knitting classes that give students the confidence to pick up knitting needles for the first time.
Three years ago, TOFT transformed again, through the creation of a café and studio space on the family farm, which is based in a picturesque location just outside of Dunchurch Village. Dunchurch Village, which still contains timber-framed houses with thatch roofs, was historically important as a staging post en route to cities such as London and Oxford. In 1605, the Gunpowder Plotters waited in Dunchurch for news of Guy Fawkes' attempt to blow up the Houses of Parliament. On the TOFT farm, the current herd of 250 alpacas grazes in paddocks overlooking the nearby Draycote Water reservoir. The beautiful location and opportunity to meet the alpaca herd is an undoubted draw to customers. TOFT teaches eighty people a week to knit and crochet in their studio space, and many more drop in to visit the café and shop. Even the toilets of the TOFT Alpaca studio have an amazing view over Draycote Water.
Color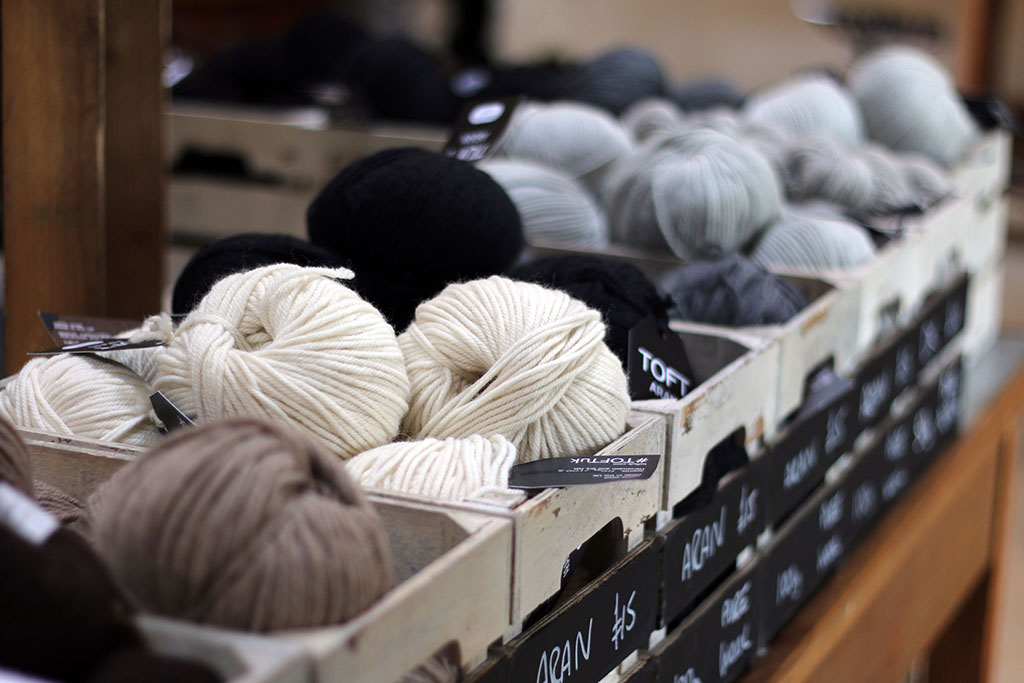 A selection of TOFT's natural colored yarn.
TOFT currently stocks alpaca and wool yarns in five weights and ten natural colors achieved without dyeing or bleaching (including an earthy oatmeal, blue-silver, and black). The focus on natural colors means that it can be difficult to keep all colors in stock, as natural occurrences (such as a year of high sunshine hours, which turns black fleeces dark brown) can mean that certain colors are very hard to produce. This has become more of an issue as TOFT has grown, with customers increasingly expecting TOFT to provide a full range of colors and weights. However, it has been the popularity of the Edward's Menagerie crochet patterns that has resulted in TOFT making the decision to create their first dyed yarns. Kerry succeeded in creating patterns for over forty animals included in the first Edward's Menagerie collection using TOFT's ten natural colored yarns, but made the decision to begin producing dyed yarns in order to create a collection of bird crochet patterns for the second Edward's Menagerie book. Six dyed yarns will be available, in a range of shades found in nature, and sold in small skeins, providing just the right amount to crochet an Edward's Menagerie pattern. Even with the addition of six new colors, Kerry still had a lot of head scratching to create patterns for the forty birds included in the second Edward's Menagerie collection.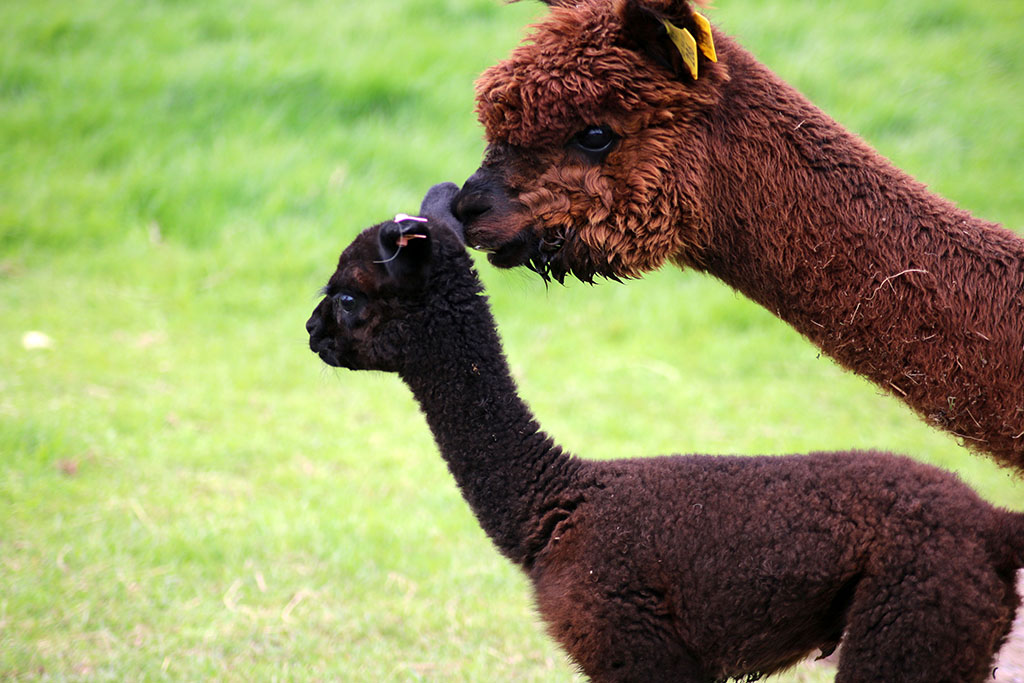 Cria is the name for a baby camelid such as a llama, alpaca, vicuña, or guanaco. The term comes from the Spanish word cría, meaning "baby".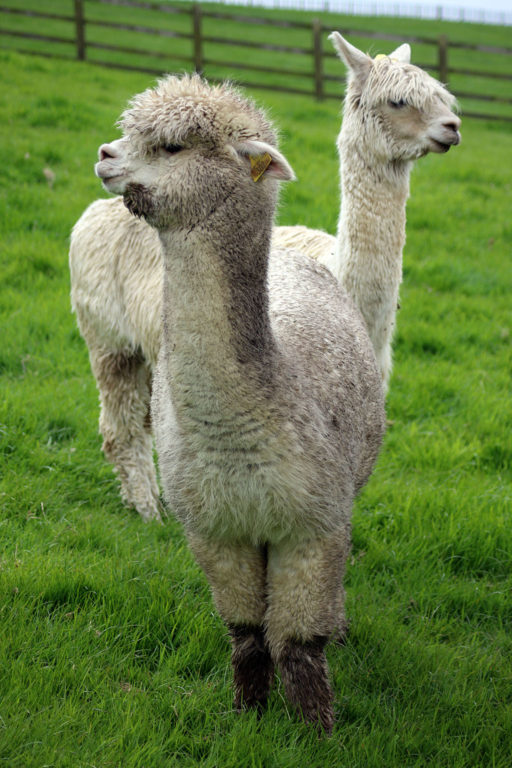 The farm is currently in birthing season, and a number of new arrivals, called cria, and new and expectant mothers are grazing in a maternity paddock. Female alpaca are pregnant for almost a full year and are protective of their newborns. Despite looking decidedly spindly, the cria are normally standing within an hour after their birth and are soon bounding around the paddock. Cria stay with their mothers until they are weaned, at around five to six months, and are warier of humans than the adult alpaca. Alpaca flinch if approached quickly, but are very curious and will quickly surround a person stood still in their paddock to investigate. TOFT's one-year-old adolescent alpaca are particularly inquisitive, investigating en masse if any alpaca spots something of interest. The adolescents are also the most popular with visitors, being particularly fluffy and most likely to resemble teddy bears or ewoks. Many of TOFT's alpaca are named after Star Wars characters to the delight of visiting children, and nerds. Alpaca are less tolerant of dogs, which they view as predators and keep a very close eye on. Kerry's pet dog is used to being chased out of the paddock, and sits mournfully at the edge awaiting her return, while an alpaca or two trains a beady eye on him.
TOFT has been constantly developing, in response to customer demand and the demands of the UK fiber industry, since Kerry first set out to find a use for the herd's fleece. On the day of my visit, TOFT was in the middle of birthing season, preparing for sheering, and about to launch the second Edward's Menagerie collection and range of dyed yarns. I have no doubt that TOFT will continue to develop and adapt, with the guidance of Kerry. Regardless of what's next, Kerry and her team will greet challenges with integrity and a firm focus on quality and sustainability.
Join the Conversation
Sign in or become a Seamwork member to comment on this article.