Refashioning is the practice of taking an old garment and reimagining it into a new garment. By working with these post-consumption goods (as secondhand goods are sometimes called) zero-waste fashion proponents hope to decrease the environmental impacts of fast fashion. As fast fashion clogs landfills and thrift stores with clothes that are discarded long before they wear out, both designers and sewists have begun making inroads on this problem. They are developing a whole new relationship with the garment making process, one which has pushs the boundaries of design and expands the repertoire of techniques available to the industry and home sewists alike.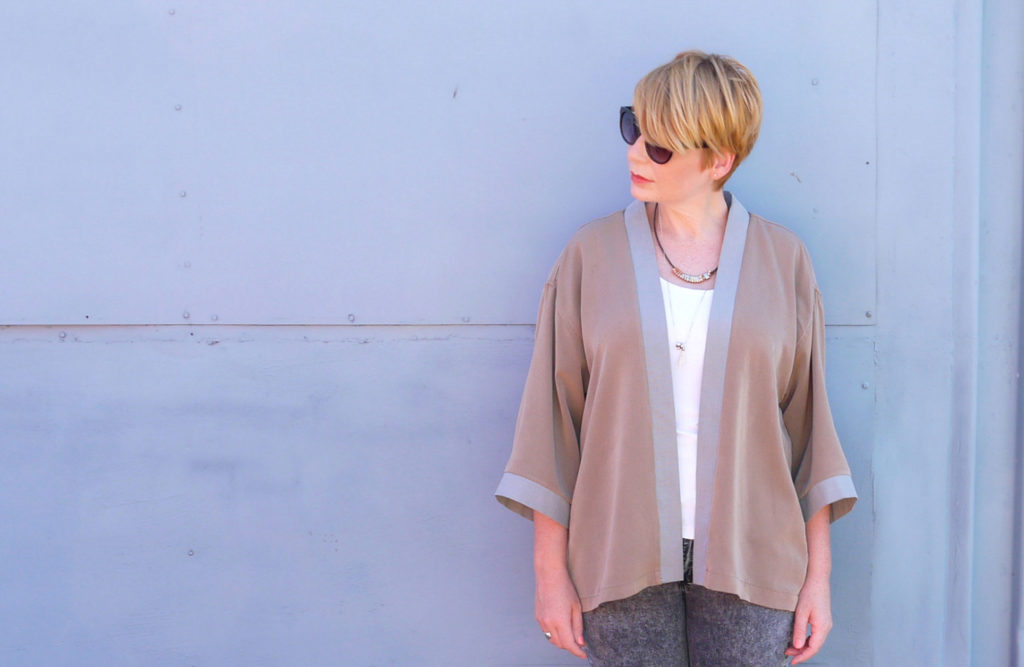 A kimono refashioned from two men's button-down shirts. Photo courtesy of Portia Lawrie.
See
original post
for a tutorial and handy tips.
Many sewists are drawn to refashioning for its environmental implications. Others, like Portia Lawrie, the brainchild behind the annual Refashioners challenge, started refashioning as a cheap way to practice sewing and create garments without the stress of ruining expensive fabric. She realized that deconstructing a garment would allow her to learn about clothing construction. "Garment manufacturers often employ slightly different construction techniques than what you find in pattern instructions," she says. "They usually aim to construct the garment in the most efficient and cost effective way, so you can pick up little tips and ideas that can improve your dressmaking as a whole."
Getting Started
Portia recommends those new to refashioning look for simple gathered skirts, as they are usually just large rectangles gathered into a waistband, making them a cheap source of flat fabric. Additional candidates include oversized sweatshirts and tees, as they are relatively plain and can serve as a versatile canvas for many different designs. "The less detailed and less fitted a garment is, the more flexibility you have," she says. Other things to look for: high-quality fabrics, unusual prints, and larger sizes (they usually yield more fabric than smaller sizes, even though they cost the same).



If every Seamwork Magazine reader worked with just one or two post-consumption garments in 2016, in one year we would rescue tens of thousands of garments from the landfill.



When looking for source materials, it's important to think about a garment's potential and not its current iteration; a curtain can be a cheap source of muslin fabric, stains or holes can be covered or cut around. Also, don't forget to shop your own donation pile--it's a great way to breathe new life into a beloved fabric, and you might just find that your old favorite has a new life as a child's garment. Things to avoid: multiple seamlines (including princess seams), tricky fabrics (unless you're looking to practice!), and garments where much of the fabric is in poor condition.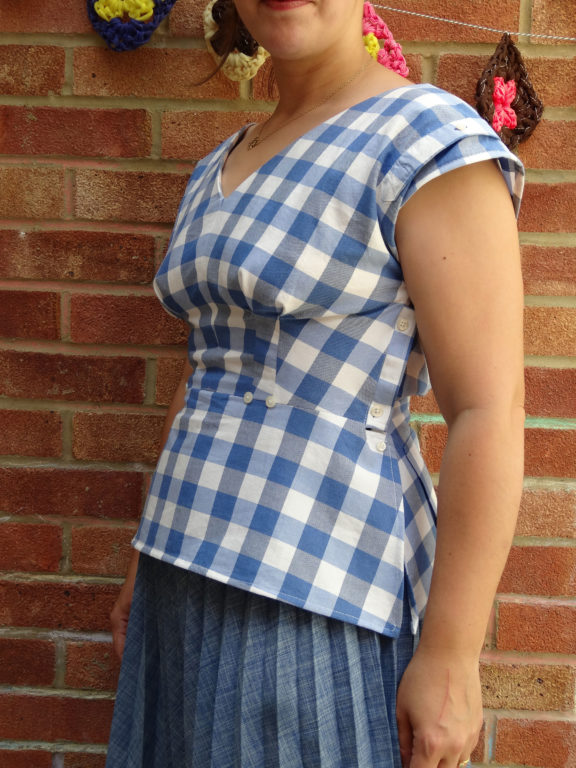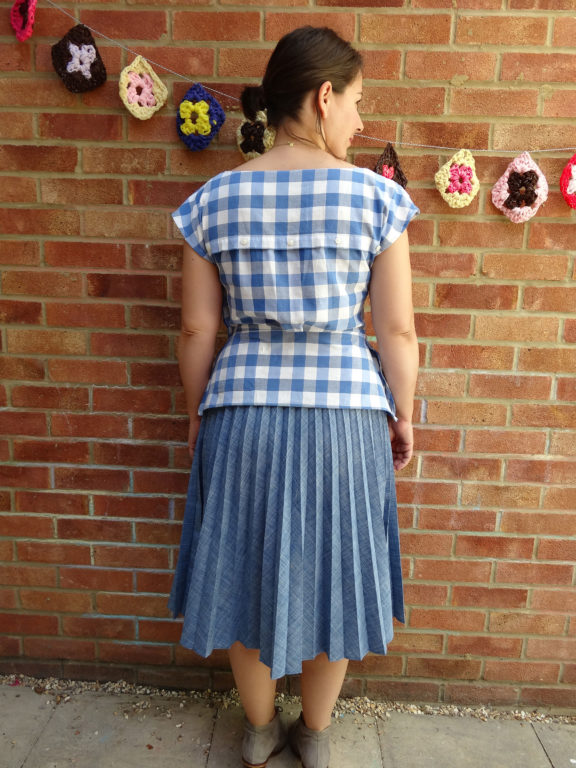 Marilla Walker's refashioned blouse
incorporates the plackets and buttons
from the original men's button-down
shirt. Photo courtesy of Marilla Walker.
See
original post
for additional
construction details.
Portia also encourages sewists to think creatively about ways to reuse a garment. Harvest buttons and zippers. Scraps can be reused as pocket linings or facings, made into larger pieces of fabric by piecing them together, or stored for future use. See if you can incorporate the garment's existing hems, pockets, plackets, buttons, zippers, or collars into your new design. A button-down blouse is so much faster to sew when you don't have to make button holes, sew buttons, hem the bodice, create pockets, and can just reattach the collar stand to the new neckline!
Sometimes, it's also possible to use some of these details to add a nod to the source garment. The jeans-to-skirt refashion is one that does this quite clearly, but you can look for clever ways to hint at your garment's origins in a way that adds fun and creativity to the design process.
Getting the Most out of Your Refashions
Although half of Portia's handmade garments are refashions, usually she intentionally sets out to create a specific item and happens to find secondhand fabric for it, rather than creating out of determination to use up an old garment. "I don't want my clothes to scream refashion. I just want them to scream 'nice clothes'!"
She starts with an idea, and then uses one of two approaches. Sometimes she finds an existing garment that is close to her vision but needs alterations in terms of proportion, size, or shape. Pants are a favorite refashion of hers and a perfect example of this approach. She looks for pants that fit well in the waist, hips, and butt, and then changes the length, narrows, or otherwise reshapes them to suit her needs. Other times, she finds a garment with plenty of source material and makes the new garment from scratch.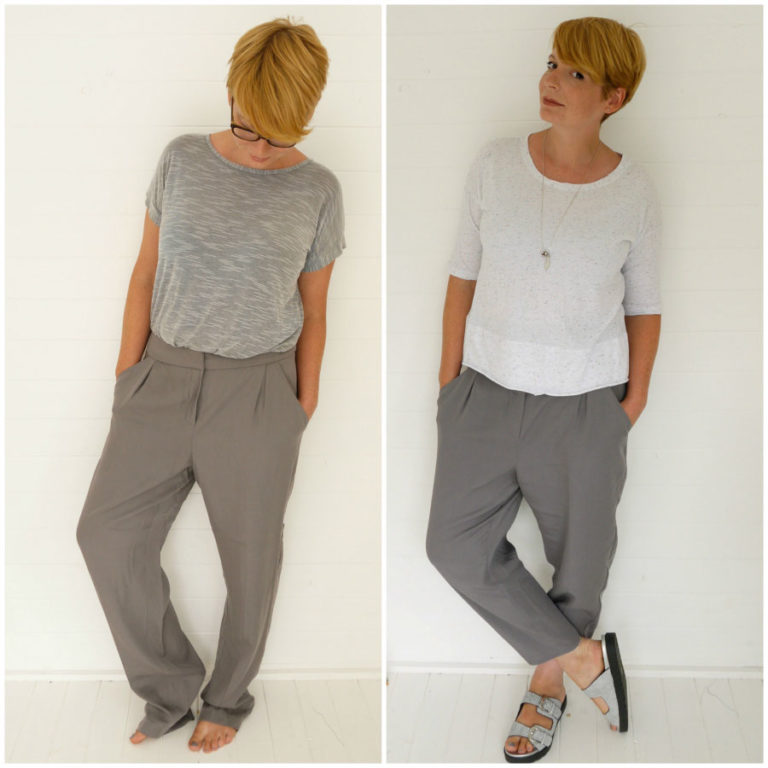 By working with pants that fit well in critical areas (left), Portia refashioned
a pair of pants in a fraction of the time it would take to muslin, fit, and sew
a new pair (right). Photo courtesy of Portia Lawrie. See
original post
for two mini-tutorials on how to reshape pants.
It helps to think about refashioning as a creative challenge. Working around existing seams, pockets, zippers, collars, and rivets can be viewed as an obstacle or annoyance, but these existing features also create limitations within which creativity can flourish.
To get inspired, Portia hangs the garment in a spot where she can see it every day, even if she doesn't focus on it. She likens the process to the magic eye pictures first popularized in the '90s.



Focusing too hard on the garment itself limits your ability to see past the garment as it currently appears; by placing it in plain view where it is seen but is not a focal point, ideas gradually emerge.



She also recommends using Pinterest to store all inspiration in one place, and not just images that pop up under 'shirt refashions' or 'upcycle denim.' Look to existing pins, or favorite RTW and designer collections, and periodically review your pins for themes or trends. "Eventually you'll put two and two together with your garment and your pinned inspiration … and Eureka! You're away!"
Refashioning for Children
In addition to refashioning for yourself, children also make ideal recipients for refashioned garments. The pattern pieces are so small that fabric tends not to be a limiting factor. Children grow so fast that their garments provide a great chance to experiment with refashioning—after all, the finished object won't fit for more than a season or two!
Secondhand materials also provide an affordable fabric source, as you might be able to squeeze multiple projects out of one garment. Finally, children's garments can be the perfect way to keep a sentimental favorite in the family for a couple more years, endowing an old favorite with a new set of memories.
Some tips and tricks:



Children's clothing often sports patch pockets and decorative appliques, perfect for covering up stains in source garments, using small scraps, or highlighting a precious remnant.




To save even more time, incorporate existing garment elements into refashioned garments. A t-shirt hem becomes legging cuffs, a button placket becomes a fast way to get in and out of a dress or skirt.




For those who use every possible scrap, try colorblocking, or find opportunities for contrast collars, cuffs, and yokes.




Don't forget about fabric sources you might not otherwise consider, like pillowcases or tea towels.



For inspiration, check out the online sewing challenge Kid's Clothes Week. They selected Upcycling as their Winter 2015 theme, and the finished projects ranged from leggings and pants to dresses and skirts, t-shirts, outerwear, accessories, and everything in between. Their site is loaded with great ideas, inventive projects, links to tutorials and patterns, and is guaranteed to get your creative juices flowing.
If every Seamwork Magazine reader worked with just one or two post-consumption garments in 2016, in one year we would rescue tens of thousands of garments from the landfill. New and experienced sewists alike may enjoy the challenge of looking at the process of garment making from a whole different perspective. Working with a limited amount of fabric can create unexpected serendipities, and encourages the mindset that there are no mistakes, just opportunities to improvise new solutions.
"It's like reverse engineering a car and coming out on the other side with a motorbike!" says Portia. "When it succeeds, it's a whole different level of satisfaction."
Join the Conversation
Sign in or become a Seamwork member to comment on this article.