When I am teaching new students to sew, I am often asked the same questions. Most are queries with clear black-and-white answers, but some questions require more complicated replies. One of those asked of me on a regular basis is, "The pattern calls for woven fabric. Can I use knit instead?" While the reverse question, "Can one use woven fabric for a knit pattern?" is nearly always answered with a quick "no," the question of whether you can swap out a knit fabric for a woven one requires a much more thoughtful reply.
In a classroom situation, I usually say that one should stick to the suggested fabrics on the pattern, but the honest truth is that many times you can switch out a woven for a knit. There are some big factors to consider, as not all patterns can you do this with.
What to Consider
Let's start by thinking about the things to consider when looking at using a woven pattern with knit fabric. There are some details on garments that knits simply cannot do the way a woven can, and vice versa. You need to play to the strengths of the fabric's inherent properties instead of asking it to do something it simply wasn't meant to do.
Structure
–
If the pattern has a lot of built-up structure, this is going to be very difficult to replicate in a knit fabric. Knits are naturally less firm than wovens, and they will not maintain the same structure that you can get in a woven fabric, especially one that is interfaced and lined.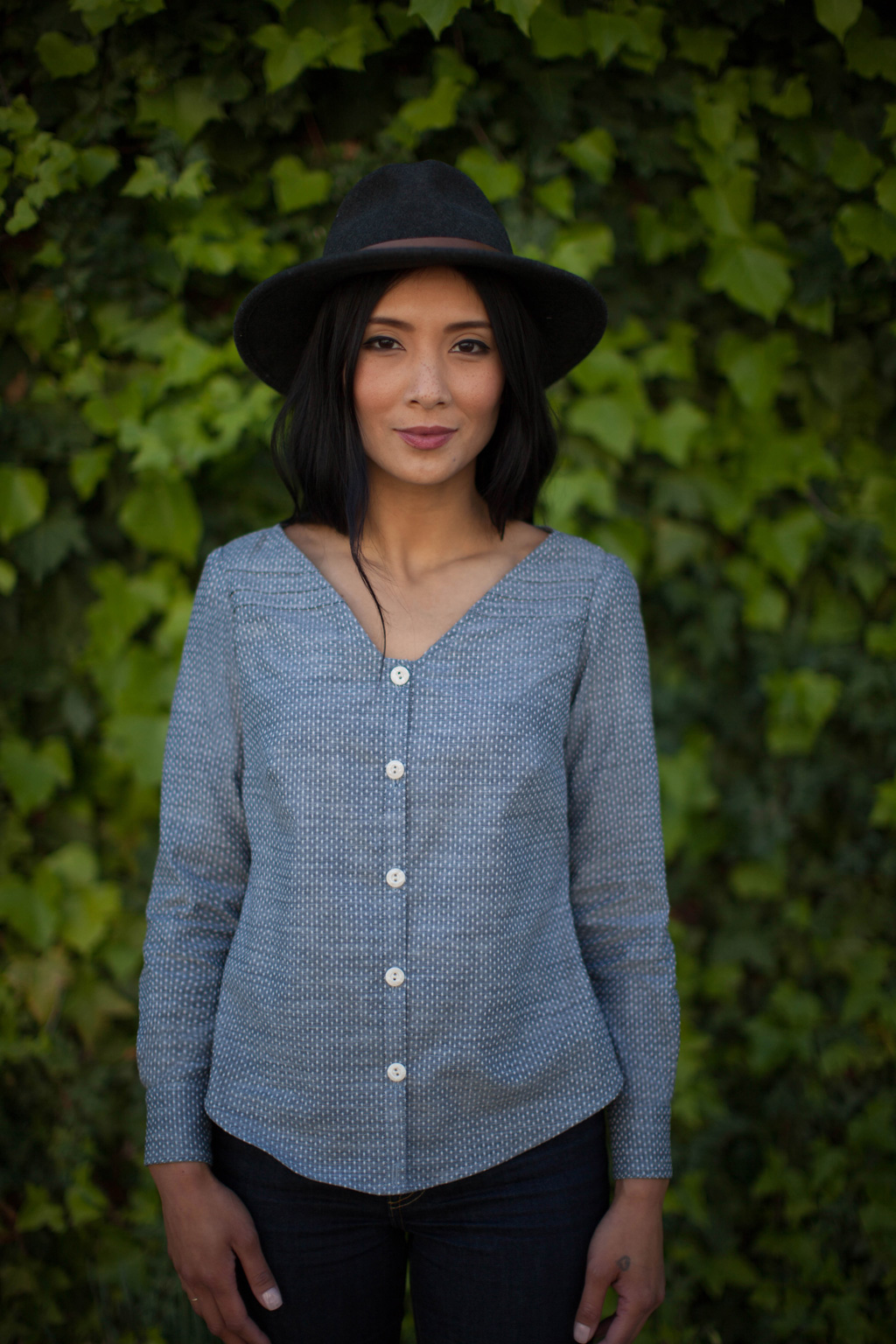 The Aster Top from Colette Patterns has classic clean lines that can be found in both woven and knits.
Closures
–
Look carefully at how the garment is closed up. Are there buttons? Is there a zipper? And once you do identify the closures, think about how they will translate from a woven to a knit. Can you get the same strength in the placket to sew buttonholes through the knit as you could with a woven? Likely not. It doesn't mean you can't use that pattern, but rather, you need to think about how you might change it to be more knit-friendly. For example, a zipper is likely not always necessary if the fabric stretches, as you might not need to open the zip to get the garment on. But that's not always easy to translate, like with a fly zip, so think about where the closure is and how it's being used.
Weight
–
Though you are changing from a woven to a knit, the weight should remain as consistent as possible. If the pattern calls for a heavy or medium-weight fabric, think about using something stable like a double knit; or if the pattern calls for a fluid fabric like rayon or silk, a knit version of the same fiber is a great idea.
Seams
–
The fewer the seams, the easier it will be to translate into a knit. So look at the technical illustration for clues on how you might put the piece together. Are there any seams that would be best if omitted? Could pattern pieces be joined? Might you want to rearrange the order of the construction steps?
Fit
–
When looking at the illustration of the seams, also give a careful look at the fitting details. What helps to shape the garment for fit? Are there darts? Princess seams? Pleats or gathers? Some of these can be translated into knits with ease, and some are much trickier. Darts can often be folded and removed from the pattern, or just skipped altogether, depending on their placement in the pattern. Princess seams are usually quite knit-friendly and tend to translate well. Pleats and gathers are easily done in knits, but if the seams are meant to stretch, the construction needs to be reverse engineered to make it work in a knit.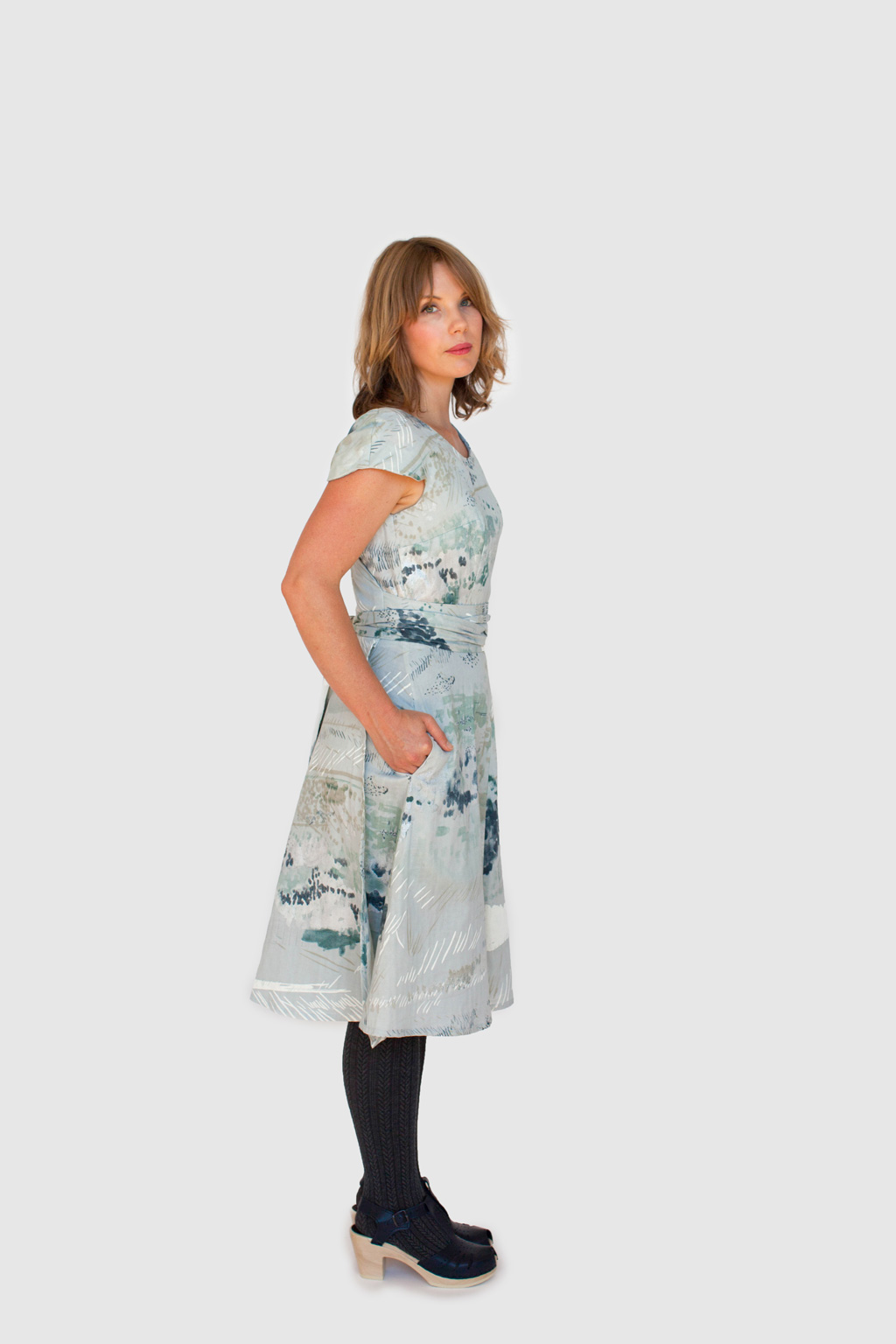 The Crepe Dress from Colette Patterns is a good candidate for remaking in a knit, but all the curved edges around the neckline and armholes will need to be rethought since they are all finished with facings.
Finishing
–
One of the big differences in the construction of a woven garment versus a knit is the finishing. So when looking at a woven pattern to convert to a knit fabric, you will want to pre-think this part of the garment. Is there topstitching? If so, how will you do that in the knit? You can use a zigzag, a double needle, or a coverstitch machine to make it happen, but not all topstitching can be sewn by these methods. How is the item hemmed? You can use the same above methods, as long as it is a simple fold and topstitched hem. But if you have a hem like on a button-down shirt that involves a placket, this cannot be done in the same way and will need rethinking. It is possible, but pre-planning your steps and their order will be key.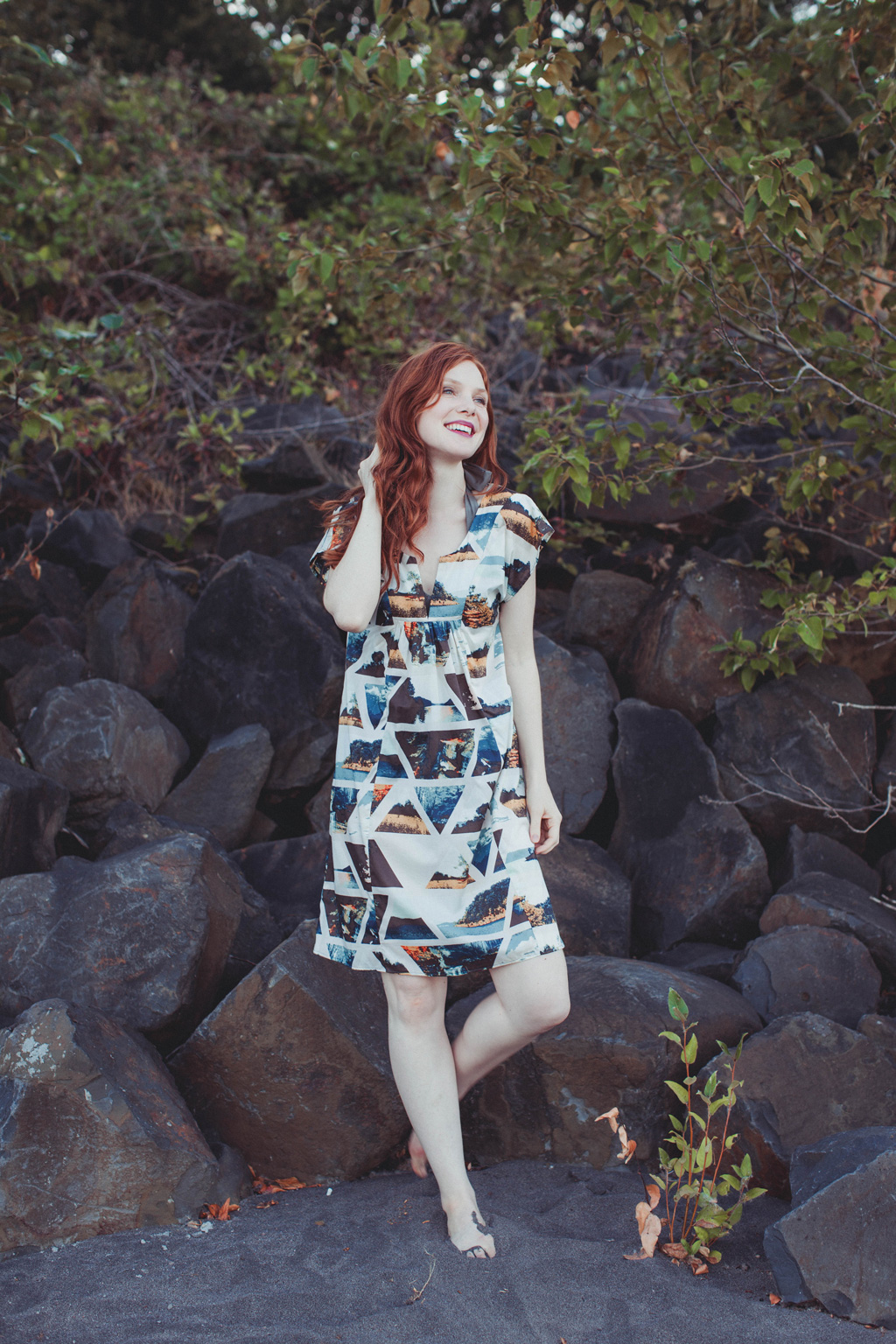 The Maeby Dress from Seamwork Magazine would be extra cozy in a knit fabric, as the ease and drape will be similar in both woven and knit.
Ease
–
Last, the obvious difference between wovens and knits is that knits stretch and wovens do not. The size and stretch of the garment will be completely different in a knit. Usually you will go down in size, since knits tend to have negative ease, meaning they tend to be smaller than the body itself, but that is not always true. My favorite knit tops have positive ease, as I prefer them to drape around me instead of cling. All of these considerations should be thought about in advance.
Case Studies
Let's look at some examples of patterns and consider how you might convert the pattern into a knit. There are no hard rules with any of these; instead, these are the kinds of questions you will need to consider when you approach a pattern. Critical thinking and some foresight into the steps ahead are required!
Dress: Laurel Dress from Colette Patterns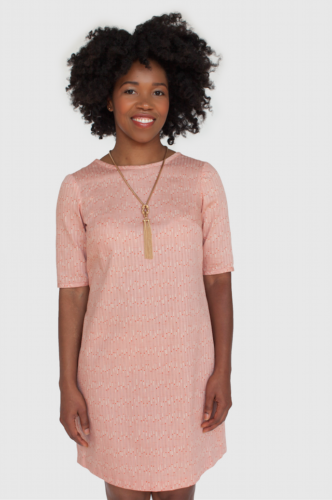 Structure:
There is no tremendous under structure, and all views have a shift-dress sense of ease about them.
Closures:
The Laurel Dress has an invisible zipper up the center back seam, which could easily be omitted. You could remove the seam allowance from the center back seam and place that pattern piece on the fold to eliminate the seam altogether.
Weight:
This pattern would do well in a lightweight drapable knit, a medium-weight knit with some body, as well as a double knit.
Seams:
There are minimal seams and all would sew up easily in a knit.
Fit:
The Laurel Dress has bust darts and center back contour darts that should be eliminated when transferred into knit. For the bust dart, simply fold the dart and omit it from the knit version. The contour darts can just be skipped, so the dress hangs from the shoulders to the hem. The ruffle cuff addition on the sleeve from view 3 would be sewn differently in a knit. You would need to use elastic stabilizer in the seam to allow it to stretch, or the threads holding the gathers will break when stretched.
Finishing:
The bias-bound neckline would need to be completely rethought. You could use a knit band and finish it in a similar way to that of a T-shirt; or you could fold and topstitch the seams. The hem of the dress or top as well as the sleeves can simply be folded and stitched.
Ease:
As the Laurel is meant to skim the body, likely sizing down one to two sizes would work well. As always, a muslin is a great way to assess fit and this is totally your personal choice. You might want yours to fit loose, while someone else might want it fitted.
Verdict:
If you skip the ruffle cuff, the Laurel Dress is easy to translate and retain much of the same feel and look of the original.
Runner Up:
The Phoebe Dress from Colette Patterns sewn up in a double knit would be dreamy! The seams and minimal fuss is just asking for it to happen.
Looking to add some extra comfort to your loungewear?
Lisbon is finished with stretch lace making it a great pattern to adapt for knits.


Or try making Almada out of a soft rayon or silk jersey. This robe's relaxed shape and tie closure lends itself perfectly to knits.
Outerwear: Camden Cape from Seamwork Magazine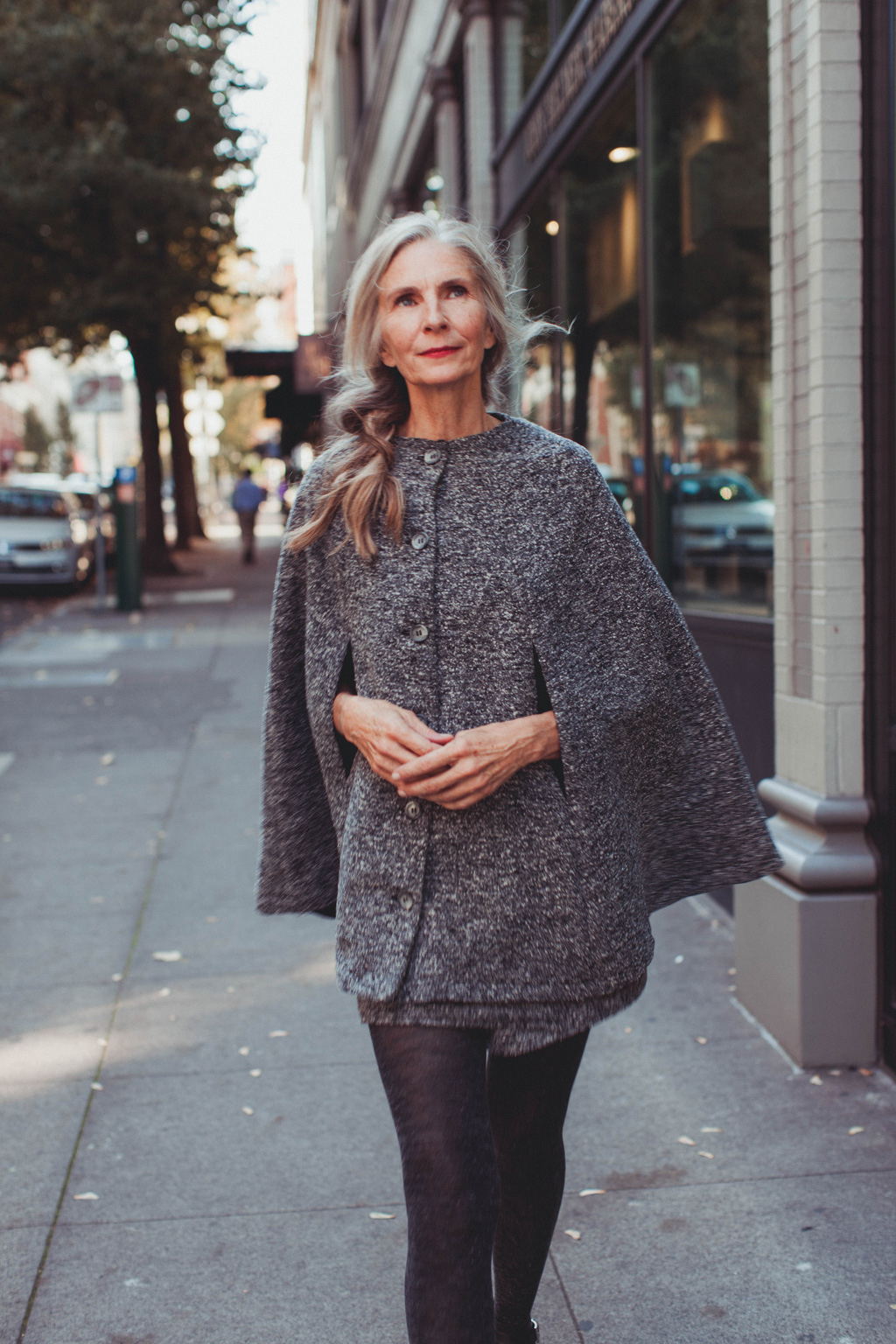 Structure:
The Camden Cape only has real structure around the arm openings and the front placket.
Closures:
The cape's button placket would be easy enough to replicate if made with a heavyweight knit, or it can be skipped altogether for a cape that simply doesn't have front closures.
Weight:
The key to success is choosing the right knit fabric. The Camden would need a heavyweight knit, like a double knit or something similarly thick to mimic a woven. I would suggest using a stretch woven for the lining, like a stretch silk or stretch satin.
Seams:
The pattern has straightforward seams and should sew up much the same when made with a heavyweight knit.
Fit:
There are minimal fit details to consider in the shape of the cape.
Finishing:
If you picked a heavy double knit, little stretch is required in the wearing of the Camden Cape, and you could carry on as originally written.
Ease:
The Camden isn't a fitted garment and little would need to be resized.
Verdict:
If you selected a heavy double knit, nothing would really need to be changed from the original pattern, making it an ideal pattern to sew when you stumble on some vintage double knits!
Runner up:
The Lady Grey Coat from Colette Patterns sewn with similar consideration to the Camden Cape would be fantastic. Use a structured double knit and a stretch silk lining for some seriously cozy outerwear.
Pants: Moji Pants from Seamwork Magazine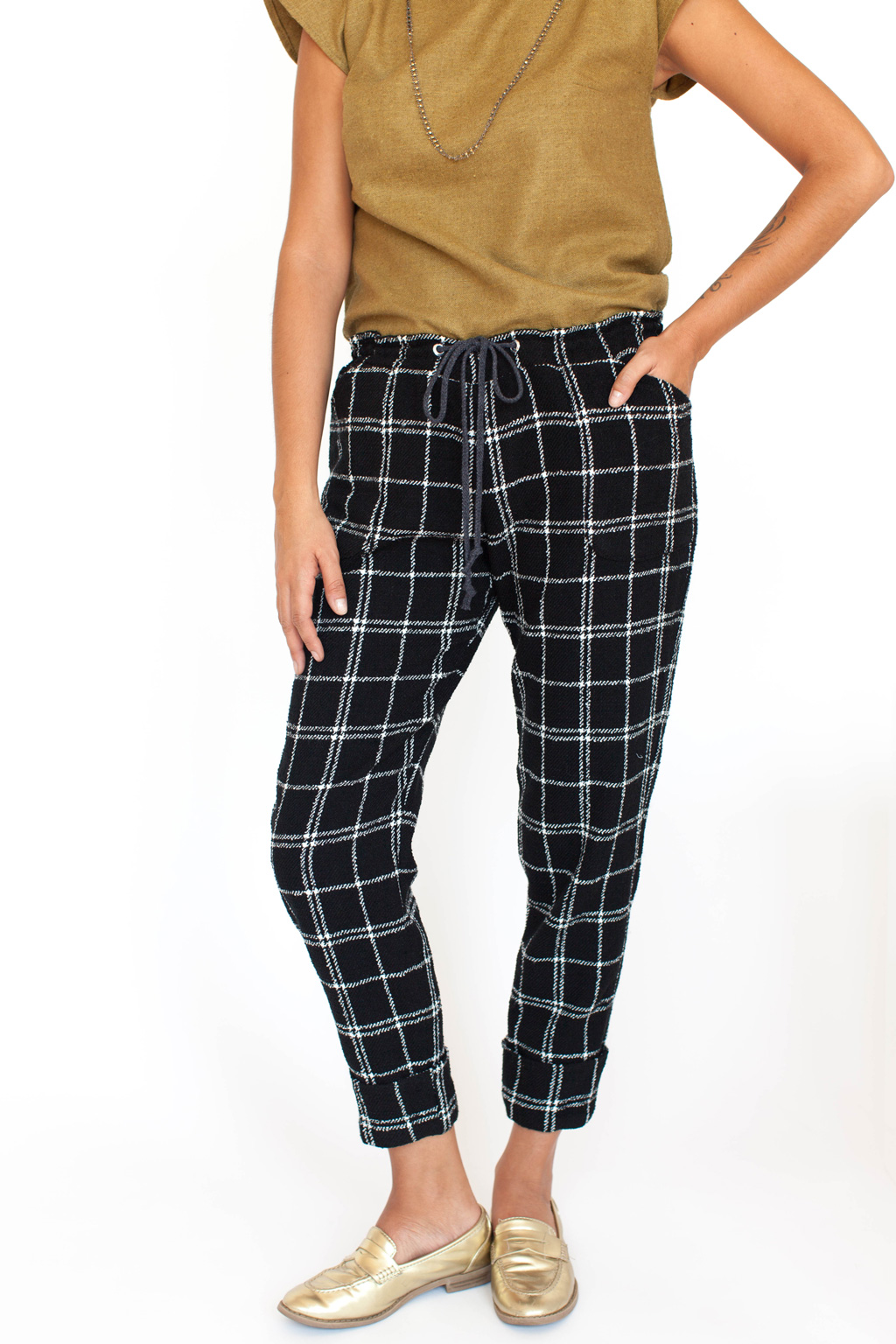 Structure:
There is little structure to these pants in their original format, making them loose and comfortable, even in a woven.
Closures:
The way the Moji Pants are put on and taken off the body is with a wide waist that is cinched with a drawstring. The grommets would not do terribly well when inserted into a knit, but that is easily fixed with a simple sewn buttonhole, or by replacing the drawstring with an elastic casing at the waist.
Weight:
To keep the ease of the pant, a lightweight or medium-weight knit would be ideal. A heavyweight double knit would be rather bulky around the waist.
Seams:
There are minimal seams in the Moji Pants, with only center front and back seams, and side seams to consider. The patch pocket would be entirely optional to add or not, but would top stitch on most knits easily.
Fit:
There are very few fit details in these unstructured pants.
Finishing:
The waist seam can be sewn easily with stretch stitches, and the hems are a simple fold and top stitch in the stretch stitch of your choosing.
Ease:
Since these pants are meant to be a little loose, this would be best to make in the original size, or perhaps one size down. Anything smaller will result in a fitted legging with a full waist, which won't retain the original design well.
Verdict:
These are just begging to be made into lounge knit pants!
Runner Up:
The Nantucket Shorts from Seamwork Magazine is similar to the Moji Pants, with the same kind of changes required to sew them up in knit. Great for a summer wardrobe!
Top: York Top from Seamwork Patterns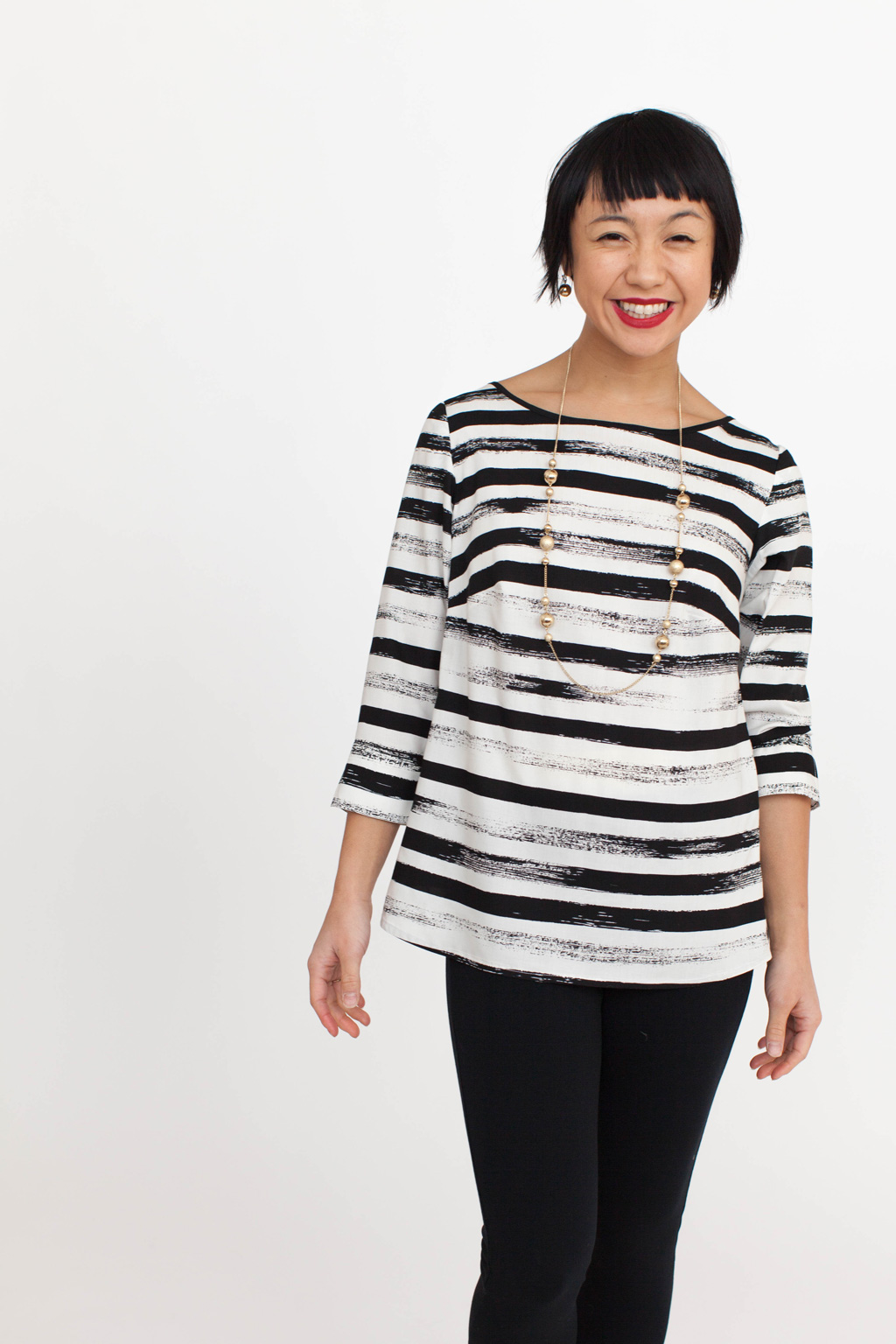 Structure:
This loose top has very little structure to it, making it a good choice for a knit fabric.
Closures:
The neckline is finished with bias binding that is tied at the back of the neck. This can easily be done on a knit, with either a woven or a knit binding.
Weight:
Since the York Top drapes and is unfitted, keeping the fabric lightweight is key to maintaining its original intention. A rayon or silk knit would be lovely.
Seams:
The only seams to consider are the side seams and sleeves, both of which are easy to do in a knit.

Fit:
There are bust darts for slight shaping in the York Top, which can easily be omitted by folding them prior to cutting. Made in a fluid knit, the top will flow just fine without them.
Finishing:
Most of the detailing can be sewn just the same as on a woven. The hem can be folded and stitched. The binding can go on in the same manner, and the back opening can be topstitched easily, as it doesn't require stretch.

Ease:
Keeping with the flow of the original top is ideal, so only going down one size is likely a good idea. But as always, check your measurements first with a muslin.
Verdict:
This is the perfect kind of pattern to go from a woven to a knit. There are minimal fussy details, a fluid shape, and details that will translate easily.
Runner Up:
The Akita Top from Seamwork Magazine also has minimal shaping, seams, and details!
Skirt: Bristol Skirt from Seamwork Magazine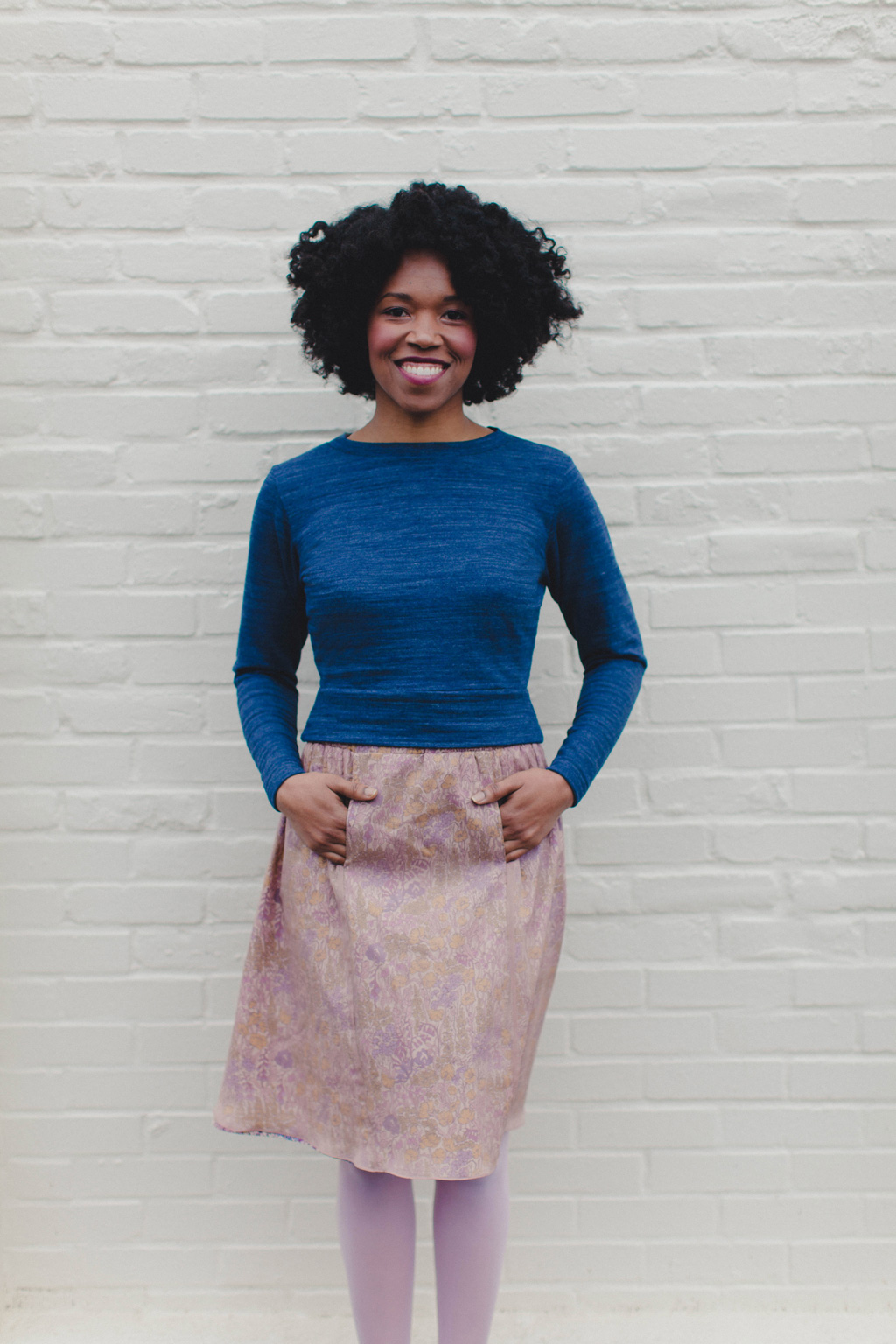 Structure:
This full gathered skirt only has structure around the waist and the center front pocket.
Closures:
As the Bristol Skirt is already fitted with an elastic waist, nothing in the closures would require changing.
Weight:
Due to the amount of gathers around the waist, it is best to stick to a lightweight knit that has some fluidity and drape.

Seams:
The only seam that could prove challenging is the center front pocket. But this could easily be omitted if too difficult.

Fit:
The shaping is already built for a loose flowing skirt, so no fit details like darts or pleats need to be considered.
Finishing:
The main area that would need some changing is around the gathers. Supporting the gathered seam with clear elastic, so the seam stretches along with the fabric is key. Otherwise the rest can be finished as is.

Ease:
Since the Bristol Skirt is all about fitting at the waist, no resizing would be required, as the elastic stretches to fit the body.
Verdict:
Almost nothing would need to change to reinterpret the Bristol Skirt into a knit. This would make a super fun summer skirt in knit that would feel like secret pajamas!

Runner Up:
Want something more tailored? The Brooklyn Skirt from Seamwork Magazine would be lovely sewn up exactly as written with a double knit!
Join the Conversation
Sign in or become a Seamwork member to comment on this article.