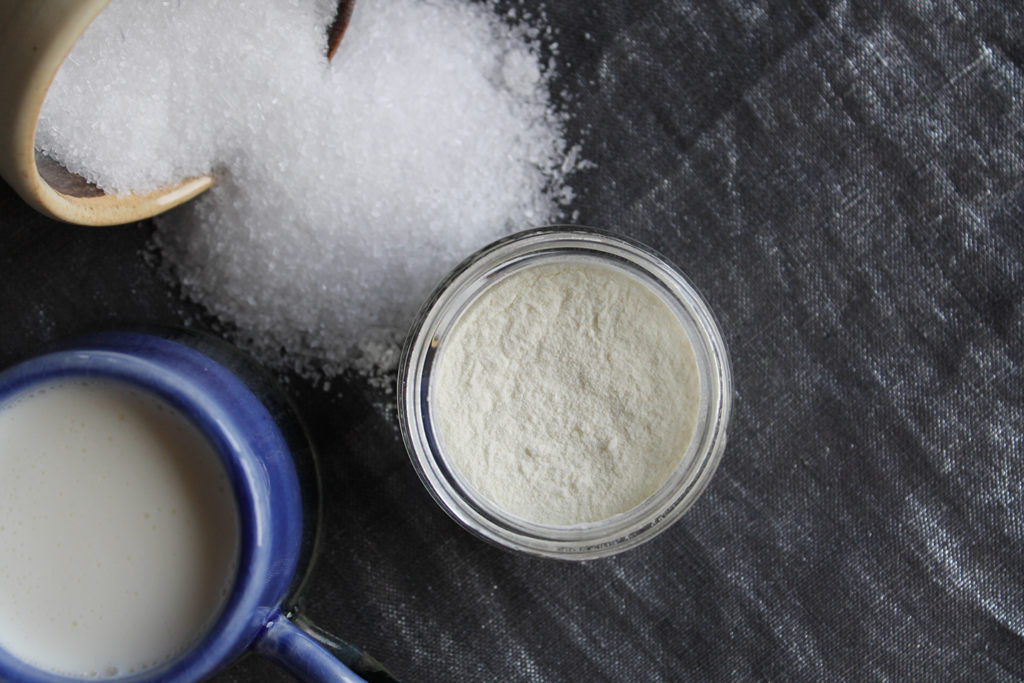 When you think of milk baths, you think of Cleopatra. It's said that she maintained her legendary beauty by bathing in donkey's milk, keeping a herd of 700 donkeys to ensure a steady supply. You can reap the benefits of a milk bath in a much more convenient form with this luxurious soak powder made from buttermilk, baking soda, and Epsom salts.
Buttermilk is rich in lactic acid, which gently dissolves dead skin. It also contains lipids, which sooth and moisturize. Baking soda soothes itchy spots and gives the bathwater a silky feel. Meanwhile, the magnesium in Epsom salts relaxes tense muscles, fights inflammation, and supports the serotonin production. Magnesium is easily absorbed through the skin, making this bath a feel-good experience inside and out. Naturally, we'll add some essential oils to give this soak a delicious floral scent.
You'll need


1 cup buttermilk powder or sweet cream powder


1/2 cup Epsom salts


1/2 cup baking soda


6 drops of essential oil (I used Ylang Ylang)


6 drops carrier oil (sweet almond, apricot kernel, or another low-scent oil that's liquid at room temperature)


1 jar


1 small glass bowl


1 chopstick or spoon


How to
Optional: I wanted my bath powder to have a consistent texture, so I whirled the Epsom salts in the blender until they were powdery.


Combine the Epsom salts and baking soda in a jar. Make sure the jar is clean and completely dry—any moisture will turn into salty, alkaline buttermilk!


In a small glass bowl, combine the essential oil with the carrier oil.


Add the oil to the Epsom salts and baking soda. Stir with a chopstick until the oil is evenly dispersed and fully absorbed.


Add the buttermilk powder.


To use:
Add 1–2 cups to a warm bath. After soaking, give yourself and the tub a quick rinse. For exceptionally soft and glowing skin, use a salt or sugar scrub first.