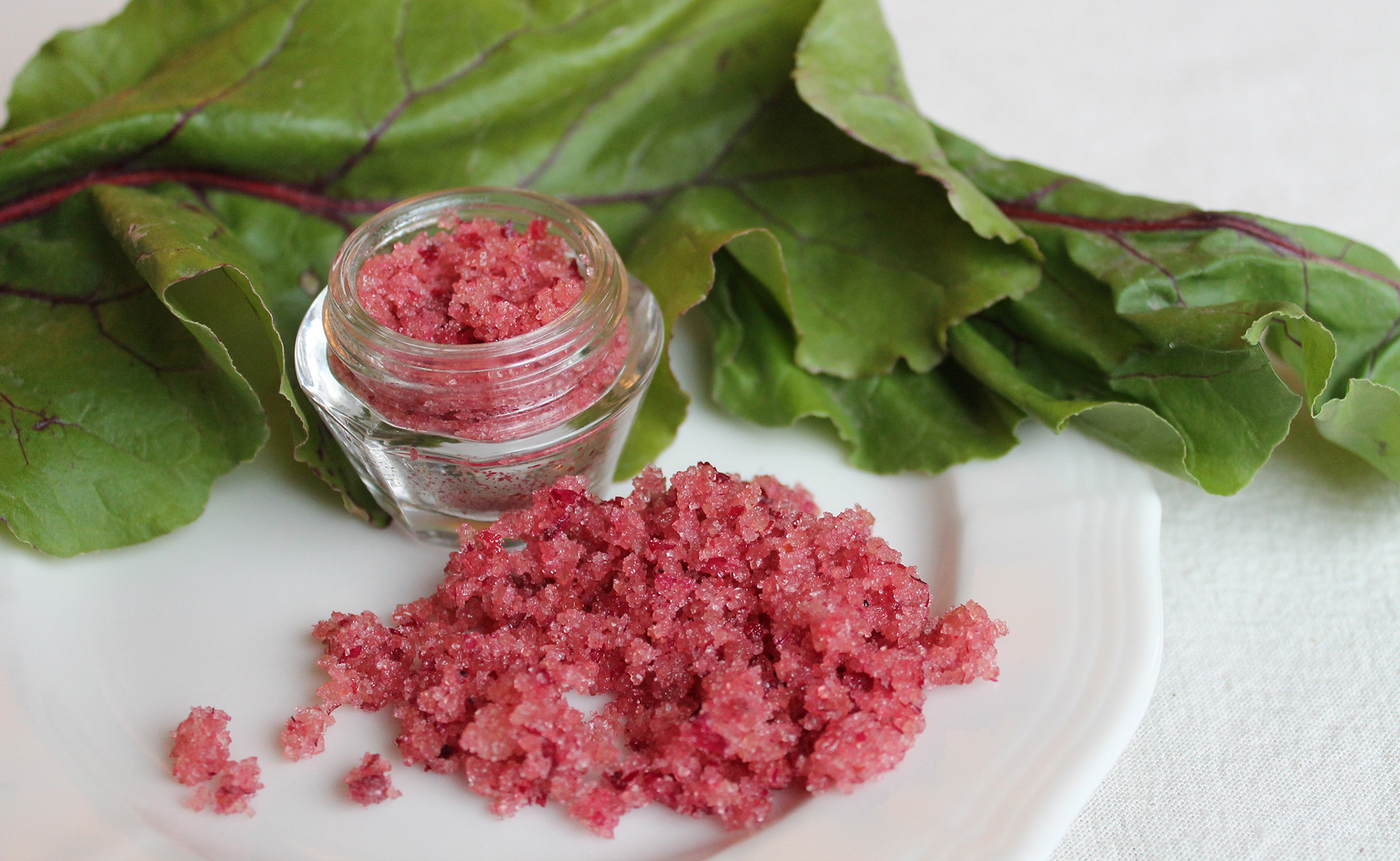 Strictly speaking, no one really needs a lip scrub. Plenty of people make it through the day without using one. But sometimes, it feels lovely to pay a little extra attention on yourself. This rich scrub only takes seconds to use and leaves your lips visibly smoother and softer. Use the scrub before putting on lipstick to ensure perfectly lush, even color, or leave your lips bare for a more sensual look. Your lips will feel—and look—irresistible.
This recipe uses different sizes and colors of sugar to create a luxurious vanilla-scented scrub. You can play with different base oils and proportions of sugar and oil to create a scrub that suits your taste exactly. Because this recipe doesn't contain any preservatives, it has a shelf life of one to two months.
Makes: 2–3 small pots of lip scrub.
You'll need:


2 tsp. avocado oil


1/4 tsp. food grade beeswax pellets


1/4 cup granulated white sugar


A small grade B vanilla bean (Tahitian or Madagascar Bourbon)


2 tbsp. raw golden sugar with large crystals


1 raw beet (you'll only need a little bit of it for color)


5 dried rosebuds (food grade)


A grater or microplane


A small glass bowl and saucepan, or microwave for melting oils and beeswax


A small container with a lid


A medium container with a lid


2–3 small containers (e.g., glass lip balm pots)


How to:


Cut off 1/3 of the vanilla bean. Using a sharp pairing knife, slice this piece in half lengthwise. Scrape out the seeds using the back of the knife.


Place the white sugar and the vanilla seeds in a small food processor or coffee grinder. (If you use a coffee grinder, clean it well with dish soap first, or your scrub will smell like coffee.) Grind the sugar and vanilla seeds until well incorporated. Pour into a small container with a tight-fitting lid. Add the empty part of the vanilla pod and cover with lid.


Put the raw golden sugar in a dry medium-sized container with a lid.


Wash the beet. Using a microplane or grater, grate between one teaspoon and one tablespoon of shredded beet. Carefully press the shreds between your fingers to squeeze 10 drops of beet juice into the raw sugar.


Put the lid on the container and shake the raw sugar vigorously to disperse the color evenly. Keep adding beet juice 3 drops at a time until you're happy with the color.


Leave the raw sugar in a warm dry place, uncovered, for 4 hours or overnight. This lets the excess water from the beet juice evaporate.


Mix the now pink sugar with 2 tablespoons of vanilla sugar in a small bowl.


Crumble the dried rose buds into the sugar mixture. Do this gently—you don't want to crush the brown "hip" inside the rose.


Combine the avocado oil and beeswax in a small glass bowl.


Fill a saucepan or small pot with 2–3 inches of water. Float the glass bowl in the water. Heat the water on medium-low until the beeswax is melted.


Pour the oil mix onto the sugar. Let cool, then stir and scoop into clean lip balm pots.
Join the Conversation
Sign in or become a Seamwork member to comment on this article.