Seamwork's Design Your Wardrobe series helps you plan a cohesive, wearable collection of clothes that's as big or small as you'd like. Through four weeks of activities, you're guided through setting the tone for a collection, planning looks, and deciding what to sew.
I felt like I need to refocus my sewing queue, so I decided to give Design Your Wardrobe a try to plan a collection for spring and summer. Here's why:



There are so many amazing sewists and patterns out there, it's really easy to feel overwhelmed with what to make next.




Recently, I saw a few things that I loved on others and decided to make for myself, but they ended up not feeling like "me."




I was feeling very demotivated in my sewing, so I decided to try this method of designing my wardrobe to re-focus.



I had never done something like this before, so I wasn't sure what to expect. I was just hoping to get a clear plan of what to sew so that I didn't start to feel overwhelmed by planning projects!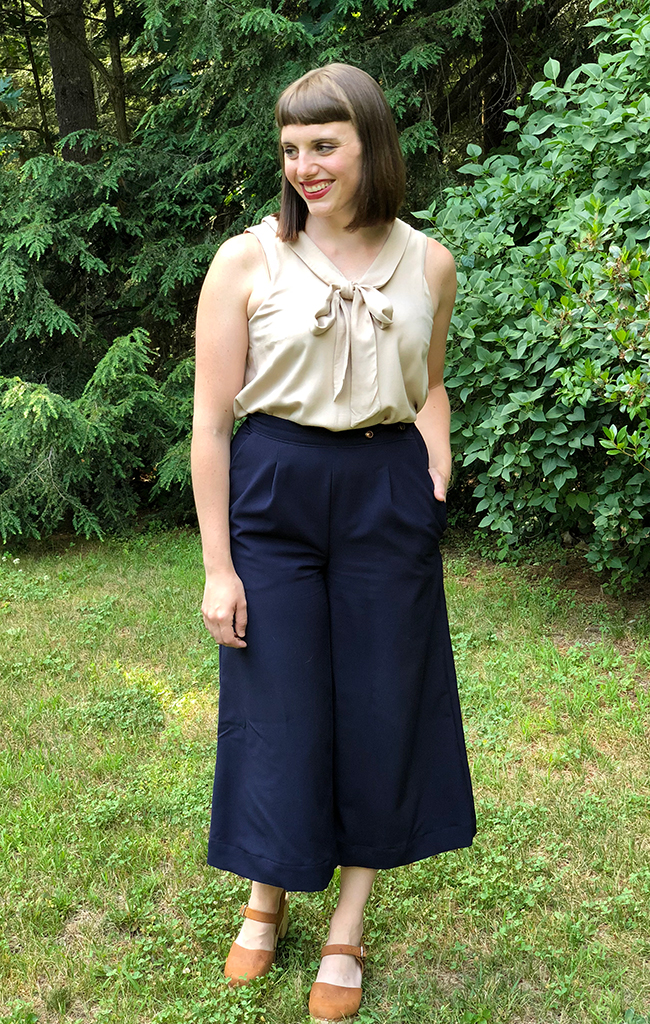 The Seamwork Addison shirt and Helen's Closet Winslow Culottes.
My Style
I started sewing my clothing because I was inspired to make things that felt true to how I wanted to present myself. I've always been told that my sense of fashion was unique, as I'll wear whatever I want, whether it's in style or not.
In high school, I had a really quirky sense of style—I owned so many dinosaur shirts and plastic bow barrettes. I transitioned to a very casual jeans-and T-shirt-look for college and graduate school because I was working in a lab a lot of the time. Now, I finally feel like I'm dressing in a way that truly feels like myself. I think of my style as classic and vintage-inspired, but I still like to throw in those quirky accessories.
How I Designed My Wardrobe
My goal was to create clothes that I love to wear because I wanted things that felt like me while looking polished but felt comfortable—I'm actually most comfortable in a dress or skirt, and I wanted a wardrobe that reflected that. This idea was very evident in my mood board.
With Design Your Wardrobe, you get daily activities sent via email. I typically read the day's task in the morning when it was sent out, but I didn't sit down to work on it until the evenings after work. I find that the process of letting a task sit with me, giving me a chance to think about it without realizing I'm thinking about it, really helps.
In the end, if I wasn't completely happy with a day's task, it was okay; I gave myself the freedom to go back and revise throughout the process if necessary.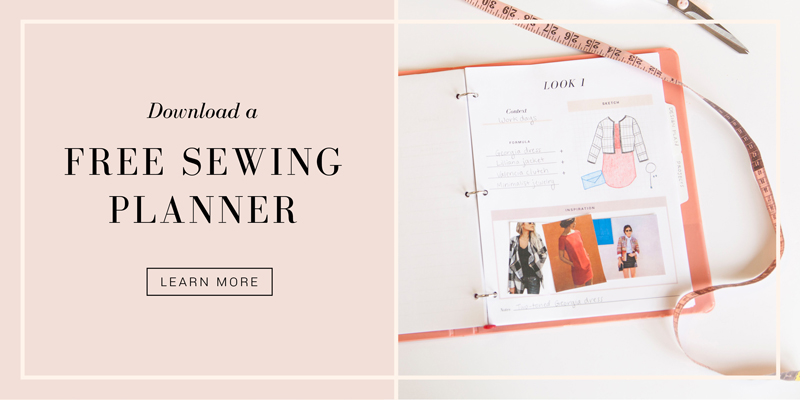 I Made a Digital Mood Board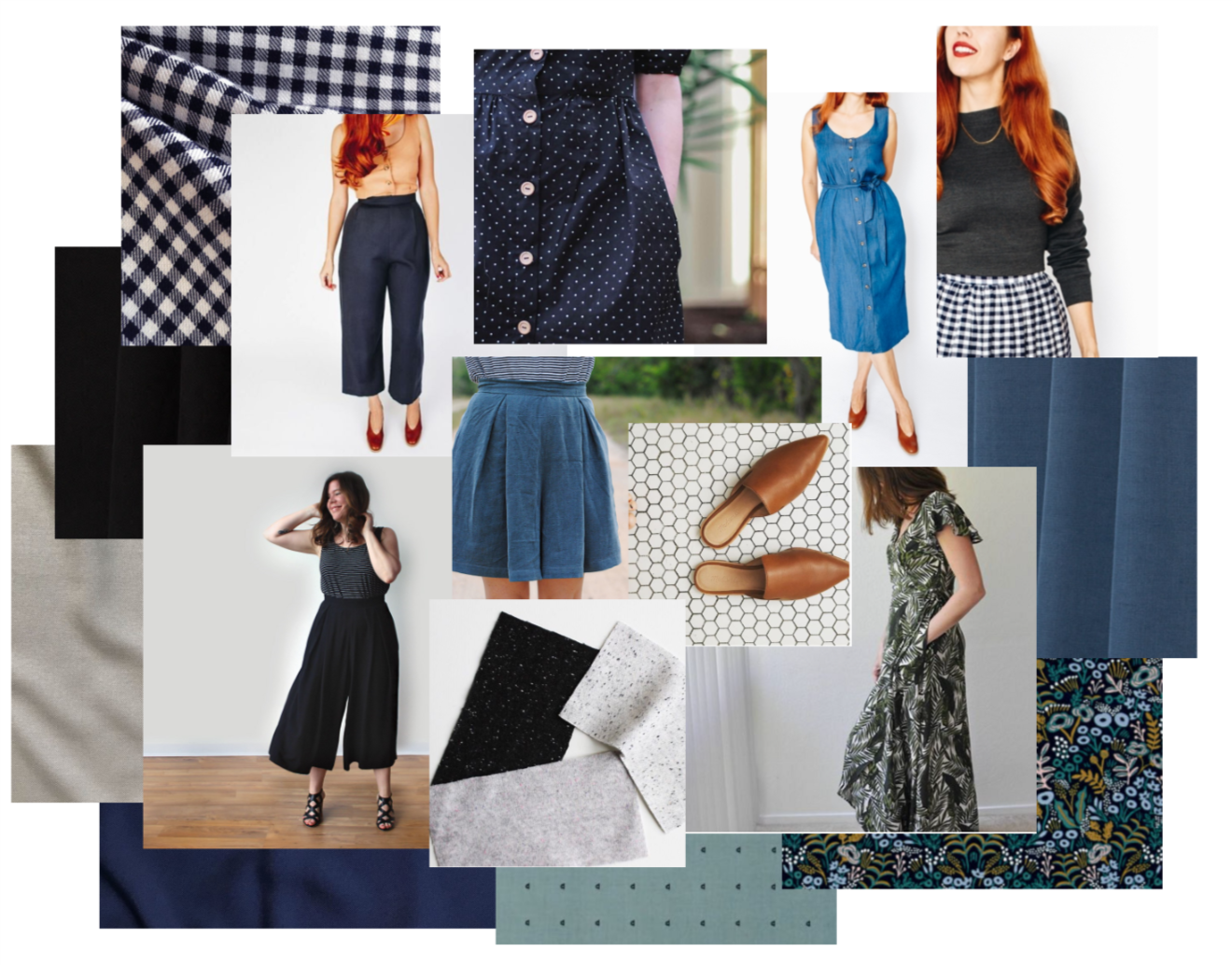 I usually save images on Instagram of patterns that I want to sew or of ready-to-wear clothing that I find inspiring, so I started my mood board by looking there. The whole process of printing images, cutting them out, and putting them together seemed overwhelming to me. Honestly, I didn't want the mess, and I wanted more freedom to edit, so I created my mood board digitally.
I imported images to Microsoft OneNote—where I typically plan sewing projects—and was easily able to add, remove, and move around images until I was happy with the overall feel. I started with a huge mood board that was really difficult to look at, but then edited it down to just the images that spoke to me the most. It was actually much more cohesive than I would have ever imagined!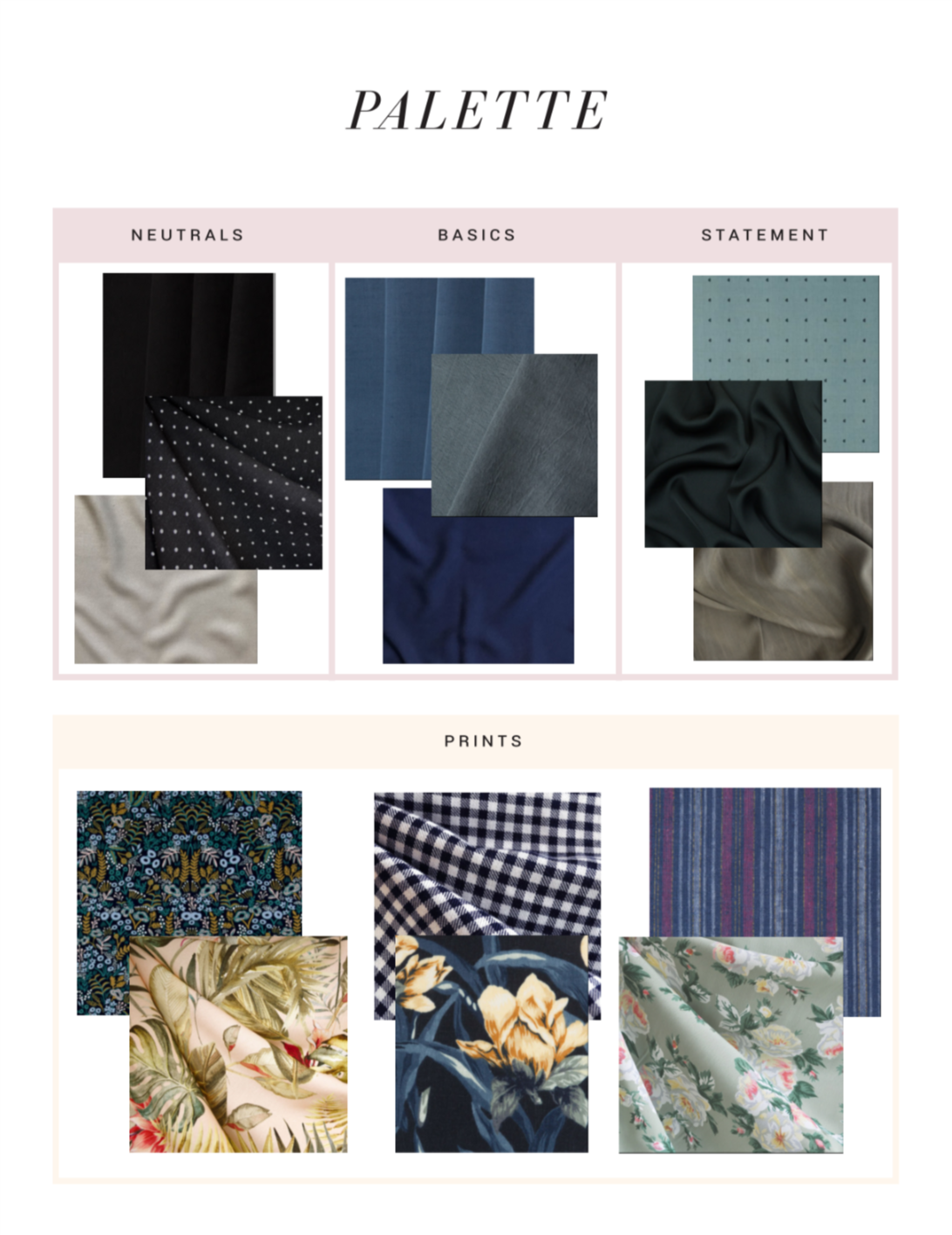 I was Honest About My Fabric Stash
I started thinking about fabrics by looking in my stash. It was evident that I have a very specific color palette.
My fabric stash contained a lot of dark colors, mostly blue, green, gray, and black—and that's also what I tend to reach for in my closet—so, I decided to stick with that palette for my collection. I did re-discover some light green floral rayon crepe in my stash that went surprisingly well with my other color choices, so I added that in as well.
When choosing what fabrics to purchase, I tried to be really thoughtful and pick fabrics that would both fit my color palette and feel great to wear. This has led to my love affair with Tencel that I don't see ending anytime soon!
I Chose Clothing for My Lifestyle
Picking what aspect of my life to design for was the natural part of this process for me. If I'm not wearing activewear, my wardrobe tends to be the same for both work and my social life. I'll wear dresses, skirts, or high-waisted pants to work, out for drinks, or to the grocery store.
For this collection, I decided to make pieces that would be able to transition between each of these areas, focusing on pieces that would be comfortable and still feel put-together.
I Made a Sewing Queue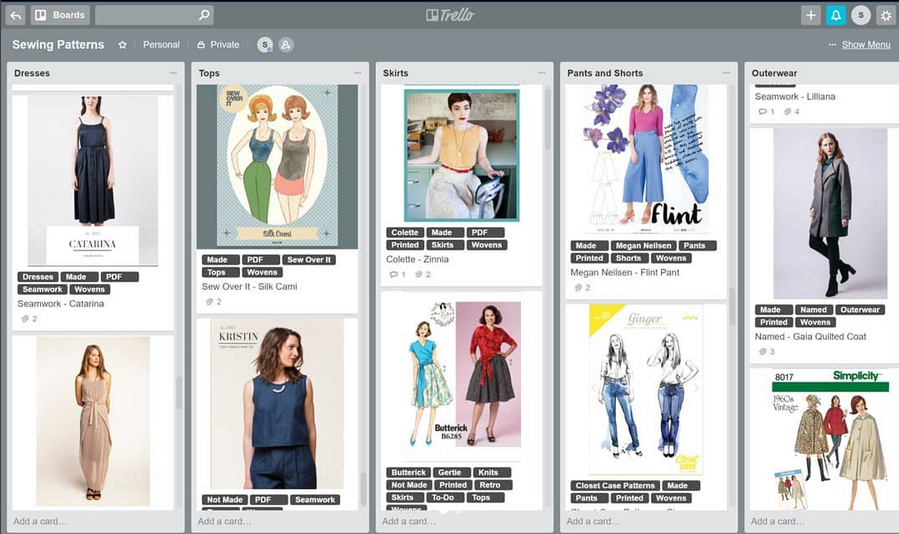 Once my patterns were picked, I added all of the projects to my always-evolving sewing queue. I use Trello to keep a list of projects I want to make, ones I have the fabric for, ones I have cut out, and ones I'm working on sewing. I added all of my collection projects to this queue, but I didn't give myself a deadline for anything, because I wanted to have the flexibility to sew other projects if they came up. The only wild card I had a desire to make in the middle of the process was a pair of leggings.
Digital Tools to Plan Your Sewing
Microsoft OneNote: This powerful digital notebook is like a digital version of a three-ring binder. You can easily collect images and notes and divide them into sections and pages for your mood board.
Trello: This project management tool is easily adapted for sewing! Use it to create an interactive sewing queue for your projects, fabric stash, and dream patterns.
Drawboard PDF: If you use Microsoft Surface, this app will allow you to write on your free Seamwork sewing collection planner.
GoodNotes: This app also allows you to annotate PDF documents from your mobile device.
Canva: Easily create a drag-and-drop digital mood board with custom color palettes and room for text.
Pinterest: Now that Pinterest boards have sections, it's easy to create a mood board and edit it to fit all of your collections.
My Finished Collection!
I called my collection "Elegant Casual." I wanted clothing that was comfortable but looked polished, that I could wear both to work and on the weekend, and that I felt good wearing.
I started my collection with nine looks that I felt like I could easily mix and match, creating outfits for all spring and summer with the crazy shifts in New England weather. As I started sewing, I was loving the process so much that I decided to add three more looks. In the end, I have a dozen looks that I can mix and match to make countless more. Here's what I ended up with!
What I Learned
I loved the planning part of the process much more than I thought I would. I typically just want to sew, sew, sew, but forcing myself to sit down and think about a collection as a whole really helped me focus. Seeing all these plans transition into wearable pieces that I truly love was an amazing process.
It feels so amazing to have a closet full of handmade pieces that I want to wear. It makes getting dressed in the morning so easy and enjoyable, and it really boosts your confidence to be wearing clothing that fits you, your style, and is totally made by you.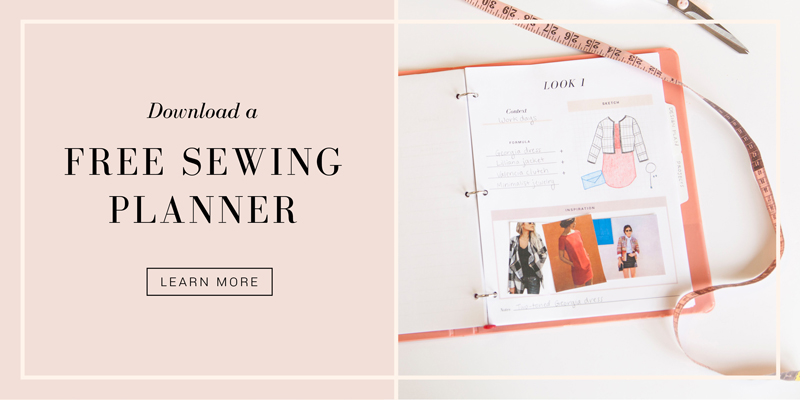 Join the Conversation
Sign in or become a Seamwork member to comment on this article.