As members of the sewing community, we love our fabric shop owners as much as we love the craft itself. They pick out fabrics that make us swoon, and they make sure we have all of the notions and special tools we need to complete our projects. To remain a humble and steady resource, these shop owners have a deep understanding of the making process so that they can share it with us! We chatted with Jessica Povenmire, who owns La Mercerie. She is a great example of a shop owner who puts all the love she has for her craft projects into her store as well.
La Mercerie is a modern online haberdashery stocked with fabric, notions, knitting supplies, custom kits, and special goodies that make your crafting fun. Upon visiting the web shop, Jess immediately makes it clear that she values the process of making: "It's about that quiet moment of gratification when the final stitch has been made and the last thread is cut. It's knowing that you can make and you can do...anything."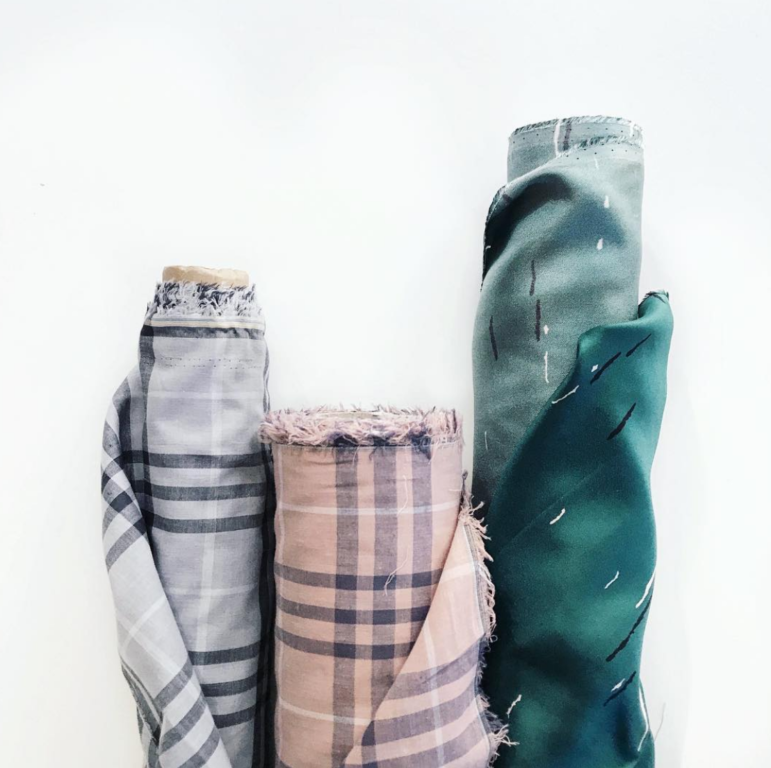 La Mercerie opened in the fall of 2014 when Jess started selling kits for knitting and sewing. Before jumping into her own shop, she spent many years in corporate retail, at Anthropologie, "I consider Anthropologie to be the first company to turn shopping into an emotional experience and I learned so much about creating a lifestyle brand during my time there. Anthropologie showed me how I could turn a lifelong love of creating into something bigger." With degrees in photography, digital media, and creative advertising, she jumped into her own business full-time starting last year.
Jess says that "Making things is in my blood and everything I do." She blogs many of her sewing projects and designs knitting patterns available on Ravelry. Her blog and makes are integrated into her shop so you know there is some major love behind the fabric and supplies that you buy, and Jess is actively involved in the online sewing and knitting community on Instagram.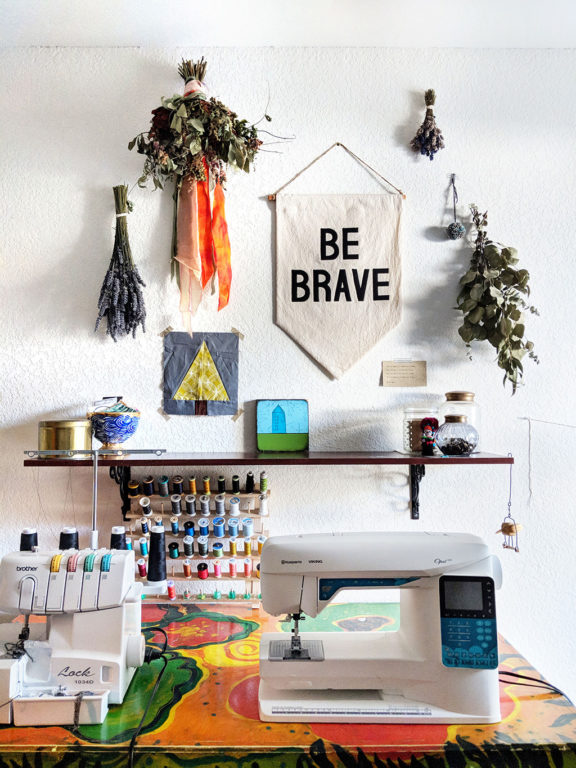 Since her job revolves around providing resources for all of us to make things, how does she find time to make things for herself? How does she balance our needs as shoppers and her own needs as a maker? In this interview, she shares her secrets, including some of her insider tips for shopping for fabric.
Do you run the shop alone or do you want to give a shout-out to anyone else?
It's just me! Well, me and our dog Finn. He's my sidekick and keeps me company throughout the day. My husband, Nate, has always been incredibly supportive and is starting to play a bigger role as he learns more about the business.
For someone who is intimidated about shopping for textiles online, what advice do you have?
E-mail and ask questions! Especially if you're shopping from a small business online. There's nothing I love more than helping customers find the perfect fabric for the pattern they want to make—even if that means they can't find it from La Mercerie! I've found that a lot of online fabric retailers are happy to provide as much information as they can if you need to know more about a specific fabric or project. You can always ask for samples too. If you're really not sure if you're going to like the fabric and aren't sure about making the investment for multiple yards, see if you can get a swatch first to see it in person!
Definitely use hashtags to your advantage. I spend a lot of time looking around Instagram before I buy fabric online. Some of the bigger manufacturers have hashtags of their own, like Robert Kaufman's #essexlinen. It's a really great way to see the fabric used in a variety of projects to see if any of them are similar to what you have in mind. I also stalk the pattern hashtags to see what types of fabric other people used and which ones I'm drawn to. A lot of the time, someone has tried using a fabric I never would have even thought of, and it just opens a whole floodgate of ideas.
Google is your friend, especially when it comes to figuring out fabric substrates. For a long time, I didn't know the difference between rayon and viscose. Turns out, that while the two fabric types are often used almost interchangeably, viscose is a type of rayon. Thanks, Google! Of course, it's easy to decide if you need cotton or silk for your project. But what if you fall in love with a silk charmeuse? How is that different than a crepe de chine? This is always when I turn to the internet for the answer. There are some really great resources out there, so you might as well use them to your advantage!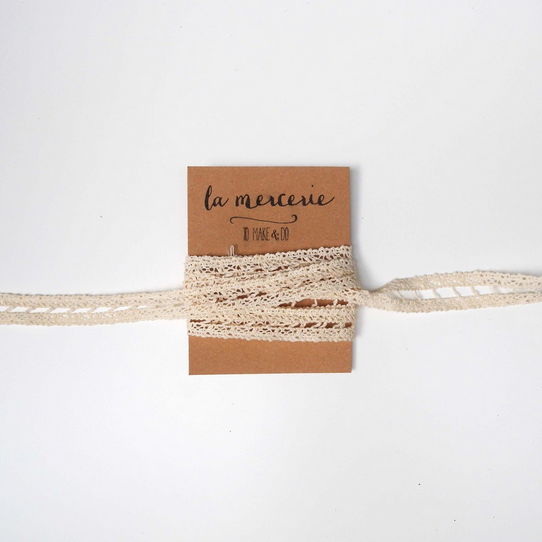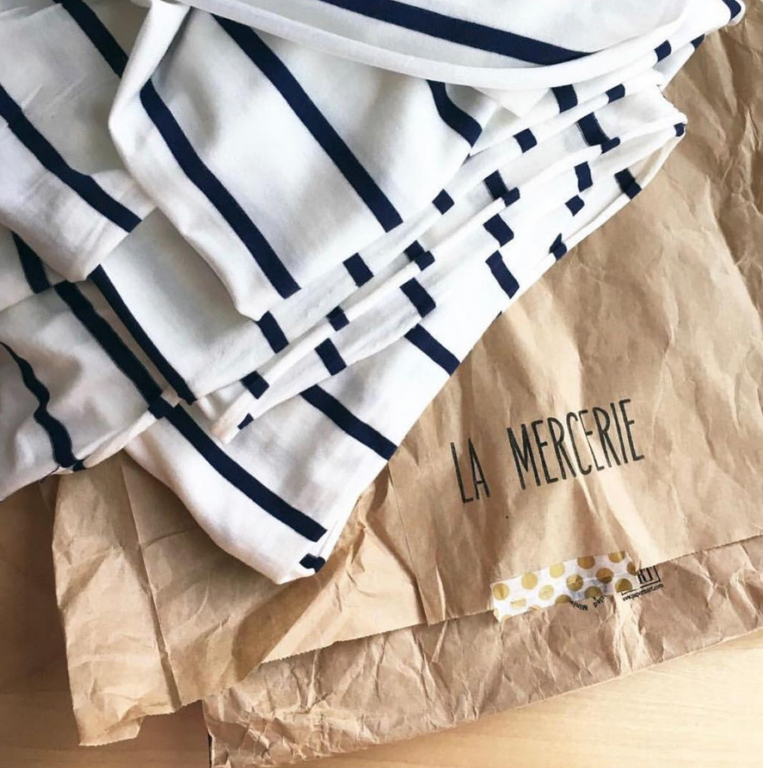 When you are picking out fabrics for your shop, what are the top 3 things that you look for?
First and foremost, I think about what I would make with it. I run through all of the pattern possibilities to make sure that it's versatile. If it's only right for one specific pattern or project type, it might not be right for the shop. I want to carry fabrics that speak to everyone, not just a niche group. Does it get me excited to start sewing? Then I definitely want to carry it!
I also think about if I've seen something similar to it or not. I try to steer away from fabrics that are in every local fabric shop and can be readily found online. While I love to sew with those fabrics and have many in my stash, they just aren't what I'm looking for to carry at La Mercerie. One of my values for the shop is to be unique—especially with my product!
Lastly, I spend a lot of time looking at inspiration before going to market or meeting with a vendor. I want to know what's popping up on the shelves, what's being saved on Pinterest, and what are shoppers are loving this season. Can I get something like it? How can I incorporate the current trends in a way that feels right for the home seamstress? Perhaps it isn't trying to source that crazy jacquard that I saw on the runway, but maybe I can find a rayon with a similar pattern or a jersey that has the same colors.
How can you spot a fabric to avoid while shopping online? Or in the store?
Personally, I've found that if a price seems too good to be true, it probably is. That's when I tend to ask more questions about that material content—the fabric weight, etc.—to find out if it's really the right fabric for me. You never know, you might get lucky and find a steal! But it also might be a seconds quality fabric or something that was poorly made to begin with.
I think fiber content is a big part of what I look at when shopping online. For instance, polyester definitely has its place in the fabric world. I'll admit that I love a good printed poly crepe sometimes! But I don't necessarily love it when it's paired with other materials. As an example, I was recently looking for a good stretch twill to bring into the shop as a bottom weight for spring. A lot of the fabrics that I was seeing online ended up being a polyester/cotton blend. The colors were great, but the polyester seemed to give the texture of the fabric a sheen that I personally didn't like, as I was hoping for more of a vintage look. Because of that, I ended up sourcing a cotton/spandex blend instead to keep the polyester out. If you're really unsure, try to stick to a material content that's similar to what your pattern calls for!
I also look at the drape of a fabric, especially when I'm shopping in the store, but often that's really hard to tell online. If a shop has a photo with some folds or a picture of the fabric used in a project, that's always incredibly helpful. But if it's just flat and you can't get an idea if it's stiff or will fall nicely when you make it into something, that's when I would ask for a swatch!
Since you work in the sewing and knitting world all day long, how do you keep the motivation to make projects for yourself personally, off-the-clock?
Great question! It's definitely tough and something that I find myself struggling with more as the business grows. I think it really comes back to bringing in product that I'm excited about. I recently took a pattern designing class and the instructor told us, "Do what you love, make what you love." It really reinforced this idea that people will either like what I do, or they won't. And that's okay. So I focus on carrying products that I love, on a personal level, not just what I think will sell. That way, I'm always excited to work with it.
But that honestly means that most of my sewing, either on- or off-the-clock, turns into something I can share for La Mercerie. Most of my handmade wardrobe is something that I have shared on Instagram and quite a lot of it uses the fabrics and yarns that I carry in the shop. I believe in the product that I buy for La Mercerie and wouldn't carry it if I didn't love it myself. By sewing personal projects with it, I'm able to share that love with my customers. Or at least that's what I keep telling myself so that I can justify squirreling away fabric out of inventory...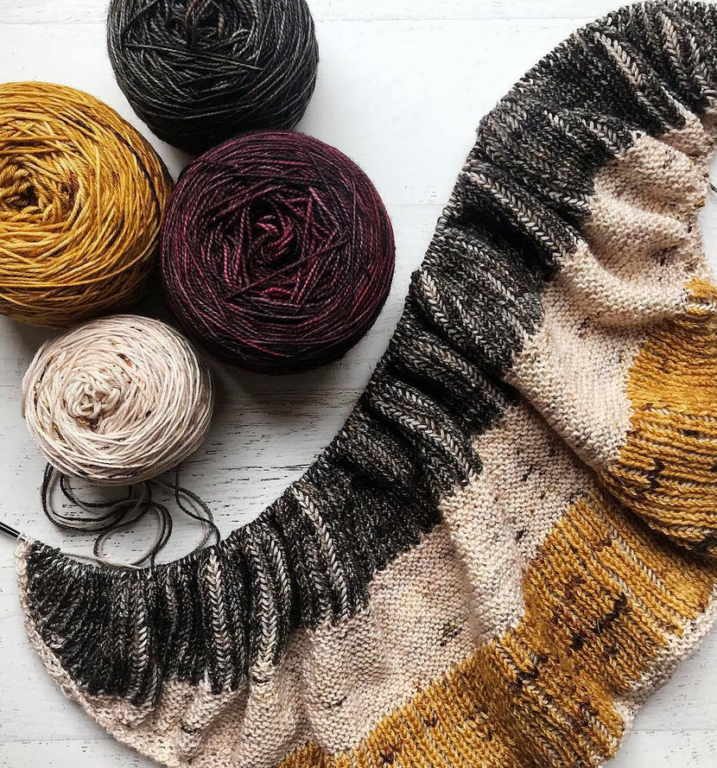 Following the question above, what's the one thing you do when you need a break from all things crafty?
This is a big goal that I'm focusing on this year. I felt myself getting a little burnt out at times last year, just because I was making so much in such a short period of time. I'm really trying to make sure that I leave myself time for inspiration days this year. Days that I step away from the business 100% and take a day just for me. Maybe that means taking a walk and reading a book or trying a new recipe; maybe that means wandering in and out of stores in a new part of town that I haven't explored yet. In January, I took an encaustic painting class—I'm trying to prioritize time to try new things and experiment a bit!
Since you work across many crafts, what advice do you have for someone who is facing a bit of "project paralysis?" In other words, how do you pick what to make next?!
Oh boy. Project paralysis is real! I keep an ongoing list of every project I want to make on a piece of paper in my sewing room. It's a scary list and can sometimes be super overwhelming! But I've found that the longer my list is, the better chance I have of wanting to make something from it. I'll scan through my list or sort through my stash until I find something that speaks to me.
On the other hand, if that doesn't work, I think about what's missing from my closet or if I have any projects-in-progress that I can finish up. Sometimes, if I'm really feeling stuck, I'll make a project out of necessity instead of desire, because it gets my sew-jo going again. Once I've finally sewn up that T-shirt that's been cut out for ages, I'll be ready to treat myself with something more exciting.
When you are designing knitting patterns, what comes first in your mind: the shape, the materials, the garment, a special detail, etc?
Most often it's a design element. In my first pattern, the Strada Cowl, it was the mosaic pattern that I came up with and the garment grew from there. For the Winter Morning Socks, it was the center cable in worsted weight yarn. I loved the look of a chunky cable and the rest of the sock was designed based on that element. I have a sweater design that I'm working on that has a different seaming detail, so I'm trying to work the construction out based on that.
In college, I spent a summer working at the Anthropologie headquarters in Philadelphia. I was sitting in a meeting when the head merchant for the home department said, "I want every single item that we sell to wink at me." It didn't make much sense until he went on to say that every single item needed to have some sort of special detail, something small and unexpected that winks, but isn't in the customer's face. At the time, I thought it was interesting, but not life-changing. As it turns out, that idea has become a very big part of my design process and the way I approach La Mercerie in general. I want to include special details that wink at you.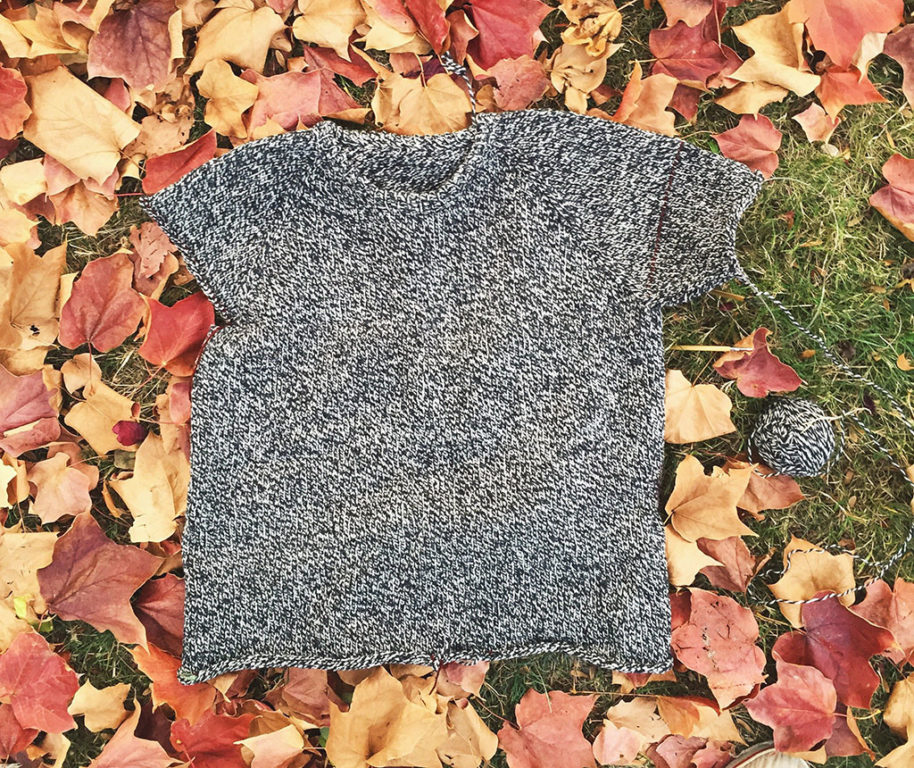 Sewing, knitting, crafting, owning a business. Which comes first in your world, or is it impossible to choose?
Wow. I think it's impossible to choose! Making things, in one way or another, has always been a part of my life. For as long as I can remember, I've always been a creative person; it's just a part of who I am. I don't think there's a way to pull out one part as more important than another! In a way, I guess that's the thing that comes first in my world—creating. No matter what that looks like or how I do it, creating comes above all else.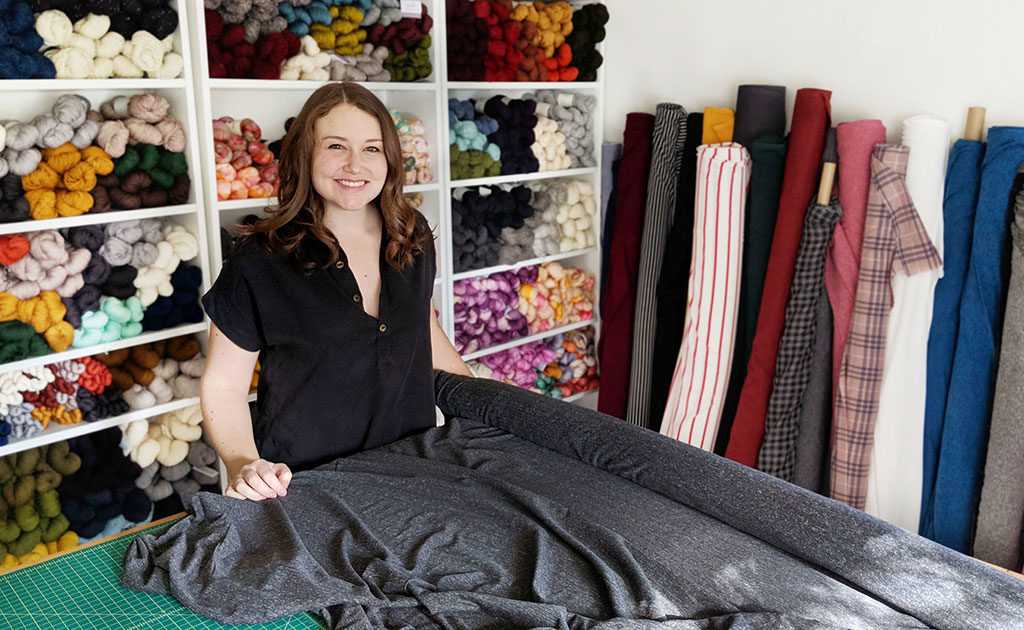 What do you see for La Mercerie in the future?
2017 was the first full year for La Mercerie selling fabric, yarn, and other supplies. It was such a whirlwind! The business has already grown so much more than I ever could have anticipated, and I can't wait to keep that momentum going this year.
Most importantly, I want to find more ways to connect with people—whether that's in real life or through social media. Community is such a huge part of La Mercerie and I'm trying to explore more ways to build that bond. I'm hoping that means things like retreats and pop-up shops in the future!
I'd love to expand what we carry to become more of a one-stop-shop with everything customers need for a project. Originally, this was the goal of La Mercerie when we offered more kits. However, as the business has changed, it's gotten farther away from that. One of my pet peeves is needing to order from multiple shops just to get everything I need for a project, so as much as La Mercerie can help reduce that, we will!
And of course, I want to continue to find exciting and special fabrics that you aren't going to find anywhere else. While this is probably the hardest part of the job, it's also the most fulfilling. I just can't wait to see what people make with their fabric purchases! It's always so much better than I ever could have imagined.
---
We used some double gauze purchased from Jess's shop to sew this month's sample of the Kimmy dress. Be sure to hop on over to La Mercerie to see all the new fabrics she just stocked!