Have you ever dressed a pattern up or down, depending on the fabric you pick? This month, you can sew some comfy looks for lounging, or you can take these patterns up a notch with a luxe knit fabric.
Let's meet the two new patterns!
Meet the Farah Wrap Top
Your wardrobe always benefits from more layers. Farah is a knit wrap top you can wear over your favorite cami or all on its own. It's fitted throughout with full-length sleeves and a bound neckline that extends into a waist tie. Create a soft layer with a bamboo jersey or rib knit. Or, pick a bright ITY knit to make a statement.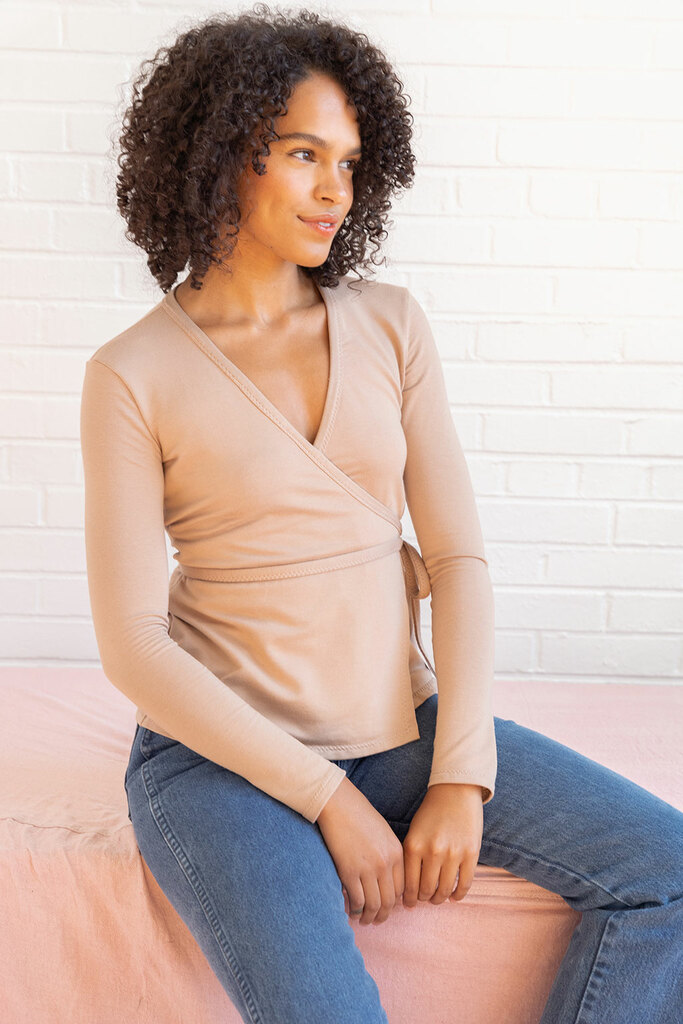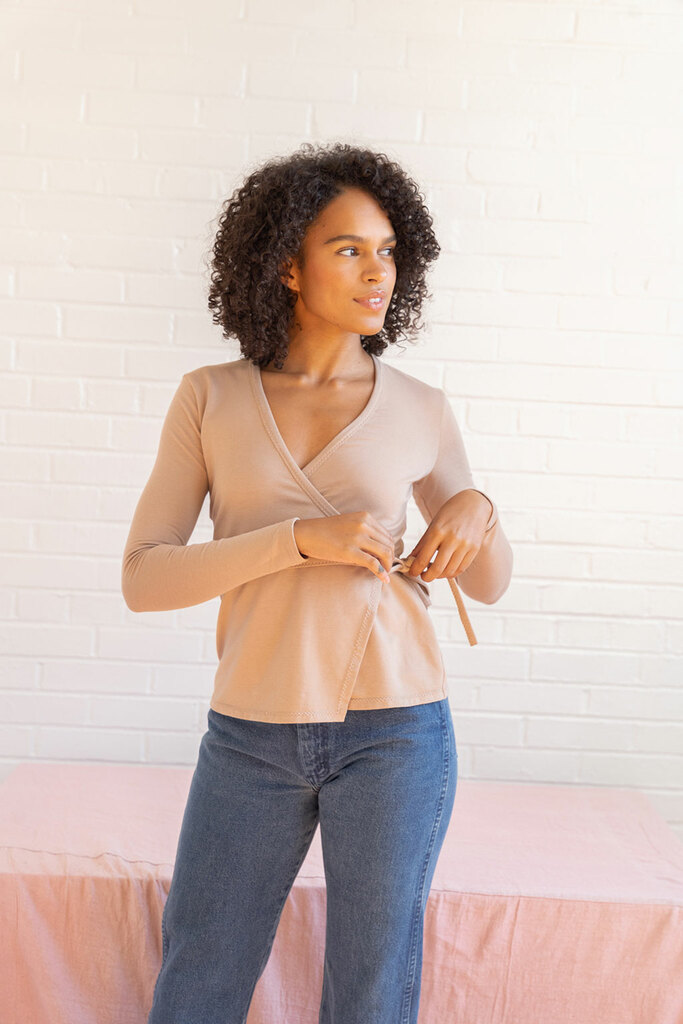 The member bonus adds a wide, 3/4-length gathered sleeve to the Farah top for a totally different look from the same pattern.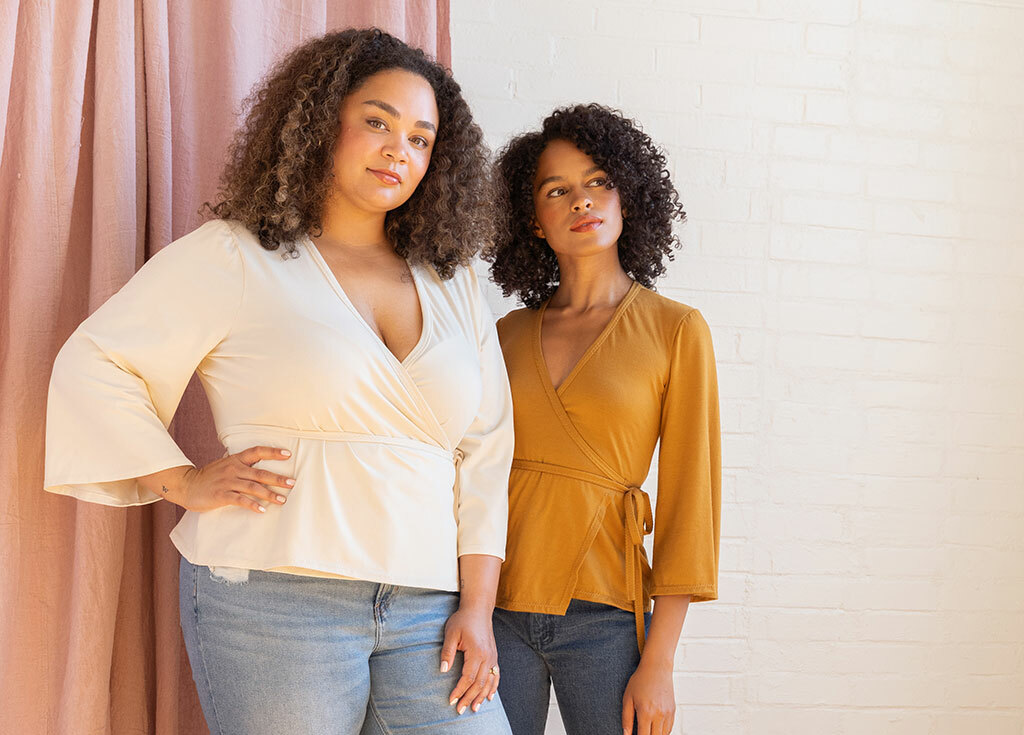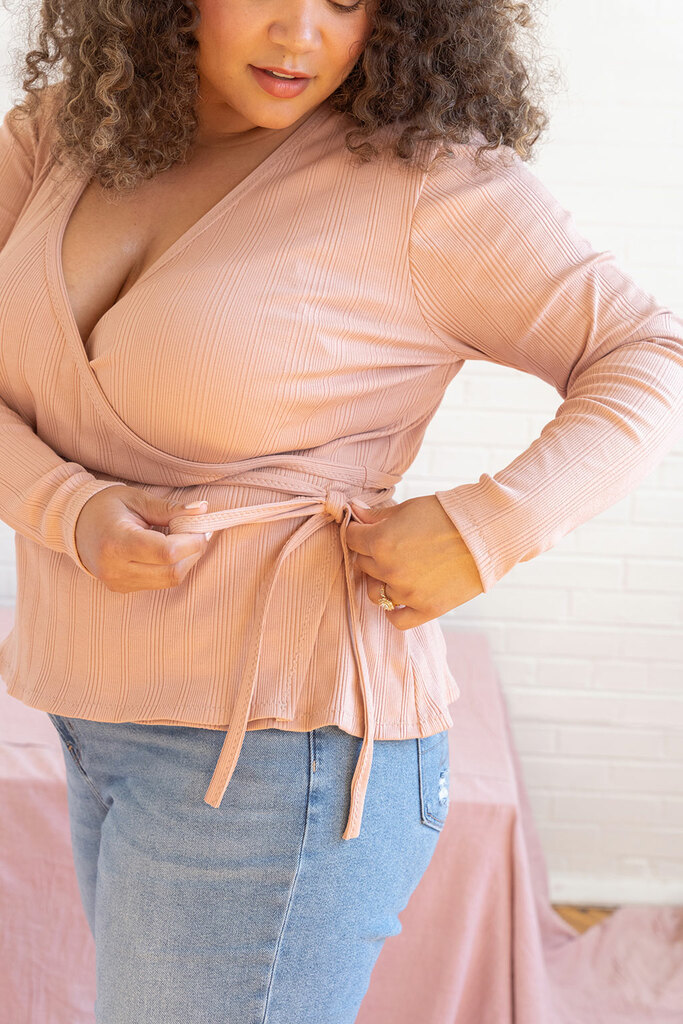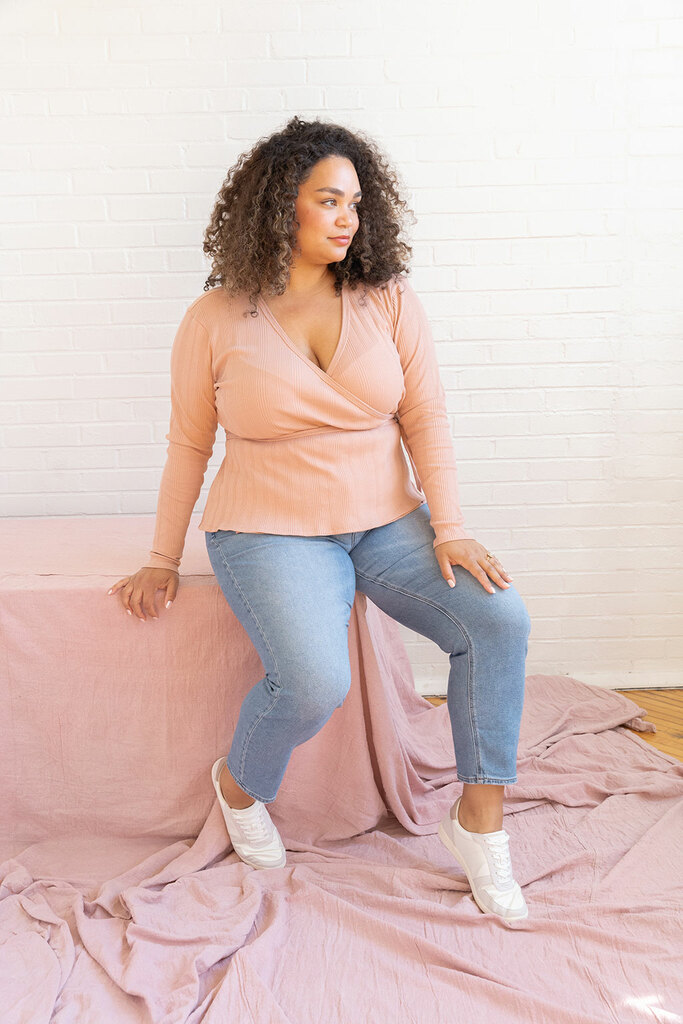 This pattern is named after our Seamwork Ambassador Farah! You can follow her on Instagram here.
Fabric & Fit
Fabrics to shop: Look for medium-weight knit fabrics with 4-way stretch and at least 50% stretch, such as cotton jersey, bamboo jersey, rib knits, and ITY knits.
Fabrics to avoid: Avoid knits without 50% stretch, and pay close attention to the stretch percentage on ponte.
Tips for sewing: This isn't a sewing tip, but this wrap top actually looks really cool tucked into jeans!
Fit: Farah is fitted throughout, and the hem is intended to hit at the high hip. Pay the most attention to your bust and bicep measurements when selecting a size.
Meet the Nash Flared Leggings
Bring a little bit more style to your leggings with this pattern. Nash is a high-rise, flared legging with scoop pockets and seams on the front and back legs. This pattern harkens back to the yoga pants of the early aughts but with a more modern silhouette. As with the original yoga pants, you can wear the Nash leggings outside of your workout, paired with a denim jacket or your favorite sweater.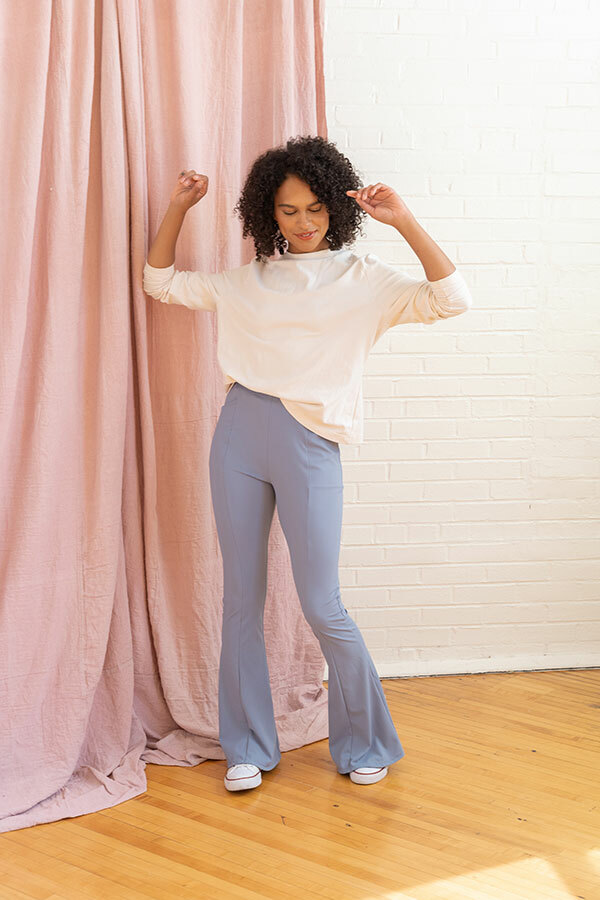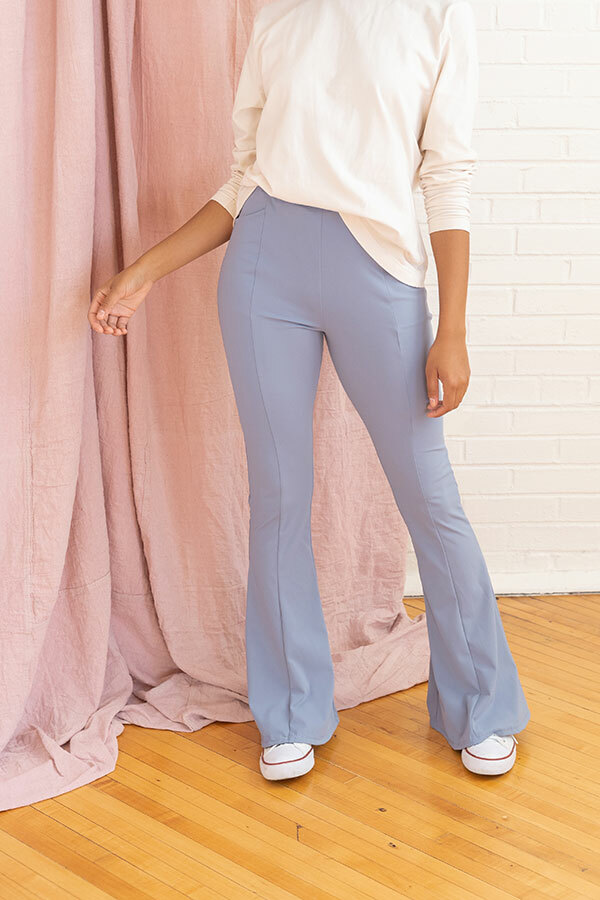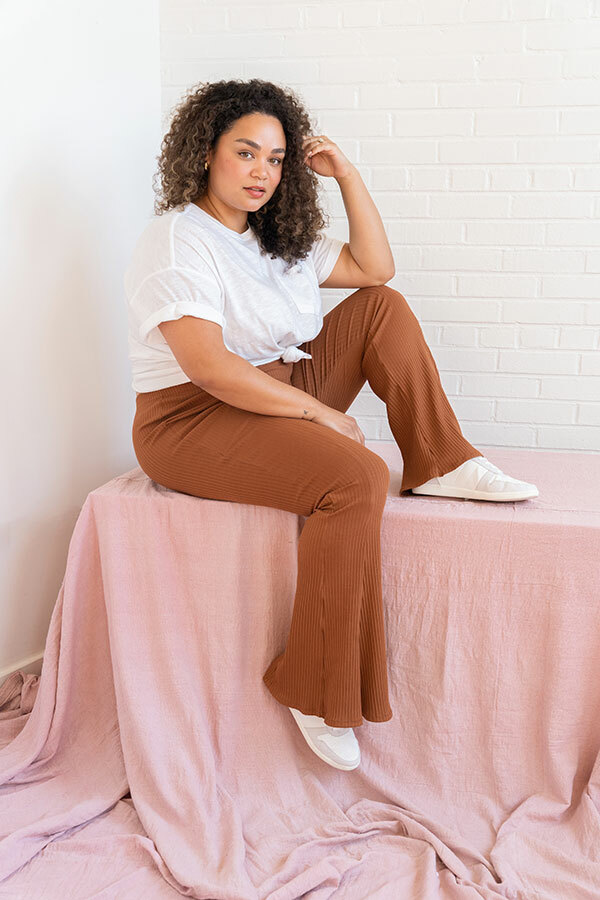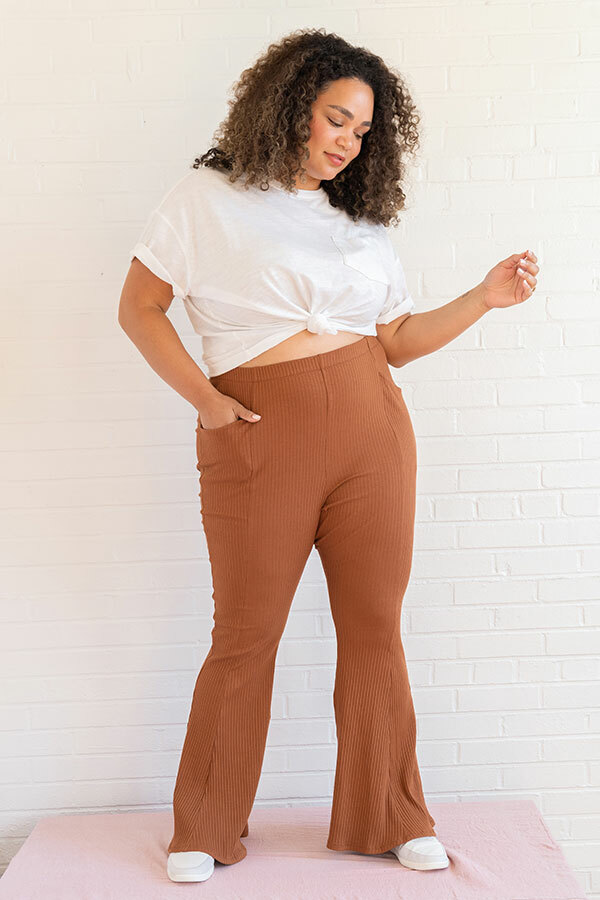 Fabric & Fit
Fabrics to shop: Similar to the Farah top, look for medium-weight knit fabrics with 4-way stretch, good recovery, and at least 50% stretch, such as cotton jersey, French terry, rib knits, ITY knits, and athletic knits.
Fabrics to avoid: These leggings need 4-way stretch! Don't sew them with fabric that only has 2-way stretch.
Fit: If you can't remember what yoga pants fit like, the Nash leggings have a slim fit that flares below the knee. If you have a pair of yoga pants leftover from previous decades, you can even measure them to get a sense of the fit, if you are using a similar fabric to sew.
Love the article? Pin it for later.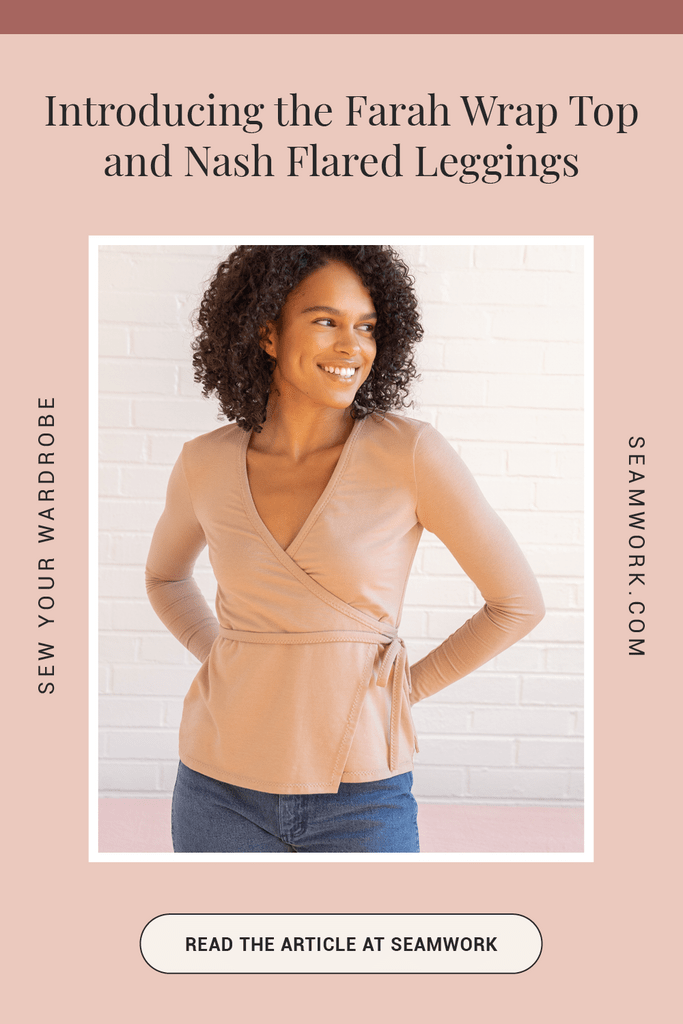 Join the Conversation
Sign in or become a Seamwork member to comment on this article.