A chic coat and a cozy sweater—what more could you want for winter sewing? Let's meet this month's two new Seamwork patterns.
Meet the Vicky Sweater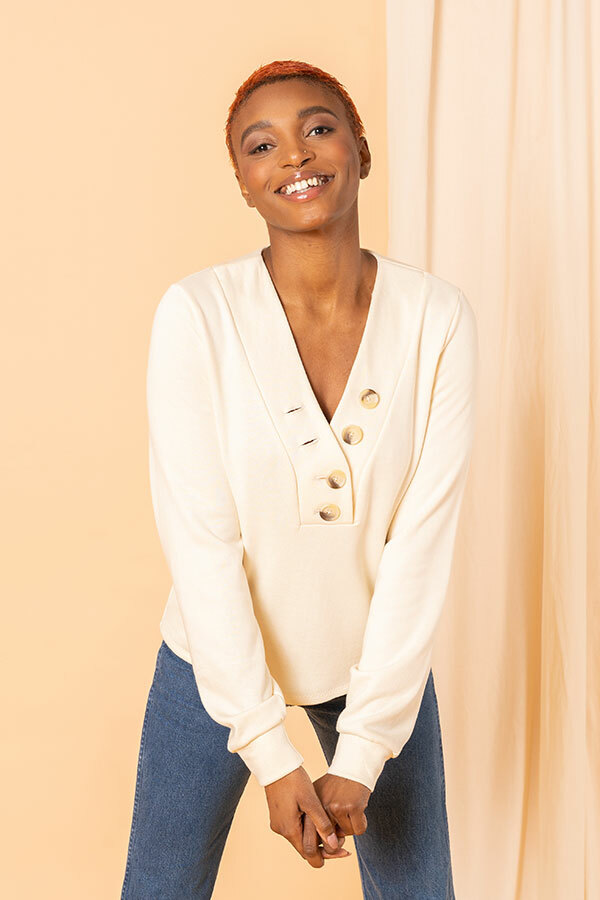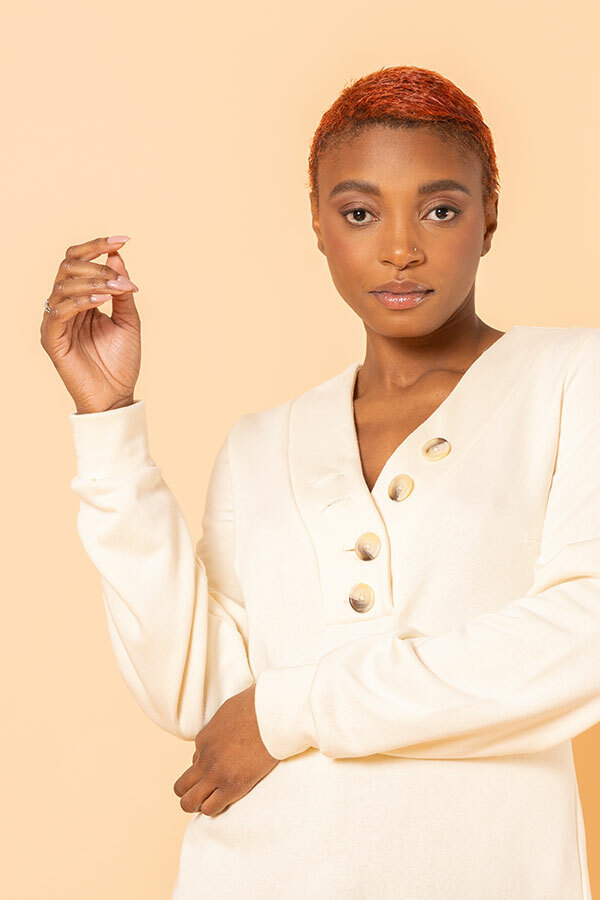 Having a few sweaters tucked away in your closet is so important when the weather gets cold and you need to add a quick layer. The Vicky sweater is semi-fitted with a V-neckline adorned with 1" buttons on a wide neckband so you can show off a handful of buttons from your stash. This sweater has slightly voluminous sleeves that are gathered into a fitted cuff. Bust darts and a center back seam create the fitted silhouette. Sew this sweater in your favorite cozy knits!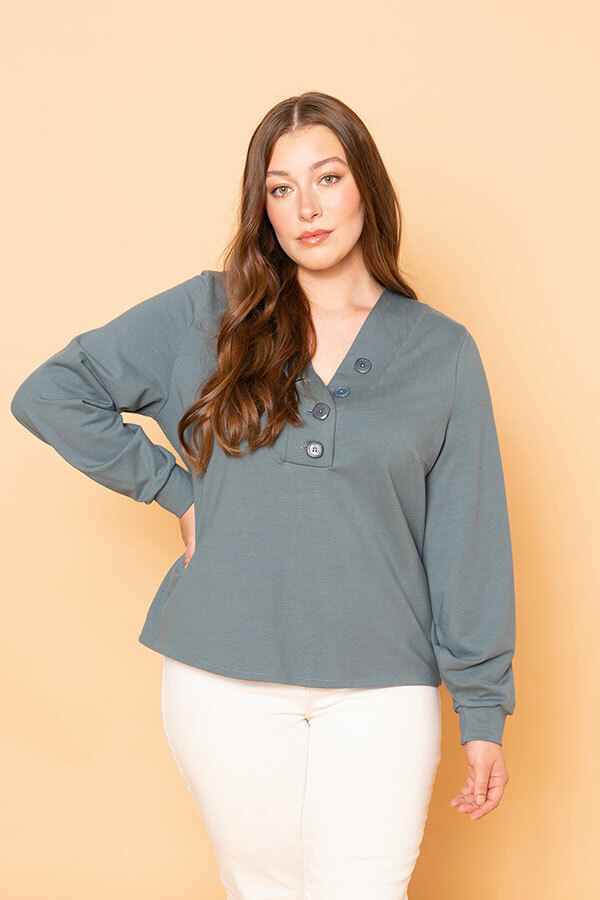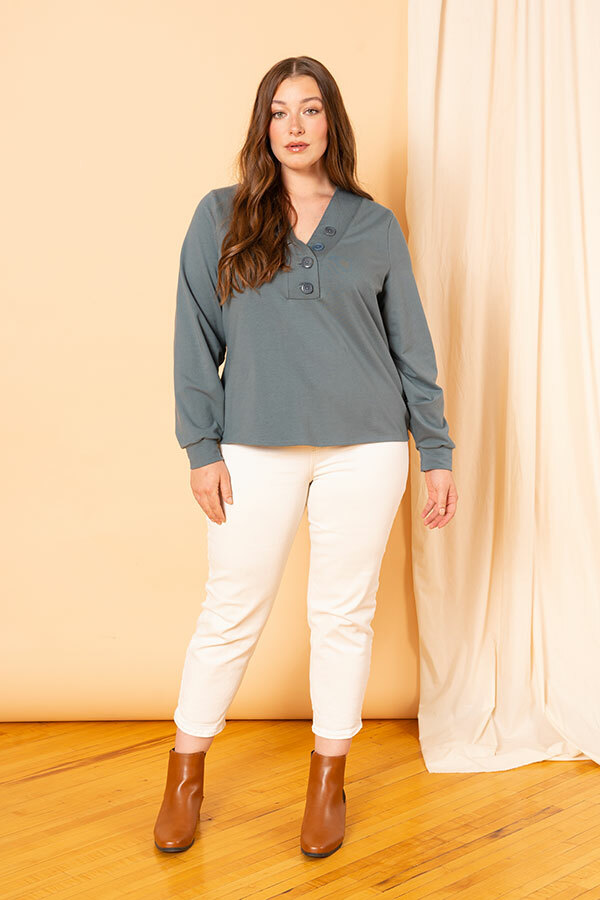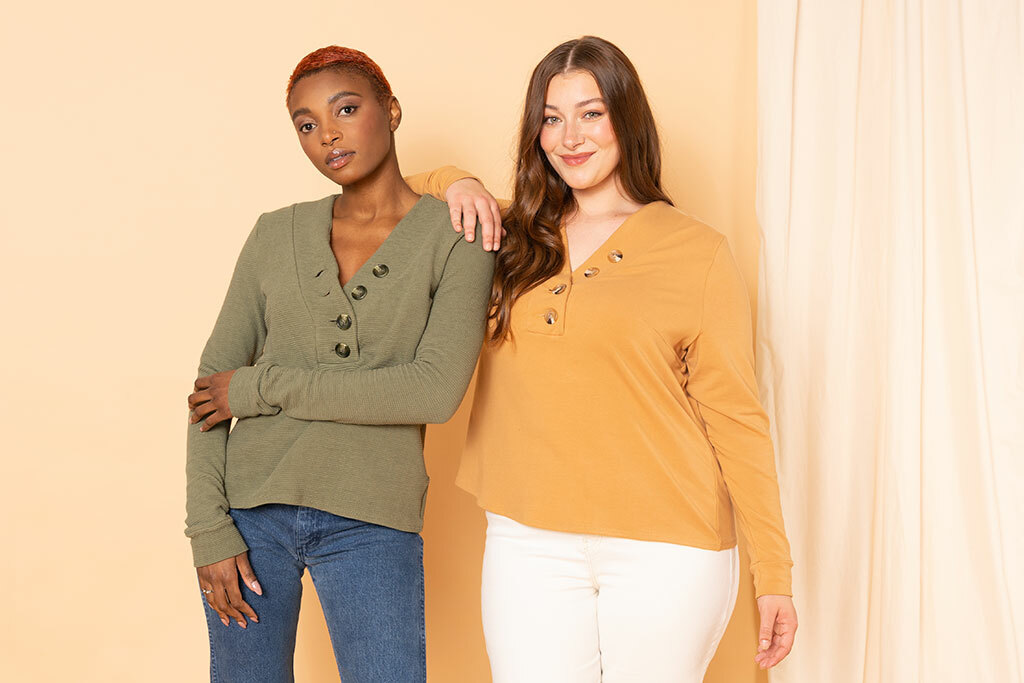 The member bonus for the Vicky pattern includes slimmer sleeves for a less voluminous look.
Fabric & Fit
Fabrics to shop: Look for medium-weight knit fabrics with at least 20% stretch, such as French terry, ponte, double knit, and sweater knit.
Fabrics to avoid: Avoid very lightweight knits, as they will not support the buttons at the neckline.
Tips for sewing: If you've never sewn knit buttonholes before, don't be intimidated! The trick is to sew a few test buttonholes to ensure they come out nice. First, interface some scraps of your knit fabric and sew a couple of buttonholes. Don't skip the interfacing, as it will stabilize the fabric and prevent it from stretching. If your first test buttonhole comes out puckered or distorted, reduce the tension, lengthen the stitch length, and try again.
Fit: This sweater features some shaping details, like bust darts and a center back seam. This means the bodice is semi-fitted, but the sleeves have more ease to create their silhouette. Pay most attention to your bust measurement when selecting a size.
Meet the Denise Coat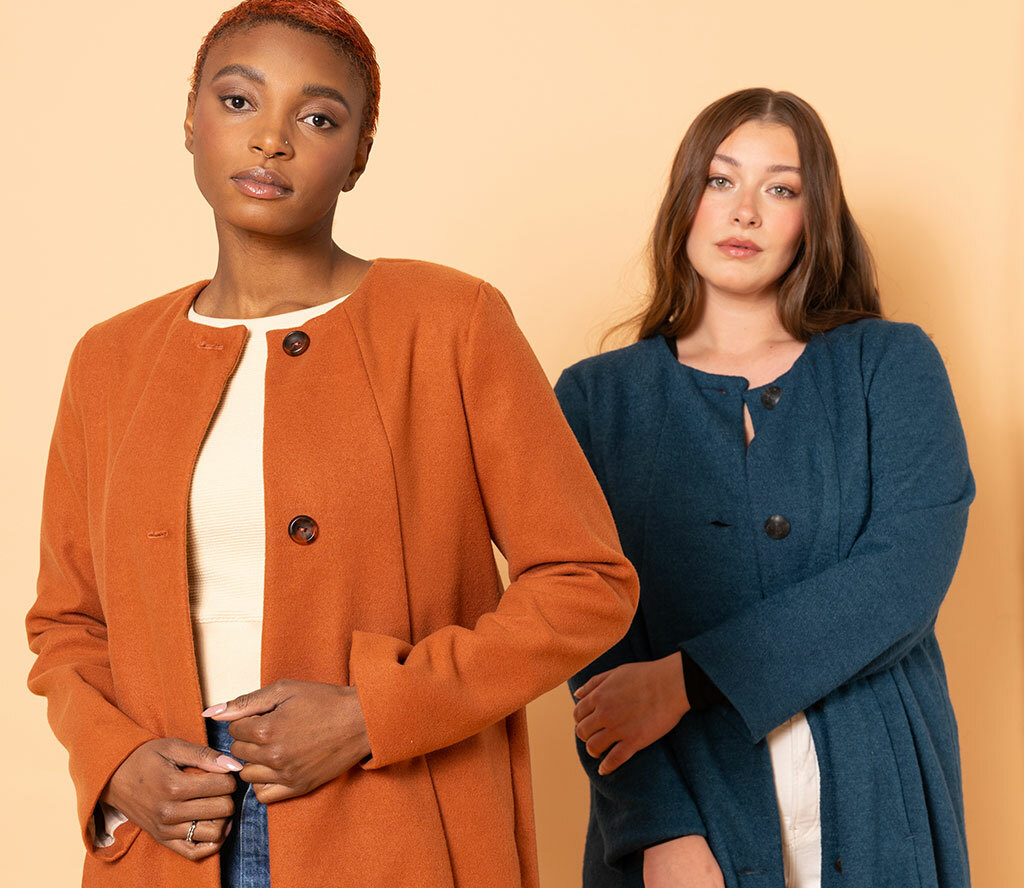 Can you imagine a more satisfying sewing project than a chic coat? Denise is a lined coat with curved princess seams that intersect the neckline, closing with 1" buttons along the center front. This coat hits at the knee, so it looks lovely worn layered over jeans, skirts, or dresses. This pattern is an ideal introduction if you've never sewn a bagged lining before. It has a simple construction, and our instructions will walk you through each step. And yes, it has in-seam pockets!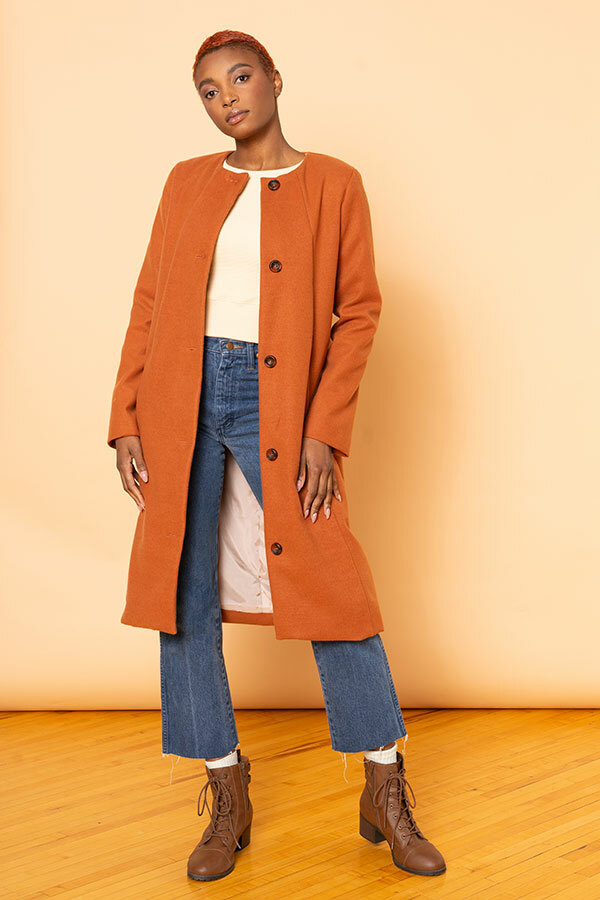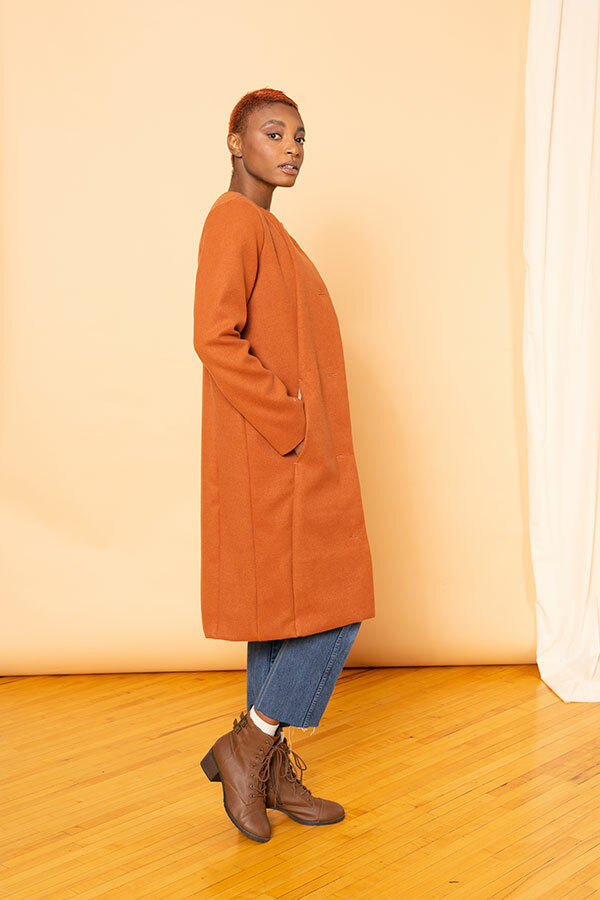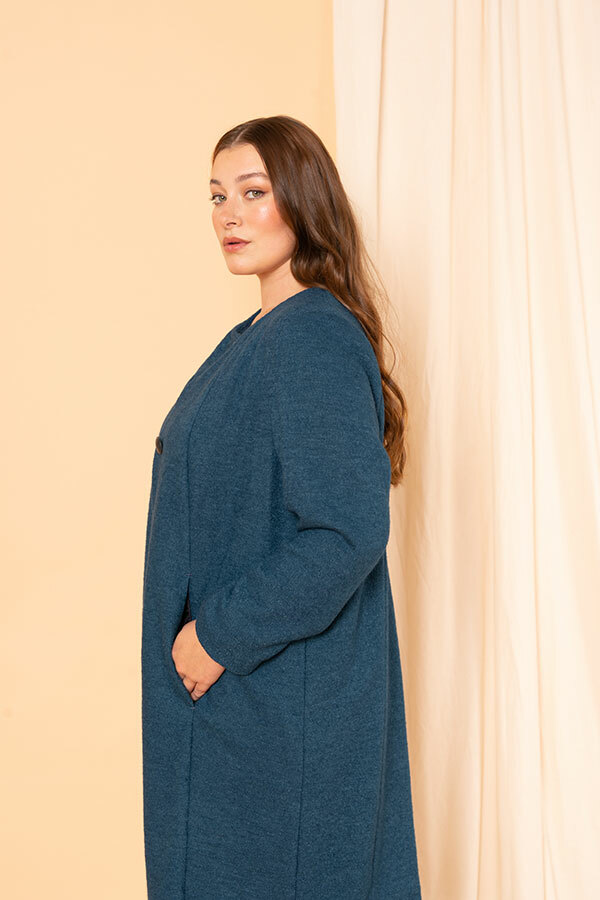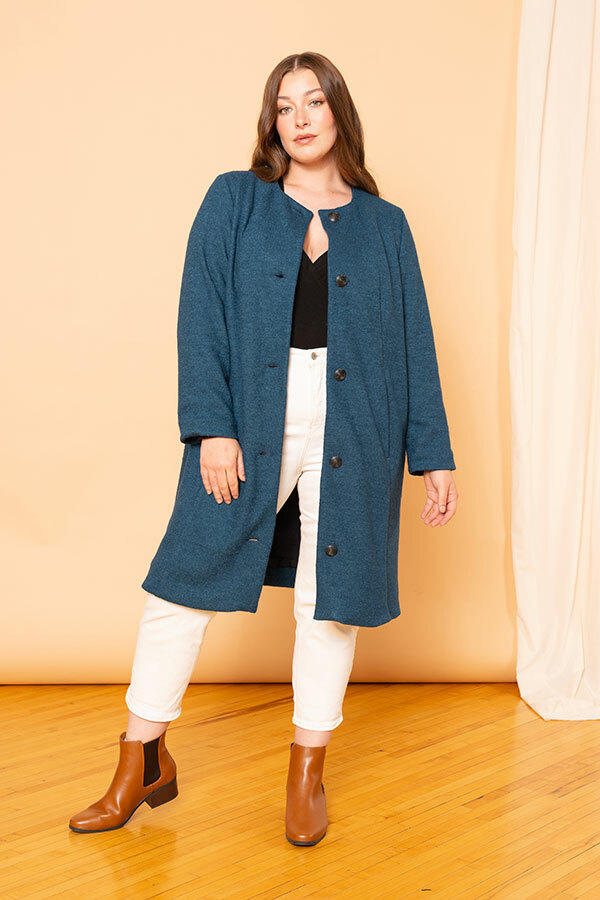 Fabric & Fit
Fabrics to shop: This coat sews up best in medium-weight or heavyweight fabrics such as coatings, canvas, denim, and twill. For the lining, look for lightweight woven linings such as acetate, rayon, or silk.
Fabrics to avoid: Avoid lightweight fabrics or stretchy fabrics for this coat. It's intended to be a cozy coat with more heft than a casual jacket!
Fit: This coat has a straight fit, but princess seams are easy to work with if you need to let out seams here or there. When selecting a size, pay attention to your bust measurement, and then grade out at the hips if necessary. Bicep width measurements are also included in the size chart, and you can find tutorials for adjusting the bicep here.
Join the Conversation
Sign in or become a Seamwork member to comment on this article.