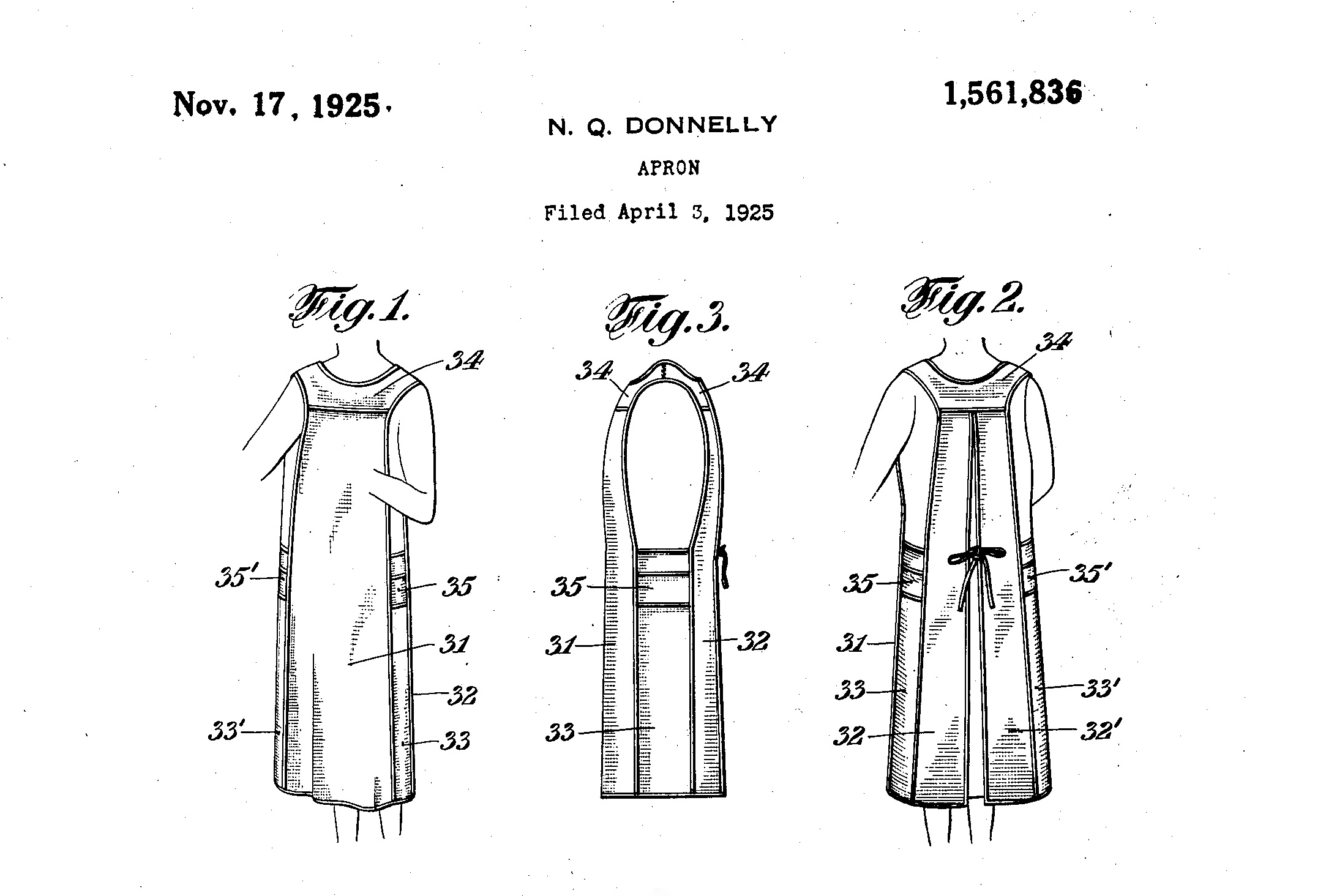 The Handy Dandy Apron
When asked to name a female fashion icon that revolutionized the apparel industry, most people think of Coco Chanel. Few realize that Chanel had a contemporary in America, Nell Donnelly, who also built a fashion empire, re-envisioned the way women thought about clothing, and changed the way the industry did business. Her designs catered to the average woman, and they hung in millions of closets around the world. Nell Donnelly was a self-made woman who abandoned both the societal role and wardrobe of a housewife in order to design and sell clothing that women would find comfortable, utilitarian, and stylish. Her approach to design, construction, and the treatment of workers, all contain valuable lessons that are still important to this day.
Fashion history would have us believe that turn-of-the-century women spent their entire day in gowns: corseted gowns with trailing skirts, or grand frocks from Paul Poiret that were perfect for a night at the ball.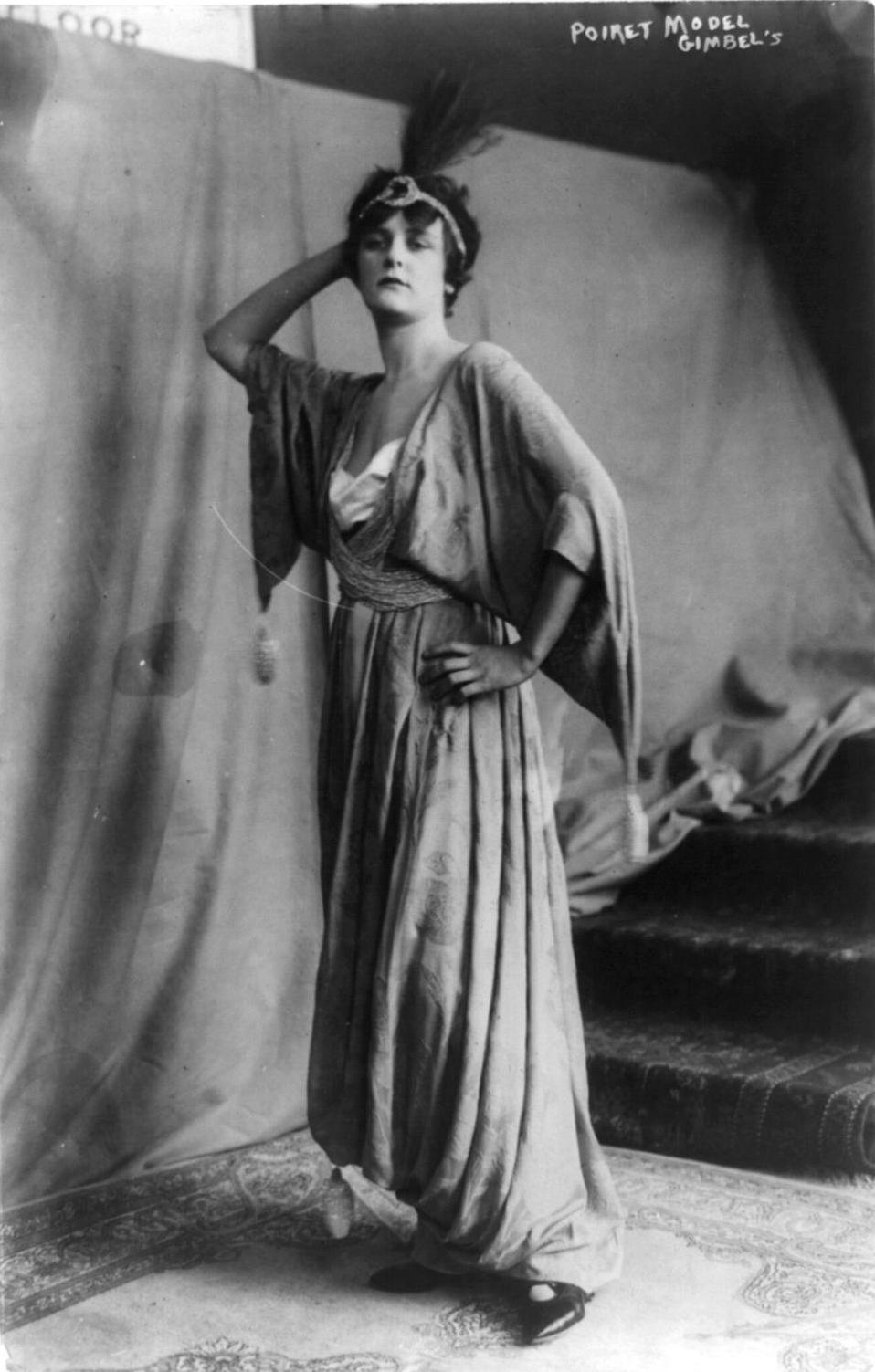 Paul Poiret gown, 1914. By Bain News Service, via Wikimedia Commons.
Perhaps women of a certain class did swan around in gowns all day, but most of the population didn't wear these elaborate designs at home, especially not while cooking dinner or scrubbing the floor. Instead, the typical low-to-mid income housewife spent most of her days at home wearing a utilitarian garment like the "Mother Hubbard" dress, a shapeless style guaranteed to make a housewife look and feel dowdy.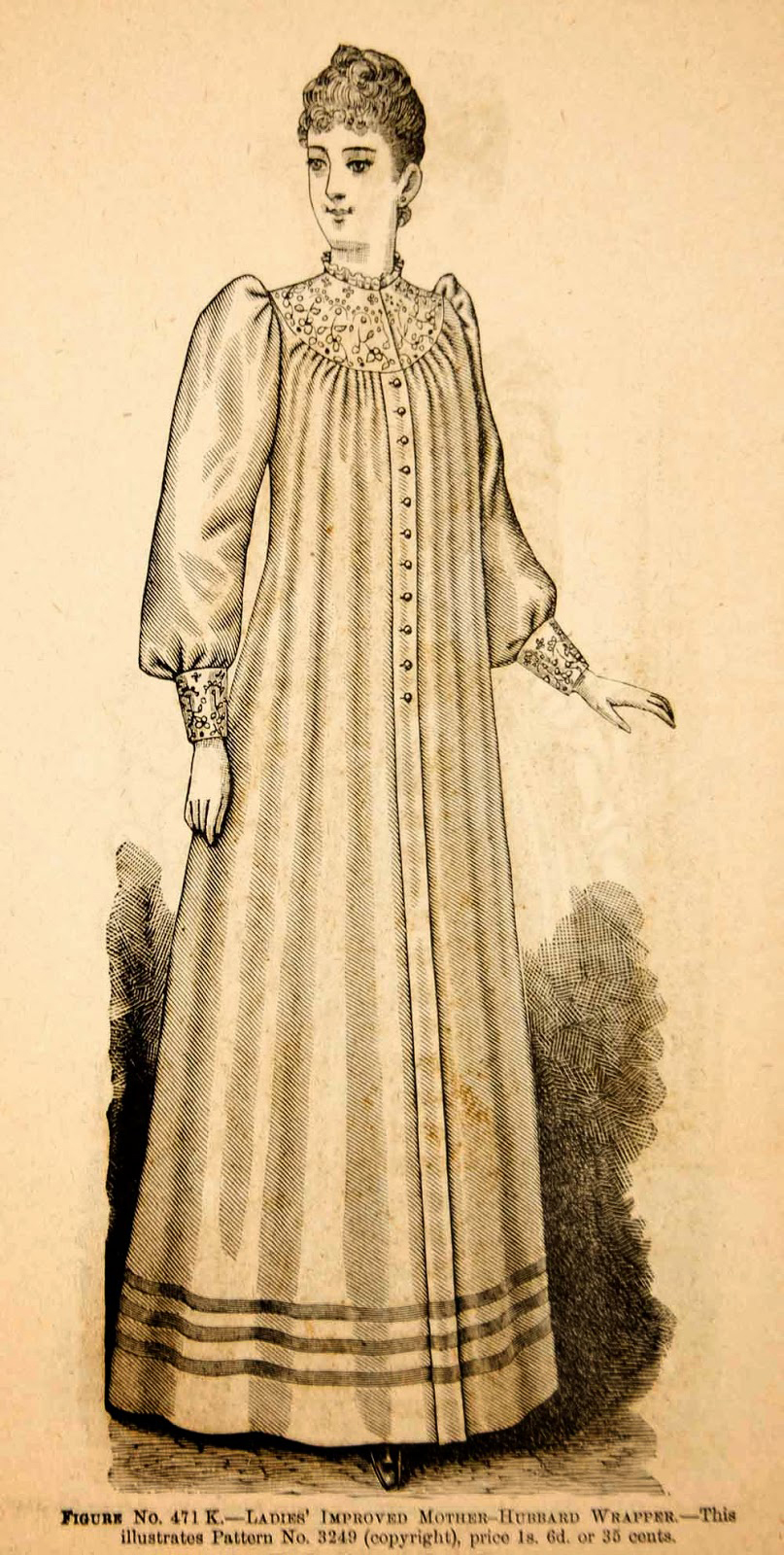 Mother Hubbard style dress.
In 1916, a woman from Kansas City, Missouri, would change all of that. Nell Donnelly designed a pink gingham empire-style housedress that was fitted and trimmed with ruffles. This dress would launch a label that lasted for 60 years, pioneer production and marketing techniques, and create one of America's first self-made female millionaires.
How It All Began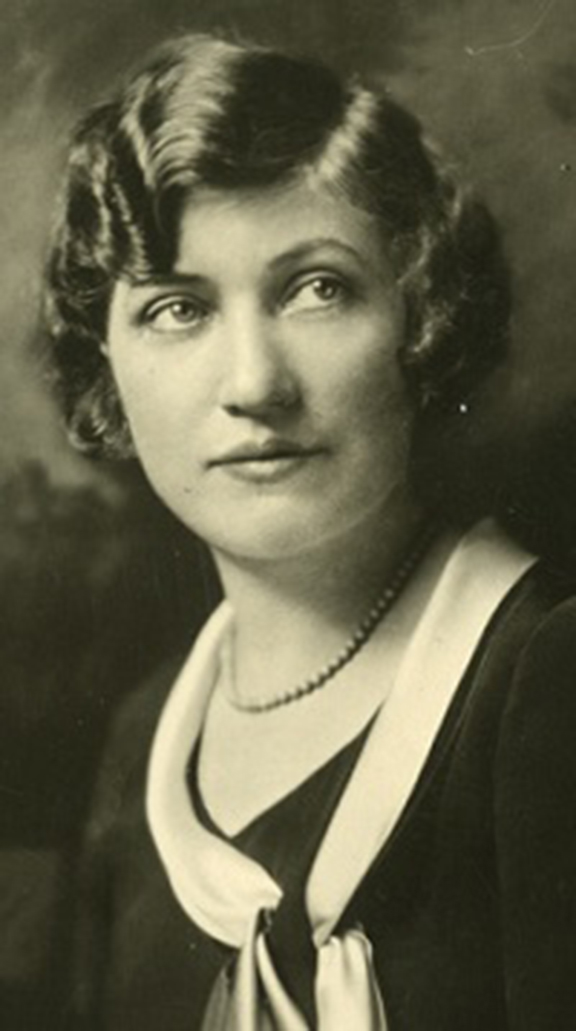 Ellen "Nell" Quinlan was born in 1889, the twelfth of 13 children, to Irish immigrant parents who had settled in southeastern Kansas. As the youngest of five daughters, Nell learned the art of dressmaking while re-making hand-me-down clothing from her older sisters. At the age of 16, Nell moved by herself to Kansas City, where she landed a job as a stenographer. Shortly thereafter, she met and married Paul Donnelly, a fellow stenographer who lived in her boardinghouse.
Only 17 when she married, Nell was not quite ready for a career as a housewife. Instead, she and Paul pooled their money and she went away to a two-year college, an unheard of choice for a married woman in 1907. After graduating, Nell stepped into the role of homemaker, but soon became dissatisfied by not only with the drudgery of housework, but also with the traditional, serviceable costume.
Nell was not interested in wearing the shapeless Mother Hubbard style housedress. Instead, she created her own. It was not only suitable for housework, but also stylish enough for entertaining guests and going out on errands. Her friends and neighbors noticed and requested housedresses for themselves. In 1916, convinced that there was an untapped niche in the market, Nell shopped her design to department stores throughout Kansas City.
Nell was convinced women would be willing to pay up to $1.00 for a flattering everyday dress. Unfortunately, most of the department store buyers didn't agree. Luck prevailed when she struck a deal with the buyer at Peck's department store. He agreed to take dresses on consignment; any risk would be on Nell's head. With an order of 18 dozen dresses in hand, Nell returned home, triumphant.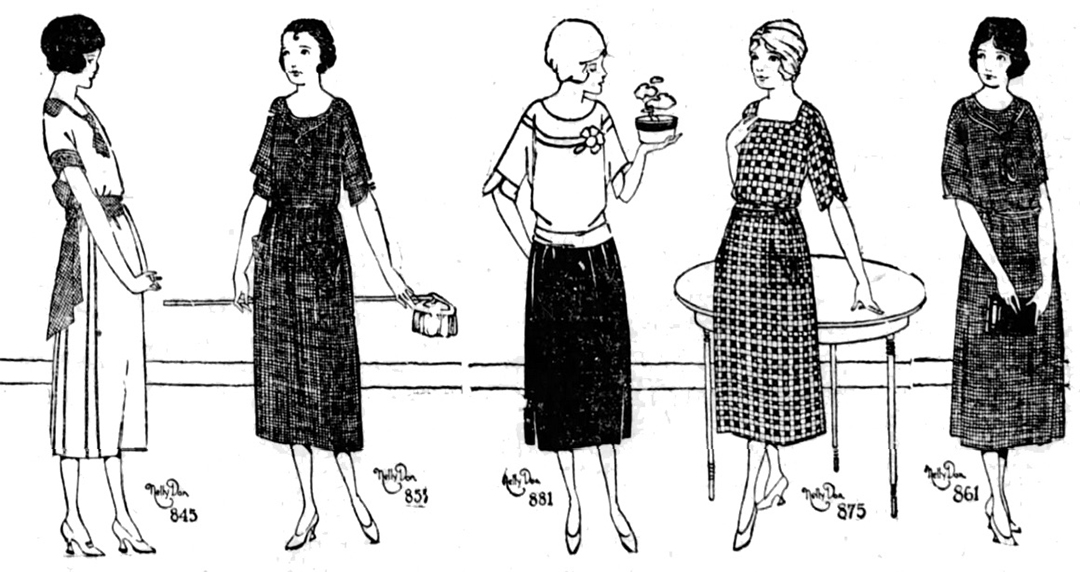 Nelly Don house dresses, 1922.
What followed was a whirlwind of industry. Paul put up $1,270 to purchase sewing machines and materials, while Nell recruited two friends as seamstresses in a race to get 216 dresses finished in two months. When the order was delivered and put on the floor, Nell barely had time to relax, as the dresses sold out within days. Nell christened her dresses "Nelly Don" – a re-working of her last name – and full production began in earnest.
Designs from the House of Nelly Don
The secret to Nelly Don's popularity was the simple manifesto that "women want to look pretty, even while washing dishes." Quality and fit – not just good design – were imperative. The dresses were designed to flatter many different body sizes and shapes. In an article entitled "Individuality Possible In Women's Ready-To-Wear Clothes," Nell claimed "[...]the model, when it is made up, will be as becoming in a size 42 as it is in a size 10. If small changes in the line must be made, the pattern is accordingly altered for the larger sizes."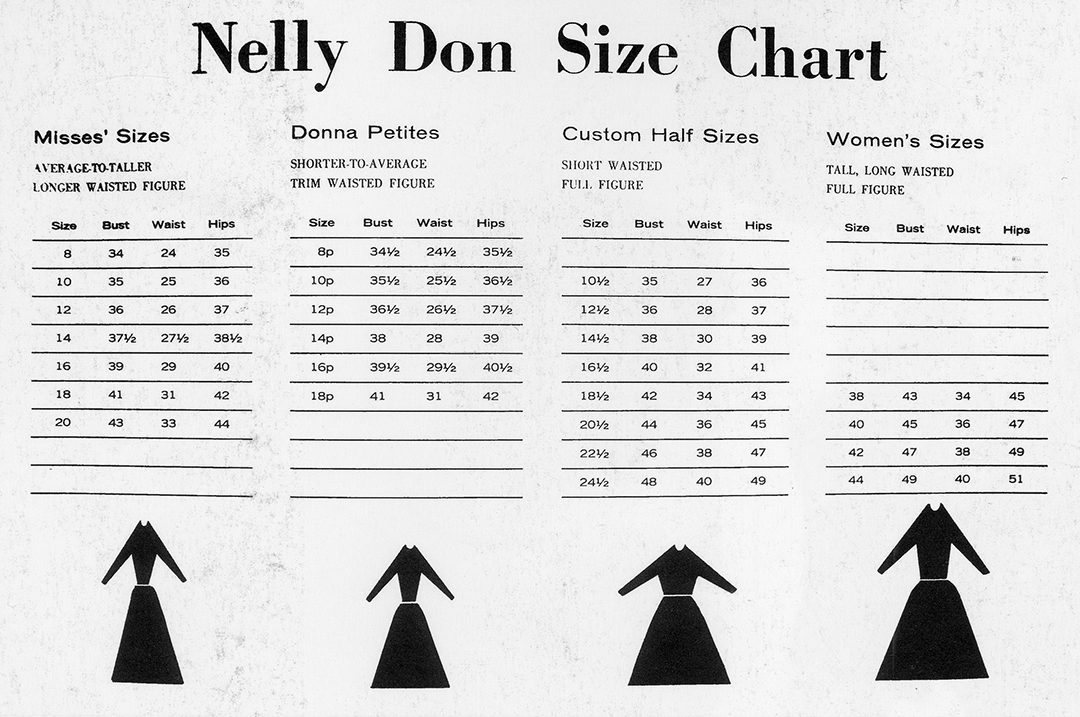 Nelly Don size chart.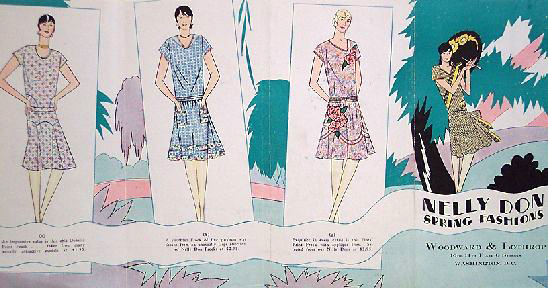 Spring fashion advertisement from the 1920s.
Each garment was produced with individual alteration in mind. A double row of waistline stitching was included so long-waisted women could take out the top row of stitching for extra shoulder to waistline length. Quality was also of the utmost importance. Design elements like matching finishing tape at the waist helped prevent the waist from stretching out, adding to the garment's lifespan. Each item went through three inspections before it was finished and shipped out.
Although a flattering fit was a major factor to Nelly Don's success, another critical component was Nell's fashion forward designs. On research trips to Europe, Nell found gorgeous printed silks and negotiated licensing deals so that these designs could be reprinted on her cottons and rayons, a brilliant move that made high fashion prints affordable for ready-to-wear customers. Although in high demand, Nell never allowed her fabrics to be sold by the yard. She felt such a move would degrade the value of the finished garments.


A Pioneer in the Garment Industry
In 1917, Paul Donnelly left to serve in World War I, leaving Nell to run the business. At a time when women didn't even have the right to vote, this was an anomaly. By the time he returned two years later, the Donnelly Garment Company was making $250,000 a year in sales. While Paul acted as the company's president, Nell took on the role of secretary/treasurer, as well as head designer, production supervisor, and marketer. Nell had a flair for marketing and she understood that the story behind Nelly Don – the "Modern Business Romance" that she and Paul had created – would help the line sell.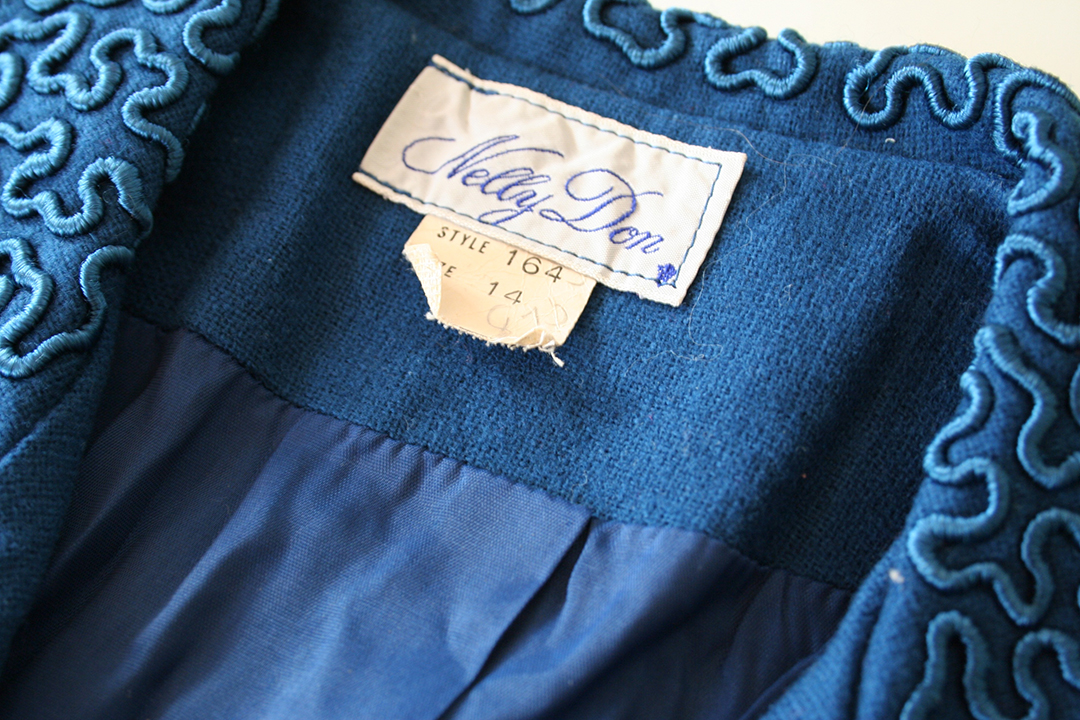 Nelly Don label.
Nell used this kind of brand imaging, known today as "lifestyle marketing," to create a connection with her customer. Pamphlets were distributed waxing lyrical about the early days of the company and creating a celebrity in Nell, who took on the identity Nelly Don.
No marketing avenue was overlooked in the quest to make Nelly Don a household name. For retailers to carry the brand, they had to promise exclusivity and carry no other dress brands. In return, Nelly Don provided retailers with extensive marketing support. The Donnelly marketing department worked with retailers on fashion shows and TV appearances, and also provided books of advertising circulars that featured witty slogans such as "Nelly Don, Just Try One On" and "'Tis Inward Satisfaction to Don a Nelly Don."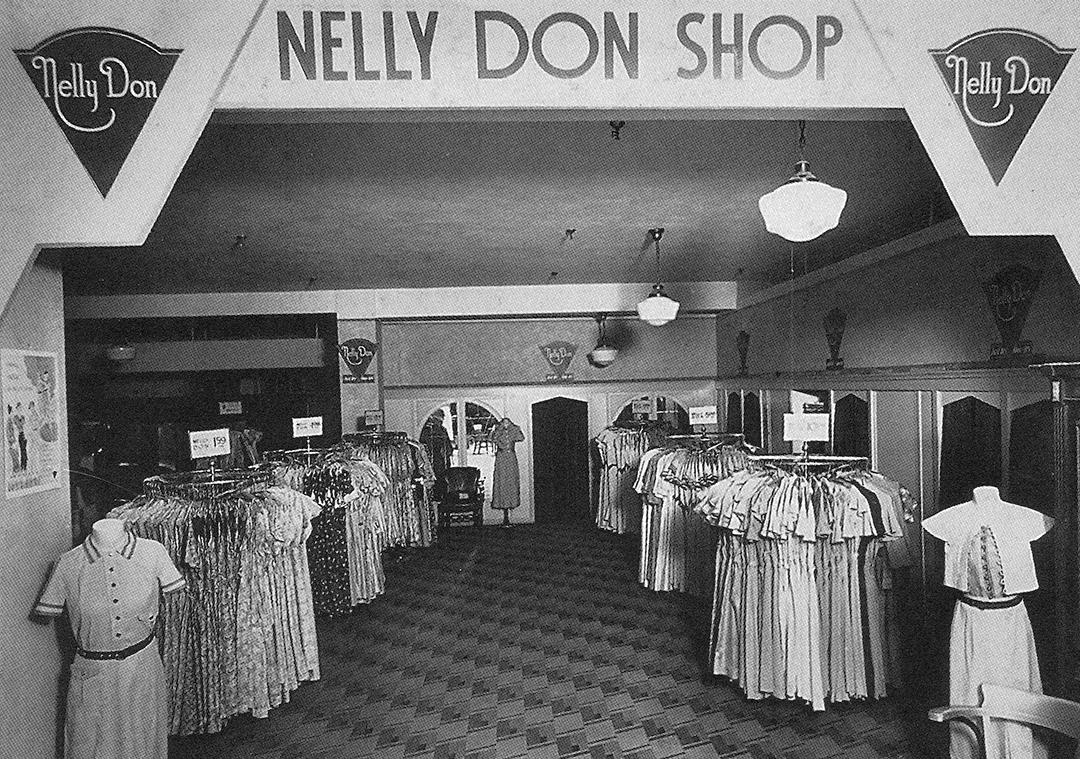 A Nelly Don Dress Shop.


In order to quickly turn around designs for her retailers, Nell pioneered piecing production, a method still used by most garment manufacturers today. At Nelly Don, workers were divided into small dressmaking establishments of 40 seamstresses. Each worker would focus on the one task that she excelled at, such as sewing buttonholes or hemming. Nell insisted each frock be finished within the group, so that the seamstresses could see the final product and keep a level of personal interest and satisfaction in their work.


A Compassionate Employer
When the stock market crashed in 1929, Nell's main concern was her workers. At that time, the majority of the Donnelly workers were employed on a seasonal basis for the summer and winter fashion lines. Nell knew that her employees, who were mostly women, would likely become the main sources of their family income. She needed to find a way to keep them employed throughout the year, so she turned to her Handy Dandy apron.
Nell had patented the Handy Dandy apron in 1925. Its design was ideal for manufacturing, as it had very little fabric waste and the seamstress never had to remove the garment from the machine to sew the seams. The Handy Dandy was a functional and attractive apron, and it quickly became a hit. The design sold millions of aprons, and enabled Nell to keep the factory open year round.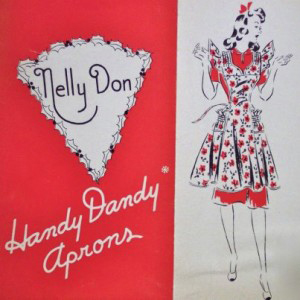 Original ad for the Handy Dandy apron.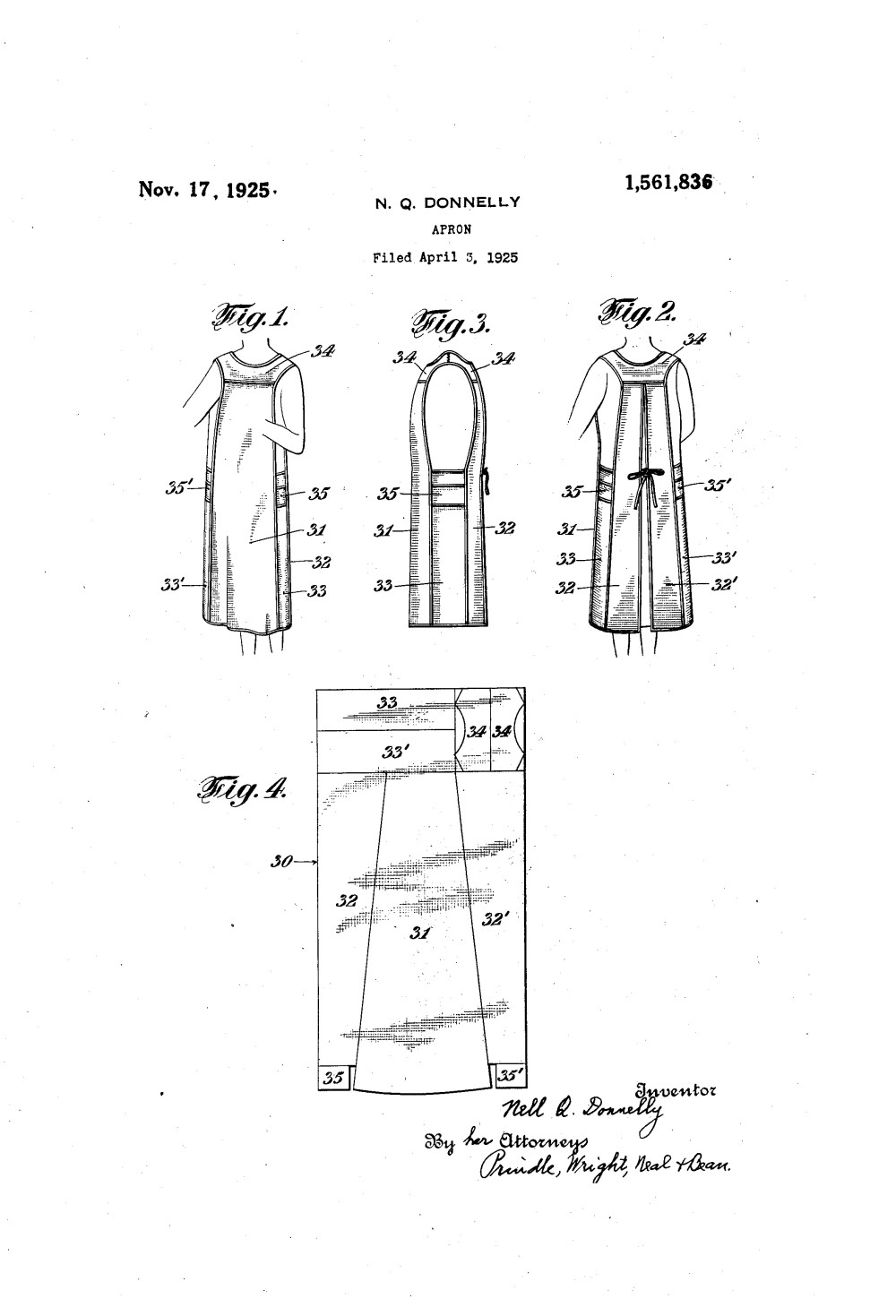 Original drawings for Handy Dandy apron patent application.
The Donnelly Garment Company was extremely successful. In 1931 alone, they manufactured 1.5 million dresses and boasted a second office in the Empire State Building. However, Nell and Paul's "Modern Business Romance" dissolved in 1932, when they divorced. Nell bought out Paul's share of the business for $1 million and secured control of the Donnelly Garment Company.
Nell understood that the welfare of her employees was essential to her success, and she offered benefits that were nearly unheard of at the time. She installed hardwood floors so her employees wouldn't have to stand on concrete. Free coffee and donuts were available to workers every morning; lemonade and snacks were taken to each floor every afternoon. The factory had a cafeteria that she subsidized (to a rumored loss of $25,000 a year), in order for her workers to eat well. Most importantly, Nelly Don paid some of the highest wages in the industry.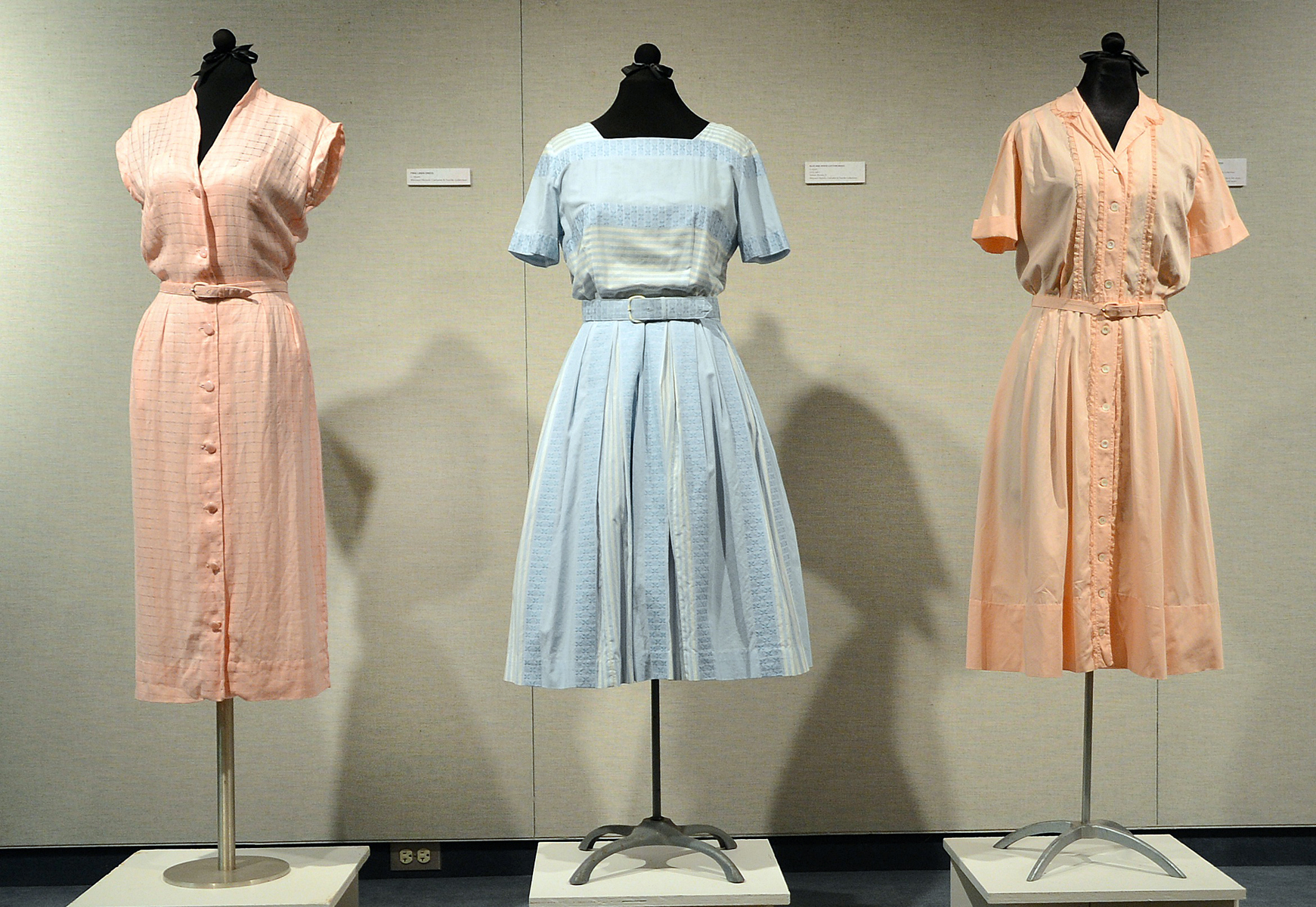 Nelly Don dresses shown in an exhibit at the University of Missouri.
Additional benefits included pension plans, medical and life insurance, an on-site medical facility, and college scholarships for both employees and their children. There was a fabric and dress store where employees could buy their own Nelly Don dresses and fabric yardage for pennies on the dollar. Nell invested in a farm outside the city where workers could go to picnic, hike, and fish, as well as a recreation center in town that was available for employees to use for company parties, dances, sports, and theater productions.
Despite the company's reputation as a good employer, in 1937 the Donnelly Garment Company found itself a target of the International Ladies Garment Workers Union. Picketers appeared outside the factory, harassing workers and pressuring them to unionize. The Donnelly Company employees, who trusted Nell far more than these "outside agitators," composed a loyalty declaration to Nell, which all but six of the more than 1,300 workers signed. They then formed the independent Donnelly Garment Company Worker's Union.
A New Romance
As Nell and Paul were drifting apart, she grew closer to her neighbor James Reed, a senator and prominent Kansas City lawyer. Nell got to know Reed when he represented the Donnelly Garment Company in a suit against a rival manufacturer who was illegally producing Handy Dandy apron knockoffs. In the summer of 1931 Nell announced that she was going to Europe to adopt a child, but in fact traveled to Chicago where she gave birth to David, who was Reed's son.
Later that year, Nell and her chauffeur, George Blair, were abducted and driven to the Kansas countryside where they were hidden away in a farmhouse. This was one of a rash of kidnappings that swept the country during the Great Depression, as desperate people sought financial gain through high ransoms. The next morning, when Paul was notified of the kidnapping he contacted James Reed, the family lawyer and father of Nell's newborn.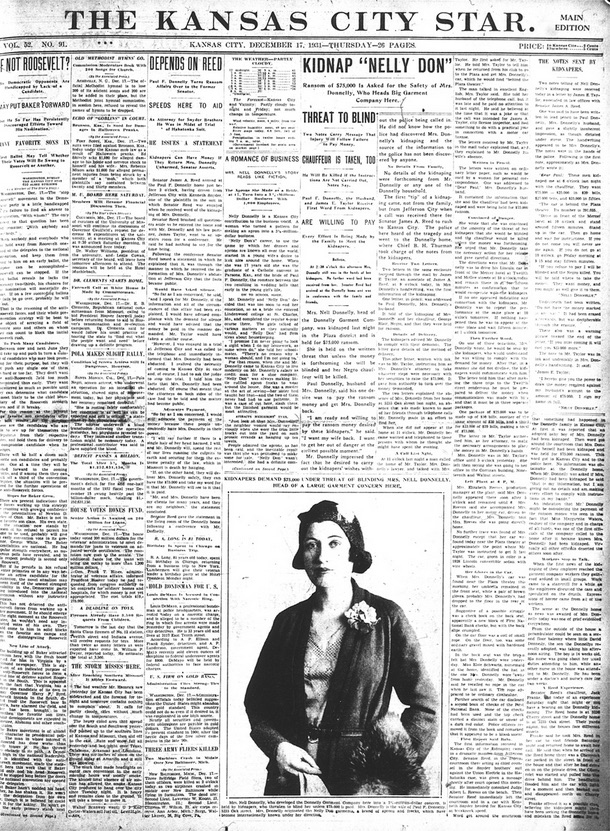 Kansas City Star article about Nell Donnelly's kidnapping.
Reed used his political influence to galvanize both the police force and the local crime syndicate to search for Nell. In less than 24 hours Nell and George were home, safe and sound. Two years later, Nell and James Reed were married.
Nelly Don's Legacy
The Donnelly Garment Company continued to thrive. At a time when most New York manufacturers were lucky if they made $6 million, Nelly Don made $14 million in annual sales. During this period, they built the largest dress manufacturing plant on the planet, a 206,000 square foot state-of-the-art facility designed for efficiency and employee comfort. In all, Nelly Don produced 75 million dresses, making it the largest dress manufacturer of the twentieth century.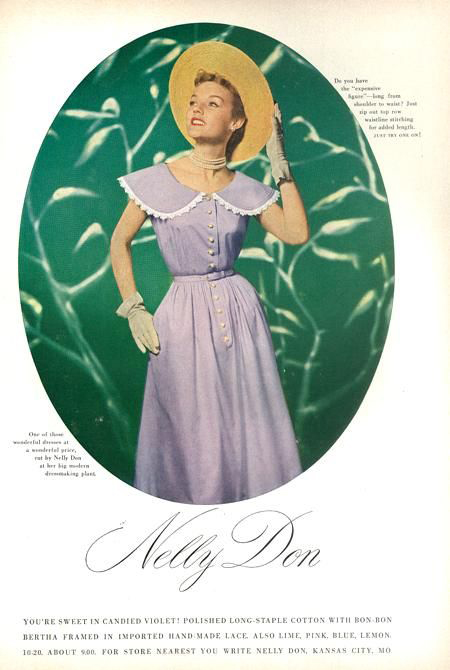 1950s Nelly Don advertisement.
Although Nell retired in 1956 at the age of 67, the Nelly Don brand carried on. Unfortunately, her successors decided to market and sell the company's exclusive fabrics, going against Nell's early instincts. It was a risk that failed so spectacularly that the company was forced to close in 1978. Meanwhile, Nell stayed active in politics and philanthropy until her death in 1991, at the age of 102.
Nell brought style to the lower and middle classes. She created a company that was an example of what ready-to-wear manufacturing should be: high quality garments created by skilled workers in a supportive environment. Nell Donnelly's blueprint for success is as relevant today as it was in 1916. As the garment industry continues to struggle with the impact of fast fashion, the next generation of designers can find inspiration in this founding pioneer of modern fashion.


Join the Conversation
Sign in or become a Seamwork member to comment on this article.