Let's be honest, picking fabric to accompany a pattern can be the most exciting and the most intimidating part of any sewing project. Fabric is a complicated beast. It determines technique, fit, and the final look of any piece of clothing.
The Christina skirt has the classic silhouette you've come to expect from a pencil skirt. It works for both stretch and non-stretch wovens, depending on how you'd like the skirt to fit on your body. A stretch woven will provide more movement with a body-hugging fit. A non-stretch woven will allow you to experiment with more fabric choices, as you'll find more options available.
Below are three fabrics that will fit differently on your body, plus links to our favorite fabric resources across the world.
Cotton Twill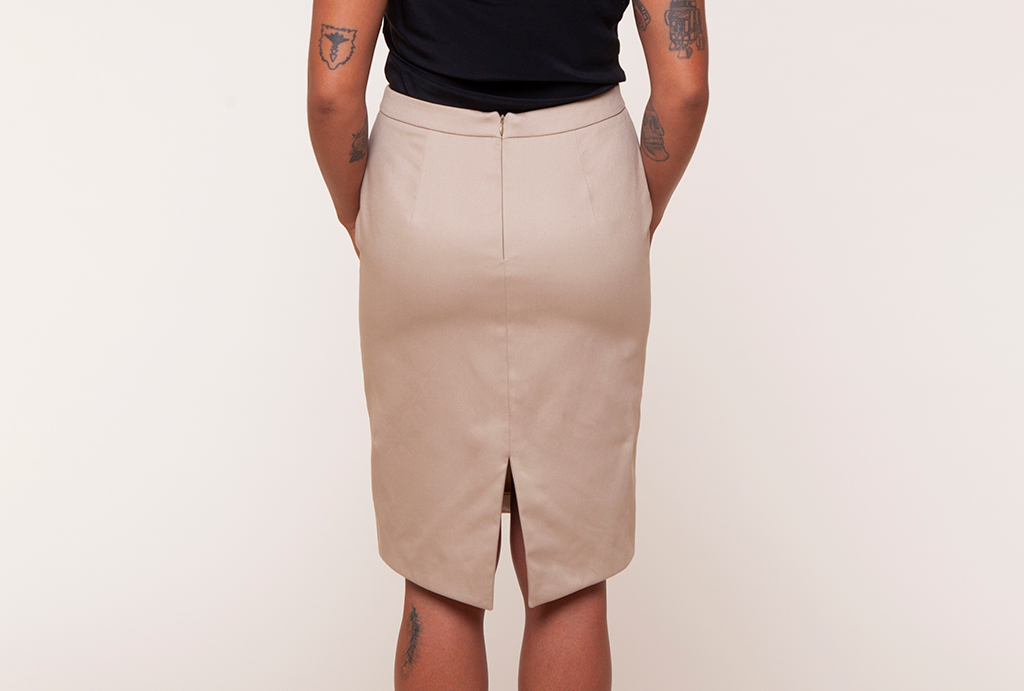 The Christina skirt sewn in cotton twill from Mood.
Twill refers to the way that a fabric is woven, rather than to the fiber itself. For example, you can find silk twill or cotton twill, such as denim. Typically a bottomweight fabric, it's ideal for pants and skirts that require some structure. For the Christina skirt, you can use twill with or without stretch.
Twill fabric is distinguished by its diagonal weaving pattern, which not only adds an interesting texture but makes it stronger and more durable than plain-weave fabrics. To figure out if your fabric is a twill, look for its signature diagonal ribs, similar to what you see on your favorite pair of denim jeans.
The twill we used for this sample is mercerized. Since twill typically has a matte appearance, this fabric was treated to give it some sheen and strength—perfect for a pencil skirt!
Tip: If your twill seems very crisp and stiff, soften it with a few pre-washes.
International sources for twill: The Drapery (AU), Pompon (CH), Pretty Mercerie (FR), Guthrie & Ghani (UK)
Stretch Wovens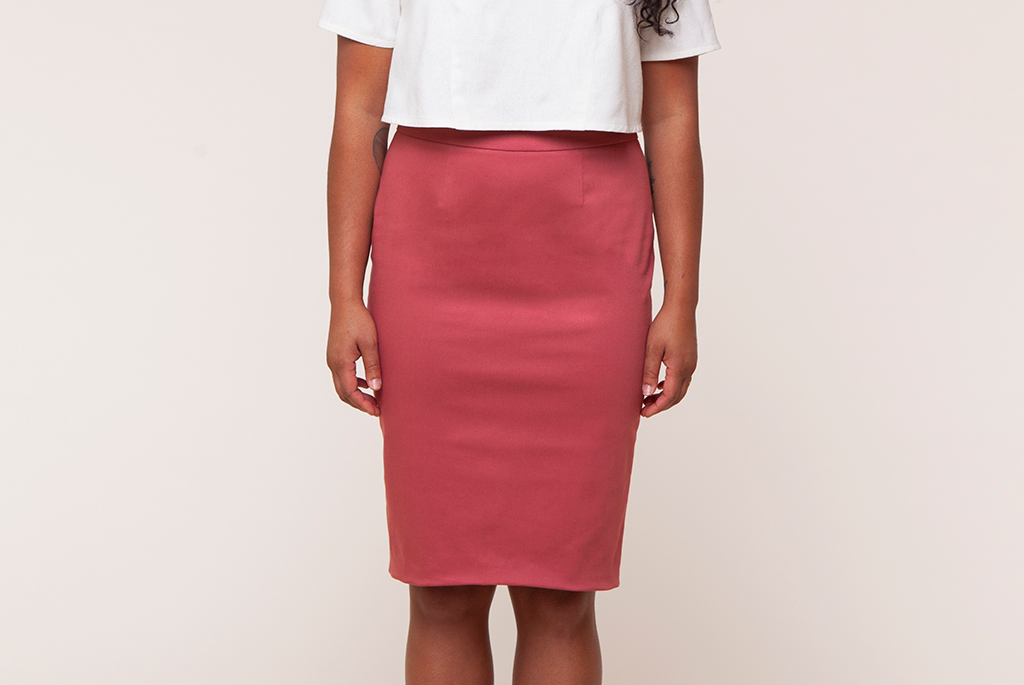 The Christina skirt sewn in stretch sateen from Style Maker Fabrics.
This sample is made in stretch sateen—a glossy, sturdy fabric that will hug your body.
Since the Christina skirt also works for stretch wovens, look for your favorite woven fabrics that contain Lycra or spandex. Stretch sateen will have a distinct shine and plenty of elastic to move with you throughout the day.
As with other knits projects, you'll need some special supplies to sew stretch wovens. For a complete guide to sewing with stretch wovens, read our tutorial from this month's issue.
Tip: To make sure your hem doesn't stretch or distort while you sew, use washaway stabilizer.
International sources for stretch wovens: Cousette (FR), Guthrie & Ghani (UK, The Splendid Stitch (UK)
Linen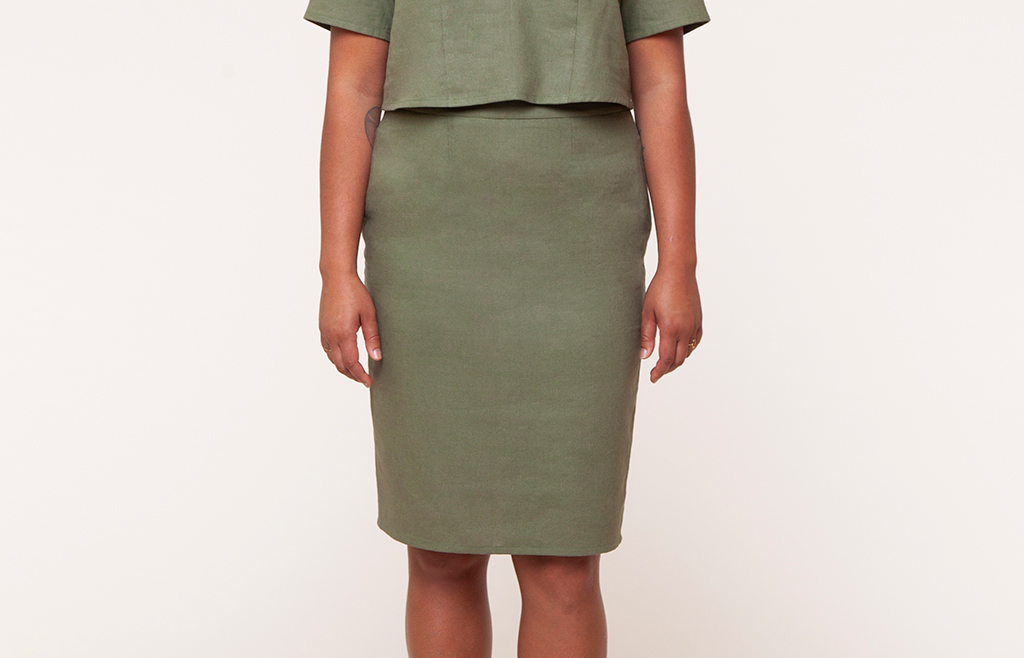 The Christina skirt sewn in linen from Hawthorne Threads.
If you choose to sew your Christina skirt in linen, don't resist the urge to sew a matching Adria top for an everyday set!
Linen comes in varying weights and weaves, so pay close attention to your fabric description or order a swatch. Avoid lightweight linen, and select one with a thicker, more stable hand. Keep an eye out for some fun Japanese linen and canvas blends, as this skirt offers the perfect "canvas" for bold prints!
Tip: Linen is prone to shrinkage, so be sure to pre-wash. If it wrinkles, iron your skirt while it is still damp.
International sources for linen: The Workroom (CA), Blackbird Fabrics (CA), Coser Cosas (ES), Pretty Mercerie (FR), Miss Matatabi (JP), Miss Maude Sewing (NZ), The Fabric Store,Fabric Godmother (UK), M is for Make (UK)
Save up to 20% on fabric! If you're a Premium Seamwork member, you get exclusive discounts at many of the fabric stores featured in this article. Check out the Member Deals page here for all the details.
Join the Conversation
Sign in or become a Seamwork member to comment on this article.