I've been making patterns and sewing my own clothes for as long as I can remember. My love of sewing and pattern cutting can be ascribed to my mum, Pamela. She hails from a Guyanese family of tailors and is a skilled dressmaker. I copied her when she made clothes and dancing costumes for my two sisters and me—subsequently, my dolls were very well dressed indeed.
As a teenager, I was obsessed with Vogue patterns and regularly made my own pieces. I loved a challenge—lined jackets and coats, heavily pleated blouses, and jeans, even rising to the challenge of stitching parallel rows of mustard top-stitching on indigo denim using the family Singer sewing machine.
Fast forward a few decades. After many years spent working in the fashion industry as a designer, pattern cutter, and lecturer, I've combined everything I know and started a business that teaches pattern cutting skills—Pattern Cutting Deconstructed.
---
All You Need is a Pattern Block
Pattern cutting is creating a basic pattern, which is then used to make any design imagined for a garment. At Pattern Cutting Deconstructed, I take the confusion, overwhelm, and constant fiddling around out of the patternmaking process. You'll learn techniques to create any pattern you can imagine, using pattern cutting kits and step-by-step videos for any skill level.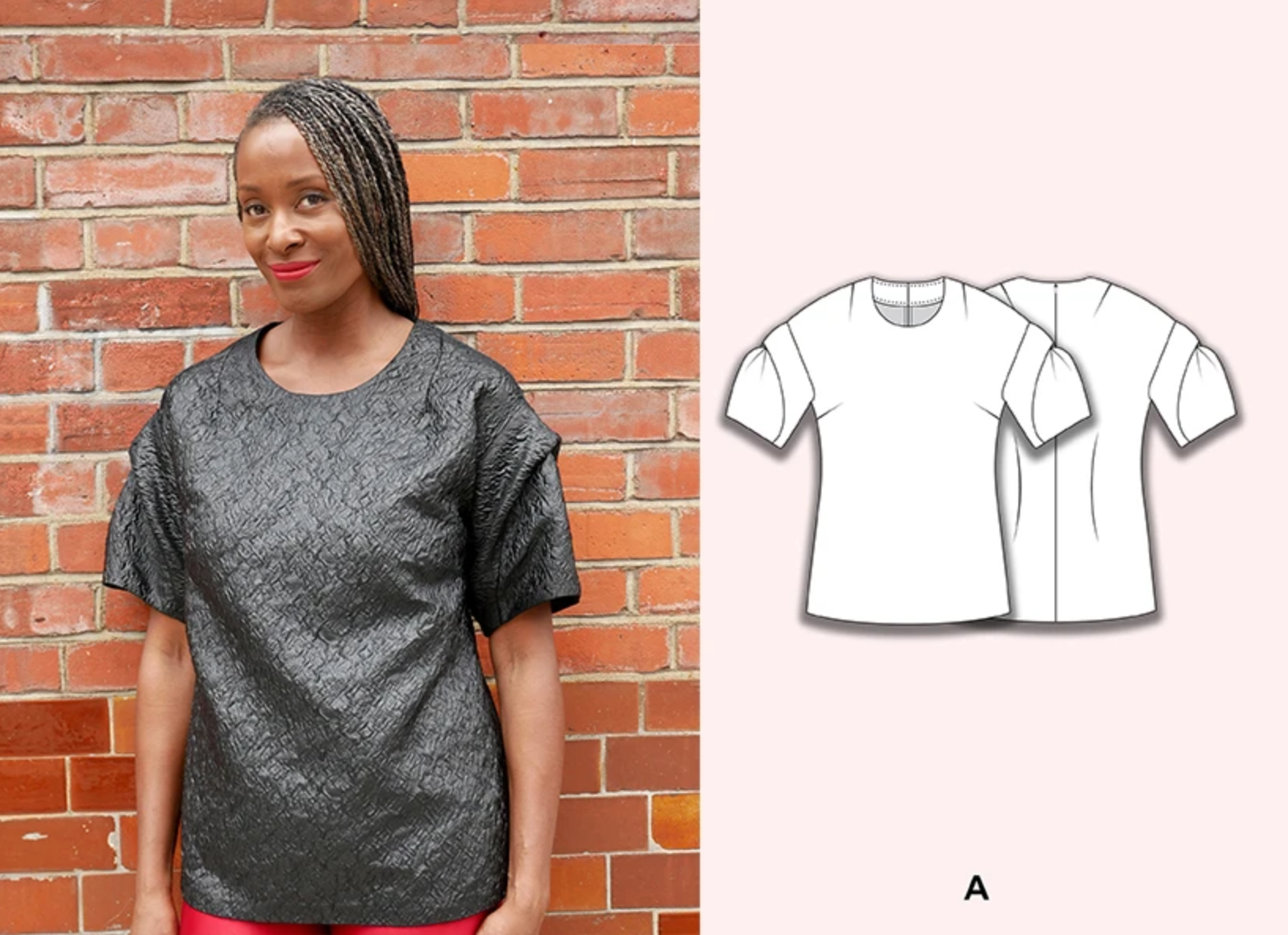 I started posting pattern cutting videos on Instagram back in 2017. In the videos, I select a garment's design feature and break down the technique in a speedy demonstration, transforming a bodice and sleeve block into a pattern to sew. To create your own designs using my videos, all you need is a block.
What are Blocks and Working Patterns?
A block is the starting point for creating perfectly fitting clothes. With it, you can create patterns for tops, dresses, jackets, and coats; manipulate darts to create design lines, add fullness in the form of tucks, gathers, and drapes; formulate collars and various neckline designs, and create one-piece or two-piece sleeves.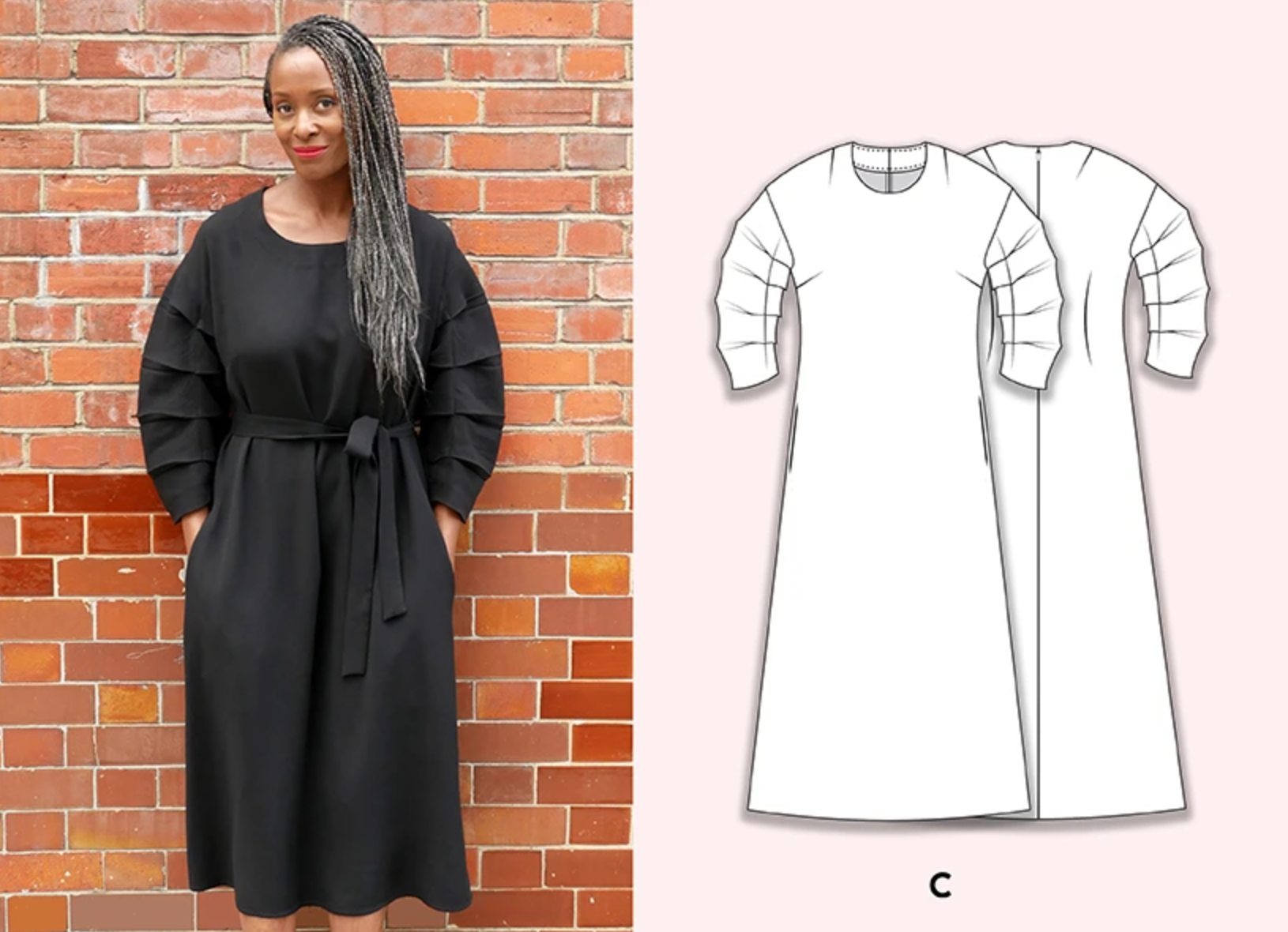 Pattern blocks are used as the basis for all adaptations and are traced by pencil or wheel onto pattern cutting paper to produce the working patterns. From the block, a second working pattern marks out basic style lines and design features. Any sections applied to the working pattern can be traced off and worked on for further adaptation. The third and final pattern is the finished pattern used to cut out your garment. This pattern will display all the relevant terminology and includes notches and drill hole markings.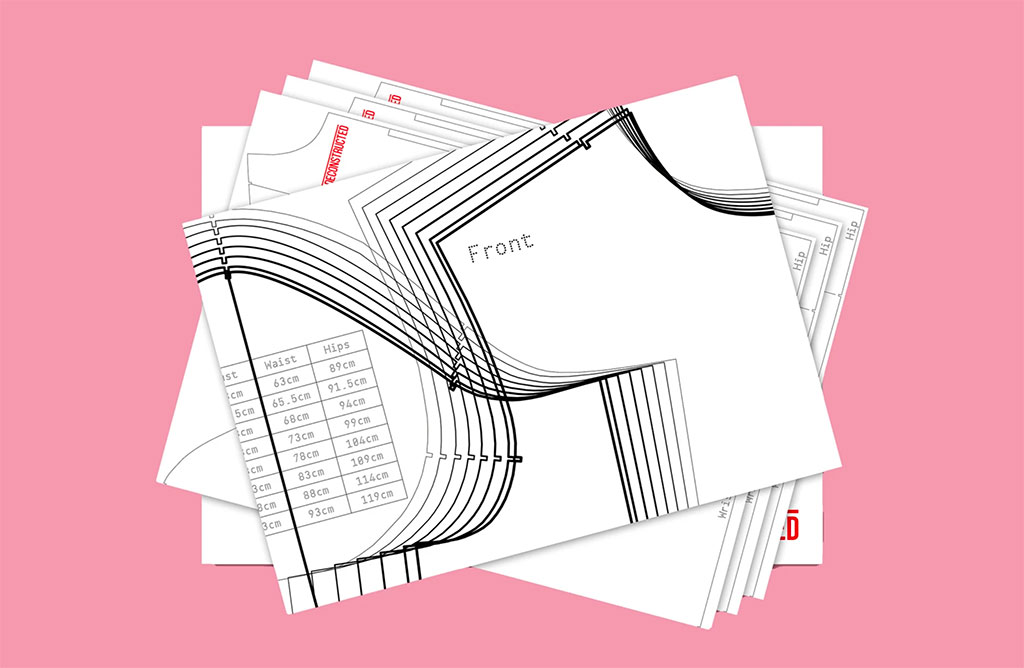 If you don't have a pattern block, you can find layered multi-size blocks on my website here.
---
Meet the Delpozo and Josep Font
One of the first designs I featured in my pattern cutting videos (called PCDfocusON videos) was by one of my favorite brands—Delpozo under the creative direction of the talented Josep Font. So, this series of articles for Seamwork had to begin with this brand. Font was with Delpozo for five years, so I'll be selecting one item from the beginning, middle, and end of his tenure to discuss. A video tutorial accompanies this article, and in the video, I'll be demonstrating the second Delpozo design—aimed at beginners.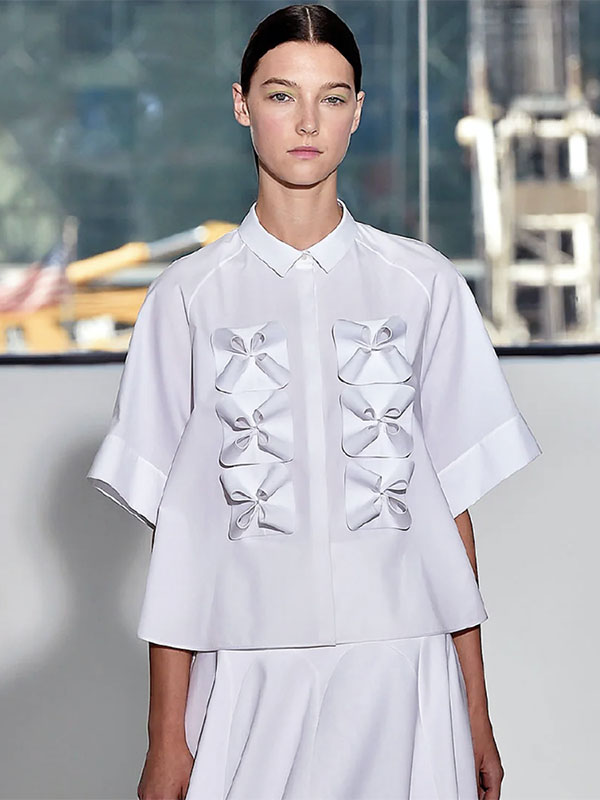 Originally called Del Pozo, the brand was founded in 1974 by Madrid-native Jesus del Pozo. In 2010, he summed up his philosophy, saying, "I love women and I love promoting the positive. I do not want uniformity. It is important that each person brings something of his personality, so I try to do flexible and adaptive fashion." Having begun his career as a menswear designer, Del Pozo found his footing and subsequent success designing womenswear, winning the Cristobal Balenciaga National Award for Best Designer in 1989 and becoming a household name throughout Spain.
In 2012, two years after Del Pozo died, Font took over as creative director and became known for his unique "Pret-a-couture" aesthetic that combines unexpected volumes with intricate embellishments in a contemporary, refreshing way. A multi-talented individual, he simultaneously studied architecture and fashion. Both of these disciplines inform his work with the architectural element, providing a well-made structure for his shapes, upon which he layers an embellished whimsical fashion element.
Font made his debut at Madrid fashion week with his Spring 2013 collection. According to Women's Wear Daily, it was the standout collection, and this recognition inspired Font to showcase at the following season's catwalk shows in the US. As a little-known, Madrid-based brand, it wasn't easy—but, he successfully unveiled his second collection for Winter 2013 in New York at Mercedes-Benz Fashion Week.
---
Three Delpozo Designs and a Pattern Hack
One of my favorite garments is from this second collection for Winter 2013. Font's work stood out because it was unlike any of the other labels showing at the time. The collection included separates like jackets, skirts, dresses, trousers, and tops. The two contrasting ideas behind the range—the femininity of the Victorian era and organic architecture—merged beautifully. While still maintaining waist definition, his silhouette emphasized volume and sculpture, focusing on the shoulders and hips.
Delpozo Look 7: A skater skirt as art
Look 7 was my favorite from the show. The cocoon-shaped sleeve and deep V of the top epitomize classic shaping, while the gravity-defying skirt is enthralling with its fluted, dimpled folds. The sculptural effect of the folds elevates the simple skater skirt into a hand-crafted work of art.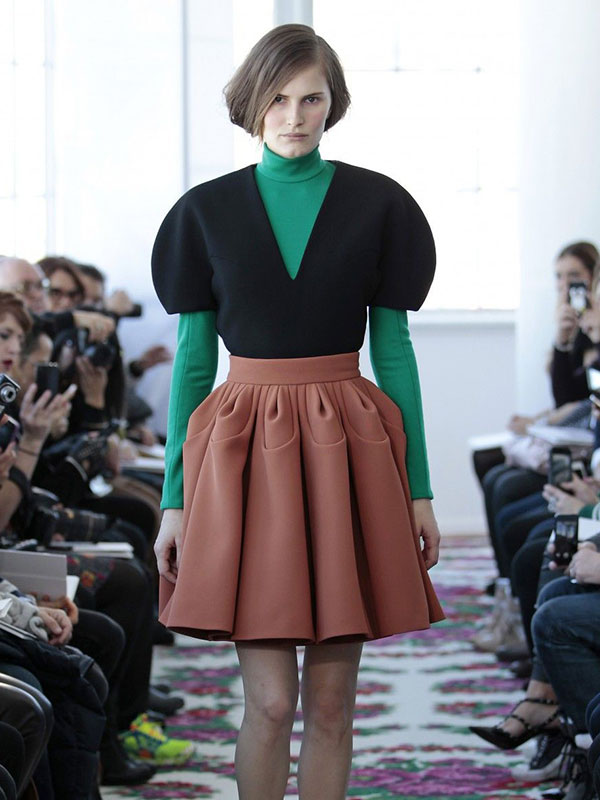 Delpozo Look 6: A raglan pattern hack
The garment I've chosen to demonstrate in this PCDfocusON video is this beautiful, simple raglan sleeve shirt. Font designed it for his fifth collection for Delpozo. The balance of the small collar juxtaposed against the wide sleeves and cuffs sits in harmony with the textural origami front detailing. Font's inspiration for Spring 2015 was primarily about color, specifically Josef Albers' artwork, Interactions of Colours, after which Font named the collection. He derived inspiration for his shapes by referencing sportswear staples. However, in his hands, the proportions became extreme as he paired pristine-white shirting with wide-legged trousers or voluptuous skirts.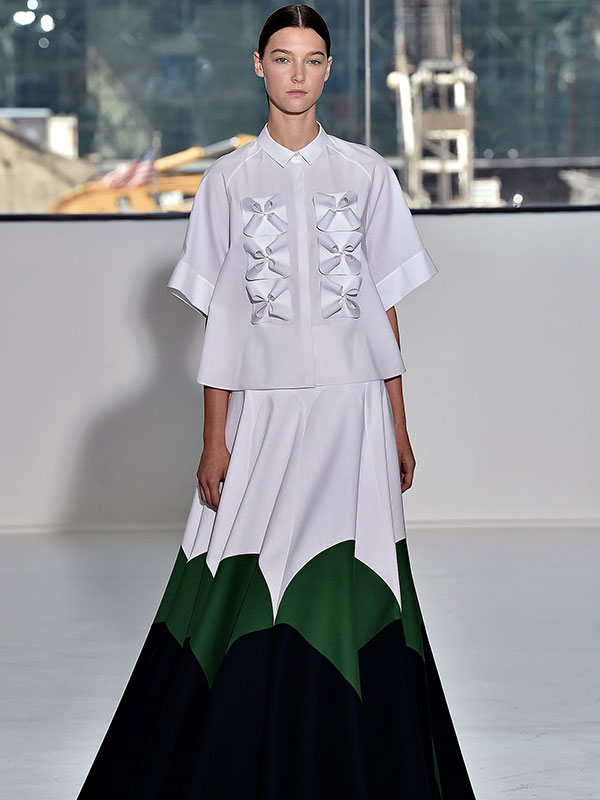 Delpozo Look 12: Design lines
I've selected the Resort 2019 collection for my final insight into Josep Font's tenure at Delpozo. It was to be his penultimate offering for the brand.
Resort 2019 was an ode to the beauty and grandeur of nature—the garments celebrated femininity. Referencing the work of Korean artist, Kwang-ho Lee, who made hyper-realistic cacti paintings, Font created 3-D inserts on jacket bodices and sleeves.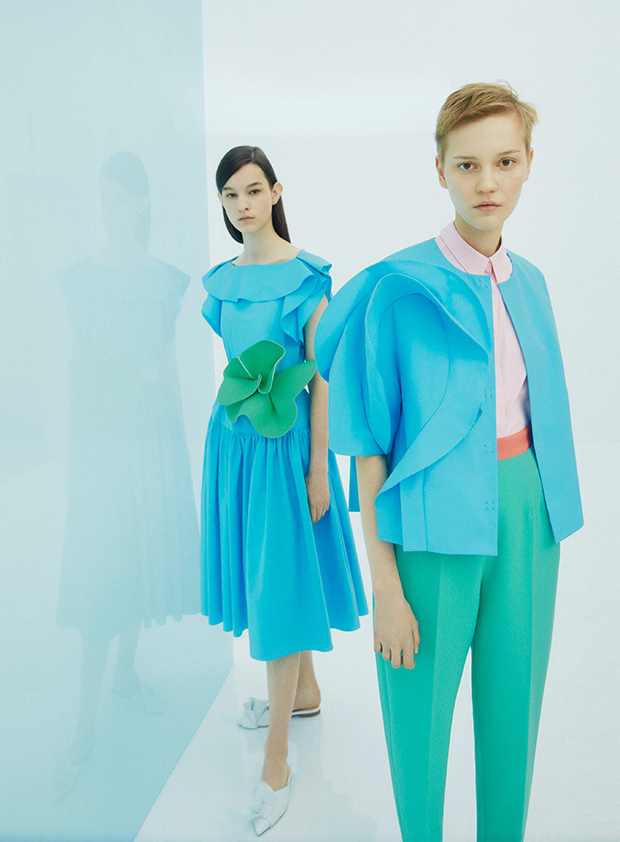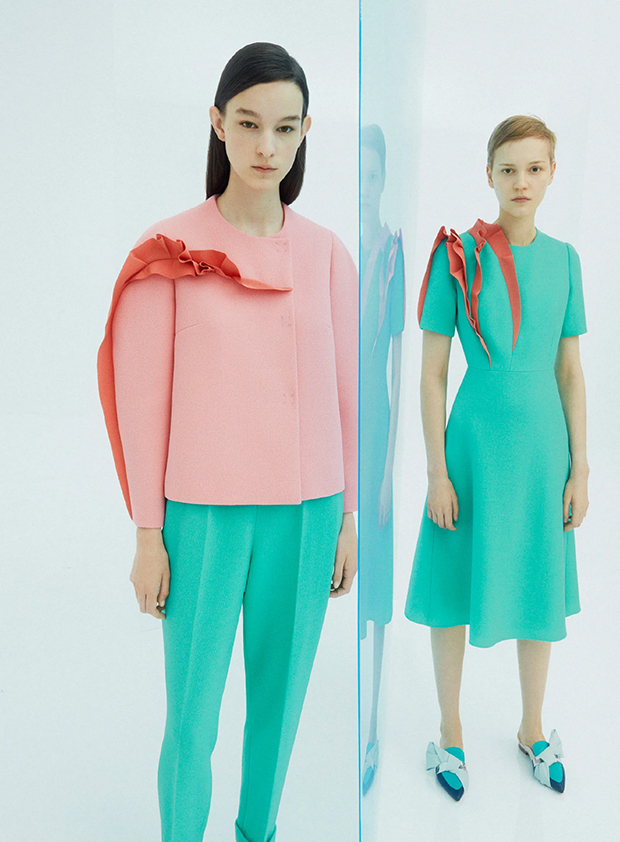 The particular technique used on these two jackets is called Design Lines. The process transforms bust and waist darts into sections on the garment, suppressing the darts within the design lines and contouring the lines at the bust for shaping. The "cacti" reference on look 6 is a simple circular flounce—a circle of fabric with a round cutout in the center, split open, straightened out, and seamed to another piece of fabric along its shortest edge. The longer edge floats in waves and folds—standing to attention depending on the angle of the seam it's attached to. The 3-D element on Look 20 was developed similarly, but tucks lend a more rigid, sculptural effect.
---
Delpozo's Designs are Art
It's easy to rely on the human body's structured form and create form-fitting shapes—but creating cocooning shapes that de-emphasize and hide the body shape while imbuing it with modernity are the marks of a skilled artisan. The genius of a designer such as Josep Font is his ability to build a structure that caresses the body without overwhelming and desexualizing it. He made his mark on the Delpozo brand during his short stay, and I, for one, will miss him.
Stay tuned next month for part two of this series, exploring the work of Balenciaga and sharing another pattern hacking video.
Join the Conversation
Sign in or become a Seamwork member to comment on this article.