Sewing skips a generation, or so they say. My maternal grandmother was an excellent seamstress. She worked in a Texas sewing factory and sewed many of the clothes worn by her 4 daughters, as well as her own. She even made my mom's wedding dress 51 years ago. My grandmother, who died just as I was beginning to learn to sew, probably never dreamed that I'd soon become a custom wedding dressmaker.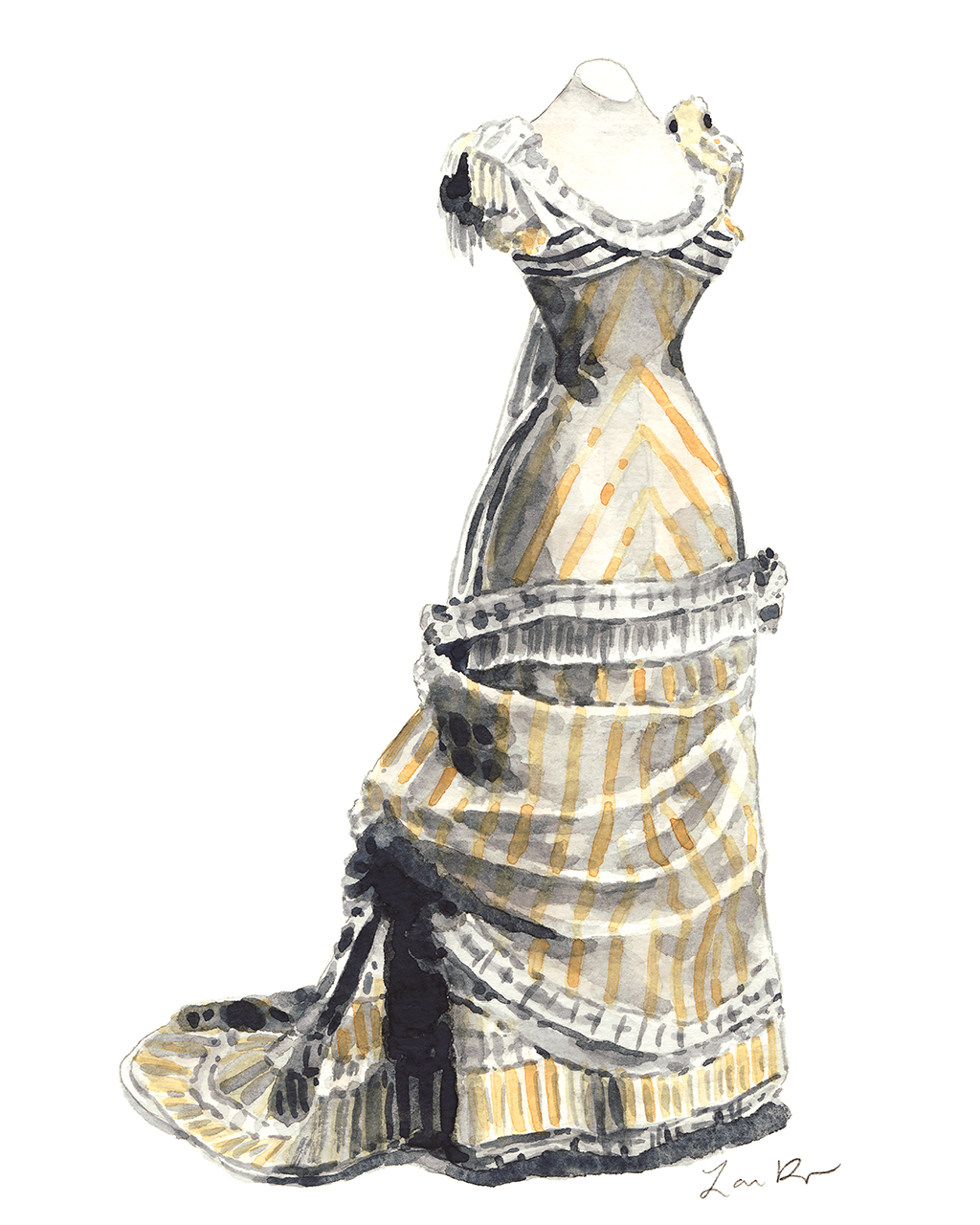 Illustration by
Laura Row
Having a mother who made her clothes, my mom never really learned to sew. As a teenager in the 1950s, having mom-made clothes wasn't as cool as having clothes from the department store. So the skills were never passed down from my grandmother to my mother and also never passed down to me.
As most children do, I loved playing dress-up, and I loved making things. But sewing never seemed to be on my map. When asked the question "What do you want to be when you grow up?" I remember the best answer I could come up with was "I want to make a living making art." I was good at making all kinds of things, and I also loved performing, but I didn't really know what my art would be.
The first time I was formally introduced to sewing was actually as a sort of punishment. I was a 22-year-old senior in a very small liberal arts college in Louisiana. I was a theatre major and the productions were all performed and completely custom built by both students and community volunteers.
During my years in college, I found myself focusing my art on acting and set construction. The costume shop wasn't ever as interesting to me, as it was mostly filled with "little old lady" volunteers. I was most comfortable being onstage or with the guys and the power tools.
My senior year, I was cast in a period play where I had a lot of time offstage sitting around in my layers of petticoats and fancy fabrics. The head of the department noticed that I had gotten my dress wrinkled and he told me to go to the costume shop to iron my dress before I went back onstage.
My response: "I don't know how to use an iron," which I didn't.
I think my 22-year old self thought that this would be a smart way of getting out of doing the menial chore. This was not the case. Miffed, he took me to the tiny costume shop and showed me how to use their gravity feed iron. At the ironing table, he also issued my next assignment.
Instead of working on the set, I'd be confined to the costume shop for the upcoming musical Oliver! I would be responsible for all the workhouse orphans' rag-tag clothes. If they ended up looking bad, it would not matter, but I'd sure learn how to use an iron.
I accepted my fate. And as you may have guessed, I actually had a blast with the little old ladies in the sparkle-filled room, working with the charismatic designer, creating one-of-a-kind garments based on watercolor sketches. I not only enjoyed the assignment, but I actually loved the work and found that I was really good at it!
So now what? I was a senior in college and just discovered a possible new direction. I wanted to learn more, but my next ironing assignment was for my own cap and gown!

Hi there! I just learned to use an iron, and I made some wearable rags for some kids once. Don't you want to choose me for your intensive program?

I looked around at graduate programs and internships in costuming and imagined how I'd apply. "Hi there! I just learned to use an iron, and I made some wearable rags for some kids once. Don't you want to choose me for your intensive program?"
Almost as a joke, I did actually send in an application for an internship at the Yale School of Drama, the #1 drama school in the United States. They accept one costume shop intern each year.
I was really surprised when I heard they wanted me to fly to Connecticut for an interview. I saw no point in spending money to fly up for a position I'd never get, so I told them I was "too busy in the costume shop to leave for an in-person interview" but that I could talk over the phone.
I honestly don't remember what I said in that phone interview, but I did end up flying to Yale that summer to look for an apartment to start my internship in the fall. Because everything was so new to me, yet nothing was new to anyone else, I never had time to be a beginner in the Yale costume shop. No one treated me like a beginner. There were costumes to be made, and it was my job to assist in their creation.
So, I skipped the beginner thing and went straight into couture. The first dress I ever made was an elaborate one-of-a-kind nineteenth-century gown (much like the one I learned to iron on). All of the Yale designs and patterns were created in-house, each unique garment custom-made to fit the individual actor's body and character.
From the very beginning, I was learning how patterns work. I learned why different techniques work for different applications and about fit and fabrics and bodies. I never had an instruction booklet. I never made something to fit a size. I never learned the short cuts. I never started with projects that were quick and easy. I learned by being forced to figure it out.
Not knowing much about sewing, I didn't know that I was out of my league. I didn't know enough to be scared or overwhelmed. I just pretended like I knew what I was doing until I did.
Before I knew it, my non-traditional path quickly led me to a job in New York City working on Broadway productions and eventually to crafting my own business, working with brides to design wedding dresses that perfectly fit their unique personalities and figures. I've also started teaching adult beginners how to sew using their own designs from their own custom-fit patterns.

I was blissfully unaware that I was supposed to feel intimidated. I was never given the chance to hide behind the excuse that something was too advanced for me.

I think a major part of my success in sewing was that I started out learning from people who (for whatever reason) believed in me. From the start, I was treated more or less as an equal, rather than a beginner.
As a consequence, I felt confident, and I believed in myself. I was blissfully unaware that I was supposed to feel intimidated. I was never given the chance to hide behind the excuse that something was too advanced for me.
Along the way, I've learned that everything takes practice, but you can't get better if you don't get started. There's no need to be intimidated or fearful. Just get to work.
Learning to sew as an adult has taught me, as in life, there is often no right way to achieve something. There is almost always more than one way to successfully complete every task, and more than one way to learn how to do it. Don't let that overwhelm you. Let it excite you! If a certain step or direction doesn't make sense, experiment and find a way that does. I've noticed that if you enjoyed what you learned during the creation process, it will shine through in the final results.
Through sewing, I've learned to follow the unlikely paths of opportunity as they present themselves. It has taught me to be confident in the unknown and to believe in the abilities of others who are just starting out. I've learned to see that beauty comes in all shapes and forms.
So, my art ended up being sewing. I didn't choose it. It chose me. I think my grandmother would be proud.
Join the Conversation
Sign in or become a Seamwork member to comment on this article.