On an unprepossessing street in Kansas City sits a small brick building. From the outside it looks like a high-end retail store—which it is—but behind those dark windows the space hums with the energy of a couture atelier. Cutting tables are covered with patterns ready to be made into garments. Sewing machines buzz with industry. And in the corner, a patternmaker sits at her station, drafting new sizes and designs. The inspiration behind this activity sits in multiple adjacent rooms—rows and rows of vintage kimono textiles. The delicate fabrics are sorted according to color, waiting to be given new life as a made-to-order Asiatica garment.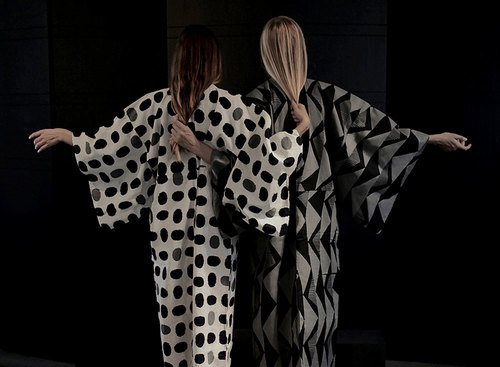 From The Transformation of the Kimono. Styling by Susan Cannon.
Photography by Galadriel Thompson.
When Elizabeth Wilson first visited Japan in 1969, it wasn't as a burgeoning fashion designer. She was there as a Chinese art history major, visiting museums and viewing private art collections on her way to Taiwan. Three years later she would be back, this time to live in Tokyo and work on her dissertation. For months she immersed herself in studying Japanese art, seeking out antique stores in particular—an occupation that would serve her well a few years later when she revisted Tokyo, this time as a buyer for her store, Asiatica.
Asiatica opened in 1977 as a way for Elizabeth and her partner to bring their love of Asian antiques to Kansas City. The shop was filled with furniture, home decor items, and stacks of Japanese kimonos, all found during yearly buying trips to Japan.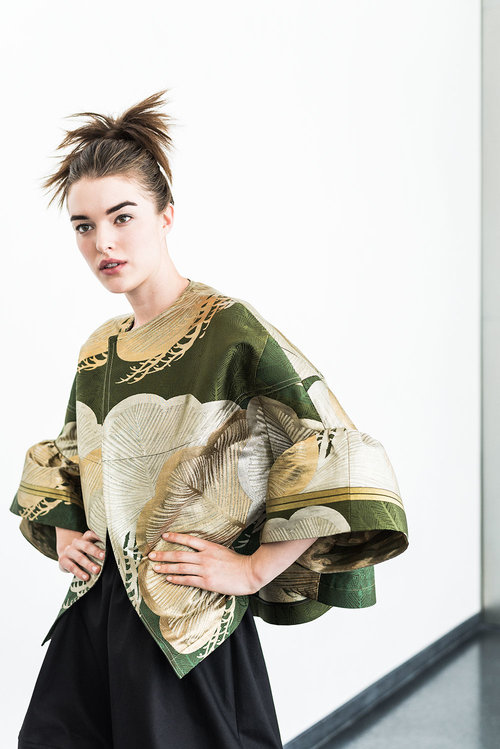 From the Fall 2016 collection. Styling by Susan Cannon.
Photography by Kevin Wells Photo.

"The kimonos," said Elizabeth, "were just a sideline in the beginning, they were just available. They were the least expensive thing you could buy in Japan that represented the Japanese artistic sensibility." They were also difficult to sell—what can you do with a kimono except hang it on the wall?
Fifi White, Elizabeth's partner, was the first to suggest making clothes, originally copying a boxy shirt that Elizabeth had purchased in Japan. They sketched the pattern on grocery bags, found a seamstress and started producing, soon finding that the clothing was selling better than their Asian antiques and bibelots.
"Let's talk about women. They much prefer to spend their money on clothes than on antiques." Elizabeth continued, "There are few people who collect antiques or want to furnish their houses, but that is really a once in a lifetime for most people. But clothes, this season, next season—it's more blouses, more skirts, more pants."
40 years later, Asiatica is known for its handmade garments, creating unique pieces out of vintage and contemporary Japanese textiles. Each season a range of garments are designed, often classic styles that are quietly updated with each collection, a doctrine of quality, which ironically, can have an adverse effect on repeat sales.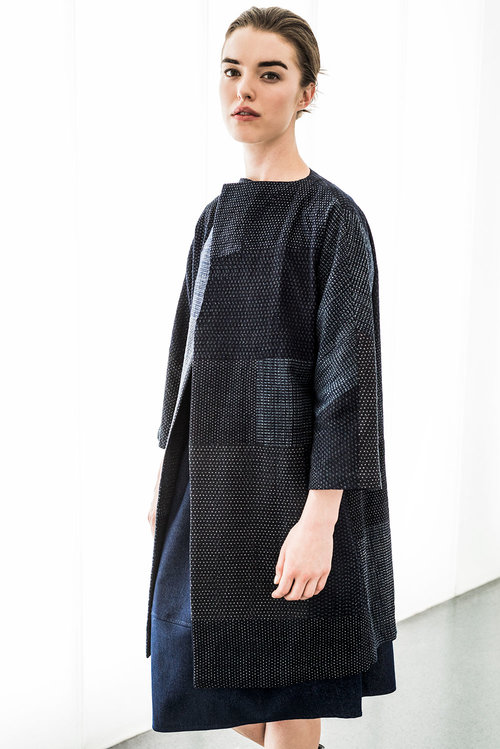 From the Fall 2016 collection. Styling by Susan Cannon.
Photography by Kevin Wells Photo.

"Our interest was never making last year's clothes unstylish and making them obsolete," Elizabeth says. "Our philosophy was to make good clothes and make them so the customer gets value out of them. And yet, if you buy a jacket—maybe you are sort of stretching yourself because you may never have bought a jacket for $1500 to $2000—you cherish it and wear it. It's a question of when are you going to come back to get another one. Some people will come back immediately—they fall so much in love with the way the jacket fits, the compliments they get, and the comfort and ease with which they can wear the clothes, that they'll be back right away. And others will say, 'Oh my God, I've never spent more on a jacket, I love my jacket and I don't need another one.'"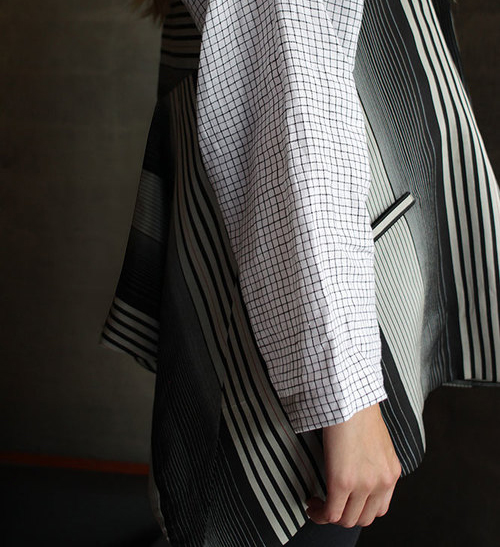 From the Fall 2016 collection. Styling by Susan Cannon.
Photography by Kevin Wells Photo.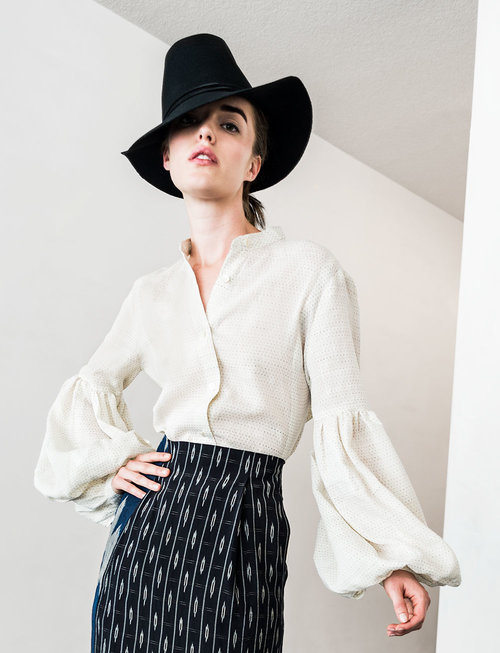 From the Fall 2016 collection. Styling by Susan Cannon.
Photography by Kevin Wells Photo.
In the brightly lit studio at the back of the retail store, a cutting table is covered in vintage fabric. Pieces of deconstructed kimonos lay like puzzle pieces, waiting to be realigned with their pattern repeat. The cutter positions the dress pattern on the fabric, while avoiding any tiny holes and stains that have accumulated from years of wear. Every useable scrap of vintage fabric at Asiatica is precious, any bit of leftover fabric from this project will be lovingly documented and saved, perhaps to be used in a patchworked garment in the future.
"What [the fabric] allows us is uniqueness for each garment, because we only have enough fabric for about one garment," Elizabeth explains. "Our customers don't really care that it is old kimono fabric. They just want a beautiful jacket. It adds to the story, but it doesn't make the jacket look any better."
While the designs go hand in hand with the fabric, for Elizabeth, it has never been about recreating an ethnic look. "We really try to avoid, very assiduously, ethnic looks, costumey looks. It's really not who we are."
As vintage kimono supplies continually dwindle, Elizabeth has had to get creative in her use of vintage fabrics, while also integrating contemporary fabrics, many by the innovative Japanese fabric company, Nuno.
"In the beginning I didn't have enough money to buy all the kimonos that were available that I liked," Elizabeth remembers. "Now there is almost nothing left. Last year I bought maybe 150. But we've been stashing the best away for rainy days. We've also developed a patchworking/scrap project where we think of new ways to use smaller pieces by juxtaposing them, or combining them in some way."
As Asiatica embarks on its 40th year in business, it is remarkable to think that a small couture designer can succeed in the world of fast fashion. In the early days, Elizabeth found her customers through word of mouth and trunk shows. Today, as Asiatica evolves their designs—just a bit—to appeal to a younger audience, the company continues to focus on what has worked for them: Well-designed, well-constructed clothes that create a strong customer relationship.
"We do everything for our customers," Elizabeth proclaims. "We love them."
Professional Technique
Textured straight-line quilting with silk.
Working with vintage textiles offers a variety of limitations to a designer, especially when the textiles are already fashioned into a garment. Kate McConnell, a designer at Asiatica, pointed out that a lot of their design process revolves around piecing the fabric for each particular garment. This involves matching print repeats, working around any holes or stains, and deciding whether the fabric is strong enough to wear on its own, or if it needs to be strengthened in any way. Asiatica has developed a variety of fabric manipulation techniques to add strength and texture to their more finespun fabrics. One quintessential approach is a simple straight-line machine-quilting method.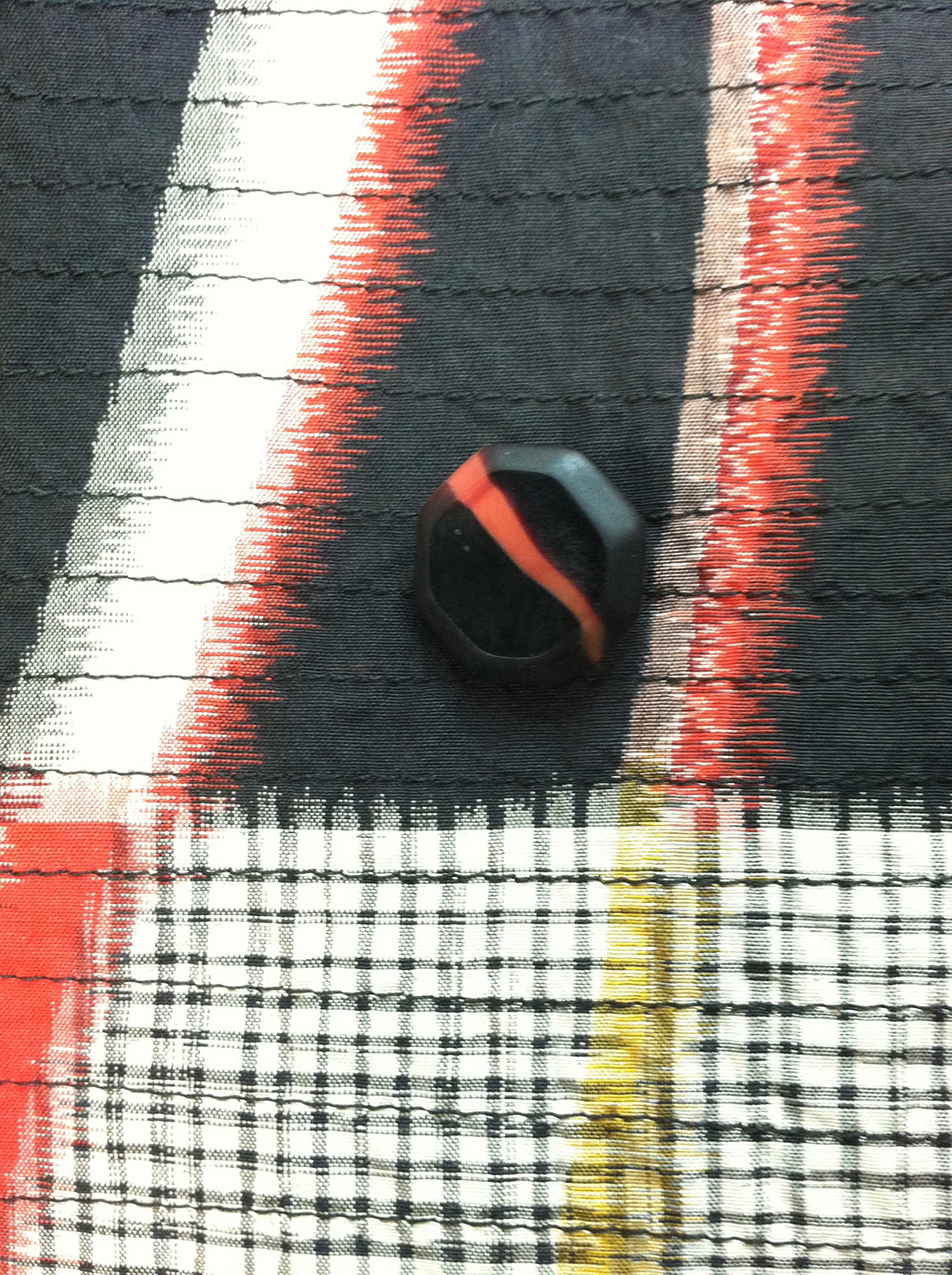 A close-up of straight-line quilting
on an Asiatica garment.
Haori is a traditional hip- or thigh-length Japanese kimono. After deconstructing the original silk garment, the remaining pieces are laid out to match with the pattern pieces. Notice how the sleeve piece will be cut from two Haori pieces seamed together. Once the fabric layout is finalized, the fabric can be quilted. In this case, vintage silk from the Haori is paired with a black linen, which will respectively be referred to as the main and back fabric.
Prepare Fabric
01 | Place the main and back fabrics wrong sides together, main fabric right side up.
02 | Baste the two layers. This can be done in several ways: with pins (note, if you are using silk, be sure to use fine silk pins), safety pins, hand stitching, or if you are using a heavier fabric, washable basting spray. If you are using pins—the most common method—you want to place a pin every few inches all over the face of the fabric. Be sure to smooth the fabric as you work, the goal here is to get out any wrinkles. If you are unsure you are using enough pins, try the hand test—if you can place your hand on the fabric and not touch any pins, you need more.
Quilt Fabric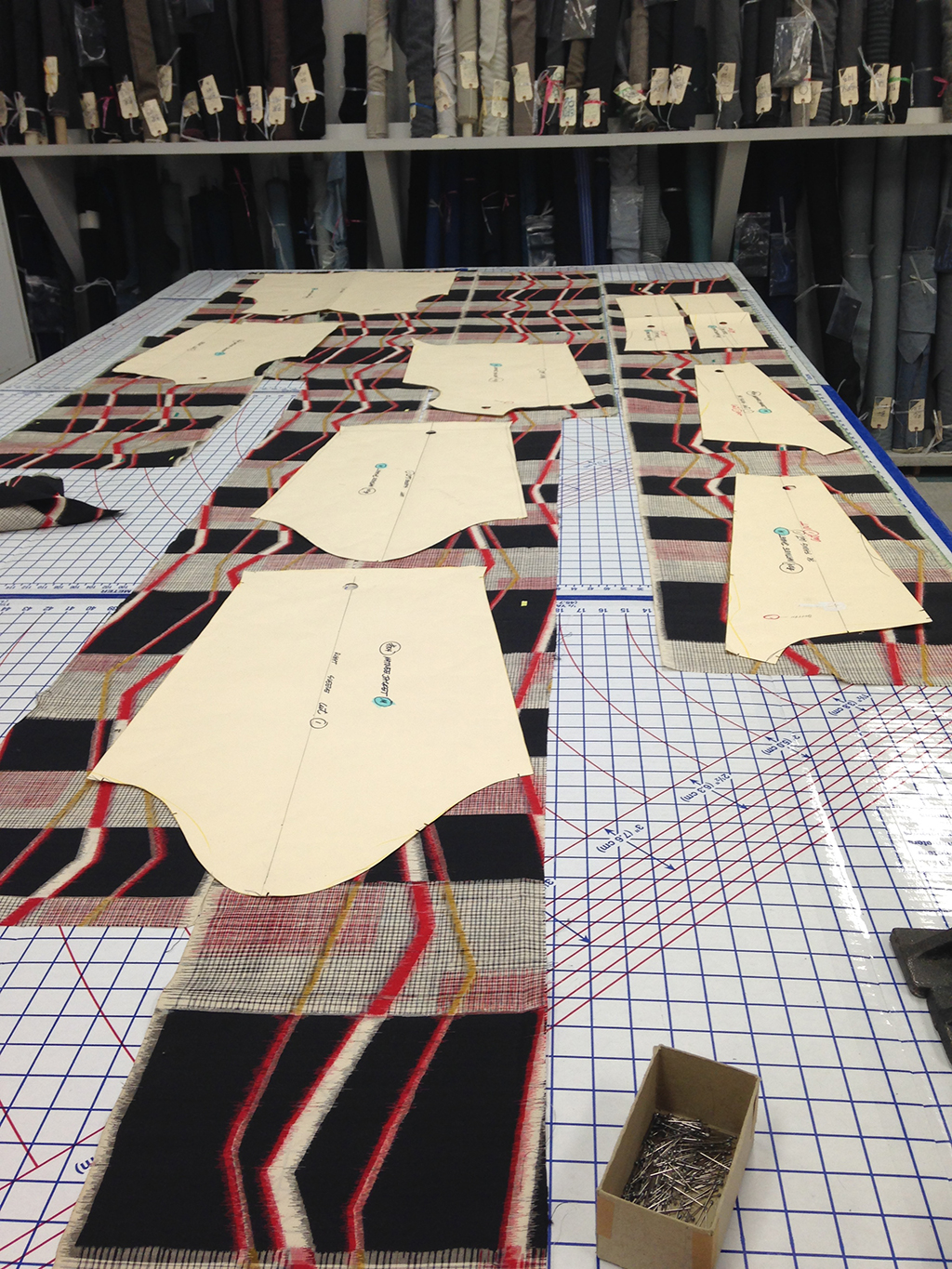 Working on Haori fabric
placement for the pattern.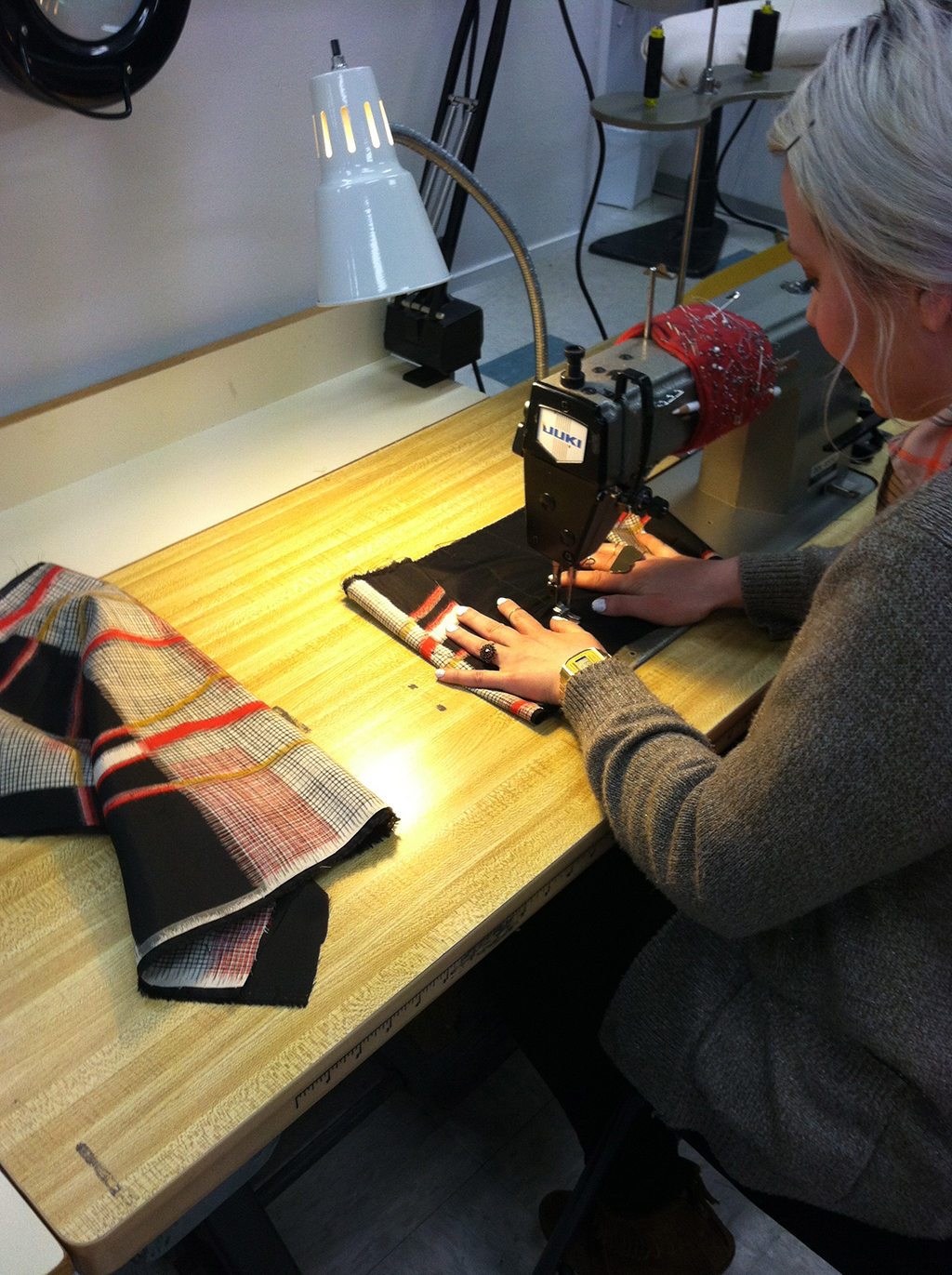 Machine stitching.
Once your fabric is basted, it is time to quilt. Before stitching, be sure that your sewing machine is outfitted with the correct needle. In the case of this silk fabric, you would want to use a Microtex sharp point needle. Also, if you have a walking foot for your machine, it will help guide your fabric through evenly.
Find the middle of your fabric piece and stitch from one edge to the other. Working from the middle out will help smooth out any irregularities in the fabric. Stitch lines every half inch. If you are unsure about eyeballing width between stitching, simply use a ruler and chalk marker to mark the lines before stitching.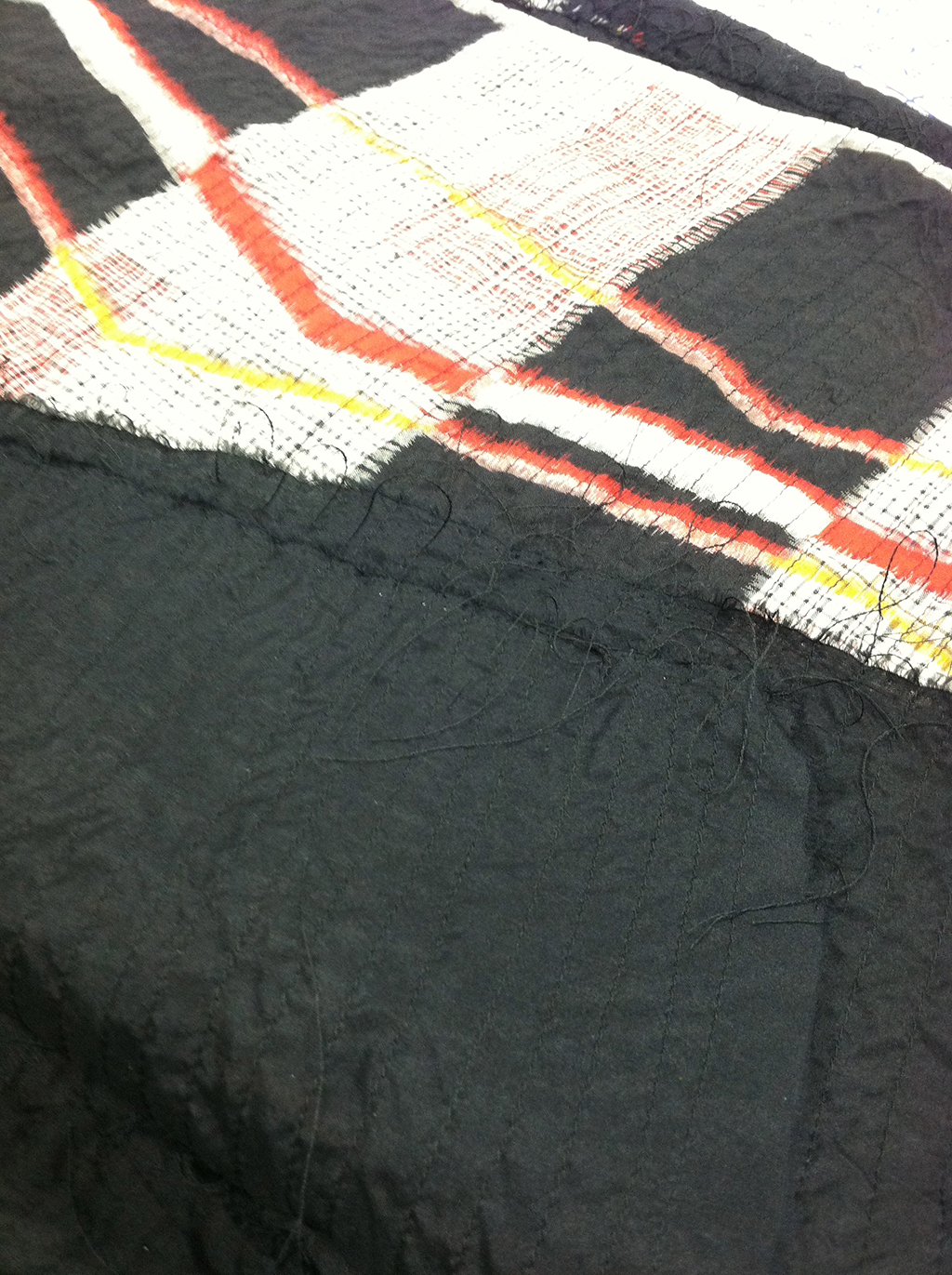 A view of the back side of the stitched fabric.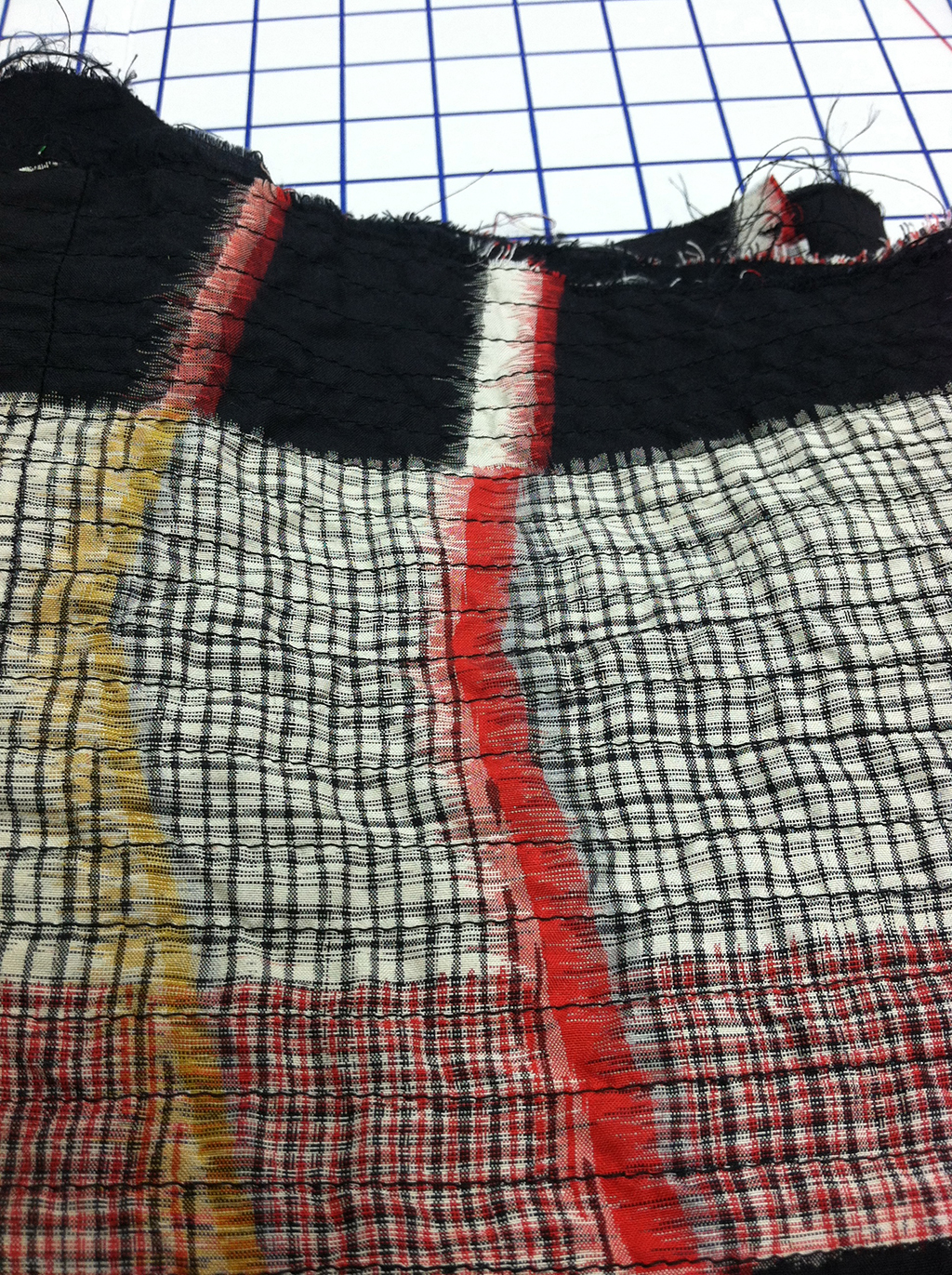 A close-up of the fabric after it has been washed.
Finishing Touches
Wash and dry the quilted pieces. This will tighten the stitches, creating texture in the fabric. Now you are ready to lay out your fabric and cut out your garment!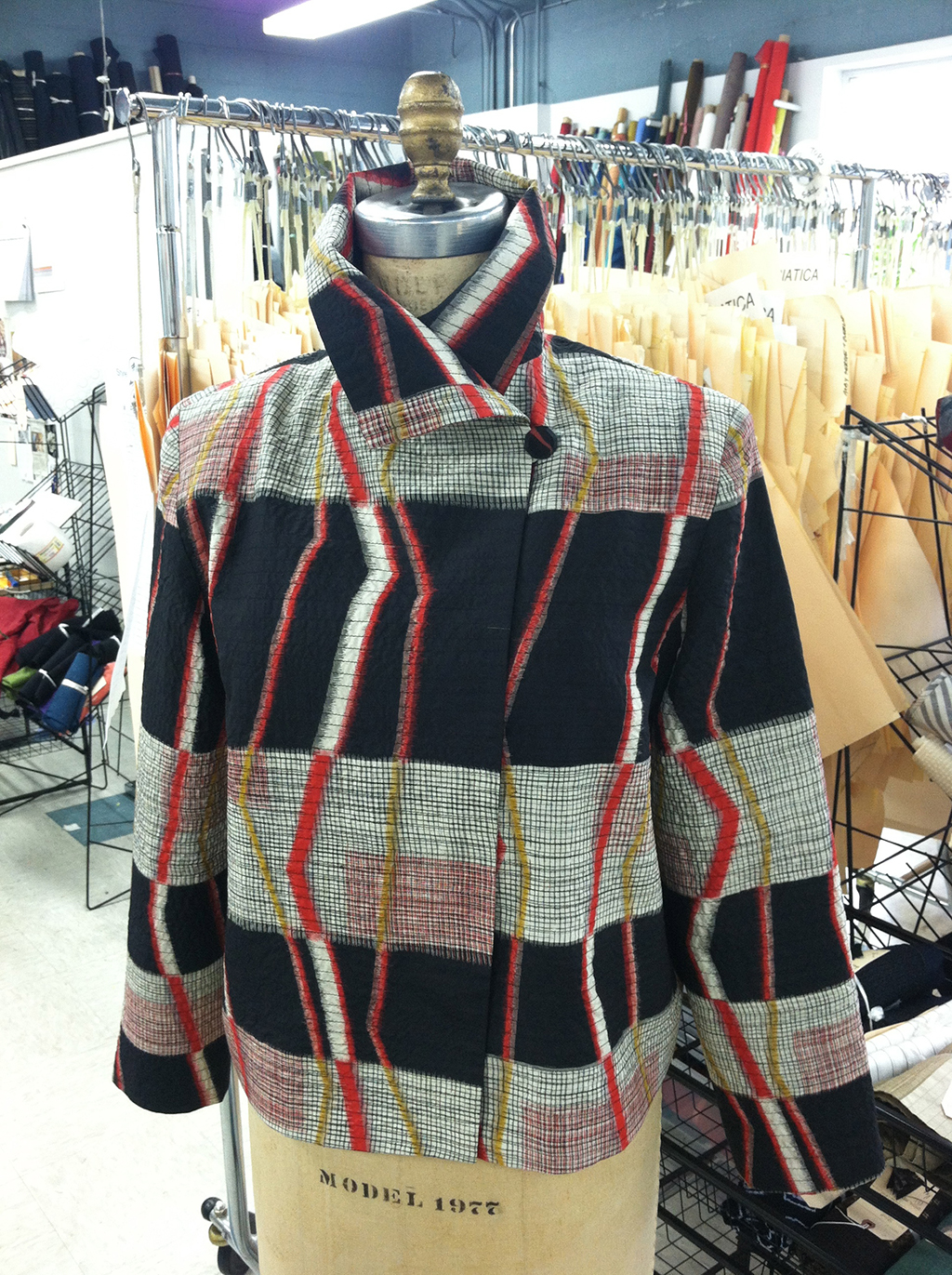 The finished garment.
Join the Conversation
Sign in or become a Seamwork member to comment on this article.