My story: A tale of a scrap collector
As I transform my scraps into delightfully arranged patchworked textiles, I feel like a wizard performing a magic spell—turning lead into gold.
Re-composing waste from years of sewing into a whole new fabric—and bringing it into a position of being valued and worthy once again—is an opportunity available to any of us who are willing to take the time and appreciate the leftovers of our creative practices.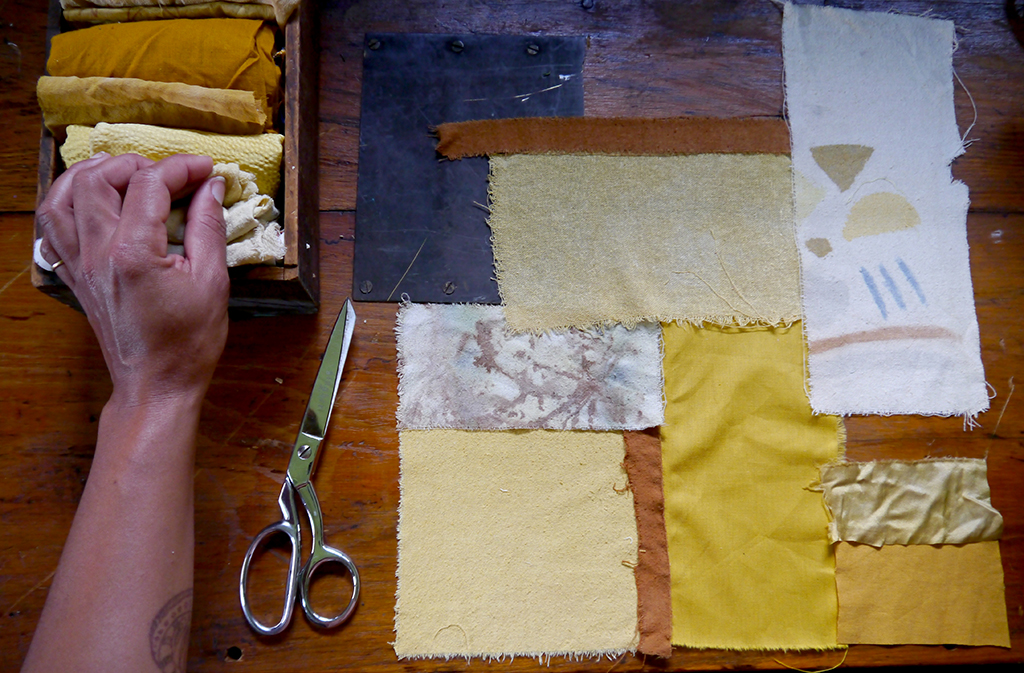 The story of a piece of fabric doesn't begin with whoever wore it before. Along with the fabric's lived experience comes the story of its making, how it was created.

My remnants: The alchemy of patchwork
Since each of these remnants comes with a story, cutting them up and re-organizing them becomes an act of unifying our experiences. The stories of the lives these fabrics lived often get passed on to their final forms, becoming part of their alchemical transformation. 
I'm given clothes from friends that are too worn to go to the thrift store. 
My aunt sends me boxes of old linens and tattered quilts from her own scrap purging. 
My mailman even dug through his garage to bring me bags of leftover fabric from his late wife.
This could seem entirely overwhelming, as the beginning of a story on hoarding, but these scraps always manage to fin the perfect use. Finding a purpose for these unexpected materials is like being in constant collaboration with unknown forces. 
My scrap collection started many years ago. Working in the fashion industry, I quickly realized how large scraps were just tossed in the bin like they had no purpose. Digging through the trash can next to the cutting table, I'd pull out scraps of perfectly usable fine silks and crisp linens, ignoring confused stares from fellow employees. 
Truth is, I think my treatment of scraps began way before I knew how to sew. My mother's weekend sewing projects provided me with all sorts of odd leftover bits to tinker with, though my method of choice for joining seams at that point was staples and glue. I've since upgraded my construction techniques, but my desire to play with castoffs has only grown stronger.
For me, fabrics are so much more than a colorful medium to get creative with. I note who gave me that golden tunic, what garage sale those denim overalls came from, and whose grandmother those lace curtains came from; these will all help tell the future tales of these textiles.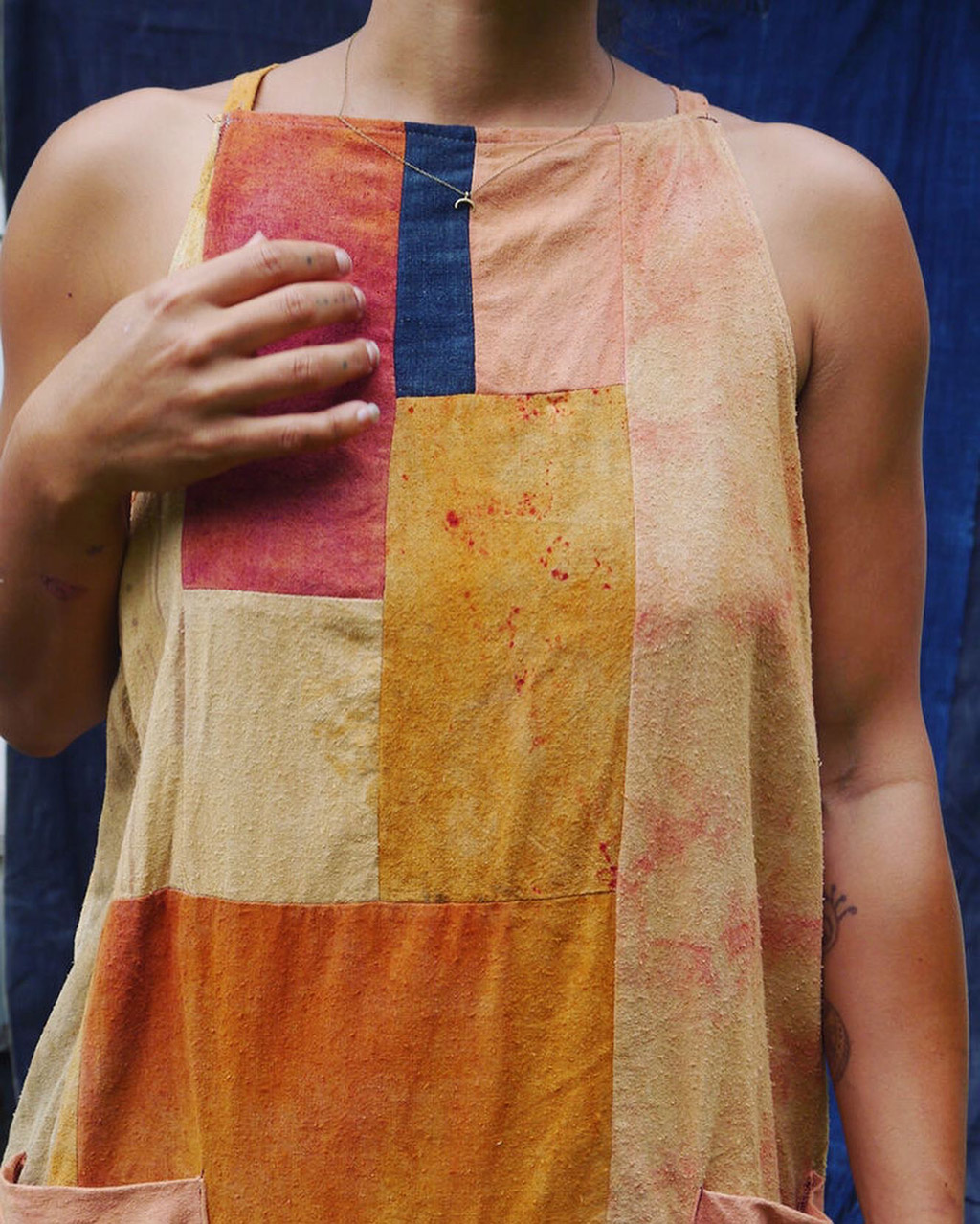 A fabric's lived experience
The story of a piece of fabric doesn't begin with whoever wore it before. Along with the fabric's lived experience comes the story of its making, how it was created. Working with previously loved textiles provides an opportunity to show respect to all the hands who have contributed to the creation of this piece.
Finding purpose for scraps is a way of showing reverence for all that has gone into the creation of these fibers—the worms that worked the soil, the roots and leaves that nourished what would eventually be these fibers, the hands that picked, carded, and wove them (or at least, the hands that ran the machine that did so!). At so many points in the process of making a garment, a human hand touched these fibers.
How can we uplift their work to be of value once again?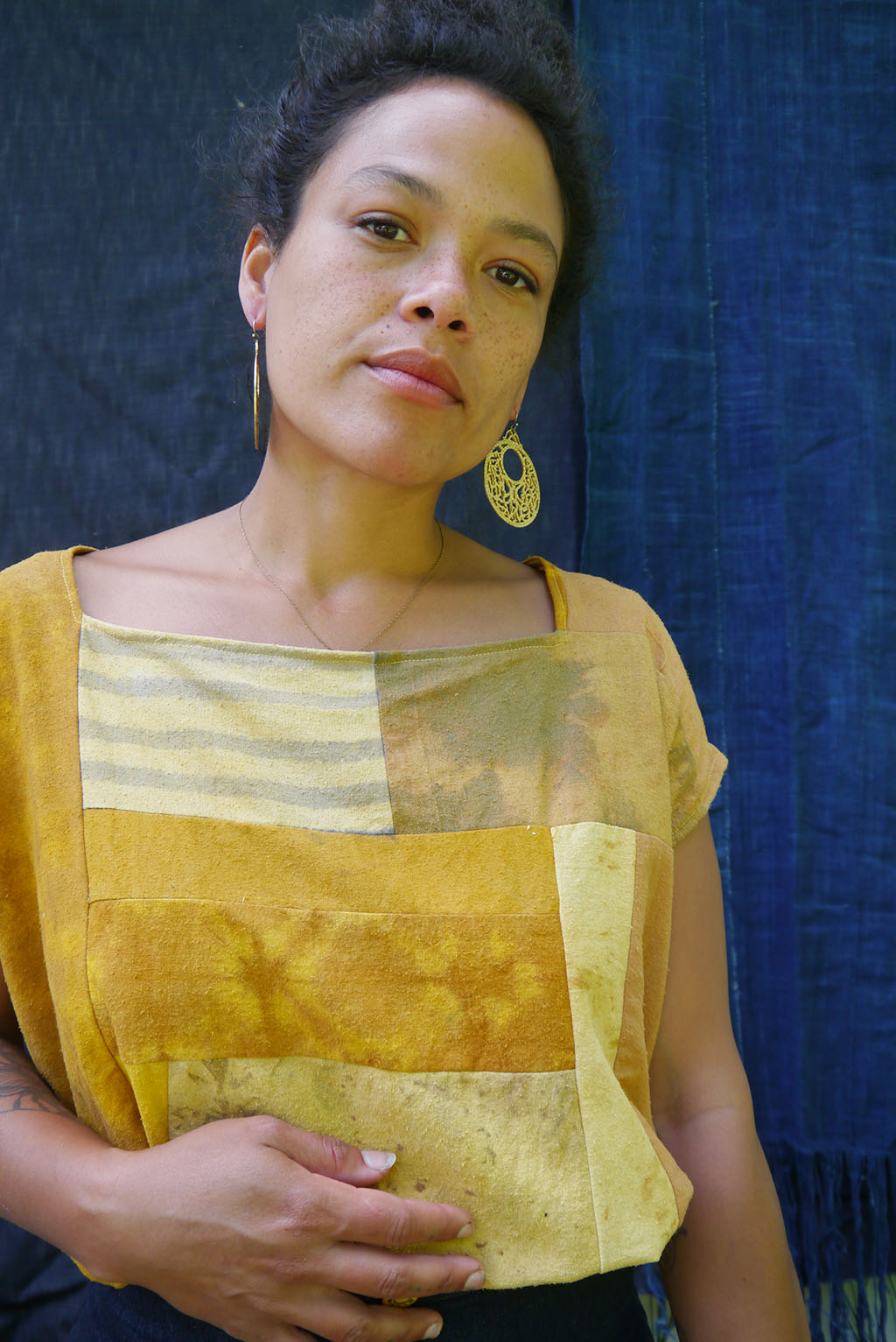 The textile industry pollutes—but it doesn't have to be this way
How do we move away from our reliance on underpaid labor? Or dyes that pollute the land and waters of those who are least able to defend themselves—and eventually, trickle into our collective lands and water? How do we reject commercial practices that go against our values as loving human beings?
The textile industry is one of the biggest polluters, but it doesn't have to be this way. 
If you're making your own clothes, you're probably already tuned into the damage the fast-fashion industry has on our environment. It might even be part of the reason you began sewing.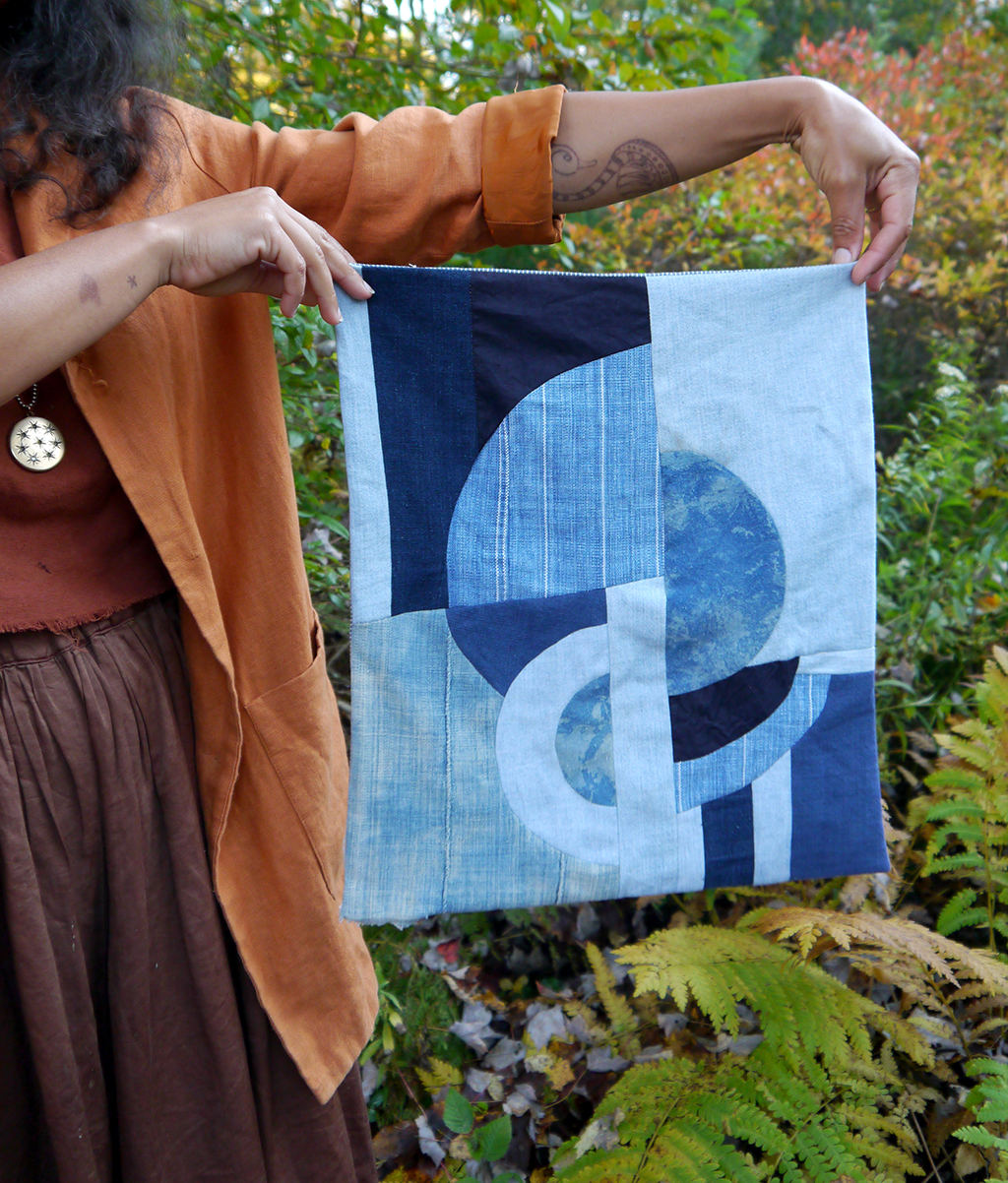 Be intentional with your fabric purchases
Fortunately, when we're intentional about our fabric purchases and find uses for the fabrics we already have, we're making choices that help support a healthy environment for all. Here are a few other ideas for choosing more ecologically friendly textiles:
Whenever possible, try sourcing reused fabric. There are plenty of crafters trying to de-stash on Etsy, and there are online retailers like FabScrap and A Thrifty Notion offering fabrics rescued from the garment industry. 
Stick with natural fibers, like organic hemp, linens, or silk and wool. These are biodegradable, which means they don't produce microplastics that pollute our oceans, and require less chemicals for processing. 
You may notice I didn't list cotton up there. Conventionally grown cotton, and often much of the organically grown cotton, does a number on the soil and requires a ton of water to produce, but choosing GOTS (Global Organic Textile Standard) certified can ensure some amount of sustainability in production.



Take a look at your own stash! You've probably got something in there just begging to get stitched up. By showing appreciation for what we already have, we can curb the desire for further consumption.

Express reverence for your materials
By working with scraps, we're moving beyond appreciation to have a deep connection to the materials we work with. We can cultivate this connection through a feeling of reverence—a word defined as "a feeling or attitude of deep respect tinged with awe, veneration." 
This definition goes beyond a simple appreciation or nod of thanks, towards the realm of absolute rapture. To describe an act as a "deep respect tinged with awe" is just about the most appreciative we could get for something.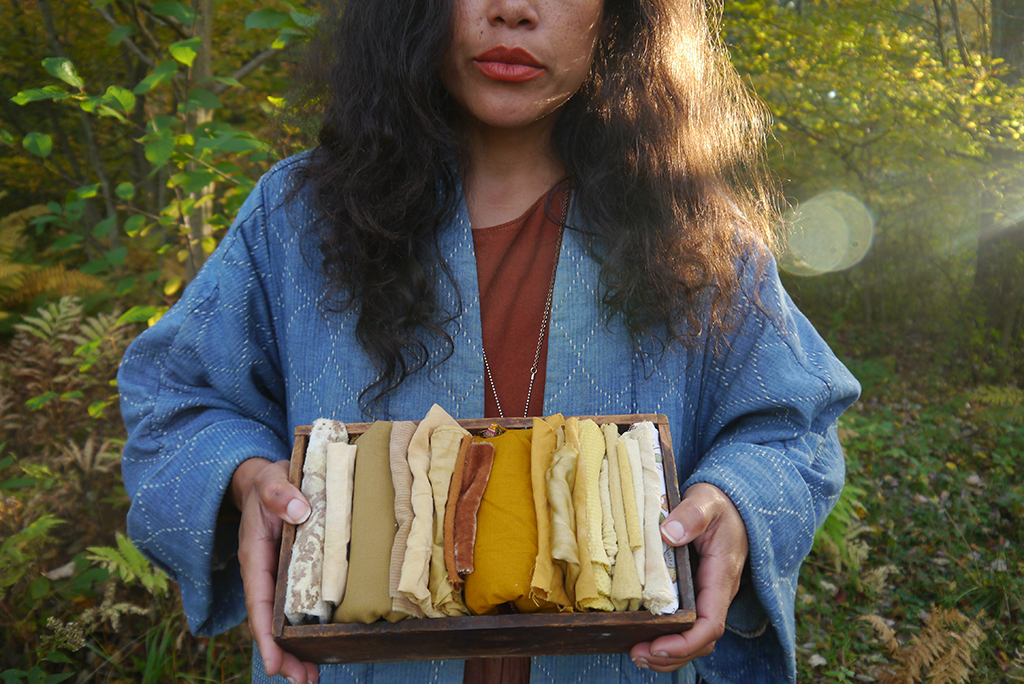 By showing appreciation for what we already have, we can curb the desire for further consumption.

While it's easy enough to view the textiles of my stash with a feeling of reverence, the best way I could actually show this feeling is by storing them with respect and awe—a method that ironically I've taken from the queen of purging, Marie Kondo. (Not because I have any plans to get rid of my fabrics, but because of her method of folding.) She suggests taking garments and storing them with the neatly folded edge facing up, and applying this to scraps makes it easier to remember why in the world I saved all these remnants in the first place. 
Side note—I have applied exactly zero other cleaning methods from Marie Kondo's teachings. They didn't bring me joy.
Inspiring methods for storing your scraps
Why are we so quick to toss our scraps? Because they take up SPACE and make a MESS. So how can we solve this problem? Here are some tips:
6" or more
I usually only save scraps that are bigger than, say, 6" square. This isn't about using every single thread—which might actually make you lose your mind—but more about saving what is usable! 
Use smaller bins
Saving your scraps in smaller bins, like the wooden one pictured above, means they're less likely to end up tumbling out of a cabinet and turning back into an unusable mess. 
Create a uniform size:
Fold all your fabric remnants to the same size—you'll want them to match the height and width of your storage boxes. If you have a lot of smaller scraps, fold them up within a larger piece of that same or similar fabric to keep them together.
Clever cataloging:
Sort these into two or more categories based on the fabrics you use. For example, mine are sorted into wovens and knits, but I have a separate category for "fancy prints" and "raw silks" because these are categories in which I have a lot of fabrics. 
Create appealing colors:
Within your categories, sort fabrics by color for quick reference (and delightful visuals). This way, you can easily see that, hey, I've got a lot of wovens in shades of pink and peach; this is a great opportunity to patchwork them! Sorting by color is also way more inspiring—and easy on the eyes.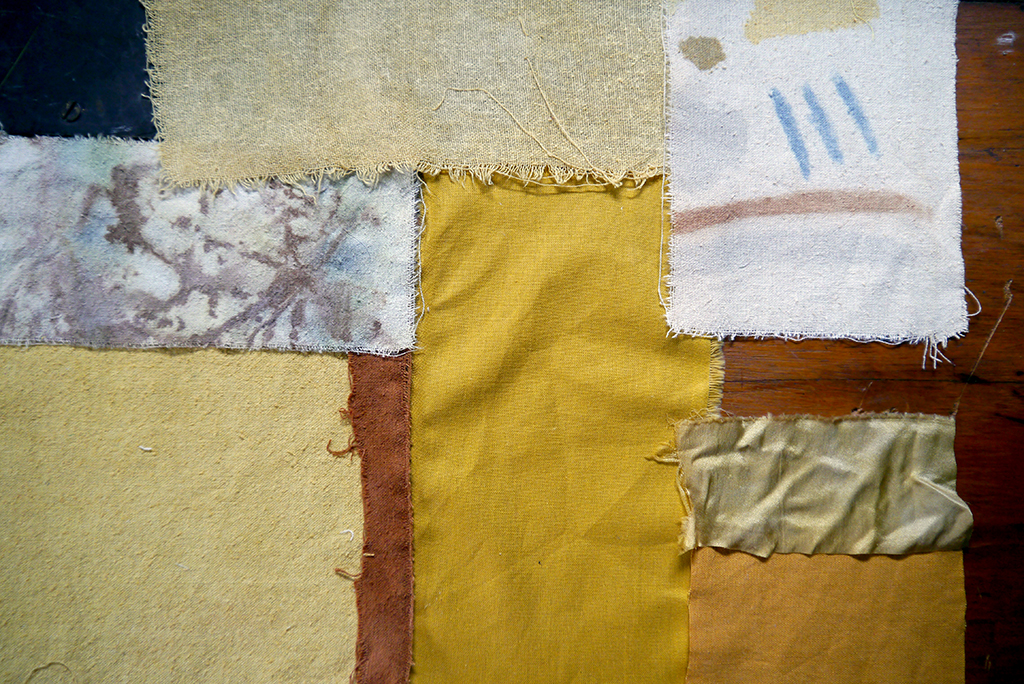 From sorting and storing, everything else gets easier — you may find you have a whole lot of a certain range of color; in my case, blues and yellows abound. 
Part two: Creating compositions
In next month's issue of Seamwork, I'll share some of my favorite techniques for finding fun compositions, assembling these scraps, and show you how to create quick templates for making exciting shapes in your patchwork that are free of lumpy bumpy inconsistencies. 
Want to know more about my alchemical creative process, or discover methods to inspire your own creativity? Check out my online journal and snag a free copy of my mending and stitching e-zines. Go to www.mixedcolor.net for more.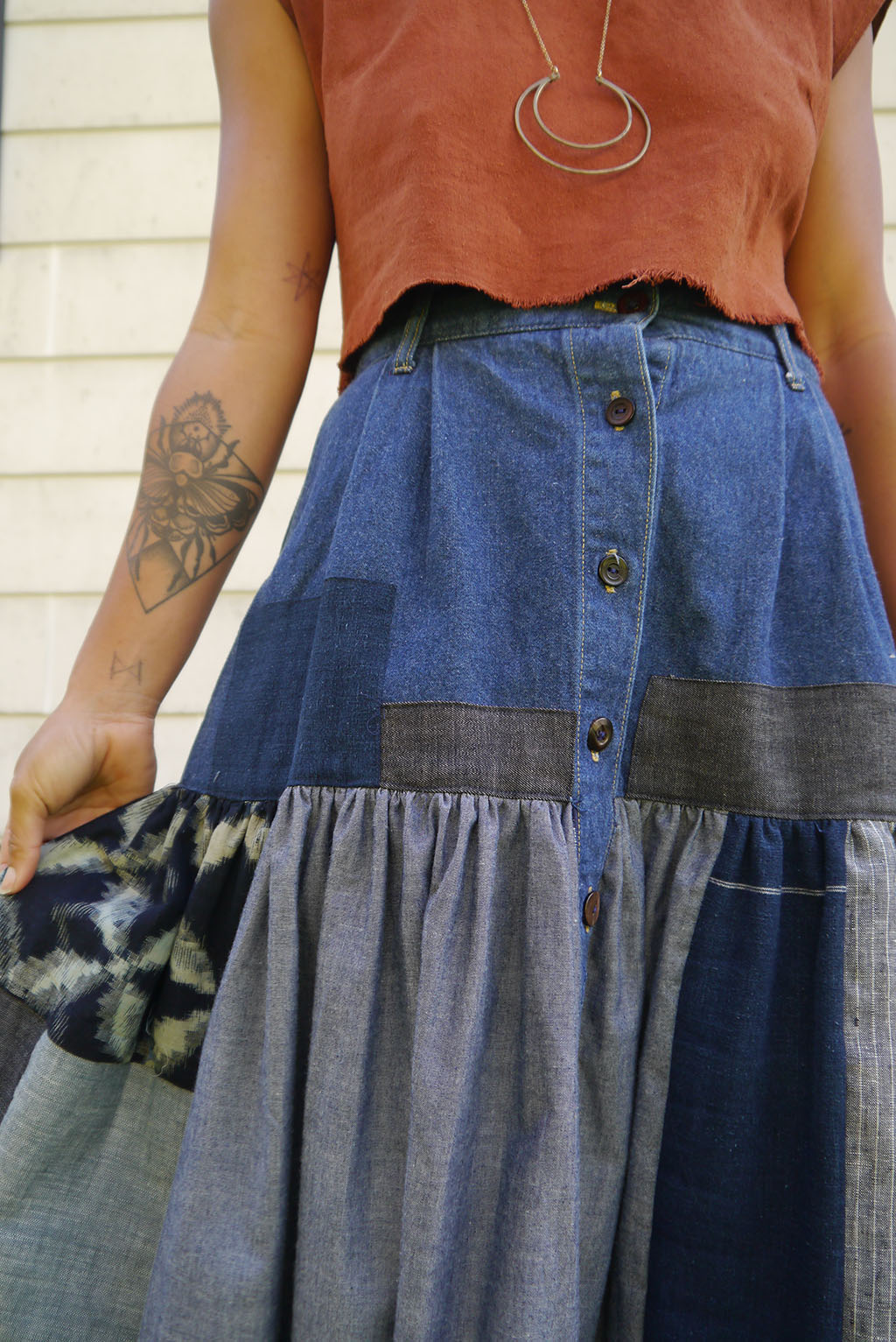 ---
Join the Conversation
Sign in or become a Seamwork member to comment on this article.