A bunch of us here at Seamwork HQ decided to sew this month's patterns and share them with you.
We know it helps to see finished examples of Seamwork patterns made in different fabrics and on different body types. We're lucky to work with very talented models every month, but if we also share our finished projects, you'll get a better idea of how you can make the patterns fit your style and your body.
So read on to see what fabrics we picked for the Angela bodysuit and Marett pants.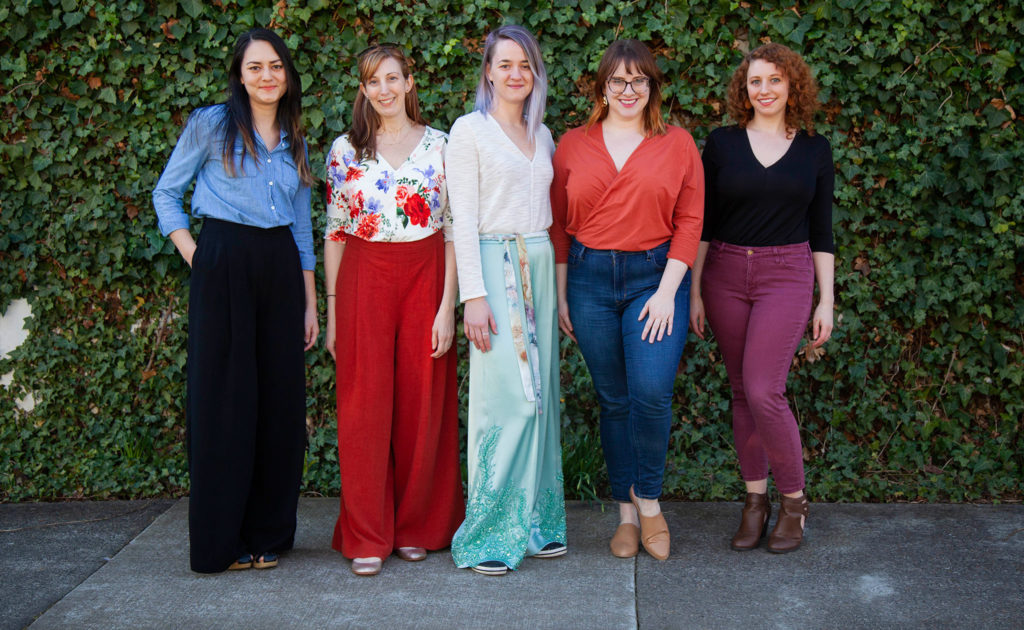 Haley's Ochre Bodysuit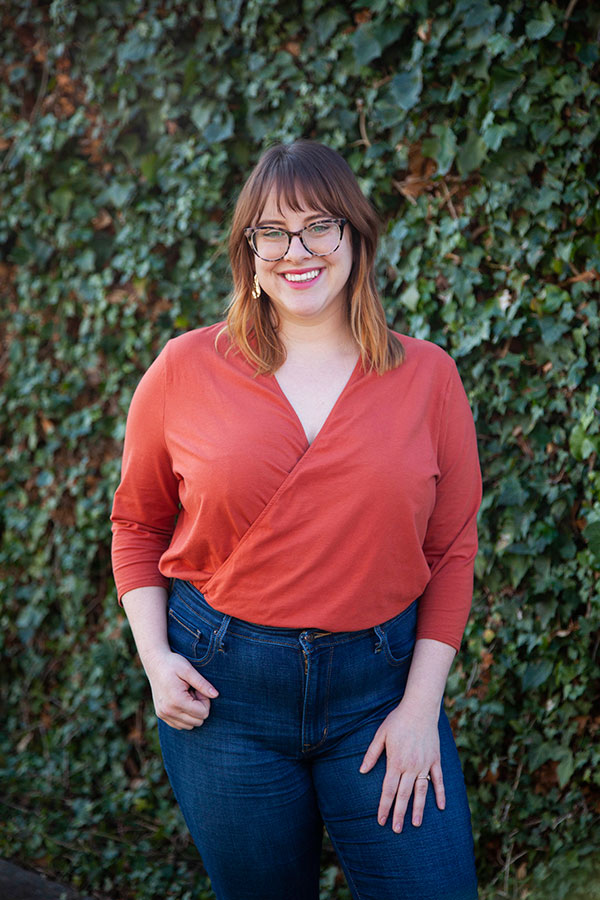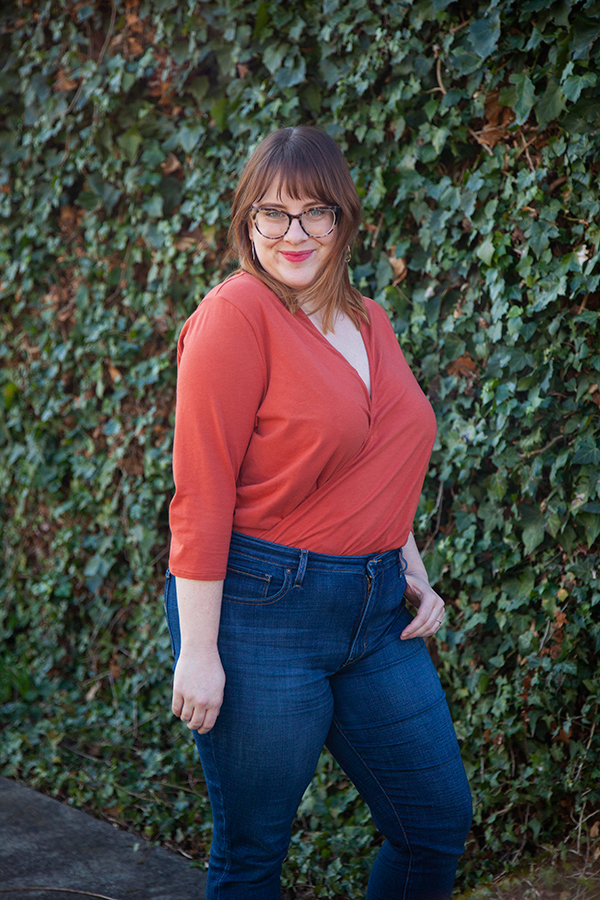 Inspiration: "This was definitely one of those situations where I was inspired by the fabric itself. When I saw it on the bolt I immediately knew it would make a great Angela bodysuit. "
Fabric: "The fabric is a lightweight cotton blend from Bolt. It is nice and lightweight without being transparent, which is exactly what you want for this bodysuit."
Size: Haley made a size 14. Her measurements are 42", 33", 45" and she is 5'2".
Adjustments: "My fabric grew a bit as I was sewing, so I ended up taking a bit out of the side seams and underarm seams. If I made it again in a similar fabric, I would probably size down to account for this. I also shortened the bodice a bit to accommodate my height."
Styling Notes: "I am obsessed with how this shade of orange looks with denim, so I will mostly be pairing it with my favorite jeans."
Hannah Dreams of Jeannie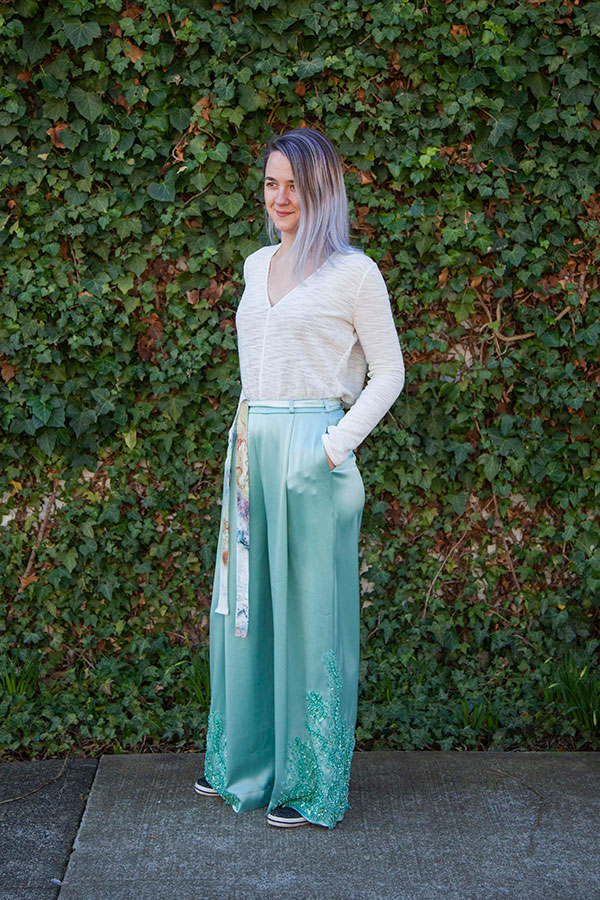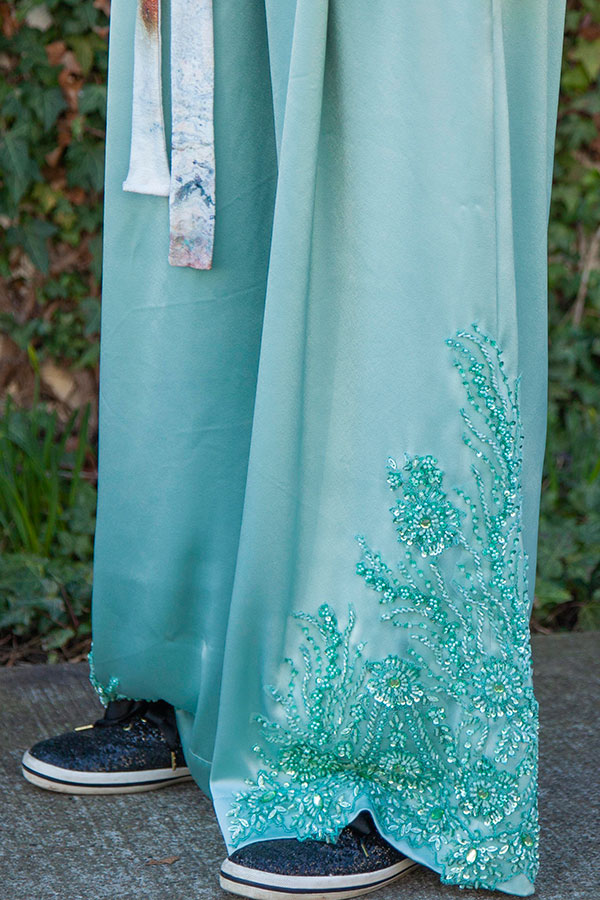 Inspiration: "March is my birthday month. I'm excited to be 30! I was inspired by my fabric stash and I Dream of Jeannie. Design Your Wardrobe exercises made me realize I want to be Queen of the Closet and wear my magic on my sleeve—these are my first makes in that direction.
Here's a link to my Pinterest board where I've had most of these images grouped since I purchased the green fabrics 2.5 years ago!"
Fabric: For the pants—"Double satin and beaded/embroidered lace on tulle. Both clearance and remnant fabrics from Fabric Depot in 2016. When I picked them up I envisioned lux loungewear, 'I woke up like this' vibes, an old-Hollywood starlet's dressing room…then my coworkers designed the exact pants pattern I was envisioning!!"
For the bodysuit—"Creme sweater knit from Girl Charlee, upcycled scrap jersey, and stretch lace from Fabric Depot. I want to be able to wear it all year, and this sheer sweater knit makes that possible.
These are both excellent fabrics for the projects. I still want to figure out how to get less of a panty line from the body suit though, which means I may not wear them together very often—panty lines are way less eye-catching in jeans than in this light-colored, high-sheen satin."
Size: Hannah made size 4 for both. Her measurements are 35", 28 1/2", 37" and she is 5'8".
Adjustments: "On the bodysuit, I lengthened the sleeves to the wrist and added width to the sleeve (about 1/2" through bicep, 3/4" through elbow). I finished the leg openings partially with FOE, but added stretch lace through the back panty to limit some panty lines.
On the pants, I made zero adjustments on the fit. I did some of the sewing differently in order to add the beaded appliqués though. I basted the inseam closed to check my hem length, then unbasted, and stitched the hem in place, leaving it undone 3-4" from both raw edges of the pant side seams. I hand-stitched the appliqués in place while the pant legs were open. Last two steps were stitching the inseam for real and finishing the last 6-8" inches of leg hem. It was a very gratifying finish this way!"
Styling Notes: "I like to feel whimsical AF. I plan to wear these items in everyday and formal situations. These pants look fancy, but they feel like sweats. Win-win."
Robin's Bright Spring Look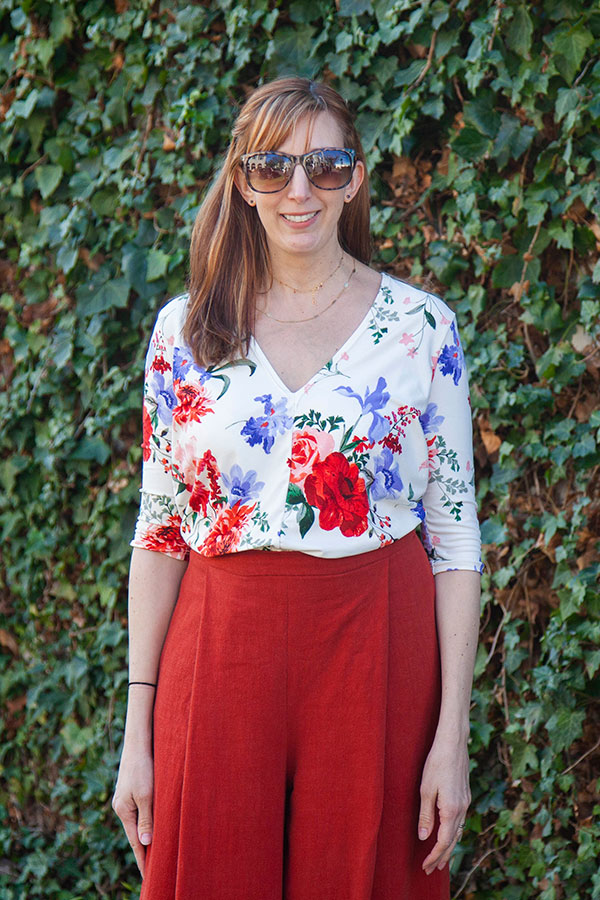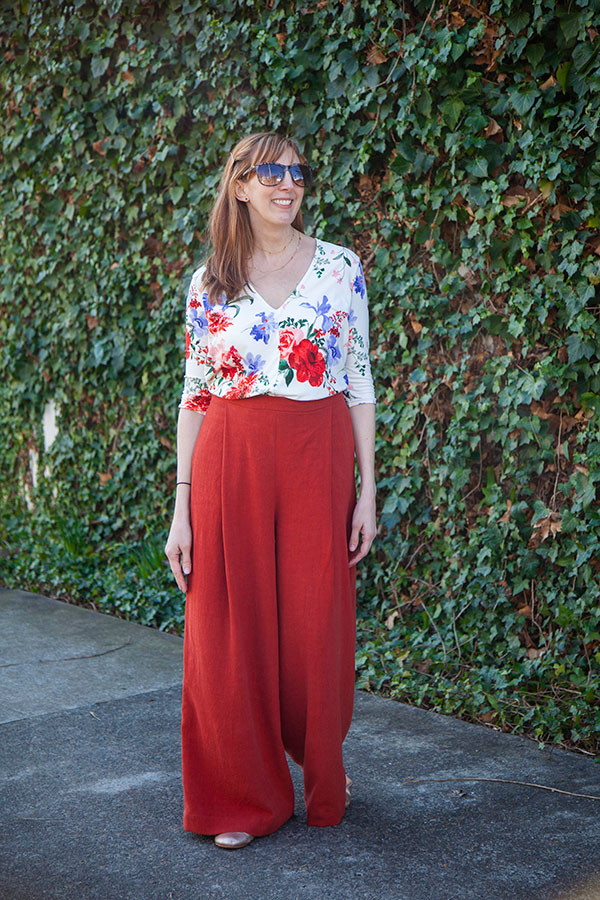 Inspiration: "These rainy and cold Portland winters have me craving anything spring—palazzo pants give me summer vacation vibes!"
Fabric: Taylor mentioned that she is seeing and loving red palazzos out in the wild and it immediately made me think of this gorgeous viscose linen voile that I saw on Blackbird Fabric's website. The color is Rooibos, and it has such a lovely pop to it. It actually turned out a tiny bit heavier than I would like, but it is soft and feels so nice against the skin. It's perfect for Spring days where there's still a little chill in the air.
The bodysuit fabric is a double brushed knit from JoAnn I chose because it paired well with the pants. I love the large scale of the florals and the creamy background.
Size: Robin made a size 4 for both, adding to the waist. Her measurements are 35", 32", 37" and she is 5'4".
Helpful Notes: "I finally bought an invisible zipper foot and WOW! It is a very worthwhile purchase for installing a professional looking invisible zipper."
Wallis Does Business Chic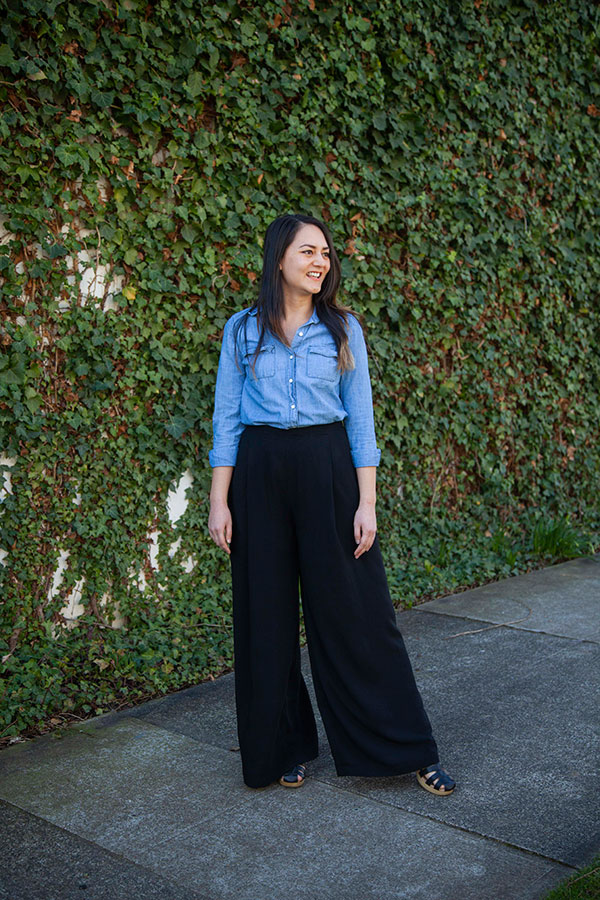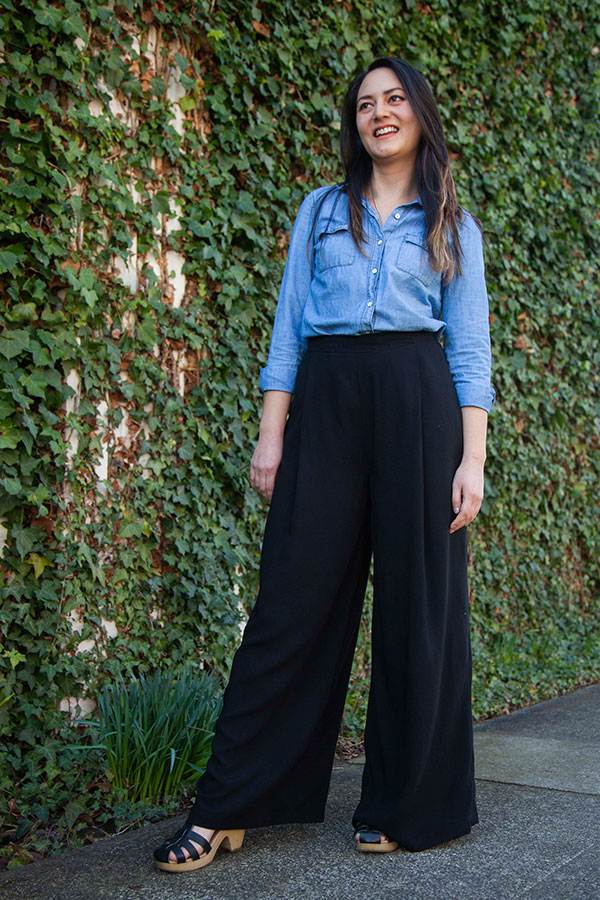 Inspiration: "I had envisioned a pair of palazzo pants for my fall Design Your Wardrobe plans, but there aren't many available from indie pattern companies. I own one pair that I love but hardly ever wear because they are a print and don't match with many tops in my closet."
Fabric: "I love the look of palazzo pants made in drapey fabrics, so I chose to use a rayon challis. Unlike my other pair of palazzo pants, I wanted to make these in a neutral color so they would be as versatile as possible. The final fit is so comfortable!"
Size: Wallis made size 4. Her measurements are 27", 37" and she is 5'4".
Adjustments: "Since my weight fluctuates I added wide elastic to the back waistband pieces. I cut 2 lengths of elastic that were 1" shorter than each back waistband pattern piece, then sandwiched the elastic between the outer and inner back waistbands. I tacked each end of the elastic at the side seam and 1/4" in from the invisible zipper. I shortened the pant hem by 1" so my finished hem would be 1" instead of 2" (but I still maintained the original inseam length)."
Chelsea's Little Black Bodysuit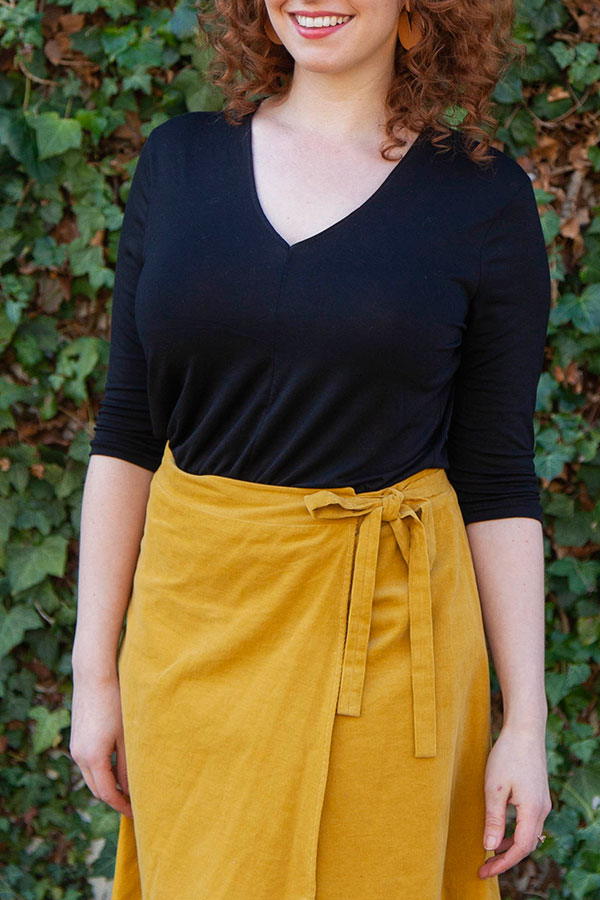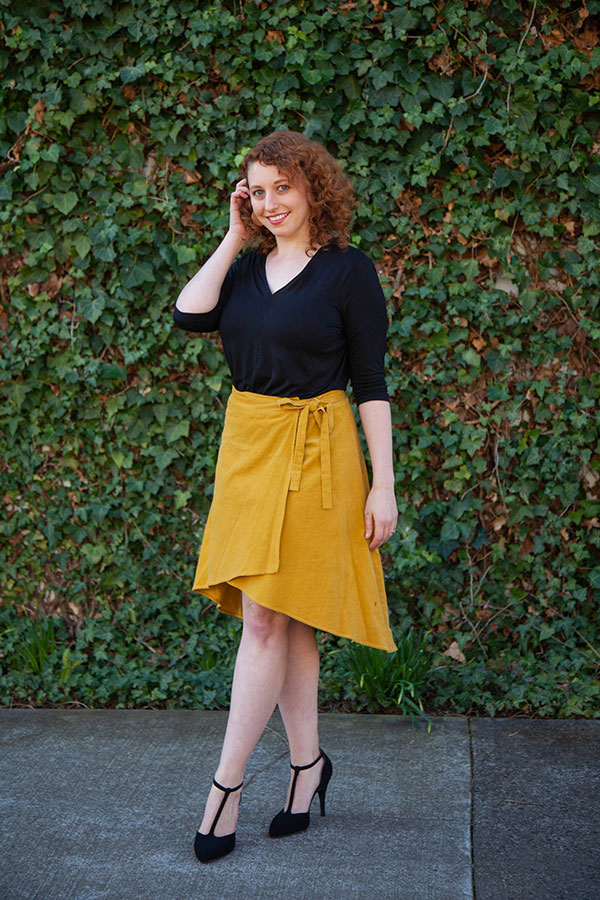 Inspiration: "I wanted something versatile that could be used for a variety of outfits and what's more versatile than BLACK!"
Fabric: "I bought rayon modal jersey, I wanted something soft and ultra stretchy. I also thought it would sit very smooth under skirts or pants."
Size: Chelsea made size 8. Her measurements are 38", 29", 40" and she is 5'2".
Adjustments: "My alterations include raising the center front neckline up one inch and shortening the entire bodice 2"."
Styling Notes: "I was planning to make an almost sheer skirt over my bodysuit. In general, I plan to wear my bodysuit mostly with skirts (since I always hate dealing with shirts tucked into skirts rising up and bunching), but I may pair it with some high waisted pants, too. Here I'm wearing it paired with a Pattern Hacker's version of the Laura skirt sewn in corduroy."
Join the Conversation
Sign in or become a Seamwork member to comment on this article.