Kaua'i is well known for its charming small towns, scenic mountain views, and quiet lifestyle. It also has three fabric stores that offer various fabric and sewing products—which you might not expect for an island that only has one main highway.
You can visit all three shops in a single day or spread them out over two. Doing the latter will give you time to visit local eateries, stores, hiking trails and beaches. After all, you might as well take your time while in paradise.
The three fabric stores are located along the main highway. This guide is organized so that you can start your fabric journey in Līhu'e, the commercial center of the island, and make your way north to Kapa'a.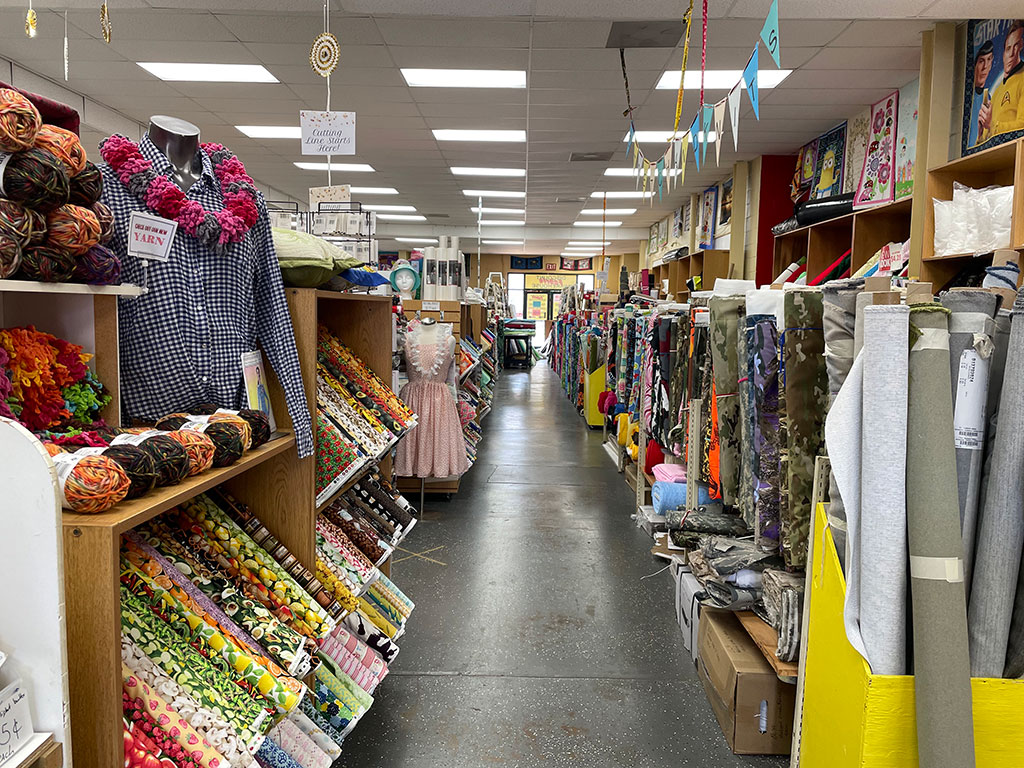 ---
Start at Discount Fabric Warehouse
Located in a large tan and brown building that also houses a gym and other businesses, Discount Fabric Warehouse is a one-stop shop for fabric, patterns, sewing machines, and sewing notions. The Līhu'e store is 25 years old and one of four locations in Hawai'i (the other three are in Kona, Hilo, and Kahului).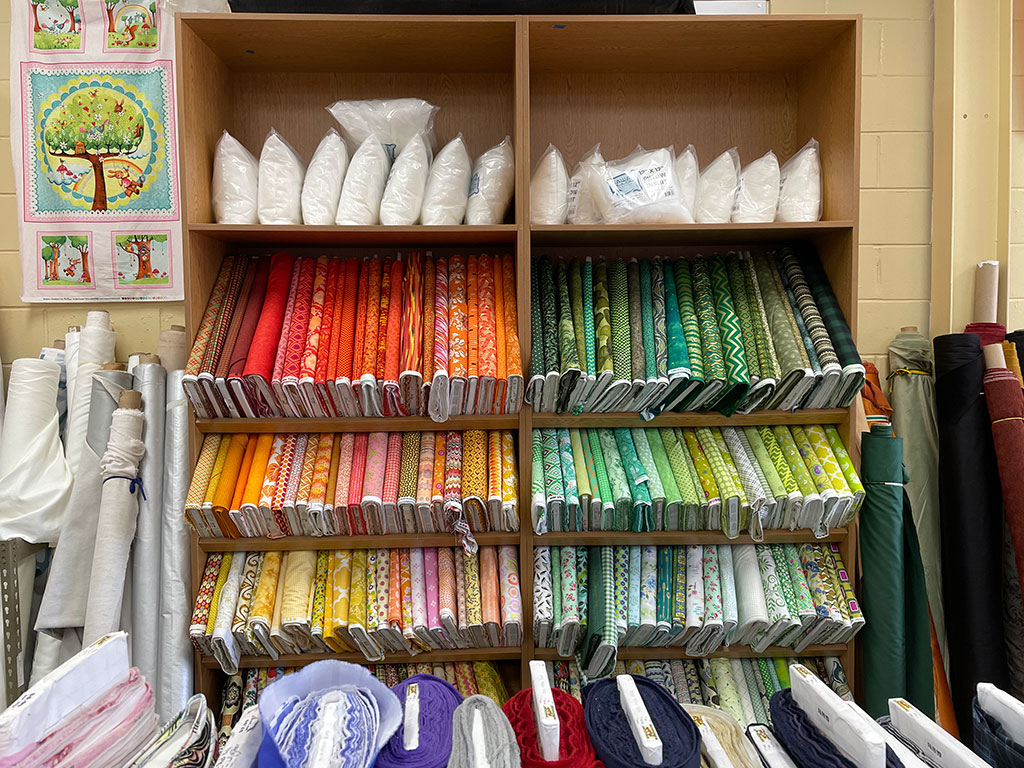 Manager Erika Hessheimer has run the Kaua'i store for the last 17 years and estimates the warehouse houses thousands of bolts of fabric. What I like most about the store is its range of apparel fabrics. In addition to the typical crepes, rayons, and knits, they also have PUL and Lycra.
Many of the shelves along the side and center of the store hold quilting cottons, and in between, you can find rolls of canvas, muslin, and other heavy-duty fabrics for curtains and other needs. I've used some of their synthetic leather to make purses and their canvas to make tote bags.
Their most sought-after items, according to Hessheimer, are their Hawaiian prints, which are 100% cotton or a poly-cotton blend. Many depict tropical flowers and leaves, and they come in a range of colors, from teal to hot pink to mellow greens.
The shop also holds quilting, embroidery, and beginner sewing classes—something Hessheimer started 17 years ago. Today, the store holds at least 20 classes a month. "We just try to help the community to stay sewing and learning how to use their machines," she says.
03-kauai-fabric.jpg: The store's selection of Hawaiian print fabrics, which are either 100% cotton or a cotton and poly blend, are popular among both residents and visitors.
Some of the store's fabrics are available for purchase online at gotfabric.com. You can also follow the store on YouTube, Facebook and its email newsletter.
---
Go to Kapaia Stitchery
Walk into Kapaia Stitchery's red plantation-style store, and you'll be welcomed by shelves of colorful quilting fabric and a ceiling full of beautiful Hawaiian-themed quilts. This is the oldest and longest-running quilt fabric store on Kaua'i—it was founded on April 1, 1973 by Julie Yukimura. It's now owned by Jean Acoba, who has worked in the shop since 1990.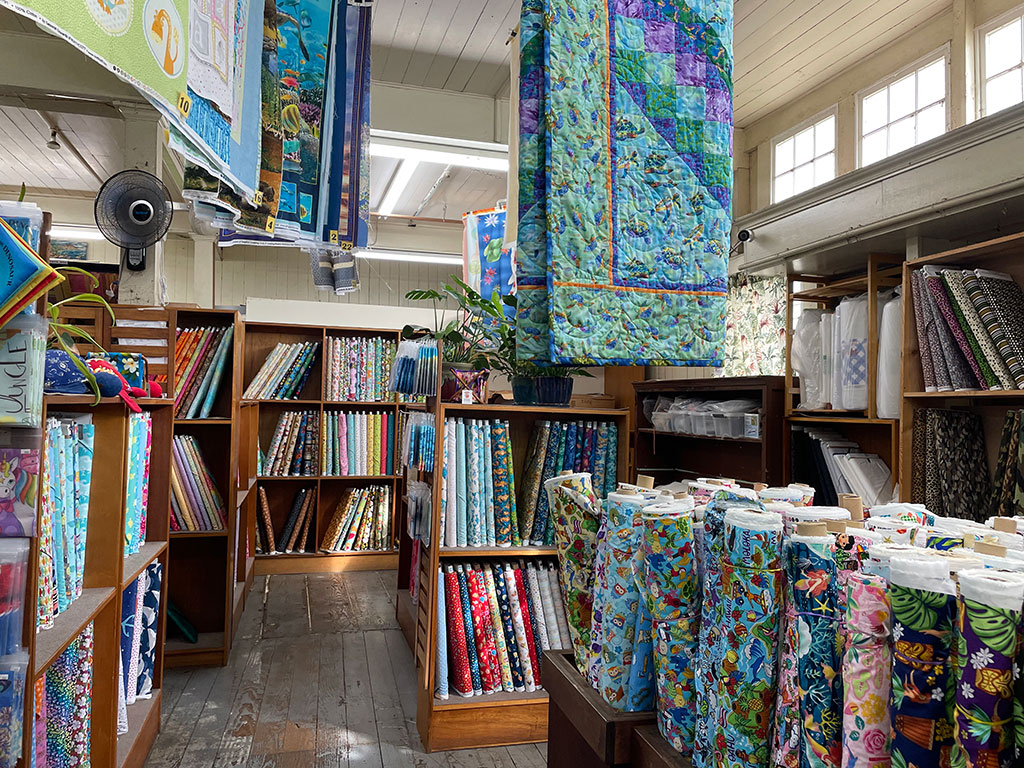 Walk anywhere in the store, and you'll be reminded that you're on a tropical island. Your footsteps will echo on the wooden floors, and you'll feel warm trade winds cycle through the store's ceiling fans.
The store carries about 5,000 fabrics, which can be purchased by the yard or as fat quarters or strips. Many of the cottons are batiks, which Acoba says are some of the most popular items, but the store also sells cottons with marine life, tropical foliage, and other prints, plus some upholstery fabrics and Hawaiian barkcloth.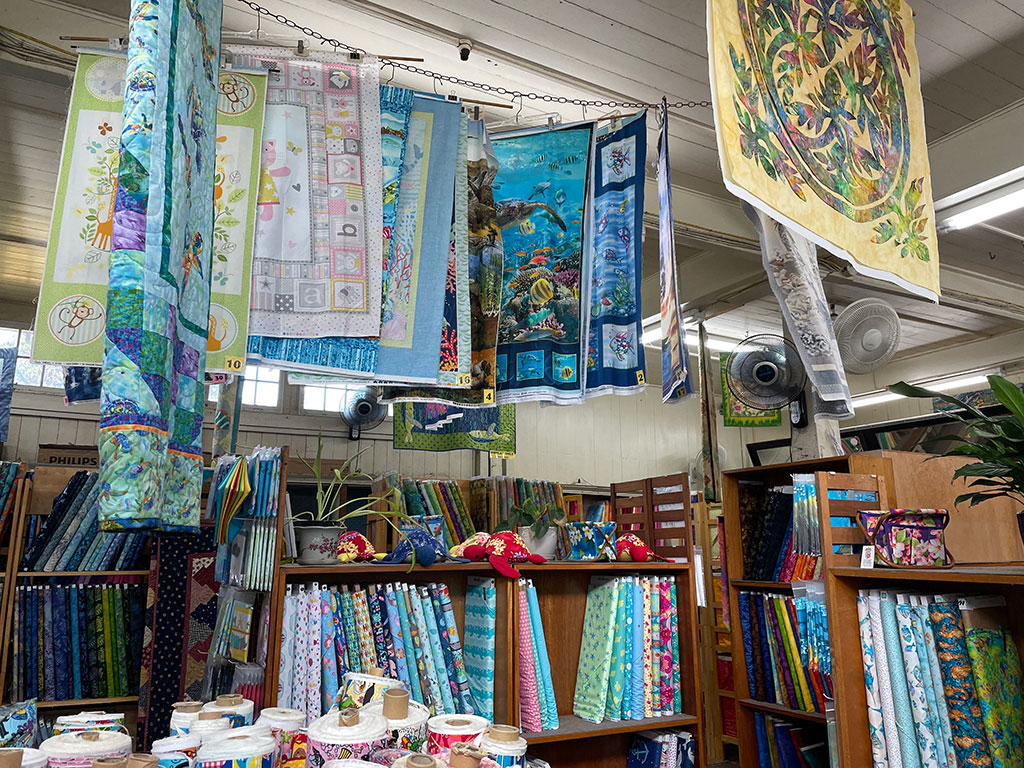 According to its website, Kapaia Stitchery also carries three exclusive fabric designs. One is a hand-dyed batik that features green and blue sea turtles; the second is a cotton fabric that features orchids, plumeria, hibiscus and bird of paradise flowers; and the third is a hand-dyed batik with rainbow ferns.
The store also sells quilting supplies, such as batting, frames, rulers, and cutting mats. I've had my eye on some of their Hawaiian quilting applique kits, which come in a variety of designs, like breadfruit, woodlawn lei, and orchids.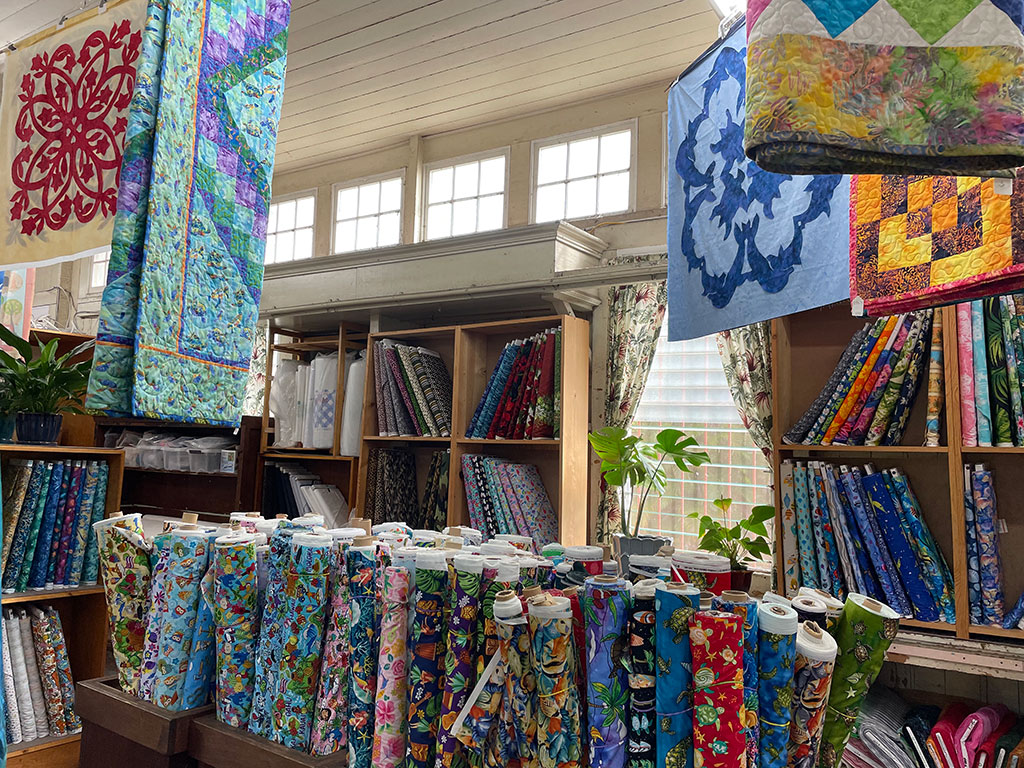 You can find more information about the store on their website, but their Facebook page has the most current items. Kapaia Stitchery also ships worldwide.
---
Finish Shopping at Vicky's Fabrics
This fabric store is housed in two storefronts along Kūhiō Highway, down the street from some clothing businesses, eateries, food trucks, and a bike rental service. Vicky's, named for its original owner, Victoria Masuoka, opened in 1982 as a fabric, dressmaking, and alterations store. The Kapa'a resident made everything from wedding gowns to hula costumes to prom dresses.
Today, the shop is run by Vicky's daughter, Maile Bloxsom, who has turned it into a full-service fabric store that carries quilting, crafting and apparel fabrics, plus a variety of sewing notions. The shop also runs about 30 to 40 quilting, clothing, bagmaking and crafting classes a month.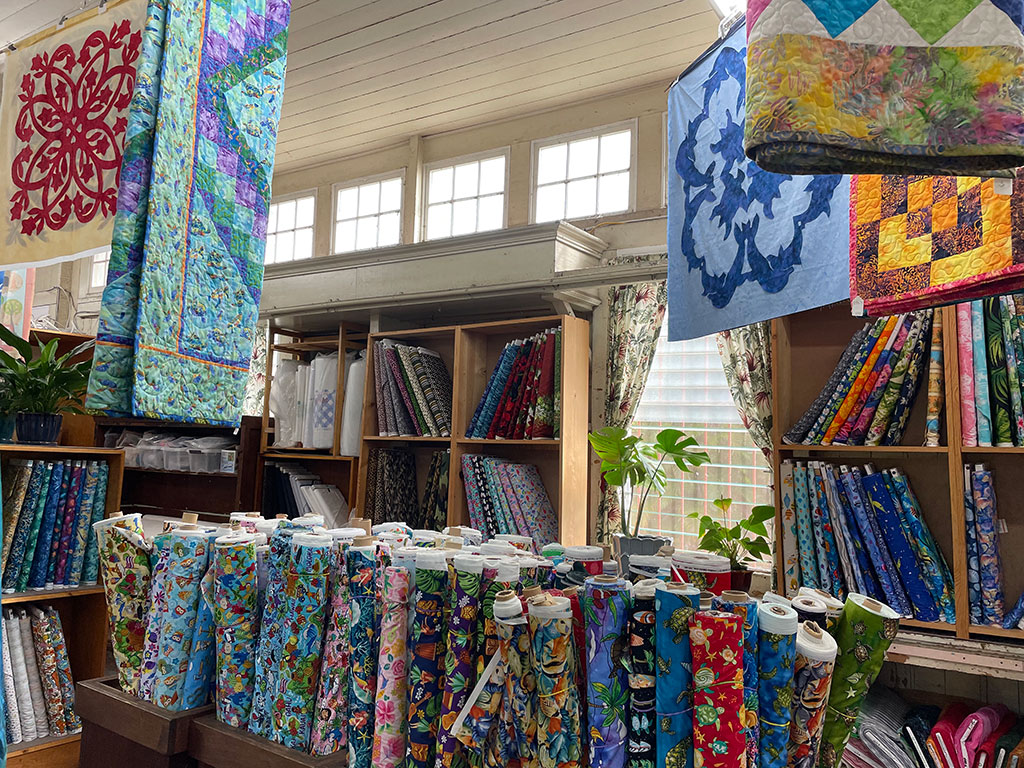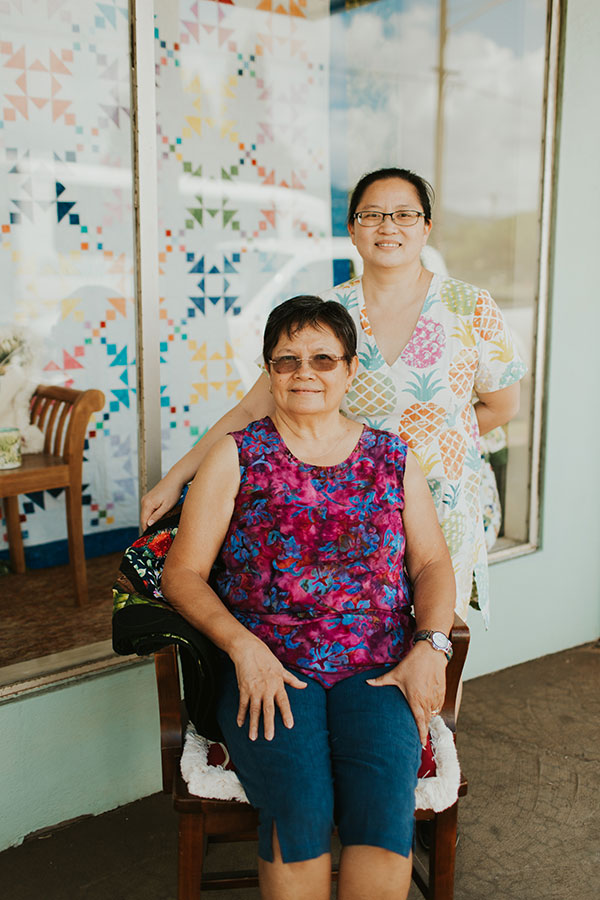 Most of those classes are a result of the pandemic. Bloxsom says mask mandates encouraged people to pull out their sewing machines or purchase a new one. Once the need for masks slowed down, people had a new skill, and many chose to further develop it. She notices that many of her clients are dabbling in several areas. For example, if they were originally quilters, they might now try their hand at sewing bags and aprons.
My favorite part of her store is her selection of batiks, which essentially create a rainbow on a row of shelves. Bloxsom, who is a quilter, likes to use them for quilts and clothes. And many of the tourists who visit the shop like them, too. Before the pandemic, about 60% to 70% of her business came from visitors.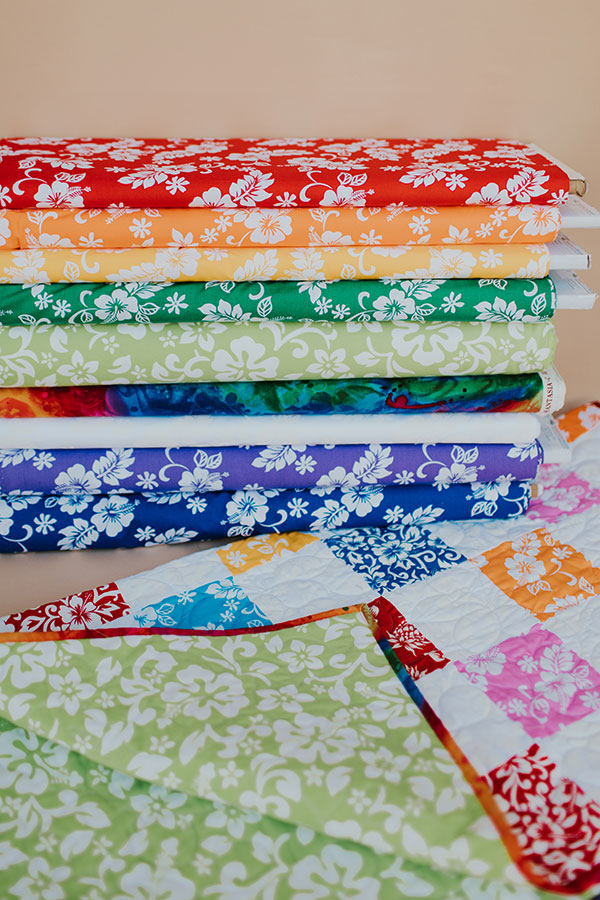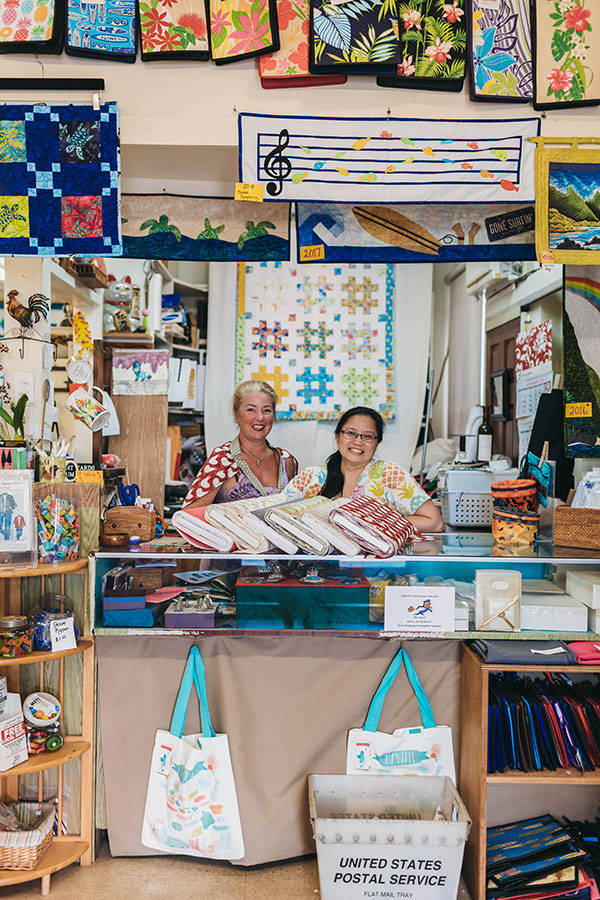 "Quilt shops in a tourist area are a destination," she says. "People would research quilt shops on Kaua'i, fabric shops on Kaua'i. Even before they come here, they're looking at my website. They come in, 'I saw this on your website. Where is it?'"
Bloxsom was nine years old when the store opened. Her first job was ripping out seams on clothes that her mom would alter. When she was 11, her mom went to the Philippines for three weeks, so Bloxsom got to run the store on her own.
The store will celebrate its 40th anniversary in 2022. "Huge testament to my mom," she says. "It's awesome. It's really nice to be part of a family legacy business."
Some of the store's products can be purchased through its website, vickysfabrics.com, and the store ships worldwide. You'll also be able to see and sign up for classes online. Vicky's Fabrics also has a Facebook page, Instagram and YouTube channel.
---
Keep Fabric Shopping Around the World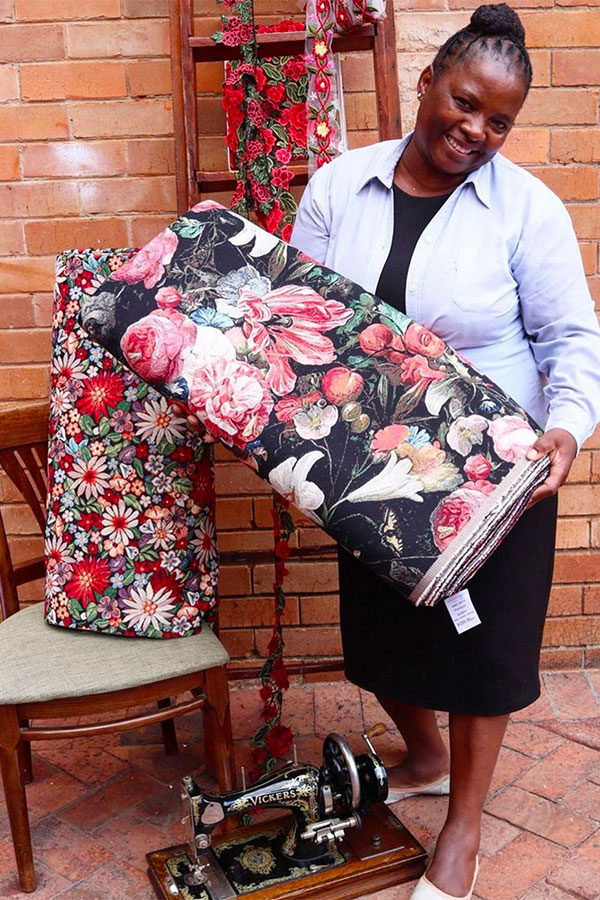 If this virtual fabric shopping trip to Kaua'i made you want to see more stores from around the world, check out the Seamwork City Guides in the magazine archives.
Join the Conversation
Sign in or become a Seamwork member to comment on this article.