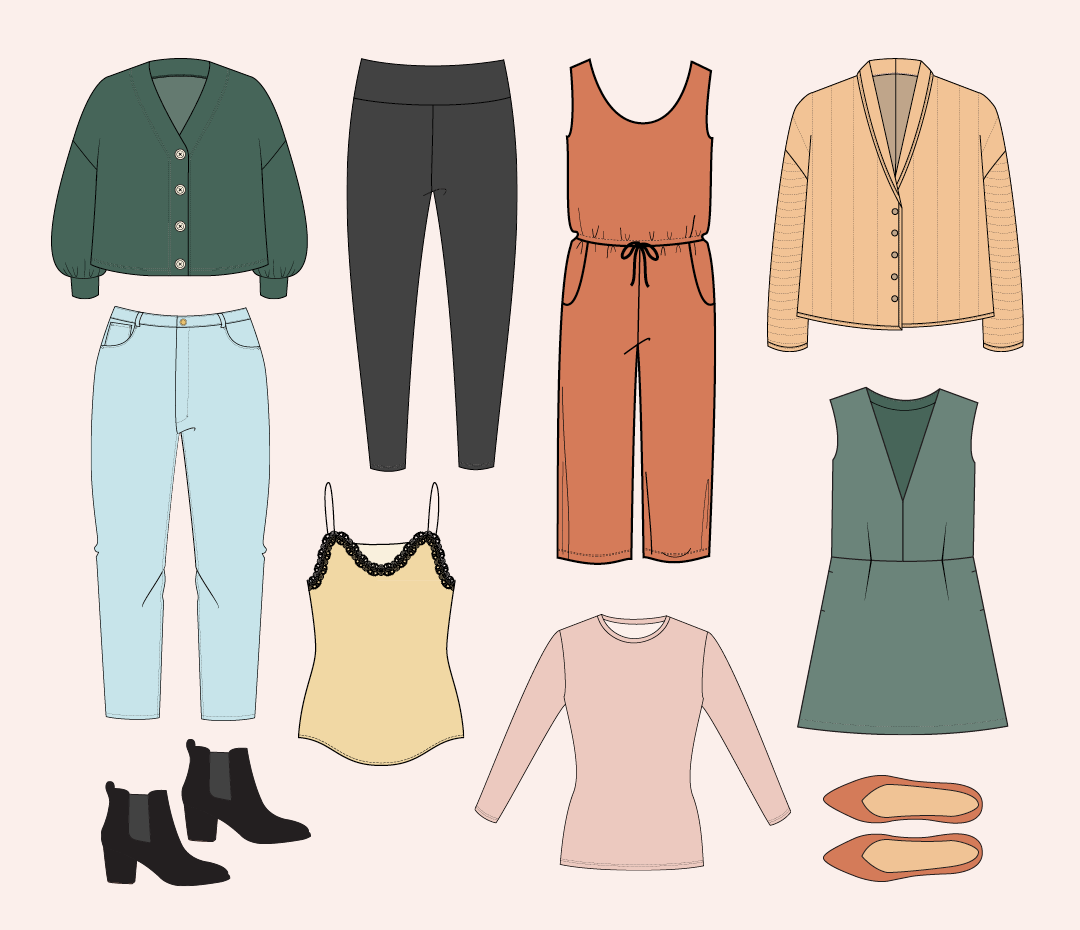 Looking for a wardrobe staple that is laid back, easy to throw on, stylish and comfortable? Then look no further than the Lisa cardigan. This cardigan features a relaxed fit with dropped shoulders, a faced V-neckline, buttons ,and sleeve cuffs for an elevated finish. Because this cardigan is the perfect layering piece, I was inspired to build a capsule wardrobe around it, pairing it with some of my favorite layerable sewing patterns here at Seamwork.
Follow along with me as I style the Lisa cardigan to create endless me-made outfit combinations you'll want to wear again and again!
Outfit 01
Lisa, Tessa, Alice, Boots
No wardrobe is complete without a great pair of jeans. The Tessa jeans feature a high-rise cut that is perfect for tucking in your favorite fitted top, like Alice. Cozy up with the Lisa cardigan and boots. And if you need help sewing a zipper fly, check out this handy tutorial.
Outfit 02
Lisa, Shelly, Savannah, Flats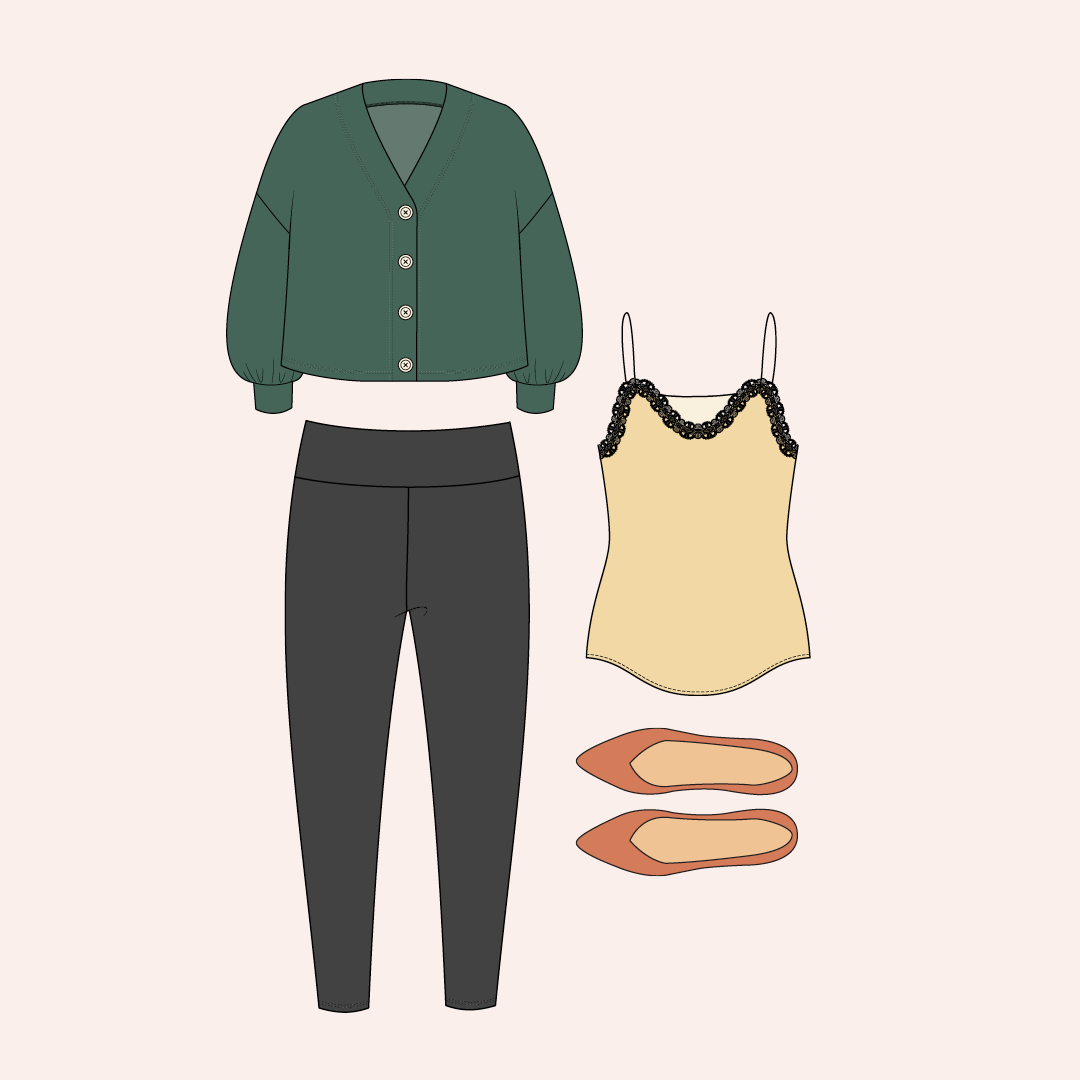 A classic cardigan and leggings combo is perfect for day-to-day wear. Whether you are working from home, running errands, or simply lounging, this outfit has you covered. Pair the Lisa cardigan with the easy-to-sew Shelly leggings and Savannah spaghetti-strap, bias-cut cami, and pop on a pair of flats when you head out the door.
Outfit 03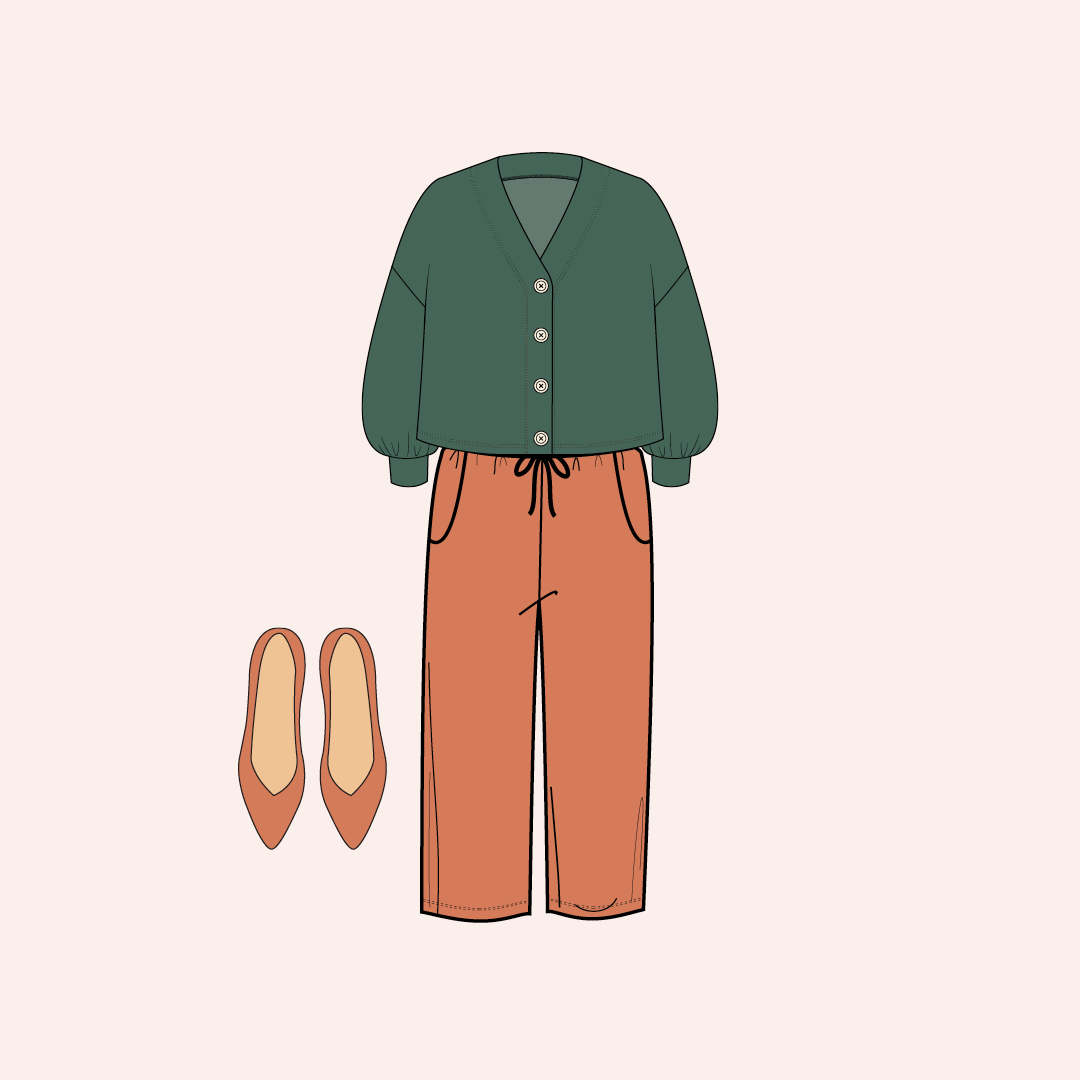 Lisa, Lucy, Flats
Who doesn't love the ease and simplicity of a jumpsuit? With clever details like a lined bodice and elasticized drawstring, the Lucy jumpsuit is fun to sew and comfortable to wear. It's a stylish outfit on its own, but this time of year, you'll want a top layer to keep you warm. So wear Lucy with the Lisa cardigan and flats and you'll be set to take on the day.
Outfit 04
Lisa, Savannah, Tessa, Easton, Boots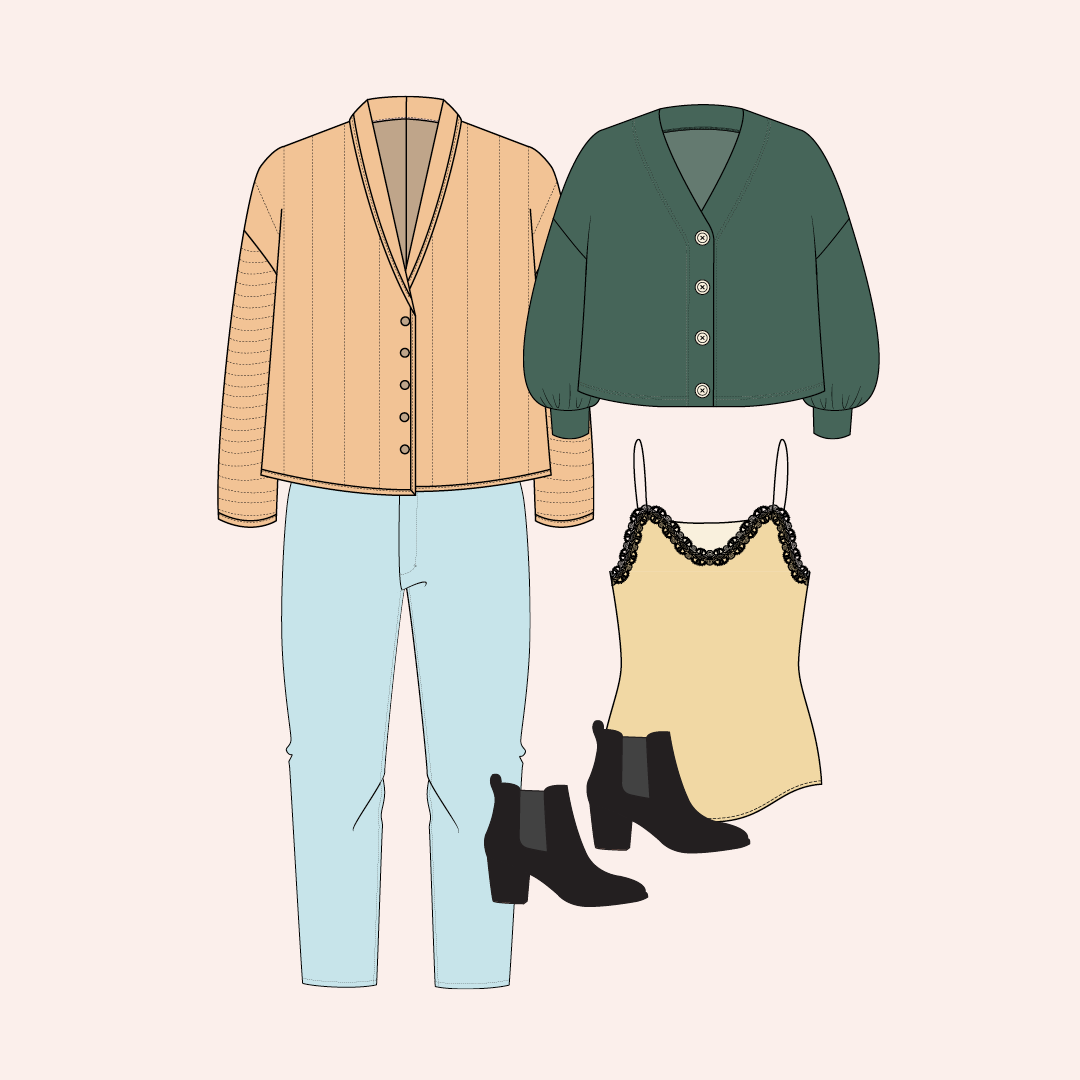 On extra chilly days, wear your cardigan with the Tessa jeans, the Savannah cami, and top off the look with the super cozy quilted Easton jacket. Easton features an oversized fit and dropped shoulders, so you will have no problem layering it over the Lisa cardigan. Did I mention we have a class that will walk you through every step of making this quilted stunner? Watch it here.
Outfit 05
Lisa, Alice, Dani, Flats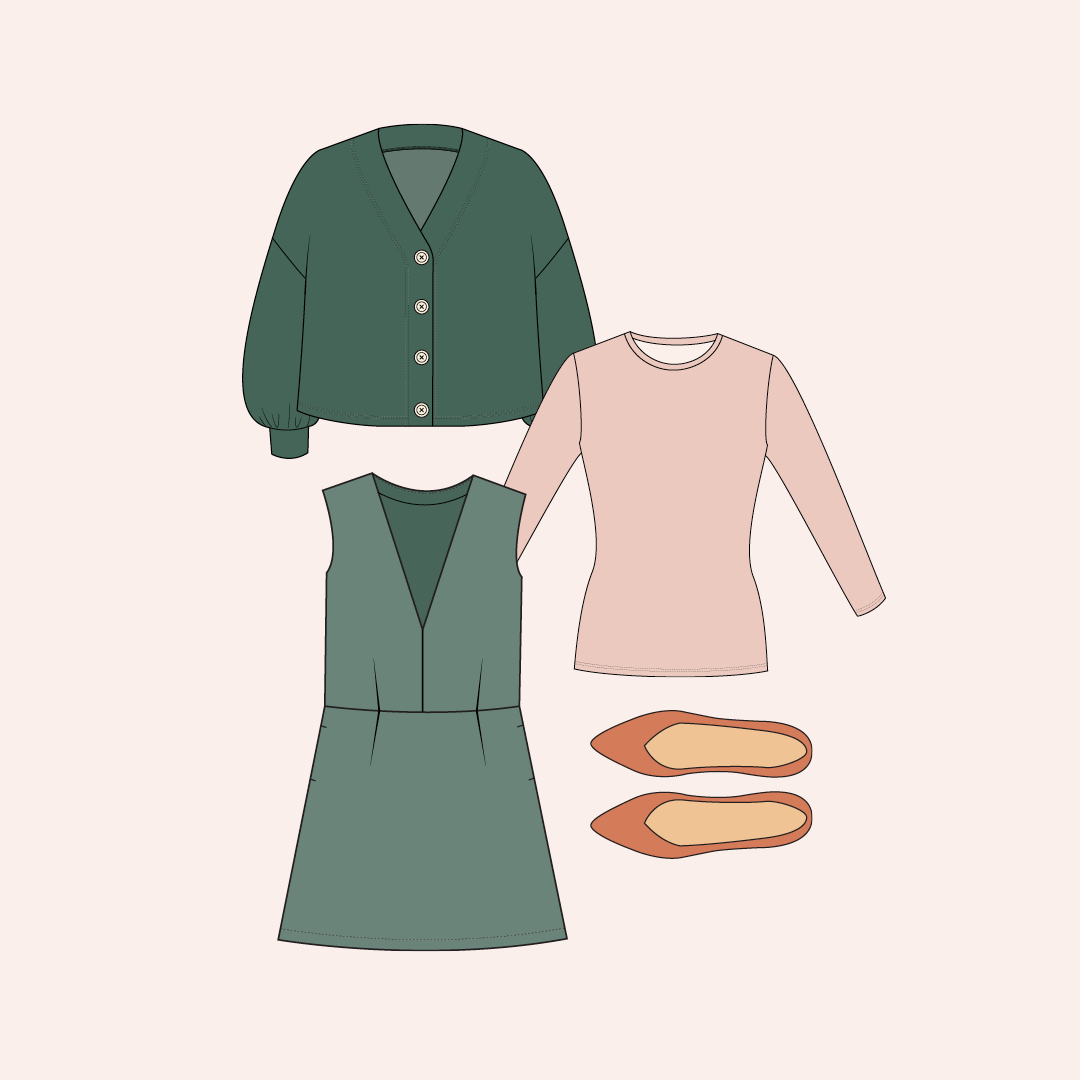 The Dani pinafore is ideal for both casual workwear and as a cool layering piece for the weekend. It's fully lined, and—most importantly—it has pockets. So strut your stuff in this stylish dress by layering it over a long sleeve top, like Alice, and topping it off with your Lisa cardigan unbuttoned.
Outfit 06
Lisa, Shelly, Alice, Flats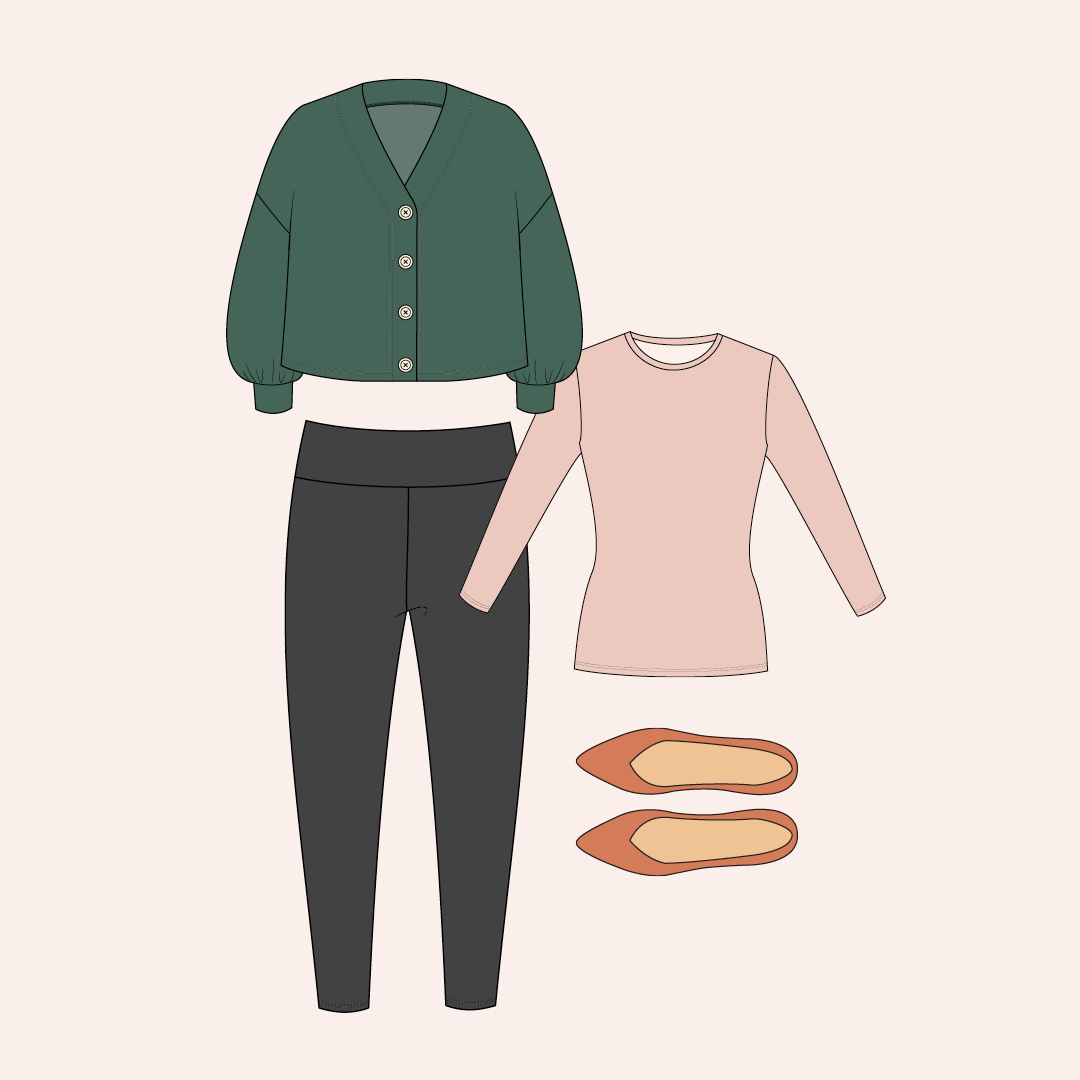 This is another outfit sure to keep you cozy when you're chilling at home. For an effortlessly-put-together look that's also super comfortable, layer the Lisa cardigan over the Alice top and Shelly leggings.
Outfit 07
Dani, Savannah, Shelly, Easton, Boots
For a romantic feel, show a pop of lace detailing underneath the Dani pinafore by layering the Savannah cami underneath. For added texture and warmth, slip on the Shelly leggings, and if your cardigan is in the wash, you can easily swap it out for the Easton jacket to keep your shoulders warm.
Outfit 08
Lucy, Alice, Easton, Boots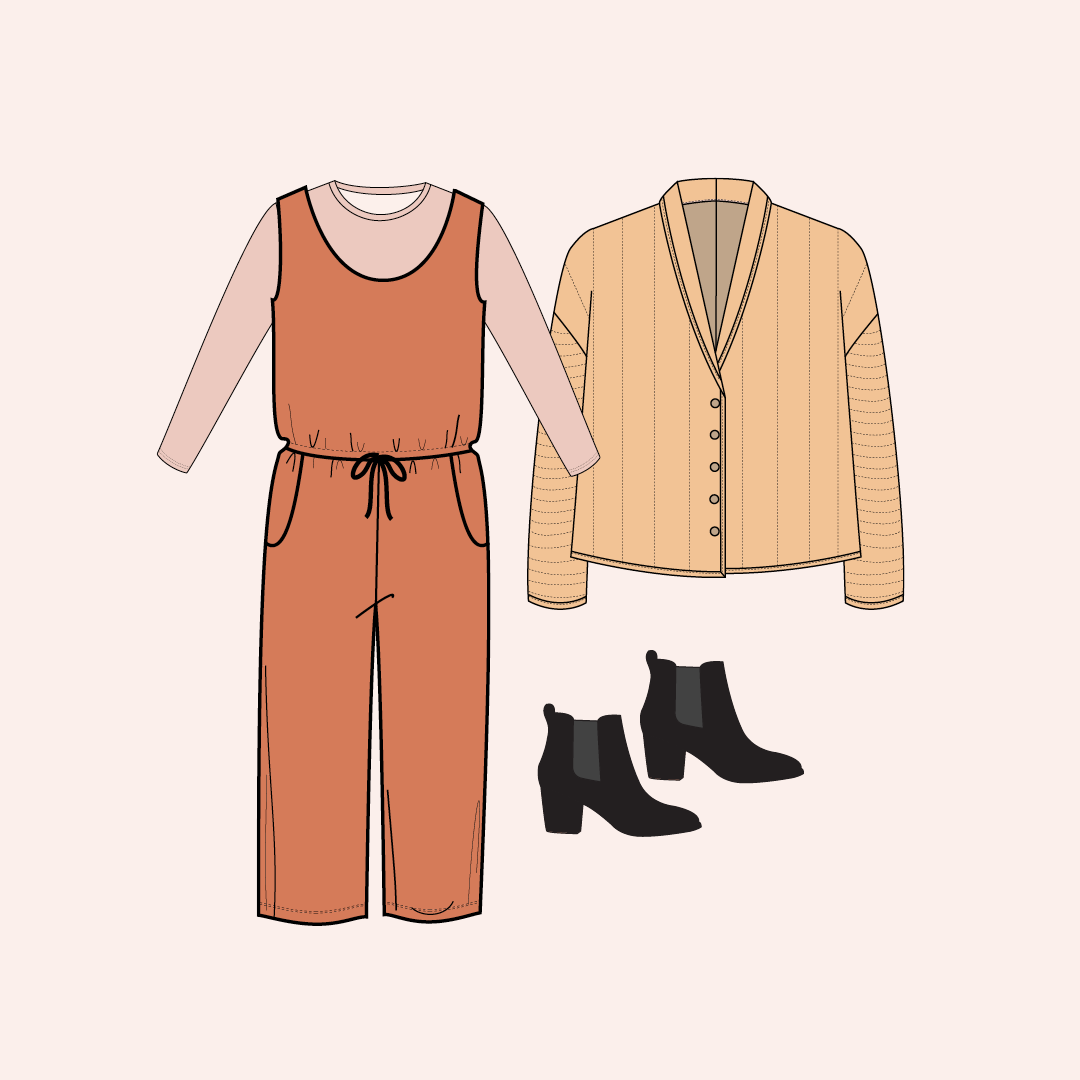 What's more fun to layer up than a jumpsuit? To make Lucy cold-weather friendly, try pairing it with the Alice top underneath. This is a great way to add a pop of color and texture to your ensemble! Finish off this look with the Easton jacket and boots.
Love the article? Pin it for later.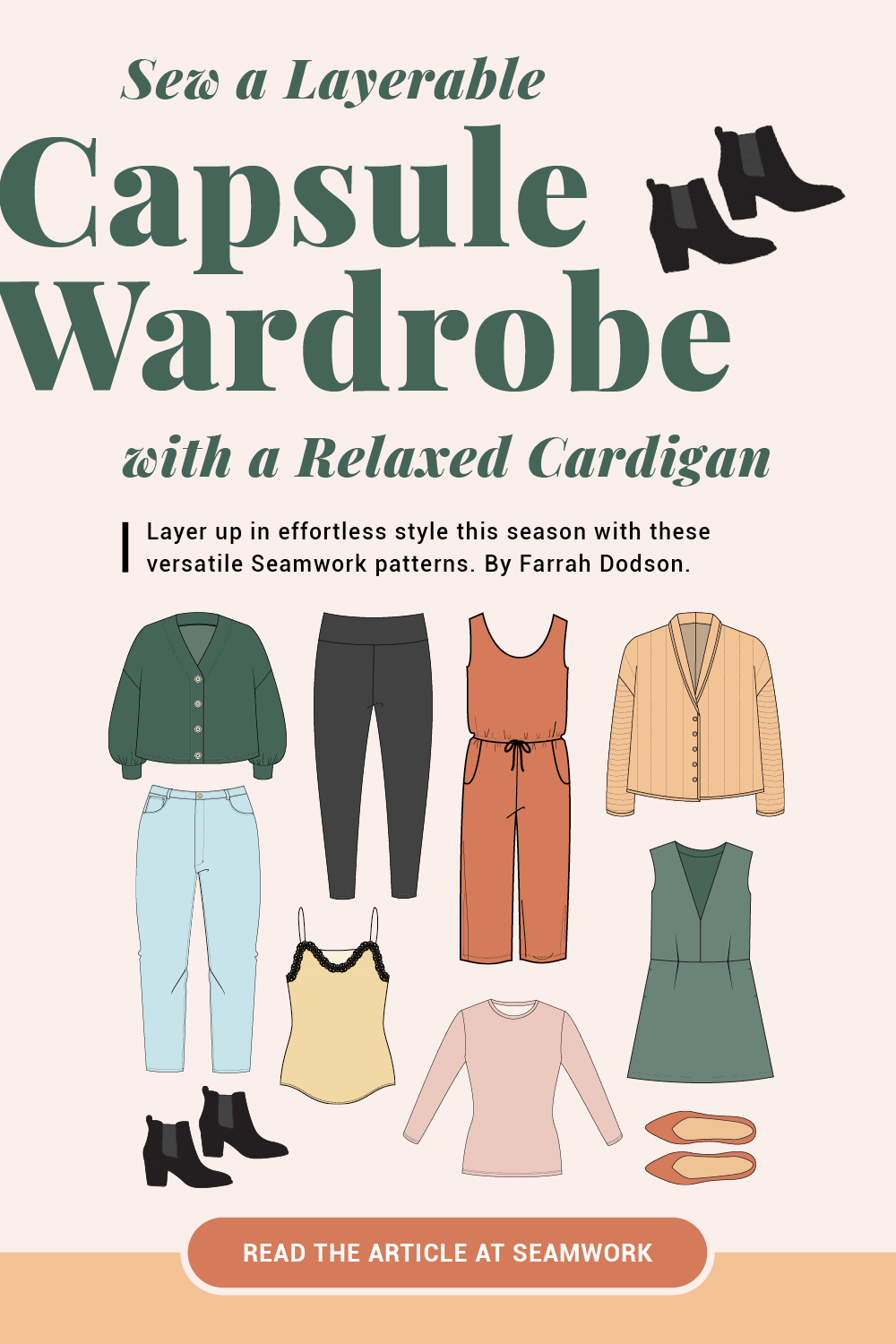 Join the Conversation
Sign in or become a Seamwork member to comment on this article.