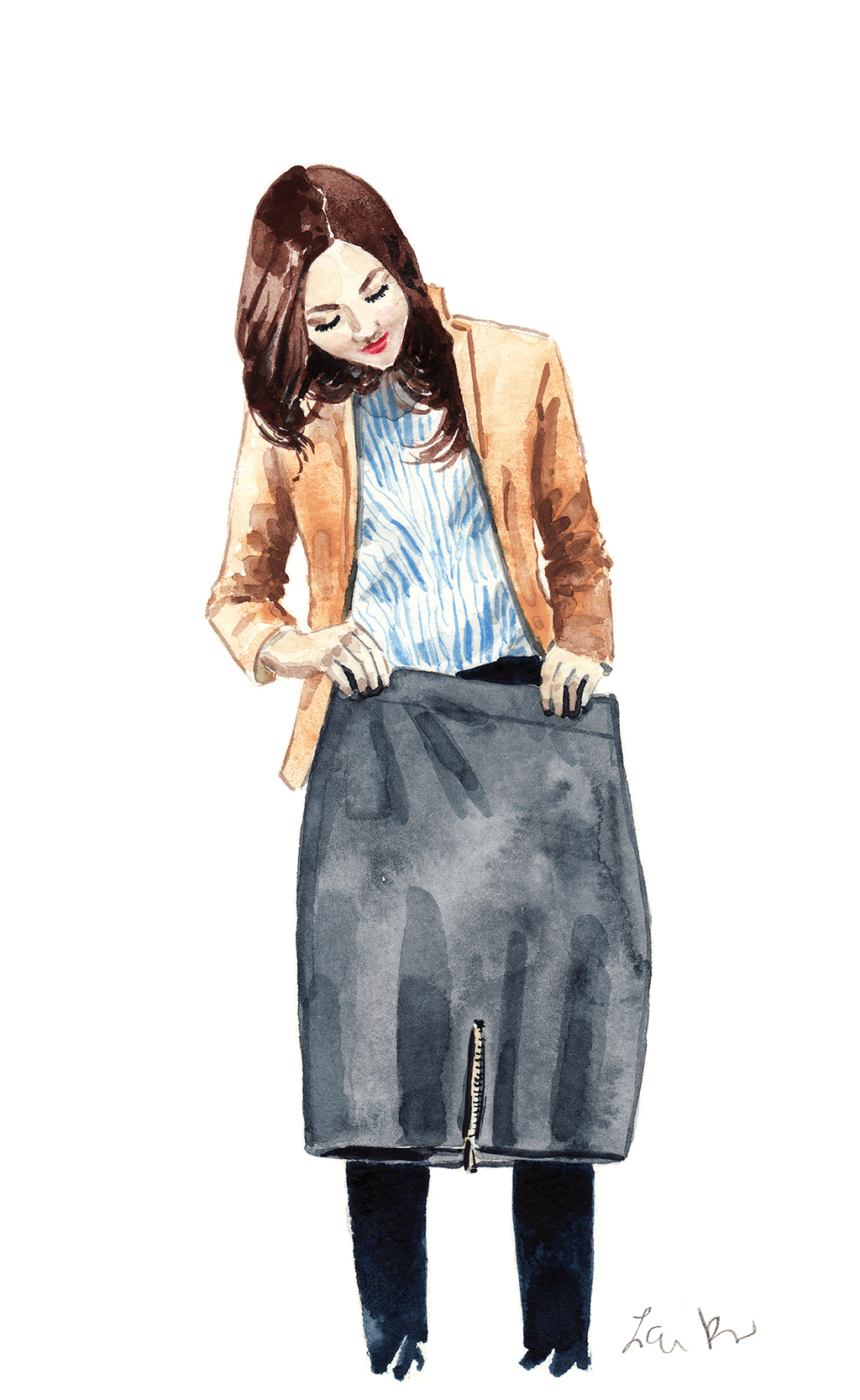 I couldn't believe my luck. I finished the last few stitches securing the invisible zip, snipped the threads and headed over to the ironing board for a press-out. It wasn't until I flipped the garment over that I saw the most beautifully inserted invisible zipper I have ever sewed, bar none. And I said to myself, I have just conquered sewing. This wasn't just some random zipper within some monochromic fiber; this fabric was an enviable dark gray lightweight wool partitioned with a cream colored one-inch uneven plaid. This fabric was woven to perfection.
I felt rewarded, as one does after such careful layout, marking, cutting, and not to mention the hand basting involved with such a task. In fact, I was so impressed with my handiwork that I took a picture. This particular photo of this particular zipper was indeed Instagram worthy. I had no choice but to share what I reaped. Now, take to heart that I do have a sewing blog (one that not even my mother reads) and associated with said blog is my companion Instagram account. I do have one follower on this account, and yes, it is my sister.
Back at the sewing machine I finished up the remaining seams, went for a quick press and then lastly the try-on. I was sure of the fit. I can't even count the number of times I have constructed this skirt. Then why couldn't I pull my masterpiece up and over my hips? I look down and see my remarkable zipper is indeed remarkable. Remarkably sewn to the hem edge of the skirt rather than the more functional waist edge of the skirt. I have not conquered sewing, I said to no one.
I let the garment sit for a few days before I approached it with a seam ripper. I always found unpicking stitches, especially a zip, to be an unsatisfying chore. I was pretty sure that I wouldn't be able to get the stitches out without damage. The wool was tightly woven and my underlining was a matching silk habutai. Nice knowing ya, gorgeous gray wool sporting an uneven plaid; see ya later, delicate silk underlining.
It was that afternoon that I went to add a photo to Instagram, a supersized cocktail if I'm remembering correctly. As my cursor ran across the previous photo of my now defunct zip, I saw the heart with a corresponding number 42 next to it. I have conquered Instagram, I said to myself.
Join the Conversation
Sign in or become a Seamwork member to comment on this article.