During the early sixties in my small South Dakotan hometown, fashion and teen magazines like Seventeen and Glamour were a portal to another world. Glamour's annual "Back to College" issue was my favorite. It showed real women in clothes that were really wearable going to places real people really went. But few of those clothes were available in my town. And if they were, they tended to be beyond my family's budget. I learned of another option – sewing my own clothes.
Stretching to reach 5'1" in height when I did buy ready-to-wear, hemming was a given and I quickly became adept. But often—on me—the proportions were still off. However, I discovered that in the world of sewing, bodies of different heights, widths, and shapes were the norm. It was expected that you would alter the pattern to fit your own body. I learned that the pattern—or any item of clothing—is just a starting point.
When I was in seventh grade, girls were required to wear dresses or skirts to public school, even when the weather reached 30 degrees below zero. But the mod era had blown in from England with gusto, forever revolutionizing both fashion and music. Twiggy—with her cropped hair, big doe eyes, and miniskirts—was a style icon. Still, the school tried to enforce its outdated skirt length rule: when you kneeled your skirt had to touch the ground. If you failed the test, you were sent home for "indecency." When my mom received a call that my skirt was "indecent," she roared into the school with her own definition of decency. She was on fire but poised, explaining that even short skirts could be worn with modesty, and observing that some of the teachers' skirts as well as her own (she came from work) would not pass the outdated kneeling rule. The vice principal, in his suit and tie (standard for all male staff back then), was uncharacteristically speechless, and I returned to class in my corduroy A-line that hit just a few inches above the knee. After that incident, the kneeling rule seemed to slowly fade away. I learned one could effectively challenge rules if done with aplomb, and that how your wear your clothing is as important as the style.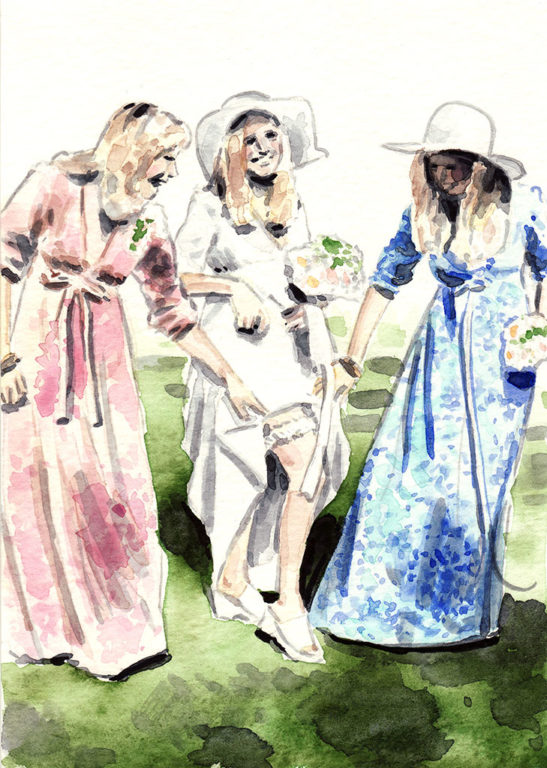 As an eighth-grade fashion victim, I longed for a tent dress. They were in the magazines but there wasn't one to be found in our little town, so I made one for myself. It featured a white mandarin collar with narrow matching cuffs at the end of long narrow sleeves. The front and back were cut on the bias, forming a swirling tent around the body. I wore my light green dress with nylons and go-go boots (white boots that came partway up the calf—a la Nancy Sinatra). No one else had worn this style to my school, not even the ninth graders! This was probably my first emergence as a style pioneer instead of a mimic. (And probably also when my lifelong love of boots began.) Walking down the school hallways, I felt a new confidence as the drapey fabric swirled around me. I learned to experiment and take a chance while discovering a new power in resourcefulness—if I couldn't find it, I could make it myself.
For one of my projects in ninth grade sewing class, I chose a black and cream houndstooth fabric for a skirt, making sure that it was printed on-grain. I carefully matched the print at the seamlines and zipper. I learned that quality is in the details.
The seventies ushered in the hippie era, when blue jeans were the only thing we wore to college class (or anywhere!). I lovingly added multi-colored patches to mine using a variety of decorative hand stitches, and embroidered personal pictures (my dog, a cross, strawberries, a birch tree) onto my favorite pair. I sewed all my blouses and tops in pretty calicos or unusual fabrics (a flour sack look was popular). I felt cocooned in my comfortable, personal daily-wear clothing. No longer just interpreting others' ideas, I was now adding my own to the mix. What I wore uniquely expressed who I was. I learned to personalize my clothing at a new level— sewing became an expressive art for me.
Soon a new trend became popular among women rockers (like Stevie Nicks): the long dress or skirt worn with tall boots. The look instantly resonated with me (hey, I was a horse rider and loved boots!) I bought a French blue print and created an ankle-length prairie dress with a scoop neck, princess seams, long narrow sleeves, functional wooden buttons down the front, and an 18 inch flounce along the hem. I wore it with my blonde Frye boots and long braids. I got some odd looks in my hometown, but when I moved to northern California later that year, I fit right into the whole hippie vibe. I learned there is a difference between fashion and style, and that when wearing clothing that evolved from my own sense of style, I felt very comfortable and very me.
Then came my wedding gown. After multiple sketches, I settled on an interpretation of my usual pattern: a V-neck empire with short gathered sleeves. The magic was in the fabric: a lovely delicately-embroidered voile (white on white), lined with the finest white batiste. I made the bridesmaids' dresses too: they were same style, with one in shades of aqua and one in shades of gold. It was a beautiful garden wedding on the edge of the river. The marriage ended years ago, but I still have the gown. I learned the joy of creating an heirloom.
Some years later I wanted to create heirlooms for my children. Every year, I chose to sew outfits for my girls for the first day of school. One included a vest that I had quilted. When stenciling became popular, I sewed simple baby doll jumpers—one pink floral, one purple floral—with plain muslin pockets that I stenciled. The small sizes of their clothing pieces invited experimentation and expression—a little love note from me to each daughter. Handed down, my granddaughters have enjoyed wearing them as well. I learned to combine other crafts with sewing to make my pieces unique and meaningful.
After a lull in garment sewing that lasted several years, an aqua batik fabric beckoned and I made a dress to attend a wedding. All these years later, I still chose my usual style but with cap sleeves (no more puff sleeves at my age). This has been a go-to dress for eight years now. It is perhaps a culmination of the best parts of all the dresses I've sewn through the years: a high-waisted silhouette, subtle but interesting pattern, colors that flatter my own palette, and it doesn't need much ornamentation. It is adaptable to many situations and occasions and is easy to care for. It is divine in its simplicity. Wearing it, I feel radiant and wholly me. I learned that simple lines with interesting fabric suit me well.
My current project is what I call my Desperado jacket (yes, after the Eagles' song), a 1979 pattern that I cut out over thirty years ago! It is a cream and black buffalo check in heavy flannel, and I am excited to complete it—finally! The fabric has mellowed and softened through the years, as I have. It is now perfect. I learned that real style is individual and timeless.
I have always wanted to enter the Make It with Wool contest. Perhaps this is the year I will pull out that softly draping wool that is the shade of the midnight sky. I envision a long hooded cape with a lining the color of the moon, as described in Lord of the Rings. I realize this item does beg the wardrobe question, "And where are you going in that?" Well, I'm not really sure. But it's a long-held vision. I have learned that my creations need to please only me.
Inspired by Wardrobe Architect and The Life-Changing Magic of Tidying Up, I have weeded through decades of clothing and fabrics. With the excess cleared away, I am better able to focus on and express the essential me. Color is most important to me and, perversely, I found that by limiting my palette, I feel freer to luxuriate in the colors I love the most. I choose only fabric I enjoy touching, and lines that are comfortably flattering. I now have the classic yet creative capsule wardrobe I have long desired. I learned the true meaning of "less is more."
Sewing (its principles and its techniques), taught me much about myself and about life. Things such as: the importance of learning skills and that details are important; practicing the rules before you break them (and knowing how to break them and why); the value of individuality and uniqueness; the power of resourcefulness; the satisfaction inherent in personal expression; and the meaning of quality versus quantity. I have found a timeless sense of joy in weaving my own personal style into the tapestry of my life.
Join the Conversation
Sign in or become a Seamwork member to comment on this article.