So what exactly is a shacket? Sure, it's a cross between an unlined jacket and a relaxed button-up shirt, but it is also a skill-building superstar. When you sew this classic layering piece, you'll learn all the techniques needed for making button-up shirts—while sewing a cozy jacket that you can layer over any outfit.
The Bud shacket will walk you through techniques like assembling button and cuff plackets, using the burrito method to finish the back yoke, and sewing a two-pieced collar. Plus, it has some fun details like pleated chest pockets, patch pockets with side openings, and a locker loop at the back yoke. Pair this shacket with your favorite bottoms and wear it as an outer layer or button it up on its own.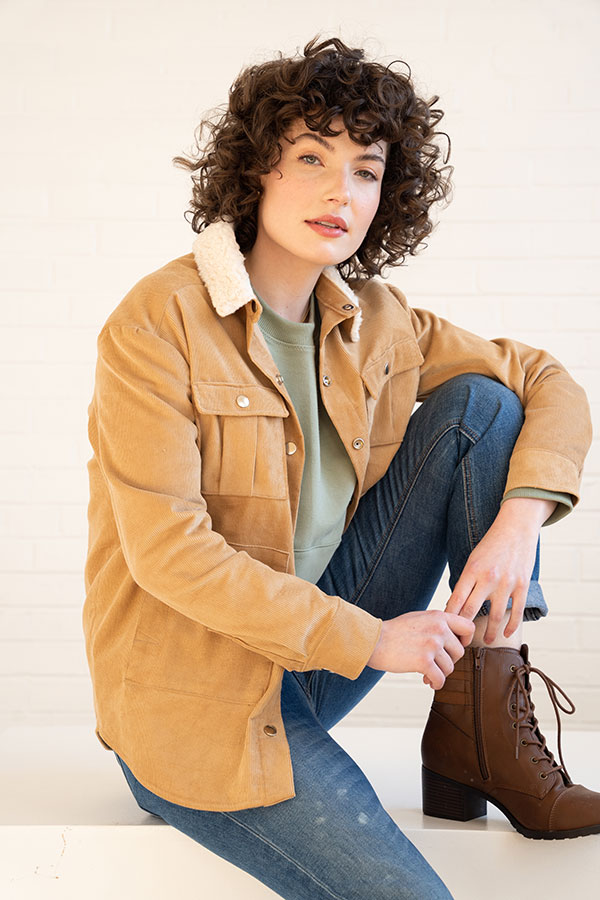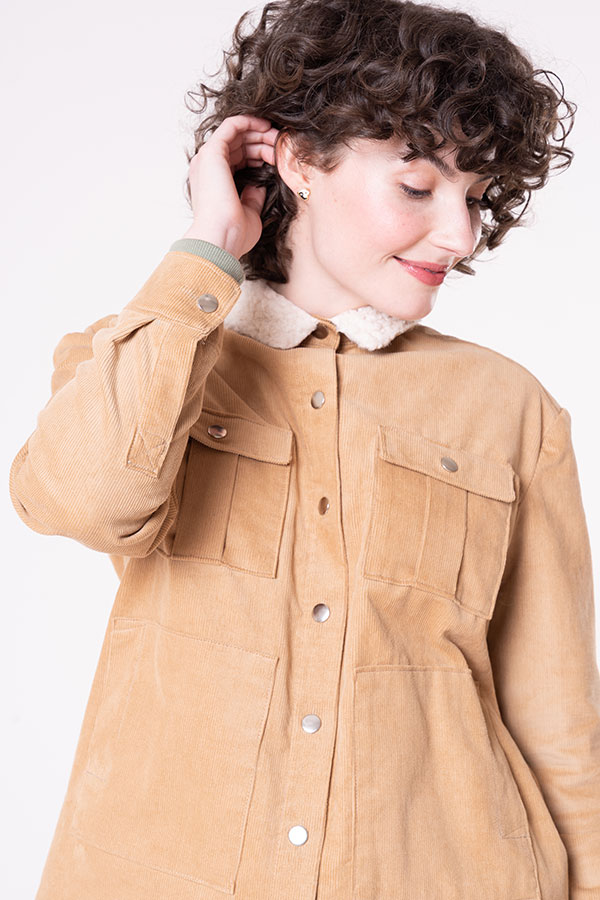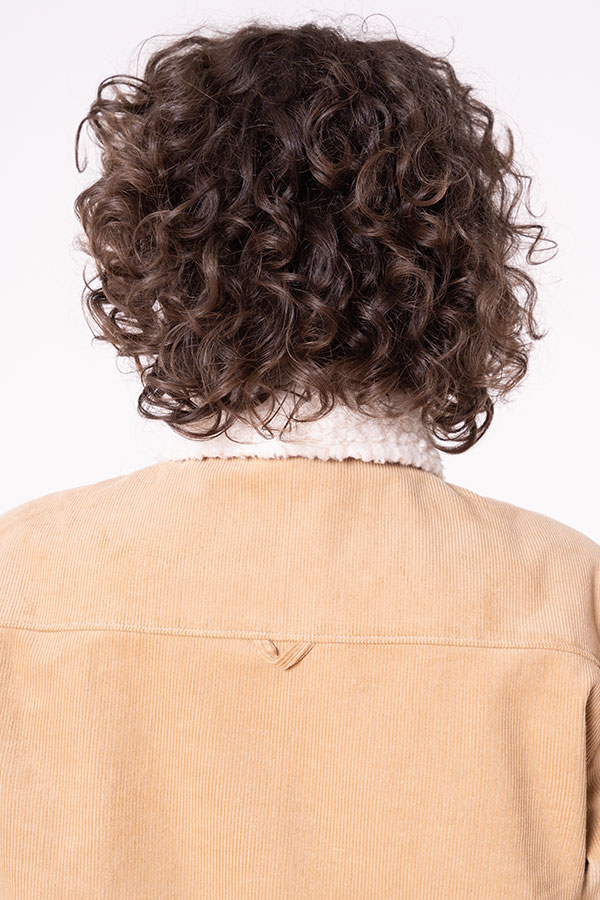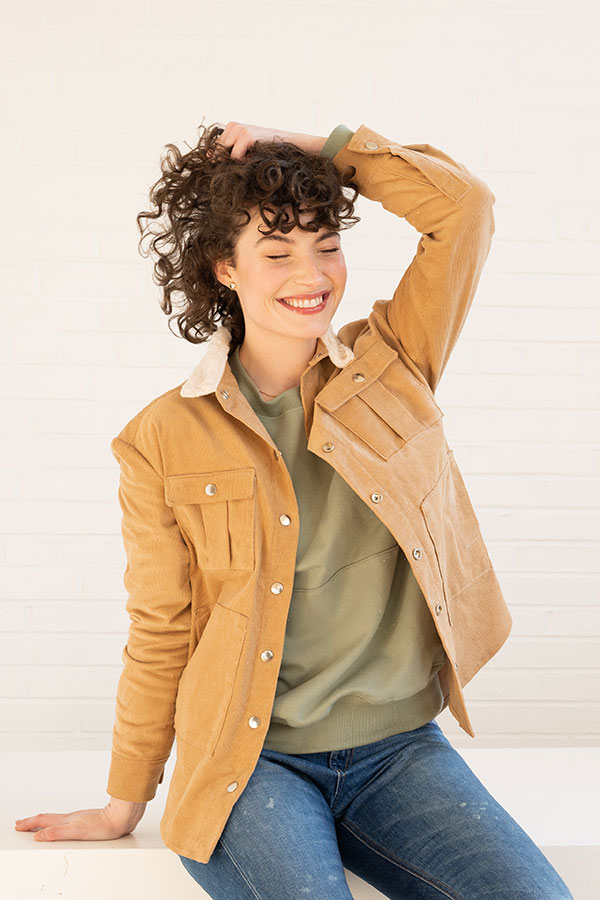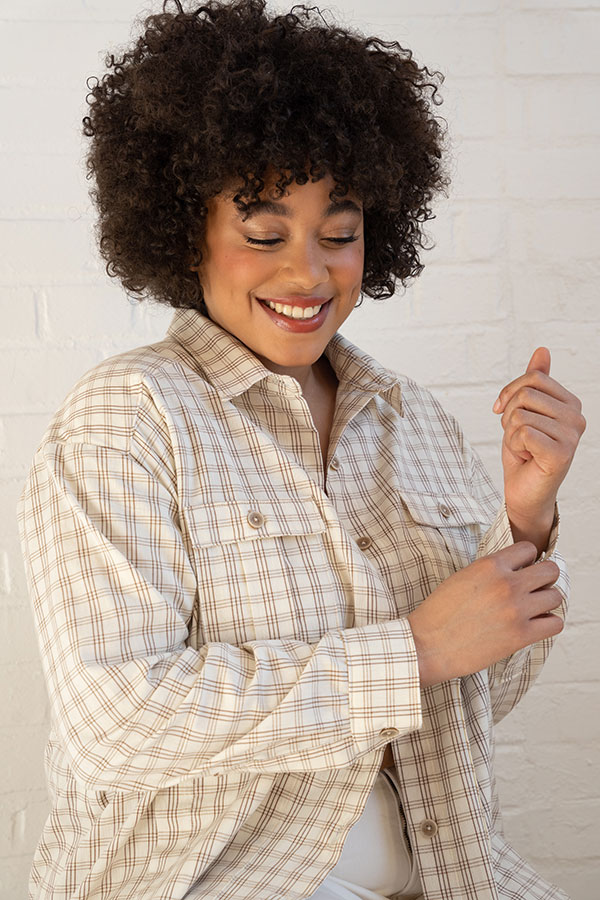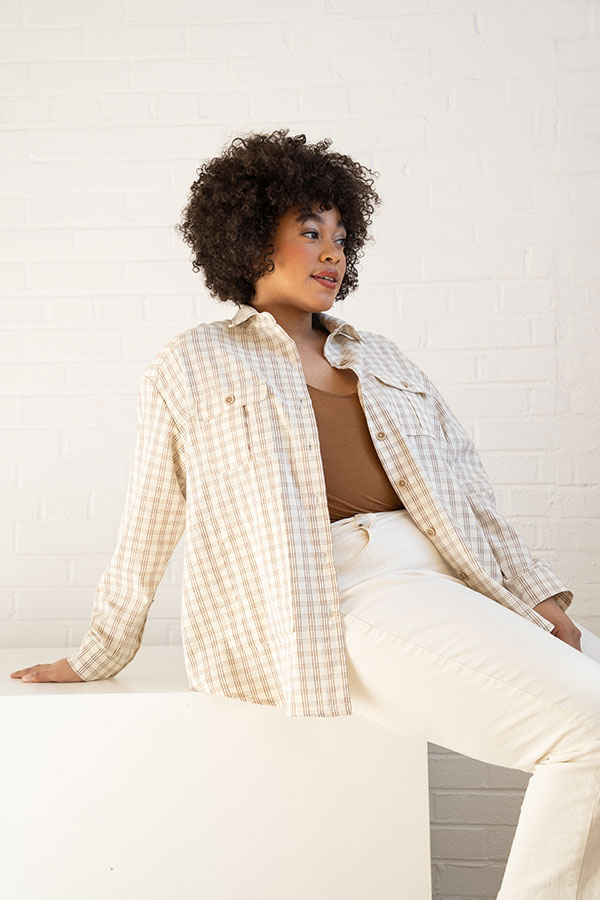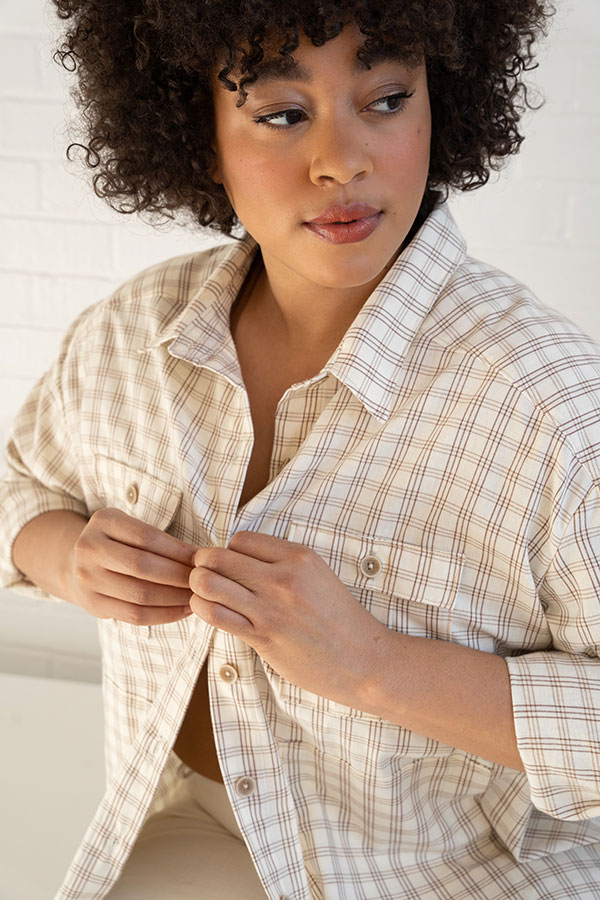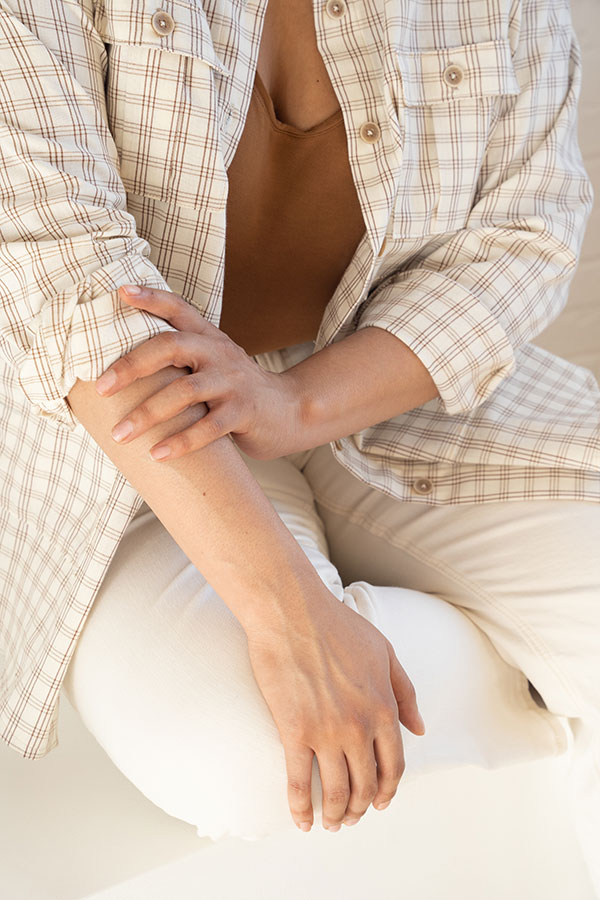 The Bud Shacket: Fabric & Fit
Fabrics to shop: Look for medium-weight or heavyweight fabrics such as flannel, denim, canvas, twill, moleskin, and corduroy. When picking out fabric, consider a few things—the weight of the fabric and the details you will need to sew. For example, this pattern has plackets and a collar that will require you to sew through several layers of fabric.
Fabrics to avoid: Avoid lightweight fabrics like rayon or double gauze. While they might be suited for button-ups, a shacket is intended to have more bulk and structure.
Fit: This pattern has gender-expansive drafting. This means that it was fit on both male and female models during development. The most important measurements to consider are your across shoulder and bicep. Compare your measurements to the finished garment measurements to pick the amount of ease you want, and you can lengthen or shorten as needed. If you have a button-up or another shacket in your closet, measure that garment and compare it to the Bud measurements.
Get the Bud Shacket
Our Makes
The Seamwork team sewed Bud!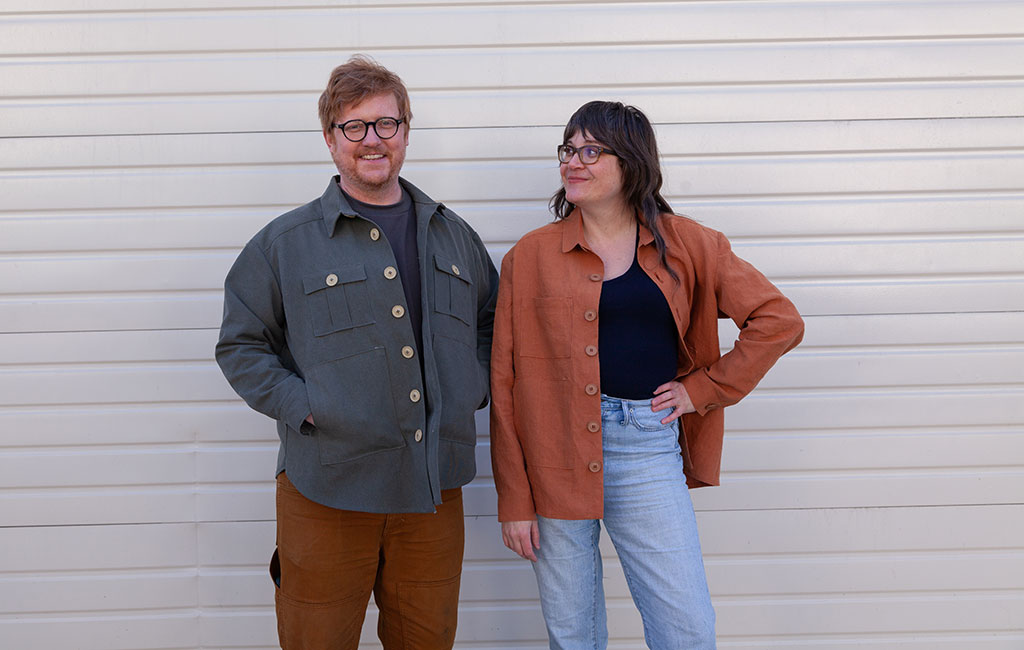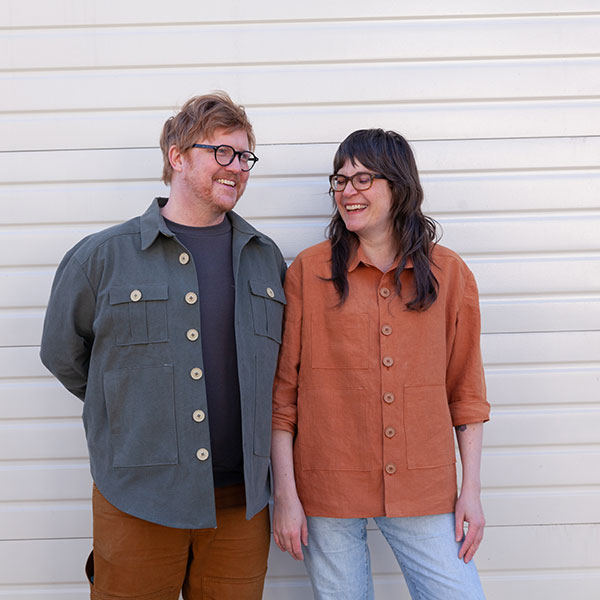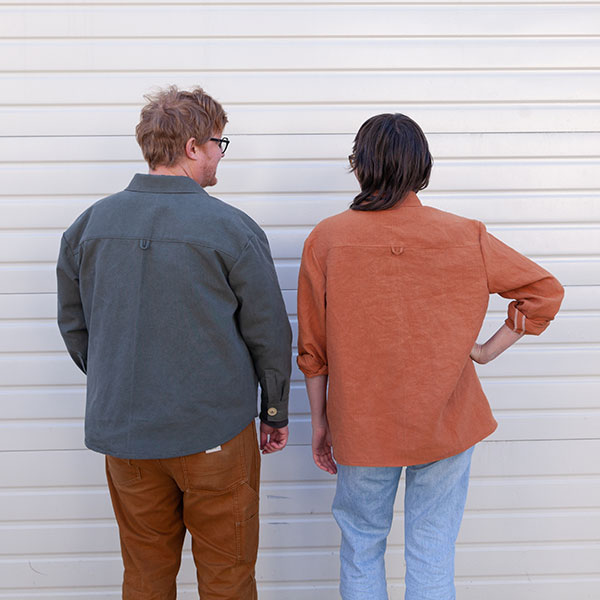 Meg is wearing a size 10 Bud shacket made in a hemp and linen blend and coordinating 1" buttons from Blackbird Fabrics. She straightened the hem and skipped the pleated pockets in favor of a patch pocket. (Ryan also fits into this one for more of a shirt vibe.)
Ryan is wearing a size 16 (from the 12-26 range) Bud shacket in a very heavyweight canvas, for a sturdy workwear shacket. The 1" buttons are also from Blackbird Fabrics.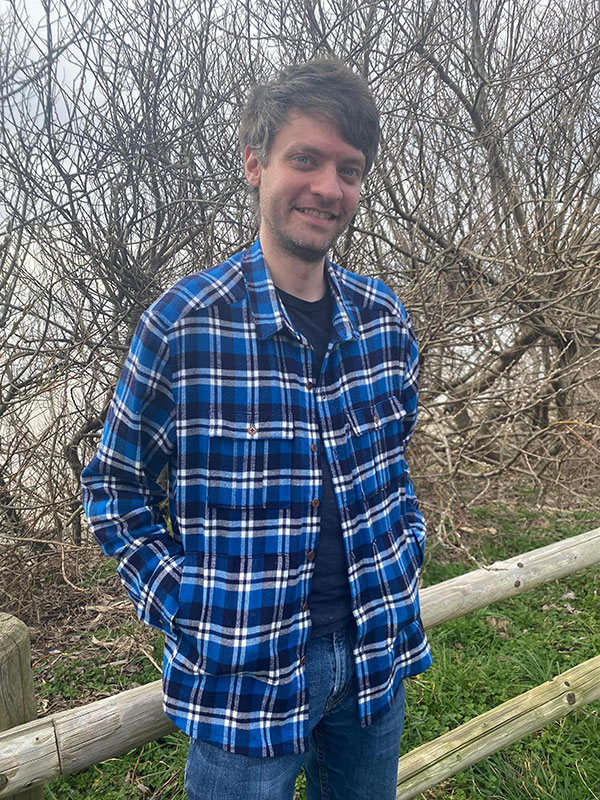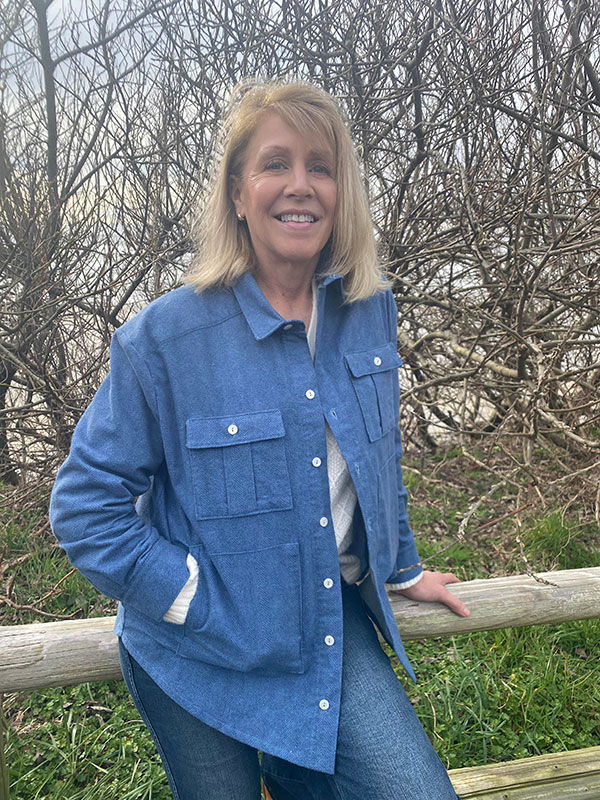 Chelsea sewed Bud shackets for her husband, Greg, and her mom—both wearing size 8! For Greg's jacket, she used a lightweight flannel, lengthened it by 1" (between the pockets) and lengthened the sleeves by 1".
For her mom's blue shacket, she used a flannel and wool blend. She shortened the shirt by 1" (along the chest, armhole, and sleeve), shortened the sleeve by 1", and took 1" out of the back width.
Both fabrics were purchased locally at Mill End here in Portland.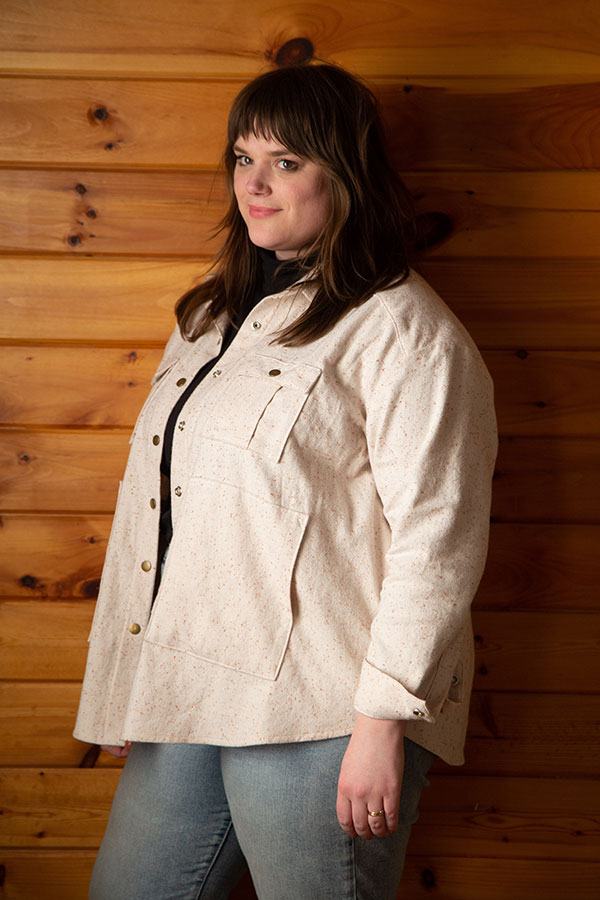 Taylor made a size 20 Bud shacket in a speckled Shetland Flannel from her stash (originally purchased from Fancy Tiger Crafts).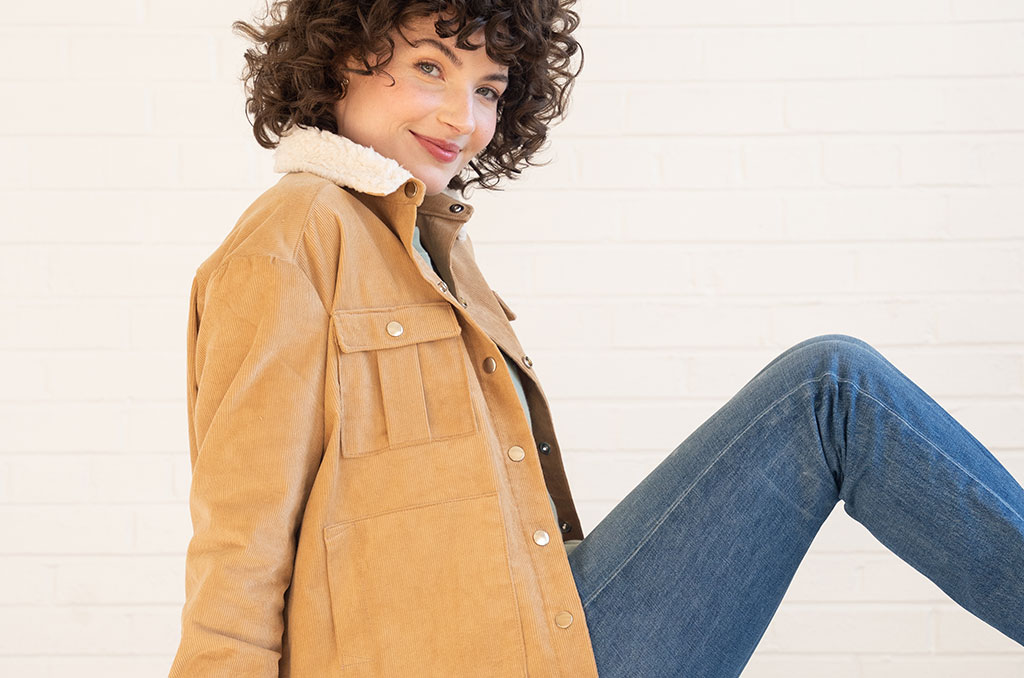 Sewing Tips
There will be a sewalong in the Classroom for this pattern in May. Here are some helpful tips and tutorials for sewing the Bud shacket.



Practice pattern matching: If you are using a plaid, stripes, or a print, this is a great project to show off some pattern matching. Here's a helpful tutorial and you'll find even more details in the shacket class, coming to the Classroom in May.



Learn a new seam finishing: The only seams you need to finish on this jacket are the side seams and armhole seams, so take the time to learn flat-felled seams (or faux flat-felled seams).



Tackle the burrito method: It works for finishing lined sleeveless garments and yokes. It might look confusing, but once you get it down, you'll love the way it looks.



Pick your favorite pockets: There are options on this shacket, so experiment with the placement and the kind of pockets you like best.


Love the article? Pin it for later.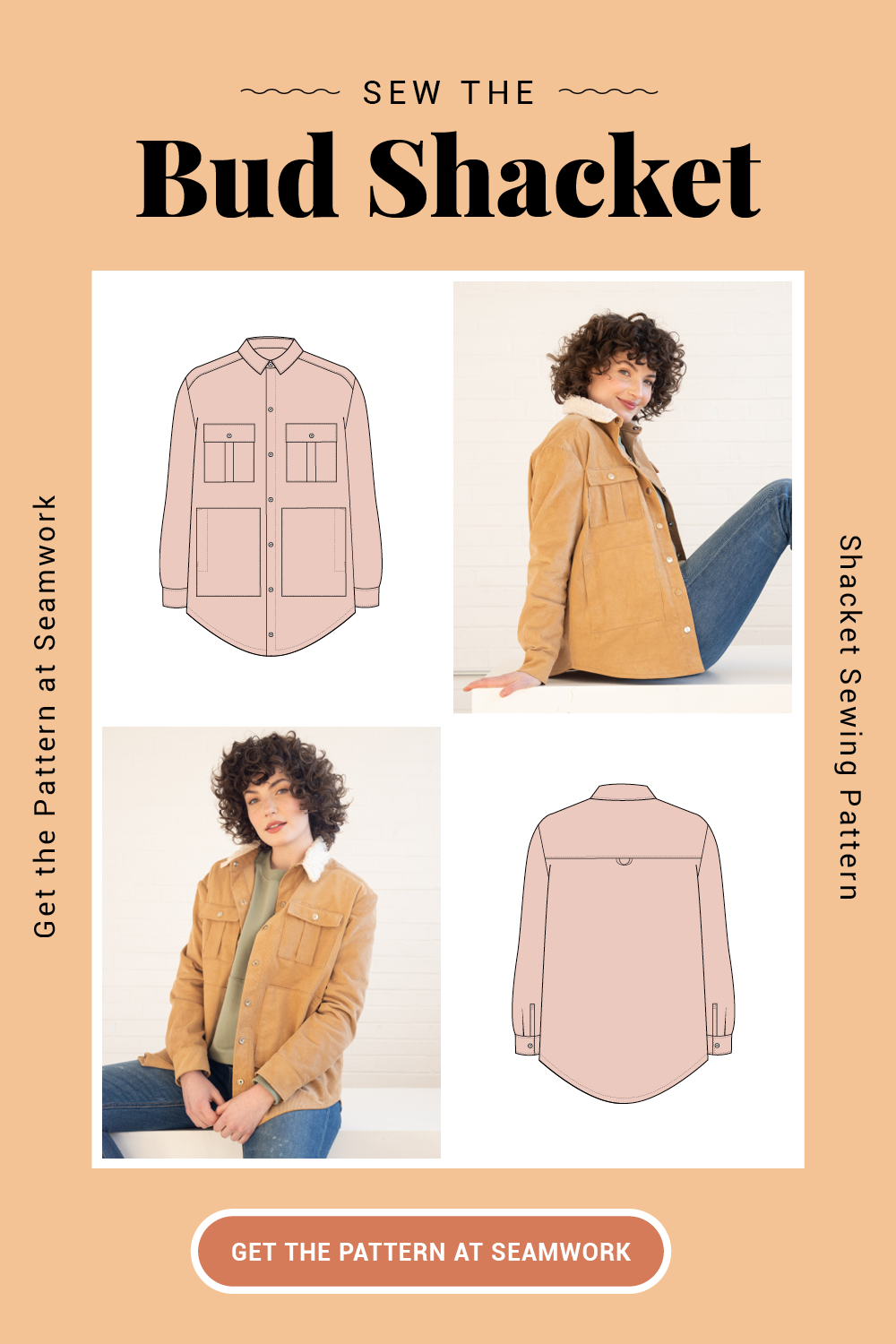 Get the Bud Shacket
Join the Conversation
Sign in or become a Seamwork member to comment on this article.