Amsterdam offers something for everyone. Often referred to as one of the greatest small cities in the world, Amsterdam has museums, nightlife, architecture, and of course, lots of fabric. Whether you're rummaging for gingham in an open-air market next to a seventeenth-century church, or stumbling across plant-dyed velvet in a shop on a quiet side street, you are sure to find unique textiles to add to your sewing stash, alongside ample inspiration.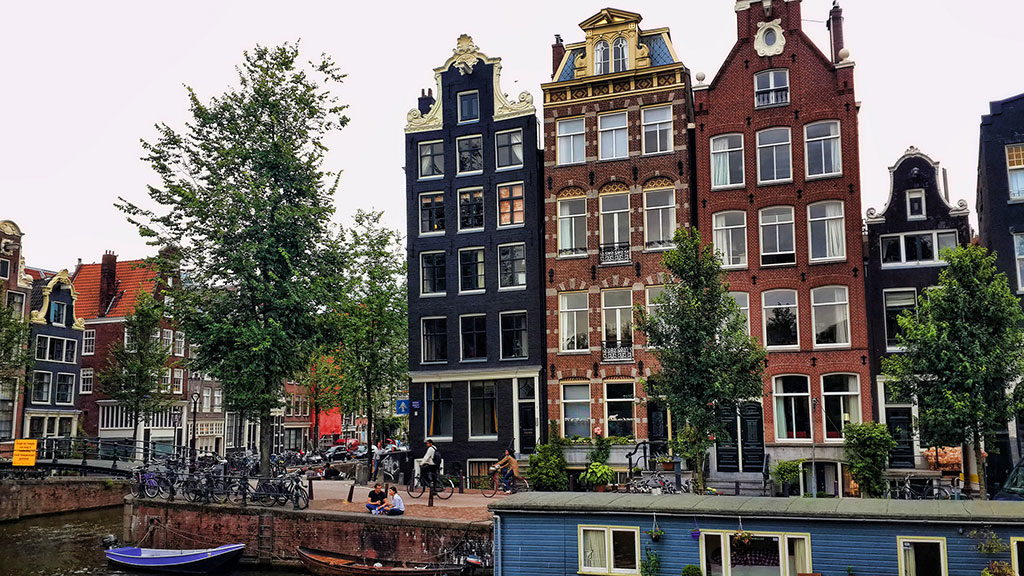 Photo credit Mariano Mantel
Getting There and Getting Around
If you are taking a day trip to Amsterdam via train look out for special deals—discounts if you ride during off-peak times, free lunches, or even deals on hotel rooms. Tickets can be purchased in advance online. The Belgian Rail system offers trains to Amsterdam from several European cities including, Paris, London, Brussels, and Cologne.
Amsterdam is a very pedestrian friendly city, as long as you have a good city map and don't walk in any bike lanes. I seem to unintentionally break that rule at least once on every visit. You can also rent a bike or use the city's tram system to get around.
One thing to bear in mind is that some shops open later or are closed on Mondays; it's worth double checking times online before you go.
Markets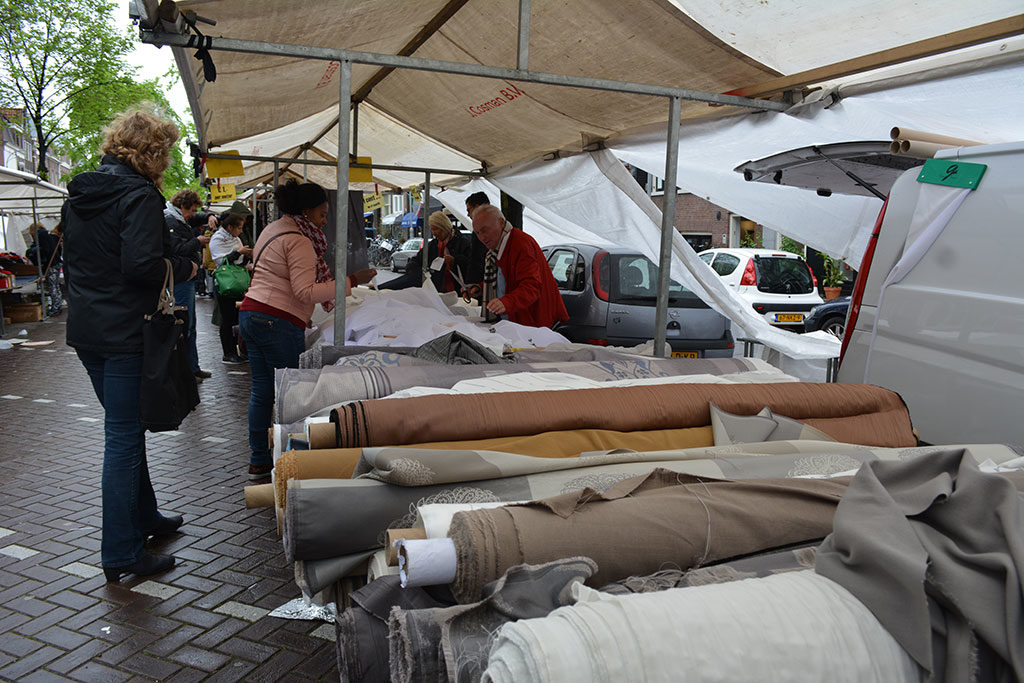 Browse a large selection of new and vintage fabric at Noordermarkt.
Amsterdam is known for its markets, and two in particular are destinations for fabric hounds. The 350-year-old Noordermarkt (Saturdays and Mondays), in the Jordaan neighborhood, is one of Amsterdam's oldest, and you'll find a good vintage selection and stall after stall of every fabric imaginable. I was especially charmed by the stand selling mostly ginghams, as well as the vendor who sold un-dyed wovens. The market also has a good selection of buttons and notions, including vintage. Keep an eye out for Kate Danpae's ornate, one-of-a-kind pieces of jewelry at Danpae Designs.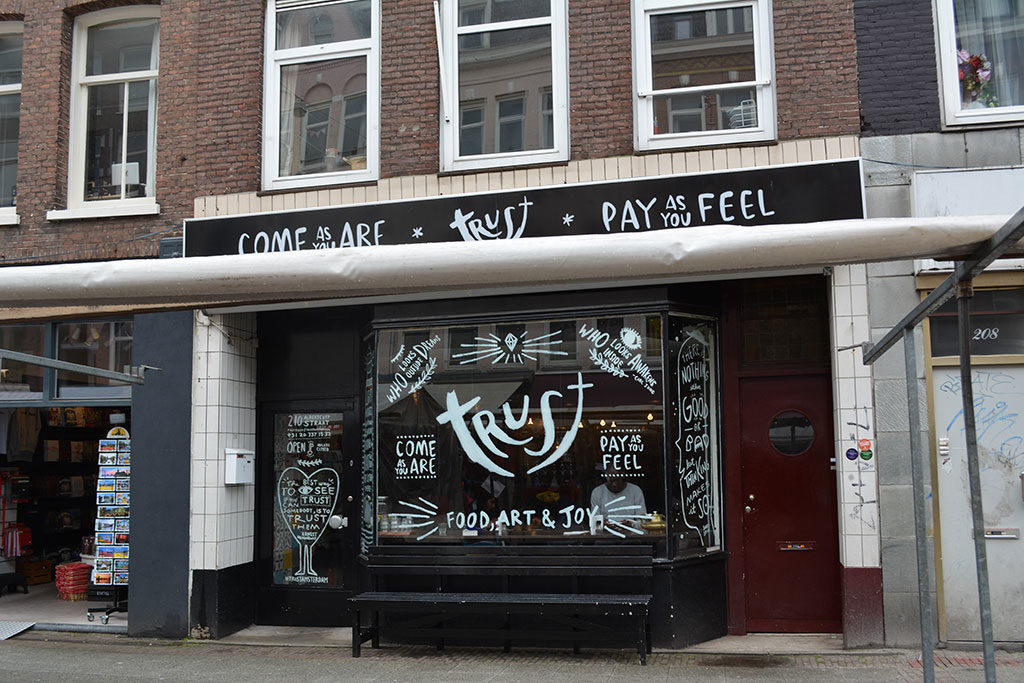 Grab a bite a Trust, a local vegetarian café.
The Albert Cuyp Market (open Monday through Saturday) is a 10-minute walk from the museum district—a little off the beaten tourist path, but well worth it. This market has several fabric and notions stalls, as well as vendors selling clothing and other items. Albert Cuypstraat also has several permanent fabric shops; I liked De Boerenbonthal, but there are plenty to choose from. Stop in for a bite at Trust Amsterdam, a vegetarian café where there are no set prices—you "pay what you feel" or "pay what you think."
Fabric and Crafty Shops
A. Boeken looks small from the outside, but its three storefronts are packed floor to ceiling with a wide variety of fabrics, as well as an impressive selection of notions.
Right next door, Stephen and Penelope specializes in natural wools from small, reputable producers; the selection includes Donegal tweed, hand-dyed skeins from Hedgehog Fibres, and kettle-dyed Peruvian Merino wool from Malabrigo, as well as patterns from Stephen West, Ysolda Teague, Clara Parkes, and other independent designers. They also carry knitting needles and buttons.
Tinctoria's storefront seems modest on the outside, but inside you'll find something truly special. Leentje van Hengel has 25 years of experience dyeing fabrics with a variety of natural materials; the results are rich and vibrant, and change with the light. She also offers screen printed throw pillows and blankets, velvet robes, and hand printed cotton and linen by the meter. You can buy her experimental coupons (remnants), some with the dye recipes still written on them, for 8.50 euros per 100 grams. On my last trip, I purchased two meters of madder-dyed hemp—definitely not something you'd find at the average fabric shop.
Capsicum Naturstoffen sells higher-end natural fabrics, including ikat woven just for the shop in India, fabrics from Thailand, silks, and cottons. The fabrics are appropriate for dressmaking or homewares. The shop also sells some home goods, such as bedspreads.
It's not hard to figure out what De Knopenwinkel Amsterdam sells—its sign (and the door handle) are enormous wooden buttons. Inside are zillions of buttons in every size, shape, and finish.
Local designers, sights, and other fun stuff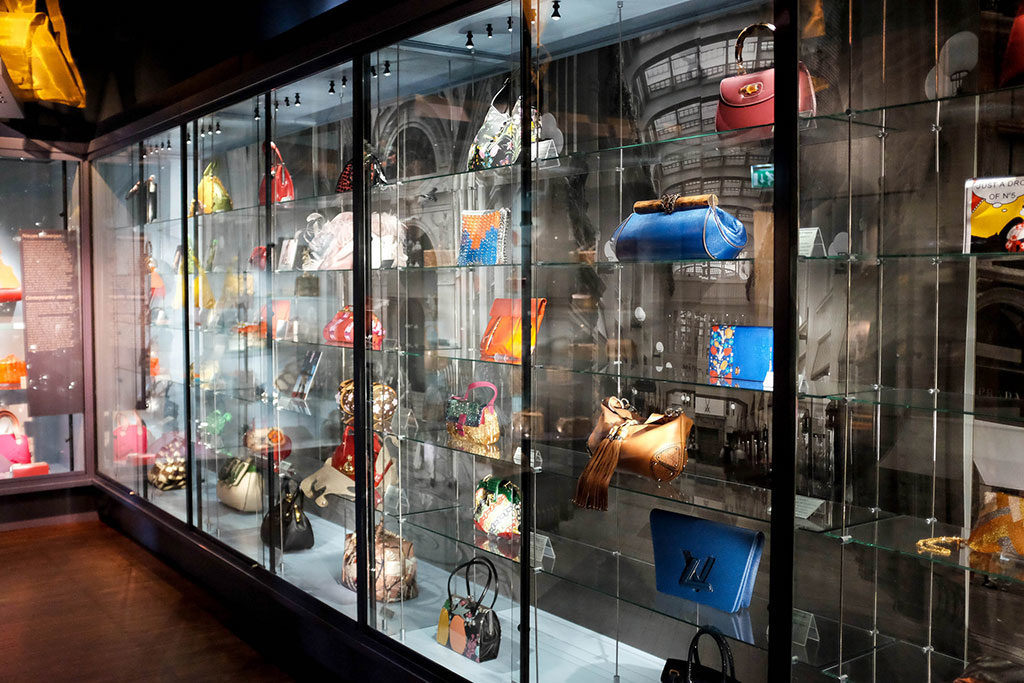 The Museum of Bags and Purses contains a vast collection of purses, bags, and suitcases dating as far back as the 16th century. Photo credit Michael Cisneros.
In and around the Jordaan and De 9 Straatjes (The Nine Streets), you can find all kinds of interesting small shops with clothes, accessories, and housewares from local designers. Some of my favorites include Robins Hood, which offers vintage, fair trade, sustainable, and locally designed accessories and gifts, and Hutspot, which offers several Dutch-made products, as well as clothing. On my last trip, I picked up handmade felt coasters in the shape of Dutch gables from Studio Pin. Also check out the design shop Spiegel, which offers necklaces in the shape of Amsterdam's canals, among many other Dutch-made items.
Just as the name suggests, Young Designers United sells a range of clothing and accessories from independent Dutch and Belgian designers, including sustainably produced items from Agna K and Eijk Shoes. Bonus: Many of the prices are fairly wallet-friendly—I bought a Jutka & Riska blouse for about the price of a souvenir T-shirt.
The American Book Center offers a good selection of English-language design and fashion books on the first floor, including Japanese pattern books. While you're in the area, duck into the nearby begijnhof (lay convent). It's one of my favorite "secret" sights in Amsterdam and a nice place to catch your breath and enjoy some greenery before venturing back out into the city streets.
You can find information on Amsterdam's museums just about anywhere, but I just wanted to mention that a Dutch friend of mine highly recommends the Museum of Bags and Purses. (I haven't been there yet, but it's on my list for the next trip!)
And finally, if you happen to pass a newsstand, keep an eye out for the Dutch sewing magazine Knipmode. The patterns are versatile and cute, and I'm looking forward to spending some quality time with Google Translate to make them up.
With all that Amsterdam has to offer—unique and hard-to-find fabrics and notions, all kinds of creative and art supplies, clothes and accessories from local designers—you may want to pack an empty suitcase or two.
Resources



Iamsterdam.com has helpful information on getting around, sights, and events, as well as good shopping information.




Pia Jane Bijkerk's book Amsterdam Made by Hand is really helpful with pre-planning, although it's a few years old, so you may want to check opening times and locations before you go.




Petit Main Sauvage and Pretty Unexpected have good blog posts on fabric stores and creatively inclined shops.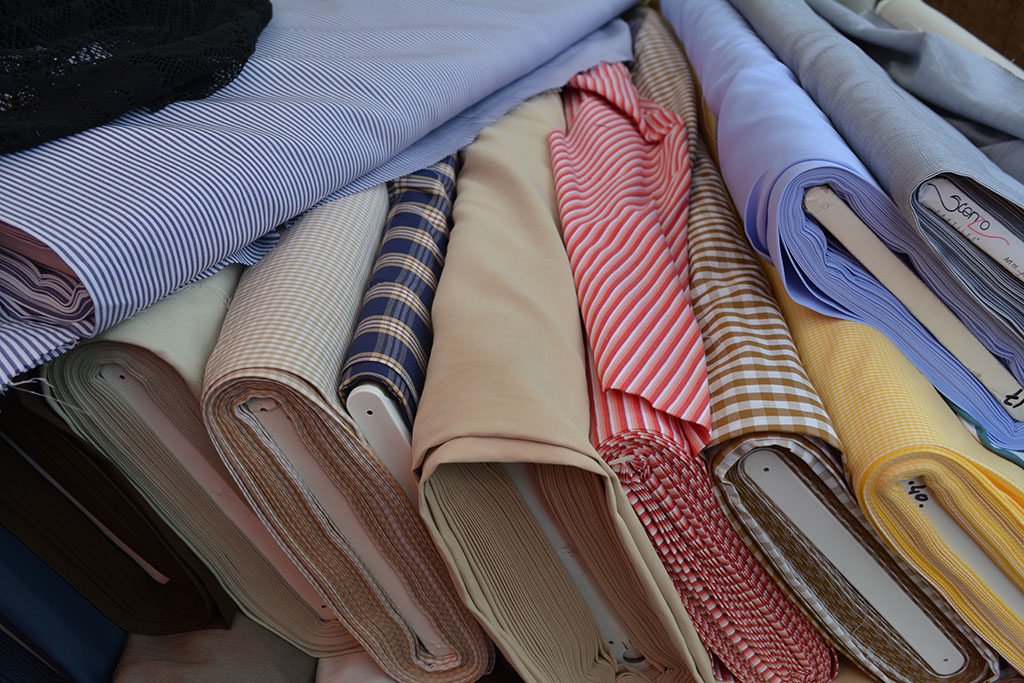 Join the Conversation
Sign in or become a Seamwork member to comment on this article.