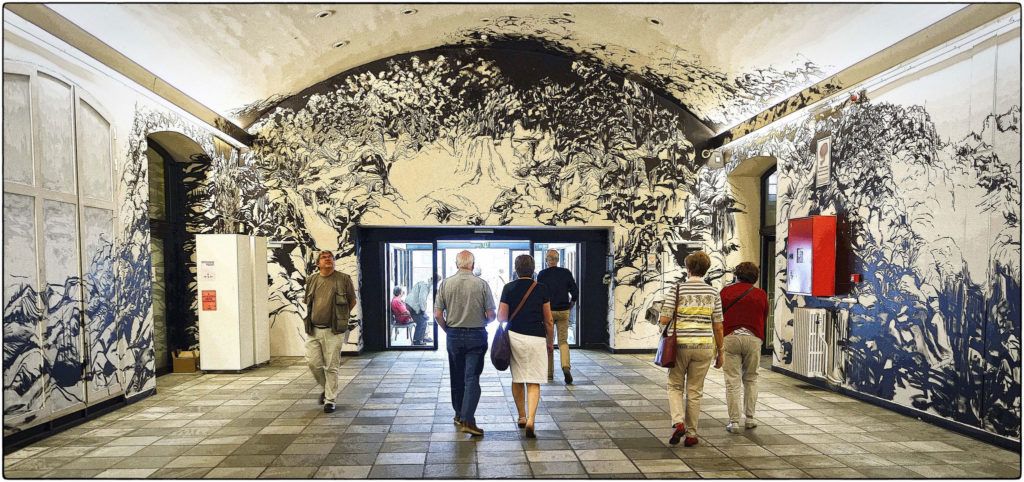 A hall way at Antwerps Royal Academy of Fine Arts, photo by Eric Huybrechts.
The Antwerp Six are synonymous with avant-garde fashion design. Walter van Beirendonck, Ann Demeulemeester, Dries van Noten, Dirk van Saene, Dirk Bikkembergs, and Marina Yee make up the influential design collective from the Antwerps Royal Academy of Fine Arts. Their progressive vision for fashion during the 1980s cemented Antwerp as a city with a great design aesthetic and style.
The city is also a fantastic under-the-radar destination for sewists, with excellent fabric shops, a fashion museum, and sartorial inspiration everywhere you look. The Antwerp style is innovative and forward-thinking, even as the city's atmosphere still manages to be unpretentious, laid-back, and cool. On every trip I see something surprising and new.
Antwerp is an easy day trip from Paris, Amsterdam, or Bruges by train, but there's plenty to do if you plan on a more extended stay. In this guide, I've included sites that are within walking distance of each other.
Antwerp: The Basics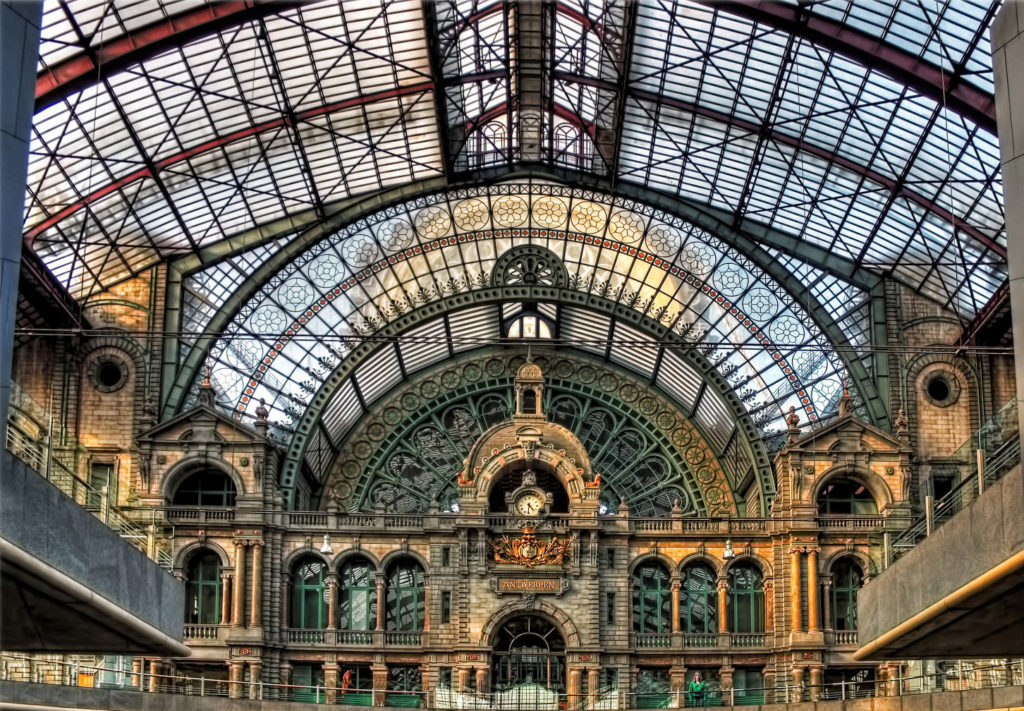 Antwerp's Central Station, photo by Antwerp's Central Station.
If you come by train you'll arrive at Antwerp's Central Station, which, for my money, is one of the most beautiful train stations in the world. Locals call it the Railway Cathedral. You can pick up a city map at the tourist information center and a Fashion Map that shows the city's various shopping districts.
When you leave the station, walk west along the Meir, which is essentially Antwerp's retail district. If you're here for handmade or locally-designed items, don't worry—you're almost there. Along the way, pop into the ornate Stadsfeestzaal on the left. This shopping mall offers over 40 shops to browse and spectacular architecture.
After about 20 minutes of walking, you'll come to the Grote Markt. This pedestrianized city square gives you a chance to admire the historic surroundings, such as guild houses, the Brabo fountain, and the Cathedral of Our Lady. Grote Markt is a good place to stop for a delicious Belgian beer, a waffle, or some chocolate to munch on while you get your bearings. I like Gollem (Suikerrui 28) for beer. As for waffles—well, I've never had a bad one in Antwerp—so take your pick.
Close to the Grote Markt you can visit the ModeMuseum (or MoMu), Antwerp's fashion museum (Nationalestraat 28), which hosts rotating fashion exhibits that are quite excellent. In the same building you'll find Copyright, a book store stocked with titles pertaining to art, design, and fashion. Nearby is one of my other favorite museums, the Plantin-Moretus printing museum. This museum boasts the world's best-preserved printing press.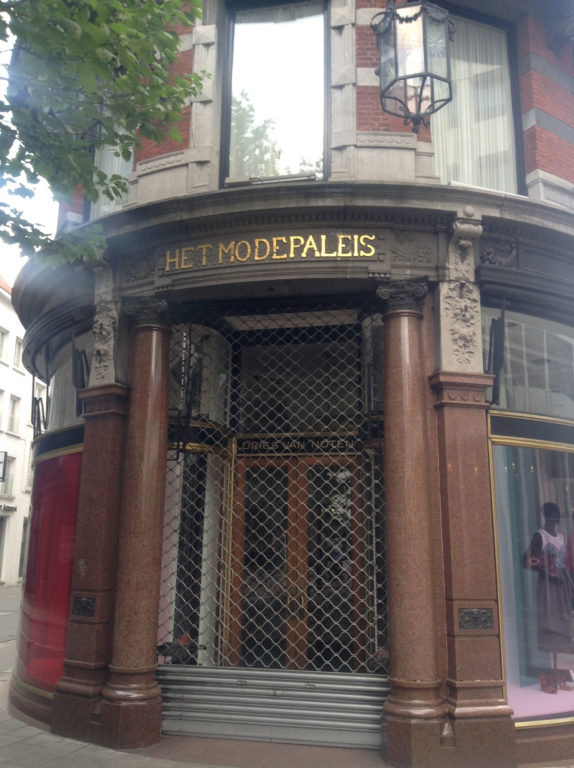 No trip to Antwerp is complete without a visit
to the Dries van Noten flagship.
Shopping
Across from the MoMu is Sint Andries, one of Antwerp's major shopping districts. In and around this area you can find clothes and accessories from local independent designers. This is also the place you will find stoffenwinkels (fabric shops).
I've included a few of my favorites below—but really, you could wander down just about any street and uncover good finds. Incidentally, the fabric shops all seem to be more van Noten than Demeulemeester: You'll find lots of bright, funky prints—many designed in Belgium and the Netherlands—and colorful bias tape by the meter.
Labels Inc., Aalmoezenierstraat 3a (off Nationalestraat), is my first stop on any Antwerp shopping trip. It carries secondhand and new designer clothing and accessories, with tons of finds for those who like Belgian designers and avant-garde pieces. You can find special, reasonably priced items from Ann Demeulemeester, A.F. Vandevorst, Marni, Margiela, Balenciaga, Comme des Garcons, Damir Doma … the list goes on. On my last trip, I found a Dries van Noten silk skirt for 90 euros! By the way, Dries van Noten's flagship store (Nationalestraat 16) is just across the street from the MoMu.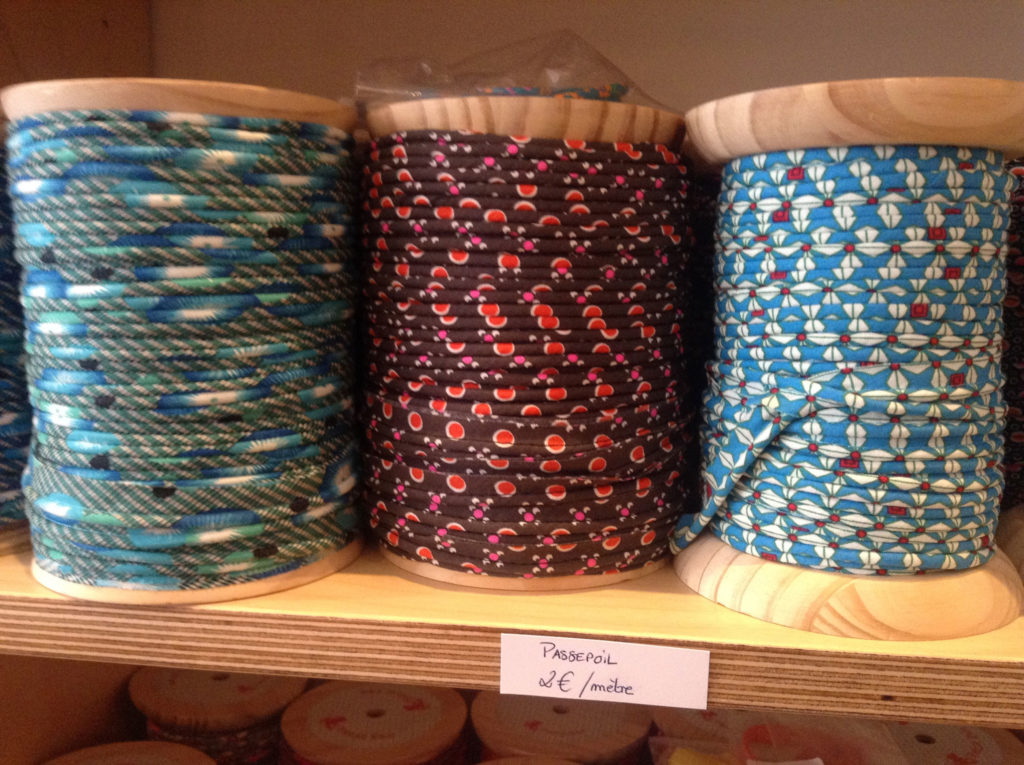 Petit Pan Anvers stocks adorable trims to brighten up any project.
Petit Pan Anvers (Nationalestraat 63), the only Petit Pan outpost in Belgium, carries cheery and colorful printed cottons and oilcloth by two Parisian designers, as well as a fun selection of brightly printed bias tape by the meter, sequins, buttons, and other notions. Though some websites list the shop as "for children," the fabric is also appropriate for all kinds of accessories and home decor.
Speaking of oilcloth, the fun housewares store Interio (Hoogstraat 11, off Grote Markt, near the cathedral) also sells it by the meter. It's popular with locals for making housewares, coats, and bags—especially bicycle saddlebags—because it's waterproof. You'll see it for sale all over Belgium and the Netherlands, even in shops that don't otherwise sell fabric.
Stop by Julija's to shop their colorful selection of fabric.
Julija's (Nationalestraat 118), just down the street from Petit Pan, carries all kinds of fabric, including wool, linen, quirky Belgian-designed knits, as well as Liberty cottons and silks. They also carry sewing patterns from independent designers, a wide variety of yarn, and a good selection of notions. The more you look, the more you'll see, and the salespeople are kind and helpful (and often dressed in cute me-mades).
Pop into Serie 20 (Lombardenvest 66) for sporty one-of-a-kind pieces created by designer Anne-Sophie de Campos Resend's.
Anna Heylen (Lombardenstraat 16) is one of my favorite designers. A graduate of Antwerp's Royal Academy of Fine Arts, she makes beautifully draped and sculptural pieces with unusual details—clothes that always make me wonder, "How did she … ?". When I first visited her shop, she showed me a reversible green silk vest meant to be worn right side up or upside down. I still regret not buying it. In addition to ready-to-wear pieces, she also makes made-to-measure and couture items, in addition to dolls.
Down the street from Anna Heylen, the fabric shop Kokette Katinka (Lombardenstraat 32) carries beads, jewelry-making supplies, notions, and sewing patterns by independent Dutch designers (with instructions in Dutch and English). And, of course, fabric, including some locally-designed options. If you're in the mood for brightly printed cottons or knits with stars, cats, birds, robots, or rocket ships, this is your place.
Finally, if you're an Ann Demeulemeester fan, the huge, two-story flagship at Leopold de Waelplaats is well worth the walk from Nationalestraat. Though Demeulemeester left the label in 2013, her spirit is very much alive and well in the pieces on offer. Be sure to check out the walk-in terrarium (in the dressing room!), as well as the label's signature—and mostly black—tops, dresses, skirts, shoes, and accessories.
Antwerp's official slogan is "Atypical Antwerp" for a reason: The city is bursting with creativity and interesting ideas, and it is well worth a day trip (or more). Every time I go I find more to be inspired by, and I hope you'll enjoy it as much as I do.
Join the Conversation
Sign in or become a Seamwork member to comment on this article.