With 110 people moving to Austin, Texas every single day, this city has much to offer. While most people think Texas is all cowboy hats and gun-slinging, Austin is a blend of indie shops and culinary delights, with a little bit of Texan flair. Boasted as the "live music capital of the world," this creative city houses a tight-knit community of locally owned establishments. Though Austin is growing more bike-friendly, it is still very car-oriented. You'll probably spend most of your time in the south, downtown, and central locations.
South Austin
Start your first morning in this city with something very Austin. Even if you aren't a huge breakfast fan, some signature Austin breakfast tacos will make you a believer. You hear a lot of taco fandom in this city, and my personal favorite is a lesser-known place called Papalote Taco House. The breakfast tacos are build-your-own, so you can devour exactly what you want. I insist you order the softest corn tortillas you've ever had. Two of these inexpensive delicacies will be more than enough to prepare you for the day.
Chances are Round Top Antiques Fair, a nearly five-decade-old event that happens three times a year and is an hour-and-a-half away from Austin, is on your itinerary. If you snag a chair in need of new upholstery or have some pinch pleat curtains to make for your home, head over to Bolt Fabrics, which is on the same street as Papalote. You'll find everything from oilcloth to Matelassé fabric with the helpful guidance of Melissa Markman. After you pick out your fabric, The Upholstery Shop next door will turn that antique chair into something new.
Travel a little south to TexStyles Fabrics, which doesn't open until noon. This is the shop to visit for apparel fabrics. Their shelves are stocked with designer options, and they always seem to know what's happening in the world of Austin fashion.
You have a long day ahead of you, so make your way over to South 1st Street and grab a wood-fired latte at the family-owned Summer Moon Coffee. They roast their coffee beans using Texas Oak wood and have a secret blend of all-natural ingredients called "moon milk," or as I like to call it, "the liquid of the gods."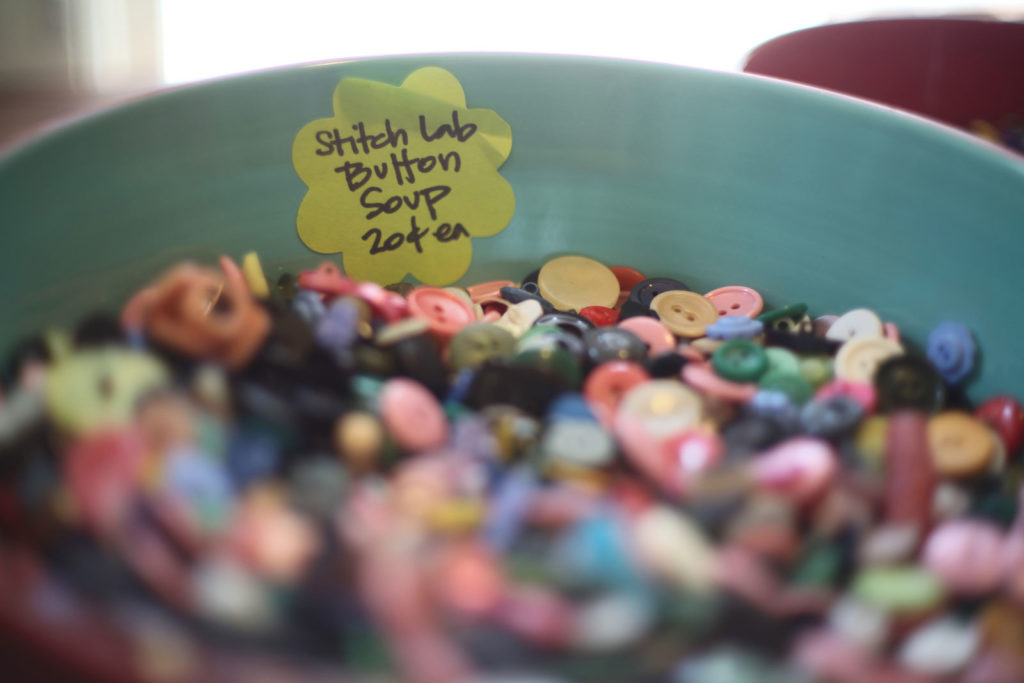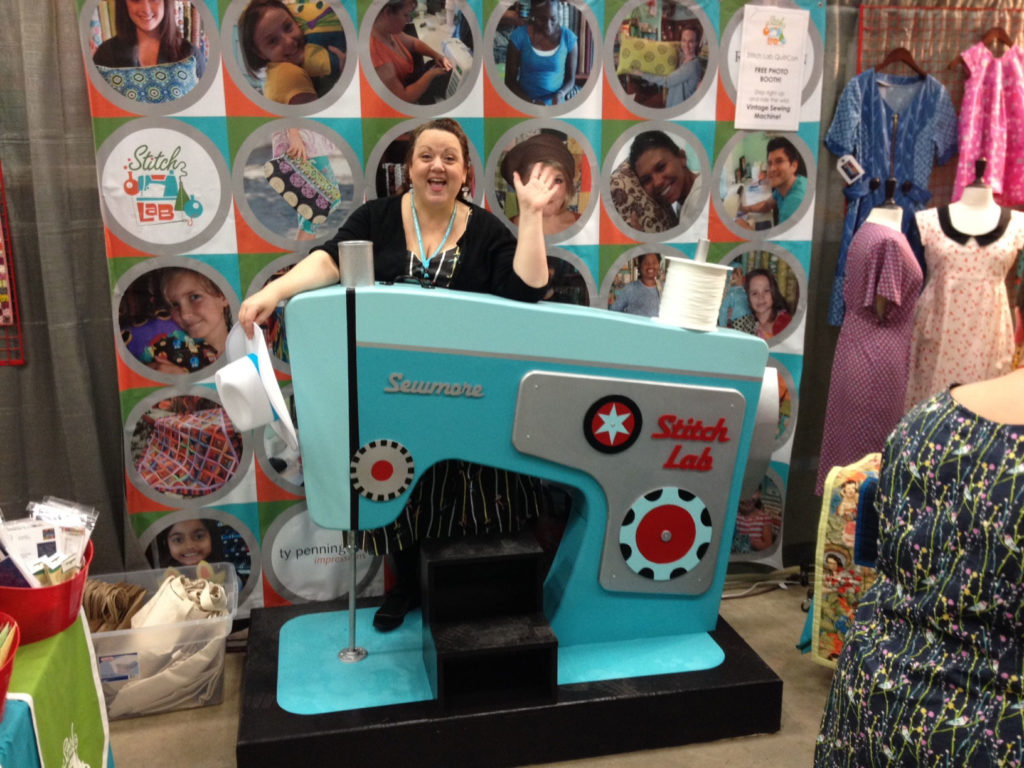 Leslie Bonnell is a former costume designer who decided to start offering sewing classes in 2001.
If you only have time to stop at one fabric store, it has to be The Stitch Lab. Seriously, this isn't a suggestion; it's a requirement. Comprised of two 1920s bungalows, The Stitch Lab is quintessentially Austin. Former costume designer Leslie Bonnell opened the cute shop in 2009 and has filled it with all of your fabric, pattern, and notions needs—including vintage buttons and wool blend felt. They also employ the friendliest sewing geniuses, both on the retail and sewing class side. The employees are often donning their newest sewing creations and are more than willing to provide expert guidance.
Grab a vegetarian lunch like the Muscle Man Curry at Bouldin Creek Café or visit one of Austin's many food trucks on South 1st Street. I suggest a doughnut sandwich (seriously!) at Gordough's, chips and queso at Torchy's Tacos, a lobster roll at Dock and Roll, and a fair-trade, chocolate-covered banana at Bananarchy.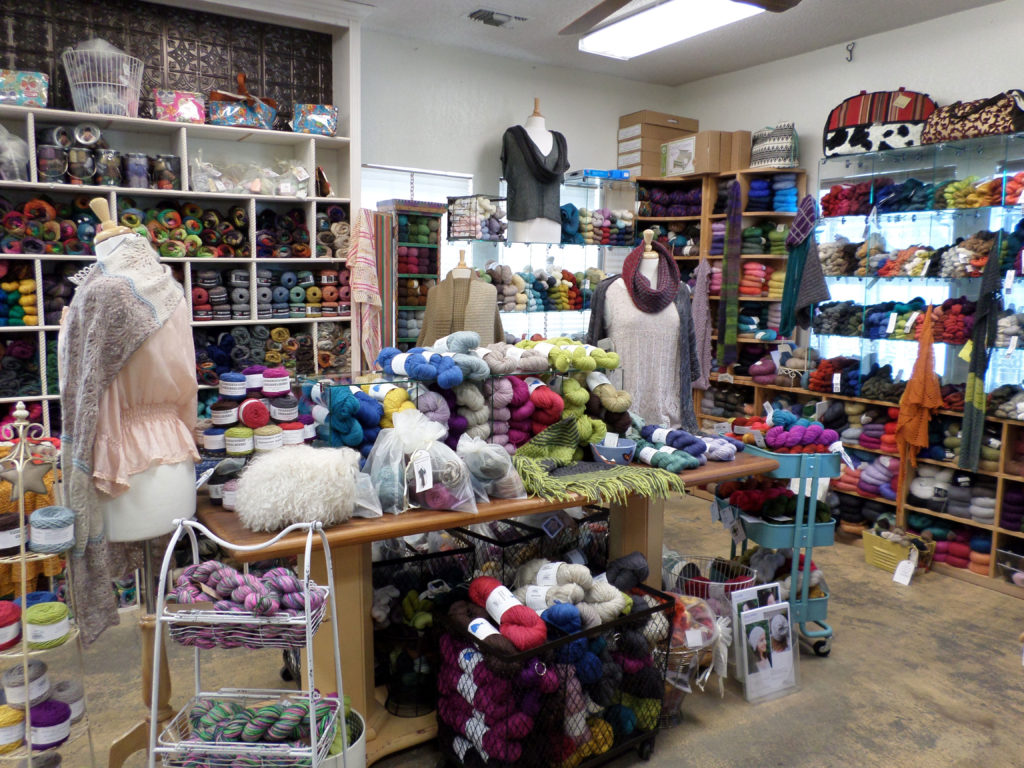 Hill Country Weavers is primarily a yarn shop but also offers classes on spinning, weaving, knitting, and crochet.
Rouse yourself from that food coma and head to South Congress Avenue, which is parallel to South 1st Street. If you've seen photos of Austin, chances are you've seen this popular strip. Park near Milton and South Congress (you'll find parking is easier the further south you go) and start at yarn heaven, also known as Hill Country Weavers. In addition to selling yarn, weaving, and crochet supplies, they also stock patterns and offer classes.
Next, visit the aqua-colored vintage shop called Feathers Boutique. You'll find a curated selection of artisan jewelry and vintage threads, as well as their own label of re-worked vintage. Less than a block up South Congress is New Bohemia, a super organized vintage shop that has clothing and accessories from all decades, usually in nearly pristine condition.
Pick up a little bit of Texas at Allen's Boots, an Austin institution since 1977. You can't miss the big, red cowboy boot at the top of the building. My absolute favorite place to visit on this street is Uncommon Objects. They describe their store as a "one-of-a-kind emporium of transcendent junk." Their antiques are carefully displayed in a boutique style, making it easy to envision that item as part of your home. Expect to find turquoise jewelry, horseshoes, and at least one doll that creeps you out.
Get inspired to whip up next year's Halloween costumes at Lucy in Disguise, and stop into Kendra Scott, a successful jewelry designer. Get your picture taken in front of the "I love you so much" graffiti on the side of Jo's Coffee, written by a local musician to her partner, the majority owner at Jo's.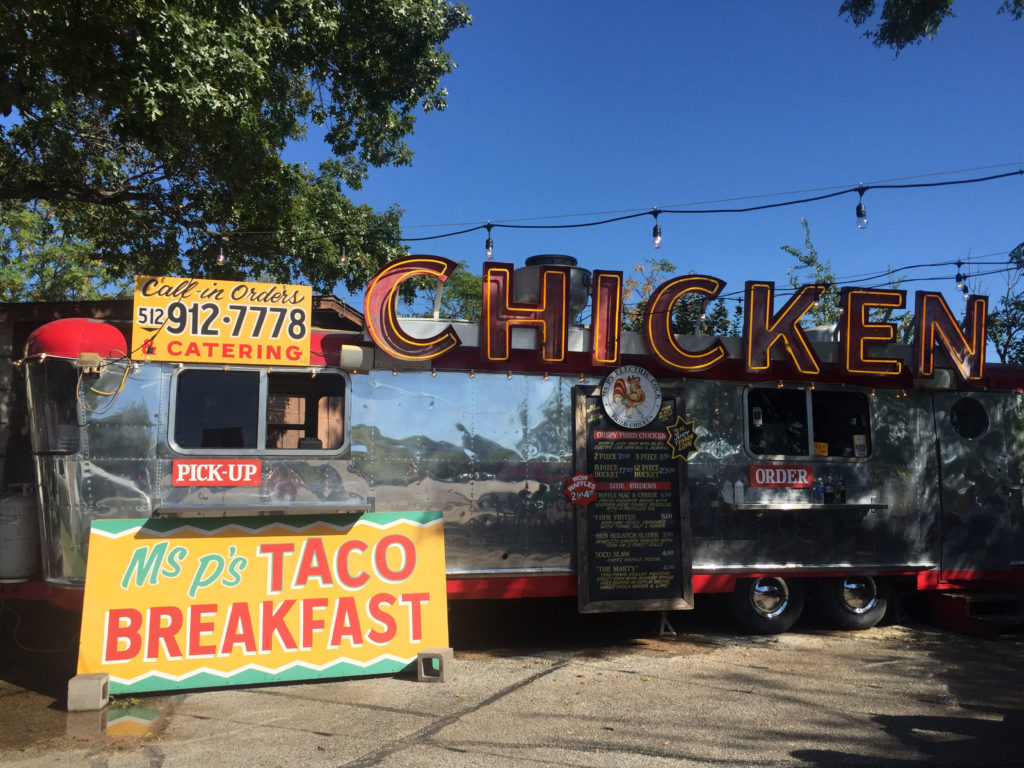 Ms. P's Electric Cock is an Austin-grown institution featuring refined southern comfort cuisine with a twist.
You hungry yet? South Congress Street food truck favorites include: artisan grilled cheese sandwiches at Burro Cheese Kitchen, fried chicken at Ms. P's Electric Cock (you can't miss that CHICKEN sign), and a cold drink at Juice Austin.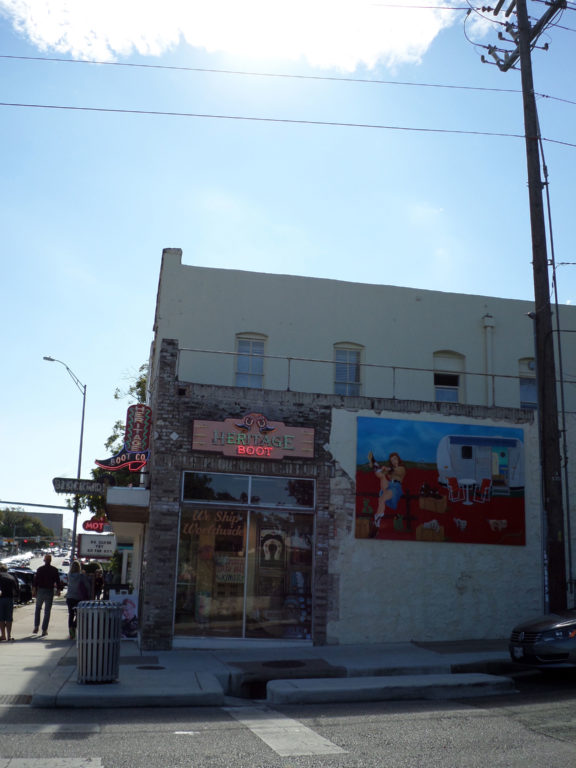 Heritage Boot offers handcrafted shoes lovingly
created by a third generation family of bootmakers.
If you didn't find the perfect cowboy boots at Allen's Boots, take a look at Heritage Boot on your way to your last South Congress stop, Parts & Labour. You'll easily find all kinds of Austin and Texas gift items here, like coasters and T-shirts.
Downtown/East Austin
Time to journey downtown! Cross over Ladybird Lake, a premier venue for outdoor activities like kayaking and yoga on paddleboards. If you're looking to have a fun night out, I suggest going to Rainey Street, which offers a more unique, refined experience than the notorious Sixth Street. Here, you'll find a row of houses transformed into cool bars, and even a bar made entirely from repurposed cargo containers. It's pretty much impossible to pick a favorite, so I suggest doing a self-guided bar crawl and exploring them all!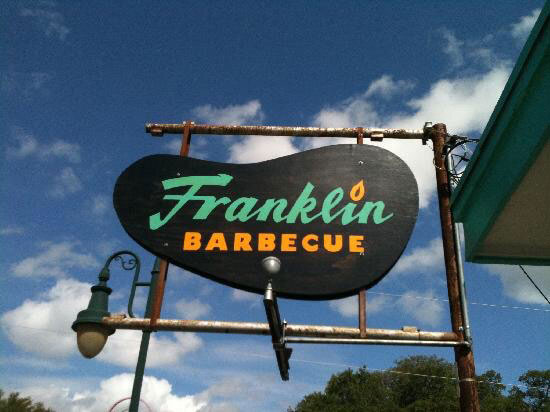 Be prepared to arrive at Franklin Barbeque early
for beef ribs worth a two-hour wait.
Wake up the next morning and go to Franklin Barbeque. Since Kansas City (KC) is my hometown, I am a certified barbeque snob; however, I have to admit that Austin barbeque gives KC a run for its money. This place is for true barbeque fans. Get there by 8am if you want to have any chance of getting lunch (you read that right!). A long line forms, and it's almost like tailgating. Bring chairs, a deck of cards, and mimosas, and settle in. They'll take your order an hour or so before they open at 11am. They close shop when they sell out, which as you can imagine, doesn't take long.
After you're full of brisket, go to the Mexic-Arte Museum. Started by three artists in 1984, their contemporary Mexican, Latino, and Latin American collections and exhibits are thought-provoking and visually stunning.
If you read the "Bespoke Tailoring on Savile Row" article in Seamwork Magazine's October issue and think a custom suit is for you, be sure to check out Dandy's. They have an assortment of fabric options like wool cashmere tweed and linen/mohair. You can even get a custom-made hat!
Another art gallery I recommend is called Women & Their Work. Unlike anything I've seen before, this gallery has featured women artists' work for over thirty-seven years. It's a great way to support local Austin ladies. This is near Bunny's Designs, which is mainly an online retailer except during the Shop Hop, an annual event where some of the Austin fabric stores come together for an awesome weekend of shopping, discounts, and demos. If you visit during that time, you'll be fortunate enough to see a large collection of Japanese imported fabrics, such as Echino and Kokka.
Central Austin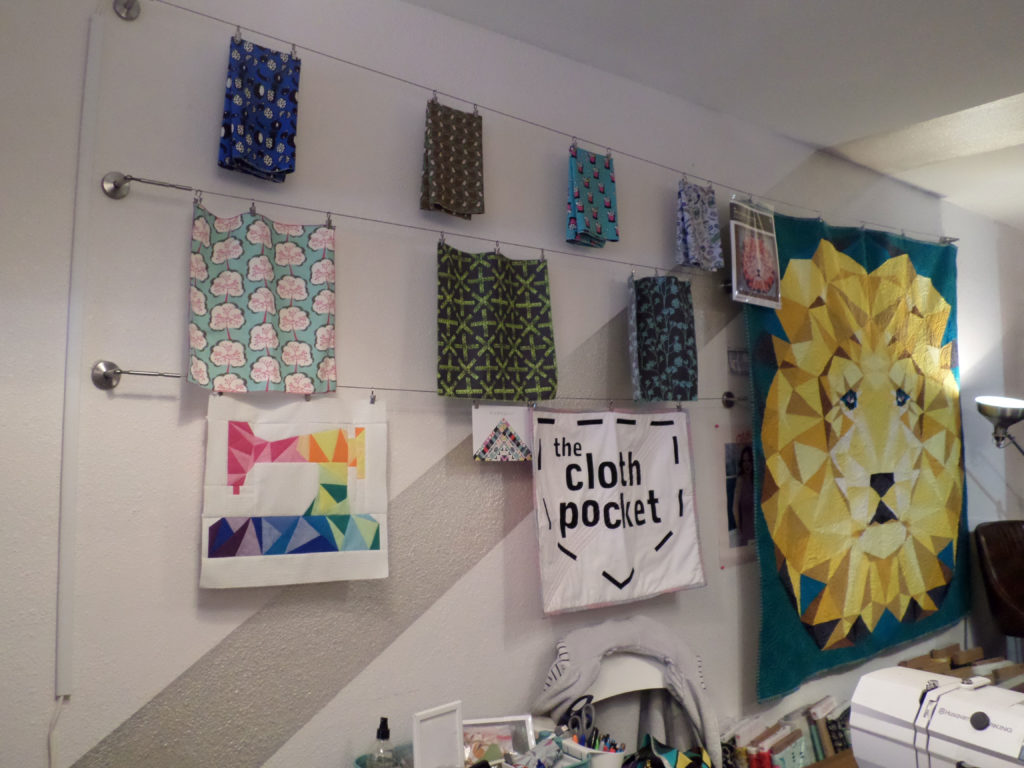 The Cloth Pocket is a tiny store chock-full of gorgeous modern fabric.
Drive north to the shop with undisputedly the world's best name: Me & Ewe. Here you'll find small batch yarn, in addition to quilting cotton and voiles. A few minutes away is The Cloth Pocket. This fabric store offers a relaxed shopping experience. Their light and airy room makes it easy to view all their modern and graphic fabrics, including Seven Islands, Cotton + Steel, and Moda. They even have a wall dedicated to Colette Patterns! Right by this store, you'll find a pottery studio and gallery called Clayways. Andrea Barbosa from Javelina Ranch makes all her pieces here!
Chi'lantro is not your average barbeque joint, offering Austin cuisine with a Korean twist.
Grab some dinner at the Korean barbeque-inspired restaurant, Chi'lantro. The Zen interior combined with their flavorful offerings and Austin-themed décor will surely put you in an existential mood. Find Lucy's Fried Chicken nearby—you won't miss the neon sign with Lucy holding a bucket of fried chicken! If you can't decide between Asian and comfort food, check out the Peached Tortilla. A little northeast of the restaurants sits Spruce Upholstery, a comprehensive shop with fun and funky home décor fabrics.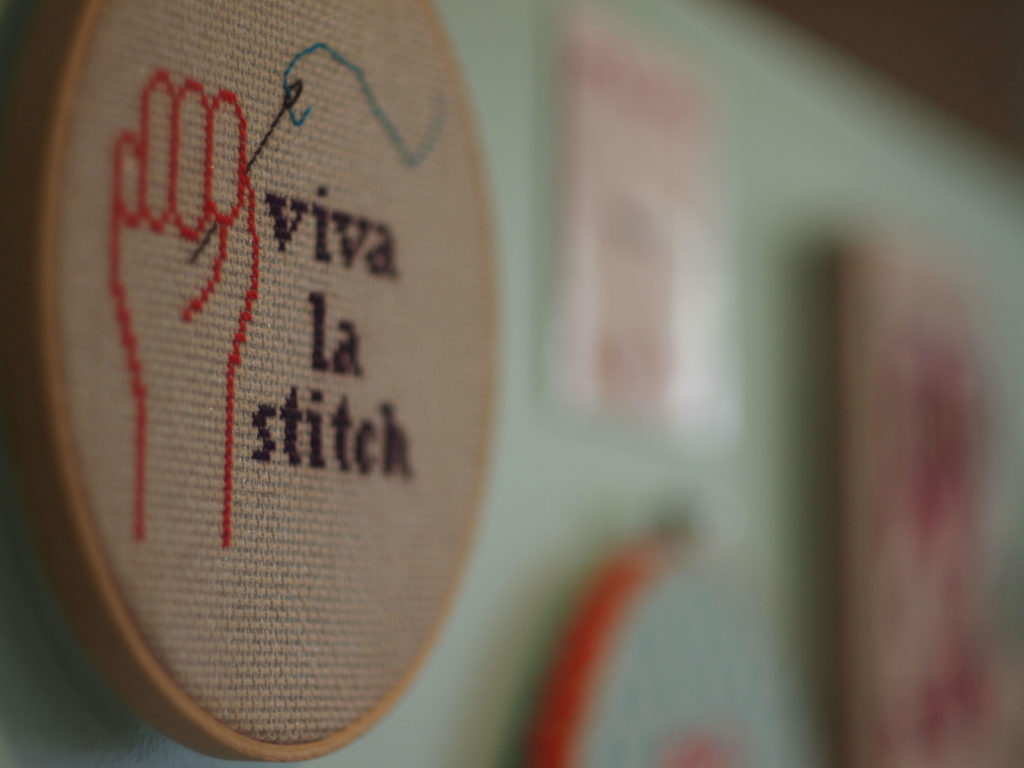 Events
One of the things I love about this city is its many creative events. I recommend planning your trip around a festival or craft show. The Austin City Limits Festival is bucket list worthy and a total must-see. Craft shows like Cherrywood Art Fair and the Summer Show ATX are excellent ways to meet local designers and artists who usually only sell their goods online, like the Austin artist who designed my engagement ring, Jaime Jo Fisher.
Before you visit, check out the classes listed on Crafty Girl. These are usually in East Austin, about six miles from the airport. It's a fun way to spend an afternoon, and classes teach you how to make items like a retro dream-catcher or a yarn wall hanging. If you want to get the creative juices flowing, visit the DIY walk-in studio CRAFT, which is currently expanding to a larger location.
There's no doubt that when you leave Austin to journey back home, you'll be sporting cowboy boots, your belly will be full, and your suitcase will be stuffed with a few new sewing projects.
Join the Conversation
Sign in or become a Seamwork member to comment on this article.