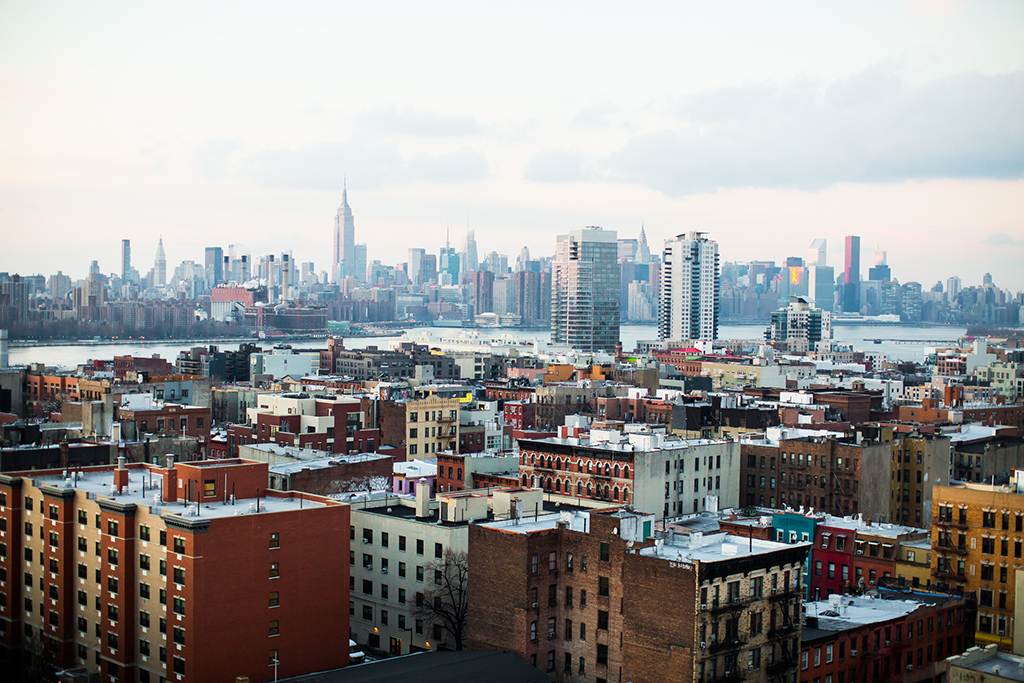 By now you've probably heard—Brooklyn in New York City (NYC), New York is one of the meccas of the handmade movement. From artisanal mayonnaise and pickles, to the world headquarters of Etsy, to home brewing and distilling, it's all happening in the county of Kings. NYC's creative professionals and educational institutions have always supported a rich DIY scene, which has culminated in Brooklyn over the last decade in such events as the quintessential weekly Brooklyn Flea, annual Bushwick Open Studios, and Coney Island's long-standing, annual Mermaid Parade.
What you might not know is that Brooklyn is home to about 2.6 million residents, about as big in population as Chicago, Illinois and Los Angeles, California. And where else could have been home to George Gershwin, Barbra Streisand, and Mike D of the Beastie Boys? With a tremendously diverse population, Brooklyn is an exciting and constantly evolving place that influences the creative culture around the world. From the Caribbean population of Bedford–Stuyvesan (Bed-Stuy) and Flatbush, to the Chinese and Vietnamese enclaves in Sunset Park, Brooklyn is ripe for creative inspiration from many cultures' heritages.
Brooklyn has a more laid-back feel and a slightly slower pace than Manhattan. Tree-lined blocks of brownstone homes offer a perfect setting for an afternoon stoop sale and a glass of wine with friends in warmer months. Geographically, Brooklyn is larger in size than Manhattan. Getting from neighborhood to neighborhood is generally easy via the NYC subway system or by bike—your own or with the city's bike share. Exploring Brooklyn is truly an adventure so take a look at some of my favorites and then start finding some of your own!
Fabric and yarn shops
If you're a sewer or knitter, you'll love Brooklyn's fabric and yarn shops. Brooklyn General Store in Columbia Heights is a quilter's heaven that also carries indie sewing patterns. They have a nice selection of yarn too, which makes it a nice place for the two crafts to come together. If you're interested in more fashion fabrics, swing by Fulton Fabrics in Downtown Brooklyn/Metro Tech or Fabric Barn in Williamsburg. These two small shops carry a decent amount of apparel weights for good prices. If yarn is more your interest, the Argyle Yarn Shop in Windsor Terrace and La Casita in Carroll Gardens are for you. La Casita has a friendly community of knitters who stop in regularly, and the shop is also a cafe serving snacks, coffee, beer, and wine.
Maker spaces and studios
If you're anything like me, you love meeting other makers and watching them work as much as you love making yourself. Brooklyn is home to some amazing maker spaces including the Brooklyn Fashion and Design Accelerator (BF+DA) in Bed-Stuy. This design collective of sorts is run by Pratt Institute and describes itself as "a hub for ethical fashion and design that provides designers with the resources they need to transform their ideas into successful businesses." They have open tours of their studio space and offer events that are available to the general public.
The Textile Arts Center in Gowanus is a resource facility providing many opportunities for people to engage with textiles and fiber techniques. They have an artists-in-residence program with public gallery showings, classes, and resources for anyone interested in textiles, and their innovative Sewing Seeds program provides accessible, accurate, and inspired information on natural dyes, to bring awareness for their use as a sustainable art medium.
Classes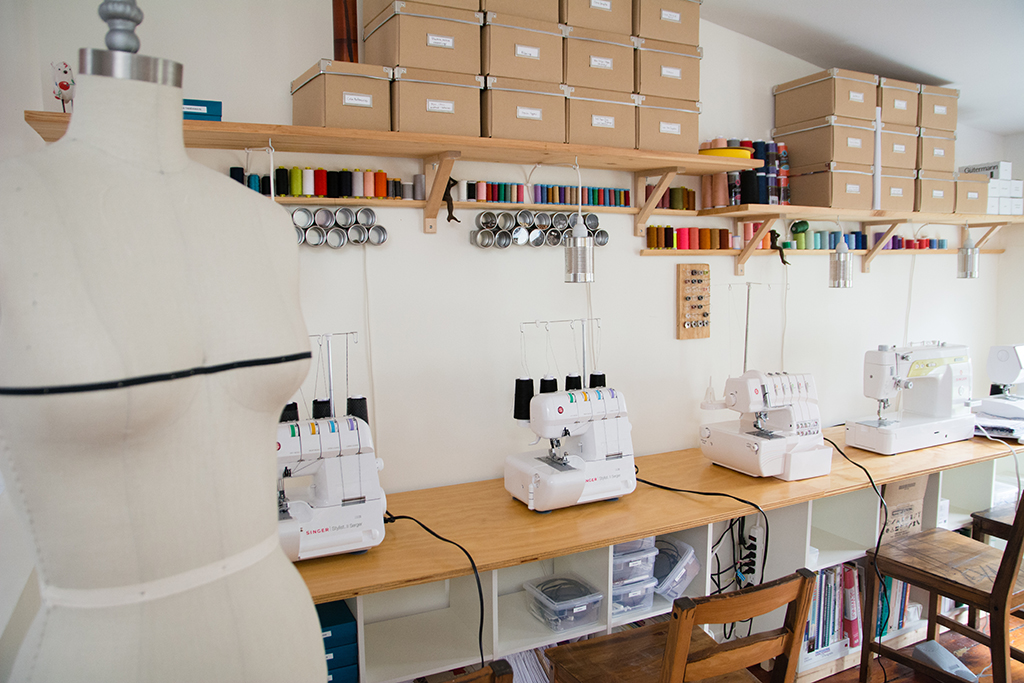 Take a garment sewing class at Workroom Social.
Now that you've toured some studios, I hope you're feeling inspired to join the Brooklyn makers, and there's no better way to start than by taking a class. The Gowanus Print Lab in Gowanus is a screen-printing studio that offers both classes for hobbyists and services for screen printing production. My favorite class there is Repeat Printing for Fabric Yardage and Wallpaper. After you screen print your own fabric, check out my sewing studio, Workroom Social, in Bed-Stuy. Specializing in fashion sewing, we teach adults how to sew their own clothes. Looking to learn something a little different while you're in Brooklyn? Go to Makeville Studio in Gowanus to learn woodworking from some of Brooklyn's most passionate woodworkers.
Ethnic restaurants
New Yorkers love to eat, and Brooklyn has too many delicious restaurants to keep track of, with new ones opening every day. One of my favorite things about Brooklyn is that you can try different cuisines from all over the world without leaving the borough. Bati in Fort Greene specializes in Ethiopian cuisine. This small restaurant is a neighborhood favorite. In addition to Ethiopian specialities, they offer African wines and beers as well. Lan Zhou in Sunset Park is a Chinese hand-pulled noodle house that is a little more off the beaten path and located in Brooklyn's Chinatown. If you're feeling really adventurous, take a trip down to Seagate for lunch at Mermaid Spa. This Russian Banya has a full restaurant that makes a delicious Kharcho (Russian/Georgian lamb soup). Go for a meal and stay for the saunas.
Boozy places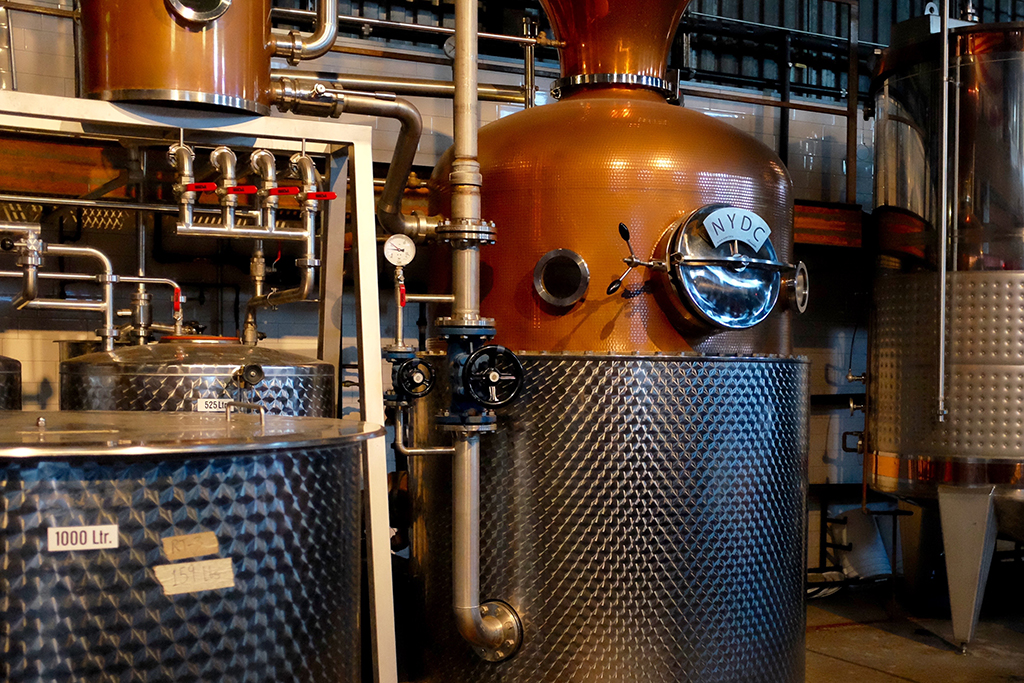 New York distilling company specializes in craft gin and rye. Photo by Peter Burka.
After lunch out at one of Brooklyn's many delicious restaurants, check out the borough's distillery scene. Everyone wants to make their own booze these days, and Brooklynites are doing it well. Go on a tour of each of these facilities to get your drink on. Industry City Distillery (ICD) in Sunset Park specializes in vodka. ICD is the maker of the United State's highest proof spirit. Technical Reserve is a neutral spirit at 191.2 proof (95.6% ABV) and is designed specifically for making bitters, tinctures, infusions, and craft spirits.
Bourbon more your flavor? Kings County Distillery in the Brooklyn Navy Yard distills moonshine and bourbon. If you sign up for a tour here, you'll also get to go inside the Brooklyn Navy Yard, an industrial park generally off limits to the general public.
Before you head home for a detox, stop by the New York Distilling Company in Williamsburg for craft gin and rye. This distillery has a full bar attached, so if you can't make a tour, you can still try their booze in one of their original cocktails.
Shopping
There's unique shopping all over Brooklyn, from clothing and shoes, to stationery, gifts, and jewelry. Long-time Brooklyn boutique Bird has fashions and accessories that are on trend right now. Cloth in Fort Greene is a small shop featuring womenswear by modern designers. Violet Pepper in Greenpoint has a mix of both new and vintage fashions, and Miss Master's Closet in Bed-Stuy is full of vintage treasures.
For shoes try Shoe Market or Soula in Williamsburg. Two of my favorite Brooklyn jewelry shops are Elleven in Boerum Hill and Mociun in Williamsburg. Both shops design and produce their own pieces. If you love stationery and other gifts, swing by Foxy & Winston in Red Hook, where you may run into Jane Buck, the designer herself.
Parks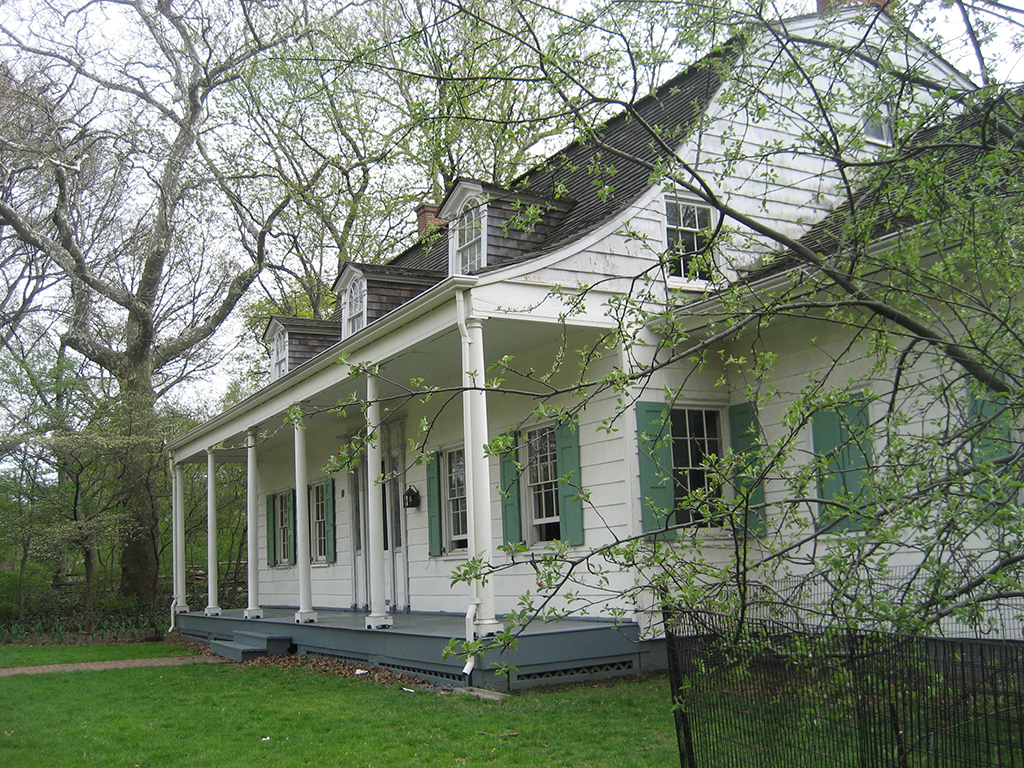 Lefferts Homestead in Prospect Park is one of the few surviving Dutch Colonial farmhouses in Brooklyn. Built for a prominent 18th-century Flatbush landowner, it was home to at least four generations of the Lefferts family. The house is now a museum specializing in children's educational programs. Photo by Wally Gobetz.
When I think of NYC, the first thing that comes to mind isn't a city full of amazing green space; however, Brooklyn has some wonderful parks that you should explore. Brooklyn Bridge Park, one of the borough's newest parks, spans 1.3 miles of Brooklyn's waterfront and offers breathtaking views of lower Manhattan and New York Harbor. Historic Prospect Park is 585 acres of grass, trees, and hiking paths. It is also home to the Prospect Park Zoo and the LeFrak Center at Lakeside, which offers year-round skating (ice in the winter and roller in the summer). Wherever you're staying or visiting in Brooklyn, research some local parks to walk through on your way to other sites. Little green spaces are hiding all over the borough.
Art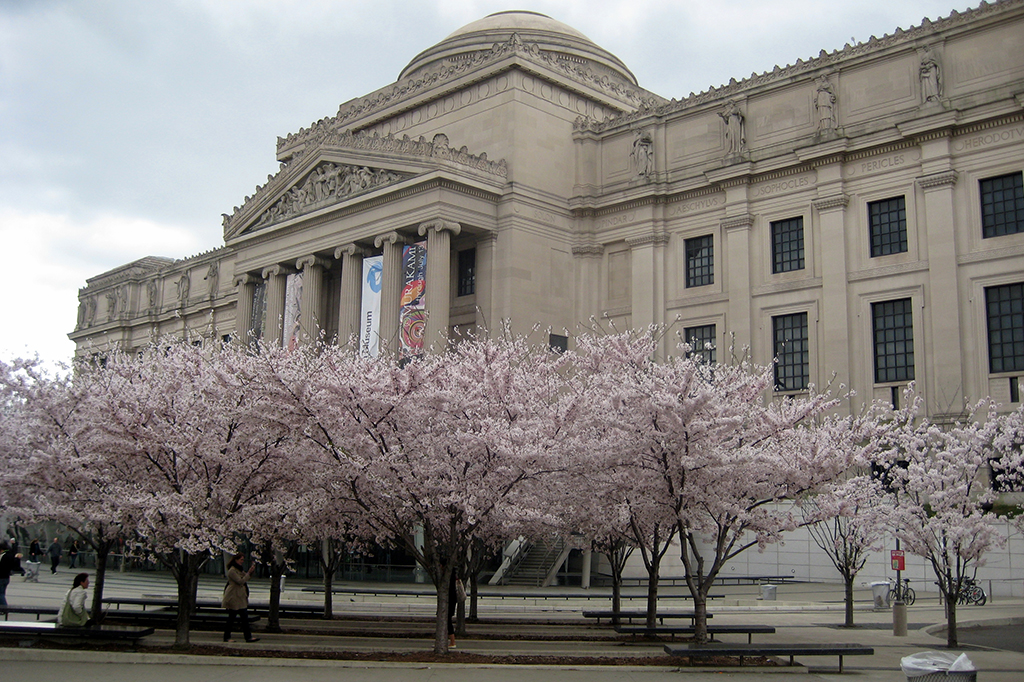 Visit the Brooklyn Museum to see long term installations such as Divine Felines: Cats of Ancient Egypt. Photo by Wally Gobetz.
Before you leave Brooklyn for Manhattan or Queens or wherever you may call home, don't forget to check out the borough's art scene. The Brooklyn Museum is home to comprehensive permanent collections and cutting-edge exhibitions that reflect a fresh view of traditional and historical works. The Brooklyn Museum often features exhibitions on fashion. One of their last ones was "Killer Heels: The Art of the High Heeled Shoe." The Museum of Contemporary African Diasporan Arts uses the visual arts as a point of departure for exploring new artistic production and incites dialogue on pressing social and political issues facing the African Diaspora. For a more casual art-going experience, check out DUMBO's 1st Thursday Gallery Walk showcasing works from artists in various disciplines all over DUMBO.
The next time you're in New York City, be sure to plan a trip across the river to visit Brooklyn.
Join the Conversation
Sign in or become a Seamwork member to comment on this article.