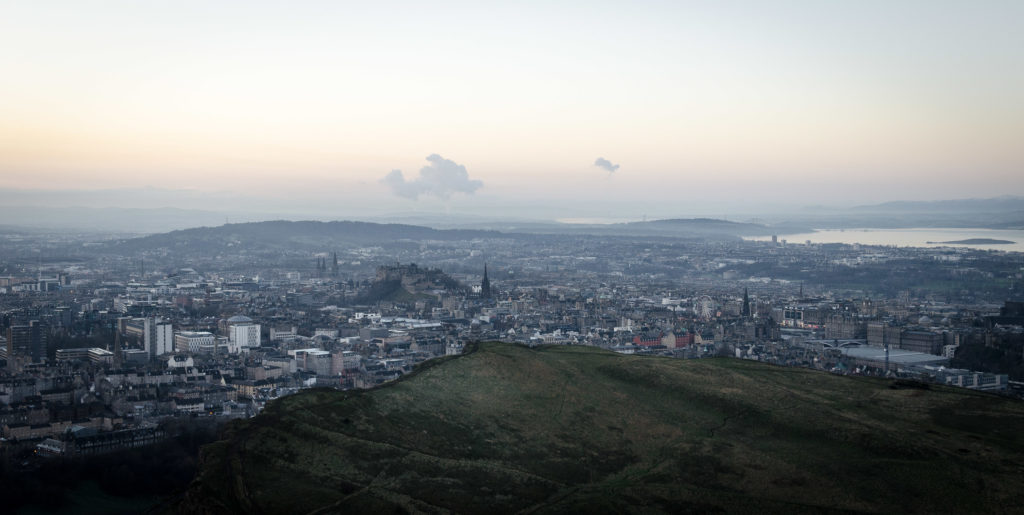 Edinburgh, Scotland is a grand old lady of a city, with elegant architecture and a hint of faded glory. You will find her in the New Town drinking whisky, keeping her lights on and the curtains open at night so you can admire her art collection. She's an ex-smoker – the city's buildings are stained with the soot marks that gave her the nickname Auld Reekie. Her perfume smells faintly of mothballs, but that's only because her fur coat is vintage. In the summer she exposes her pale, blue-tinged flesh to the sun with a riot of art, theater, and music that runs from the last week in July to the end of August.
Sure, there is a castle, a palace, an extinct volcano, and some pandas alongside a world famous festival, but there is another Edinburgh: the Edinburgh that inspired Trainspotting, Sherlock Holmes, and Harry Potter. Look beyond the main drags of Princes Street and the Royal Mile to discover a city brimming with personality and history.
Sewing Supplies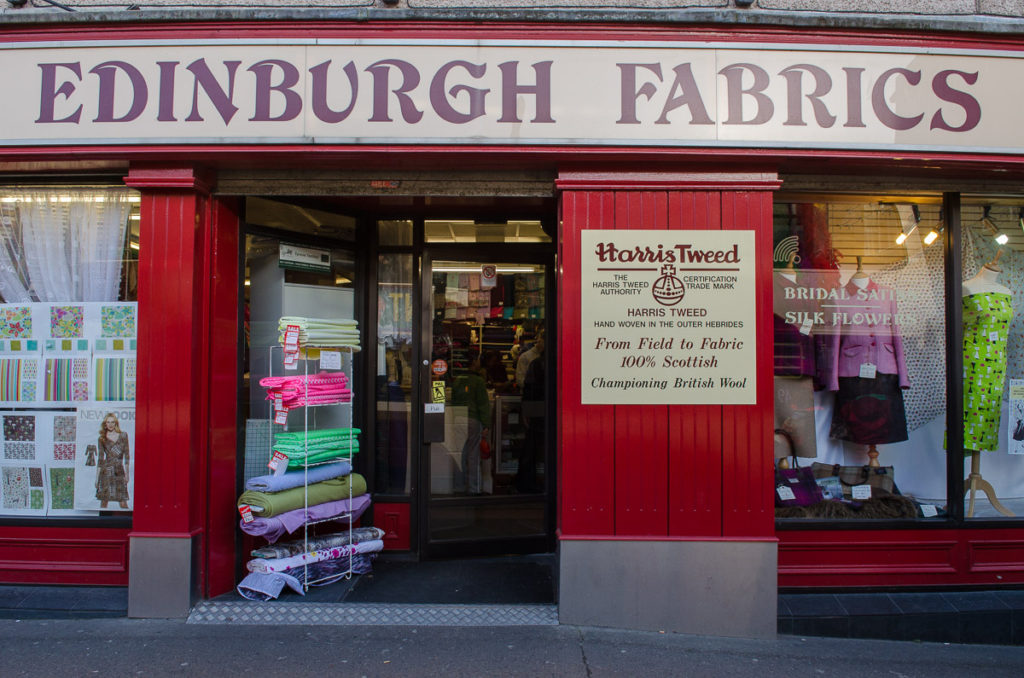 Edinburgh Fabrics has a stunning array of fabrics, from modern prints to traditional Scottish textiles.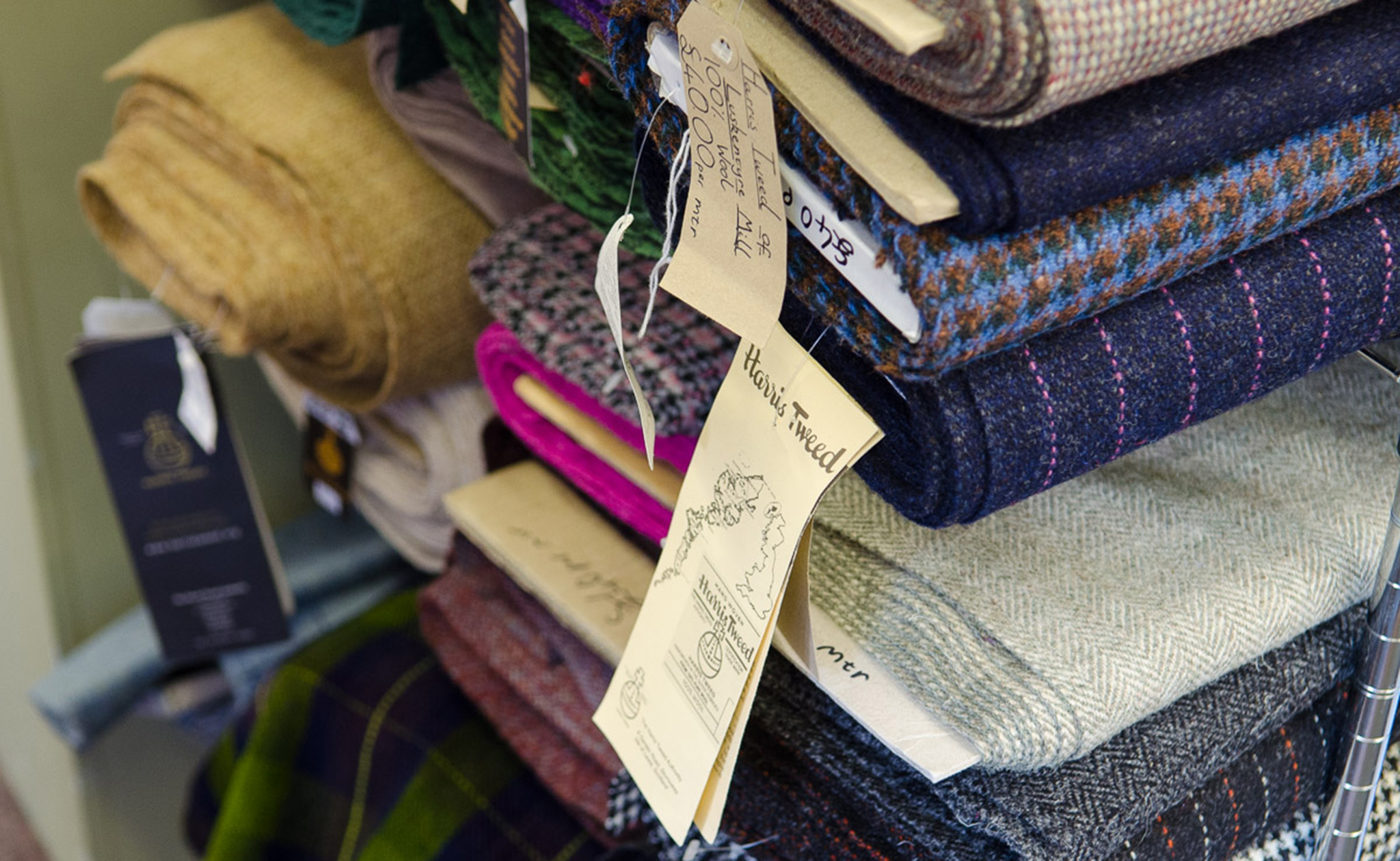 Edinburgh Fabrics
is a treasure trove of fabric finds. This is the place to go if you would like to pick up a distinctively Scottish fabric to remember your trip. You'll also find the modern next to the traditional; neon printed cottons or PVC alongside Harris Tweed and Tartan prints. You may have to rummage amongst the reams of fabrics to find what you are looking for, but it is well worth the effort.
Fabric Focus is tucked away in a surprisingly residential neighborhood, not far from the center of the city. The shop is under new ownership, and was once an offshoot of the legendary Glasgow fabric emporium Mandors. They have a broad selection of fabrics including lots of tweed, and they run classes like Kilt Making and Intro to Quilting. 

The Cloth Shop is a cavernous warehouse that holds all types of fabric and notions, and also houses all your needs for soft furnishings, curtains, and upholstery. While it may not have the browsing pleasure of Edinburgh Fabrics or the friendliness of Fabric Focus, I think they have the best selection of Liberty print fabric in the city.
Inspiration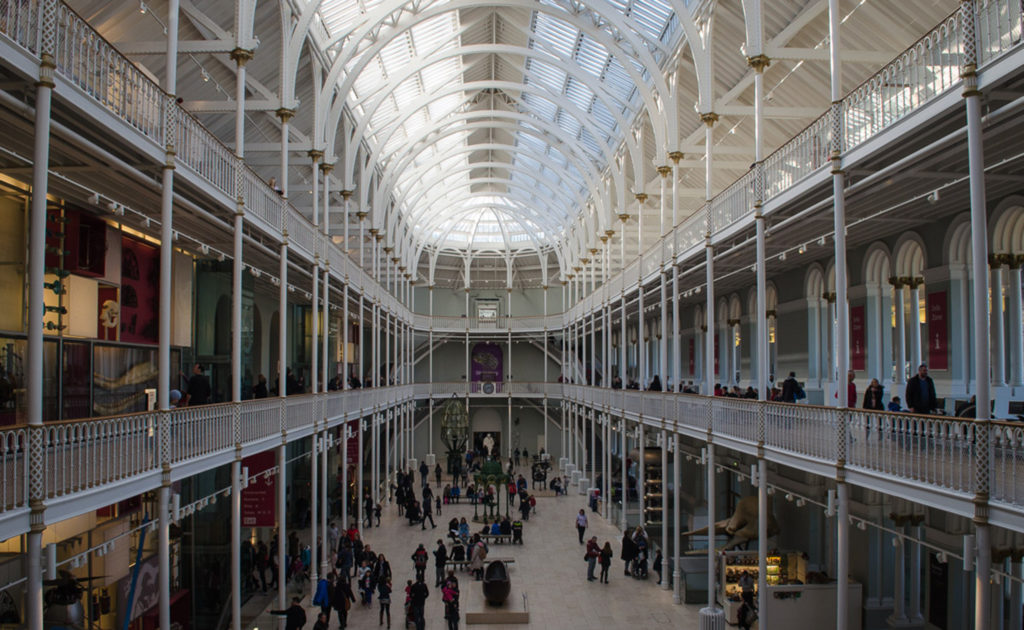 The National Museums of Scotland on Chambers Street has free exhibitions covering everything from design to natural history. They are currently in the second part of a renovation program that will be completed in 2016, which will include a new display of their fashion collection that includes the work of Vivienne Westwood and Alexander McQueen. They have also hosted exhibitions such as Fully Fashioned, which celebrated 200 years of Pringle of Scotland. The current exhibit covers Celtic culture, including a number of fashion items – it's a place to check in on during any visit to Edinburgh, as it will provide a unique look into local culture and history!
Nestled on a side street near the museum is Dovecot Studios, where you can see beautiful tapestries and some fantastic contemporary craft exhibitions. The studio is housed in an old Victorian bathhouse, with a viewing gallery so you can watch the weavers at work. There is also a great café and shop.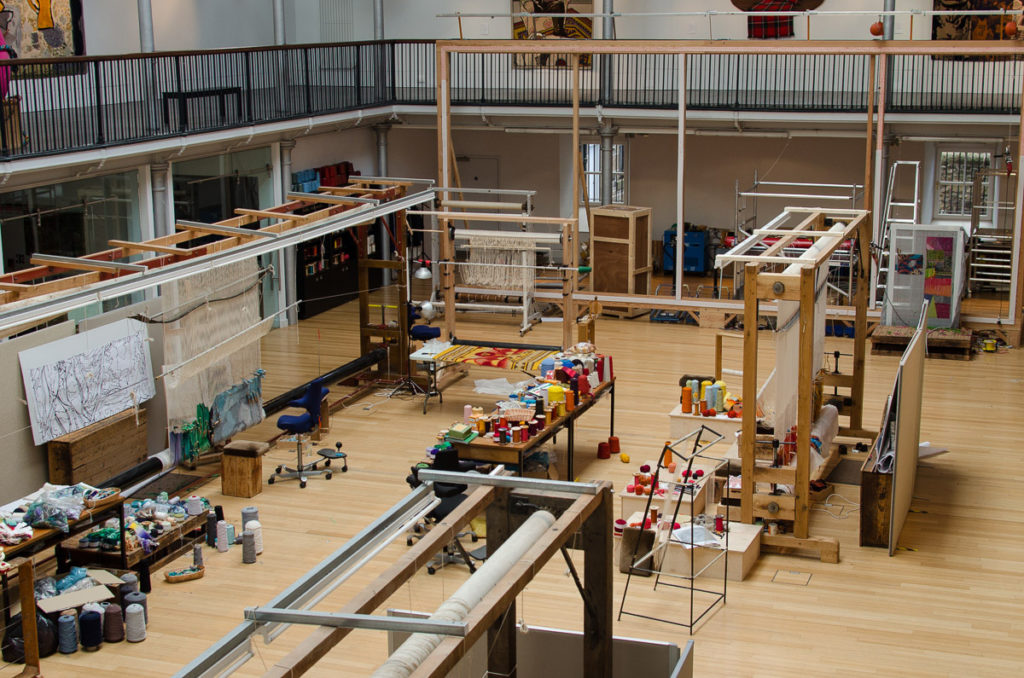 Watch tapestries being made, take in contemporary craft exhibitions,
and pause for a bite to eat at Dovecot Studios.
The National
Galleries of Scotland
sprawls across five sites in the city center and has lots on offer for all artistic tastes. I recommend checking out the newly refurbished Scottish National Portrait Gallery, which regularly holds exhibitions of fashion photography; it's worth a visit for the stunning arts and craft building alone.
If you like your art edgy, head to
Summerhall
. This sprawling arts venue is located inside an old veterinary hospital, and houses everything from art exhibitions to theater and music events, as well as a gin distillery and brewery. It's open all year round but the best time to go is in August, when shows run hourly. Be prepared to be delighted, surprised, and scandalized in equal measure.
Creative Individuals
If there is one fashion designer who captures Edinburgh's rebel spirit, it is Emily Millichip. Her style is a fusion of vintage silhouettes, Hawaiian shirts, and rock and roll attitude. Find her work at Concrete Wardrobe on Broughton Street or follow her antics online.
Housed in an old school that has the feel of the classroom from The Prime of Miss Jean Brodie if it were painted with the color scheme of Beverly Hills 90210, Process Studios has studios and workshop space for ceramics, jewelry, textiles, and printmaking. There are courses and workshops throughout the year, as well as open days and exhibitions.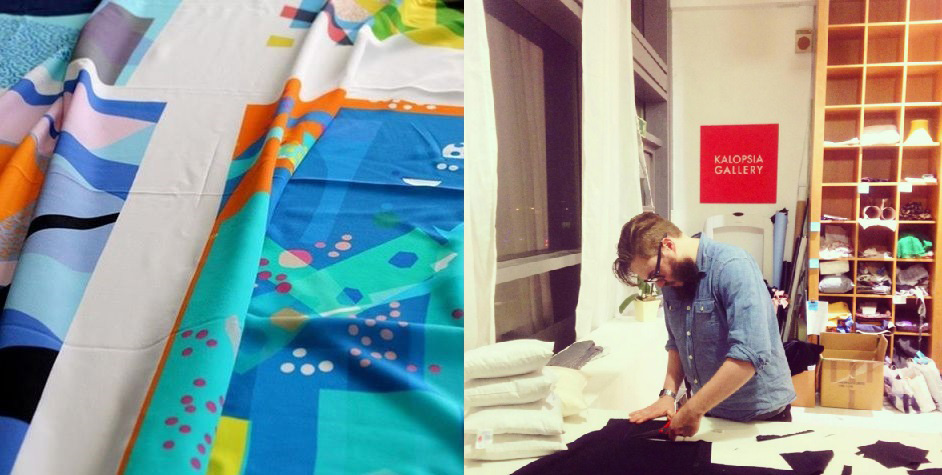 Photo courtesy of Kalopsia Collective.
Housed on the first floor of the bland commercial palace that is Ocean Terminal, Kalopsia Collective is a contemporary textile agency that supports the local textiles community by providing specialist manufacturing services, prototyping, small production runs, and assistance with sample creation and pattern construction. They also host regular exhibitions of the best in Scottish design talent.
If you're big on social media, looking for inspiration, or just want to see and be seen by Scotland's fashion set, then follow #scotstreetstyle. What began as a hashtag has morphed into a community of stylish individuals with regular pop-up fashion events across the country. Look out for the Gathering, meet up events that alternate between Edinburgh and Glasgow, where Scots show off their handmade clothing, or showcase garments created by local up-and-coming designers.
Pyrus creates beautiful floral displays from foraged and locally grown flowers. They host sporadic but utterly fabulous wreath making workshops – be sure to check out their Instagram for some efflorescent inspiration.
For a culinary adventure, be sure to investigate the work of Jelly & Gin. They host pop-up events fusing food with art, performance, and sound.
Sightseeing, Gastronomy, and Vintage Finds
The Center of Town: Grassmarket to Westport
The Grassmarket is one of those Edinburgh streets that can feel more touristy (there is literally a shop called Auld Jock's Pie Shoppe – I did not make that up), but look a little closer and you will find some hidden gems.
Wander up towards Westport where you'll find lots of second hand book shops. There is also Herman Brown, a vintage clothing and accessories store boasting an incredible collection of beaded clutch bags as well as '70s and '80s dresses. Tucked in amongst the clothing are items of homeware, books on fashion, and vintage patterns. I found uncut Marshall Cavendish Make It Easy patterns on sale for £2, definitely a bargain.
Next door you will find
Lovecrumbs
, one of the best places in Edinburgh to relax and have a cup of tea and cake. In the wintertime the windows get misted up; don't let that put you off – the cake is homemade and delicious – go on in!
Grassmarket proper is the home of the Edinburgh vintage institution W. Armstrongs & Sons. They have several locations, but the one here is by far the biggest. The shop is overwhelming, stuffed to the gills with vintage clothing from Victorian bloomers to '70s loungewear. They also have a large selection of cashmere, tweed, and tartan, for those looking for something with a Scottish flavor. If you're after items to embellish your own work, there are patterns, old zips, buttons, and other notions to add to your stash. It can get very busy on weekends, so get there early and sharpen your elbows.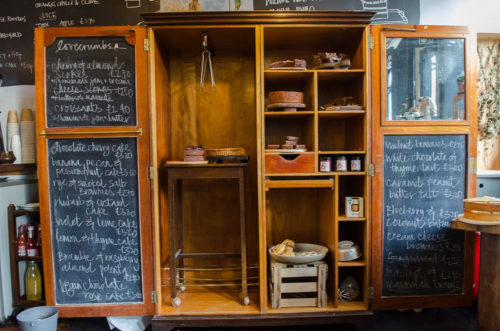 Lovecrumbs features a tasty array of baked goods, the perfect place to rest before continuing your explorations.
While you're perusing the shops at this end of the street, be sure to pop in to
Hannah Zakari
on the wonderfully named Candlemaker Row, for a marvellous selection of contemporary jewellery. Then head up Victoria Street and visit the
Red Door Gallery
for artwork and gifts made by local artists.
Leith and Leith Walk
Leith used to be a town totally separate from Edinburgh. Now part of the larger urban sprawl, it's connected to the city center by the eponymous Leith Walk. This street isn't particularly glamorous, but along the way there are a host of cool bars and restaurants, beginning with the Swedish bar Joseph Pearce, the new Spanish eatery Serrano Manchego, the hipster watering hole Woodland Creatures, ending with gastro-pub cocktail hub The Lioness of Leith.
Out of the Blue Drill Hall is a wonderful community space that hosts a series of events each month, like craft markets, open studios, vintage fairs, and flea markets. For example, look out for Judy's Affordable Vintage Faire in December and January. Events are advertised on an ongoing basis, so check in regularly to see what's new. Out of the Blue is also home to a delicious café that doubles as a social enterprise helping local young people who are out of work.
Vintage fabric finds at St. Columbia's Hospice Charity Shop.
For those on the hunt for vintage and crafting finds, St. Columba's Hospice Charity Shop has a small but dedicated section of second hand fabrics, patterns, and notions.
At the bottom of the hill, head to the old port where there is Michelin star dining alongside pubs like The Kings Wark, Roseleaf, and Teuchter's Landing. Those looking for the real Leith pub should visit the legendary Port O'Leith, which is full of local characters.
New to the Edinburgh fashion scene is the Biscuit Factory, a studio and exhibition space for local designers and creatives that is based in an old biscuit factory in the heart of Leith. In the last few months they have held a series of fashion-focused events and exhibitions. Follow them on Twitter for the most up to date information.
Lazy Sunday: Stockbridge
On the edge of the New Town lies Stockbridge, a little village within the city. Start off your adventure by taking in the village itself. On Sundays, a small street market takes over the tiny square at its center. The stalls can be hit and miss – you will find strange wood crafts and men dressed as monks selling handcrafted spirits, next to tasty street food from chapattis to gyozas. There are also delicious sweet treats from The Chocolate Tree, beer from St. Andrews, and coffee from North Berwick.

Further down the street you will find a whole host of charity shops (thrift stores for you Americans). High on the list is Barnardos Vintage, where rifling through the racks reveals some fabulous finds. Small but perfectly formed, the front of the shop has a nice collection of second hand clothing from the recent decades, while the back room houses a curated selection of true vintage gems. On a recent visit I spotted a tailored '80s velvet jacket (very on trend) and several loud '70s printed dresses that are ripe for alteration and embellishment. Other second hand highlights include Oxfam Music, which is small but stuffed to the brim with vinyl.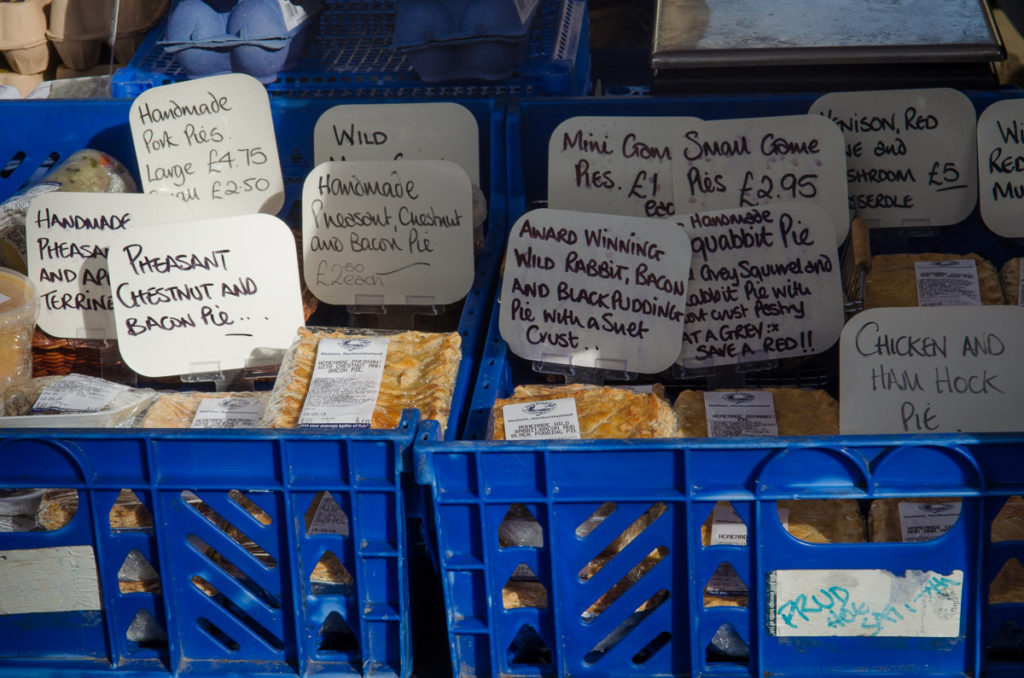 There are also some lovely pubs like the Stockbridge Tap, an old man pub full of wood and real ale (and delicious pub food, if you're lucky). Another pub worth visiting is Hectors, where student buzz meets relaxed charm. Meanwhile, Kays Bar makes you feel like you're having a drink in someone's living room. It's hidden down a side street, and is the ideal place to have a dram of whisky at the end of a long day.

Edinburgh is more than just a picture postcard of a castle on a hill, more than souvenir kilts and UNESCO heritage sites. Come and visit and see the vibrant creativity that bubbles just below the surface.
Join the Conversation
Sign in or become a Seamwork member to comment on this article.