A trip to Japan must surely be every sewist's dream! There is an abundance of wonderful fabric, yarn, and notion shopping, often in prints and fibers that can be hard to find internationally. While it may seem a little confusing at first, shopping is easy once you know how the stores operate, and your main issue will likely be being overwhelmed by choice. Shopping in Japan is certainly not cheap, but the quality and uniqueness of what's available make it worth saving up for.
Kyoto has a wide range of one-off beautiful fabric and yarn stores, mostly concentrated in the central shopping district of Kyoto's left bank. The area is a tangle of tiny arcades and back streets, mixing food stalls, hipster cafes, clothes shops, and craft stores. You can spend a busy morning or even several days getting lost and stumbling on hidden treasures!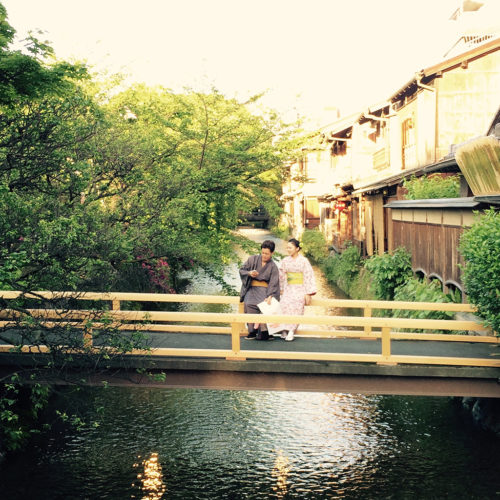 Before you set out, bear in mind that Japanese stores open on the late side: the earliest open around 10 a.m., but some won't open until lunchtime, so check before you head out or plan for an afternoon trip. Some of the stores only accept cash, so you'll want to get money in advance. Try an ATM at a 7-Eleven because most Japanese bank ATMs don't accept foreign cards. Tax-free discounts are available for foreigners in some stores if you spend more than 10,001 Yen. You'll need your passport to get the discount, and there will be a little paperwork. Some stores like Nomura Tailor proactively offer if they know you're foreign, but you'll have to ask in others.
Fabric stores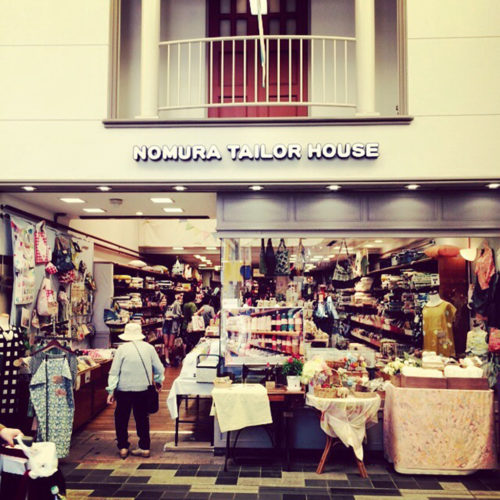 Nomura Tailor's two locations are the iconic fabric stores of Kyoto. They're just around the corner from each other, but it's worth visiting both, as the stock is different in each.
The main store, "Nomura Tailor," is located on Shijo Dori Street, between Fuyacho Dori and Gokomachi Dori. It has three floors of wonderful fashion fabrics from interesting laces to knits, Nani Iro, Kokka, and the ever-present novelty cottons with everything from bananas to Boston terriers! The top floor has a wide range of notions and other crafting products like needle-felting kits and bag-making accessories. You help yourself to the bolts of fabric and take them to the customer service desks on each floor to have them cut and to pay.
Nomura Tailor House is a smaller store, located in the shopping arcade on Teramachi Street (about halfway up on the left-hand side). This location is craftier, with a lot of quilting cottons and bundled fat quarters, and supplies for embroidery crafts. It's the perfect place to get some "kawaii" Japanese fabric or supplies for kid's clothes, but there's also lots of grown-up sewing, too.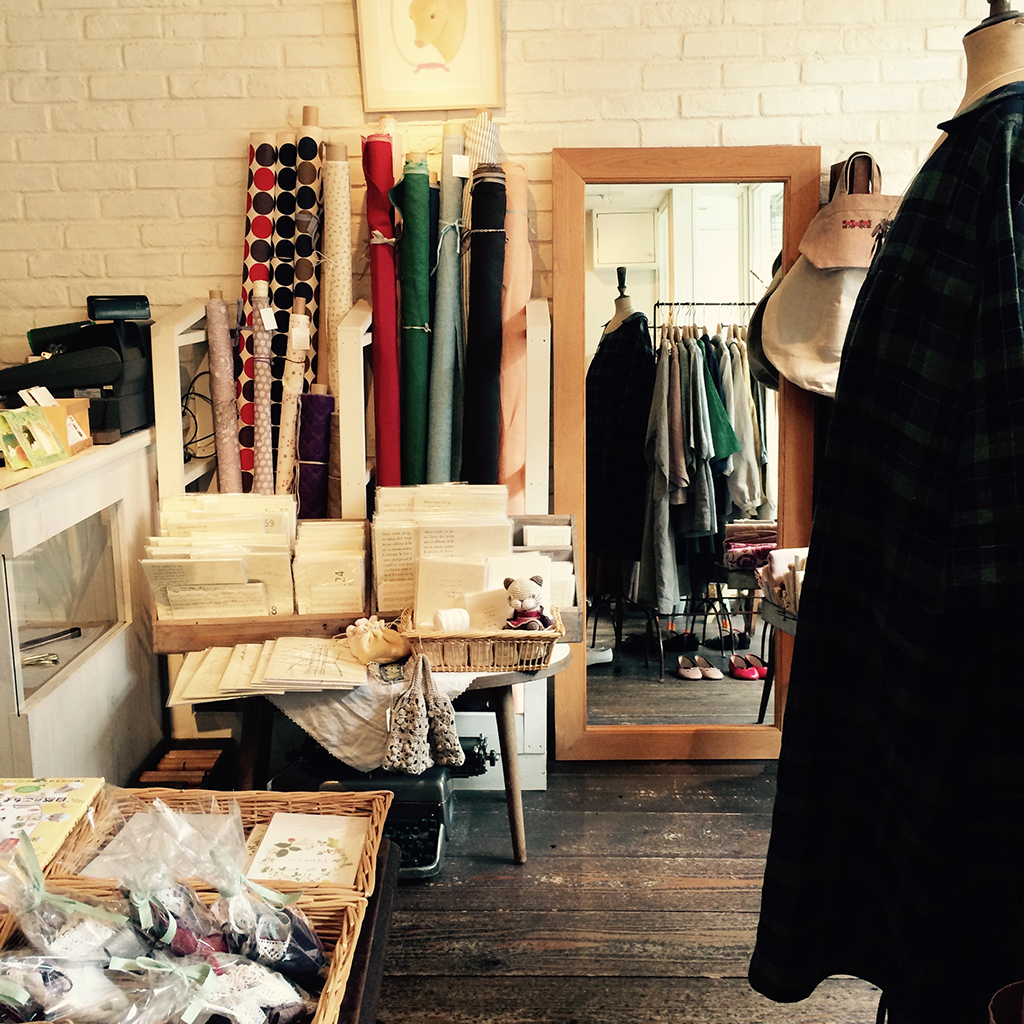 Linnet  (562 Aneyakoji Dori, by Tominokoji Dori.)
This is a cute, small shop that specializes in linen. It has a curated selection of bolts of solid linen and a few stripes, and it also sells its own range of garment patterns and fun notions.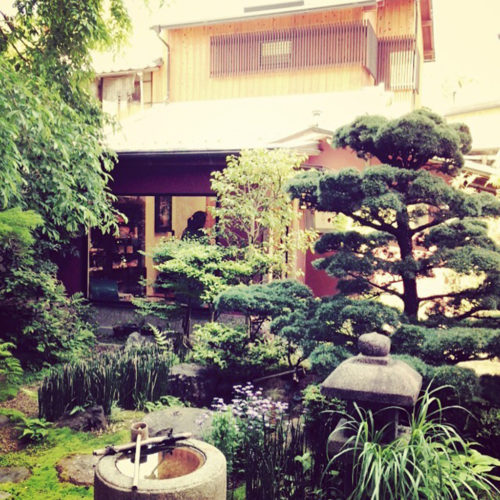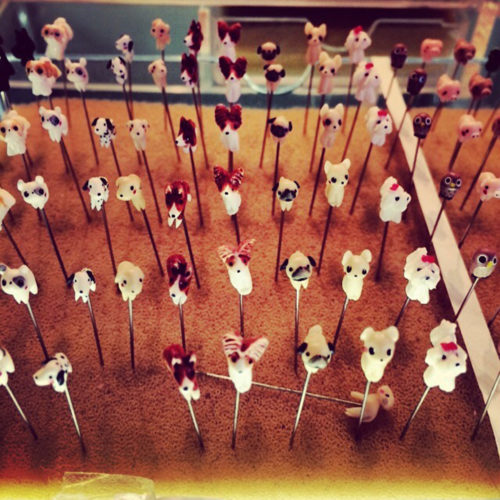 Misuyabari Needle Store is a 400-year-old store and absolutely un-missable part of a Kyoto trip, though it's quite hard to find! The tiny store makes and sells exquisite handmade needles, decorative pins (with tiny animals and plants on them), needle boxes, and more. It's pretty hard to find but it isn't impossible. It's located in the Shinkyogoku covered mall, just off Shijo Dori. Go to the very end of the covered arcade and you'll hit a T-junction. Turn right and look for the pink shop on the left. Just to the right is a corridor that you go down and into a magical hidden courtyard garden where you'll see the little wooden store. It's well worth the search!
Idola (corner of Sanjo Dori and Tominokoji Dori, 3rd floor). Tucked away in a historic building, Idola has a beautifully curated selection of European vintage buttons and beads, and jewelry that they've made with their finds.
Yarn stores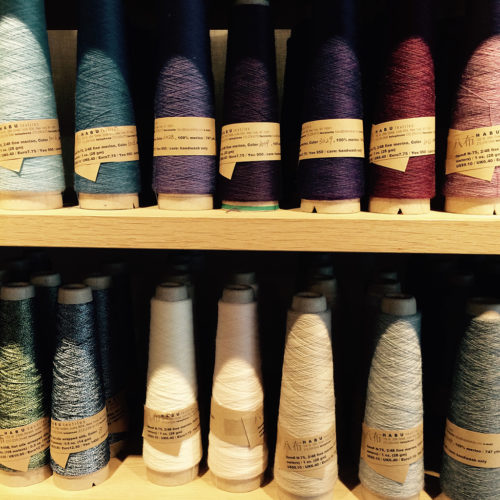 Habu Textiles (Gokomachi Dori, between Oike Dori and Aneyakoji Dori). A small, curated store predominantly focused on very high-end yarn (mostly merino), with a few bolts of selected linen fabrics. They also sell a small range of ready-to-wear clothes in the loose linen Japanese style. This is another hidden location, so look for the wooden sign on the street and head up the stairs.
Avril (Located next to Idola on corner of Sanjo Dori and Tominokoji Dori, 3rd floor). This is a stunning yarn store with high-quality yarn from floor to ceiling! Even if you don't knit, it's worth a visit to see the amazing displays and wonderful colors. They also have workshops in knitting, weaving, and felting.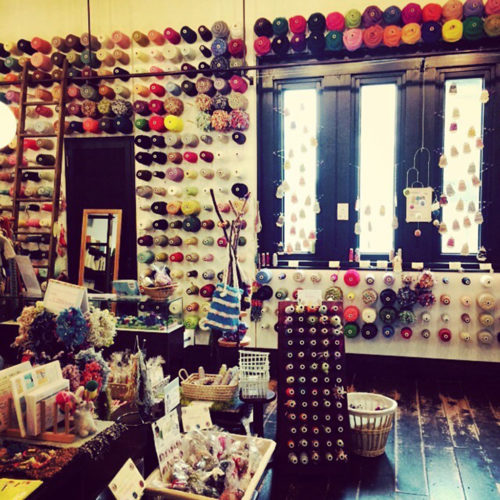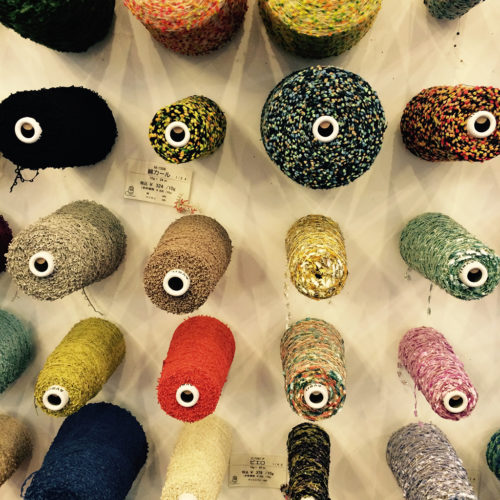 Food and Drink
It's hard to have a bad meal in Kyoto, as there are so many fantastic restaurants and cafes. After a hard afternoon's fabric shopping, here are some recommendations:
Bunny B (340-1 Daimonjicho). This small café opens out to the street, where you can stop for a coffee or a light lunch from their menu of fusion dishes. The fried noodles are particularly recommended! At night, it's a great place to grab a cocktail and watch the world stroll by.
Café Independants (corner of Sanjo Dori and Gokomachi Dori). An eclectic atmospheric café and restaurant in the basement of an arts center, you can join the hipsters of Kyoto over a latte and check out listings for the performance space upstairs.
Kanidoraku Kyoto (Corner of Teramachi and Sanjo Dori) . If you're looking for a more substantial lunch or dinner, this spot specializes in crab, including crab sushi, tempura, and grilled King crab legs.
Other activities in Kyoto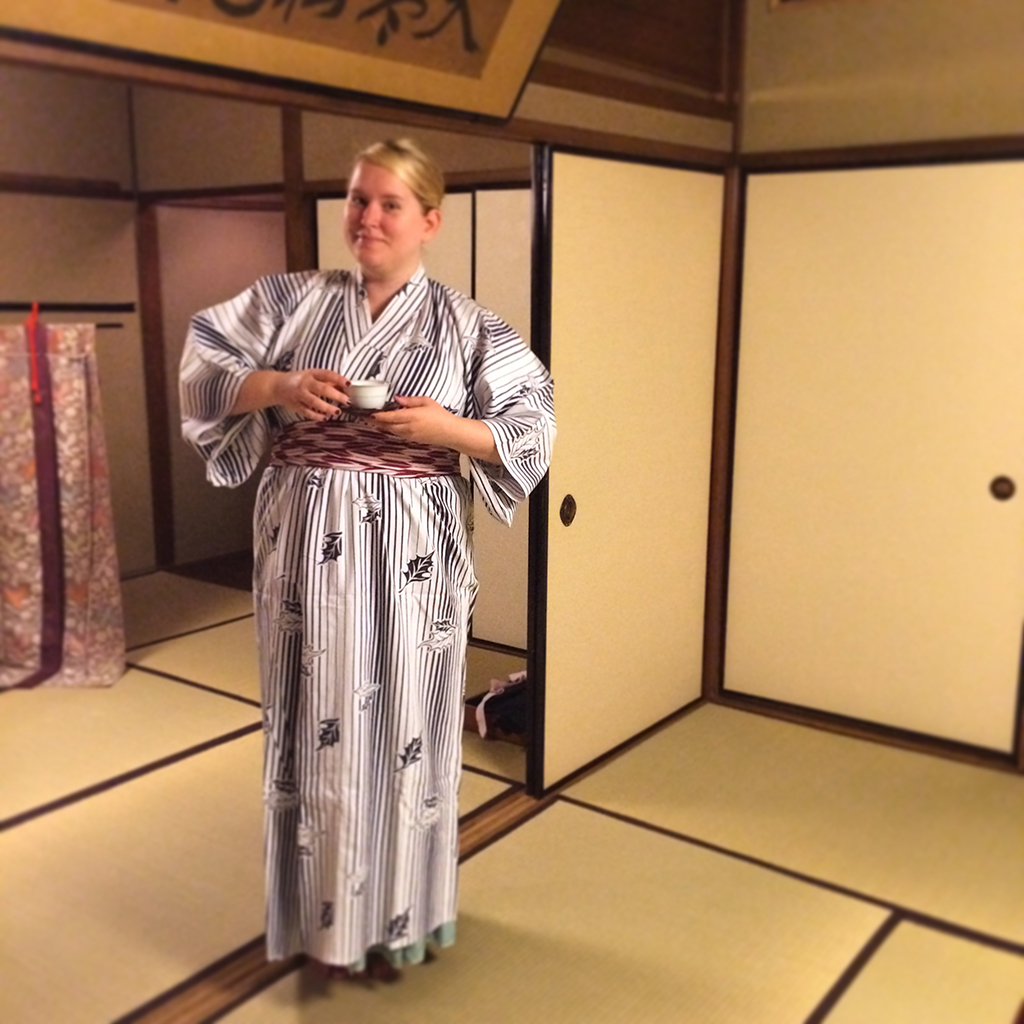 Of course, there are weeks if not months of sights to see in Kyoto, particularly in the right bank Gion district, with its endless temples and historic alleys. However, if you want to try some more creative activities here are some ideas:
Cooking Sun cooking school, This highly rated Japanese cooking school has classes for foreigners, where you can learn to cook for a bento box, or make traditional home dishes.
Nishiki market is nestled in among the fabric stores, and is a great place to spend a morning or pop in for lunch. There are a myriad of food stalls, as well as souvenirs and small handcrafted objects.
For something more musical, check out the Taiko Center where you can learn about the history of Japanese Taiko drums and take an hour-long drumming class.
Join the Conversation
Sign in or become a Seamwork member to comment on this article.