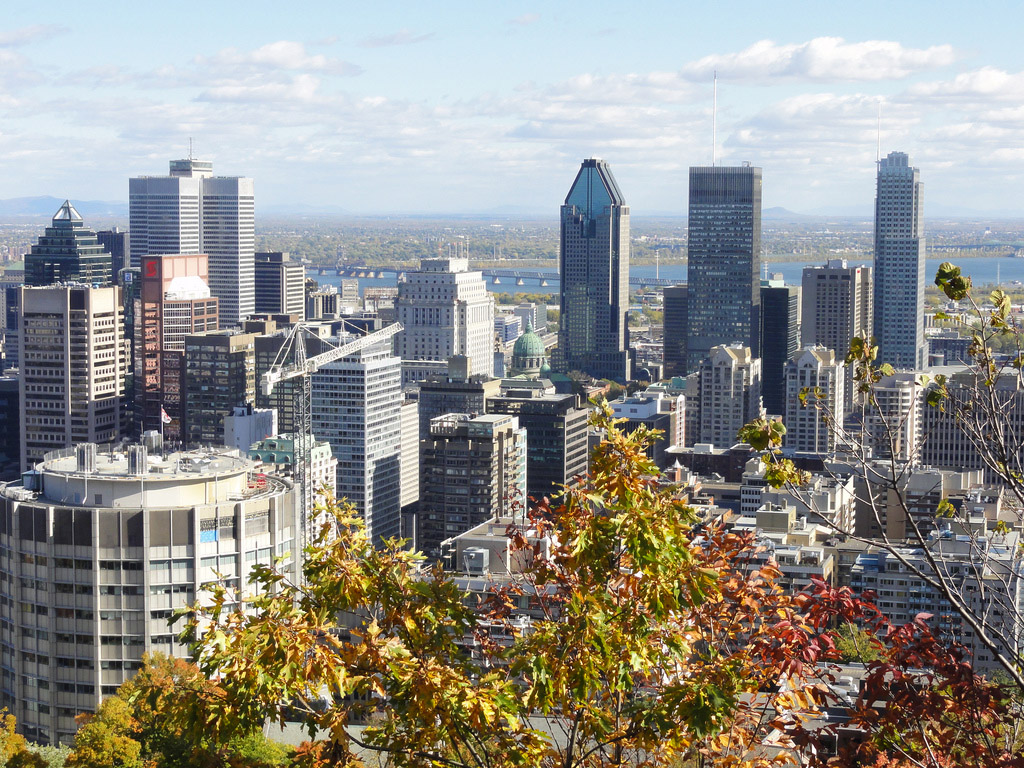 The Montréal skyline offers both city and sea. Photo credit: Kenneth Joe
Montréal, Québec is a buzzing cosmopolitan city with a definitive European flair! It is well-known for its uniquely rich culture that mixes French and English, as well as its numerous museums and year-round festivals.
In its glorious past, Montréal was one of the biggest centers for textile and clothing manufacturing in Canada. Like me, most of us had a grandmother who worked at "La Textile" in the good old days. The industry is not as vibrant now, but with the emergent generation of eco-conscious designers and specialized textile manufacturers, we can still be proud of our scaled-down Fashion District!
The friendly nature of Montréalers makes it a good place to meet people! Greeting new and old friends with a kiss on each cheek is totally normal (start with the left). Montréal's sewing bloggers like to meet and go fabric shopping, visit an exhibition, and usually end up sharing a few drinks and a good meal. With Montréal ranking second after New York City for its number of restaurants per capita, it's a foodie's paradise!
Sewing-Themed Activities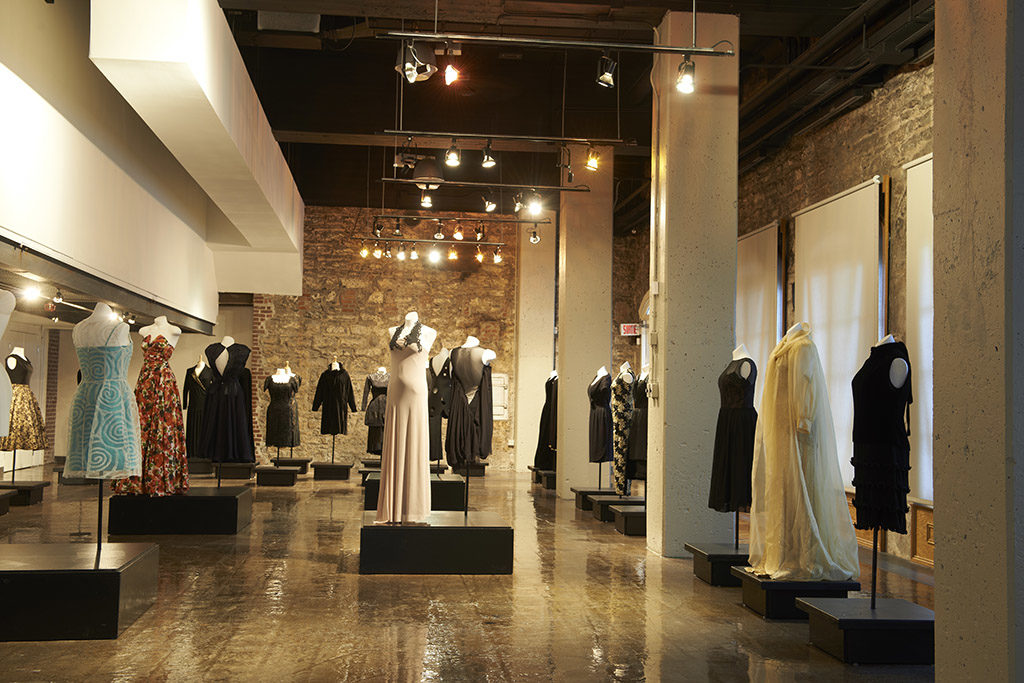 Gather sewing inspiration at the Museum of Costume and Textile. Photo credit Alexis K Laflamme.
If you love fashion, visit Montréal in late August for the Fashion Design Festival in the Quartier des Spectacles, the cultural heart of the city (métro Place-des-arts).
Not too far away at the McCord Museum (Montréal's history museum), is the permanent exhibit "Wearing our Identity – The First Nations Collection," which features amazing beadwork and finely decorated leather garments. A subset of their 18,000 historical costumes, accessories, and artifacts collection is displayed during special exhibits.
In the Old Port (métro Champs-de-mars), the Costume and Textile Museum proposes some small but very interesting and cohesive exhibits, workshops, and guest lectures. While at the Marché Bonsecours, visit the artisans market on the other floors, featuring art galleries and top-quality "made in Québec" creations from designers, craftsman, and jewelers, as well as leather, metal, and wood workers.
Local Boutiques
Antique Shops
More than forty antique shops are grouped on Notre-Dame Street between de la Montagne and Atwater Streets (métro Bonaventure to Lionel-Groulx). It is also the heart of Griffintown where superb tables abound: Try the Griffintown Café for a copious brunch, the Burgundy Lion for great pub fare, and the Grinder for delectable tartars and a private imported wines list. On Atwater Street, you can enjoy fresh flowers, regional products, and fine chocolates at the Marché Atwater, a public farmer's market bordered by the Lachine canal (cruises, river surfing, bike and kayak rental in season).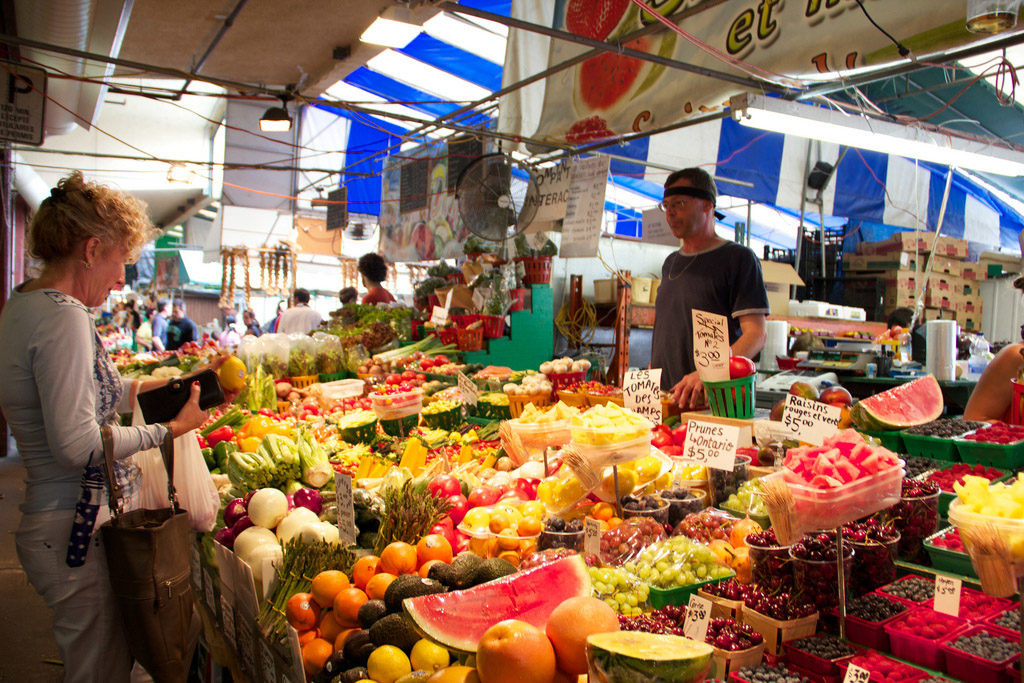 Stop by the Marché Atwater and sample regional products and tasty treats. Photo credit: Mathieu Thouvenin
Fripperies and Designers' Boutiques
In the famous neighborhood of Le Plateau, the most densely populated neighborhood in Canada, a lot of charming boutiques and restaurants can be found on Mount-Royal Street (métro Mt-Royal), with a cluster of fripperies (secondhand stores) like Retromania and L'autre placard toward the mountain. On a summery Sunday, let the rhythms of the city guide you to the base of the Mount-Royal Mountain for a laid-back gathering called "Les Tam-Tams."
If you prefer trendy to artsy, head to Main Street; St-Laurent Street separate Montréal West and East sides with addresses starting at zero there. On St-Laurent, between Sherbrooke and Mt-Royal streets, you can find many local designers' boutiques, more fripperies, high-end furniture stores, lovely bistros, and the trendiest hair salons and night clubs in town! A few boutiques worth mentioning: 1861 (vintage), Kitsch & Swell (pinup), La Fripz (recycled clothing), and Scandale (high-end clothing).
Local Designers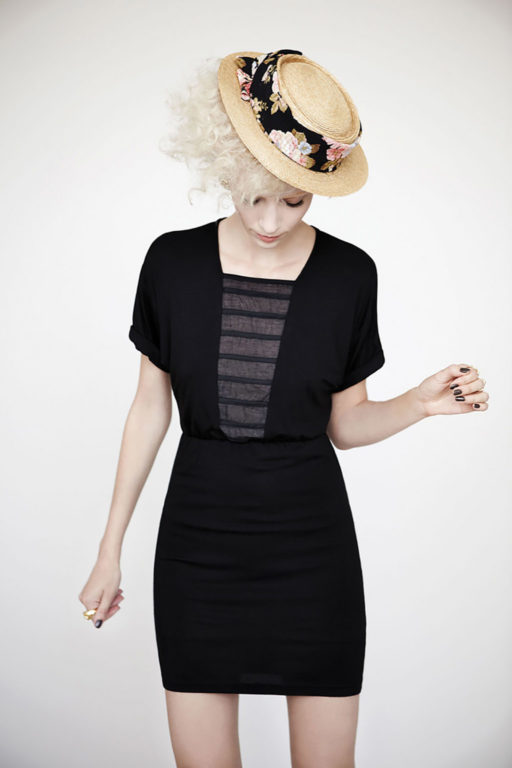 Designer Eve Gravel designs and produces her feminine
line of clothing right in Montréal for 10 years.
Montréal has its own independent sewing pattern designer: Heather Lou from Closet Case Files, who started with the popular Bombshell bathing suit pattern in 2013. She currently teaches students how to sew the Zinnia skirt from Colette Patterns at Fripe Fabrique. Her latest pattern, chic Carolyn pajamas, would be lovely to lounge around in your hotel room!
For outdoor lovers or anyone sensitive to the cold, the warmest coats, jackets, and parkas have been made by Kanuk on Le Plateau since 1974. Their motto is "dress to tame winter." To ensure warmth, the shell and insulation are cut and sewn separately while the seams are offset to prevent cold air from seeping in. Kanuk offers alterations, repairs, and cleaning services on site.
For the past twenty-five years, La Maison Marie St-Pierre has been a synonym for luxury. Her collections are avant-garde, and she loves to seamlessly incorporate different fabrics, textures, and volumes. La Maison offers women ready-to-wear, bridal, fragrances, and accessories. They also fund "Sous Zéro," a program that provides warm clothing to underprivileged children in Montréal.
In 1763, Montréal was the center of the North American Fur Trade. The Fashion designer Mariouche Gagné reinvents the tradition with her line of recycled fur clothing and accessories at Harricana since. Though her goods are expensive, it's a very interesting sustainable upcycling business.
Eve Gravel has been designing ultra-feminine, contemporary, casual, and original collections since 2002. Her designs are sold in boutiques all across Canada, the United States, and online. She dresses numerous celebrities and artists like Norah Jones, Arianne Moffat, Coeur de Pirate, Mara Tremblay, and Pénélope McQuade.
Marie-Eve Emond launched a vintage-classic-meets-modern fashion brand in 2009 called Betina Lou. Her collections offer timeless and feminine sustainable garments for everyday wear. Designed and sewn in Montréal with mostly European and Japanese fabrics, her Tencel Denim dress begs to be fondled! She also uses Cupro. a cellulose fabric made from cotton waste. You can visit her studio by appointment in the same building as Les Triplettes. Les Tripplettes is a home decor boutique and DIY studio with sewing classes, kids' day camp programs, selling Liberty of London fabrics (métro Rosemont).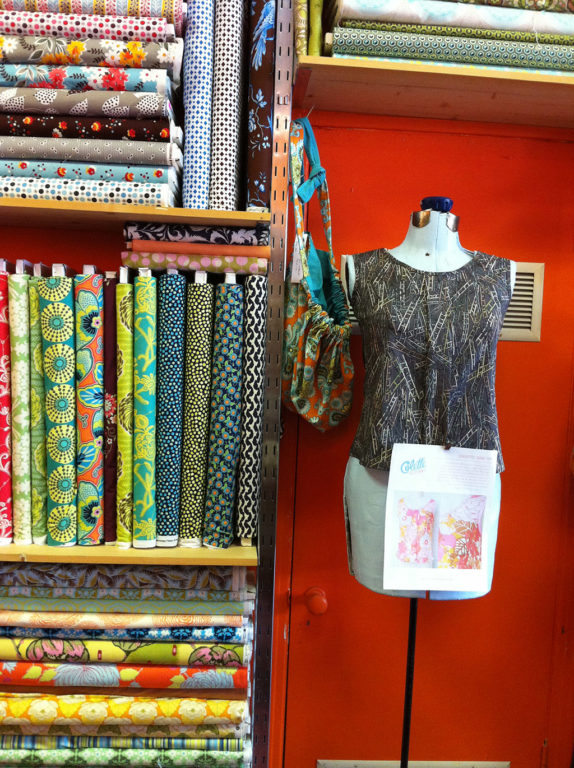 Effiloché carries yarns, designer, fabric, and books.
Photo credit: Plaza St-Hubert Business Development Society
Fabric Stores
St-Hubert Street
If you are like me, shopping at clothing stores gives you a boost of sewing inspirations and fabric lust! The first place that comes to mind for fabric shopping is St-Hubert Street. Note that I've put the civic numbers in parenthesis, and they increase going north.
The southern section, Plaza St-Hubert, is a covered promenade with bridal boutiques, and shoe and fashion stores. It is where my sister and I bought our wedding dresses! Effiloché (6260), which means "to fray or ravel," is a pretty boutique selling skeins of yarn and designer's quilting cottons, Liberty of London fabrics, patterns, and books with a knitting lounge. Tissus Regent (6580) is the cheapest place for fabric, but nothing is labeled. Eat at the Artizan Biztro (6349) for an unforgettable meal; meet at the Le Gainzbar (6289) for Jazz, a drink, and tapas; go out at the Le Petit Medley (6206) for a 5@7 with a local beer, followed by dancing or a show around 8pm.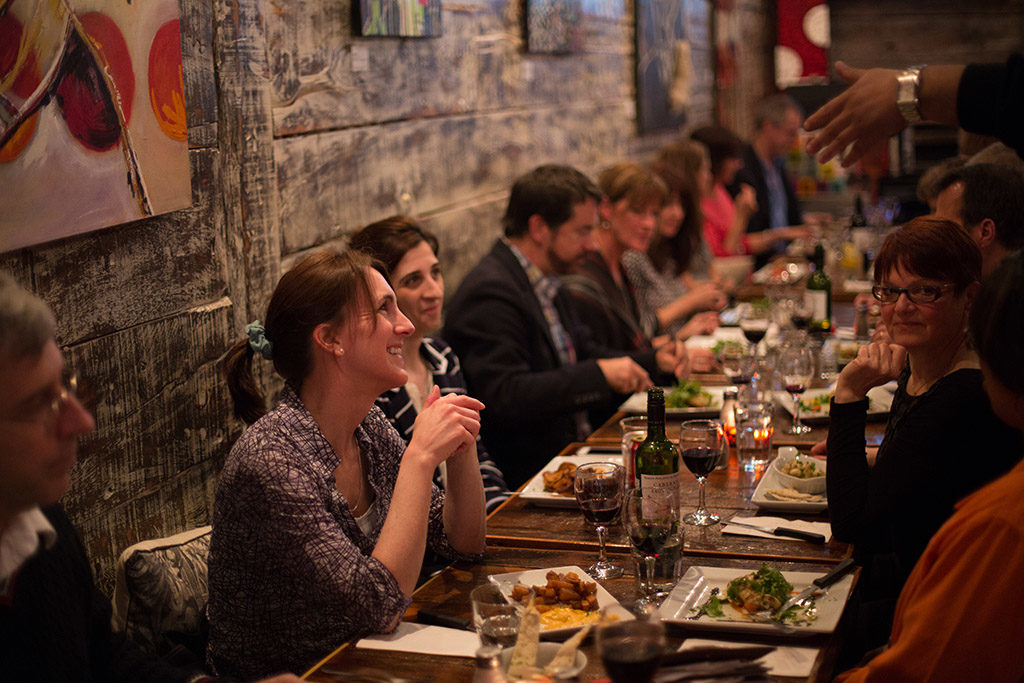 If you are hungry stop to grab a bite at Artizan Biztro. Photo credit: Plaza St-Hubert Business Development Society.
As you go north of Jean-Talon, you exit the Plaza. The decor degrades, but the majority of the fabric stores are there. You can find a lot of different fabric for home decor, upholstery (even vinyl and foam), outdoor, apparel, etc. Peruse the haberdasheries at Trimcity (7381), Rubans Boutons (7363), and UltraText (7186). The high-end boutiques for quality fabrics are located at Couture Elle (7361), Sam Textile (7195), and Tissus St-Hubert (7399). C&M Textiles (7500) is a chain store offering a large array of fabric (even organic bamboo knits) with notions and patterns. There are also a handful of tools, sewing machines, and parts stores––the best is Kava (7609). Karma Pigments (7442 St-Hubert) sells raw materials for artists to produce their own medium for all sort of plastic arts, like to paint or dye fabrics. Teinture CY Sauriol (7231 St-Hubert) offers a unique service to die leather goods, from a simple clutch purse to a complete couch! If you are too tired to come back for a meal on the Plaza, there is a nice Peruvian rotisserie at Pizzelli Coq (7616).
Tissus St-Hubert offers a little bit of everything from sequins to bamboo jersey. Photo credit: Plaza St-Hubert Business Development Society
The Marché Jean-Talon is the biggest public market in North America – a little village on its own! Italmelodie, an imposing musical instrument store, and Fripe Fabrique, a vintage, eco-designers' boutique and DIY studio, are also nearby.
Chabanel Fashion District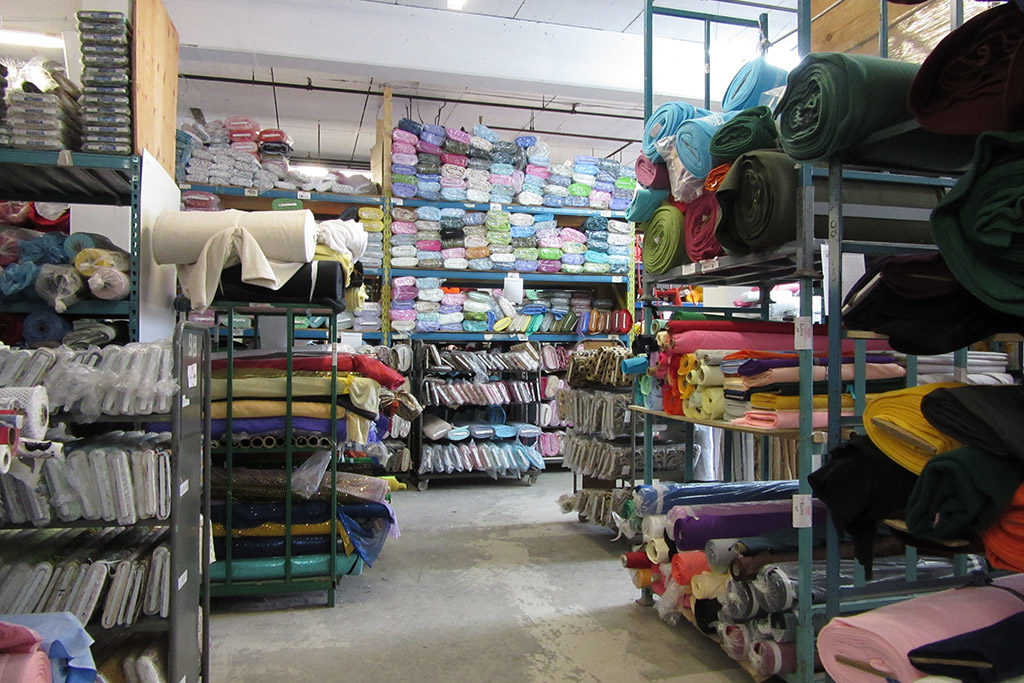 Tonitex is a fabric mecca that offers a huge variety of fabrics.
The Chabanel area is a labyrinth of warehouses hiding several affordable fabric stores. Make sure to print a map before going. You can travel by way of métro Sauvé or Crémazie. The stars of Chabanel are Tonitex (9630 St-Laurent) and Globe-tex (9320 St-Laurent #406). I tried to list all of the types of fabric available but ran out of ink! Moreover, their employees are helpful and friendly. Alisha Tex (9600 St-Laurent #305) is a quilter's paradise with a warehouse full of quilting cottons, extra-wide backing, satin batting, needle punch, canvas, fleece, tartan, and more.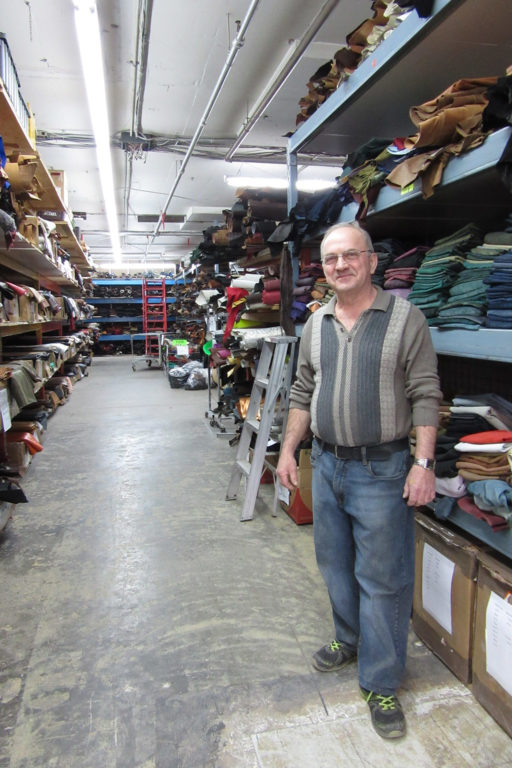 Monsieur Nicolas at Cuir Boilard welcomes customers
and offers great advice.
Some stores are more specialized: StretchText (9320 St-Laurent #300) has a wide selection of tricots, holograms, metallic, rachels, velvet, satin, and spandex prints. Suzie Spandex (9320 St-Laurent #601) provides stretch/Lycra fabrics and wicking exercise fabric such as Suzieplex used by Melissa Fehr. For durable and aesthetic genuine leather products, go to Cuir Boilard (185 Louvain #200). Ugarit Artisanat (9600 St-Laurent #605) is a bargain store for all sorts of crafts supplies.
There are notions shops too. CanZip (1615 Chabanel W.) is further away but offers an extensive zippers selection that are mostly made on site. Can Sew (111 Chabanel W., #101) offers great prices for thread, elastics, and scissors. You order at the counter after browsing either their catalog or online. Canada Asia Threads (9176 St-Laurent) sells industrial sewing machines, parts, and notions, and they have very good price on serger threads.
Finally, there are even more bargain fabric stores to discover by walking in warehouses and going from floor to floor; you will probably feel like you've hit the jack pot on the fourth floor at 99 Chabanel West. Get a cup of coffee at Tim Hortons, eat lunch at one of the few small bistros on Chabanel Street, or walk a few blocks for a fantastic supper at Rapahël Bistro & Wine Bar.
Scattered Gems
In Montréal, there are scattered gems to stumble upon, as locals open interesting and soulful boutiques. La Gaillarde (4019 Notre-Dame W, métro Place St-Henri) is a nonprofit organization and boutique selling vintage items, local eco-designer's creations, accessories, vintage patterns, notions, and fabrics. They also often organize soirées, fashion shows, and swap meets.
Club Beads (8259 St-Michel Boulevard) offers classes and sells good-quality jewelry supplies, beads, and buttons – which can be used as garment embellishments.
Browse goods handmade by local eco-designers at La Guillarde. Photo Credit: Jon Brooks
Delyla (5333 Casgrain #604) is Montréal's organic knit fabric manufacturer. They will soon be launching their online store and once a month they will open their doors to the public to visit the factory and purchase fabric.
Rixrax (801 Gilford, métro Laurier, on the corner of St-Hubert) offers more than one billion buttons, trims, hat-making supplies, and sewing tools.
For knitters, there is a Bitch & Stitch knitting and crochet club that meets twice a week and is organized by La maison tricoté (a tea room with local yarn and classes). The other top yarn stores in Montréal are Effiloché (yarns and quilting cottons), Espace Tricot (helpful staff, classes, great range of quality/price of yarns), and Mouliné (the biggest yarn store with a wide selection).
I am passionate about my home town, and I hope I managed to share that love with you! See my dusty blog Sew Eng for the complete list of all the fabric stores I know in Montréal, more activities suggestions, and links to fellow Montréal's sewing bloggers.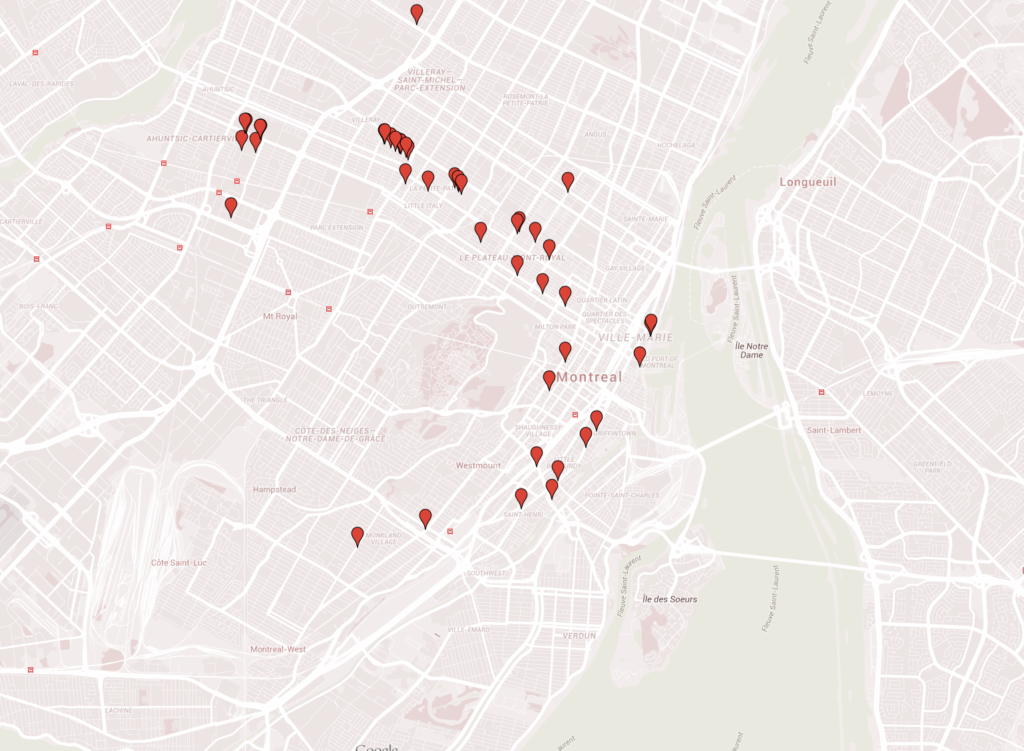 Click to view a Google map
with all of Caroline's recommendations.
Join the Conversation
Sign in or become a Seamwork member to comment on this article.