There are three things that the small city of Portland, Oregon is known for: rain, microbrewed beer, and fantastic food. What's not as well publicized is our city's enormous craft and DIY scene. With all those hours spent indoors during the chilly, damp months of winter (not to mention fall and spring), Portlanders have developed a tremendous interest in making. In recent years, Portland has become a mecca for creative people, which has only enhanced the city's offerings for the craft-minded. Whether you're interested in sewing, knitting, gardening, or home brewing, there are shops, classes, and museums for you.
The Basics
Though it frequently rains in Portland, it's mostly a drizzle rather than a downpour. You can take comfort in the fact that the weather is generally mild. Late winter (January and February) tends to be the coldest and wettest time of year. The payoff comes in spring. Beginning in March, the city bursts into bloom with greenery, cherry blossoms, and tulips everywhere. Summer is a season of celebration, when the rain gives way to plenty of sun. It's a great time for hiking in the nearby Columbia River Gorge or picking fruit at nearby farms on Sauvie Island. Fall is crisp and dry, with beautiful light and fresh pears and apples from the nearby city, Hood River.
Getting around Portland is easy. The city is divided into quadrants (Northeast (NE), Southeast (SE), Northwest (NW), and Southwest (SW), with North Portland sometimes referred to as the "fifth quadrant"). Public transportation options are plentiful, with an extensive bus system that can get you almost anywhere within the city. The local MAX train line is also useful for moving around downtown, or getting to and from the airport. If you decide you'd like to explore the beautiful natural sights outside the city, it may still be worthwhile to rent a car.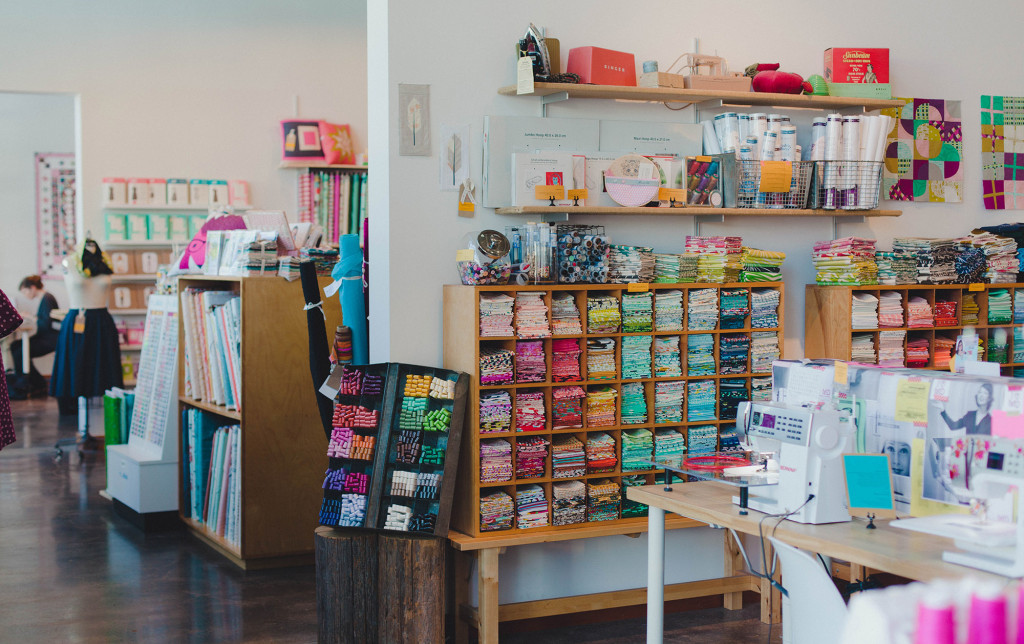 Modern Domestic carries your favorite independent sewing patterns, fabric, tools, and Bernina sewing equipment.
Shops for the Crafty
Over on NE Alberta Street, visit Modern Domestic. This large and airy sewing hub has a beautiful selection of fabrics and patterns, along with classes given by thoughtful and experienced teachers. They also sell a full range of Bernina sewing machines. Walk down Alberta, checking out other shops and restaurants along the way, until you arrive at Bolt. This fabric boutique aims to inspire, with a carefully chosen mix of high-quality fabrics, which are sure to get your creative gears turning. If you're a knitter, be sure to also check out Close Knit next door.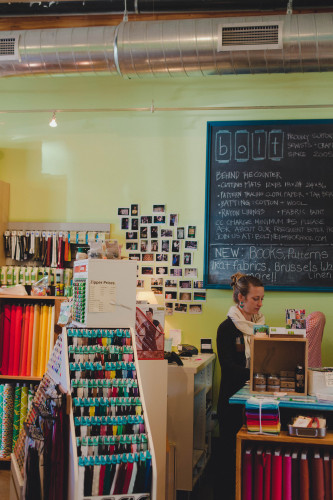 Stop by
Bolt
for a warm and friendly boutique
with carefully chosen fabric.
In the inner SE neighborhood, stop by Josephine's Dry Goods. This store has an absolutely impeccable selection of gorgeous high-end fabrics, such as Liberty Tana Lawn, all presented with the utmost care. You will also find Cool Cottons, an adorable store set in a red Craftsman-style house, specializing in both quilting and apparel cottons.
Head deeper south to find Mill End, billing itself as "the largest selection of fabrics in the US." This huge textile emporium has a friendly, warm staff and an incredible array of garment fabrics, including silk, linen, wool, and more.
While you're there, head up the street to the Pendleton Woolen Mills Store. This outlet receives fabric, home goods, and trims every week from one of the few remaining United States fabric mills. Pick up top-quality wool in luxurious colorways along with Pendleton's signature jacquard wools.
When headed out east, stop by the enormous Fabric Depot. This Portland favorite carries a huge selection of quilting cottons, but also has a wide selection of apparel fabrics. In particular, be sure to check out their weekend outdoor clearance sales in the summer for great deals.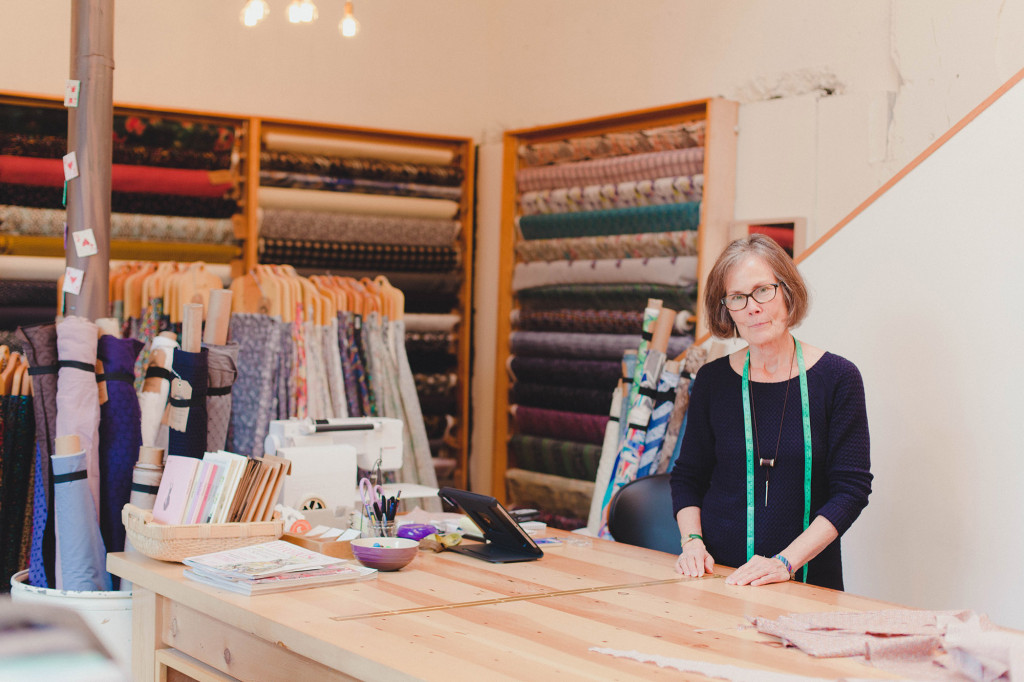 Josephine's Dry Goods
offers gorgeous, premium fabrics you won't find anywhere else.
One last hidden gem is The Knittn' Kitten in NE. This small but packed shop specializes in vintage and secondhand fabric and notions. You'll find everything from vintage wool to Czech glass buttons to sewing patterns from the 1970s. Be sure to look for great deals on vintage quilt tops and trims too!
More Shops You'll Love
If you knit, don't miss Yarnia, a custom yarn shop that allows you to create your very own yarn blends. Crafters of all kinds will also love SCRAP, a nonprofit that encourages creative reuse of materials, from vintage papers to yarn to fabric.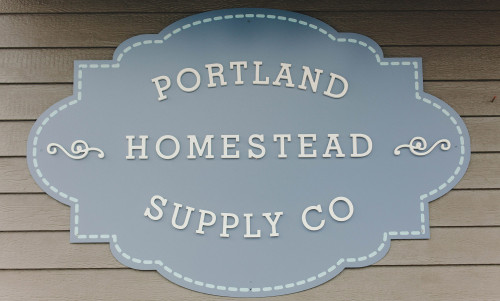 Portland Homestead Supply Co.
has your kitchen covered.
If your DIY bent leans more towards self-sufficiency at home, travel to the beautiful Portland Homestead Supply Co. in Sellwood. You'll find everything from Weck canning jars to cheesemaking supplies to a small backyard with goats and chickens.
For those of you who love vintage, Xtabay is absolutely not to be missed. This glamorous shop carries some of the most beautiful vintage dresses you will ever find and also has an upstairs bridal salon. Another fabulous shop is Wanderlust Vintage, also located in SE.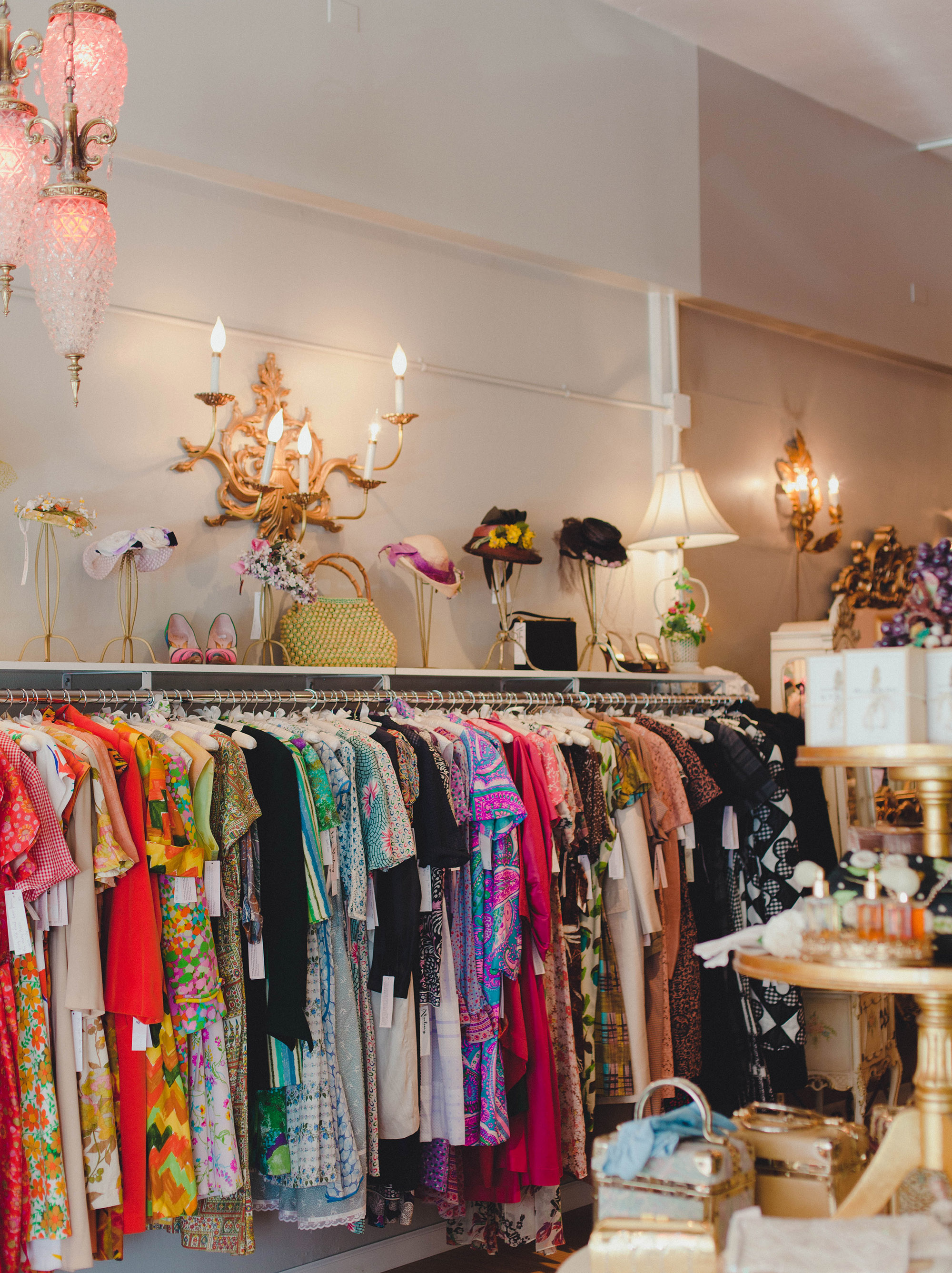 Vintage shop
Xtabay
carries some of the most beautiful dresses you will ever see.
If antiques and furniture are your thing, spend an afternoon at the Stars and Splendid antique malls in Sellwood, where you'll find booth after booth of lovingly displayed vintage wares. If your tastes lean towards mid-century, you'll love Hawthorne Vintage. For those who prefer spending a day hunting through thrift stores for good deals, you won't want to miss the enormous labyrinth of a store, House of Vintage.
Boutiques and Designers
Check out the gorgeous collection of clothing by small designers at Frances May, which carries labels for both men and women. Keep an eye out for their collaboration with local brand Church and State. Another local company is Bridge & Burn, makers of wonderful rain jackets and other apparel for both men and women.
Food and Drink
Food options abound in Portland, from the city's many quick and cheap food carts to high-end dining. Research the best options for your favorite type of cuisine at the Portland Food and Drink blog, which includes specialty guides for subjects such as outdoor dining, coffee, wine, and more.
Brunch is taken particularly seriously in Portland, and the options are vast. Tasty n Sons is a Portland favorite, and their delicious breakfast dishes are not to be missed. You're also guaranteed to enjoy your meals at Navarre with its enormous rotating list of special dishes. Swedish restaurant Broder (and its sister Broder Nord) are always packed, and with good reason. The beautifully plated egg dishes, lefse, and abelskiver are the perfect accompaniment to a chilly morning.
If baked goods are more your thing, you'll want to add Petite Provence to your itinerary. For bread, check out Ken's Artisan Bakery, and for wood-fired pizza, or take a seat at Ken's Artisan Pizza. If you're walking around on a frosty afternoon in SE, be sure to stop in for a piece of pie at Lauretta Jean's. For vegan treats, you will want to mosey into Sweetpea or Back to Eden, the latter of which is also entirely soy- and gluten-free.
Portland is also chock-full of locally roasted coffee. Stop by Barista, Coava, or Cellar Door for a delicious pick-me-up. For tea, Townshend's Tea offers loose-leaf tea for purchase in a cozy cafe.
Museums and Gardens
Be sure to stop by the Portland Art Museum. Now through May 3, 2015 you'll find the only West Coast appearance of the Victoria and Albert Museum exhibit called, "Italian Style: Fashion Since 1945." You should also check the schedule for the Northwest Film Center. Located in the basement of the Portland Art Museum, the film center regularly screens classic and independent films.
Don't miss the Museum of Contemporary Craft. This fascinating museum is dedicated to exploring the role of design and craft in our world. With collections focused mainly around ceramic objects, exhibitions also include fiber arts and other forms of craft.
Creative Classes
In addition to the classes at shops such as Modern Domestic, Portland offers many places for the creative maker to learn new skills and hobbies. For sewing, take a class at Portland Sewing, whose classes are geared towards new designers and often taught by apparel industry professionals.
Want to learn ceramics, painting, or screen-printing? Don't miss Radius Studio, a centrally located small community art studio with a warm and friendly staff in a laid-back environment. For travelers looking for day-long workshops, take a drive out to Wildcraft Studio School. Located in a bucolic setting about an hour outside of Portland, you'll find workshops on dyeing, weaving, textile printing, and so much more.
Visiting Portland is more than an opportunity to have some great beer and terrific food. Our fabric stores and other shops tailored for creative types simply cannot be beat. If you love to sew, grow, knit, print, cook, or make just about anything, you are guaranteed to feel at home amongst the friendly people of Portland, Oregon.
View the google map below, or click to open the full version.
Join the Conversation
Sign in or become a Seamwork member to comment on this article.