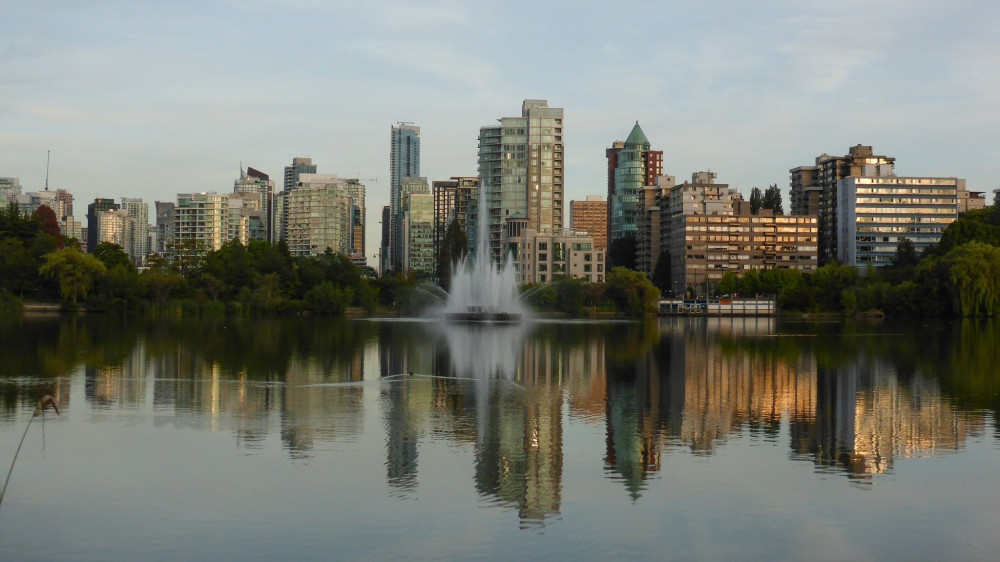 A view of Stanley Park's Lost Lagoon and Vancouver's West End neighborhood,
photo credit Jeroen van Luin.
Vancouver, British Columbia is a city of contrasts. It's a modern urban center surrounded by untamed nature—rugged green spaces, the North Shore Mountains, and miles of waterfront. A young city within Canada, it's been a meeting place for local First Nations groups for thousands of years.
Thanks to waves of immigration from east, west, and south, today's Vancouver is a city of many traditions and cultures. Surrounded by natural beauty, it's a place that continues to draw people from all over. The personality of this city is laid-back and temperate, like the weather. And the west coast approach to life is to get outdoors year round, even in the gray and rainy winter.
There's a fascinating mix of old and new, traditional and innovative. Emerging from this diverse city is a strong creative spirit, evident in the inventive small businesses, workshops, and classes available, and the many creative events held here, including the annual Vancouver Mini Maker Faire.
Sewing and Craft Shops, Studios, & Classes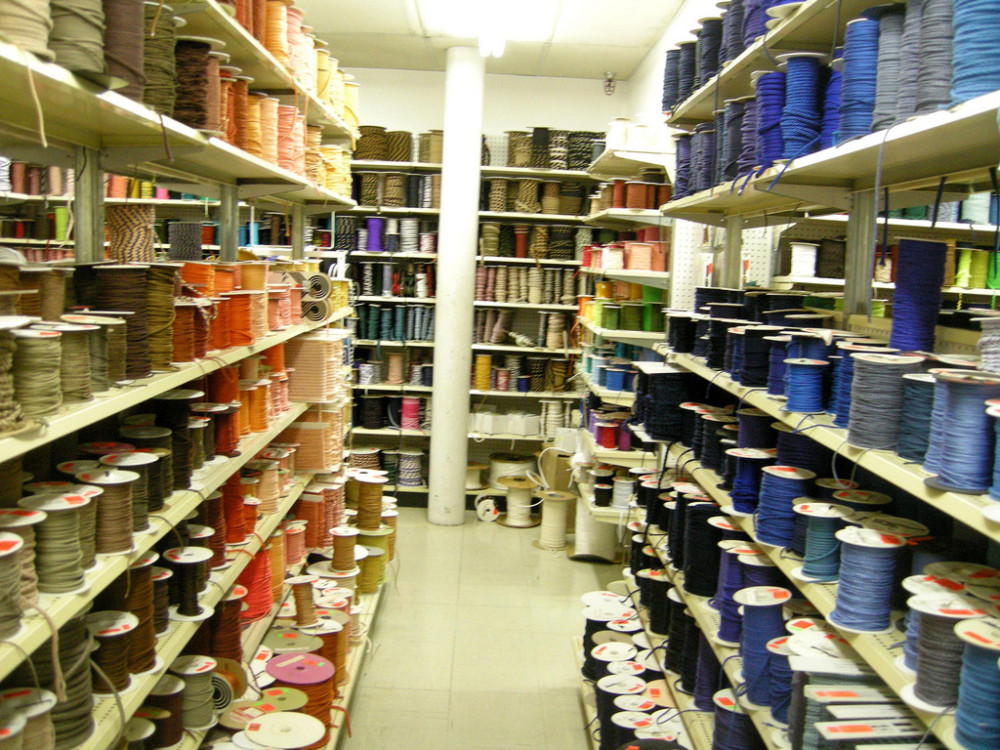 A rainbow of trims at Dressew, photo credit Crishna Simmons.
Start your tour of Vancouver at sewing mecca Dressew, a warehouse-style discount fabric store. The shelves are densely packed, so allow yourself some time to explore. Visit the basement for notions, including a huge selection of zippers in all colors and lengths. Cross the street to Atex Designer Fabrics, where you'll find great prices on an attractive range of silks, wools, linens, and knits. A visit to this neighborhood isn't complete without a stop at Button Button to enjoy the delightfully quirky displays.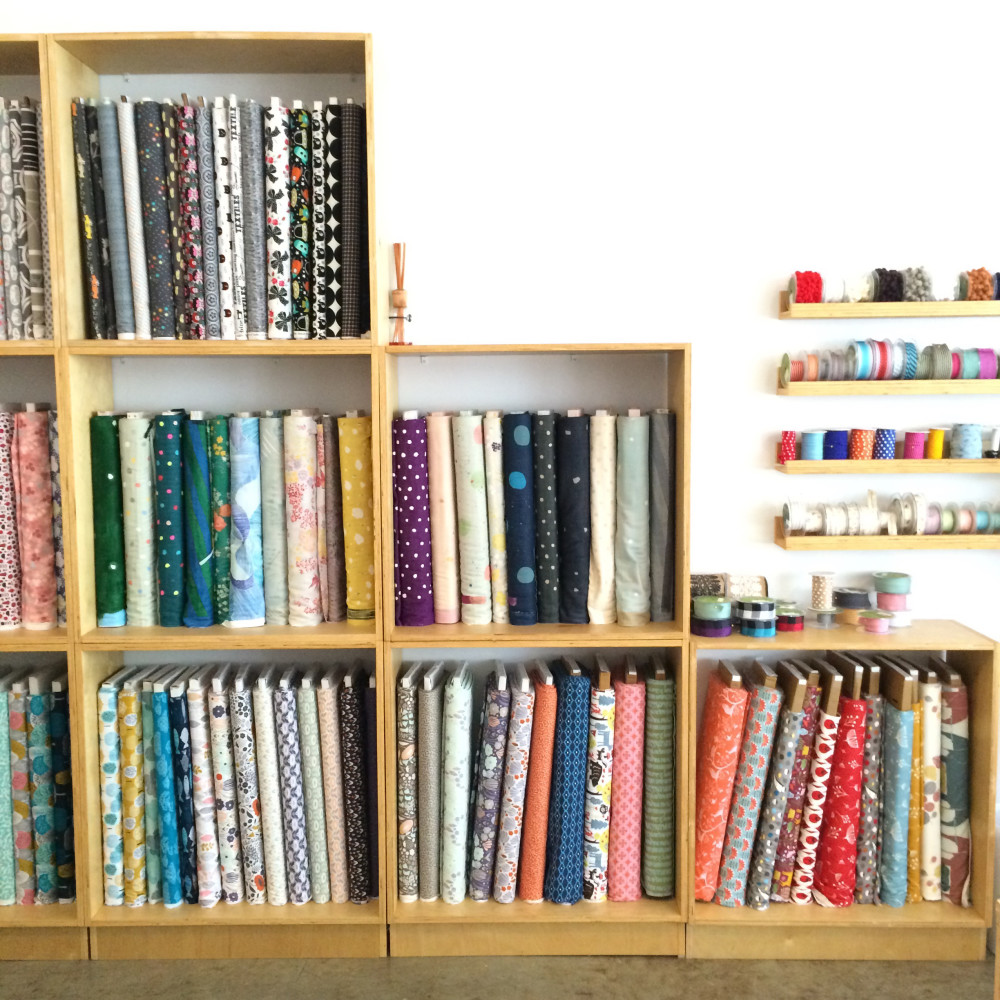 Spool of Thread Sewing Lounge offers a range of classes for all skill levels.
Spool of Thread Sewing Lounge is the place for modern and retro-inspired fabric. If you have time, try one of their popular sewing classes. A textile recycling initiative, Our Social Fabric, holds monthly events to sell fabric that would otherwise be discarded by manufacturers and the local industry.
Fabrics Etc is a retailer of fashion fabrics and other craft supplies. Stop by to shop their collection of fashion fabric and quilting cottons, or stay for awhile to use their studio space, where you have access to large cutting tables, easy thread sergers, and gravity feed irons.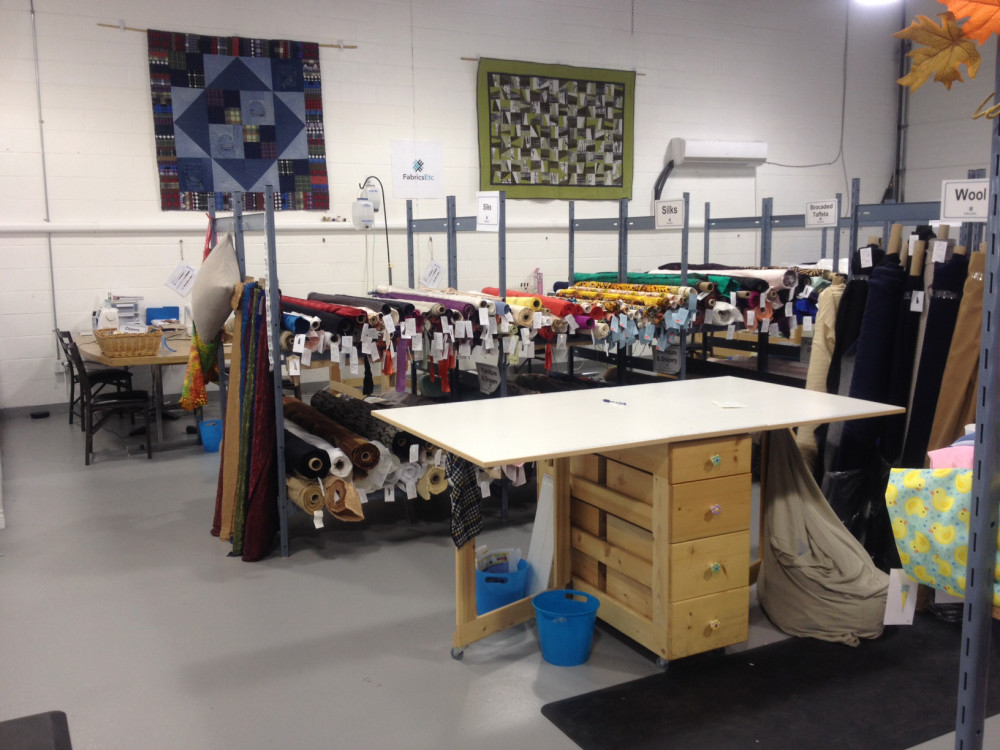 Shop a range of sewing and crafting supplies at Fabrics Etc.
On Granville Island, head to Maiwa in the Net Loft Building for fiber art supplies. Their sister store located in the same building carries a fantastic array of bohemian-style clothes in silk and hand-printed cotton. Also on Granville Island is a boutique quilting store called The Cloth Shop. They offer a delightful variety of quilting cottons and kits for large and small projects.
If sewing outerwear is your thing, Outdoor Innovations has the technical fabric you need—waxed cotton for water-resistant bags and jackets, nylon, and related notions. Do you sew or create with leather? Lonsdale Leather Warehouse stocks leather in upholstery and garment weights, and in wonderful finishes—embossed, printed, perforated, and lace.
In Chinatown, visit Yokoyaya, a Japanese household and lifestyle product store, for tiny kawaii needle felting kits, and polka-dotted zippers in the craft section. Check out the household storage for clever container options for your craft supplies. For embellishment or jewelry, Country Beads has a vast selection of beads for all your projects.
For knitters, Urban Yarns lives up to its name with a cosmopolitan selection of premium, fashion-forward, and just plain gorgeous yarns. If you love hand-dyed yarn, be sure to visit the SweetGeorgia Yarns studio for a peak into their hand-dying process.
Want to expand your crafting skills? Try one of the many classes offered in Vancouver. La Movida Design Studios has textile design, fashion illustration, pattern drafting classes and beginner sewing classes for sewists as young as eight. Blim offers screen printing workshops. Or if you want to try your hand at making fermented foods, Rooted Nutrition is the place to learn how.
Food & Drink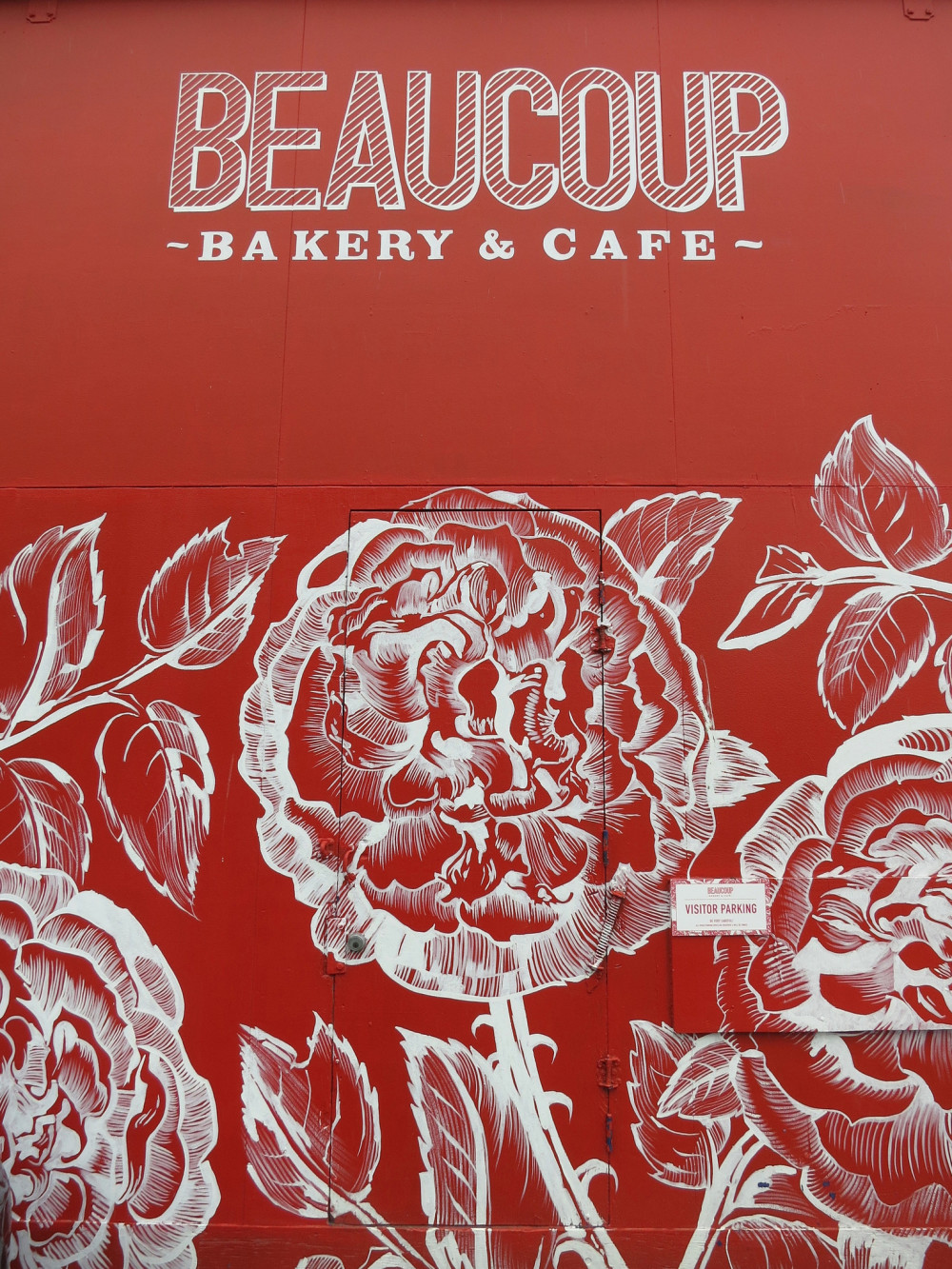 Enjoy a delicious pastry from Beaucoup Bakery & Café in their beautiful space
or take it to go, photo credit Ruth Hartnup.
Like our American neighbors in the Pacific Northwest, we take coffee seriously here, so options abound. Stop in at The Mighty Oak, a revived corner store café in a quiet, tree-filled neighborhood. If you like to make your own coffee, Matchstick Coffee Roasters roasts beans on-site. For the perfectly executed French pastry to go with your coffee, proceed directly to Beaucoup Bakery & Café in Kitsilano near Granville Island.
If tea is more to your taste, the enchanting Neverland Tea Salon offers afternoon tea. Save room for dessert: a stop at Earnest Ice Cream is a must for some exotically flavored small-batch ice cream—perhaps spruce tip?
Many Vancouver restaurants offer dishes that are a fusion of the best flavors and traditions from the cultures and people who have shaped this city. There is a growing emphasis on local, organic, and sustainable ingredients. Vegetarian, vegan, and gluten-free options are available in many establishments, from food trucks to fine dining restaurants.
La Taqueria offers up mouth-watering quartets of tacos made to order. For a Silk Road-influenced food adventure, try East is East, where chai tea is on tap all day. Les Faux Bourgeois is the place for a delicious French bistro meal. For a fine dining—yet casual—experience, Forage celebrates the bounty of British Columbia in its farm-to-table menu. Food carts are a recent but very popular addition to the Vancouver food scene. The app, Street Food, lists up-to-date locations.
Other Shops
Vintage lovers will want to visit True Value Vintage on Main Street for high-end vintage treasures. For Canadian-designed hats, head to Hastings Hattery, where their couture private label is locally designed and made.
In Mount Pleasant, Bird on a Wire features a carefully selected inventory of work by local artists. Several blocks south on Main Street is Urban Source, a supplier of salvaged art supplies. Fill a bag with unusual supplies from the display barrels around the store, and be inspired by the sample crafts on display. Paper-Ya on Granville Island has a superb selection of paper goods from around the world.
Vancouver is a city of markets. Farmers Markets offer food and artisan booths and a chance to meet the people behind the goods. If antiques or retro items are more your speed, stop by a 21st Century Flea Market or the Retro Design & Antiques Fair for some treasure hunting. The website Got Craft lists upcoming crafty events around town.
Local Designers
Main Street is home to Twigg & Hottie, where you'll find the We3 label designed and manufactured in Vancouver from sustainable fabrics. For those interested in the current home sewing undergarment trend, or fashion history buffs, a visit to Lace Embrace Atelier is a must for modern corsets and lingerie based on historical designs. Further west, on 4th Avenue, you can find local designer Nicole Bridger's eponymous women's clothing shop, and her feminine and flattering pieces.
Sightseeing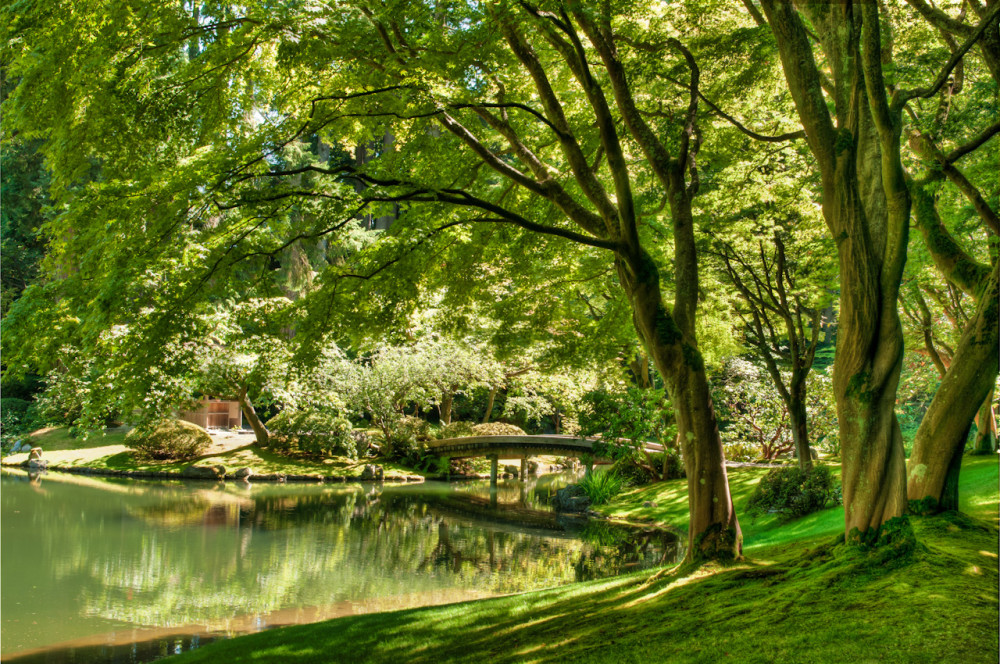 The Nitobe Memorial Garden is a two-and-a-half-acre traditional Japanese garden located
at the University of British Columbia, photo by Michelle Lee.
The Museum of Anthropology features an extensive collection of Northwest Coast First Nations artifacts, reflecting the art, culture, and long history of Vancouver's first peoples. While at the University of British Columbia (UBC), visit the Nitobe Memorial Garden, a highly regarded traditional Japanese garden. Tea ceremonies are held in the garden's Tea House through the summer. Roedde House Museum in the West End is a heritage home that offers a unique opportunity for visitors to handle some of the display pieces. Vancouver Art Gallery offers lectures, tours, and FUSE events where live music is performed in the gallery.
With year-round mild weather and beautiful outdoor spaces, Vancouverites spend a lot of time outside. While it is sometimes rainy, the temperature rarely dips below freezing. If it's wet while you are visiting, brighten your day with a visit to The Umbrella Shop. From there, head north down the hill to Granville Island. Once a marine industrial area, elements of its history remain visible around the island. A food market, artisans, and a university campus now share the island with a cement company whose silos are currently hosting the "Giants" mural as part of the Vancouver Biennale.
Granville Island is a perfect departure point for a short boat tour of False Creek, at the heart of Vancouver, or get a day pass and take your time exploring the city along the seawall at any one of nine landing points. Extending for fourteen miles from Coal Harbour in the east, around Stanley Park and False Creek all the way to Kitsilano Beach Park, the seawall is great for sight-seeing on bike or foot.
The views from Spanish Banks Beach near UBC include the city skyline, English Bay, and the North Shore Mountains. At low tide, acres of mud flats emerge, and on warm summer days this is the perfect place to walk, wade, play in the sand, or just people watch while soaking up the sun.
Whether you are in Vancouver for a brief visit or longer term, there's lots to discover, explore, and experience.
Join the Conversation
Sign in or become a Seamwork member to comment on this article.