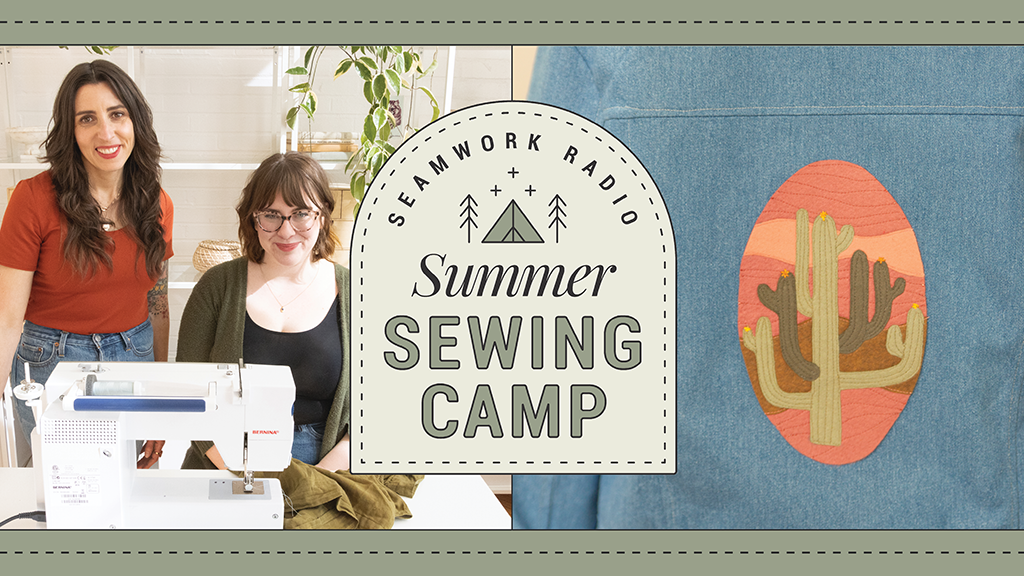 Today is the first episode of a really fun new podcast series. Welcome to Seamwork Radio Summer Sewing Camp 2023!
Sarai and Haley will be your camp leaders, and run this camp in conjunction with the podcast. Each week they'll share ideas and exercises to help you upgrade your space and define your core style. Plus we have a free downloadable toolkit with all the resources you need for camp!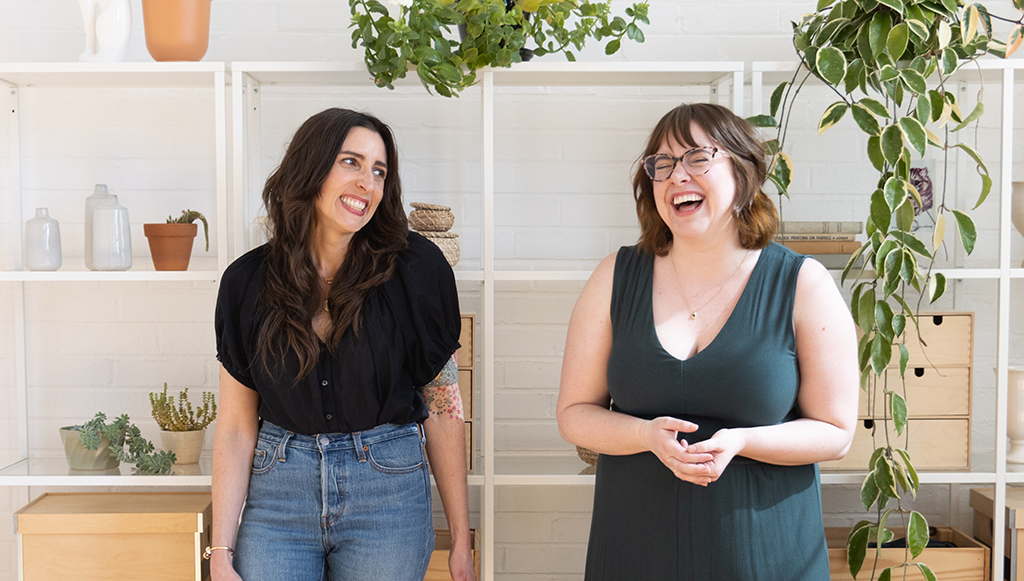 In the first four episodes—starting today—you're going to Space Camp to upgrade your sewing space.
Part 1: Explore. You'll step into your space and describe what you see. Then you'll create a vision for your dream sewing space.
Part 2: Strategize. You'll set a strategy for your budget, tools, and storage.
Part 3: Audit. You'll decide what to keep, donate, and trash.
Part 4: Organize. You'll get tons of tips for organizing your new space, so you can set it all up and start sewing!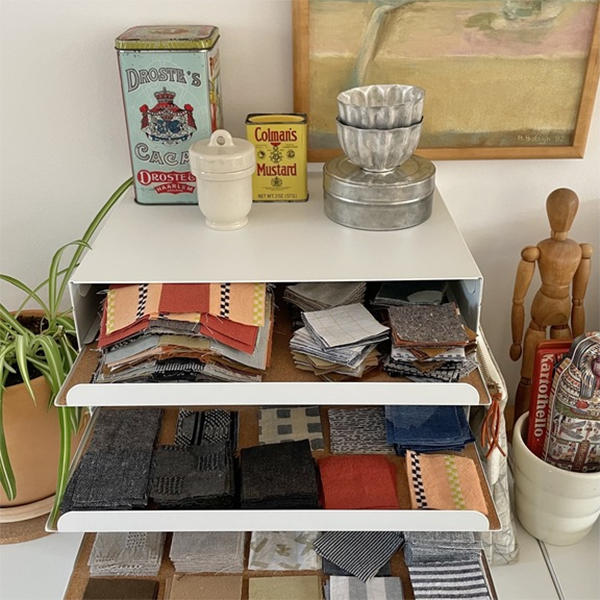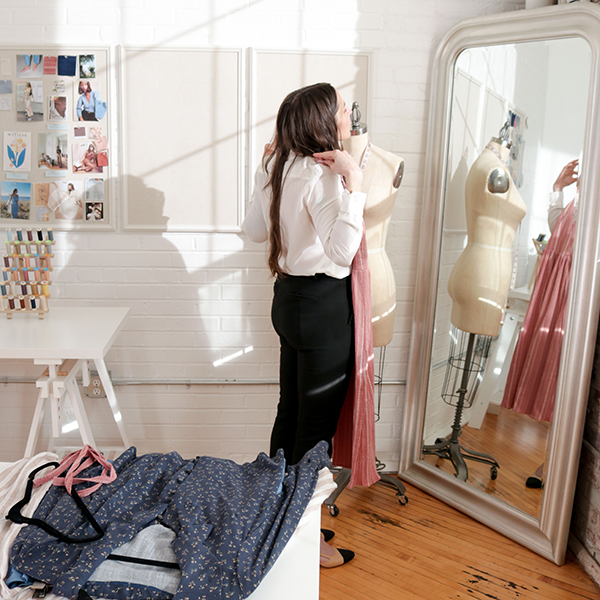 After Space Camp, you'll go to Style Camp. Sarai and Haley will give you an exclusive preview of our NEW Style Workshop launching later this summer.
Click here to register and download the FREE Summer Camp Toolkit full of ideas, worksheets, and exercises for this entire series. It also has templates for sewing really cute felt camp badges.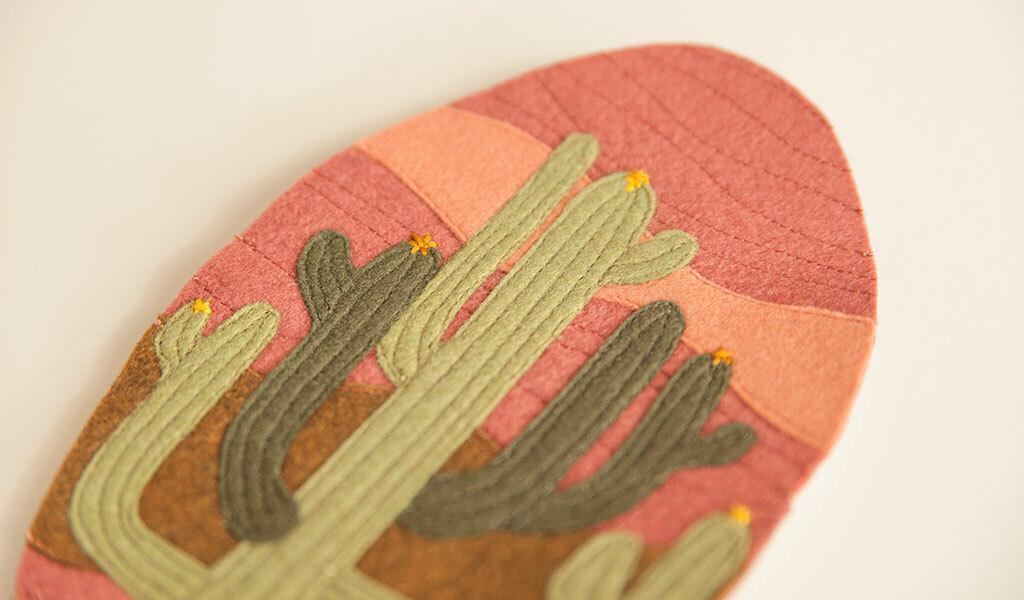 Ready to set up your sewing space?
Podcast Transcript
Sarai
I'm Sarai.
Haley
And I'm Haley.
Sarai
And this is Seamwork Radio. Welcome back to Seamwork Radio, where we share practical ideas from building a creative process so you can sew with intention and joy.
Today, we'd like to welcome you to Seamwork Radio Summer Sewing Camp 2023!
So let me tell you a little bit about this. Over the next eight weeks, we're going to be embarking on a journey together to refresh our sewing spaces and our personal style. In today's episode, we'll introduce you to the Seamwork Camp experience and dig into our first topic, which is exploring your sewing space in preparation for a refresh. And if this sounds like fun to you or you just want to learn some great ideas for getting the most out of your sewing space, then stay tuned. This is going to be really fun. I'm really excited about doing this, Haley.
Haley
Me too.
Sarai
I love doing something special for summer because everything changes in summer, especially here in Oregon. So very excited to do this and dig into this project. All right, so this is going to be very fun and very hands on, and this is how it's going to work. In June, our campers, which is you, are going to clean out and refresh their sewing spaces.
And then in July, we're going to explore our personal style as we give you an exclusive preview of our new Style Workshop. So I just want to be clear. Summer camp is not just a series of podcast episodes. You can also visit the link in our show notes, and you can access a downloadable PDF of creative and tactical exercises to help you clean up your sewing space, explore your style, and get ready for Design Your Wardrobe, which is going to be coming up sooner than we think.
So the PDF includes the Sewing Spaces Guide, personal style worksheets, a checklist with the activities from camp, and a cute little template that you can make use to make a sewing camp felt badge, which is, like, so fun.
Haley
I love it.
Sarai
I hope you guys do that. And there's a pledge, because we are corny like that. You got to have a pledge, and you got to have a badge.
Haley
It would not be camp.
Sarai
It wouldn't be camp without that. And then summer camp ends at the start of Design Your Wardrobe. Fall winter 2023. So it'll lead right into that as you get ready for fall. So it's a great way to celebrate the seasons, I think.
Haley
I think so, too. And I feel like in summertime, it's really easy to take a little hiatus from your sewing because there's just so much to do, so much stuff outside and just go live your life. And I encourage you you should go to that. But also, I feel like this is a really fun way to honor this particular season by preparing for the next one and still staying in touch with your hobby.
Sarai
Yeah, definitely. I think that's a really good point, because I do feel like a lot of us kind of fall off on some of our normal creative projects during the summer and have different creative projects. This is a good way to interject something a little bit different.
Haley
Yeah, it's a good way to embrace it, that hiatus, while also engaging in the thing you love.
Sarai
Yeah, that's true. All right, so let's talk about our topic for today.
So when we poll Seamworkers, one of the biggest obstacles that they face as sewists are managing their sewing spaces. So whether they're in small spaces or large spaces or somewhere in between, it's an issue for a lot of us. And I think a big part of that is because sewing as a hobby comes with a lot of stuff, and managing it all in a way that makes it easier for you to sew is a big challenge for so many people, including myself. That's definitely one of the challenges that I have that I'm going to be working on during summer camp. And I'll talk a little bit about that too, today. The first step of getting your sewing space in shape is examining the space you've got to work with. So that's what we're going to be talking about today. So, Haley, you want to start us off?
Haley
Yes. So today is all about observing what you have to work with, not what you want necessarily, although we will get to that at the very end. But I think it's really great to start with what you're working with. As a designer, this is what I always start with, is my constraints.
Sarai
Right.
Haley
So you might want to go grab a pen and paper to follow along with some of these prompts as we go through this episode. So the first thing that we want to have you do is we want to have you observe three qualities about your space, and those qualities are going to be size, light, and cleanliness. And we're going to dig into each of those a little bit right now.
So the first one is size, and I think that this is like one of those ones that people write off because they're like, well, what am I going to do about the size of the space I've got? I've got what I got. And this is true to a certain extent. This is something you may not have a ton of control over unless you are, like, moving in the very near future. But over the years, I've seen people make incredibly small spaces work in such creative ways.
A while back, we had a survey about people sewing spaces and people sent in pictures. We got dozens of responses from people who sew in closets, dozens of people who sew in RVs or at their kitchen tables, and they make it work in really creative, unique ways.
So my first question for you is how much space do you currently have? Think about if you're happy with this amount of space or not, or do you find your space limiting in some way? I think a lot of us tend to jump to like, oh, not enough space. But for some people, maybe having too much space is an obstacle for you because the more space you have, the more space you will fill.
Sarai
Not a problem I have or have ever had.
Haley
I've never had that problem. But I'd like to acknowledge that maybe someone has that problem.
Sarai
Actually, I take that back because we do have a lot of space at work and it does get full of stuff and cleaning it out and getting rid of things is a big part of keeping that space organized.
Haley
It's just a constant thing. I was like constantly pushing that rock up that hill.
Sarai
Well, I stole one of the sample garments from work. I have it in my closet. So I'm doing my part.
Haley
Yes, thank you. I salute you.
So, yes, think about the amount of space you have. Think about whether you're happy about it or not or if it's limiting you in some way. And here's where I'd like to encourage you to think outside of the box a little bit. Think about some solutions to whatever your space issue might be. Maybe you have really limited space. So what are the things you could do for having limited space? You could relocate your sewing space. If you have like, a linen closet, you can take the doors off of it and put a desk in there and make a little sewing nook for yourself. Maybe you need to relocate your stash and your storage kind of off-site so that your actual active sewing space is a little bit more usable, there's less clutter. It makes it easier for you to get things done.
Or maybe you just need to do a big downsize of your stash. These are all options that you have available to you if you're struggling with limited space. And storage is a big part of space. But don't worry about storage quite yet. We are going to be getting into that a little bit later.
Sarai
Yeah, I think getting some of my stuff outside of my primary sewing space has been a real game changer for me.
Haley
Yeah, I've historically always sewn in really small places. And when I started rethinking my organization, that's when it really opened up a lot more possibilities for me.
Sarai
Yeah, for sure.
Haley
The next thing I want to have you guys think about is light. And I think that this is something that people tend to consider as an afterthought when creating a space, when really it is like one of the most impactful things that you can do for a space. So think about the lighting that you currently have. Is it adequate? Can you see your projects? Something that I always consider is—do you mostly sew at night? Or during the day.
I think a lot of sewers sew at night, after dinner or after they put the kids down. And if so, then you're going to want to examine the light in that space during the time of day that you're sewing most often. And this is helpful because, if you're considering relocating your sewing space or even just shifting your desk to a different location, you're going to want to consider the lighting. Is it a simple matter of putting a higher wattage bulb in your overhead lighting? Do you need to get some task lights? Do you need to get a headlamp?
Sarai
I like that idea.
Haley
Be a dork. Save your eyes.
Sarai
There's nothing dorky about a headlamp. I love headlamps.
Haley
I love them. It's like my favorite camping gear. It's my headlamp. You got to go pee.
Sarai
You got to have one.
Haley
Have a headlamp.
Sarai
Yeah, I love my headlamp. I mean, I use it here because it's so dark at night out here. If you need to walk to the mailbox or whatever, it's good to have a headlamp.
Haley
That's so clever. I'm in like a virtual sewing group or knitting group, and there's a divide in our group of people who are willing. Many of us go out and we knit, like, at a bar or at a cafe or whatever. But when you're at a bar, lots of times the lighting is like, not so great. And some of my friends will knit in a bar with their headlamp on.
Sarai
Wow, that's not something I've done.
Haley
My friend Christine is like, I will not sit with you if you do that.
Sarai
Oh, I would.
Haley
I really don't care. I have, like, no shame. So it's a very polarizing thing, the headlamp.
Sarai
Well, I think just don't look directly at the server.
Haley
Yeah.
Sarai
If you do that, then that's not cool. That's very interesting. Wow, I never would have even thought about that. I thought maybe one of those little I don't know if you've seen those little task lights that you can clip onto the edge of your book, have a little tiny pen light on it.
Haley
Yeah. They make ones too, that go around your neck like a necklace. And so it points down at whatever the subject is you're looking down at, which is maybe better when the server comes by.
Sarai
Yeah, that seems like a little bit safer for people's eyes pointing at your knitting and not at whatever you happen o be looking at.
Haley
I agree.
Sarai
I don't know, when I'm in a bar, a lot of times my eyes just get naturally drawn to the television because television on with sports.
Haley
Or people watching. Like, I'm always looking at people's clothes and then there's going to be a spotlight on the lady's jean pockets as she walks by.
Sarai
Know exactly what you're looking at and who you're looking at. I don't know if I would go that far. Now you bring up some excellent points. All right. Well, we liked the headlamp idea. We got a little bit carried away with that tangent.
Haley
That's all right.
Sarai
Any other lighting tips?
Haley
I mean, I think that task lamps consider whether you want to have a floor task lamp if you have space on your table to have a task lamp there or not. But just like, considering lighting from the jump is really great. I know that I personally, because I sew for work and it's part of my job, a lot of my sewing happens during daylight hours. So for me, I always like to make sure that I am putting my desk by a window whenever possible because I just find natural light a little bit easier on my eyes.
Sarai
Yeah. One thing that I'm concerned about. So, right now, Haley and I are sitting in my office sewing room, and soon it's going to become just my office because I'm building I have a backyard shed that we're retrofitting and turning into my little sewing and podcasting studio. So that is located under a bunch of trees, and it does have windows, and it has a French door in front, but it's still going to be much, much darker than it is in this room right now. This room is extremely bright. So that's one thing I've been thinking a lot about is how to keep things well lit. What I really like are those clip on task lamps that you can clip onto the edge of, like, your cutting table or your desk. You can move those around. I find those to be really helpful because you can just put them anywhere to give really task-oriented light.
Haley
Yeah.
Sarai
All right. So Haley went over size, which includes things about storage and also lighting in your sewing space. So we've kind of looked at where you are right now with those two things.
The next thing that we're going to look at, the final thing, is cleanliness, or as I like to think about it, tidiness, because I'm not the tidiest person, and I don't like to think of myself as unclean, just not tidy. So the questions around your sewing space right now might be how clean do you keep your space right now? Or tidy? And how clean would you like to keep it?
So I think those are two really important questions because seeing the discrepancy between the two can be really helpful to understand what you might need to build more of into your future sewing space. So once you've kind of got those two things in mind, think about what's stopping you. Is it accessibility of your storage? Or maybe you just don't have enough storage, or maybe you just don't have the right pieces to use while you're actually engaged in the task. So notice what would help you to keep it clean.
So, as an example, I mentioned that I'm going to be moving my sewing space soon, and my new sewing space is going to be quite different because it's going to be dedicated, which means I don't have existing furniture in there right now. So I'm kind of designing it from the ground up. I'm moving some of the furniture that I have in there, but there's going to be some other stuff that won't be there. So what I've been doing is, as I'm sewing, I will take notes on how I'm using my existing space so that I can replicate that or find new solutions in my new space.
So, to give you an example, the other day I was cutting out a pattern on my cutting table, and right next to my cutting table, there's a huge bookshelf. And so I noticed that as I'm cutting, oftentimes when you're cutting, you need to move things off your cutting table because you need to spread out the fabric, right? So I'll use the bookshelf, I'll put my pins over there. I'll stick the scissors or my shears over there. My marking pencil, I'll just leave it on the bookshelf right next to me so that I can get it out of the way.
But I'm not going to have a bookshelf in the new space unless I buy one. So I wrote that down and I thought, well, I can get maybe a shelf or maybe a caddy that can I can roll around and put my tools on. It almost like a cart they would use in a hospital to put your tools on.
So just taking some notes on how you're currently using your space and if you notice yourself, like, not having a place to put something or dumping your—this is something I do all the time when I'm cutting. I just kind of throw my trash on the ground. Trash the paper from the pattern, excess paper. I don't think it's throwing trash on the ground, so it's terrible. I just throw it on the floor until later and then I pick it all up after the cats have played with it for a while, which is fine.
But if I want to keep things tidier, maybe I should get like a little recycling bin that I can move around with me. So things like that.
I think just taking some notes on how you currently use your space and what you find to be missing can be so helpful to this whole process.
So we've talked about those three main aspects size, light, and cleanliness. So just to kind of round this out, here are some things that you can take note on. So if you have your pen and paper, here are some things that might help you to reimagine your space from where you are right now.
You're going to notice what you want to change and what you want to keep. So what are the top two to three things that you want to change in your space and then write down, What are the top two to three things that you want to keep in your space. So that can be really helpful to kind of give you an overall picture of where you want to go and where you are right now that's been already very helpful. And that can be related to the three things that we already talked about size, lighting, and cleanliness. Or it might be something completely different.
So once you've got that, try to envision the best version of your space. What does that look like for you? Because this is really different for every person. Everybody has, not just their own style, but their own way of enhancing their creativity through the environment that they're in. So write a statement about your own dream sewing space. We have a few examples here.
So you might write, "My space is bright and intentionally messy."
Or "My space is small, but it's well organized."
Or, "My space is a representation of my creativity." Maybe that's something that's really important to you.
Or, "My space is peaceful and quiet."
Those are all great answers, and they're going to vary from person to person. Some people love to have a really cluttered—or what some people might think of as cluttered—space with lots of tools all over. They feel that that's very inspiring to see all their stuff out, see all their inspiration out, and I think that can look amazing as well.
Or some people like something that's very just quiet and serene and makes them feel calm when they come into it, and it really just depends on the person. That's something I've been thinking about a lot as I'm transitioning into the new space eventually. And it can also help to look at, I think, some inspirational photos of other people's creative spaces. I think that's really helpful, too, to kind of help you to envision which of these types of spaces might be best for you.
Haley
Yeah, that's a great tip.
If you have worked through thinking about size, light, cleanliness, and you're still feeling a little bit stuck, definitely take a look at some inspiration and take some notes from those things to help you to consider. I know for me, in the season of my life, I'm not looking to do a full redo of my sewing space, but I do have a pain point in my sewing space right now, which is my closet. And that is what I'm going to be focusing on in these four weeks, is how to make that closet space, which is where I store all of my fabric and my patterns and bigger gear items—how am I going to make that easier to navigate and use so that I can sew more often and access the things I need to sew more often?
Sarai
Yeah, I think we all have those. If you're kind of more settled in your space, I think we all have those kinds of pain points. I also want to mention that if you're curious about this whole backyard sewing studio thing, it's in the process of being built right now. Somebody's here doing the drywall at this moment, but I'm going to be doing at least one YouTube video on the whole thing, and that will be, I don't know exactly when that's going to be up because I don't actually know when this shed is going to be finished. But once it's done, you'll be able to find that on our YouTube channel. So if you're not a subscriber over on YouTube, I definitely recommend going over there because I think it's going to be a really fun video. And hopefully, Haley, you'll be able to help me with outfitting the whole thing. Maybe we can do that together.
Haley
Oh, I'm so on it. Let's do it.
Sarai
I feel a little bit stuck still. So I think these four weeks are going to be really helpful for getting my mind in the game and then doing the whole thing up after that. So very excited about this.
Oh, I also wanted to mention I mentioned inspiration. One of the things that has been inspiring me, there's a magazine called In Her Studio. I have a copy of it downstairs, and it's basically just interviews with artists and creative people and images from their studios.
Haley
Oh, cool.
Sarai
So that's been really inspiring to me because there's all different kinds of artists, and there's textile artists, and I think there's somebody in there who does some professional sewing. There's people who design knitting. There's all kinds of stuff in there, and everybody has such different spaces. I think it's really cool, and that always inspires me. And of course, Pinterest is obviously a place you can go and look. But I find that sometimes on Pinterest, it's hard to find things that are different. I feel like there's a lot of stuff that just looks kind of when I search for sewing space or sewing studio design or something like that, they all kind of look the same.
Haley
You really have to go down the rabbit hole to find the different things.
Sarai
And just getting inspiration from other types of rooms or other types of creative spaces can be really helpful. A painting studio, or if you really want to inject your own personality into it, because I just feel like a lot of when you do a search on Pinterest, it just brings up the most popular results. So you just see the stuff that looks kind of good for a lot of people.
Haley
Yeah, totally. All right, we have some really great tips, and I'm going to run through them again real quick before we wrap things up.
So in this episode, we're inviting you to observe three main qualities about your existing space. We're inviting you to take a look at the size of your space and reflect on that, your lighting situation, what you like about it, what you need to change to be able to see things adequately, and the cleanliness, and just kind of pondering how clean you keep your space versus how clean you'd like to keep it, the discrepancy between those two things, and the obstacles that are keeping you from keeping it the way you'd like.
And then to round things off, we are asking you to take some notes. We want you to write down two to three things that you'd like to change about your space. I think that this helps make everything a little bit less unruly and really focus on what it is that you are going to be working on in the upcoming four weeks. And then the top two to three things that you want to keep. And I like this because it's like a little appreciation, a little love letter to your space as it is. Because as much as we want to change things, it's good to acknowledge the good that exists already.
And then we want you to write a statement about your dream space. This will be totally unique to you.
And don't forget to snag all of our free camp goodies by visiting Seamwork.com/go/sewingcamp. Camp runs all of June and July, so make sure you go to that URL and grab those freebies while you still can.
And of course, as always, if you like this episode, please leave us a review. It helps other people who love sewing and chatting about sewing to find us, and it also helps us to know that you like what we're doing. That's important.
Sarai
All right, and that's it for the first episode of Summer Sewing Camp. We hope to see you again next week for the next installment of looking at your sewing space. I'm Sarai.
Haley
And I'm Haley.
Sarai
And this is Seamwork Radio.
Join the Conversation
Sign in or become a Seamwork member to comment on this article.