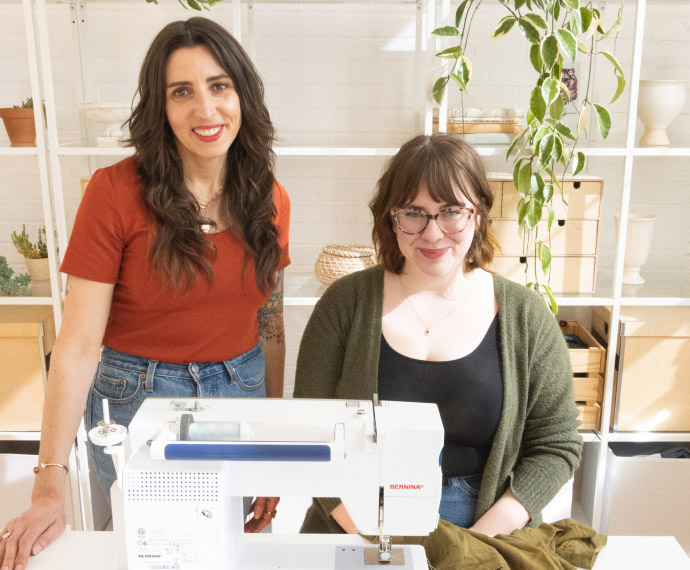 Learn to sew clothing in weeks, not years.
Feel the pride of being able to say, "Thanks! I made it!"
Get Started
Wouldn't it feel amazing to be able to make the kinds of clothes you love to wear?
Tens of thousands of creative people want to learn to sew, but never even get past their first project. Most of them never even start. Why is that? It isn't a lack of information. In fact, it's the opposite.
Here's the problem:
There's a lot you can learn about sewing as a beginner. Like playing an instrument or learning to dance, it's a rich and varied skill.
That's part of what makes it so fun and rewarding — with sewing, you never run out of new things to learn. You experience the joy of accomplishment again and again while making beautiful things you can use in your daily life. What could be better?
But that richness presents a problem for the absolute beginner.
You may not know exactly what skills to start with. So you experiment, try things out, but just can't seem to make progress.
You keep making the same mistakes. You feel more intimidated instead of more confident with each attempt.
Eventually, you get frustrated enough to give up. You tell yourself: "I guess I'm just not good at this."
But that's not true. It's not your fault.
All you need is the right framework, and you'll be sewing clothes you love – ones that express your style and personality — in no time.
Introducing
Learn to Sew Clothing:
For Absolute Beginners
By the end of this course, you'll be able to:
Sew a dress and simple jacket
...so you'll have finished projects in colors and fabrics of your choice, which means you'll feel accomplished and inspired to keep sewing.
Choose the right fabric
...so you can make clothing that feels like you, which means you can express yourself creatively in any future project.
Use sewing patterns with confidence
... so you can choose your next projects easily, which means you'll keep growing your skills long after the course is over.
Make friends with your sewing machine
... so you can troubleshoot problems when they come up, which means no more tears of frustration from your thread jamming over and over.
Get Started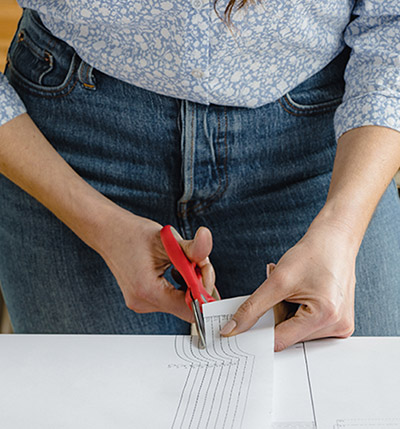 Here's How: The 80/20 Skills
We've developed a simple framework for teaching you how to sew. It's based on one key idea: the 80/20 Skills.
80/20 Skills are a small subset of sewing skills that you can learn quickly and that will allow you to quickly build up to sewing the things you want to make.
You don't need to spend years using the trial-and-error method of learning to sew. Lay your foundation with us instead.
We're Sarai and Haley
We're passionate about the creativity and joy of sewing, and want to share it with as many people as possible. It's our life's work.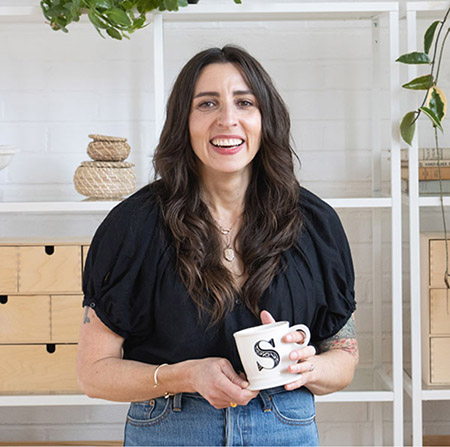 Sarai is the founder of Seamwork and has been making clothing for 25 years, and helping others learn for the last 14. She's the author of a best-selling sewing book and the creator of Seamwork and Colette Patterns.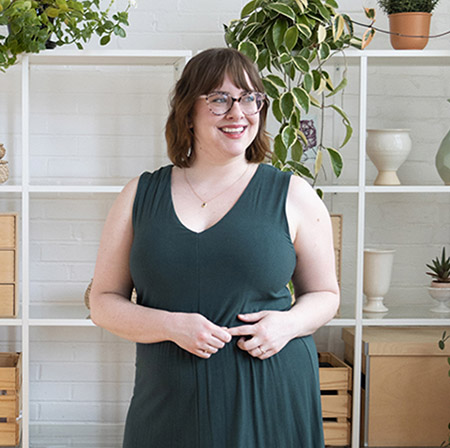 Haley is the Pattern Designer at Seamwork. Her background in both apparel design and teaching gives her a unique combination of skills that helps her guide students at all levels.
Together, we want to not only teach you the technical skills you need to sew, but help you discover the joy, creativity, and self-expression you need in your life right now.
What's Included
All of the course materials, plus patterns, workbook, sample templates, and bonus tools are available immediately when you sign up.
12 streaming video modules
Workbook
Sample journal
Skills checklist
2 sewing patterns
Plus, you'll get:
Bonus guides
Sewing dictionary
Next steps
Community membership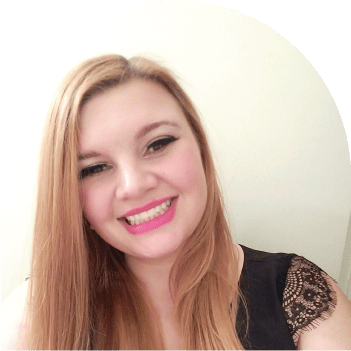 Through taking the Learn to Sew course, I have learned many new skills I didn't even know existed! With just the first garment in the course, I had already improved enough that I made a beautiful jacket that I am really proud to wear! I feel like I now have a good foundation to build upon in order to start really learning the advanced skills I need to create my dream wardrobe.
---
Rachel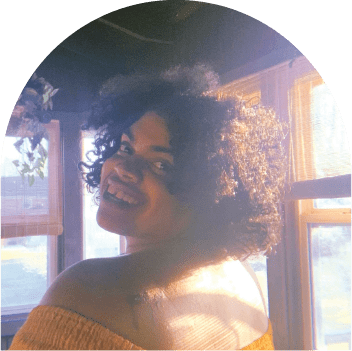 I loved the course and highly recommend it, especially to absolute beginner sewists like myself, because I felt so encouraged and supported by the staff and my fellow sewists. I also loved how accessible the course itself is and visually pleasing for folks like me who have little to no previous experience.
---
Chaney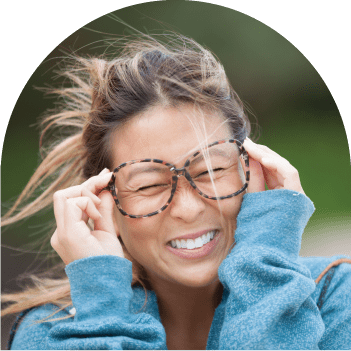 The Seamwork Learn to Sew program was exactly what I was looking for! There are many supporting assets like journals, workbooks, and even a shopping list. The course is really easy to use, and everything is thoughtfully laid out in each module. I love that the course is self-paced; I can do a lot in one day if I feel like it, or I can slow down when my life gets busier.
---
Steffy
Module 1: Get Ready to Create
We're going to teach you how to sew, from the very beginning.
Module 2: How to Fall in Love With Sewing
You are this creative person with big dreams of making clothes that really fit who you are and that make you feel good. But how do you get there?
Module 3: Get to Know Your Tools and Materials
Learn how a sewing machine works and all about fabric and thread so that you'll feel well acquainted before we jump into sewing.
Module 4: Learn to Read a Pattern
It's time to learn how to read the mysterious signs and symbols of a pattern.
Module 5: Cutting and Marking
Before you begin to sew your fabric, you need to accurately cut and mark it.
Module 6: Seams: Stitch, Finish, Press
In this module, you're going to learn the steps that you probably think of when you think about sewing: sitting in front a sewing machine and actually stitching pieces of fabric together.
Module 7: Sewing Quince
In this module, you will sew the Quince jacket step by step.
Module 8: Curved Edges
There are a few important edge finishes that you'll use all the time in your sewing.
Module 9: Adding Fullness
This module covers three essential shaping mechanisms: darts, gathers, and ease.
Module 10: Install a Sleeve
By the end of this module, you'll be able to ease a sleeve, set it into an armhole, and press it, so it looks great.
Module 11: Sewing Georgia
In this module, you will sew the Georgia dress step by step.
Module 12: What Should I Make Next?
Congratulations! You've finished Learn to Sew Clothing: For Absolute Beginners. That means you are no longer an absolute beginner!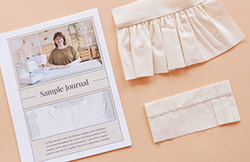 Sample Journal
Create samples of all the tecniques you practice, and store them in your sample journal for future reference.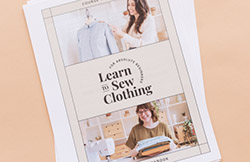 Workbook
Follow along with the course using the PDF workbook, and get quick summaries, takeaways, and homework for every lesson.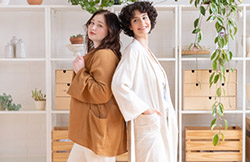 Quince & Georgia Sewing Patterns
These two beautiful, easy sewing patterns will help you combine all the skills you learn into two versatile handmade garments.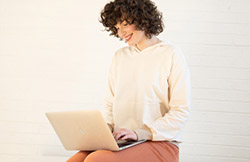 Seamwork Community Membership
Get 3 months of Seamwork community membership, including credits for 6 additional sewing patterns of your choice and access to all our sewalongs. Or, upgrade for free to Seamwork Unlimited for one year and get as many patterns as you want!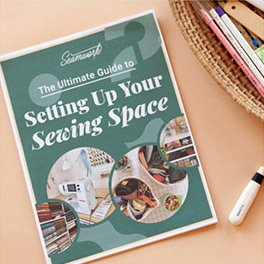 The Ultimate Guide to Setting Up Your Sewing Space
Don't have much room to sew? Learn our favorite tips and tricks for creating a neat, organized creative space – no matter how small.
Value: $39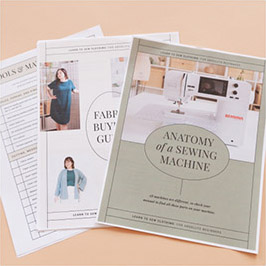 Materials bundle
Figuring out exactly what you need can be tricky. This bundle of helpful guides includes:
Tools and Materials Guide: So you'll know exactly what you need and what options to choose.
Fabric Buying Guide: To help you choose just the right fabric for your Quince and Georgia projects, including brands and online shopping resources.
Anatomy of a Sewing Machine: So you can easily understand all the parts and terminology.
Value: $277
Sewing Dictionary
Learn all the terminology covered in the course, so you can easily follow instructions now and in the future. The dictionary even includes the exact lesson covering each term, so you can go back and watch any time!
Value: $39
What to Sew Next Guide
When the course is over, move onto the next skill you want to learn with the help of this guide. We'll give you exact recommendations for patterns and video sewalongs you can follow to keep the momentum going – and you'll be able to download those patterns and watch those sewalongs for free with your included membership!
Value: $59
Frequently Asked Questions
What tools and equipment do I need to take this course?
You'll need a sewing machine that is tuned up and in working order to complete this course. You'll also need a selection of basic sewing tools, thread, and fabric. The complete list of tools and materials will be covered in the course.
What experience do I need to take this course?
This course is designed for absolute beginners. No prior sewing experience is necessary, although those returning to sewing will also find it useful! Because a working sewing machine is required, we do recommend that you are able to follow your manfacturer's instructions to thread and test stitch using your machine if possible.
Will I have a place to ask questions?
Your course purchase comes with 3 months of membership to our Seamwork community, where you can ask questions of both staff and other community members! You can also choose to upgrade and get a free year of Seamwork Unlimited when you sign up on the next page.
Can I access the course at any time?
Yes! This course is available for you to watch whenever you want, now or later.
Is the course self-paced, or on a schedule?
This is a self-paced course, so you can do it on your own time and at the speed that feels right for you. We've designed it to teach you the skills you need to know quickly (we call them the "80/20 skills"), but the exact pace is up to you.
What if I find the course isn't really for me?
Not to worry! If you aren't satisfied with the course for any reason, just let us know within 30 days for a full refund.
To Sum Up
Here's what's included in the course if you sign up today:
Learn to Sew Clothing: For Absolute Beginners Core Curriculum
Includes 12 Video Modules, Quince and Georgia sewing patterns, and 3 months of community membership.
Value: $729
Workbook, Skills Checklist, and Sample Journal
Get all the supporting material to help you excel and track your progress throughout the course.
Value: $129
Bonus: The Ultimate Guide to Setting Up Your Sewing Space
Get tips and tricks for building the creative space you need.
Value: $39
Bonus: Materials Bundle
Including Tools and Materials Guide, Fabric Buying Guide, and Anatomy of a Sewing Machine
Value: $277
Bonus: Sewing Dictionary
Learn all the terms you need to sew, with videos to reference.
Value: $39
Bonus: What to Sew Next Guide
Make a plan to continue building your skills with resources already at your disposal.
Value: $59
Estimated total value for everyting included in this course: $1,272
Start the course today
Sign up and get everything listed above for only
$299
One time payment, access forever.
Do you have a gift code?
Redeem your gift code for this course here.
Giving a gift?
Purchase a gift code for this course for $299.
Your gift code will be emailed directly to you so you can write it in a card, or deliver it to your receipient however you like.
As a beginning sewist, I signed up for the Learn to Sew course because I love the idea of being able to create and customize my own clothing. Before taking the course, I had attempted a few projects on my own, but I was often disappointed with the results. Through the course, I learned so many new skills and tips. The lessons are practical and easy to follow, and the sew-along videos walk through exactly what to do, step-by-step. I am so happy with how my projects turned out and have already had lots of compliments! I would recommend the course to anyone looking to learn how sew clothing.
— Robyn