Anyone who knows me even a little knows all about my love for Nashville. As one of the few born-and-raised natives (which are getting harder and harder to find every year!), I'm thrilled to now see my home named as one of the "it" cities to visit. It isn't just because of the country music, although that's certainly a heavy driving force for the hordes of tourists we get here; Nashville is also a really cool city with plenty of culture, great food, friendly people, gorgeous scenery—oh yeah, and there's the music, too!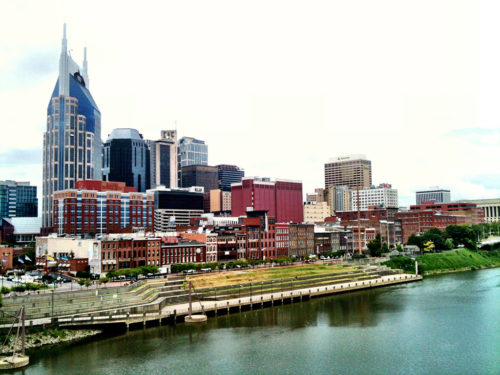 There are a couple things to know before you plan your trip to Nashville. First, be aware that this is a very car-oriented city. It can be difficult to get around via public transportation. The Music City Circuit is a free bus that travels around downtown, which is a great option for that area. There are plenty of taxis and car sharing services such as Uber and Lyft to take you where you need to go, but it's a good idea to rent a car while you're here if you want to get the most out of this sprawling city.
Another thing to keep in mind is the weather. Down here in the South, things stay hot and humid for most of the year. We're not as bad as some of our neighboring states, but it's still pretty hot in July or August. May is a beautiful time to visit, as long as spring allergies aren't an issue for you; and fall (September through mid-November) in Tennessee should be on everyone's bucket list. With that said, all the best festivals happen during the summer.
Shops for the Crafty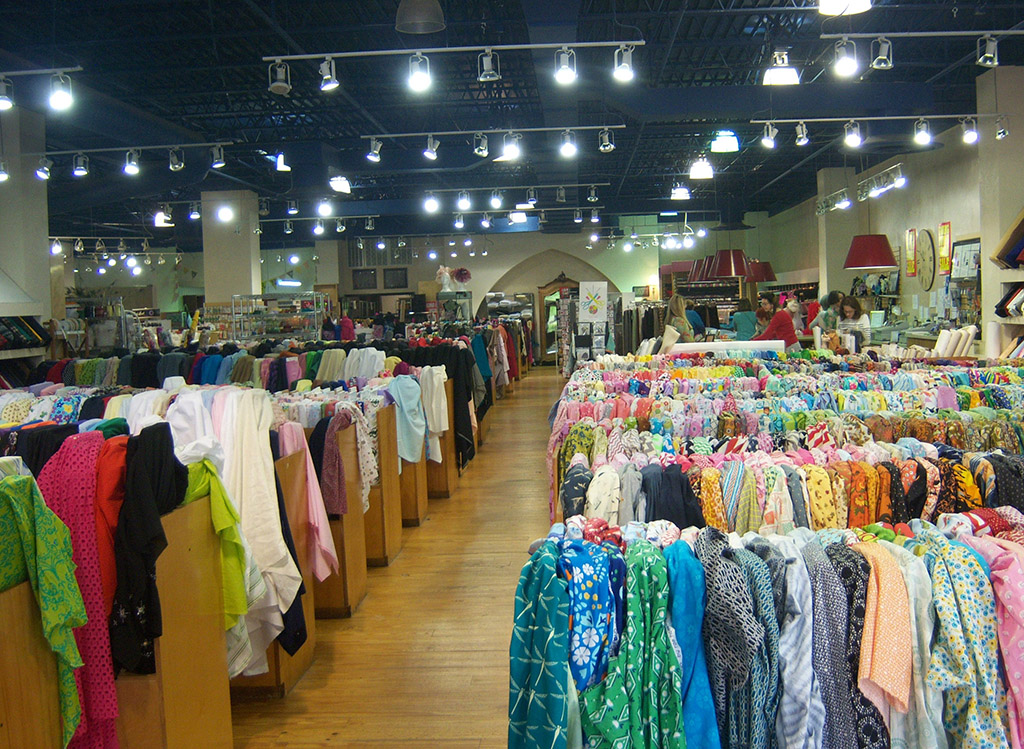 Nashville tends to lure in creative people, and there are tons of shops and studios scattered throughout the area that are worth checking out. The largest local fabric store is Textile Fabrics. Occupying over 10,000 square feet, this massive shop covers everything from quilting cottons to cashmere coatings to specialty bridal fabrics. Prices can skew toward the expensive side, but keep an eye out for their biannual sales, where all fabric in the store is reduced forty to fifty percent.
Another great fabric shopping option is The Fabric Studio. By comparison, this shop is tiny, but it's carefully curated with some of the best designer quilting cottons and gorgeous apparel fabrics available, as well as indie patterns and a small selection of notions and embroidery supplies. Nutmeg is another new fabric store that recently opened on the other side of the river in eastern Nashville. In addition to selling fabric and patterns, they also carry yarn and offer a small selection of classes and workshops.
Speaking of yarn, we've got shops that sell that, too! My personal favorite is Haus of Yarn, located in an unassuming part of western Nashville. Their well-stocked store includes all the best yarn brands, including local yarns, as well as notions and patterns. Another great yarn shop right outside of Nashville in Brentwood is Bliss Yarns, and it is absolutely worth the drive.
Vintage and Gifts
Make sure to check out all of Nashville's local, non-crafty offerings as well. One of my favorite neighborhoods to walk through when the weather is nice is Hillsboro Village. All the shops are fantastic, but I especially love Fire Finch and Pangaea, which is the sort of shop you will want to go to if you need to buy a gift for someone but don't know what to get them. Make sure to check out the tea selection at Davis Cookware and get something sweet to eat at Provence or Hot and Cold.
Looking for vintage? Nashville's got you covered! In an area of Nashville called 12 South, stop by Katy K's Ranch Dressing, which also sells rockabilly/pin-up clothing, western wear, and accessories. Make sure to peruse the Closet Case Vintage racks. While you're in the area, make sure to stop by Imogene+Willie to see the awesome handmade jeans and clothing they sell. In the same neighborhood is Savant Vintage, which is a really cool shop to visit, but be warned that the prices can be a bit steep.
If retro furniture is more your thing, you will definitely want to make it a point to visit Pre to Post Modern. This store carries some of the coolest mid-century furniture, all at fantastic price points, and also has a huge back room full of vintage clothing.
Over in eastern Nashville, there is also the Hip Zipper, which specializes in unique vintage clothing, mainly from the 1960s–1970s era. The free bin outside is worth looking into if you don't mind giving your (free) new duds a minor repair. In western Nashville, we have a neat shop called Cool Stuff, Weird Things. I don't really know how else to describe this shop, except that it's a junk store. The upstairs is full of vintage clothes, and the downstairs has a smattering of anything and everything you can imagine. Prices are great, and it's definitely worth checking out if you enjoy the thrill of the dig.
Also in western Nashville is Fabu, one of my favorite little gift shops with a good selection of unique jewelry. If you can get to Madison (20 minutes north of Nashville), check out Rare Bird Antique Mall. This sprawling antique mall is my absolute favorite. There's a huge variety of stuff all at good price points, including an entire area set up like an old-fashioned general store. Of course, if you're really into antiques, you probably want to skip all this and go straight for the good stuff: the Nashville Flea Market! Our massive Flea Market runs the third weekend of every month at the Tennessee State Fairgrounds. It will literally take you all day to see everything, but it's definitely worth seeing.
Be a Tourist!
One thing I always tell visitors is to really embrace being a tourist here. There's a lot of cool stuff to see and do! I recommend checking out downtown, especially lower Broadway and Second Avenue. There are plenty of interesting shops, bars, and restaurants, and while the area is pretty touristy, it also makes for fantastic people watching. My number one suggestion is to get a drink (or a Recession Special) at Robert's Western World. If you have the opportunity, go on a weekend night so you can watch the house band, Brazilbilly. Dancing is encouraged! Be sure to check out Hatch Show Print, where iconic show posters are printed on an old-fashioned letterpress (plus, they have a shop cat. What more can I say?).
Museums and Parks
Also downtown and somewhat close to the tourist district is the Tennessee State Museum, which is full of interesting Tennessee history and has free admission. If the weather is nice, Nashville has a couple lovely parks worth visiting. Bicentennial Mall is a sprawling park with an amphitheater, a 200-foot granite map of the state, and a walkway that leads you all the way through Tennessee's history. Centennial Park is my favorite, with a full-scale replica of the Parthenon right in the middle of it. It is amazing (and yes, there is a statue of Athena inside. I jokingly say that ours is better than the original one in Greece, because it's not falling apart!).
Another beautiful place to visit, weather permitting, is Cheekwood, for both the art museum and botanical gardens. I also really love taking out-of-towners to see the art at the Frist Center. The building alone is worth the visit. It's housed in the city's US Post Office, with Art Deco everywhere. The exhibits are always outstanding. The third floor is an area where you can learn and experiment with different types of art, from painting to figure drawing to screen printing. This is free with admission. Finally, make sure to check out the Belcourt. This is our beloved independent theater, where you can watch the latest indie film or cult classic on the big screen while drinking a beer or cocktail.
Local Food and Cafes
The local cuisine in Nashville has been steadily drawing interest from all over the states, and it's totally worth checking out! Our famous specialty is hot chicken, which is chicken soaked in cayenne pepper until it's neon hot, served on a slice of white bread with pickles. There are lots of great places to try hot chicken, but my personal favorite is Hattie B's, since they also serve beer and southern sides, like collard greens.
My other favorite place to eat is DeSano pizza, especially because they have cafeteria seating and are BYOB! Make new friends while you eat! I also love Mas Tacos Por Favor, especially the tortilla soup (just a head's up, this place is cash only). For a great burger, try Pharmacy Burger. All the ingredients are local, including the bun, and they have great phosphate sodas and a beer garden.
For the best coffee in town, hit up Bongo Java; these coffeehouses are scattered all over the city, and the beans are roasted right here in Nashville. For a fancy drink out (but just one, because they are expensive), check out The Patterson House. The bar is set up like a swanky speakeasy, and the cocktails are outstanding. Rather have a beer? Nashville has tons of craft breweries, but my personal favorites are Jackalope and Yazoo. Finally, if you come across Las Paletas gourmet popsicles at any point while you are in the city, try them! These delicious, Mexican treats are made with fresh fruits, vegetables, and nuts.
Nashville may be a little on the small side compared to other cities, but we make up for it in pure awesomeness. There are always new things going on in Nashville, making it a wonderful place to visit. Whether it's the music, food, or great shops that bring you to our city, you're going to love this place.