Rose and Almond Cold Cream
Cold cream—a simple cleansing lotion made from oil, water, and beeswax—is a centuries-old idea that's suddenly new again. But there's no need to buy an expensive "cleansing balm" when you can make your own rose-scented cream that dissolves makeup, removes excess oil, and moisturizes the skin. It's suitable for most skin types (including oily skin!)
This recipe is based on a traditional formula that uses almond oil instead of mineral oil or petrolatum. The set-up is time consuming, but cold cream isn't difficult to make if you follow the instructions correctly.
This cream doesn't contain preservatives, so it will have a shelf life of 1–2 months. The recipe makes 2 small jars.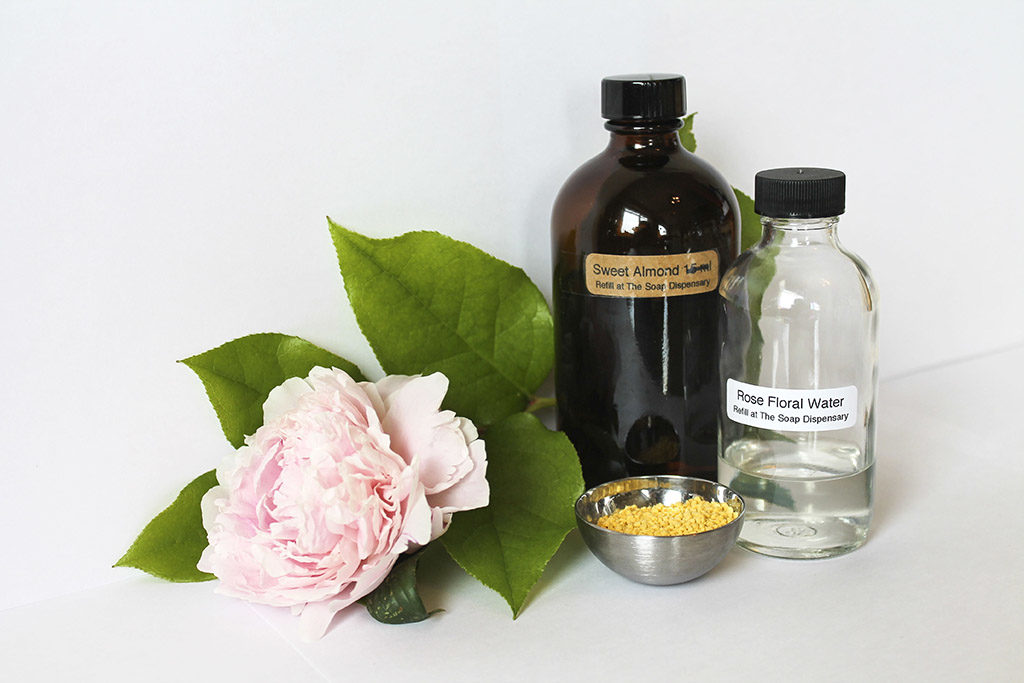 You'll Need:
3 oz. sweet almond oil
1/2 tsp. soy lecithin
2 tsp. beeswax
3 oz. rosewater or distilled water
Heat-proof medium-sized bowl or large measuring cup
Hand mixer or immersion blender
Spatula
2 small canning jars (125 ml/4 oz.) with lids
1 medium-sized canning jar (8–10 oz.)
Large pot that can hold all your other equipment inside it
Clean cloths for drying
How to:
First, all the equipment must be sterilized. Fill the large pot with water. Place your canning jars, lids, and bowl/measuring cup inside. Add the beaters of your hand-mixer. If you're using an immersion blender, make sure it's unplugged, and stick the bladed end in the water (do not submerge the whole wand). If your spatula can be boiled, add that too. Bring the water to a gentle boil for 10–15 minutes.
Remove the pot from the heat and let it cool. Remove all the items and let them dry on clean cloths.
Combine the rosewater and soy lecithin in the 8–10 oz. canning jar and let sit for one hour.
Dump out most of your big pot, leaving 2–3 inches of water. Combine the sweet almond oil and beeswax in your medium-sized bowl. Put the pot on medium heat and place the bowl in the water. Heat until the wax is completely melted.
Place the jar of rosewater and soy lecithin in the pot. Let both containers warm for 10–15 minutes.
Remove both containers from the pot. Using your hand mixer or immersion blender, start whipping the oil mix on a low-to-medium speed. Add a splash of the rosewater mix every couple minutes until the rosewater is gone. The cream should look like vanilla pudding: opaque, smooth, and well-combined. If the oil and water don't want to mix, stop adding rosewater and keep mixing until the cream is completely combined. Keep mixing until the outside of the bowl is no longer warm to the touch.
Use your sterilized spatula to transfer the cream to the two 4 oz. canning jars. Cover the jars with a clean cloth. Let them cool completely before you put the lids on.
To use, massage the cream into dry skin for 2 minutes. Remove with a hot facecloth.
Store cold cream in a cool dry place. This formula will keep for up to 2 months.