I came of age in an era of highly circumscribed preteen fashion. The look, from age 11 to 13, was one of absolute perfection and coordination. There were floral-printed denim Bermuda shorts, matched perfectly with a crisp t-shirt rolled at the sleeve hems. There were thick socks, intentionally worn slouched at the ankles with white Keds sneakers. There were colored jeans and denim skirts. There were scrunchies and wide headbands.
Everything matched perfectly or you were doing the look wrong. "You do not match," I remember one little girl telling another on the playground one day in sixth grade. The accused held her yellow t-shirt close to the ditsy floral printed denim skirt she was wearing.
"I do match!" she declared desperately. "See the yellow centers in the little flowers? My shirt matches those!" Her accuser was dubious.
This was a look that required not just attention to detail, but a certain amount of money to pull off. You had to buy entire outfits, and you had to buy them from the right stores at the mall. The conformity, the lack of imagination, the perfection of it all was dreadfully boring.
Around this time, I began spending time with an older friend who had a radically different approach to dressing herself. As someone who had already made the transition from childhood to adolescence, she was perfectly comfortable rejecting fashion laws. To her, "trendy" was a dirty word, one she almost spat at as we walked through the mall one afternoon, she in a silky peasant blouse that had belonged to her mother in the 1960s and torn jeans.
She shopped at thrift stores, putting together strange and startling outfits unlike anything I'd seen. She took inspiration from every era, mixing floral rayon dresses from the 1940s with mohair cardigans from the 1960s, or bellbottoms from the 1970s with a cut-up slip. I looked forward to seeing her, not just because she was funny and smart and acerbic and more experienced in just about every way; but also because I couldn't wait to see what she'd wear next. With one foot still rooted in childhood, I began to see an image of what my future teenage self could be: weirdly stylish, experimental, different.
It was vintage clothing that allowed me this new approach to fashion. Thrift stores offered an alternative to the mass-produced and nearly identical styles my peers wore. At a secondhand store, there was no predefined look. It was a buffet of out-of-date styles from which I could craft whatever teenage self I wanted to be, all at an affordable price. Thrift stores were the perfect place to experiment with who I was.
This was how my love for vintage clothing began. At first, it was an indiscriminate mash of corduroy, polyester, and well-worn boots. As I grew up, my tastes became more specific and personal. I nurtured a love for slinky black femme fatale dresses from the 1940s. I couldn't resist silk lingerie from the 1930s, even if I had no use for it at all. I loved anything cut on the bias. These proclivities have stuck with me through today.
Vintage clothing offers more than nostalgia for a bygone era. It opens up the possibilities of how you can express yourself, choosing from all the visions of womanhood that have been expressed through clothing in the last century. Do you identify with the slinkiness and luxury of the 1920s? The youthfulness of the 1960s? The controlled femininity of the 1950s? Or a little of each, depending on the day? Exploring vintage styles is really a way to explore what it means to be you.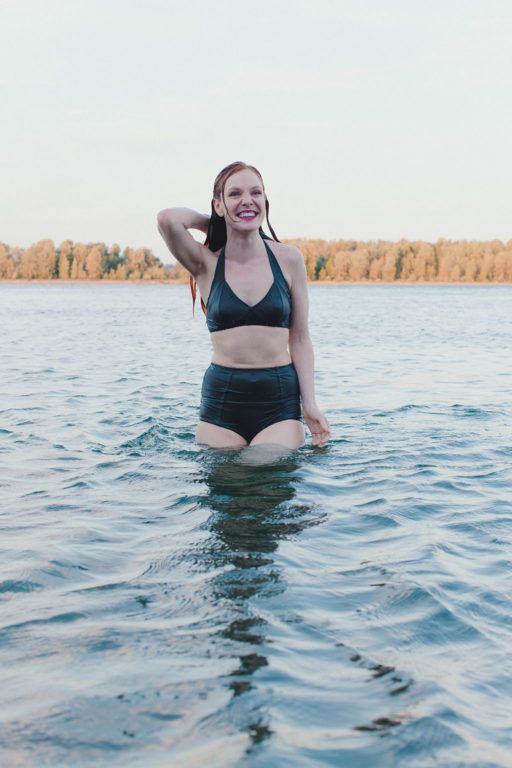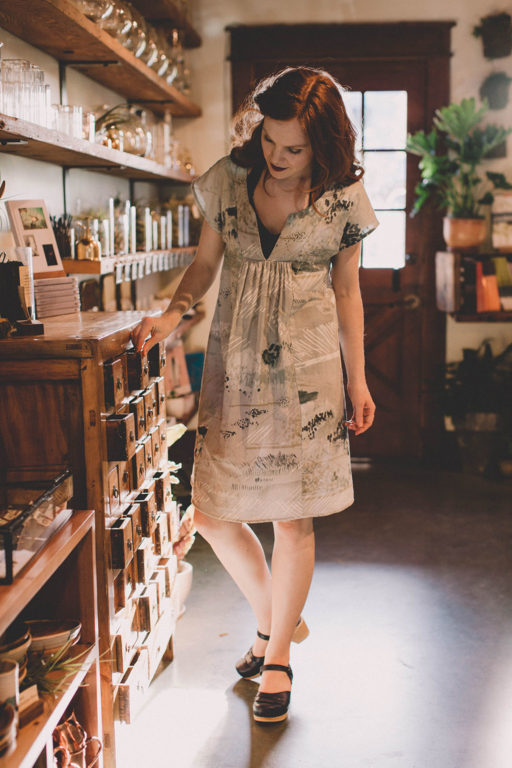 In this issue, we bring you a bit of vintage inspiration for your summer sewing. We talk with vintage boutique owner Elizabeth Gross about caring for your vintage clothing, give a look into sewing with a treadle machine, a look at swimwear icon Esther Williams, and more.
We also offer an incredibly flattering high-waisted swimsuit in two pieces to add to your summer sewing list, and Maeby, an airy and comfortable 1970s-style caftan to wear as a dress or cover-up. In the spirit of the vintage wardrobe, we invite you to make these beautiful summer pieces your own.