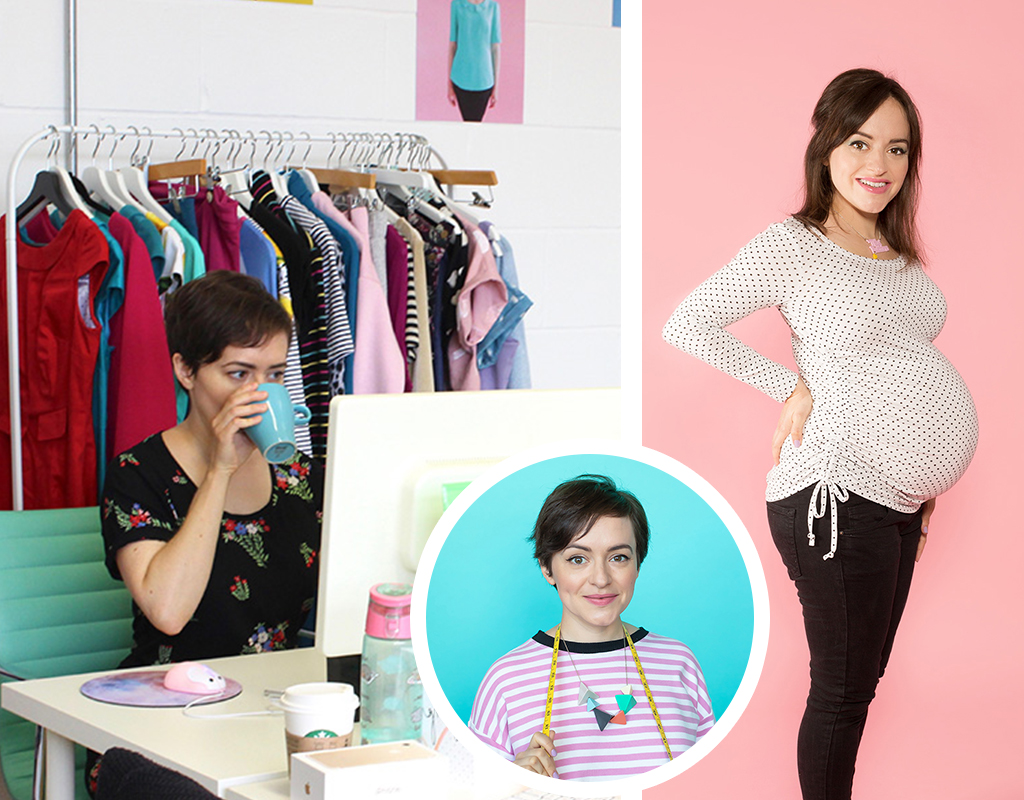 You know that smile you get when you finish the final stitch on your very first sewing project? If you were to bottle up that feeling and turn it into a sewing company, you'd get Tilly and the Buttons.
There is only one Tilly and the Buttons, and there will only ever be one Tilly and the Buttons. Her team has grown over the years, and will likely continue to grow, but the woman behind this energetic, colorful sewing company is a one-of-a-kind spirit.
Tilly Walnes started blogging on January 1st, 2010 and transformed her sewing into a full-time business in 2013. Since then, her team has grown to five, and their approach to spreading the joy of sewing has grown as well.
We chatted with Tilly via email—as she balances working in her London studio and being at home with her son—to learn more about how her brand came to be, and where it's headed in the future.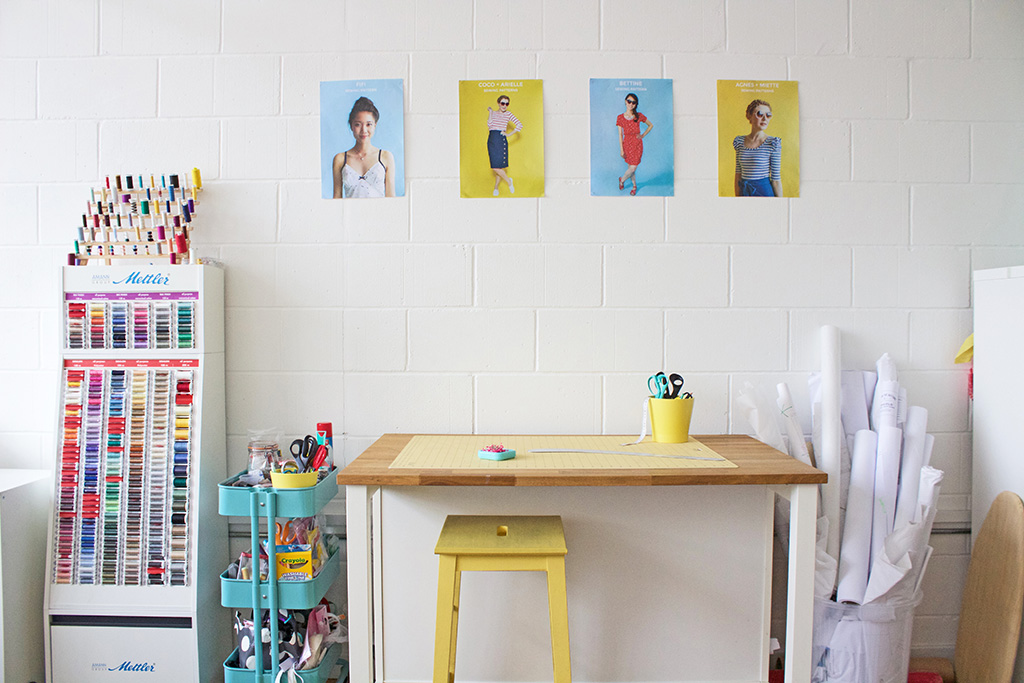 Why do you sew?

Let's start with a big question: Why do you sew?
I love being able to create something from scratch—taking an idea in my head formed of lines and colour, and turning it into a 3D piece in real life. From a very young age, arts and crafts was the thing that gave me butterflies in my stomach and got my heart beating a little faster (in a good way). I always loved designing clothes too, and would spend hours sketching dress collections or playing shoe shops. My studies and career went off in a different direction for a few years, but I came back to my biggest passion eventually!

A follow-up to the big question: Why is it important for you to share sewing with others? What made you think to do that?

When I first started blogging, my initial motivation was to connect with people online who shared my interest in sewing. At the time, sewing was an extremely niche hobby in the UK, and I didn't know anyone who sewed—in fact, my friends all thought it was a bit of a weird thing to do if you weren't yet a grandma. Becoming part of the online sewing community kept me inspired, taught me new techniques, and ensured I stayed motivated to keep making things. I also made some good friends through it.
A little later, I decided to start a blog series called Learn to Sew aimed at people who want to get into sewing but didn't know where to start. A lot of people—both IRL and online—were saying that they'd love to be able to sew but that they found sewing patterns intimidating. My professional background is in designing training courses and audience development for the arts, so naturally I wanted to encourage more people to get into sewing with accessible resources. When I look back now at those blog posts, I cringe at how rubbish the photos were, but am so glad I did it as it was that series that helped me build a large readership and sparked the idea for creating more sewing resources, an idea I eventually ran with and developed into the business I have today.
The Business of Tilly and the Buttons

You built your brand from the ground up. What helped you the most when you were just starting out?
I already had a relatively large blog readership before deciding to start a business, which was a big help when starting out. It meant that right from day one I had customers who were engaged with the brand and ready to buy stuff, so I didn't need to do paid advertising or worry about a tumbleweed response to launches. When people come to me for advice on building a social media following for their new business, I always tell them to ease off on the pressure they're putting on themselves and not worry about the numbers, because it took me years of blogging with no financial targets to build an audience. The important thing is to understand who your target customer is, down to the tiniest detail and innermost secret thought, and stay focused on creating stuff for them—whether free content or paid products and services—that they'll find either useful, inspiring, or both.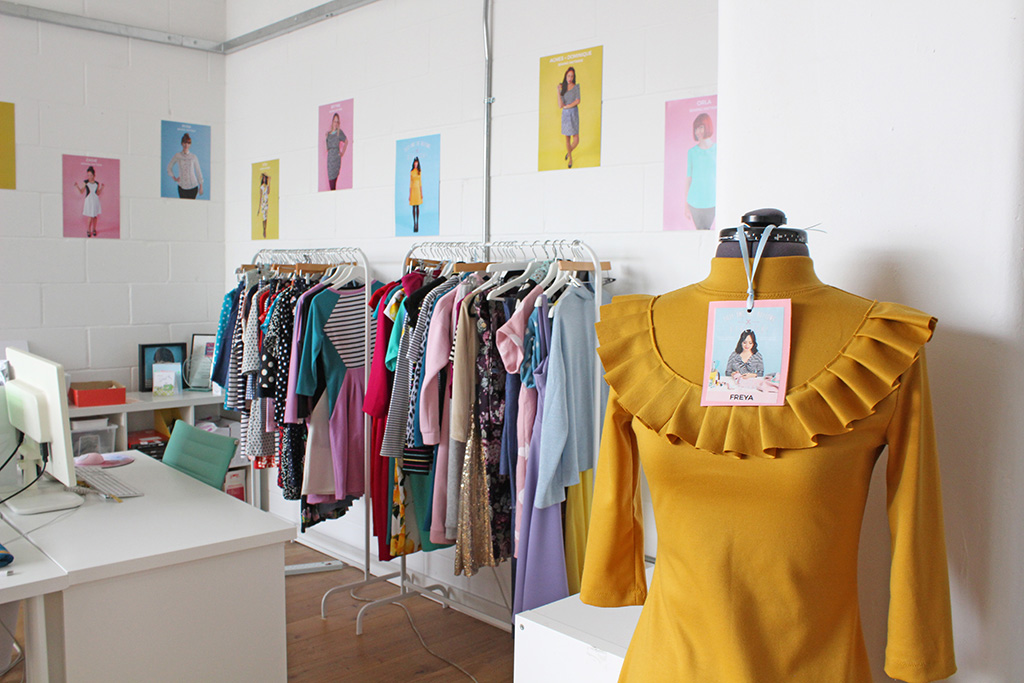 Now that you are so well-established, where do you need the most support?
Everywhere! We're still relatively small, so I'm still heavily involved in the product creation, production coordination, marketing, as well as managing the team and doing all the big admin things like cash flows and paying bills. It's a lot to take on. I'm planning to hire a new person soon to manage the production side of things, and would like to grow our marketing "team" and eventually bring on a Director of Operations who can take ownership of the admin and logistics side of the business. Know anyone amazing?!

Out of all your projects—books, videos, classes, fabric, blogging, etc—which one gets you the most excited to wake up and go to work in the morning?
I absolutely love developing sewing patterns, and get a particular thrill out of putting together the instructions. It's exciting to think about someone sitting at home following the steps to create a garment they can feel proud of, and I love including tips to help improve their sewing skills and confidence. I also really enjoy planning the photo shoots—imagining the looks that the models are going to wear, and the colour schemes for our pattern instructions. I'm very particular about coordinating the fabric, tools, background paper—and my nails!

Can you tell us a bit about your design process? What's your biggest source of inspiration for new patterns?
When it comes to designing the garments, I think about what I would like to wear, as well as what sewing skills we can teach in the instructions. For example, our Cleo dungaree dress pattern, which is one of our bestsellers, started life as a pattern I made for myself one weekend and became addicted to wearing. We then realised it would make a perfect pattern for beginners as it is very simple to fit and has no fiddly zips or buttonholes, while at the same time giving more experienced stitchers the opportunity to practise topstitching and try adding buckles to their garments. Or our Fifi camisole and shorts pattern, which is my favourite, is what I live in on summer nights, and shows makers how to sew delicate details such as French seams, lingerie-style elastic waists and bias binding.

You've been open about how you scored a book deal for your first book, including the frustration when things don't initially work out as expected. But you've always succeeded in a big way! What have you learned about patience and starting new projects since your first book came out?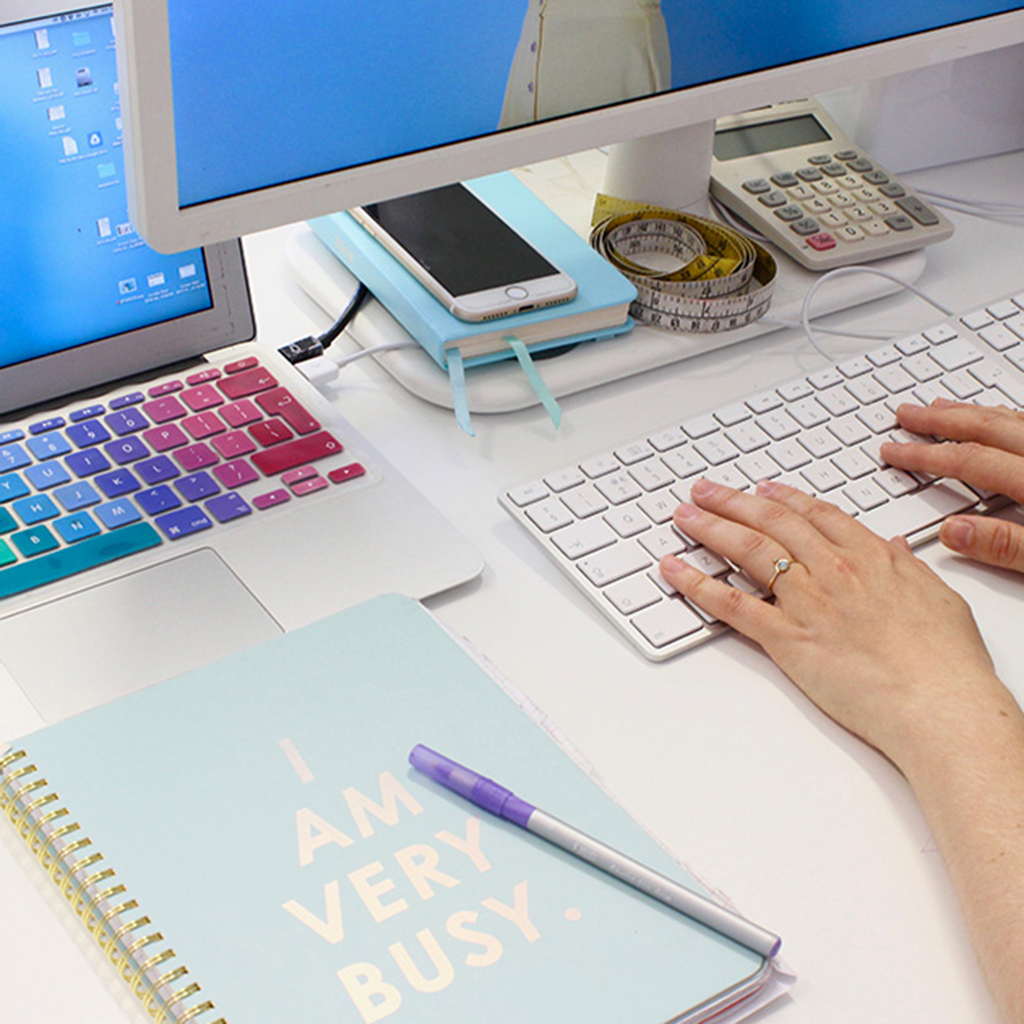 Your team looks like a really fun group. How has growing a team helped you achieve more of your goals for your patterns and other projects?


We have a fantastic team of talented people who are great at what they do and are obsessed with all things sewing! The business has come a long way from when it was just me in my kitchen trying to pack all the orders, answer all the emails, do all the admin and finance, oh and somehow find time to create new products and create a killer blog post every week!
Delegation has been a big learning curve for me, as I have high standards and obviously want everything we do to be perfect, as the business is my (first) baby. But it's also been great to create lovely jobs for other people and give them ownership of parts of the business, so I don't have to worry about things like customer service or dispatch. Growing a team has freed up some of my time and headspace to develop new projects and focus on developing the business.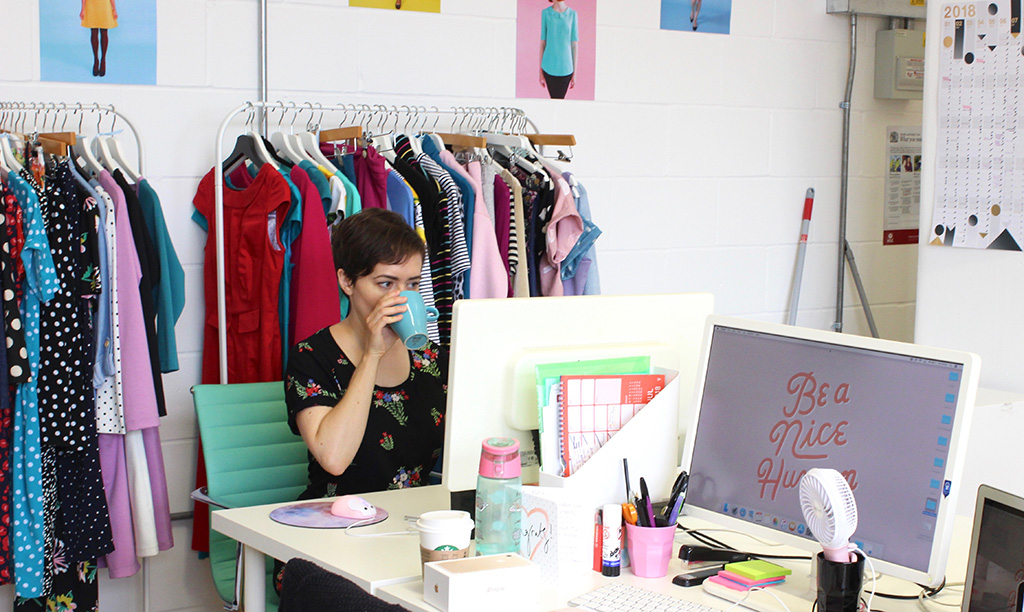 Tilly as a Brand
Your branding is very much associated with you as a person. What is the best thing about that? What's the most challenging?

It started out being closely associated with me, since the business evolved out of my personal sewing blog. But nowadays I think it's much less about me, and much more about our customers and their amazing creativity. I enjoy being part of the maker community, and I do sometimes share snippets of what I'm doing, but I'm not interested in documenting my personal life. I prefer to focus on being behind the scenes creating lovely products to put out into the world.

In all your interviews, press, and shout-outs from fans and other makers, your branding is always described with joy and color. You make sewing so much fun! Why is this important to you?
Because sewing is fun! Life can be tough, and escaping to your sewing table and surrounding yourself with pretty fabrics and gorgeous patterns can be a form of escapism, even therapy. It's easy to put pressure on ourselves to get every seam perfect or worry about a dodgy dart, so I like to keep our products and social media happy, down-to-earth and encouraging to remind people that we're sewing for pleasure, and that it doesn't matter if you make a mistake. Hey, you made your own dress! That's amazing!
"I like to keep our products and social media happy, down-to-earth and encouraging to remind people that we're sewing for pleasure, and that it doesn't matter if you make a mistake. Hey, you made your own dress! That's amazing!"

You have such a unique style. How did you define your personal style, and what made you want to extend it to your business? Since it's so associated with your company, has it ever been difficult for you to explore new styles?
I find it quite hard to define my style… I guess it's a mix of Riviera chic meets nerdy librarian, with a twist of seventies denim…?! Like many designers, my own taste informs what I design—I want to feel genuinely excited about the products we're putting out into the world. Since I was seven years old and insisted my mum buy me a pair of yellow Mary Janes over the sensible black pair she was proposing, I've always had a clear idea of what I want to wear, and never been massively into following trends. Having said that, I did buy a pair of dusty pink "mom jeans" the other day, a style I had previously shunned as I remember the nineties trends the first time round (ha!), but I stand corrected as they're great!

When you first started, you were filling a big gap and inventing a new way to approach sewing in general. Now that the sewing community has grown in such a worldwide way over the years, have you had to change your approach? Or is it your goal to continue to pave the way for making sewing fun, fresh, and accessible for anyone who wants to start sewing?
A lot of people who learned to sew with my first book Love at First Stitch or one of our beginner patterns are now looking to develop their skills. We're known for our beginner-friendly approach, but we also have a lot of more advanced sewing patterns and online workshops for people who are more experienced or who want to push themselves with things like shirtmaking. We're always mindful of being inclusive towards people who are new to sewing though, so we'll always create easy patterns every so often too.

Your latest book is all about knits and so many of your patterns are perfect for knits. What is it you love about knits so much? Does this mean that if you absolutely had to pick between wovens and knits…you might choose knits?
T-shirts, sweaters and knit dresses are the garments I reach for most in my wardrobe as they're so comfortable and practical to wear. I also love how quick and easy knit garments are to make, and the fact that you don't need to monkey around with complicated fitting adjustments, partly because the stretch in the fabric does a lot of that work for you, and partly because the style of knit garments is usually more casual and easy-fitting. If I had the choice between a desert island with a knits-only fabric shop and an island with a wovens-only fabric shop, I probably would pick knits. Although I would miss seventies-style denim projects with some nice topstitching—my other sewing spirit animal!
Sewing and Motherhood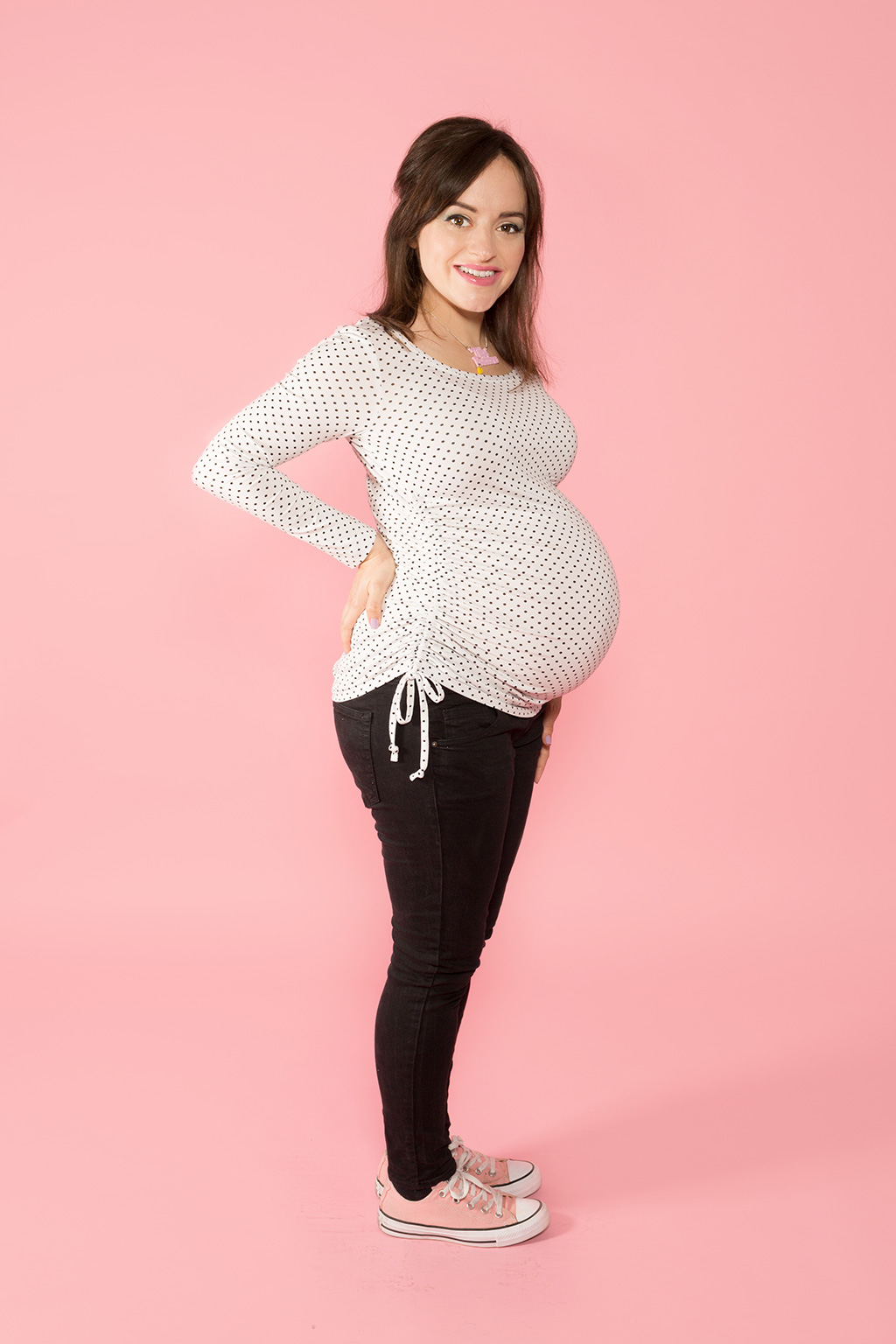 When my baby is asleep, I'm usually catching up with work. But I know how important creativity is for my mental health, so I do try to make time to sit down at my sewing machine every so often before bed, even if that means missing sleep so I can whip up a pair of baby leggings or print off a PDF pattern. I love seeing what other designers are coming out with and have an ever-growing "things I want to sew" board on Pinterest. I do also get to sew sometimes for work when writing pattern instructions. Yes, it's work, but I'm mindful of how fortunate I am that I get to do something so fulfilling for a living.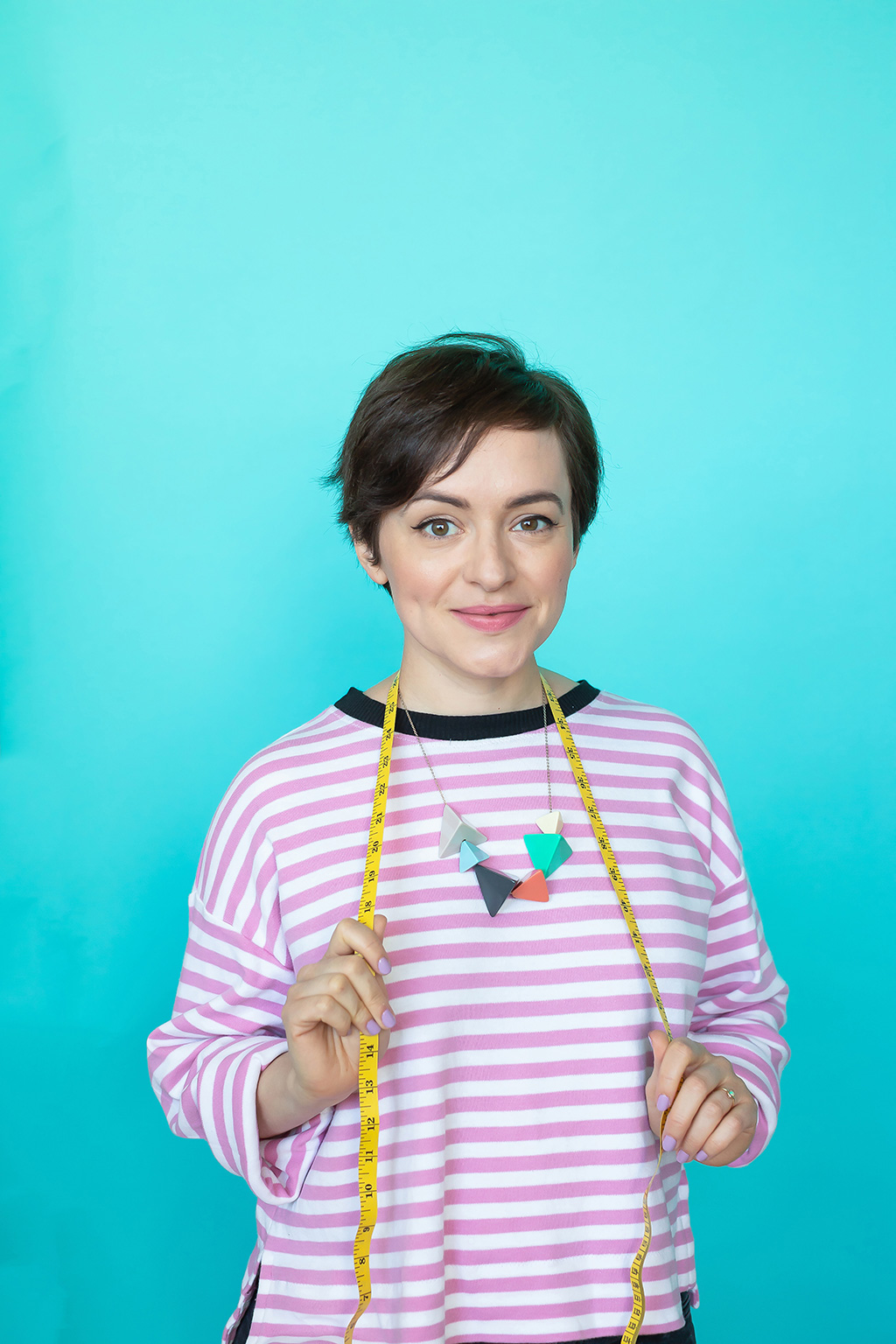 Aw thank you! I'm glad you said that, as I am intentional about creating resources that are both informative and pretty! We're currently working on two patterns for the Autumn/Fall that our team has become obsessed with. Our pattern testers were jumping up and down to test them out so fingers crossed the response at launch will be good too. And we're working on refreshing our pattern envelopes to feature photos of the finished garments on "models" (AKA our mates!) rather than dress forms.
I've got a list of other big projects I want to get started on but as I said I'm learning to pace myself—particularly now that I only work part-time. I'm planning to hire another team member soon and train them in a lot of the product development stuff that I currently do, which should help create capacity for us to start on some new projects.

And finally, do you get recognized whenever you go fabric shopping?
Hahaha! Sometimes! British people are quite shy so what usually happens is I get tagged into a social media post afterwards by someone saying they saw me, which is a bit weird. I'd much rather they just said hello!
Our Wardrobe-Building Picks
Here at Seamwork HQ, we love to talk about wardrobes. You'll find plenty of wardrobe-builders from Tilly and the Buttons, and here are three of our favorites.