Contributing Writers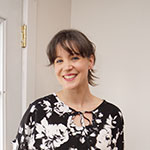 Becky Jo Johnson
Becky Jo Johnson has been in some form of marketing and graphic design for 20 years. With a penchant for reverse engineering, she's found there's nothing more exciting than learning and sharing. Becky Jo lives in the Pacific Northwest with her family and can be found online on Instagram @sewbeckyjo.

Chelsea Eisenberg
When she isn't pattern hacking, Chelsea is drawing step-by-step pattern instructions in Illustrator. As the Technical Illustrator here at Seamwork, she loves to make our instructions easy to follow and fun to read.

Denise Archer
Denise Archer has been sewing since she was 15 years old when she discovered the magic of her mother's Singer treadle. Denise is the founder of @thepeoplessewingarmy where she launches missions for sewists around the world to bomb organizations and people with good sewing deeds out of scrap fabric. Her personal garments and projects can be found @pimp_slapped. Denise is always on the hunt for vintage Issey Miyake patterns.

Haley Glenn
Haley doesn't just want to design clothing you'll love to wear, but clothing you'll love to sew. With a background in both design and teaching, she combines her talents to imagine patterns with thoughtful details that build your skills as you sew.

Meg Stively
Meg is here to help you. As the managing editor for Seamwork and the smiling face behind our social media, she loves to talk to you about how much fun it is to sew your own wardrobe.
---
Credits
Staff
Amy Alan | Technical Editor
Areta Litwin | Sample Sewer
Chelsea Eisenberg | Technical Illustrator
Farrah Dodson | Graphic Designer
Haley Glenn | Designer
Jennifer Faust | Sample Sewer
Jeanine Gaitán | Sample Sewer
Kenn Wilson | Director of Operations
Meg Stively | Managing Editor
Robin Ives | Pattern Development Manager
Sarai Mitnick | Chief Executive Officer
Sienna Parfitt | Content Producer
Taylor Pruitt | UX Designer
Wallis Smith-Owens | Patternmaker
Photography
Beth Level | Hair and Makeup
Chelsea Eisenberg | Stylist
Emily Bolles | Photography
Haley Glenn | Art Direction
Hilary Jordan | Model