Learning a new skill is as exhilarating as it is challenging. When you are a beginner, there is a rare energy that you have, a special excitement that's really powerful. If we could bottle up that beginner's energy and sell it, it would sell out.
While we aim to make most of our patterns friendly for a beginner, it can sometimes be hard to choose a sewing project when you are first learning. In this article, we'll show you how to approach selecting projects when you are starting to build your sewing skills. Then we'll share 10 patterns from the Seamwork catalog that make good beginner projects.
---
Embrace that Beginner's Curiosity
When you are first learning to sew, you're probably bursting with curiosity. Everything is new, and even though your hands might feel clumsy while you are sewing, and your seams aren't totally straight, when you see the finished garment, you're likely glowing with pride.
As a beginner, you might be motivated by challenges because they are just problems to solve on your way to becoming an expert. You might give yourself some grace because, hey, you're new! Or, you might get frustrated. It might take you longer to build new skills because they all seem too intimidating.
When you are just starting, it helps to own that beginner's curiosity and think of sewing as an adventure. You'll have some highs and some lows, but everything gets easier with practice and time.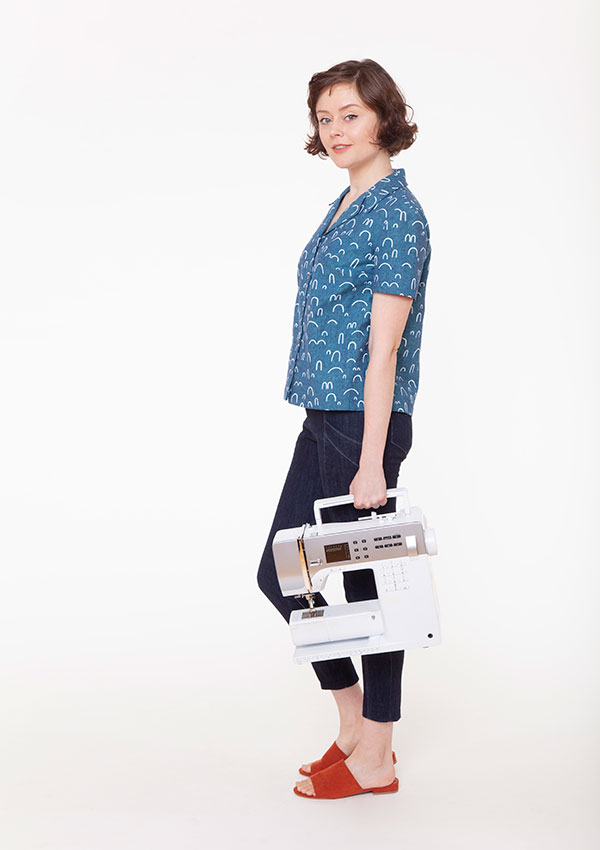 If you want to hear more about this idea, don't miss our Learn to Sew with Bo Class in the Classroom. The first half of the video class is devoted to helping you approach your first few sewing projects, and then we take you through the Bo pattern step by step. You'll see Bo on our list of 10 easy Seamwork patterns below.
---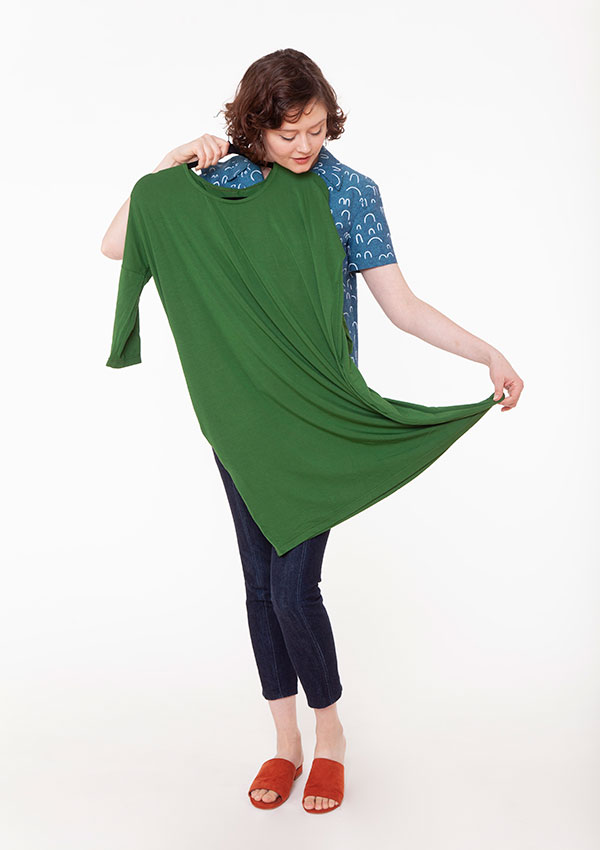 Build Your Skills One-by-one
One trick to learning a new craft is to pick up skills one by one. Don't feel like you need to tackle a project that teaches you a ton of different things. Learn to look at sewing patterns for what they can teach you. Sure, you get a cool finished garment at the end, but what skill will this pattern teach you?
When you are first starting, think about the skills you'd like to learn and practice them one by one. You might want to learn how to install a zipper, how to sew a pocket, or how to sew with knits. Pick a project that addresses a few of these skills. When you've mastered a skill, shift your focus, and find a pattern that helps you pick up a new skill.
---
How to Choose Your First Few Projects
It helps to have a framework whenever you are looking for a new project. When you are a beginner, there are a few things to consider. To maximize learning and minimize frustration, here is a framework you can use to select your projects.
What makes a good beginner's pattern?



Fabric type: When you are first learning about fabric, it helps to start with a project that doesn't require anything too slippery. Wovens are a good fabric to start with, because they are very stable and you can use a regular straight stitch. Look for a project that requires a stable fabric, like chambray, shirting, cotton lawn, lightweight denim, quilting cotton, or twill. These fabrics are easy to work with. How do you know if a fabric is easy to sew? Feel it. Does it have a tighter weave? Is it too light or too heavy? If you aren't sure, get a few swatches and practice some stitches before you commit. Everyone handles fabric differently, so find what feels approachable to you.



Closures: Zippers and buttonholes can be intimidating to some people. For your first few projects, look for patterns that don't have too many complicated closures. For example, choose a skirt with an elastic waist rather than a zipper. Pick a shirt that pulls over your head rather than closes with buttons.



Easy to fit: Fitting is a whole different beast, and it's one that you can only tame with a bunch of time and practice. So don't let it intimidate you! Start with a project that's easy to fit. Look for something that is not very tight on your body, without darts or much shaping. Or, start with a knit project as they tend to be more forgiving in fit. As you get more familiar with garment construction in general, you'll naturally develop more of an understanding of fit, and then you can move on to more fitted projects.



Approachable techniques: Before you sew many projects, you might not know which techniques will be hard for you. Read the pattern's description and see if it sounds like you will need to use a bunch of new skills. Do you need to apply bias tape, install an invisible zipper, sew a buttonhole, and sew bust and fish-eye darts? Maybe look for a pattern that only involves two of those techniques to start with. Or, take it all in stride, because everything you sew is made step by step.


---
10 Easy Seamwork Projects
With the framework above, here are 10 Seamwork projects that fit the bill. Our instructions will take you through each step, and we have links to helpful tutorials and videos throughout.
Quince
The Quince day robe is a stylish, everyday piece of outerwear that is very beginner-friendly.
Fabric: Quince is designed for wovens, and all of the fabrics listed are very stable and easy to sew.
Closures: There are no special closures. This day robe closes with an optional tie and is finished with a facing along the neckline.
Fit: With a generous amount of ease, Quince is very easy to fit. There are no darts, and the shape is boxy. There are a few lengths you can choose from, and the pockets and waist tie are optional.
Approachable techniques: If you sew Quince, you'll learn how to sew a pocket (if you choose to add pockets), sew a waist tie (if you choose to add a tie), and sew a facing. These are all very handy techniques to learn, and in combination, they won't stress you out.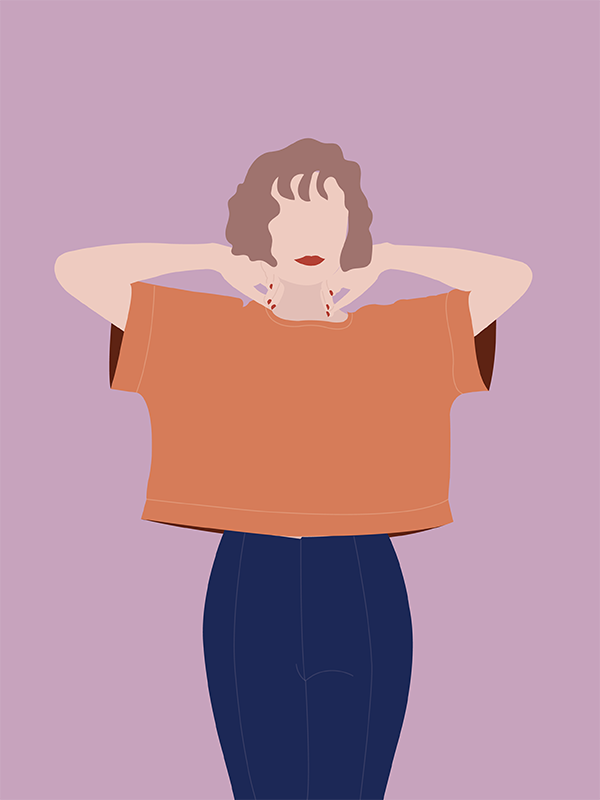 Bo
There's a reason we used Bo for our learn to sew class. It's very approachable for beginners, and it's a satisfying sew even if you have been sewing for a long time.
Fabric: With Bo, you can choose your own adventure by selecting fabric. You can choose a stable cotton if you are a beginner, or try sewing a delicate sheer fabric if you have more experience.
Closures: Bo is oversized with a relaxed silhouette, so it slips over your head with no closures.
Fit: You only need your bust measurement to pick a size for Bo! It has dolman sleeves, so there is no need to cut and install a separate sleeve piece.
Approachable techniques: Bo teaches you how to install bias tape at the neckline, which is a great skill to learn.
Tacara
Tacara is a knit dress with a slight cocoon silhouette. It is easy to hack into a top if you shorten it. We have a video for lengthening and shortening on our YouTube channel.
Fabric: Tacara is a great beginner project for knit fabrics. You can choose something stable like merino jersey or ponte, or you can pick something lightweight like bamboo if you want more of a challenge.
Closures: Since Tacara is sewn with knits, there are no closures.
Fit: Tacara has fitted sleeves, but the body has a loose-fitting silhouette. This makes it easy to fit.
Approachable techniques: You'll practice sewing with knits and binding a knit neckline.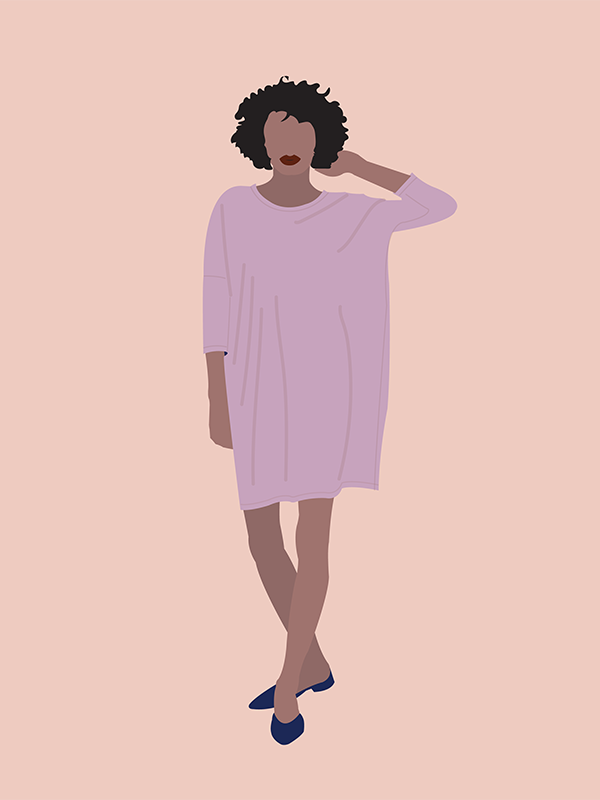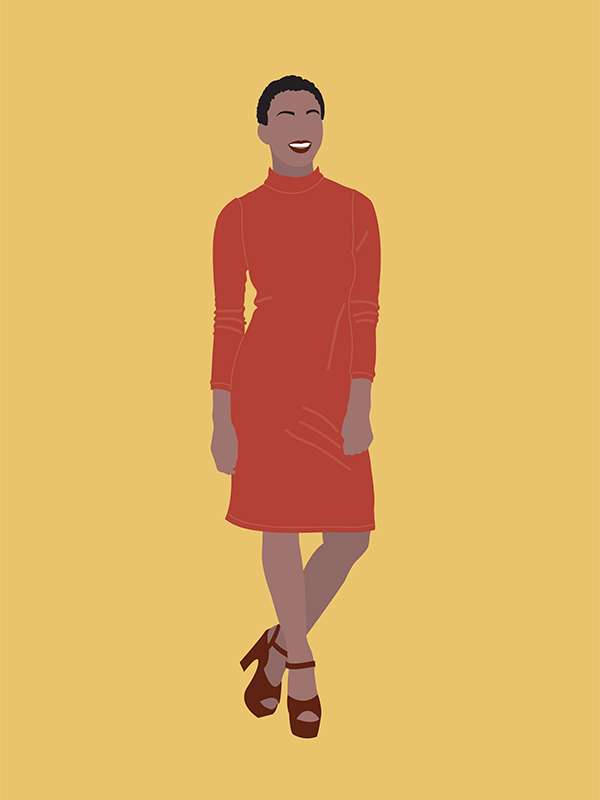 Neenah
For a more form-fitting knit dress, Neenah is a good option.
Fabric: Like Tacara, Neenah works well with stable knits, like jersey and merino, and it's easy to shorten to a top. We have a video for lengthening and shortening on our YouTube channel.
Closures: Neenah pulls over your head, so there are no closures.
Fit: Neenah is more form-fitting than Tacara, but it still has some ease. Remember to read the finished garment measurement chart to see how much ease is in your size.
Approachable techniques: While you learn to sew knits, you'll learn to sew a turtleneck. It's an easy way to finish a neckline.
Astoria
Astoria is one of our all-time most popular patterns. It's a simple project when you are learning to sew with knits.
Fabric: You can work your way from easy to challenging knits with this pattern. Start with jersey and end with a loose sweater knit fabric.
Closures: Astoria pulls over your head, and there are no closures.
Fit: Astoria is quite fitted, but since it's a knit fabric, that means it's forgiving. With this pattern, you will learn to work with negative ease. That means that the pattern measurements will be smaller than your body's measurements, as the shirt is meant to fit close to your body.
Approachable techniques: When you finish sewing Astoria, you'll learn all the skills you need to master sewing any knit T-shirt.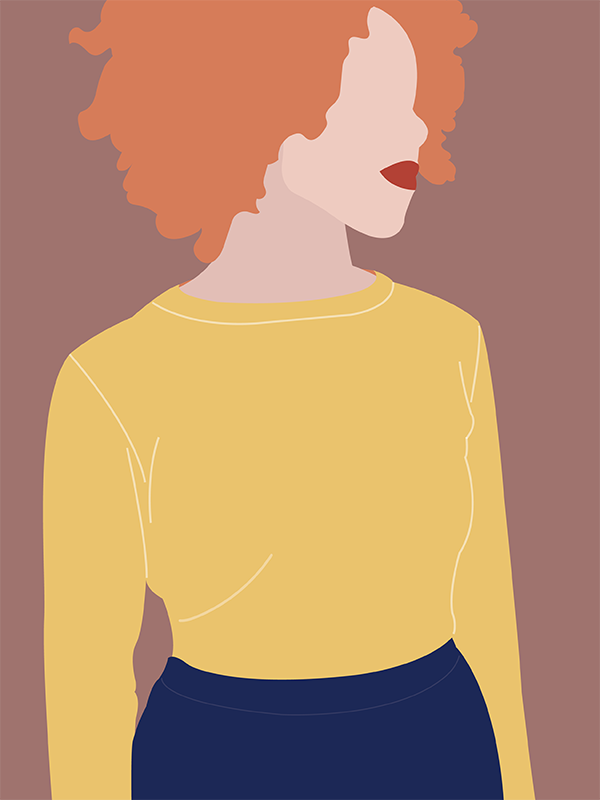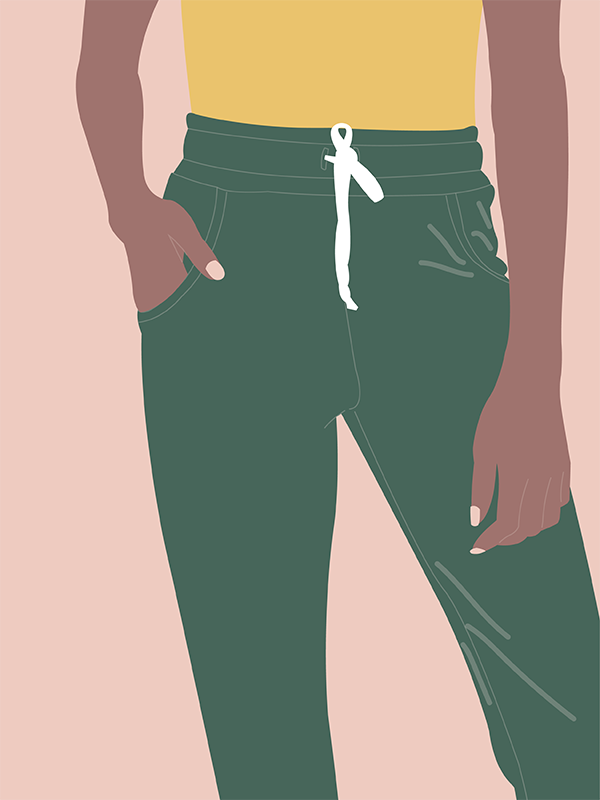 Mel
The Mel joggers teach you a few more techniques than some of the other projects on this list, but they are all beginner-friendly techniques, and our instructions will walk you through each step.
Fabric: You can use a stable knit fabric for these joggers. A good example would be French terry, which is very approachable for beginners.
Closures: These joggers are finished with a unique elastic waistband. It's 1/2 elastic and 1/2 drawstring, which will be easy for you to install if you have never worked with elastic before. There are two buttonholes required, but this is a fun project to practice buttonholes.
Fit: Since these are joggers and made from knits, they are easy to fit. They move with your body, and you don't need to worry about darts.
Approachable techniques: You will learn how to sew elastic, buttonholes, and pockets in these joggers.
Clarke
The Clarke top is ideal for beginners because it's flexible when it comes to fabric choice.
Fabric: Designed for both wovens and knits, and to be cut on the bias or the straight of grain, this top also lets you choose your own adventure. You can pick something easy, like chambray cut on the straight of grain. Or you can give yourself a challenge, like silk cut on the bias. It doesn't require much yardage, so it's great for when you have acquired a bit of a fabric stash.
Closures: The V-neck slips over your head, so there are no closures.
Fit: Clarke has generous ease. The shaping is mostly from the deep V-neckline, so the rest has a loose-fit.
Approachable techniques: You will learn how to keep the inside of your garment looking neat with an all-in-one facing.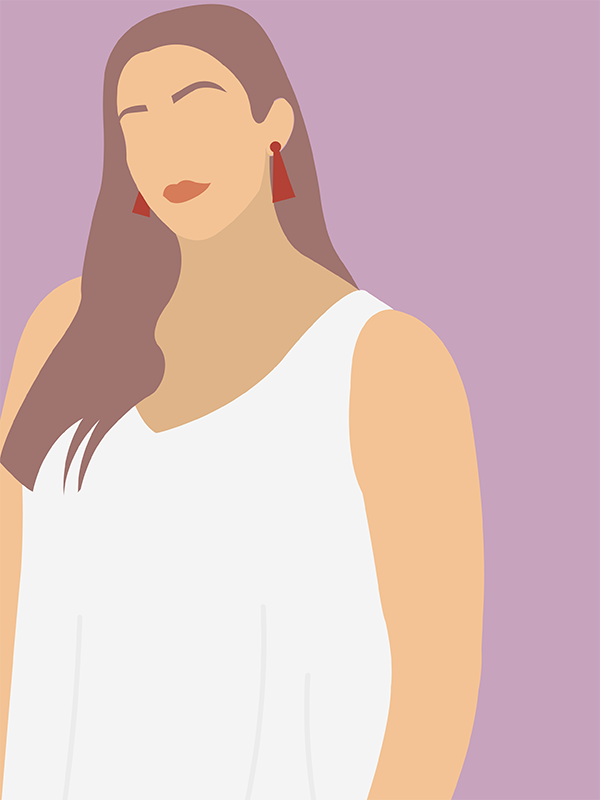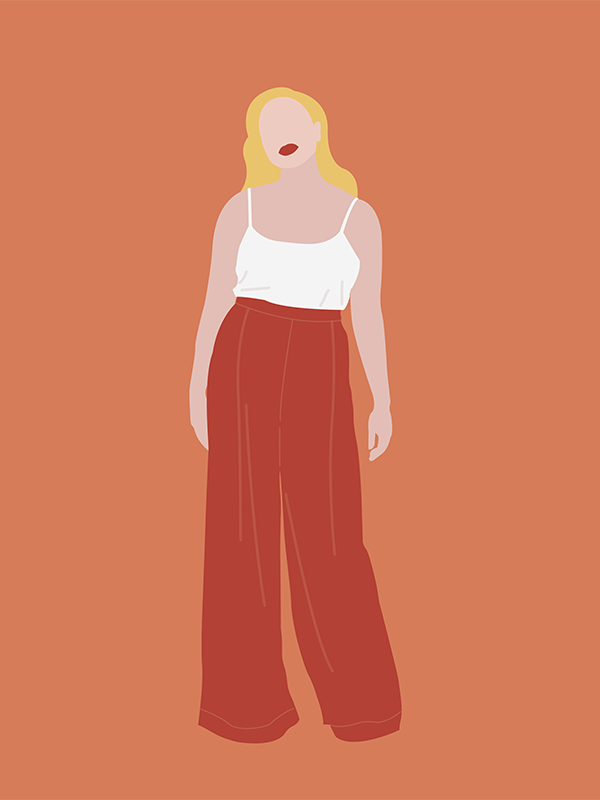 Marett
The Marett pants are a good example of a beginner-friendly pants pattern because they are easy to fit.
Fabric: While you can choose a rayon challis for this project, you could also use lightweight denim, which will be easier to work with (try 4 oz. denim).
Closures: These pants require an invisible zip for when you are ready to pick up that skill!
Fit: These pants fit at your natural waist, but they have generous ease throughout the hips and legs, which means you don't have to do a lot of fitting.
Approachable techniques: After you sew these pants, you will know how to sew darts, install an invisible zip, and sew pockets. The waistband is very approachable. If you don't feel like tackling that zipper yet, we have a hack here that will help you swap it for an elastic back (it also eliminates the darts).
Lito
This month's Lito dress is a great first knit project.
Fabric: Look for stable knits with strong recovery, which means that the knit bounces back to its original shape after being stretched. Jerseys with spandex are a good place to start.
Closures: There are no closures on this dress.
Fit: Lito is fitted at the bust, but it has a relaxed fit through the waist and hip.
Approachable techniques: You'll learn how to sew ribbing at the neck and arms, which is a fun way to finish knit projects.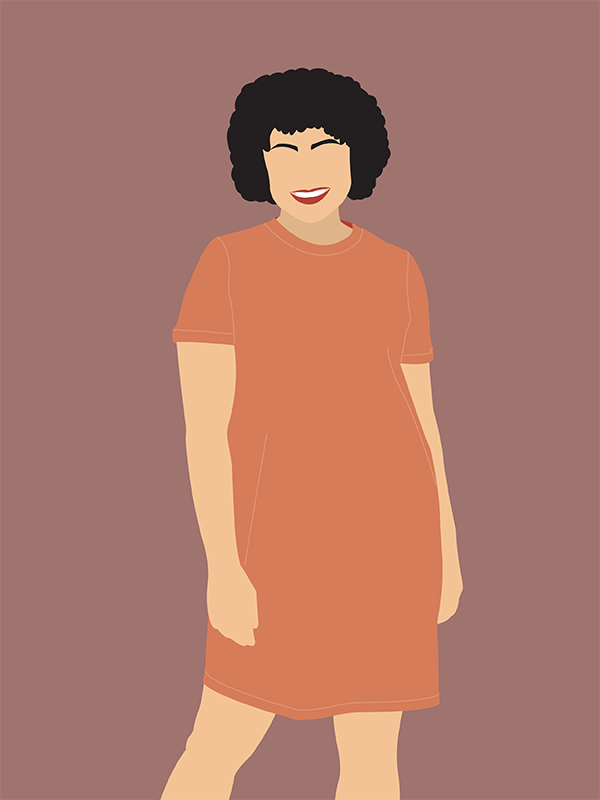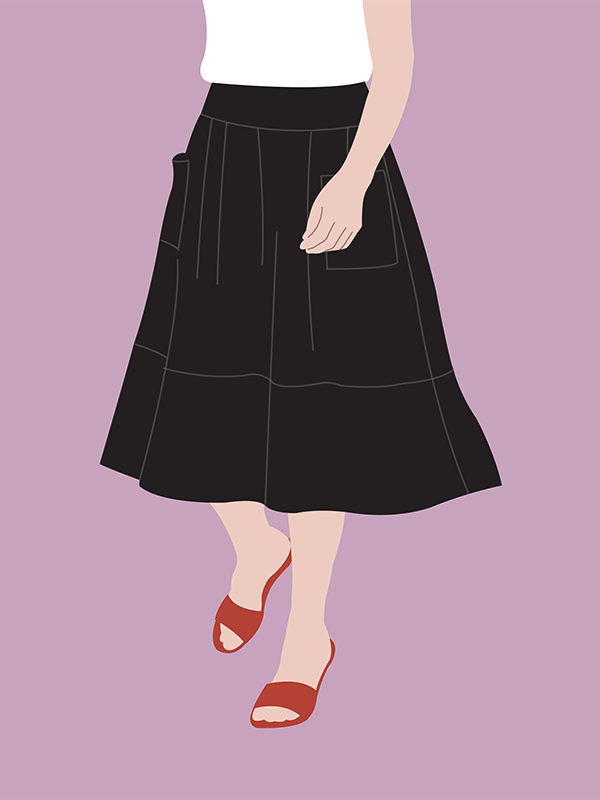 Patsy
The Patsy skirt is a great beginner project because it fits the framework we mentioned above perfectly.
Fabric: You can choose a woven fabric that is easy to work with, like chambray, ikat, lightweight denim (try 4 oz. denim), or cotton lawn.
Closures: Patsy closes with an invisible zipper.
Fit: This skirt is fitted at the waist, so that's the body measurement you need to pay the most attention to. The rest of the fit is very relaxed.
Approachable techniques: Installing the zipper will be the trickiest step, but a skirt is a great way to learn this skill. When you're done, you'll also know how to gather, and the bottom panel helps you practice sewing more seams and lets you play with color blocking or directional stripes.
---
What's Next?
After you've sewn your first few projects, you can develop new frameworks for the patterns you choose. Keep growing the list of skills you want to practice, branch out and try new fabrics, and start to practice fitting your garments.
Do you want to see more articles like this? Or do you have more questions about picking a project? Leave a comment on the Seamwork Community and let us know! It's a fun place to chat about all things sewing.
Join the Conversation
Sign in or become a Seamwork member to comment on this article.