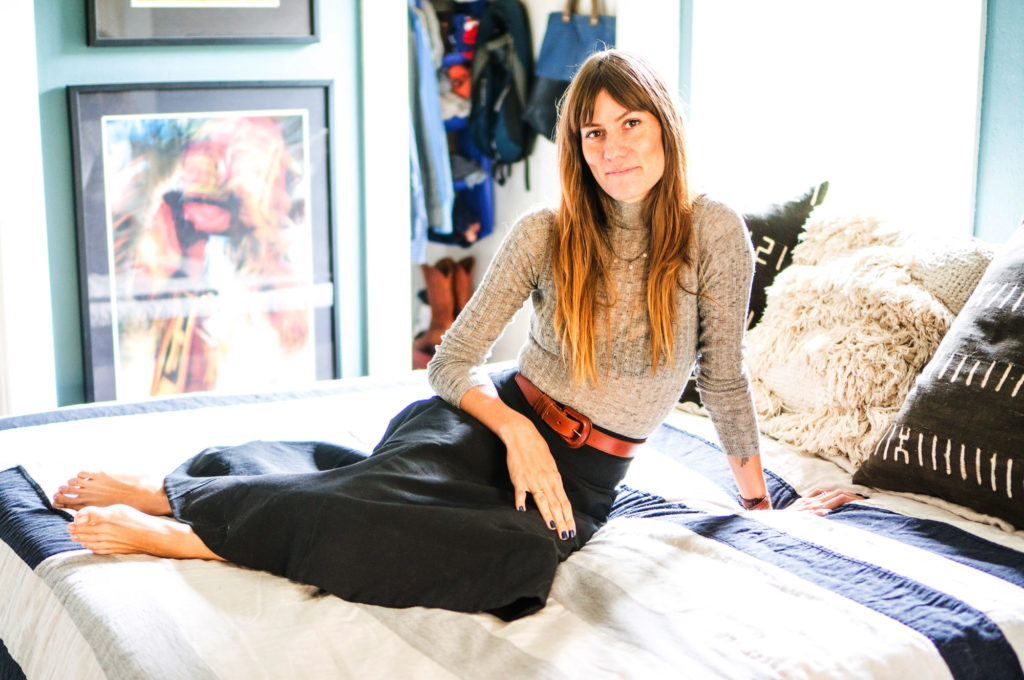 Like many makers, I have watched Project Runway with rabid fascination for years. What those designers manage to produce under the time and stress constraints is still a mystery to me, even as my own sewing and patternmaking skills grow and evolve. One of the most memorable seasons was number eight, where the bohemian, editorial style of Gretchen Jones won out over the playful theatrics of Mondo Guerra. Some considered this decision controversial, but I always related more to Gretchen's thoughtful, real woman aesthetic and sustainable philosophy; her clothing always gave me a major case of the wants.
Many winners of the show have faded into obscurity, but Gretchen is a notable exception. Her win was the launching pad for her own line, and she produced several collections, all manufactured in New York City's garment district. Until recently, she was the creative director of Pendleton, before leaving the heritage American brand for greener pastures this year.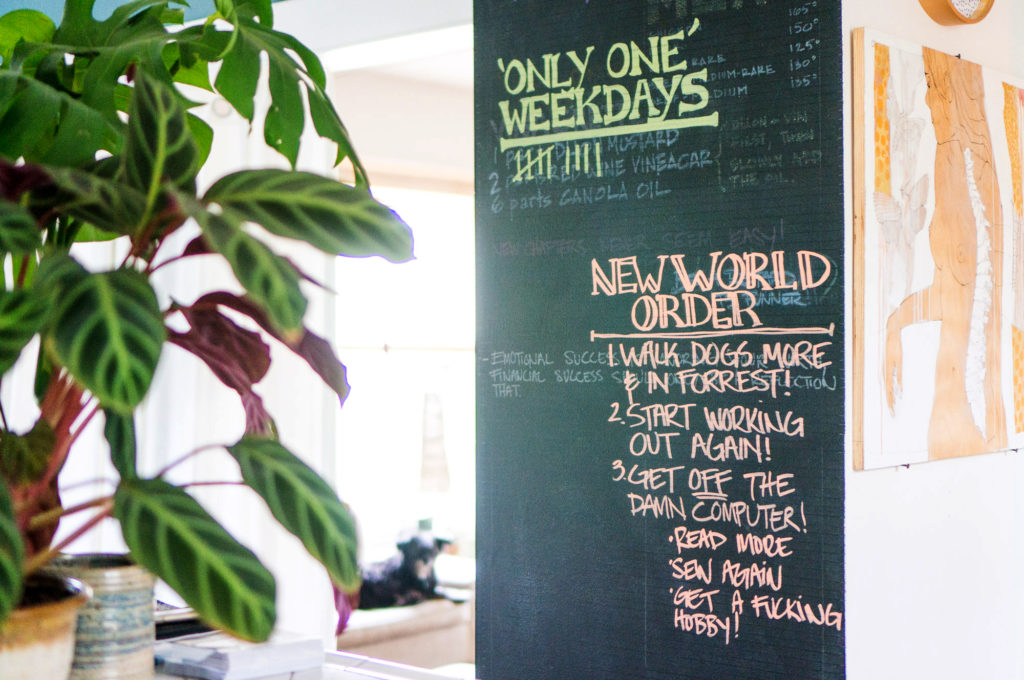 While I've long loved Gretchen's presence on Pinterest, discovering her on Instagram this year piqued my curiosity again. She has, quite frankly, amazing style. It's idiosyncratic and unconventional and features a lot of up-and-coming independent designers, not to mention an absolutely killer collection of jewelry. In a world of street-style photographers and personal style blogs, Gretchen stands out. She doesn't really look like anybody but herself.
My curiosity about her grew, and in a forthcoming interview we did for Seamwork Radio, Gretchen candidly revealed her experience on Project Runway, what it was like to run her own line, and what she's up to now. We also talked a lot about how she gets dressed, where she finds inspiration, and her journey as a maker and designer.
Being the nosy Nancy Drew that I am, we took a tour of her closet, and Gretchen revealed her most personal, meaningful favorites; they are a diverse collection from a life well lived, and illustrate the original, intelligent style that is her trademark: "My wardrobe is thirty percent my own product, thirty percent independent designers, and forty percent secondhand. I try not to fast shop. It means a lot for me to spend my money, and I try to do it for causes that feel good. That could be recycling a garment, loving something that would start to disintegrate if it wasn't cared for like vintage, or small-batch production from somebody talented who I believe in. I don't really shop at super mass retailers; I hate the feeling of going in and seeing twenty of one garment on a rack. It feels not special to me, which is probably from my thrifting days. The love and excitement of finding a killer piece at a thrift store still is there for me."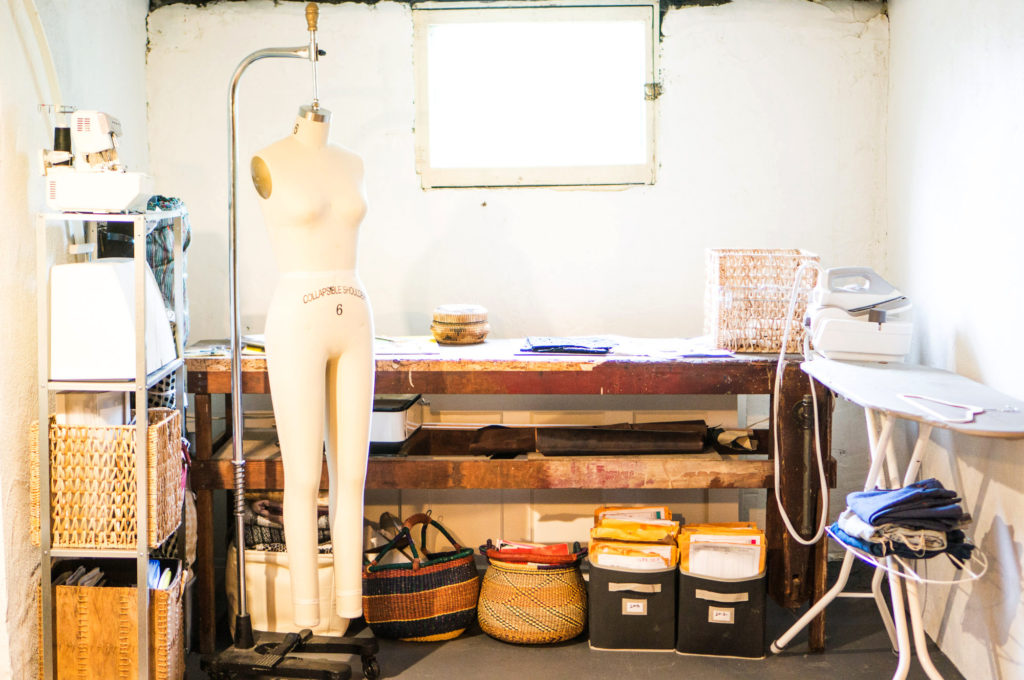 While Gretchen doesn't sew as much as she used to, she still has a sewing studio set up in her basement, where she made her wedding quilt last year: "The modern quilting movement is super radical. Home goods are really interesting to me for at-home sewing. But I'm doing a small capsule collection for Anthropologie in spring 2016, and I'm actually pattern drafting and stuff like that again. It's like a bicycle, except that it's not as easy to get going again because it's so technical. I'm not as good as I once was because I'm just not well oiled. I don't craft as much as I used to. My newest craft is trying to learn how to cook, so my husband doesn't leave me."
Notes on Gretchen's Favorite Pieces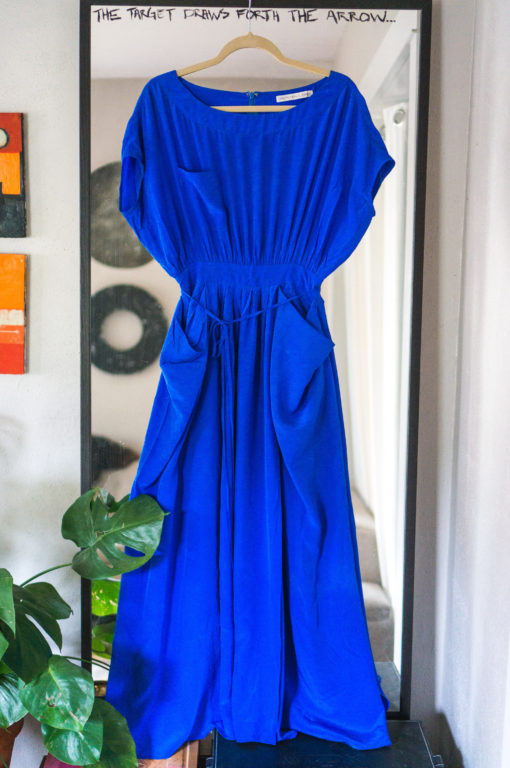 This dress was from my last collection before I left the independent world. It's silk crepe de chine in electric blue, and it came from a collection I called "Double Fantasy," after a John Lennon/Yoko Ono album from the '70's. Super trippy, kind of Dune-like, and I was playing around with a lot of what is sexy for me.
I feel like I don't play by the really classical sexy concepts, so I started breaking down elements of female's anatomy that are underserved, but women usually think are very elegant and sexy, but are not always looked at that way. You're fully covered and it's all about the collarbone. It's a maxi dress, and it's very drapey and you don't get to see a lot of your body. But when you walk, all of those petals open up and you get to expose your legs. So it's nuanced. And you can't not stare at somebody in a bright blue dress.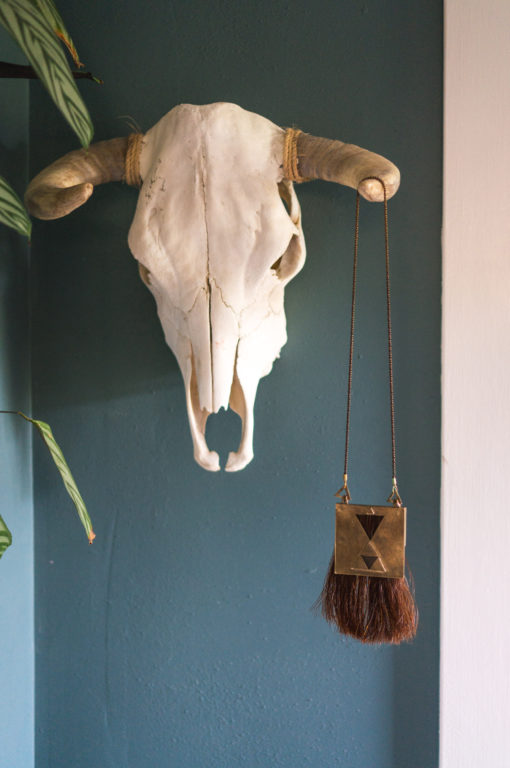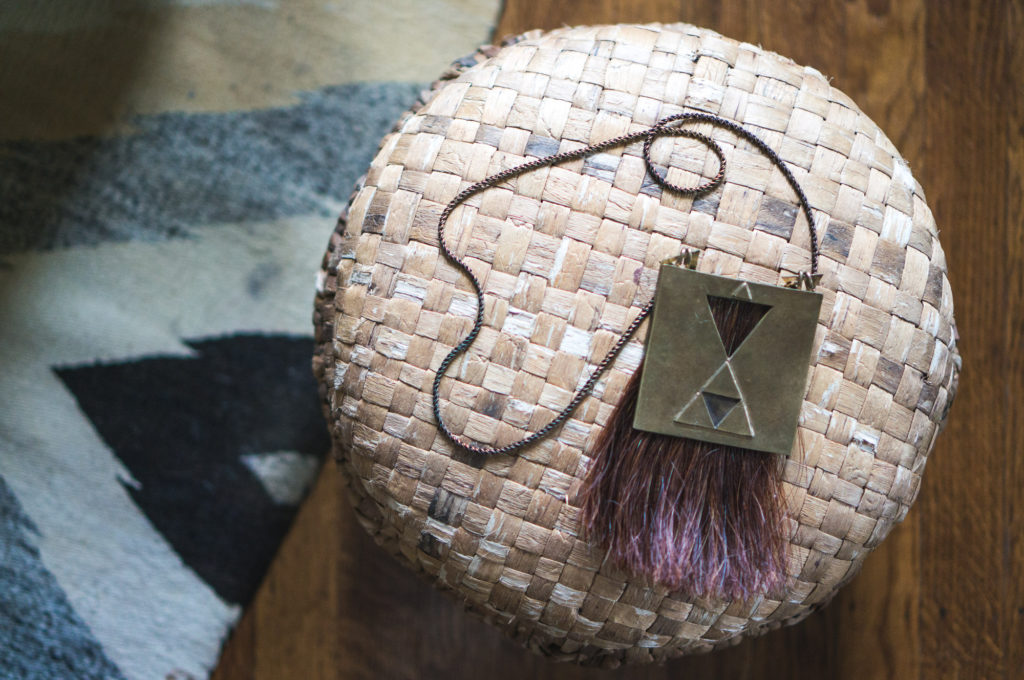 This horsehair and brass necklace was one of my designs from my fall 2012 collection, called "Horses." I used to name my collections based on the music I was listening to at the time, and I was listening to a lot of Patti Smith's Horses, so I used that as the name. It just was ironic that I also used horsehair in the piece.
Triangles are a pretty esoteric shape, and I've leaned toward those in a lot of my designs, and the piece has a bunch of triangles that are reflecting on different principles that I use in design.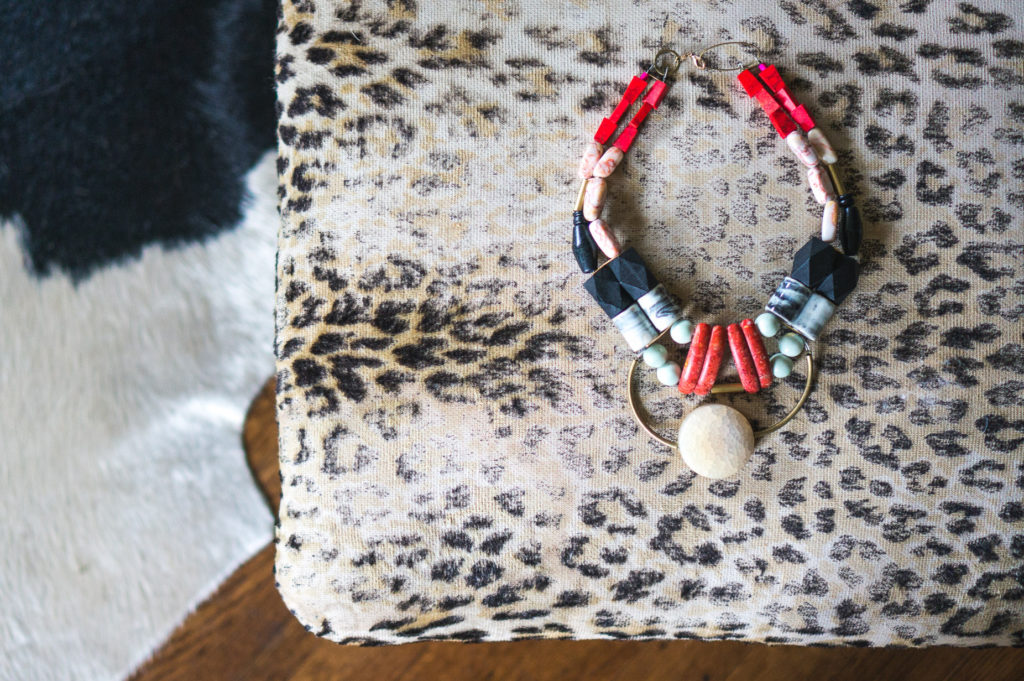 This beaded necklace is from a designer and artist named Irene Wood, who is also a close friend of mine. She's about to do a big collaboration with a museum in New York City. She's a formally trained painter, and what I've always liked about her work is that it's a lot of found objects, but she uses them in a really sculptural way. Her signature to me at least...I don't know if she'd say the same thing...but her signature to me is her delicate use of color. She really has a way of putting colors together that you'd never expect that create a really dynamic flair.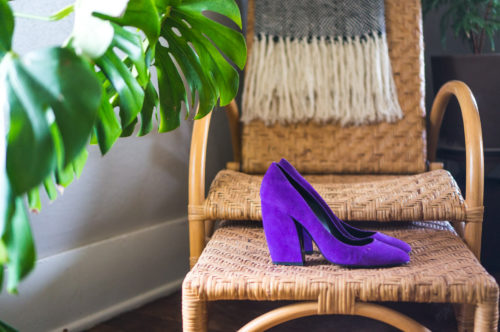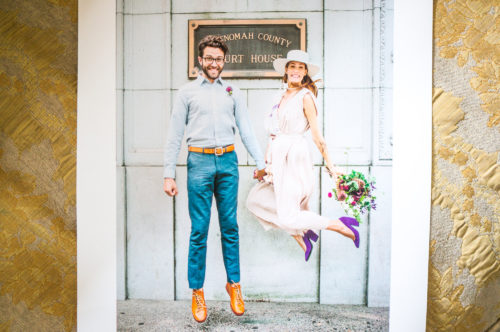 Just over a year ago I was in the middle of doing a project that I created called "Neutral Territory", where I stripped out all of the color from my wardrobe to understand how I use color in my wardrobe and how I purchase clothing. I also wanted to know as a designer how I use color and how it impacts collections.
I was about nine months in and starting to get sick of only wearing neutrals, and I thought if there's ever a time to break the rules that I inflicted upon myself it would be at my wedding, and I didn't put any rules on the accessories. So I fell in love with this pair of Pierre Cardin purple suede pumps that I can barely walk in, but they're amazing, and I have never worn them again. Whoops!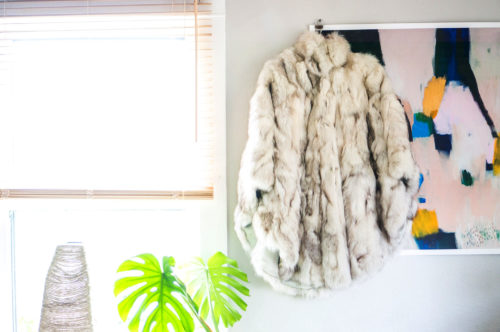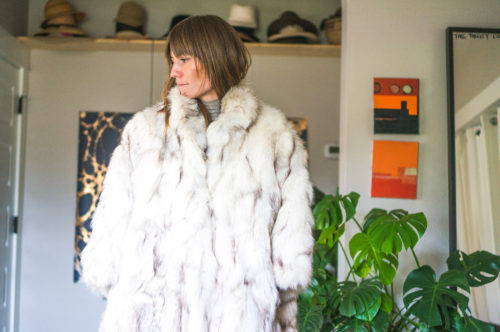 The fur cape's a sweet story. My mother retired to rural Oklahoma with my father because rural people don't retire to Phoenix or Palm Springs, and she met a woman that fell in love with her. But the woman was in love with me from the show and she's a little bit of a clothing hoarder. One time I was visiting, and she had my mother and I over and she showed me her vintage collection. The further rural, the better the score is really.
She had three bedrooms full of stuff, everything from furs to incredible jewelry. Her denim collection was incredible. She unfortunately was never able to have children, and there was just something about me and the way that I appreciate clothing that she resonated with, because I just flipped out going through things and there were certain elements that I pulled out where I was just like, "This is an incredible piece. I can't believe you never wear this. Oh my God."
I went home, and three weeks later I got a box with a couple of the pieces, and the fur cape was one of them. I had put it on and I made her let me keep it on the entire time she gave me the tour, so I think she knew that I really loved it.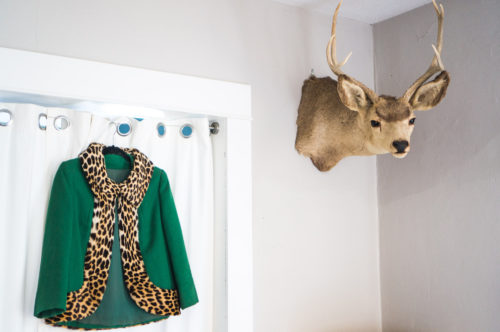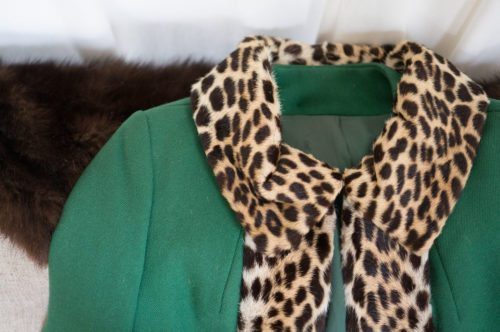 Not only is vintage important to my wardrobe, it's also a part of my creative process, and I do purchase a lot of pieces that I don't wear all the time that are just incredible, impactful, inspiration garments. A lot of that I have found is at really great flea markets, and the Brooklyn Flea Market is by far one of the best in the nation, and it happens every Saturday. When I moved to New York I lived three blocks away and it happened every weekend. Before I knew anybody I would go to the flea market, and I fell in love with a couple of the vendors and made friends with them.
One time I came and there was this green, I believe it's a gabardine wool... a little city coat with actual real cheetah fur all the way around it. "Breakfast at Tiffany's on acid" is the way I remember feeling about it. The emerald green plus the leopard was just such a dynamic pairing. I had to have it because of that, but also I thought what a statement piece—you put that on and you don't need anything else. Because exotic animal skins are pretty much illegal, she wasn't really allowed to sell it, but she knew I loved it so much that she gifted it to me.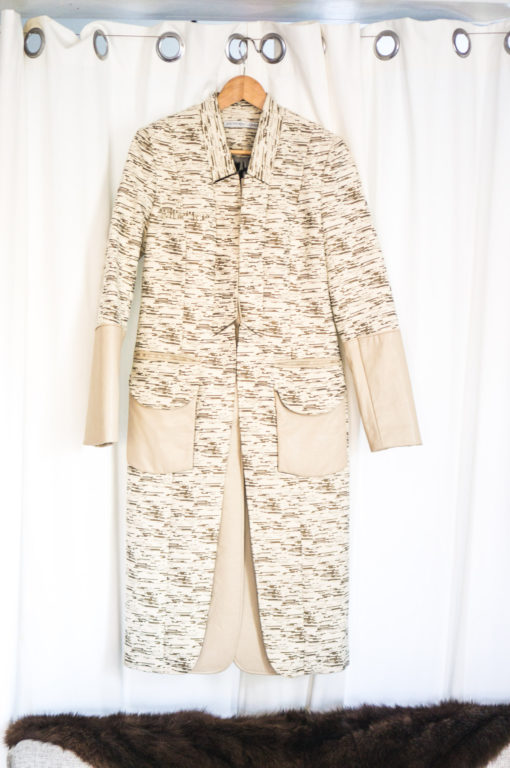 This coat is also from my Double Fantasy collection. I was starting to get far more tailored and refined in my designs by that time, and I really wanted to do a new interpretation of a car coat, but more elegant. The fabric looks like birch wood, which I love because it's kind of nodding to the sustainable thing through a literal interpretation. But it's Italian woven, and it has a golden lurex weave within it. Lurex is having a big revival. I couldn't actually afford real leather, so the panels are actually pleather.
It was made in the USA, and the lining was repurposing some of my fabric that was left over from a previous fall collection. It's a black-and-white eye capsule, so when you open it up you get another wow. It's really in the special details.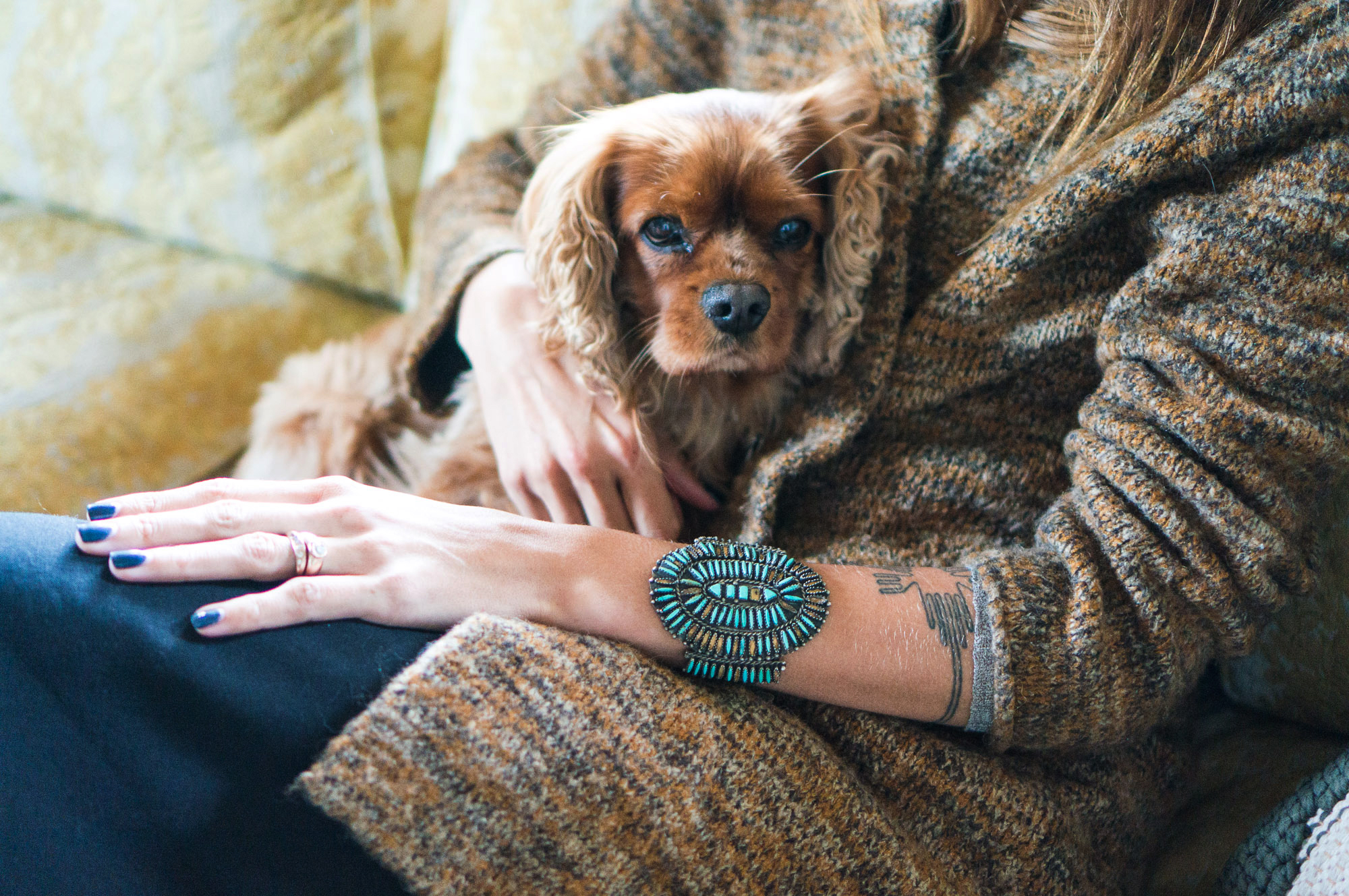 This bracelet was a gift from my friend Ian Kennedy after I won the show. He has a store named Ruby + George, (https://rubyplusgeorge.com/) named after his grandfather and grandmother. They used to have a trading post back in the day, like a real Western cowboy trading post, where they would sell a myriad of things, including a lot of native jewelry. This giant cuff is a piece that has a lot of value, even though it's missing a lot of the petit point pieces. To me that actually makes it even more special.
I eloped, and I wore a certain outfit to go the courthouse, and then my husband and I decided to do little parties for both of our families. We were doing a barbecue, and I was still very much in neutral territory mode, but starting to break my own rules, and I thought, "I'm in my 30s getting married for the first time. Marriage means totally different things. I don't really need to be in a traditional garment."
One, because I'm a fashion designer. Two, because I'm a post-post-modern gal, and three, because why not? And I fell in love with this dress from a company called Reformation, that's based in Los Angeles. They use all deadstock materials, and it's made in the USA. So I felt like it was a very elegant, beautiful gown to wear and I wore it to a backyard barbecue, but then it also was staying true to my sustainable ethos.
It's totally rayon. I love rayon. I love the drape of it. I think rayon's come a long way from way back to the 90s rayon to now. It's a really incredible material, and I use a lot of it in my collections. I can't say enough about rayon, except now I'm obsessed with viscose actually. You can get more dynamic texture from viscose. Viscose is easier to use in sweater knits. There's some really incredible crinkle viscoses out there now. I just can't say enough about a good synthetic.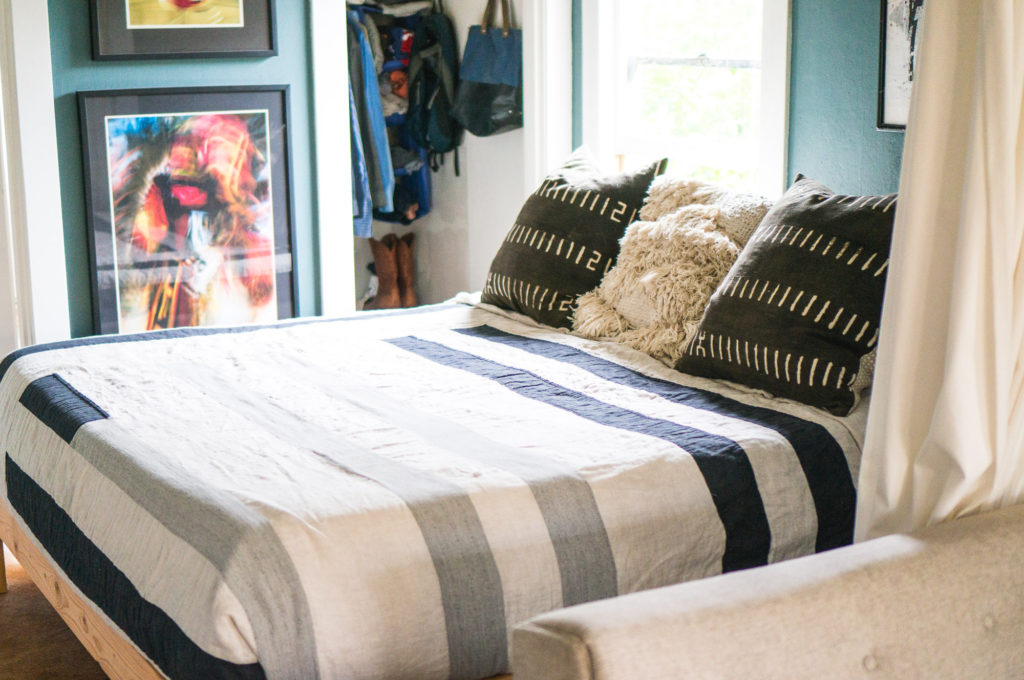 I made this quilt at Christmas. Our wedding present to each other was upgrading our bed, so we went from a really worn-down queen-size mattress to a California king, because he's 6'4" and I'm almost 6". Still to this day he thinks that we can be in a queen and I'm like, "No, honey. I cuddle and then I need my space."
So we got the bed, but we didn't have any linens, and over the Christmas holiday we ended up having some plans fall through and ended up staying home for the two-week period. It was the first thing that I had sewn in my little home studio in four years, and now it's our wedding quilt. It's made out of a linen blend and actually a very basic black cotton, quilting fabric.
I really patterned it up. I was inspired by a quilter named Lindsey Stead. I follow a couple of modern quilters on Instagram and she does lots of really geometric, minimal pieces. And I kind of was like, "Well, if she can do it, I can do it." The burden for me is that at this point I know enough about construction from handbags to quilts to dresses, that sometimes it can be hard for me to actually invest in them because I'm like, "I could just make it," and this time I actually had the luxury of having the time.
So it took me all two weeks, and I did it on my garment sewing machine, my Pfaff. Its 120" by 120", and it was a nightmare trying to sew. It literally was wrapped around me and in my lap, and I had to push it around to try and even see what I was doing, and it's all straight lines, so a high level of accuracy was needed. It's fully batted and backed, and I had safety pins everywhere. It was intense. I wouldn't do it again. I was going to make shams to match and then I was like, or not.
Join the Conversation
Sign in or become a Seamwork member to comment on this article.