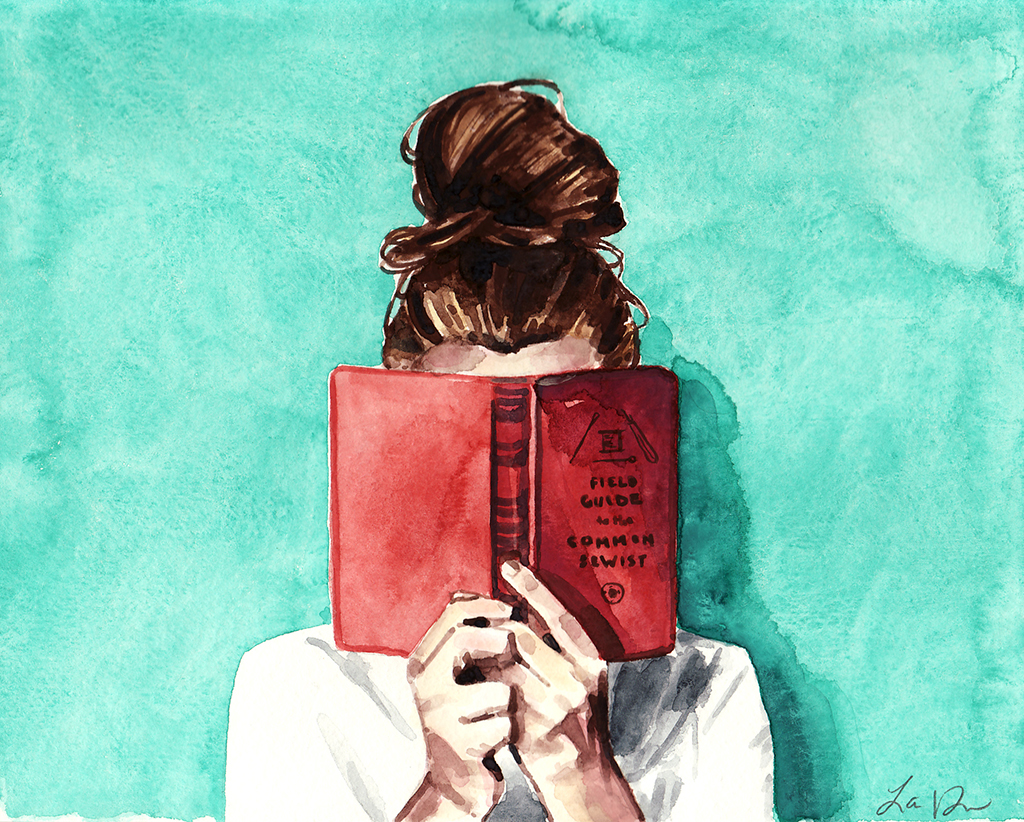 Introduction
This is a practical guide to the fascinating world of the common sewer, for any spouse, friend, or concerned bystander wishing to understand the curious nature of this once rare but increasingly common beast. In ten quick minutes learn to identify, engage with, and corral any sewers you may encounter. The author takes no responsibility for any harm or death that may arise from misuse of this guide.
1. Naming conventions
a) sew·er (ˈsō(ə)r/). Common term used to describe people, mostly, but not exclusively, women, who engage in sewing. Not to be confused with a drain. Known to engage in vigorous online forum debate about non-use of word "sewist" (see part b).
b) sew-ist (ˈsōist/). Radical new-wave, non-conformist thinker who outrageously rejects the proper term "sewer" in favor of a neologism. Approach with caution, behavior may be erratic.
2. Classification of breeds
At the present time, there are four known classifications of sewers, though expeditions continue to uncover previously unknown species in remote aisles of JoAnn's.
i) The Attentive Quilter (AQ). The AQ can be identified by her strong attachment to fat quarters, walking feet, and careful right angles. Known as meticulous makers, the AQ can be subdued by the careful introduction of a color wheel and a Kona catalogue.
ii) The Trendy Fashionista (TF). Evolved from the "frustrated Sunday shopper" and the "Vogue collage maker," the TF seeks to replicate ready-to-wear fashion using only two yards of Robert Kaufmann and the judicious application of bias tape. Do not be alarmed if you observe them wearing capacious culottes or cut-off dungarees: this is their "fashion."
iii) The "Only At the Holidays" (OATH). Most often spotted in a panic in JoAnn's at key points of the year, the OATH learned to sew at high school and now has a variety of knee-high children demanding to be Elsa, no, Anna, no, a purple pumpkin, tomorrow. Be careful on approaching, as the OATH is known to suddenly crack under the weight of novelty trim and glitter.
iv) The Oracle. The Oracle has been sewing for longer than they have technically been alive and is now the font of all sewing knowledge. Approach on bended knee and produce an offering for high-class sewing tips. Contradict at your own peril.
Appearance
If on an expedition to identify an individual or thread of sewers, look out for the following markings:



Random pieces of thread stuck to clothing




Crazed look in eye (when new fabric ranges launched)




Skirt made of quilting cotton




Disproportionately likely to be wearing a shirtdress




Measuring tape around neck




Small iron burns on arms



4. Habitat
i) At home
The presence of a sewer habitat can be confirmed through the identification of at least two of the following states:



Enormous hoard of fabric, which appears in danger of toppling and suffocating family members at any given moment.




A dining room table that has never been dined on and appears to be a horizontal storage unit.




A carpet full of pins, apparently to no distress of the sewer.




Several pairs of scissors guarded as if the Hope Diamond.




A magpie has broken into the sewing room and stored shiny things in boxes.



ii) In the surrounding environment
In the field, sewers can be spotted most commonly in the following environments:


Any fabric store within a 150-mile radius.


On Instagram.


That's it.
5. Behavior
Following and observing the daily rituals of the sewer is a worthy and fulfilling pastime. See if you can find examples of any of the following common behaviors:



Sewer observed surreptitiously following people down the street, staring intently at the seamlines on their clothes. Extra points are awarded if the observed person notices and confronts sewer. Stand well back.




Sewer becomes distracted during conversations with friends, and starts to turn their collars, cuffs, or hems inside out to inspect seam finishing. Over time, sewers will tend to bond with the more tolerant and drive away the confused and bewildered. A mature sewer can be identified by their posse of long-suffering friends, who offer up unusual buttonholes upon meeting.




Sewer enters clothing store, spends large amount of time touching fabric and sighing, and then disappears to changing room for unreasonable amount of time. Phone camera can be heard clicking. Leaves, buying nothing, shortly pursued by confused security guard.




After a prolonged period of silence, sewer suddenly shrieks "Drat! I have to do an FBA!"; "ARGH! I just ran out of bias tape!"; "THREE EIGHTHS SEAM ALLOWANCE?! Why did no-one tell me!" Followed by intense period of silence and trip to the fabric store.




Sewer enters fabric store and immediately goes into a trance-like state. Will feel every possible fabric and complete several circuits before beginning to re-animate. Ensure you keep a safe distance and give the sewer the time needed to complete the ritual.



6. Safety in the presence of sewers
While most sewers are entirely benign and well-meaning, sewer-spotters must be aware of their safety at all times, for unpredictable behavior while in possession of sharp and hot objects is not uncommon.
In particular, be alert to:



Not make sudden movements in the presence of a sewer with a rotary cutter. If necessary, proceed immediately to the nearest emergency room for re-attachment of finger.




The risks involved in asking a sewer to hem your pants. Be prepared for an extremely vigorous and intense response. Suggest at your own peril.




Express an opinion on seam finishing. A neutral stance is always recommended to avoid sudden aggression.



We hope you have found this guide useful. Be aware that the sewer species is in constant evolution, so please keep your guides updated and alert us to any new sightings. Be safe!
Join the Conversation
Sign in or become a Seamwork member to comment on this article.