The sun is shining, the crowds are cheering, and I veer to my left to high five a boy's outstretched hand. I'm 20 miles into my fourth marathon in Berlin, and I'm amazed to still be enjoying myself so thoroughly after nearly 3 hours of running. I pull my final gel from the back pocket of my shorts and think about the remaining 6 miles ahead.
Many thoughts go through your mind as you run a marathon — "How am I feeling?", "Is this pace okay?", "Where's the next water station?" and the like. But one thing I wasn't thinking about in Berlin was my clothing, even though the shorts I was wearing were ones I'd designed myself and sewn up only a few weeks before.

Sewing gives us the freedom to dress to our exact fit, style, and performance preference. I've also found that the clothes I've made over the years are usually the ones that last the longest, in spite of being the ones I wear most often. There's a joke in the sewing world that you'll go broke saving all your money sewing clothes, but I've found a few areas where you really can save a substantial amount of money over buying ready-to-wear, including formalwear, lingerie, and activewear.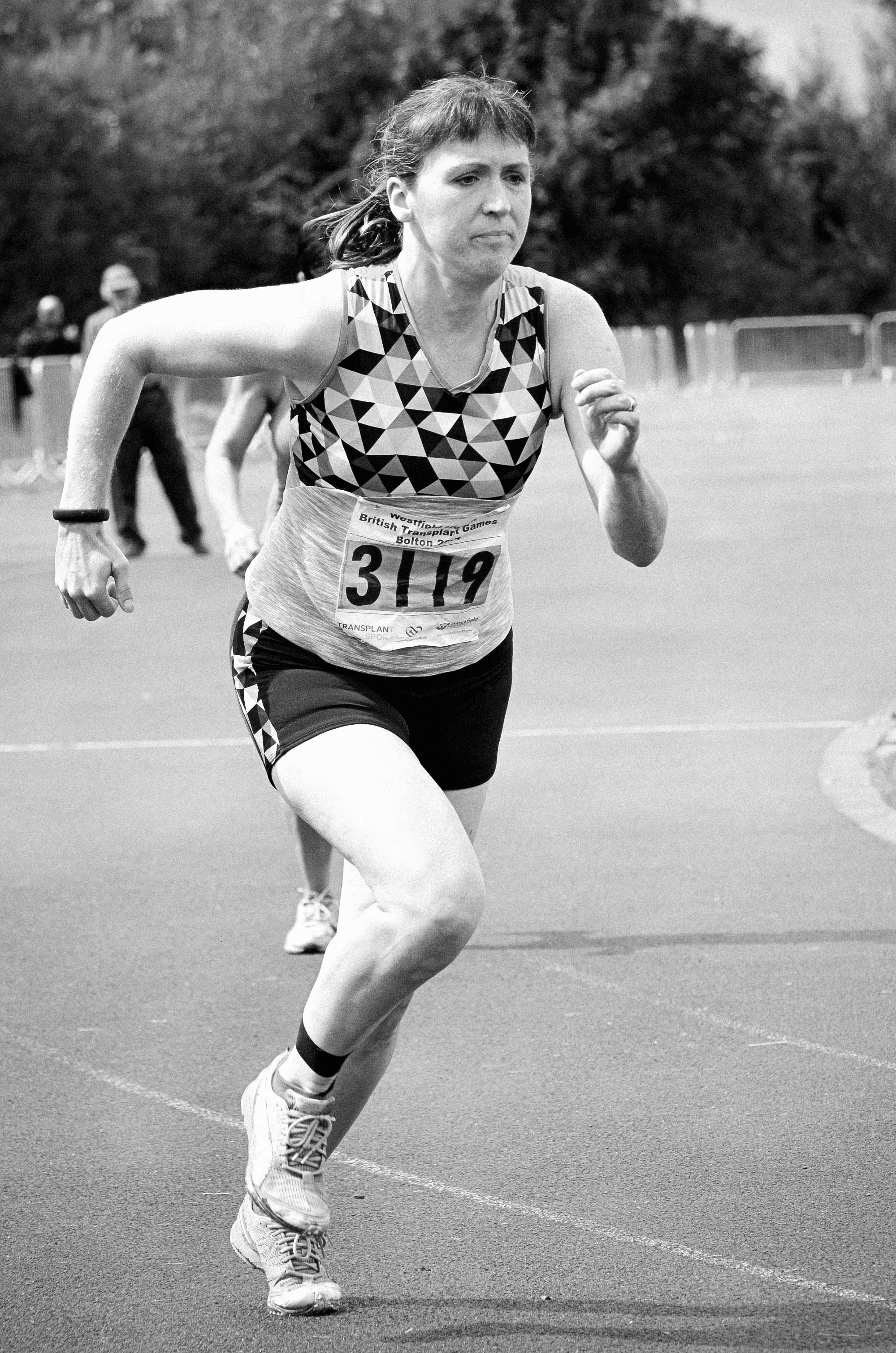 The author in her own handmade
VNA top
.
Why activewear fabrics?
Specialty fabrics can open up the possibilities when it comes to workout gear.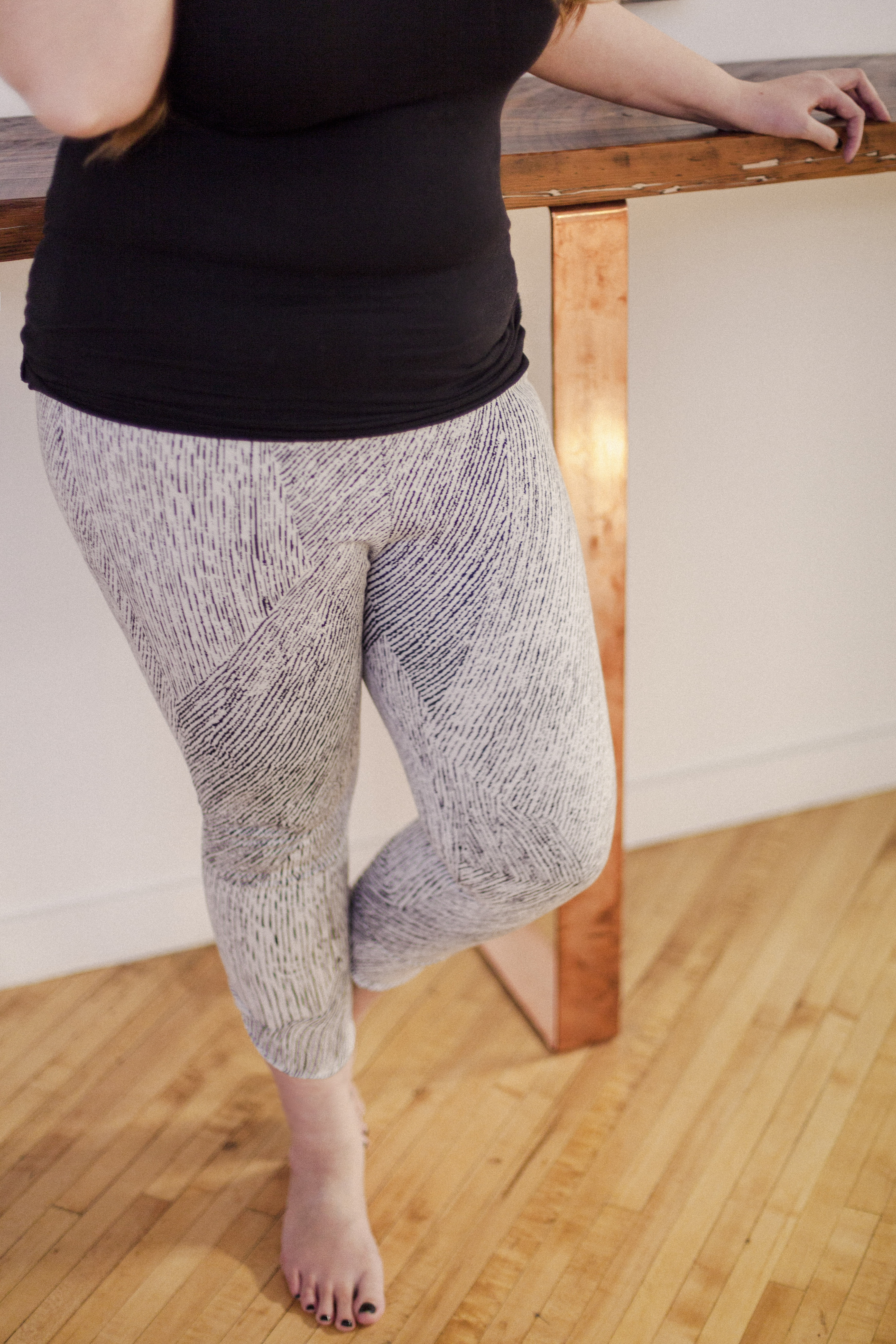 The leggings from this issue can be made
in a technical fabric.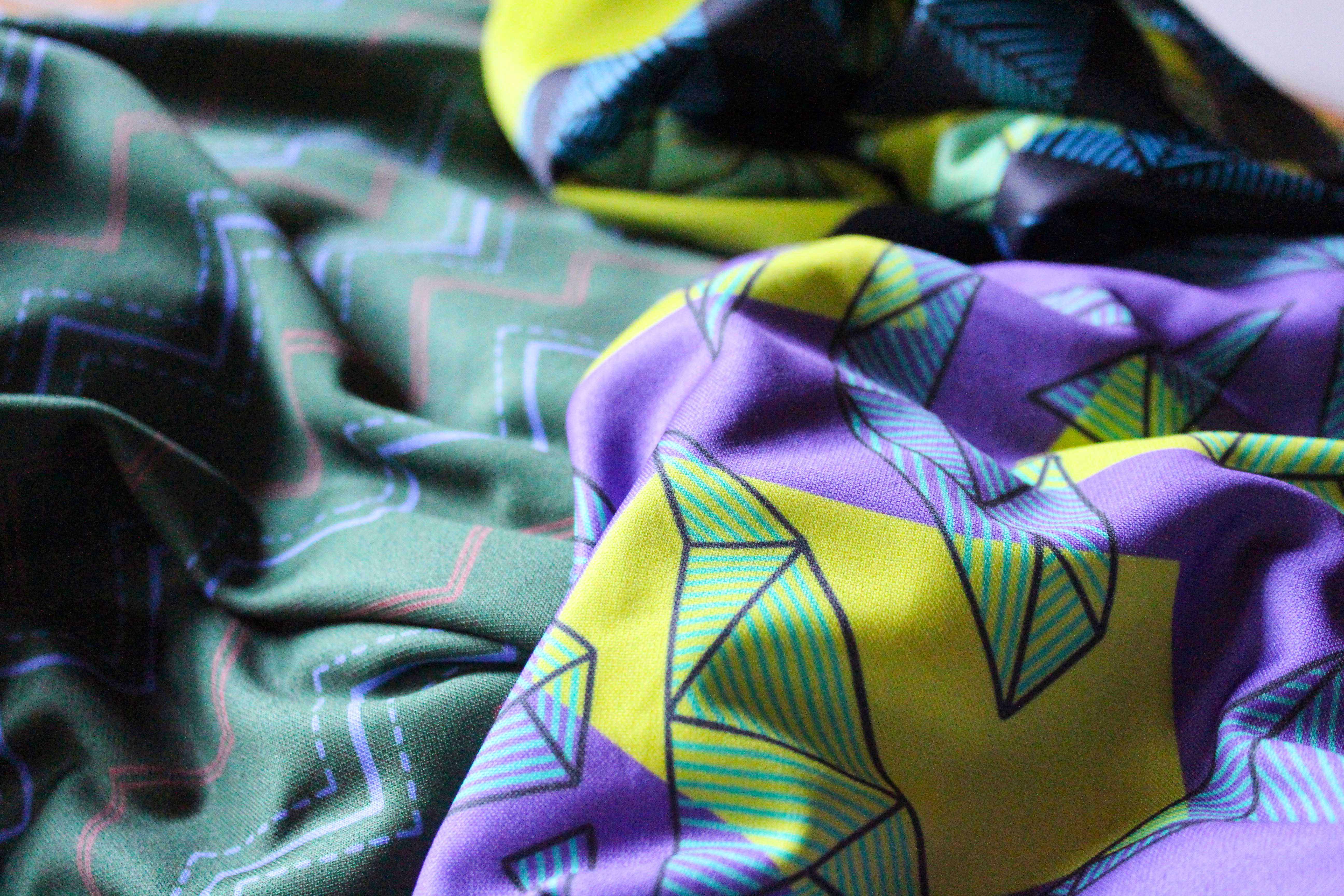 Today, you can find technical fabric in many
fun colors and prints you might not
otherwise wear.
I tend to focus on the fabrics suited to running, but there are a huge range of outdoor activities and sports that can benefit from clothing sewn in technical fabrics. Any situation where you need to control moisture getting to the skin (such as breathable waterproof hiking jackets) or moisture getting away from the skin (like sweat-wicking microfibers for Bikram yoga) will be improved by the use of a technical fabric. Many technical fabrics are also coated to resist fading under the sun or in chlorine, so your time spent in sewing your garment won't go to waste after a few hard sessions, either.
Not long ago, activewear sewing was a niche pursuit. A few pattern companies offered targeted patterns but most were left either making the basics or adapting casualwear patterns. Trying to find activewear fabrics was even worse. Luckily, over the past few years both large retailers and specialty fabric stores have greatly expanded the technical fabrics available to the home sewist.
The problem now lies more in the dizzying array of names, weights, stretch factors, and colors available, which can quickly become confusing. Some fabrics have names we're not familiar with. These fabrics also go by a myriad of trademarked names that major sports brands use. It can be difficult to tell exactly what you're buying, as online retailers may not list a full fiber content, weight, or stretch percentage, let alone whether the fabric has been designed to wick moisture.
Having a good and reliable source of technical fabric can make successive garments easier as you become confident that the fit will be consistent for a given fabric. Activewear lends itself to making multiple copies of the same pattern over and over. Once you've tweaked a pattern to your liking, most people need several pairs to get through a week's workouts without doing laundry every day. Once you've cracked the pattern and fabric, the result is that you really can feel confident in your workouts, knowing that the gear you've sewn isn't going to get in your way.
Choosing your content

Whether you want to stick to simple natural fibers or try the latest breakthroughs, you can find the fabric for you.

Natural Fibers
If you remember only one thing about natural fabrics, it should be that cotton is a terrible fabric for activewear (see sidebar). If you prefer to exercise in natural fibers, however, there are still some great alternatives.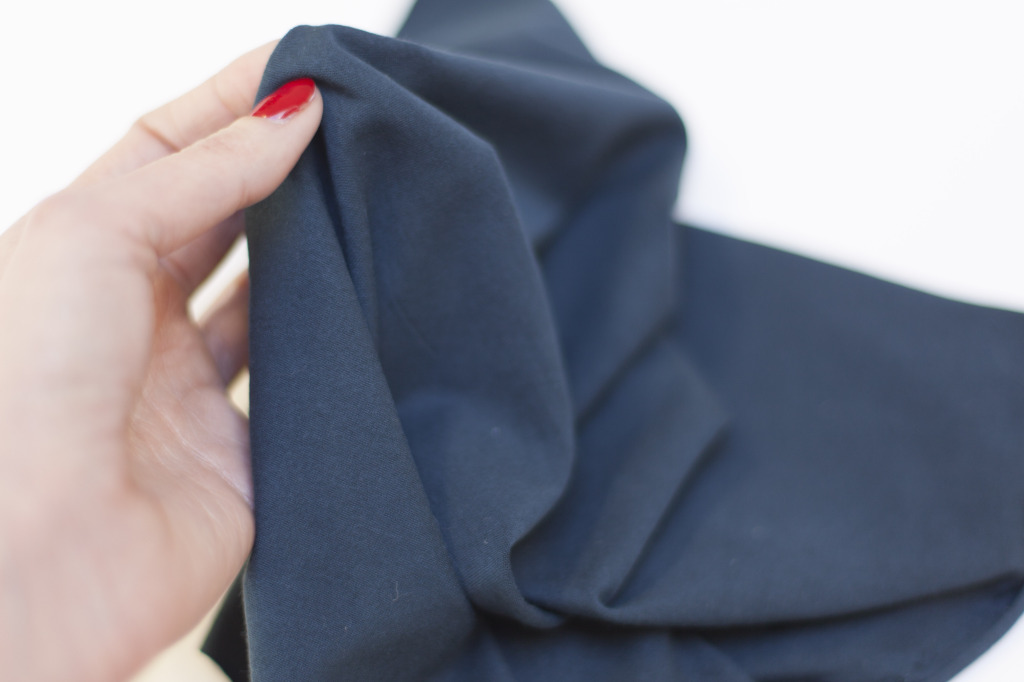 Bamboo has many benefits, but can be prone to stretching out over time.
Bamboo
It may seem incredible, but the same plant that feeds pandas can be pulped and processed into a rayon (viscose) fiber that's soft, anti-microbial, durable, and wicking. Bamboo has gained attention recently for being an eco-friendly alternative to synthetic fibers, but there's some debate surrounding the eco-credentials of the processing used to turn the plant into the finished textile. Bamboo can be made into pretty much any type of fabric imaginable, but jerseys (with or without added spandex) are probably the most useful for activewear applications.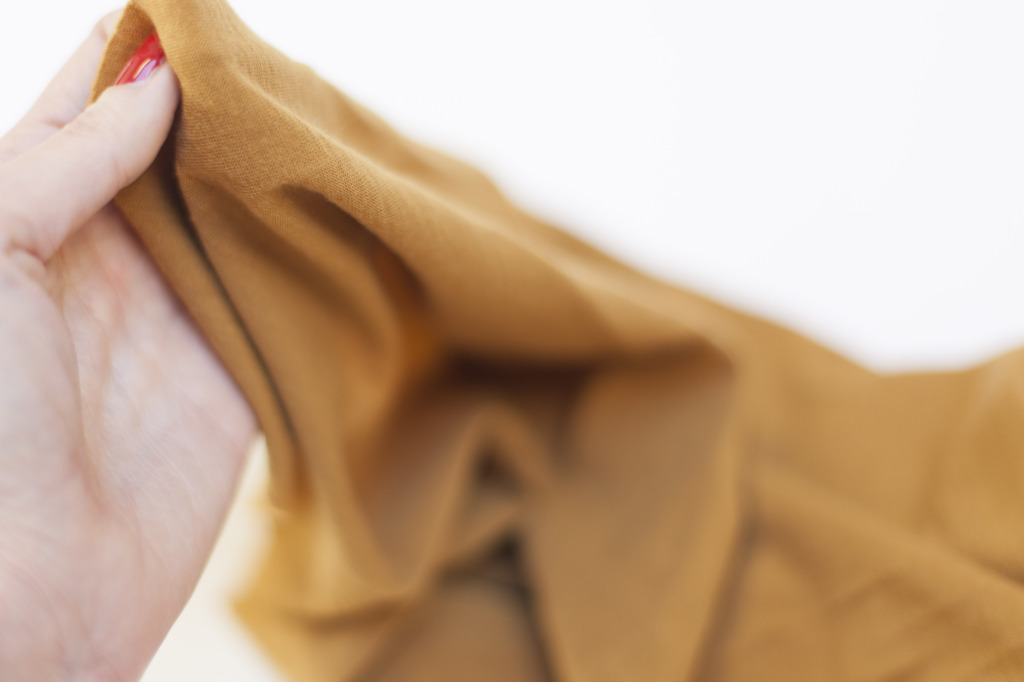 Merino wool is a natural choice gaining popularity in ready-to-wear.
Merino wool
This fiber is a great choice for both cold or warm weather exercise as it's warm, breathable, wicking, and antimicrobial. It's also less scratchy than traditional wools, and can be combined with spandex fibers to maintain recovery. It's most often seen as jerseys and suiting fabrics, and is becoming more common in casualwear, too.
Killer Cotton

Cotton is extremely hydrophilic, holding up to 25 times its weight in water, and takes an exceptionally long time to dry. If you've ever have the misfortune of wearing jeans to a waterpark, then you know they can still be damp at the end of a day!
Once wet, cotton can lead to chafing in hot weather, or even worse, hypothermia in cold weather, which can cause death. Avoid cotton in all your activewear — including socks, where it can lead to nasty blisters.

Synthetics
In the sewing world, many of us are natural fiber snobs. The 1970s cast a long shadow over the world of synthetic fibers — memories of clingy, sweaty polyester shirts certainly die hard! But synthetic fabrics have come a long way since then and not all polyesters are created equal. Take a look at the labels of your ready-to-wear activewear and you'll see that nearly all are made from polyester, and yet still allow you to sweat and feel cool while exercising.
This is because the new generation of technical fabrics are created to allow moisture through the weave and wick away from the body, where it can evaporate on the surface, keeping you cool. Technical fabrics can also be waterproof. It may sound like a contradiction, but some fabrics can be both breathable and waterproof, allowing you to get caught in a downpour but not feel steamy inside after a few hours of hiking.
When most of us think of technical fabrics, we think of stretchy, breathable fabrics we can sweat in without feeling overly hot or cold. But there are many different fabrics which fit this description — from smooth or brush-backed jerseys, to large- or fine-holed meshes, piques, and rib knits. There really is a technical fabric out there for just about every activity!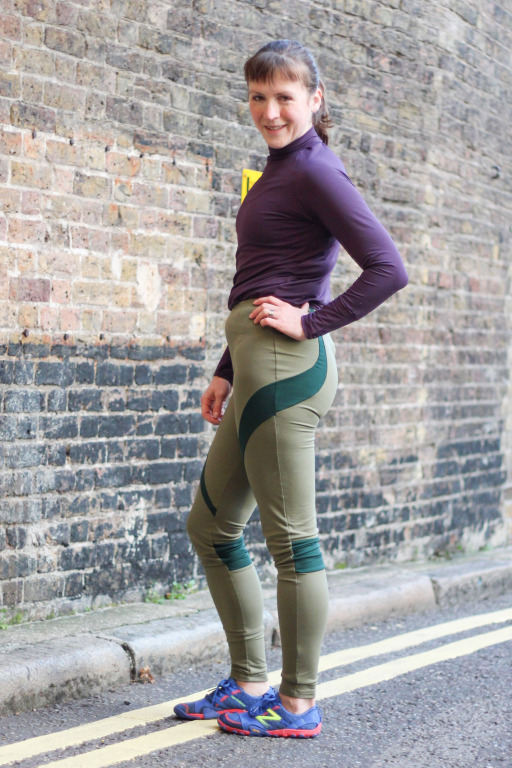 The author in her own design, the
PB Jam leggings
Keep it clean

Synthetic wicking fabrics are so great at repelling water that they repel water in the washing machine, too. Dirt and body oils are difficult to remove, and can leave your activewear smelling funky after only a few washes. You can combat this by pre-soaking sports clothing in a vinegar solution or by using a special antimicrobial detergent like HaloSport. Never use fabric softener on your technical fabrics, as it can further prevent the detergent from reaching the dirt, as well as removing any special coatings on the fabric. To further preserve the life of your exercise gear, wash clothes inside-out with cold water and avoid tumble drying on high heat.

Brand names
There are thousands upon thousands of trademarked technical fabrics, and I've included some of the most common ones available to home sewists below. Many used to only be available to large manufacturers, but are now seen more frequently in fabric shops, either as factory remnants or those made specifically for retail.
Supplex: A trademark of Invista, Supplex fabrics are breathable and fast-drying with great color retention. Supplex is usually a stretch jersey, but can sometimes come as a thin woven, too. This is a useful term to search for, as many online retailers label any wicking jersey as "supplex".
Tactel: Also a trademark of Invista, Tactel fabrics are strong, light, soft, and dry eight times faster than cotton. Tactel is often used for underwear, and comes in the form of stretch jersey.
Lycra: It may surprise you, but Lycra is actually a trademarked name of Invista, and it falls under the generic "spandex" name. Lycra fabrics are extremely stretchy, have great recovery, and are often blended alongside other fibers to help maintain shape and support. Lycra is always seen as a stretch fabric, but can be inserted into wovens or jerseys, and used in activewear, swimwear, underwear, hosiery, and pretty much any other garment you can think of.
Dri-Fit: Dri-Fit is a trademark of Nike, and the main advantage of this wicking polyester is its high evaporation rate. Dri-fit usually has a little stretch, and can often be identified by its small, regular holes. It's most commonly seen in "technical" race shirts given away at events.
Meryl: A trademark of Nylstar, Meryl is a nylon microfiber with great stretch and recovery, wicking weave, and odor control. Meryl can come in many different forms, such as stretch jerseys, sweater knits, coated wovens, and meshes.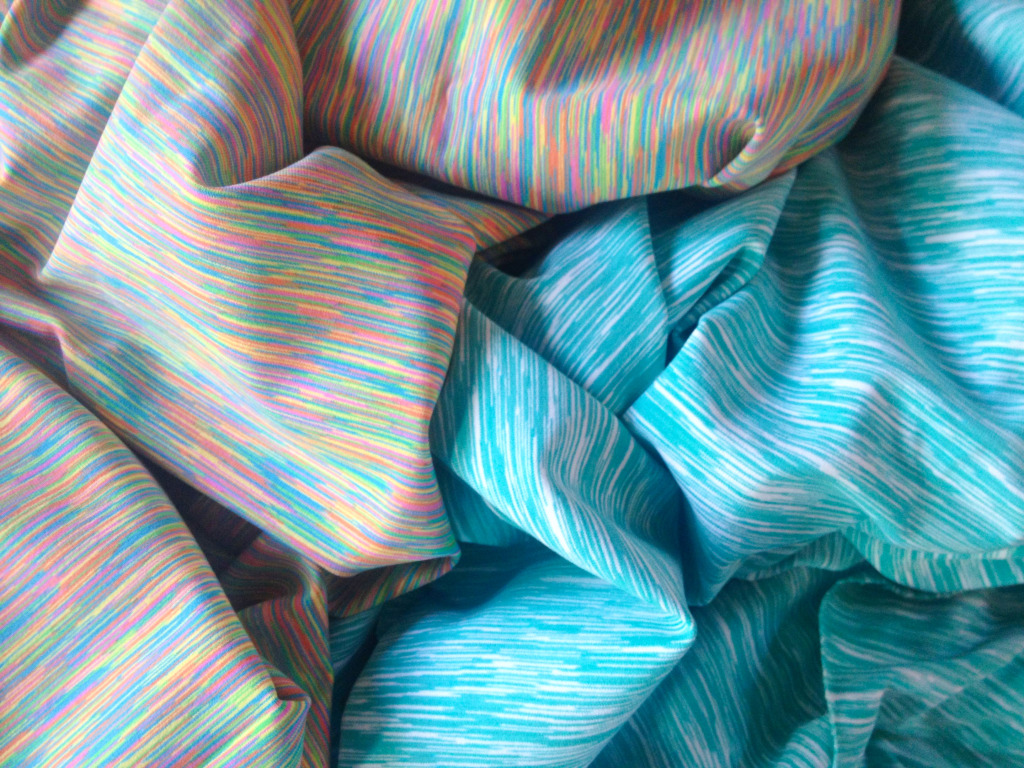 Try terms like "supplex" and "tactel" when searching online.
Testing Your Fabric
To get just the right fabric, test before you commit.
The most useful way to determine if a technical fabric is right for you is you request a sample. Most online retailers now offer free (or low cost) sample swatches. It can save loads in wasted time and fabric if the sample turns out to be different from what you expected!
Beyond the usual reasons for checking color and feel, testing for shrinkage, or deciding which needles to use, you can also use samples to learn more about the technical properties of a fabric.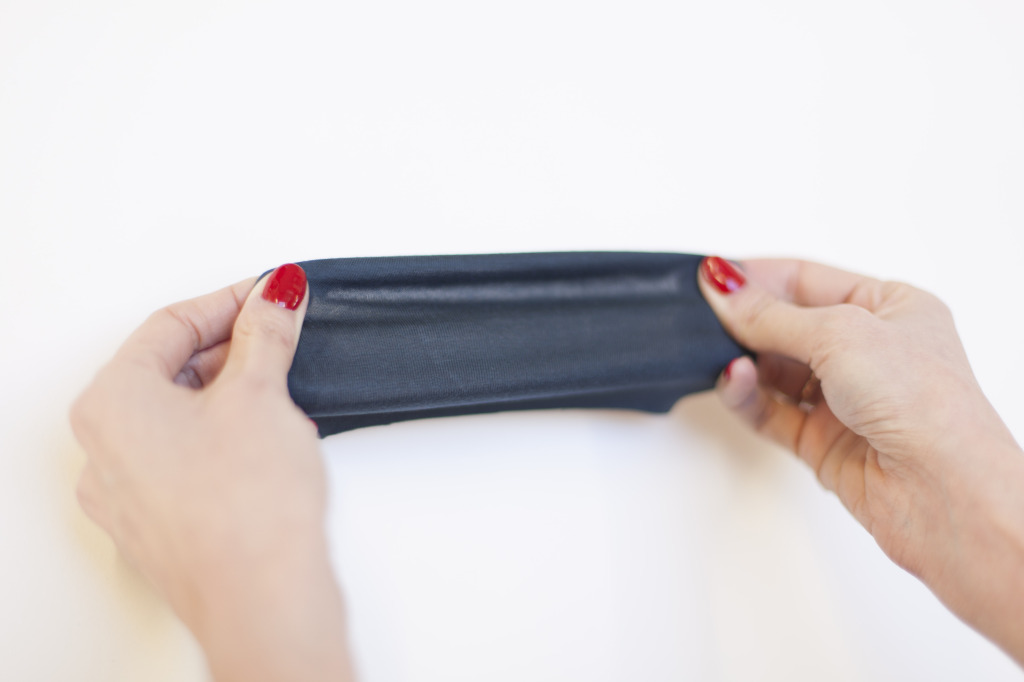 Stretch your fabric and measure the stretch percent to determine if the final garment will fit.
Stretch: Many patterns will provide a stretch guide on the pattern envelope, but it's difficult to apply this to other common garment styles, and you don't always have the pattern with you. You can determine the stretch percentage by marking out 10cm, then seeing how far you can stretch this against a ruler. If it stretches to 15cm, then the fabric has 50% stretch in that direction.
Fiber content: The quickest way to tell if your sample is a natural or synthetic fiber is to burn a small portion of it and assess the smoke and remains. There are many great burn test guides online, which can help determine if that 100% merino jersey really is entirely wool.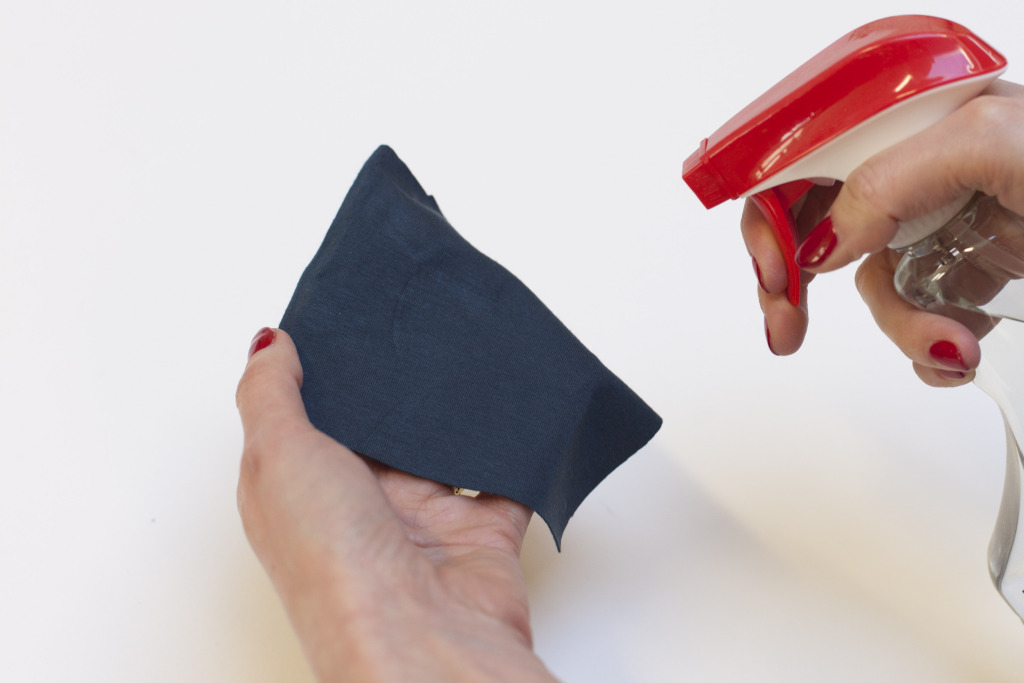 Test wicking by spraying with water and seeing how long it takes to dry.
Wickability: With wicking fabrics, it's important to be able to tell the right side of the fabric from the wrong, so the moisture doesn't move in the wrong direction. If you can't tell by looking at the weave, then you can do an informal test by lightly spraying one side with water and noting how long it takes to line-dry. Repeat with the other side. The side sprayed which dries the quickest should be against the skin.
Road testing
Once I've sourced a pattern and some great fabrics for my next exercise project, I always buy a little extra fabric so I can sew up a quick sample to test on-the-road. Fit and comfort are particularly personal when it comes to activewear, and I often find that I need to make a few small tweaks for a new pattern or fabric to make it exactly right for me. By buying an extra yard or two to make up a wearable muslin, you can ensure that your finished version will be just as you like it — whether you're running a marathon or just out for a country stroll.
Join the Conversation
Sign in or become a Seamwork member to comment on this article.